Sony Xperia 1 vs OnePlus 7 Pro: Which is best?
Two of 2019's top Androids battle it out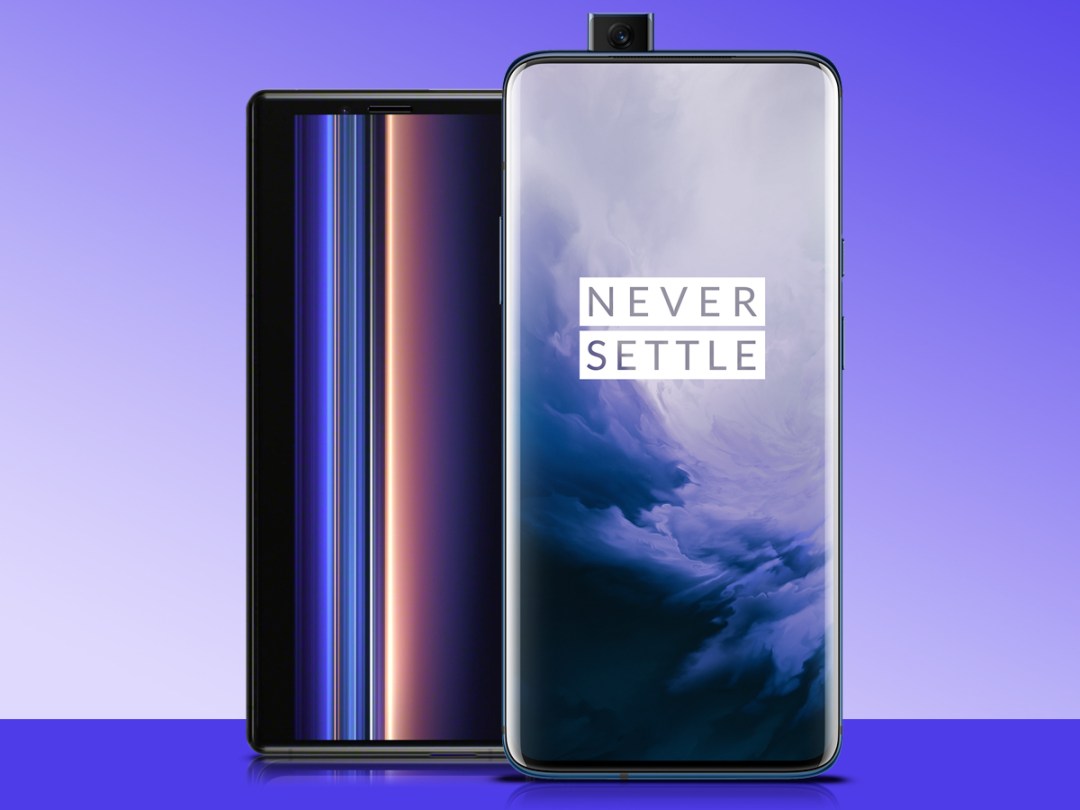 If you're thinking about buying a new smartphone right now, you have an incredibly tough decision to make… one made all the tougher by the release of the OnePlus 7 Pro.
It's the company's priciest handset to date, but it's worth every bit of its £649+ price thanks to a buttery-smooth 90Hz, Quad HD, notch-less screen, along with a beautiful, premium design and impressive speed. But the Android field seems to get more crowded by the week, and the long-awaited Sony Xperia 1 is finally launching too.
The Xperia 1 shuns Sony's winning Xperia XZ3 design in favour of a new super-duper-tall approach with a 21:9 panel and otherwise top-end tech, giving it not only a new aesthetic but also a newfound allure. Which flagship should you be eyeing right about now? Here's what we think.
Design: Definitely distinctive
These phones have very, very different design philosophies. With the OnePlus 7 Pro, it's all about maximising the screen, thanks in large part to burying the selfie cam in a pop-up module. It's not there at all times, but open the app and switch to the front-facing camera and it rapidly emerges from the top of the handset.
The advantage, of course, is that the stunning screen takes up the entire face, save for the tiniest smidge of extra bezel at the bottom. Elsewhere, it's all curved glass, with the backing glass given a matte finish. The Nebula Blue colour option is really beautiful.
As for the Xperia 1, the screen is definitely the first thing you'll notice… but also the big bar of bezel at the top and slightly smaller "chin" at the bottom. The phone finds the nice middle ground between the classic boxy Sony aesthetic with a little bit of modern curvature, but we still think the OnePlus 7 Pro makes the stronger impact.
Verdict: OnePlus 7 Pro
Screen: Serious stunners
Glance at the spec sheets and the Xperia 1's 4K resolution is sure to jump out. Most flagship phones max out at Quad HD (a.k.a. 2K), but Sony went nuts on the Xperia 1 and the results are readily apparent: it's crisper than any handheld display we've ever seen, even if the differences are pretty minute with that many pixels packed into such a small space.
This gorgeous 6.5in OLED panel is rich and inky-looking, but it's not perfect: the brightness doesn't seem as bright as rival flagships, and the viewing angles aren't the best we've seen.
The OnePlus 7 Pro can't compete on resolution, as it too sticks with Quad HD resolution – but it has a hidden ace up its sleeve in the form of a 90Hz refresh rate. That means that the screen refreshes more frequently than your average 60Hz panel, and the results are honestly fantastic, giving nearly every part of the experience a smoothness we've never seen before.
At 6.67in, it's also an enormous screen, and this OLED looks just as brilliant overall as any we've seen. You have to see 90Hz in action to believe it – we have, and we do.
Verdict: OnePlus 7 Pro
Camera: Sharp shooters
Both of these phones opt for triple-shooters on the back, and in our book, they're largely comparable in overall performance. The OnePlus 7 Pro opts for a 48-megapixel main sensor, a 16MP ultra-wide sensor, and an 8MP telephoto sensor. We called it "a fantastic trio" in our review, as well as "one of the best phone cameras out there, and a league above the OnePlus 6T."
As for the Xperia 1, you get a trio of 12MP lenses with the same kind of split: main, ultra-wide, and telephoto. It's easily the best smartphone camera setup that we've seen from Sony, and like OnePlus, it finally gives this maker a top-tier phone camera after frequently falling short of the top-tier pack.
Granted, both are beaten by the Huawei P30 Pro, our current pick for both the best smartphone camera and best smartphone period, but that's too high a bar for anyone else to match right now. Both the OnePlus 7 Pro and Xperia 1 aren't too far behind overall, though.
As noted, the OnePlus 7 Pro hides its 16MP selfie cam in the pop-up module, which is purportedly rated to last for more than 300,000 open/close cycles. You'll probably never actually use it that many times and it feels pretty sturdy to us, so there shouldn't be much to worry about. The Xperia 1's 8MP front-facing camera is in the top bezel, of course, and both front cameras here are plenty capable.
Verdict: Draw
Performance: Power-packed
Both phones pack in the Qualcomm Snapdragon 855, the fastest Android chip on the market right now. Both are super speedy almost entirely throughout use, although we did catch a recurring delay with the camera app on the Xperia 1. Not a huge deal, but worth noting.
Each handset also comes with 6GB RAM, although OnePlus also has 8GB and 12GB models available… and even the maxed-out 12GB model costs less than the Xperia 1. The extra RAM doesn't make a huge difference in everyday usage, but it shows a bit more prowess in benchmark tests.
Verdict: OnePlus 7 Pro
Battery and perks: Varying benefits
The Xperia 1's 3,330mAh battery pack isn't huge for a phone of this size, especially with a 4K screen. It's enough to get you through an average day with a little bit of life left, but push hard on games, media, or GPS usage and you may need a top-up before bedtime.
Meanwhile, the OnePlus 7 Pro packs in a 4,000mAh battery, but the 90Hz option does drain that tally a bit faster than usual for a comparable phone. Even so, the battery a little more resistant to heavy usage than Sony's, and is more likely to get you into the start of a second day if needed. Neither phone has wireless charging available, though.
When it comes to storage, however, Sony has the edge due to expandability. Both phones come with 128GB onboard (with a 256GB option available for the OnePlus), but only Sony's phone supports microSD cards for easy expansion. Still, once more, you can get that fully-specced 256GB model for cheaper than the Xperia 1, anyway. That kind of dulls Sony's impact.
Verdict: OnePlus 7 Pro
Verdict: Overwhelming favourite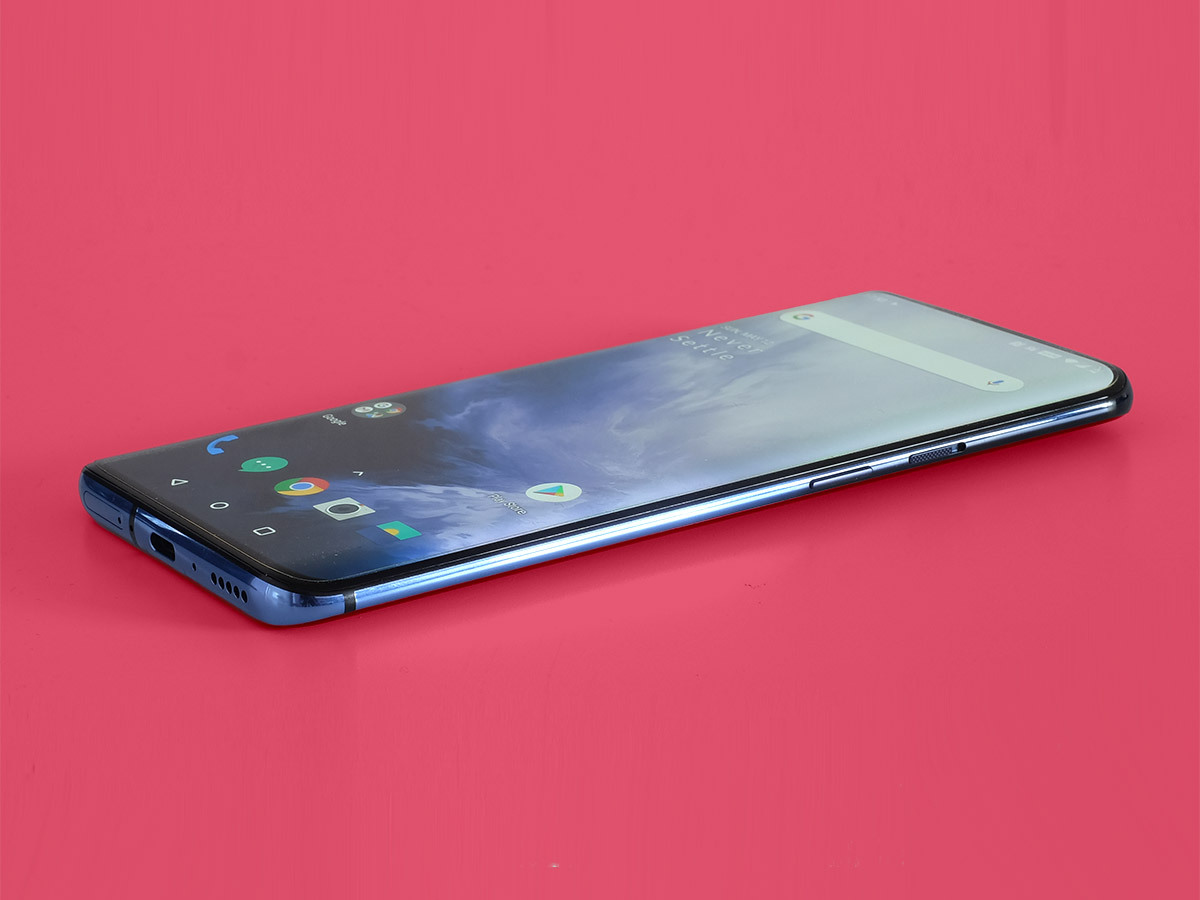 There's a lot to like about the Sony Xperia 1, really – just read our very positive review. But when you pit it against the OnePlus 7 Pro, not only do we think the OnePlus has several advantages in this match-up, but it's also £200 cheaper for the base model.
The OnePlus 7 Pro is an incredible deal, and also an incredible powerhouse of a flagship phone at a much lower price than usual. It gets our nod in this particular showdown.
Winner: OnePlus 7 Pro