Sony PlayStation 5 vs Microsoft Xbox Series X: the weigh-in
The battle of the next-gen consoles is on the horizon
This might be an extra-precarious time in the world to be talking about upcoming video game consoles, but let's take our minds off of the mayhem for a few minutes.
Sony's PlayStation 5 and Microsoft's Xbox Series X are both slated to debut later this year, and they'll collectively usher in a new generation of console gaming with high-end PC-like power and an emphasis on speed.
Microsoft has shown and announced a lot more thus far, but Sony just revealed the official specs for its console – which means we're ready to start pitting these next-gen titans against each other. Here's how this showdown looks for now, and of course, we'll update this as details are finalised… and once we finally have them in for review.
Design: Still waiting…
Unfortunately, we don't know what the PlayStation 5 will look like just yet. We've seen purported leaked photos and a patent application sketch of Sony's testing unit, but we highly doubt that the real thing will look quite so busy.
Meanwhile, Microsoft has fully shown off the Xbox Series X, and it looks more akin to a PC tower than any previous Xbox. In fact, it looks like a PC tower crossed with a double-stack of GameCubes. Despite that odd description, we quite like it.
It's super-minimal and seemingly designed to emphasize cooling, plus you can sit it upright or put it sideways if need be.
Power: They're heavyweights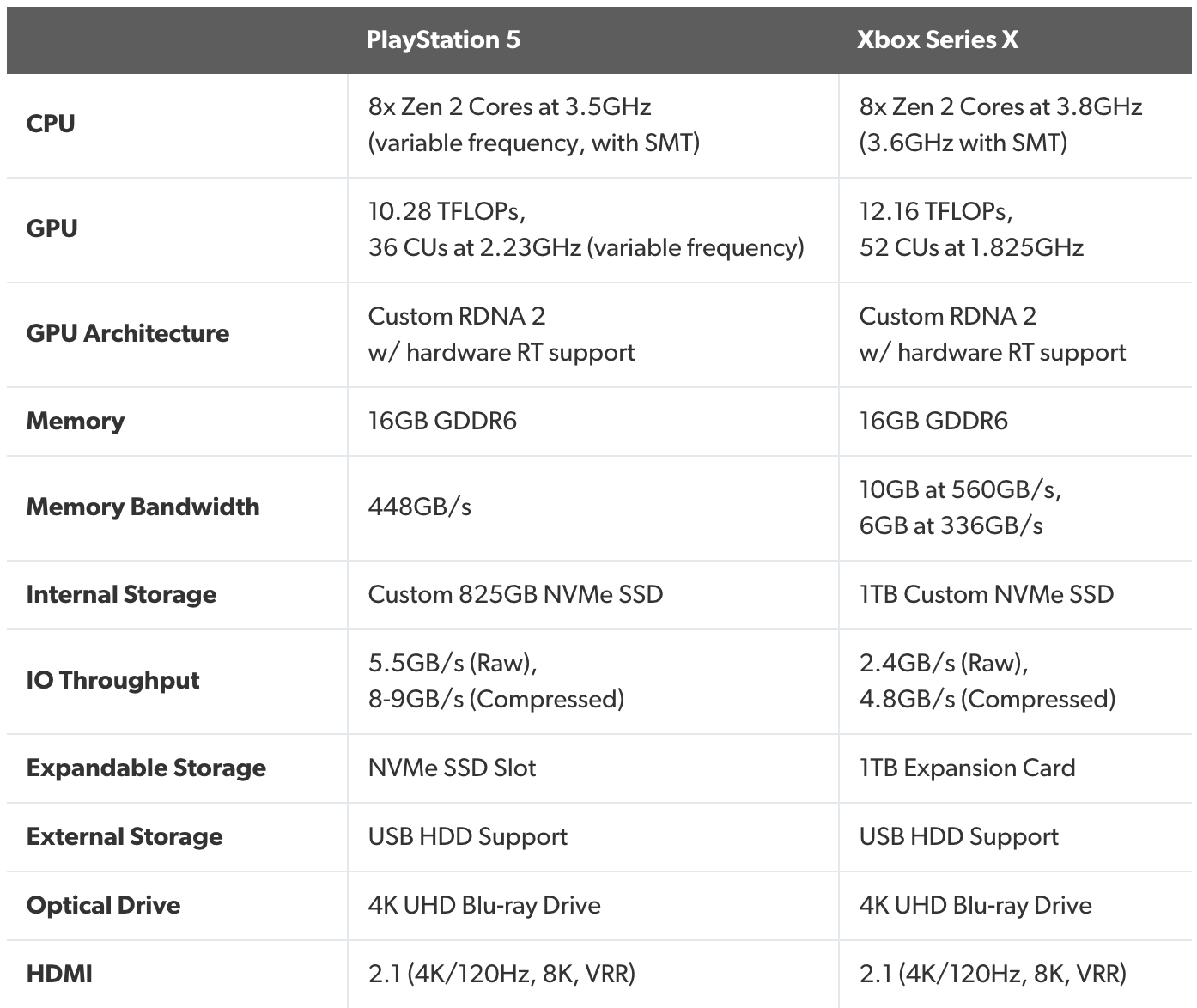 Comparing specs between these consoles won't be as simple as pointing at the larger numbers… because there's a handful of factors in play. The above chart comes from Digital Foundry (thanks lads), and it outlines the differences and similarities between them.
We imagine Xbox fanboys will see the 12-teraflops GPU power of the Xbox Series X and praise the nearly 2TF advantage over the PlayStation 5 on that front, but the PS5's fewer compute units run at a higher clock speed. Both systems have 8 AMD Zen 2 Cores, but they run faster on the Xbox Series X.
Elsewhere, the nearly 2x advantage in IO throughput speeds on the PlayStation 5 could empower large, open-world experiences in which content continuously streams into your viewpoint without a hitch. Ultimately, it's a tricky comparison: we'll really need to see results from games and hear from developers about how each console performs in which ways.
Controller: Lightly refreshed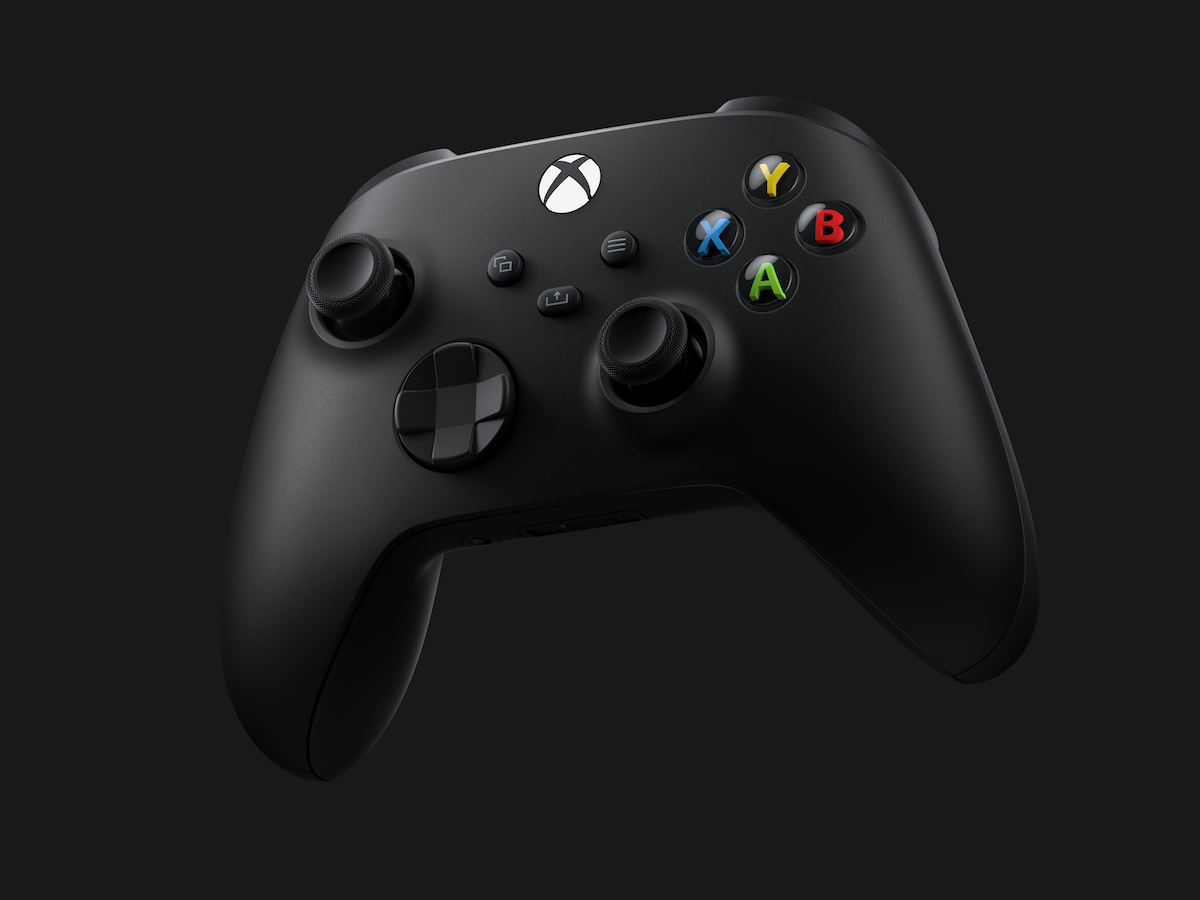 From the looks of things, we're getting lightly refined versions of the existing PlayStation 4 and Xbox One controllers. We're good with that.
A leaked photo and patent design sketch (below) show a slightly more bulbous take on the DualShock 4 for the PS5. Sony has confirmed improved haptic feedback and adaptive L2 and R2 triggers with custom resistance levels. Sounds interesting. Also, the light bar seems to be gone.
Microsoft has shown the Xbox Series X controller from all angles, meanwhile, and… yeah, it's pretty much the Xbox One gamepad. They've made small tweaks to improve accessibility, with more rounded elements to accommodate various hand sizes, plus the "hybrid" d-pad is like the one on the Elite Controller. Dynamic latency input should help with input lag, too.
Storage: Speedy setups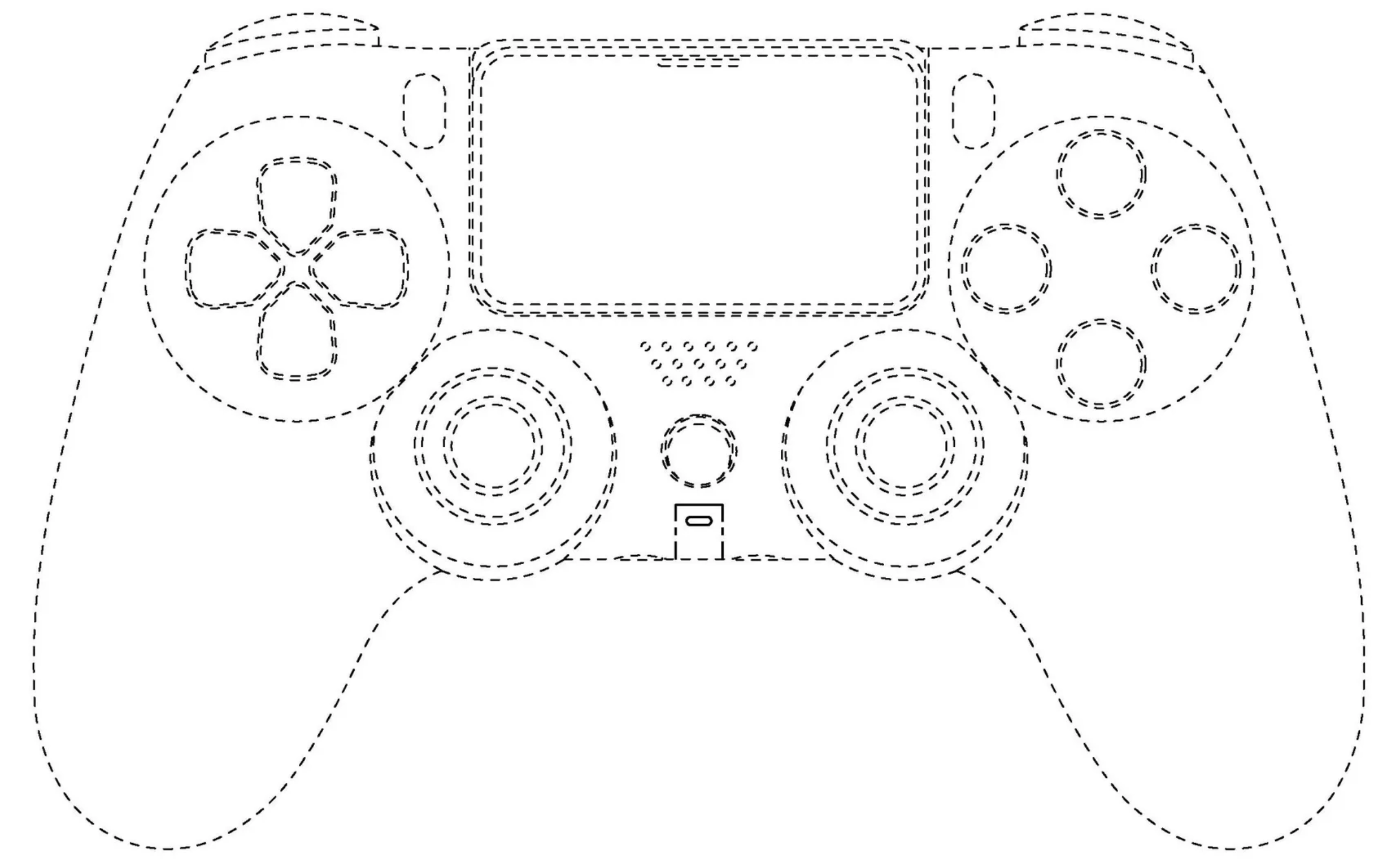 Both consoles will ship with SSD drives for super-speedy access, but the PlayStation 5's drive is smaller: it lands at 825GB (an odd number), while the Xbox Series X has a 1TB drive.
You can expand on both tallies, but in different ways. The PlayStation 5 will have a standard NVMe SSD slot to slide in special certified SSD drives, plus you can plug in a USB HDD for backwards-compatible PlayStation 4 games.
Meanwhile, the Xbox Series X uses proprietary 1TB Expansion Cards, which look much like the compact memory cards of old. We don't know how much those will cost just yet, but you can also use a USB HDD for additional storage.
Games: Still lots TBA
Microsoft has already announced some Xbox Series X games, including Halo: Infinite and Senua's Saga: Hellblade 2, along with an enhanced port of Gears 5. We'll probably see Minecraft make the jump too, and then we're expecting a mix of new and old Microsoft properties – the company has been acquiring lots of studios the last couple years.
Sony hasn't quite gotten to the point of unveiling PlayStation 5 games yet, unfortunately – but Sony has easily had the better stable of PlayStation 4 exclusives, running the gamut from God of War to Horizon: Zero Dawn and Marvel's Spider-Man. We can expect to see all of those franchises and more.
And both consoles will benefit from third-party multiplatform games, of which we expect to see a lot of the usual franchises in play – along with some promising new ones.
Backwards compatibility: Keep your classics
Sony's attitude towards backwards compatibility seems to be changing, as the company has confirmed that the PlayStation 5 will at least have PlayStation 4 compatibility. Most of the "top 100" most-played PS4 games should be compatible at launch, says Sony, but we don't know yet about the longer-term prognosis there.
Rumour has it that older PlayStation generations may also get in on the fun, but there's been no official word on that front just yet. We're hopeful.
Meanwhile, the Xbox Series X will continue Microsoft's more thoughtful stance on the matter: anything you can play now on Xbox One should be compatible, including many Xbox 360 games and some original Xbox gems. That's quite a bit that you can play right out of the gate, including the entire Xbox One library.
Initial verdict: It's still early
It's obviously far too early to make a call here. Sony hasn't shown us the PlayStation 5 yet, we haven't seen many games for either console, and we haven't a clue on pricing.
But there's a lot that we do know right now, and from a hardware standpoint, it sounds like both of these consoles are putting a big premium on speed to minimize loading times and slowdown – and they'll both be packed with power, no doubt.
Assuming no delays, the gaming world is sure to have an exciting holiday season ahead. Stay tuned for more details as they come!