Sonos Era 300 vs Apple HomePod vs Amazon Echo Studio: smart speakers compared
These three speakers are very different — and the same in many ways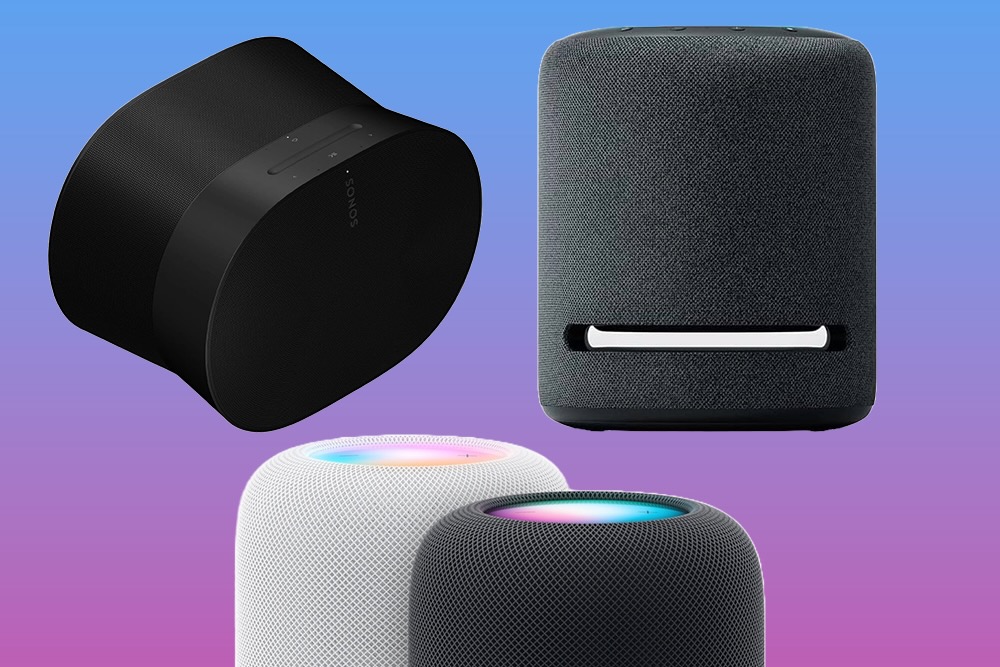 Wireless smart speakers like Sonos Era 300, Apple HomePod 2, and Amazon Echo Studio are designed to provide an exceptional music and TV streaming experience. However, each speaker has its own unique pros and cons, complicating the decision-making process.
Before opting for a Sonos Era 300, Apple HomePod 2 or Amazon Echo Studio, it's important to take a closer look at each one to make an informed decision. Don't simply rely on the brand name to guide your choice; instead, explore the features and benefits of each option. But if you can't really be bothered to do that, read on as we compare the Sonos Era 300, Apple HomePod, and Amazon Echo Studio to help you decide which one to buy. Let's get started.
Sonos Era 300 vs Apple HomePod vs Amazon Echo Studio: price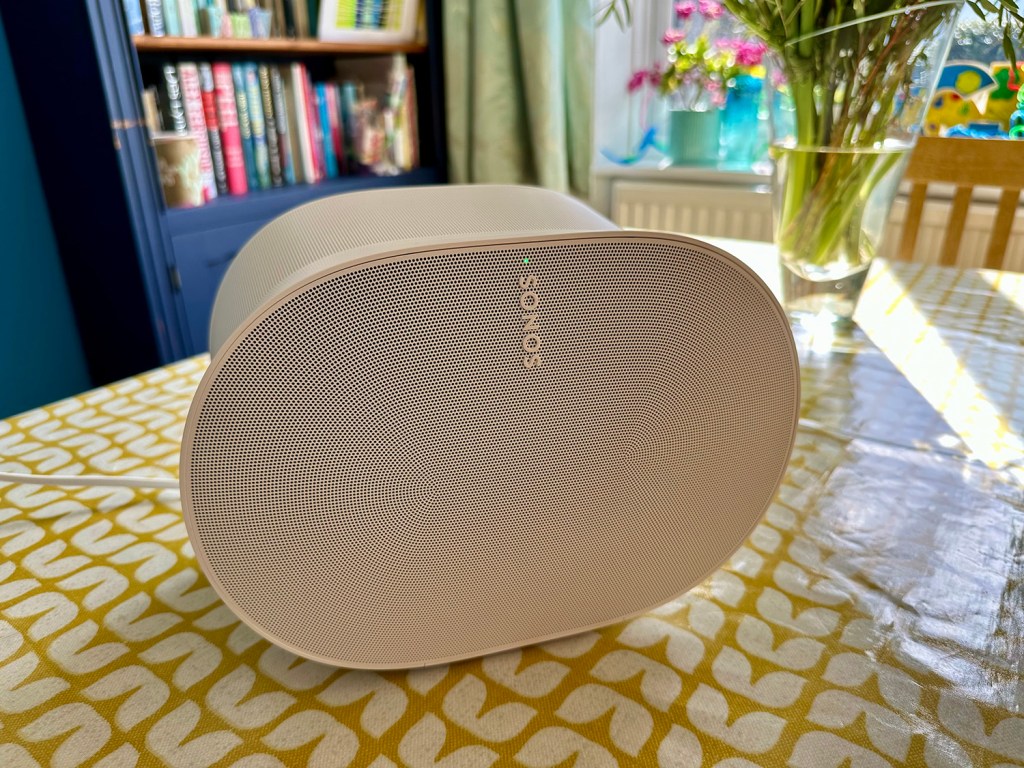 If you're familiar with Sonos, Apple, and Amazon, you may already know which of the three smart speakers is the most expensive. You're correct if you guessed the Sonos Era 300, priced at $449/£449. The second-generation Apple HomePod is in the middle at $299/£299, while the Amazon Echo Studio is the most affordable at $199/£220. Each speaker is available in a dark or light color; let's call them black and white.
The Sonos Era 300 is the newest speaker of the three, having been released earlier this year. The current Apple HomePod was released in 2022, while the Amazon Echo Studio was also updated that year.
Sonos Era 300 vs Apple HomePod vs Amazon Echo Studio: design and specs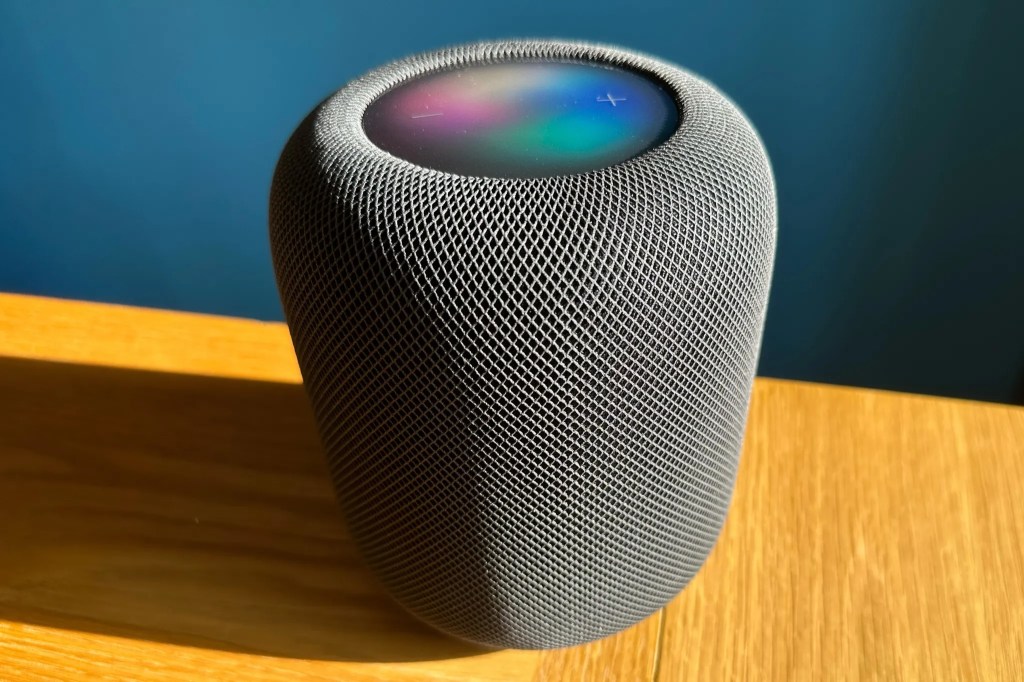 Sonos Era 300
The Sonos Era 300 boasts a distinctive hourglass shape with a fabric grille. The Sonos Arc has six drivers: an upward-firing tweeter for 3D sound, side-firing tweeters for even distribution, and woofers for deep bass.
Onboard controls for playing, pausing, skipping tracks, and adjusting the volume are on a touch-sensitive panel. However, it is highly recommended that you use the official Sonos app to connect with the Era 300; it offers more controls than the physical ones, but you can also use Amazon Alexa to control the speaker. The Sonos Era 300 is compact and portable, measuring 160mm tall, 260mm wide, and 185mm deep, and weighs 9.8lbs/4.47kg.
Apple HomePod
The Apple HomePod has a sleek cylindrical design with acoustically transparent mesh fabric. Equipped with a high-excursion woofer and a beamforming five-tweeter array, which improves signal-to-noise ratio, this speaker delivers exceptional audio quality.
You can control the HomePod through Siri or the Home app on your iPhone or iPad. The touch controls at the top of the speaker also allow for convenient playback control, including play, pause, skip, and more, with a simple tap or double-tap. The HomePod measures
168mm and 142mm wide, and weighs 5.16lbs/2.3kg.
Amazon Echo Studio
The Amazon Echo Studio looks a lot like the HomePod, measuring 206x175mm and and weighing 7.7lbs/3.5kg. It has three, 2in midrange speakers, a 20mm tweeter, and a 5.25in woofer with a bass aperture to enhance bass output. Like other Amazon Echos, the Echo Studio can be controlled using the Amazon Alexa app, voice commands, or physical buttons located on top of the device. Third-party apps are also available for controlling the speaker and other smart home devices.
Music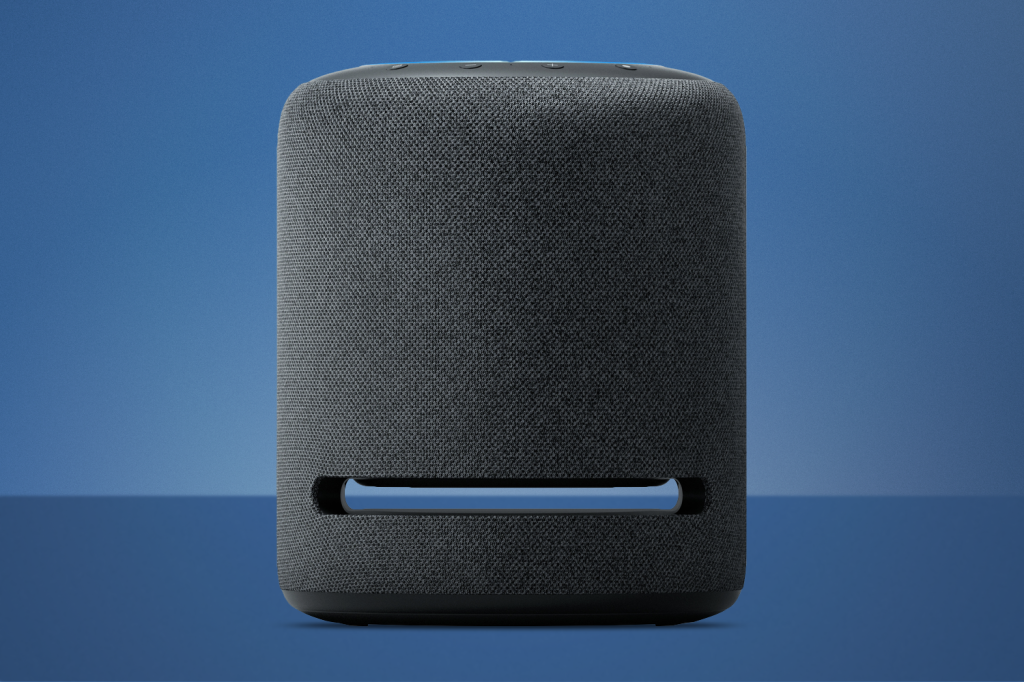 The Sonos Era 300 is an excellent choice for music lovers. It's compatible with the most popular streaming services, including Spotify, Apple Music, and Amazon Music. Moreover, it offers access to Sonos Radio's vast selection of channels, allowing you to listen to music from around the world.
One of the best things about the Sonos Era 300 is that it provides various options for listening to music. You can use Wi-Fi, Bluetooth, or an auxiliary cable and the Sonos Line-In Adapter to connect it to your turntable, computer, or any other audio source. It also supports Apple AirPlay 2.
The Sonos Era 300 features Trueplay, a Sonos-based tuning technology that analyses the unique acoustics of your space and adjusts the speaker's EQ accordingly. It's also compatible with Dolby Atmos and other sound technologies, and stereo pairing is also supported.
Different ecosystems
Unsurprisingly, the HomePod is designed to be tightly integrated with the Apple ecosystem. It can seamlessly connect to various Apple devices, including Apple Music, iTunes music purchases, iCloud Music Library, and Apple Music Radio. One of the key features of the HomePod is its support for AirPlay 2, which allows you to share content from other Apple devices easily.
In addition to its tight integration with Apple devices, the HomePod also supports a range of third-party music services, which can be accessed via Bluetooth. This includes Spotify, Amazon Music, Tidal, and many others. Some of the most popular radio stations can also be accessed via the HomePod, including TuneIn, iHeartRadio, and Audacity. Audio technology on HomePod includes room sensing, Spatial Audio with Dolby Atmos for music and video, sound recognition for smoke and carbon monoxide alarm sounds, multiroom audio with AirPlay, and stereo pair capability.
Much like the Sonos Era 300, the Amazon Echo Studio will automatically sense the acoustics of your space, and fine-tune audio accordingly. Naturally, it's easy to access Amazon Music HD, and the 90 million+ songs in its library, available in lossless audio formats like HD or Ultra HD. Voice control and Alexa-integration makes searching for songs a doddle, with select songs available in spatial audio formats like Dolby Atmos.
Sonos Era 300 vs Apple HomePod vs Amazon Echo Studio: TV features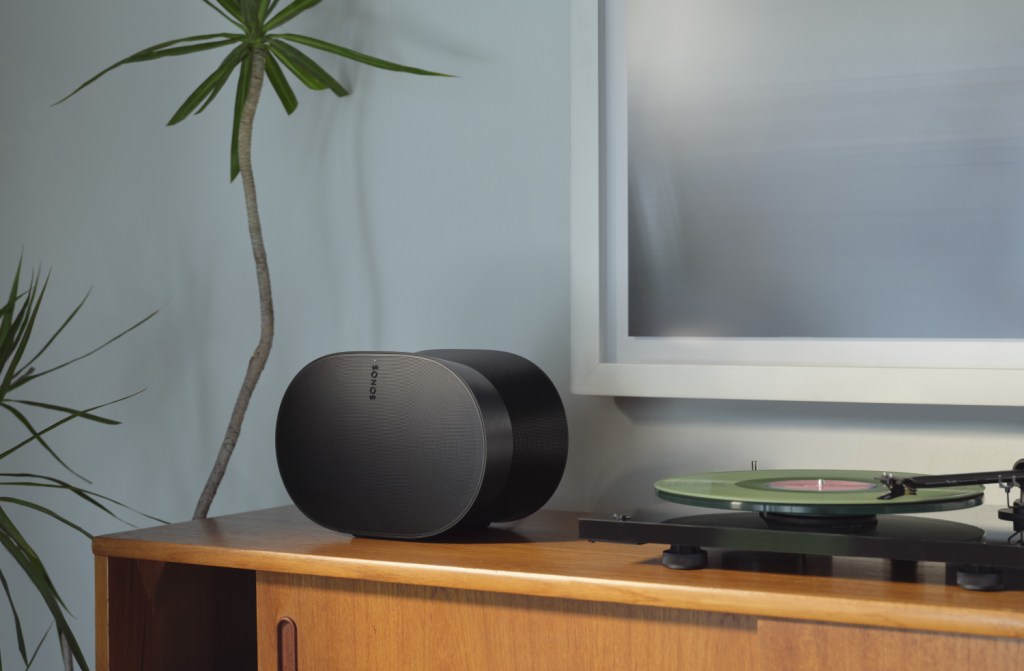 Undoubtedly, much of what makes all three speakers great for music extends to TV entertainment. The Sonos Era 300, for example, supports Apple AirPlay 2, so you can stream content across your devices. The Sonos Era 300 is even better when paired with a Sonos Arc, our favorite soundbar.
Apple HomePod also takes advantage of AirPlay 2. Doing so allows you to watch entertainment on your TV from other sources. If you have both an Apple TV 4K and a HomePod, you can enhance your home theatre experience using a single HomePod or a stereo pair. By configuring your HomePod as a home theatre audio, you can add a fully engaging soundstage for your video content with Dolby Atmos, Dolby Digital 7.1, or Dolby Digital 5.1 surround formats.
Lastly, linking your Amazon Echo Studio to your television is possible. You can do so by using Bluetooth and utilising it as a speaker. This feature is available for both standalone TVs and receivers. Additionally, you can connect a compatible Fire TV device to a supported Echo for an enhanced auditory experience.
The Sonos Era 300, Apple HomePod, and Amazon Echo Studio all support multi-room audio and stereo pairing. With Sonos soundbars, the Sonos Era 300 supports rear surround sound.
App and voice control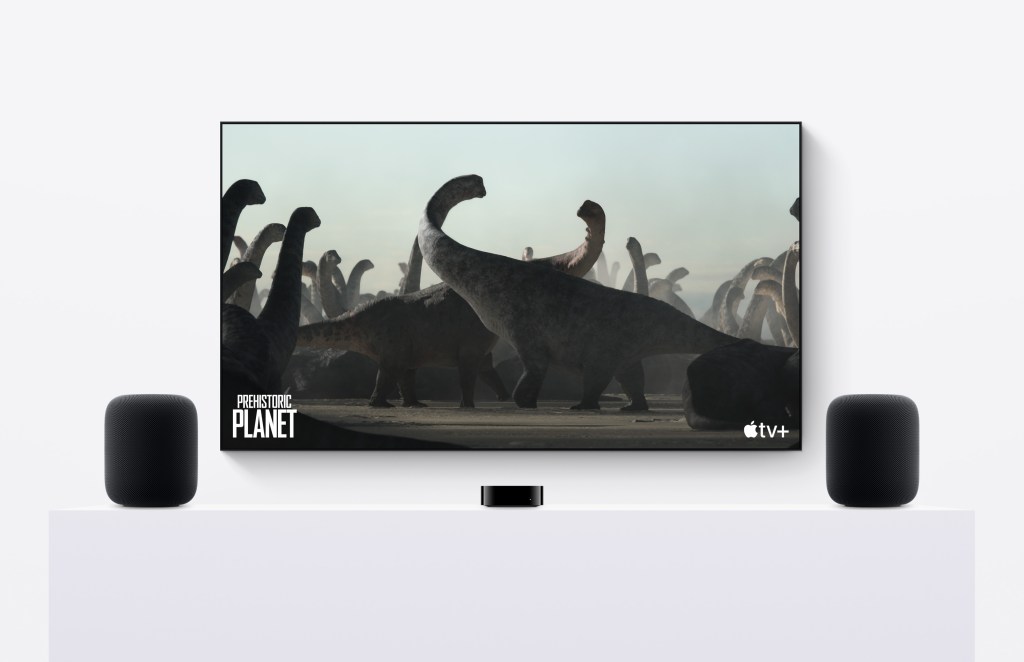 The Sonos Era 300, like other Sonos speakers, is easily controlled by the official Sonos app. It also supports the company's Voice Control and Amazon Alexa. The app allows you to create and manage groups of speakers when you have more than one, enabling you to simultaneously play music in various rooms. Along with these features, the app lets you set alarms and timers, adjust the volume, bass, and treble for each speaker, install software updates, and more.
You can control your speakers using your voice with Sonos Voice Control, much like Amazon Alexa on the Amazon Echo Studio. You can perform various tasks such as playing and pausing music, skipping tracks, adjusting the volume, creating and managing speaker groups, getting information about the current song, setting alarms and timers, controlling other smart home devices, and more.
Apple HomePod is controllable through Apple Siri via your voice and the Home app on iPhone and iPad. Functions are similar to those with Sonos Voice and Amazon Alexa. However, you can control other Apple-based innovative products and Apple HomeKit support devices with the Home app.
Sonos Era 300 vs Apple HomePod vs Amazon Echo Studio: verdict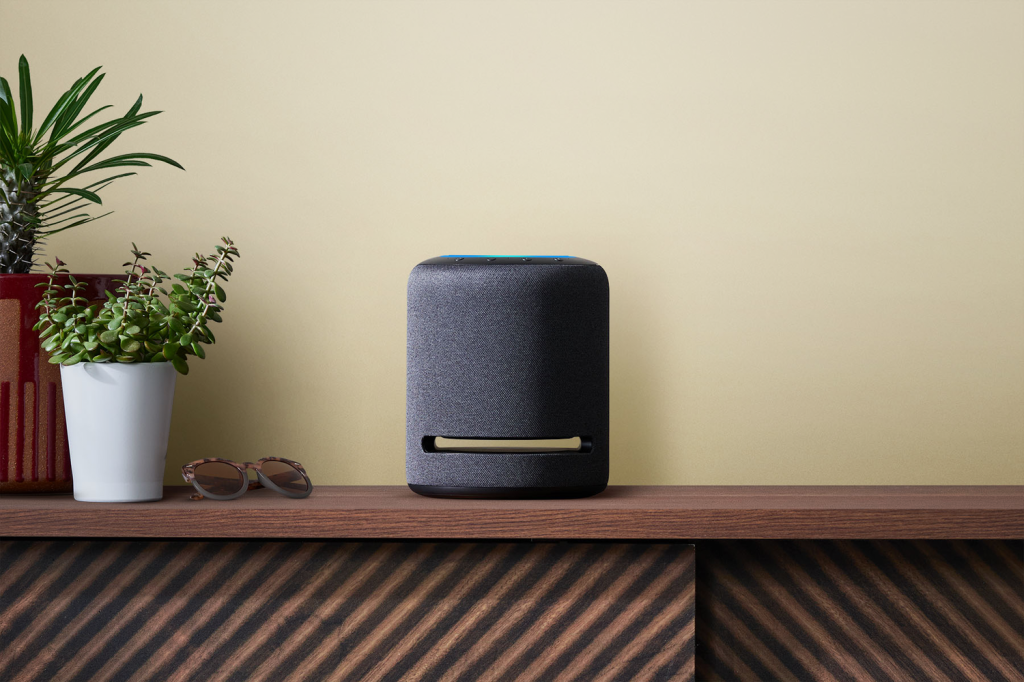 Out of the three speakers, the Sonos Era 300 is the priciest. Still, it delivers exceptional sound quality with a wide soundstage that produces crystal-clear and detailed audio even at high volumes. It even has Dolby Atmos support, which enhances the overall listening experience.
The Apple HomePod is a premium-priced speaker with excellent sound quality optimized for Apple Music. Compared to the Sonos Era 300, it offers a more even sound profile and can produce more profound bass. Lastly, the Amazon Echo Studio is an affordable speaker that offers exceptional sound quality. With a wide soundstage and the ability to produce clear and detailed audio, it's an excellent option for music lovers. While it does support Dolby Atmos, it may not be as impressive as the Sonos Era 300 in this area.
Choosing the perfect speaker depends largely on your unique needs and preferences. The Sonos Era 300 would be a great option if you prioritize exceptional sound quality. Apple users who want a speaker designed for Apple Music should consider the Apple HomePod. For those on a budget but still want solid voice control, the Amazon Echo Studio is a worthy consideration.
Related: Best wireless speakers: Music and radio via Wi-Fi