Samsung Galaxy Z Flip 5 vs Motorola Razr 40 Ultra: which is best?
Two top-tier flip phones go head to head. Which one deserves your cash?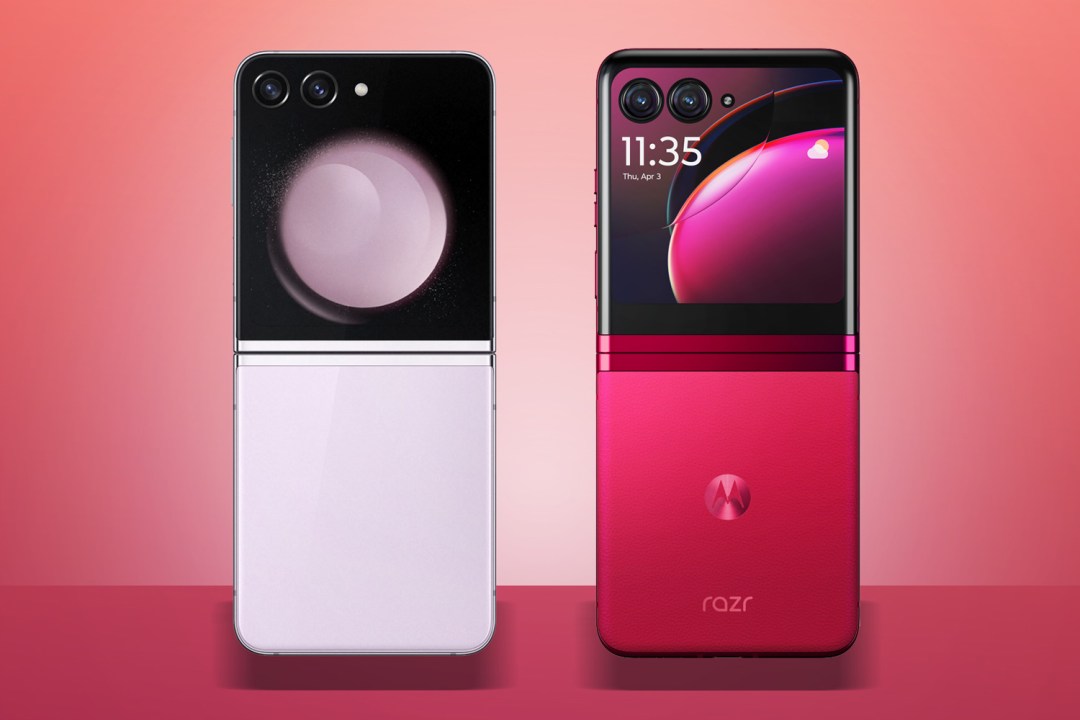 Samsung used to have the flip-style foldable market wrapped up, but there's been no shortage of killer competition recently. Oppo and Huawei have really stepped up their game, and Motorola has brought back the Razr range in a big way. The Razr 40 Ultra is the best of the bunch, and could be the Galaxy Z Flip 5's biggest rival when it lands in the next few weeks.
We've not spent a huge amount of time with the Z Flip 5 just yet, so can't give a final verdict, but have broken down how it stacks up to the Razr 40 Ultra below – and highlighted where one takes the lead over the other.
Design & build: cute and colourful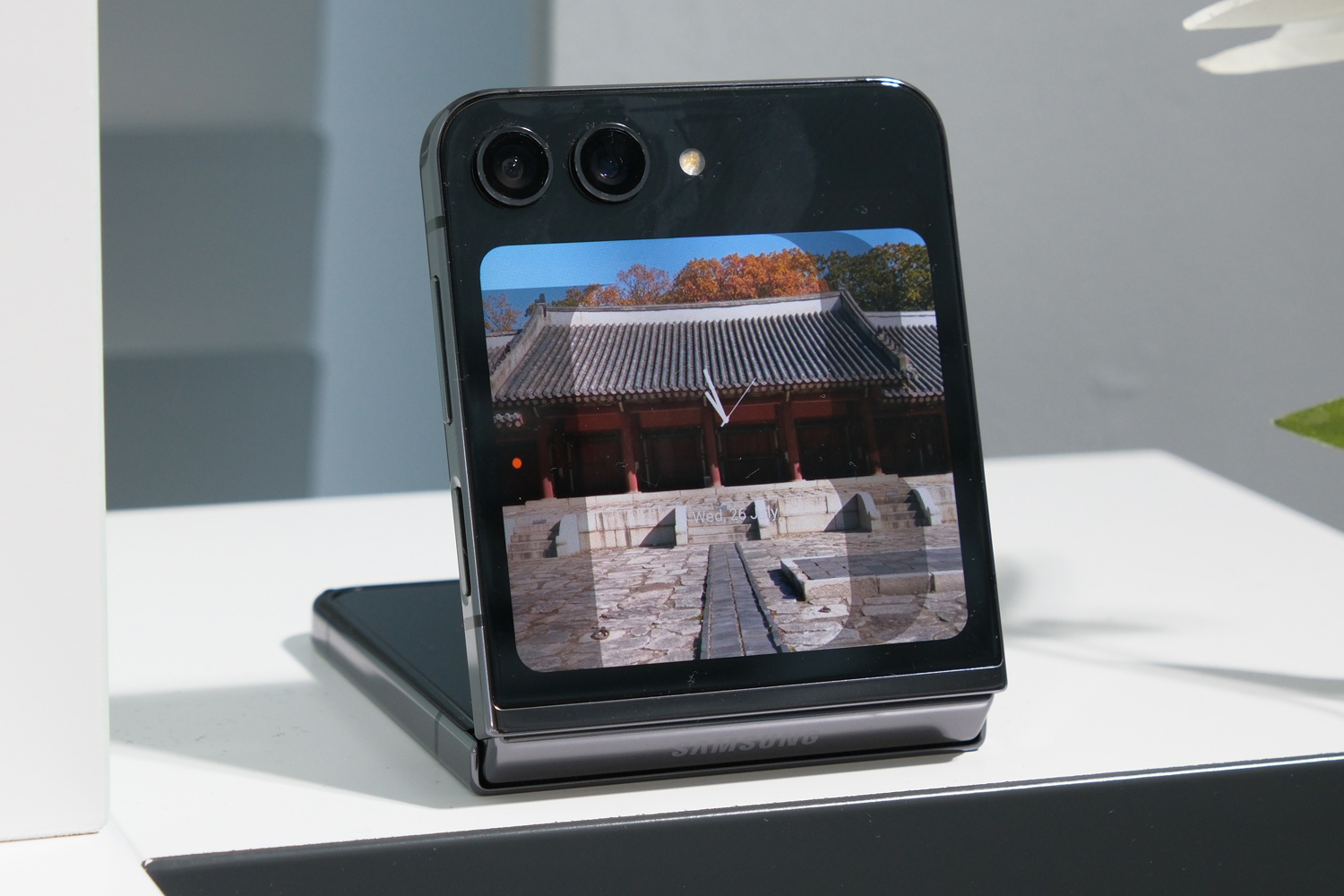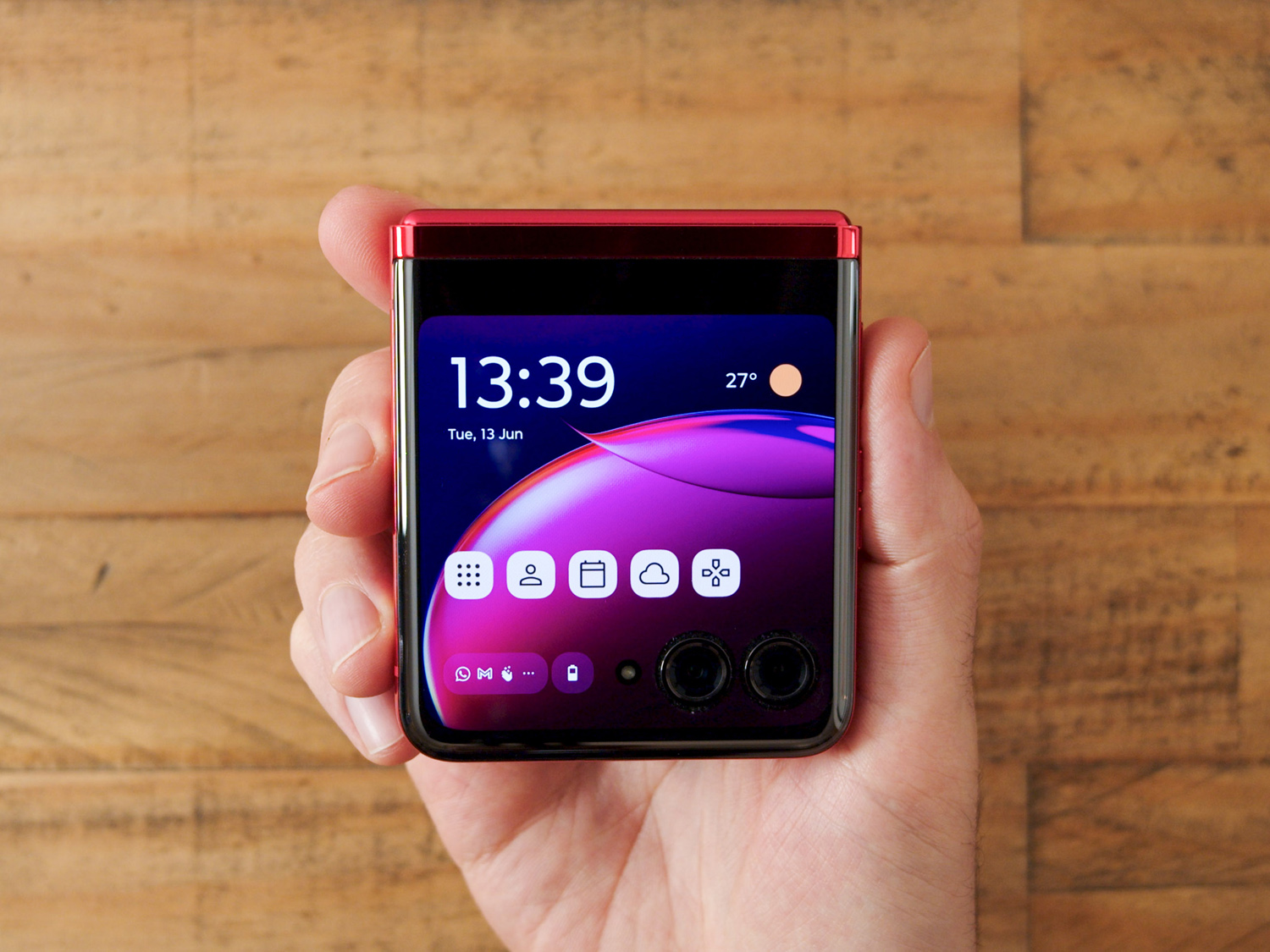 Motorola has long since ditched the 'chin' from the reborn Razr range, and its latest effort is more streamlined than ever. Its 3.6in cover display fills more of the front of the phone than the Z Flip 5's new Flex Window, with punch-hole gaps for the dual camera lenses.
The Razr 40 Ultra uses a mix of metal, glass and (depending on the model) vegan leather, with a hinge which folds completely shut with no gap. It can stay part-open between 45- and 140-degrees. The whole thing is IP52 rated, which means better dust resistance than the Z Flip 5, but worse water resistance. It's much more streamlined than previous Razr efforts, and a lot more colourful to boot. The Flips is limited to subtler pastel hues.
Samsung also banished the gap for this latest phone generation, using a new hinge which folds completely shut. The much bigger external screen dominates the front of the phone now, but the overall shape and design hasn't changed all that much from the previous model. There's nothing in it between the two phones as far as thickness or weight goes.
Either way you're getting a slick clamshell phone, and which is better looking will boil down to personal preference.
Screen & sound: all about the outer screens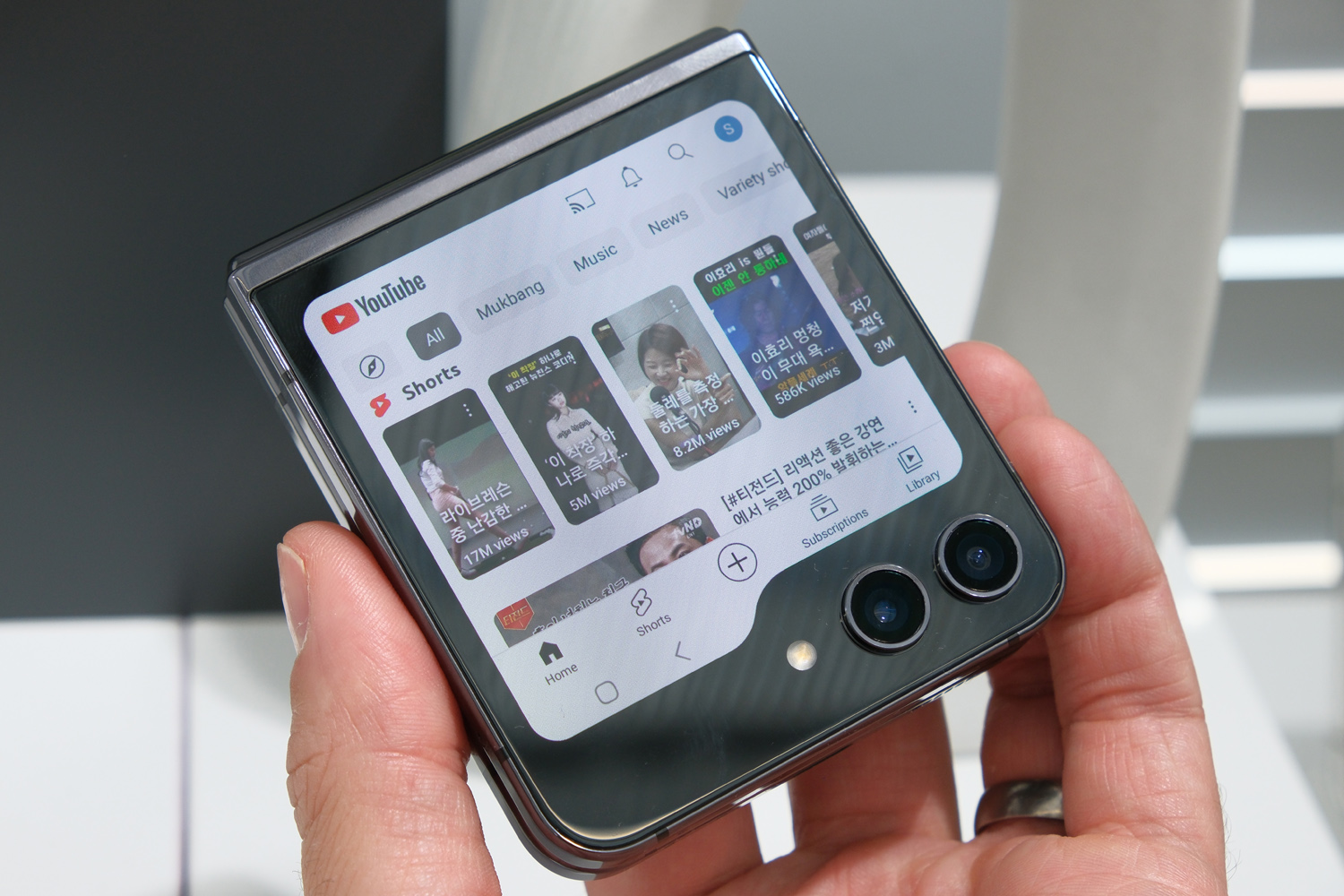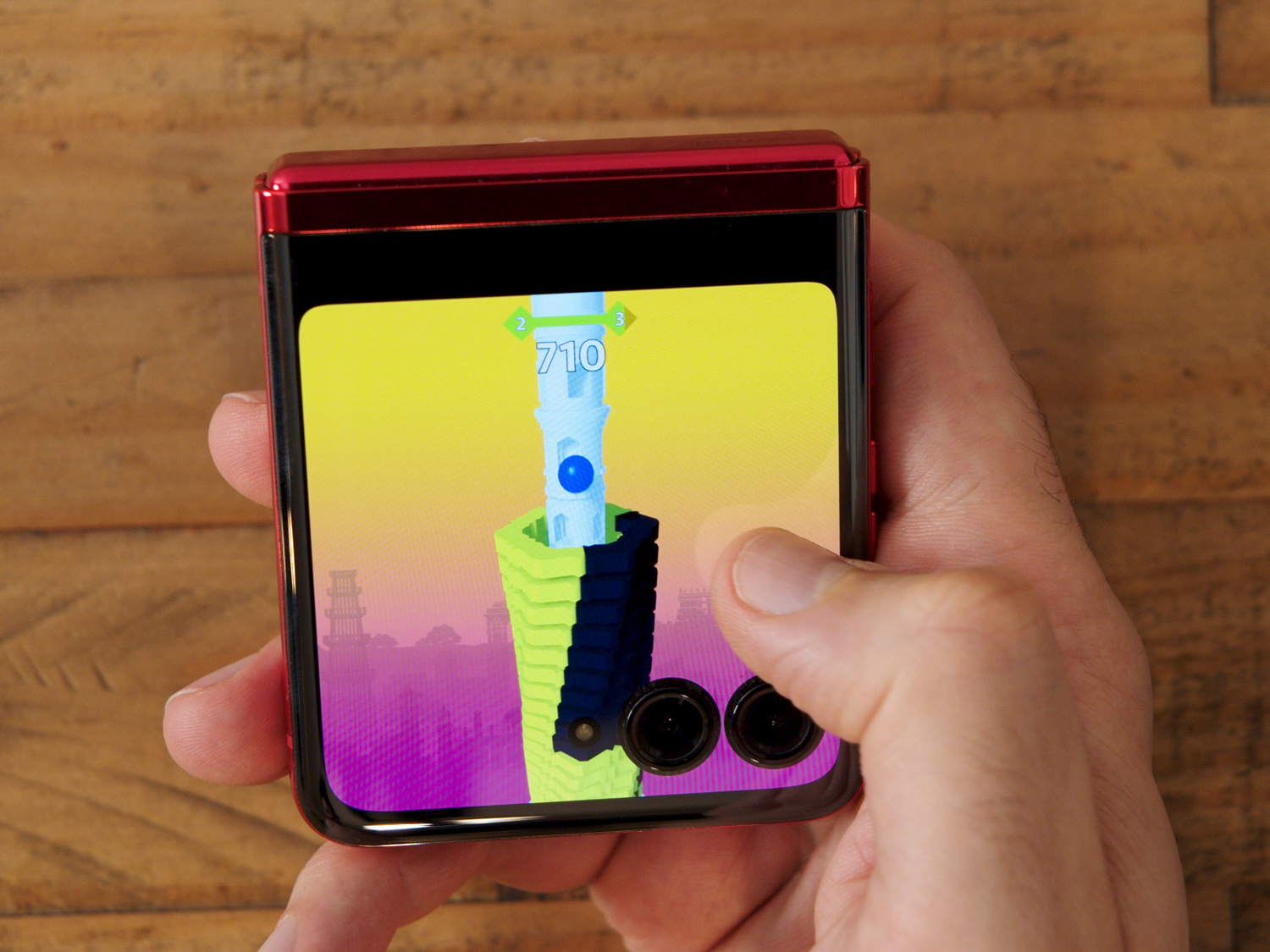 Going purely by the spec sheet, it might be Motorola that has the better pair of displays. While a pair of camera lenses punch through the Razr's outer display panel, it's still a fair bit larger, at 3.6in to the Z Flip 5's 3.4in. It has a much higher resolution (1066×1056 to the Flip's 720×748) and an impressive 144Hz refresh rate. Samsung has stuck to a 60Hz panel. The Razr can even play HDR10+ content, thanks to an 1100 nit peak brightness, and more apps play nicely with it right now.
Inside, the Z Flip 5's 6.7in flexible AMOLED is smaller than the Razr's 6.9in panel, and maxes out at 120Hz. The Moto manages 165Hz in certain situations, with LTPO tech to dynamically adjust on the fly, in order to keep power consumption in check. Both have the same 2640×1080 resolution, though, so it's the Samsung that squeezes in more pixels per inch.
Ultimately these are two very tasty sets of screens, and worth every penny their manufacturers are asking for them, but we've got to hand the win to Motorola until a full review says otherwise.
Cameras: it takes two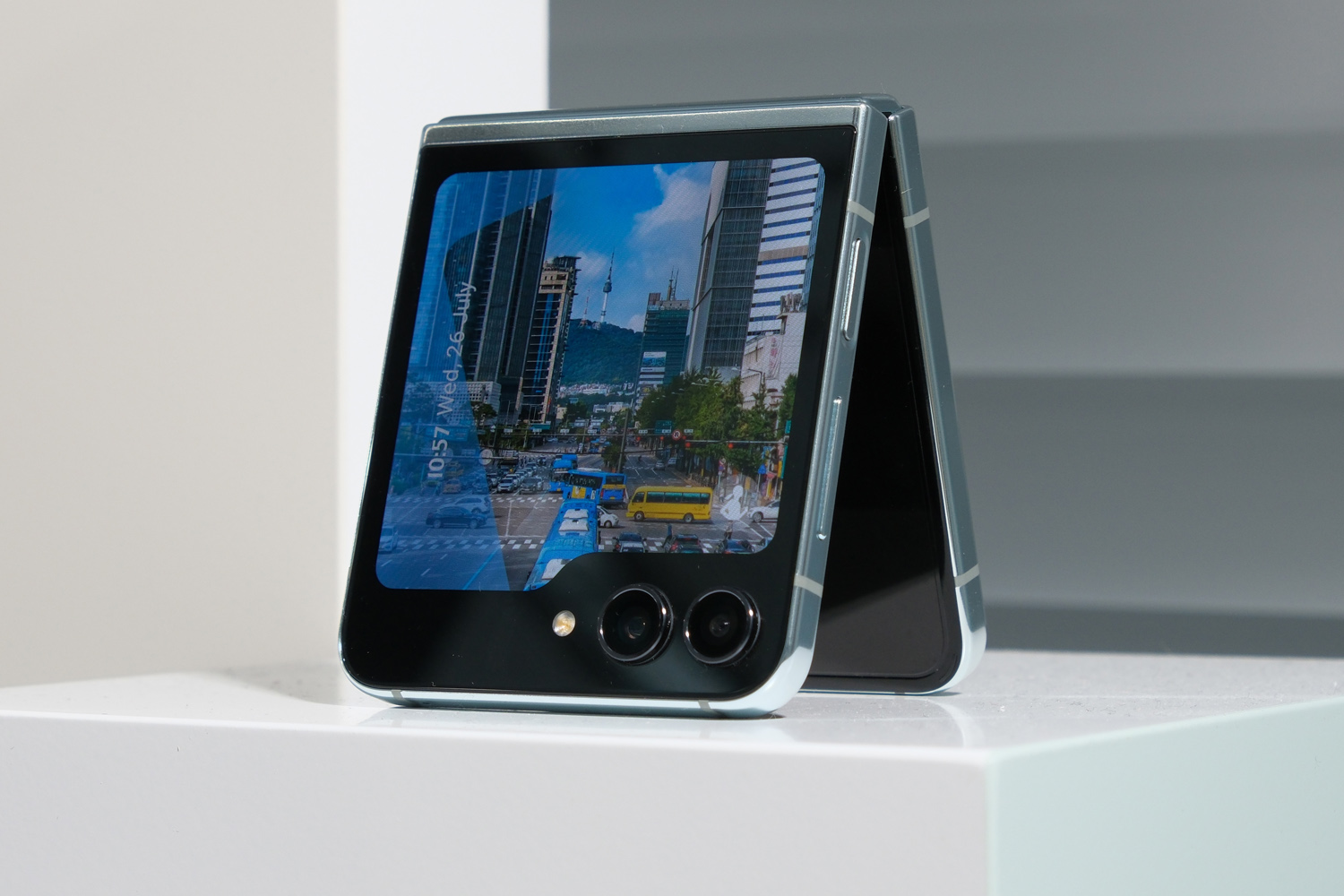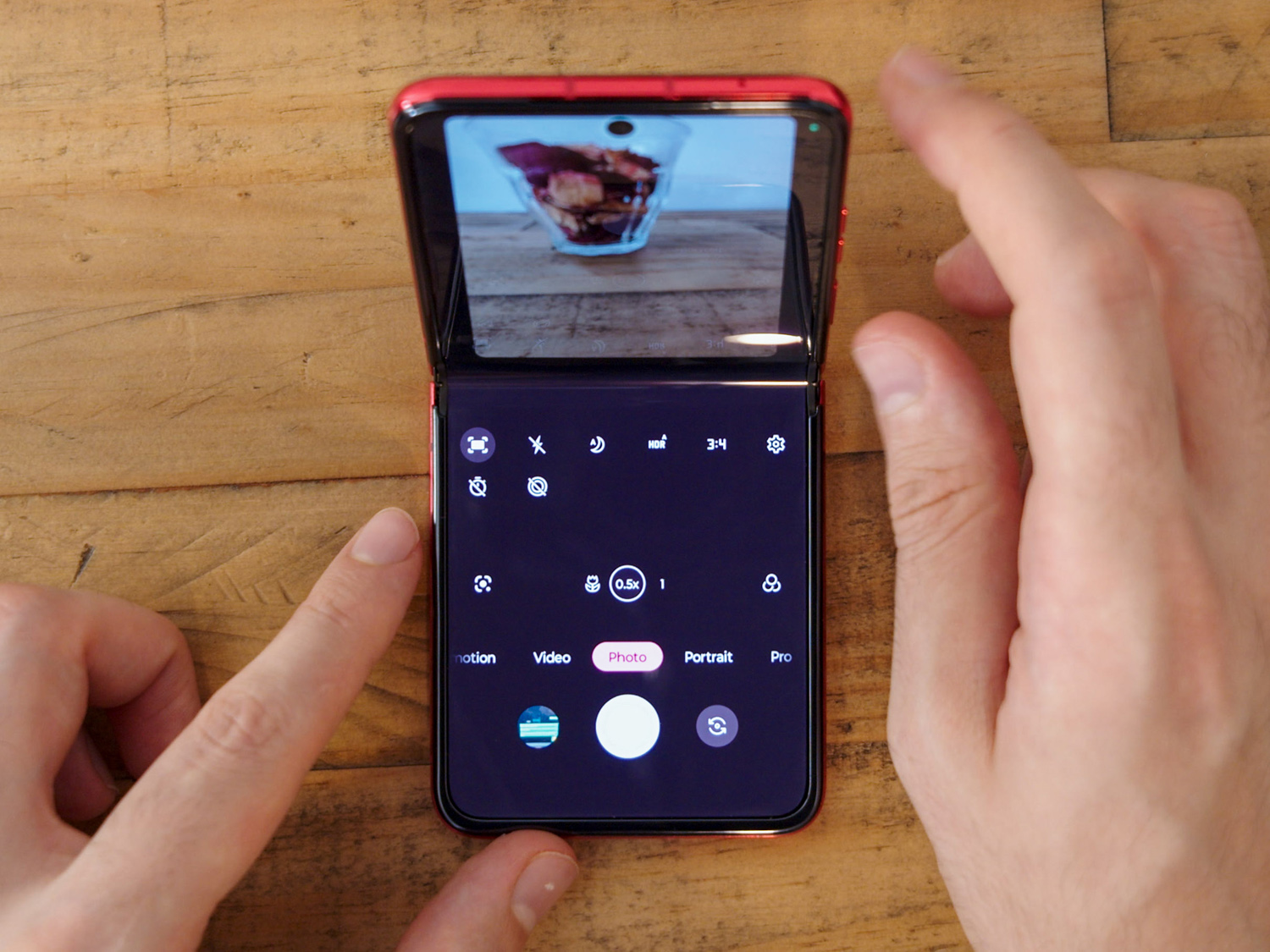 Both the Z Flip 5 and Razr 40 Ultra have a pair of rear cameras, plus a single selfie cam for the inner display. Samsung has kept the same 12MP main and 12MP ultrawide snappers as the previous-gen Z Flip 4, but upgraded the lenses in order to cut down on light flaring. Optical image stabilisation and dual-pixel PDAF should help the lead camera take a high quality shot, even if its f/1.8 aperture lens isn't quite as wide as the Razr's.
Motorola has gone for a 12MP main snapper with PDAF, OIS and an f/1.5 aperture lens. It's paired to a 12MP ultrawide with autofocus, a 108-degree field of view, and f/2.2 aperture lens. That's a narrower view than the Flip 5's 123-degree ultrawide, but macro focus adds some extra versatility. Video recording tops out at 4K/60p, and can manage 120fps footage at Full HD.
The Razr's inner camera gets a 32MP sensor and f/2.4 lens, which is more than triple the pixel count of the Flip 5's 10MP punch-hole camera. But it's not all about numbers: Motorola has historically been a step behind Samsung on image processing terms, so we're expecting the Z Flip 5 to produce more pleasing pics overall. Final judgment is being withheld for a full review.
Performance & battery: power bump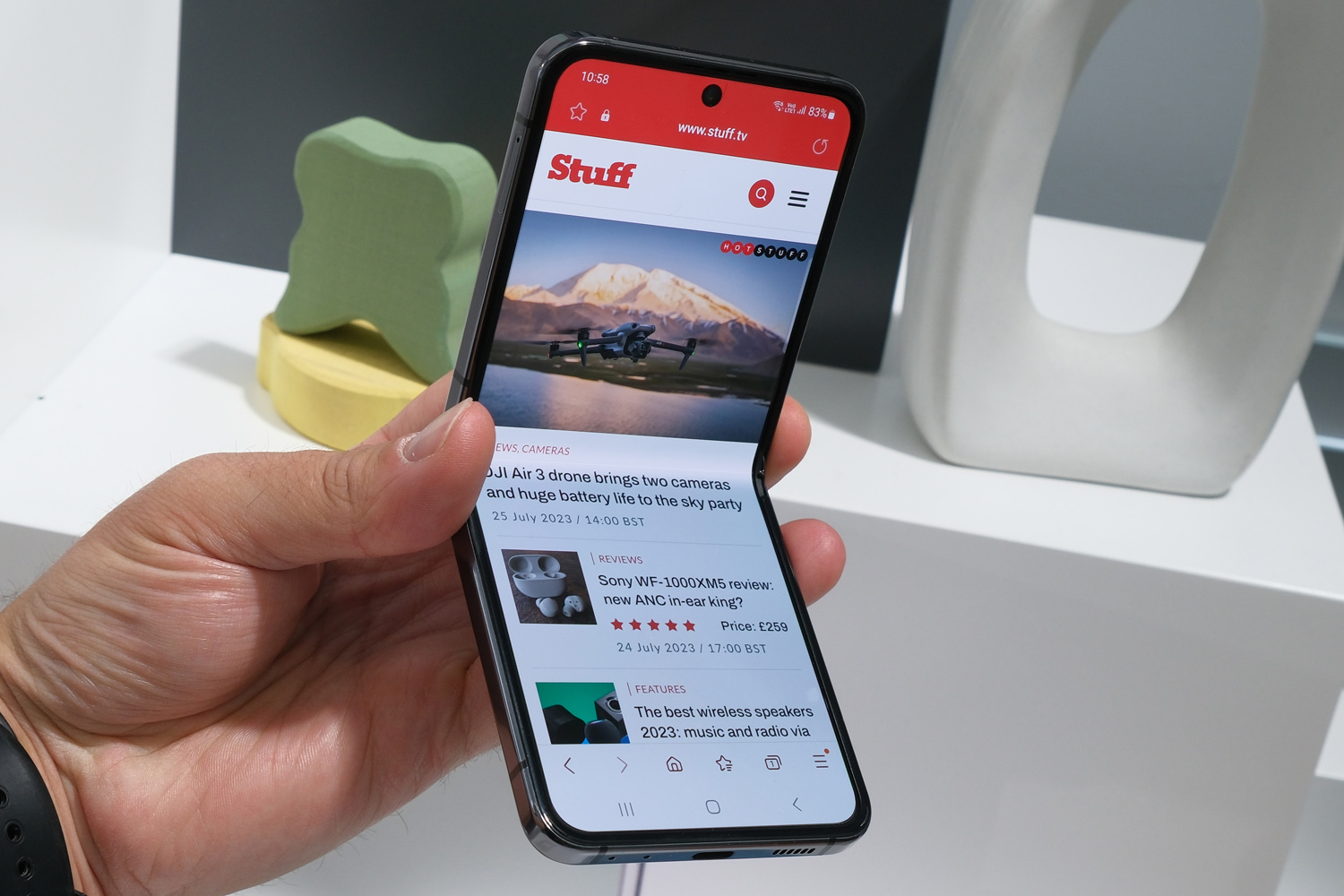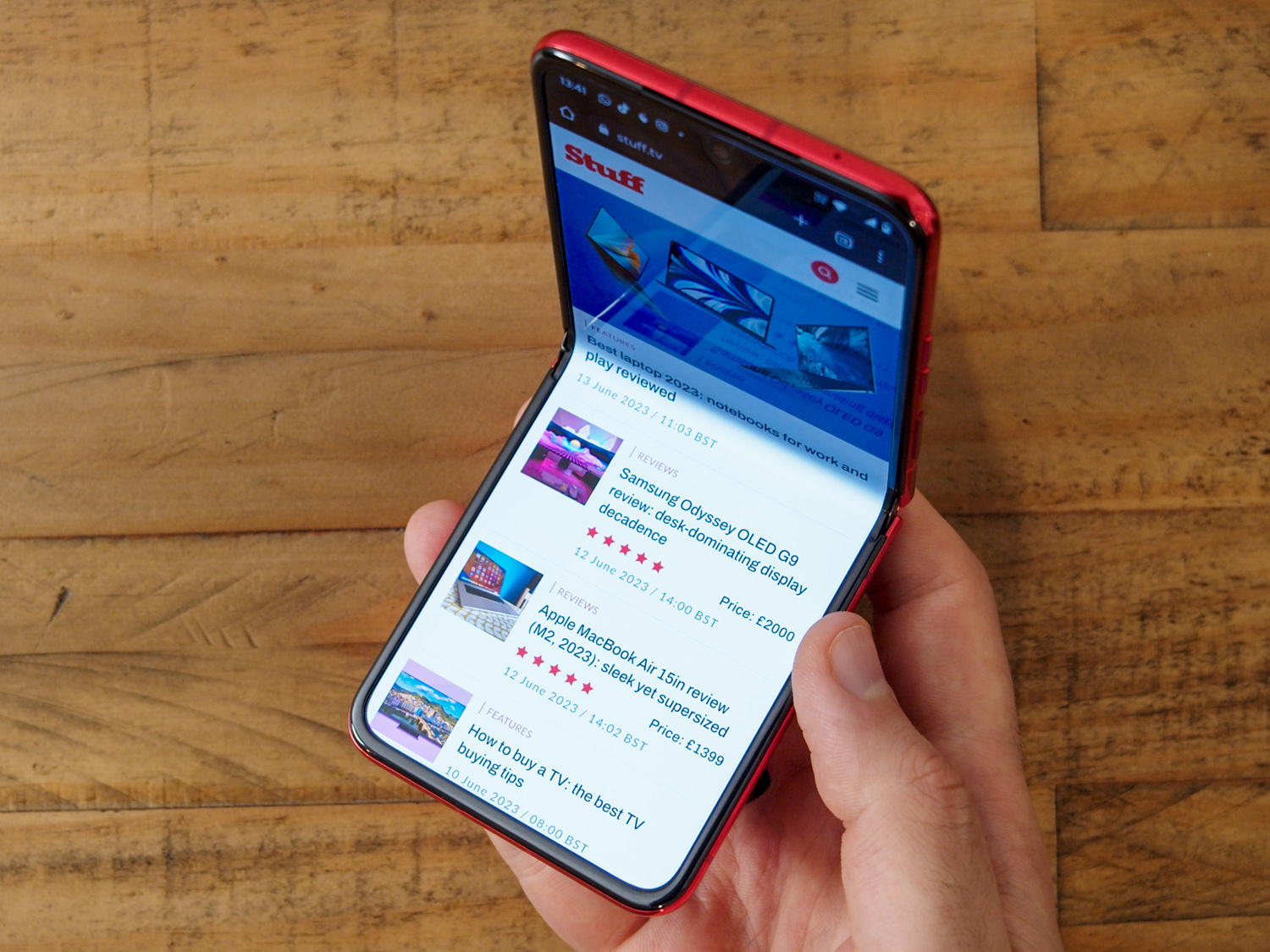 Samsung's ongoing partnership with Qualcomm means the Z Flip 5 lands with a Snapdragon 8 Gen 2 for Galaxy, a bespoke-tuned version of the flagship chip which runs a little quicker than the off-the-shelf versions used by rival manufacturers. It's paired to 8GB of RAM, and your choice of 256 or 512GB of onboard storage. We're expecting it to be up there with the fastest flagship phones currently on sale, and have more than enough grunt for gamers.
The Razr 40 Ultra only arrived a few months ago, but it uses a previous-gen Snapdragon 8+ Gen 1 processor. This is by no means a sluggish phone, but it isn't quite as zippy as the Flip 5 – or as energy efficient. The 128GB base model and step-up 256GB version has 8GB of RAM, while the 512GB range-topper gets 12GB for smoother multitasking – but which models are available to you depends on where you are in the world.
Motorola has found room inside the Razr 40 Ultra for a 3800mAh battery, which gives it a minor lead over the Flip 5's 3700mAh cell – but that phone's processor should consume a little less juice, so we're expecting it to be neck and neck as far as longevity goes. The Razr can charge over USB-C at 33W, which is better than the Flip's 25W, but wireless charging is slower, at 5W to the Samsung's 15W.
Galaxy Z Flip 5 vs Motorola Razr 40 Ultra verdict: which should you choose?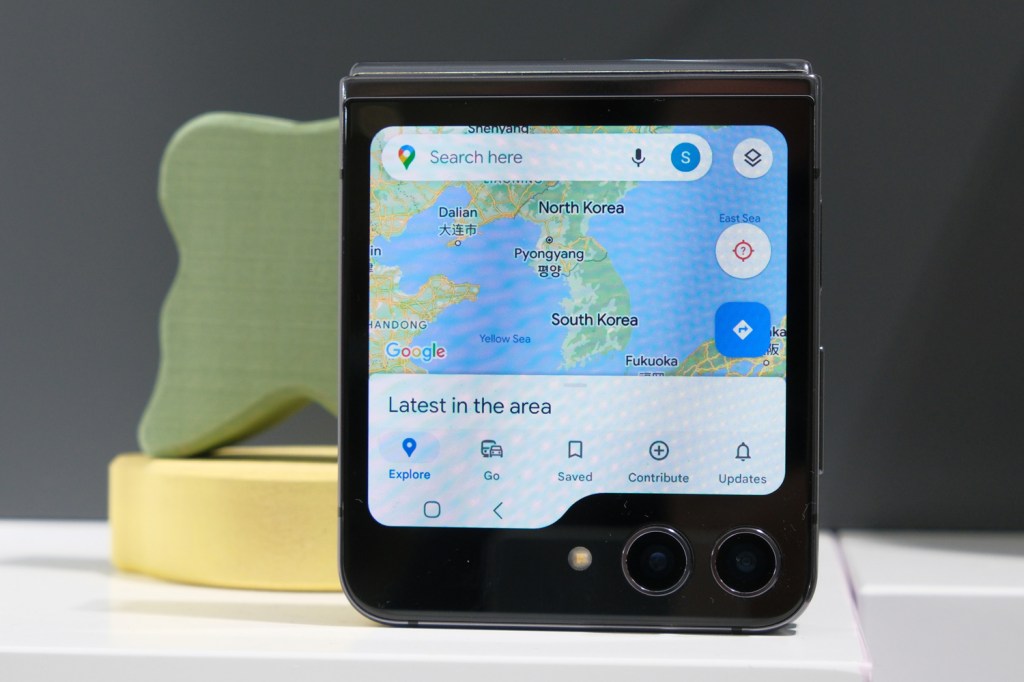 With a larger cover screen, uprated internals and a fold-shut hinge, the Galazy Z Flip 5 is a healthy upgrade over Samsung's last-gen clamshell phone. But the Razr 40 Ultra is easily Motorola's best folding effort to date, and the two trade blows in several areas.
One has better dust resistance, the other copes better with water; one has a bigger battery and slightly faster charging speeds, the other has a more efficient CPU. They both have capable camera hardware, but Samsung's image processing has been more consistent than Moto's. The Razr's magenta colour is arguably more of a head-turner than the Flip 5's subtle pastel shades. It's also a little easier on the wallet.
We reckon it's a strong choice for those who dare to be different – but ultimately still expect the Samsung to be the more popular buy.