Samsung Galaxy Note 3 vs LG G Pro 2
Two big phones, but which made the biggest impression on us?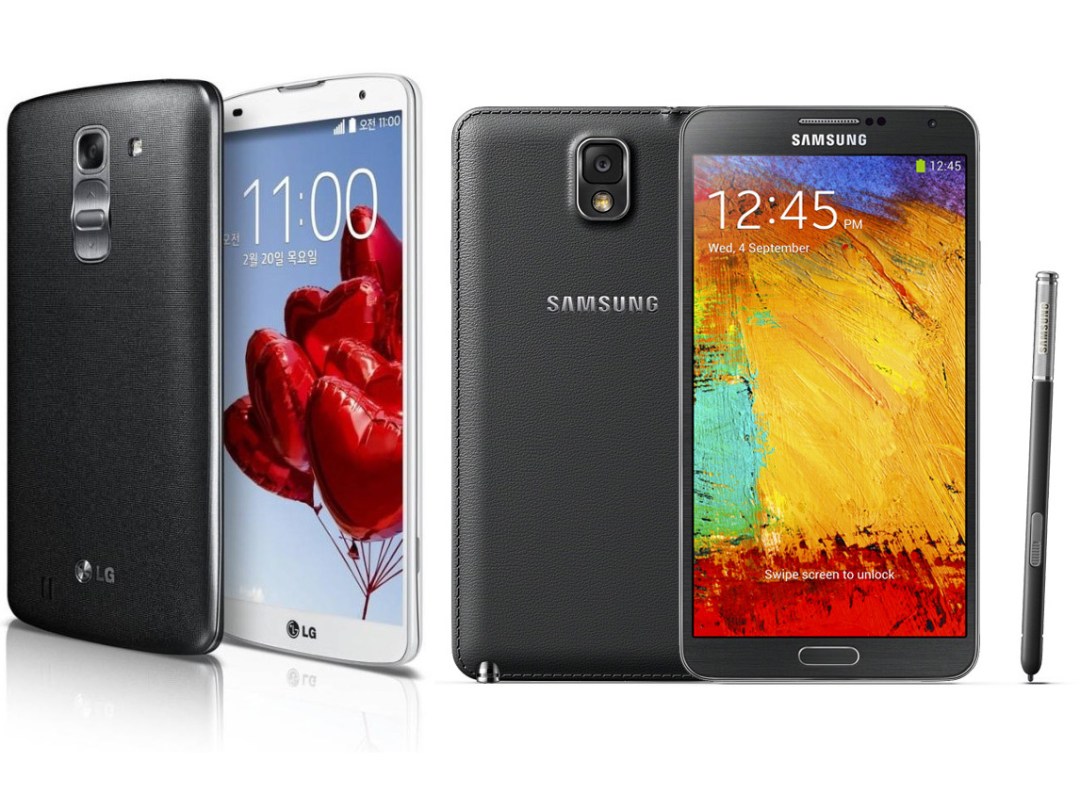 We're calling this one the battle of the phablets. The Samsung Galaxy Note 3 is the undisputed king of the big-phone market, while the LG G Pro 2 is the super-sized version of our 2013 Smartphone of the Year, the LG G2.
There's no doubt that if you're in the market for a hand-stretching smartphone behemoth, these two should be right at the top of your wishlist. But which would we spend our hard-earned cash on?
Plastic vs plastic
Fans of the iPhone 5s' metal build or the Xperia Z2's glass-clad body will be left feeling disappointed with both the Note 3 and G Pro 2, but that's not to say they're poorly built.
Both feel solid in the hands, but the Note 3 offers a little more grip, thanks to its faux-leather textured back. Opinion on Samsung's fake stitching is split, but some people will find it a little bit too tacky for their tastes. Alright, most.
The Note 3's only other er, notable, design feature is its S Pen, which sits tucked away in the bottom-right corner of the handset. We had trouble removing it from its slot quickly, but that does at least mean it's unlikely to fall out on the train.
The G Pro 2 looks like a scaled up G2, and that's because it is. The power and volume buttons are in the same position on the rear, which may take a little getting used to, but fortunately, the G Pro 2 can also be locked and unlocked with a screen tap combination if you're not a fan of the button placement. More on that later.
The G Pro 2 also shares the G2's sexy slim bezels, cramming more screen into a body that's only slightly larger than the Note 3's. Coupled with its svelte 8.3mm depth and clever Mini View UI option, that means it's just about usable with one hand. Its textured plastic back, meanwhile, is a big improvement over the G2's slippery plastic shell.
Both phones also have removable backs, enabling you to swap out the battery and add extra storage via microSD card.
Winner: Draw
READ MORE: Samsung Galaxy S5 vs LG G2
Screen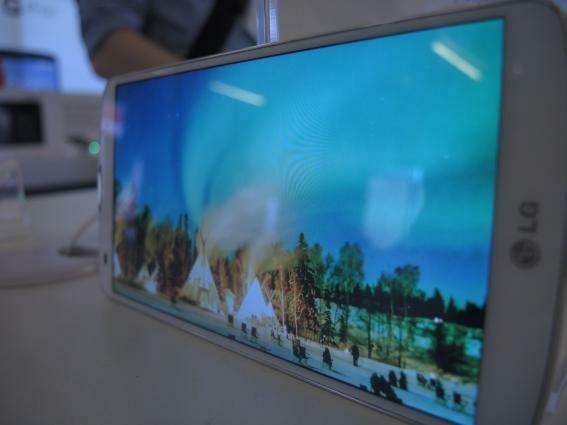 Both the Note 3 and G Pro 2 have stunning full HD displays, with impressive colours and viewing angles. Despite each stretching a 1080p resolution over more than 5 inches of screen, you'll have no sharpness complaints. Obviously the fact that the LG has the bigger display – 5.9in to the Samsung's 5.7in – means it has a slightly lower pixel density (373ppi versus 386ppi) but the difference is unimportant in daily use.
What is important is the relative display tech used in each. The Note 3 sticks to Samsung's preferred Super AMOLED tech, which means deep, true blacks and vivid colours. LG has instead retained the G2's IPS+ LCD screen; LCD displays tend to serve up purer whites and more realistic colours than their AMOLED counterparts.
Which one you prefer is largely up to you and ultimately either screen will delight your eyes on a daily basis. But for cramming in a slightly larger display into a body that's only a smidgen bigger, we're going to give this round to the G Pro 2.
Winner: LG G Pro 2
Feature-packed snappers
Both the Note 3 and G Pro 2 have 13MP rear cameras. Both devices can record 4K video at 30fps, 1080 video at 60fps, and slow motion 720p video at 120fps.
So far, so even. So this round's a draw, right? Not quite.
The G Pro 2, being the newer device, has a few more tricks up its sleeve than its rival. For starters, it takes the already excellent OIS (optical image stabilisation) of the G2 and builds on it, with its OIS+ technology delivering even better performance in dim conditions. Frankly, it beats most competitors hands down in this regard, with only minimal noise visible in low-light shots.
Results are better still in good light, matching those from the G2, and the fact that you can use the rear volume button as the shutter is a further bonus.
Like the Galaxy S5 and HTC One (M8), the G Pro 2 also lets you refocus on different parts of a shot after you've taken a photo. LG calls this Magic Focus, and in use it works pretty well. To get the most from it you'll need plenty of space between foreground and background – not to mention steady hands – but it's a nice feature to have.
The Note 3's snapper is every bit the G Pro 2's equal in most regards. It fires out excellent images in good light, with impressive contrast and vivid colours. But with no optical stabilisation it can't match the G Pro 2 in low light conditions, and while in typical Samsung style it's packed with camera tricks, none are as useful as Magic Focus.
So while both phones are among the best mobile snappers out there, this round goes to the G Pro 2.
Winner: LG G Pro 2
READ MORE: The 25 best free apps for Android
Power
The G Pro 2 and Note 3 both have identical quad-core Qualcomm Snapdragon 800 brains, along with 3GB of RAM to help them run hordes of apps simultaneously.
And, as you'd expect, both phones blaze along without a problem, handling everything from hardcore games to full HD video to multi-tabbed web browsing without a stutter.
All of which makes it all the more surprising that the G Pro 2 produced a disappointing AnTuTu score of just 20,679, whereas in our tests the Note 3 managed a massive 34,652. Now real world results are always more important than benchmarks, but at the same time we wonder whether the G Pro 2 will suffer when presented with more demanding games in the future. And while we're not going to penalise it for that now, it's something to bear in mind when making your decision.
Throw battery life into the equation and there's only winner in this category. While both devices pack a removable 3200mAh battery, the Note 3 comfortably lasts a day, whereas the G Pro 2 struggles to do the same. Maybe that slightly larger screen is counting against it here? Whatever the reason, a full day's use is the minimum we demand from our smartphones, so this round's going to the Samsung.
Winner: Samsung Galaxy Note 3
OS tweaks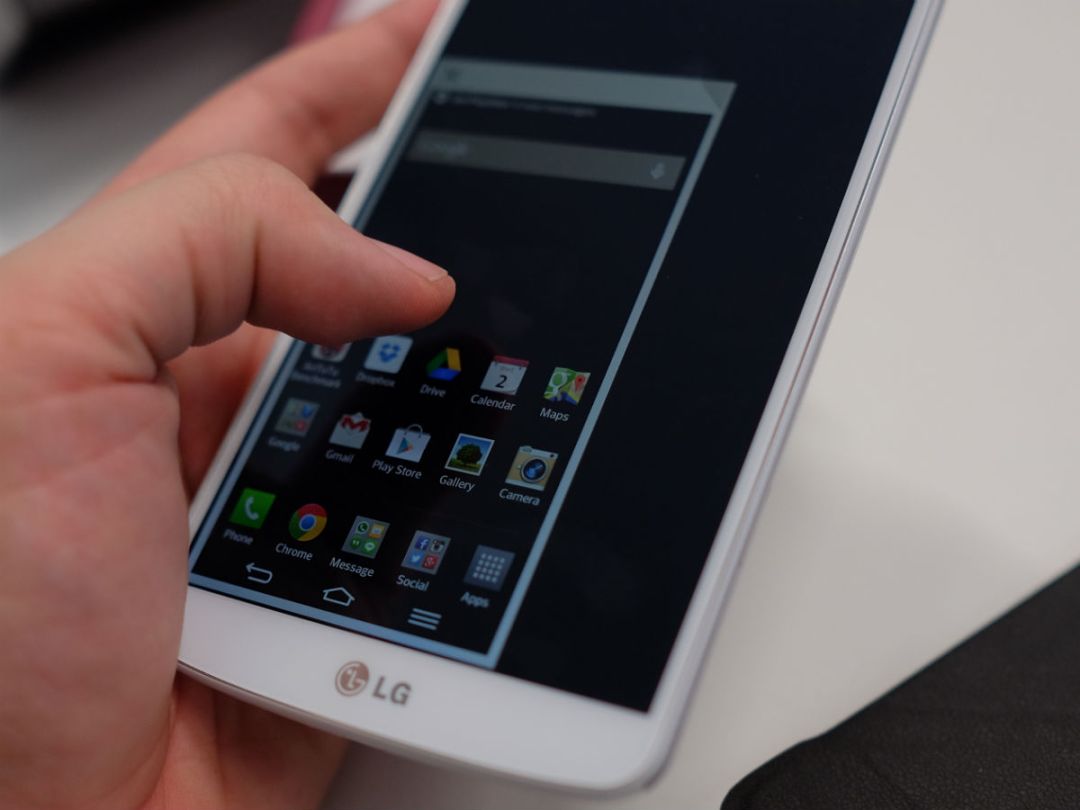 Samsung and LG are among the most zealous of Android tweakers and both the Note 3 and G Pro 2 have been heavily skinned – for better and worse.
The Note 3 gets Samsung's TouchWiz interface in all of its cartoony glory, and if you can manage to forgive it the garishly in-your-face design it has plenty of nice features.
So, in no particular order, they include: a FlipBoard-powered stream of all your news and social updates; MultiWindow, which lets you view two apps simultaneously; a shrunken down display option for one-handed use; Smart Rotation, which automatically adjusts the screen's orientation to match that of your face; Quick Glance, which lets you wave your hand over the Note 3 when it's locked to summon notifications; Story Album for arranging your snaps; S Health for tracking exercise.
Still with us? There's something for everyone, basically. And a lot that's probably for no-one.
The G Pro 2 isn't quite so overflowing with software goodies, but it does feature one of our favourite of all OS tweaks in the form of the new Knock Code.
LG's G2 was the first phone to introduce the concept of tapping your phone to turn it on, but that feature can now also be found on the HTC One (M8) and Sony Xperia Z2, making it a bit less special. But, like The Beatles in their mid-'60s heyday, LG has already moved things on again by the time its rivals have caught up.
Rather than just tapping anywhere, Knock Code lets you determine where and how many knocks on the screen are required to unlock the phone. The genius of this is that it combines the switching on and passcode in one; nobody's likely to guess that you tap it twice at the top right, once on the bottom right, once more at the top left, then twice on the bottom left to unlock it. Well, unless you now use this exact sequence.