Samsung Galaxy Note 10+ vs OnePlus 7 Pro: Which is best?
These big beauties battle it out for flagship supremacy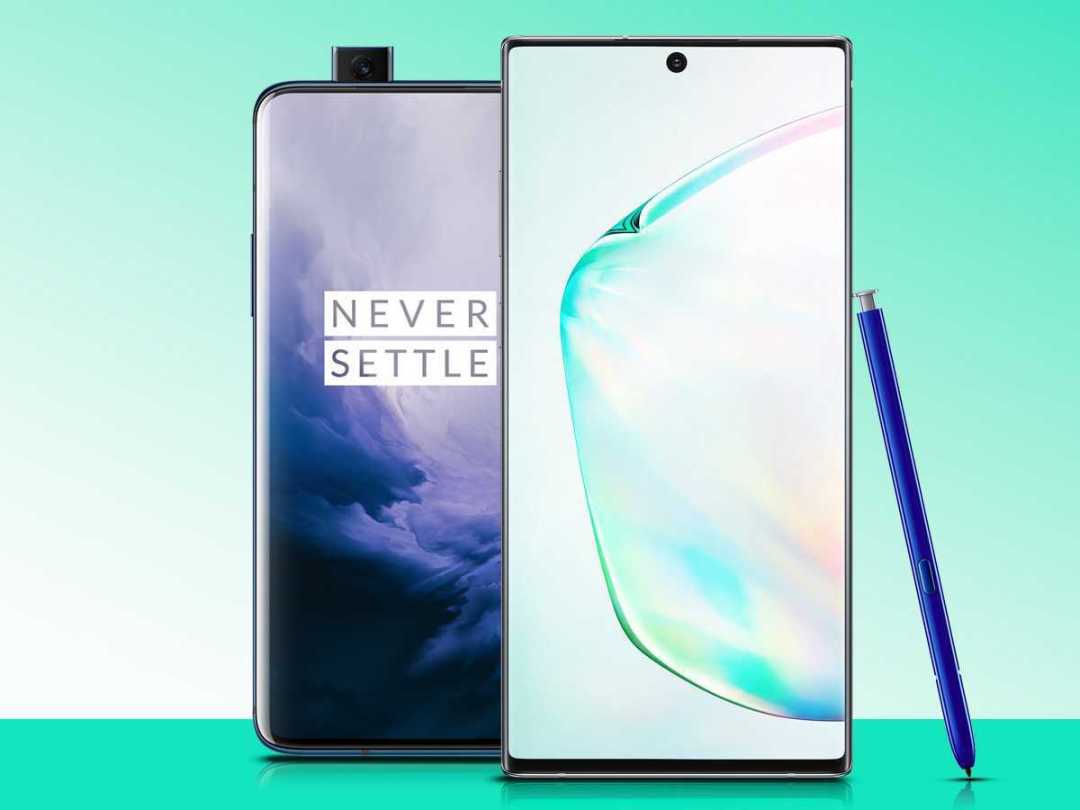 The battle between a Samsung flagship and a cheaper OnePlus alternative is a familiar one from the last few years, but with the Galaxy Note 10+ and OnePlus 7 Pro, they're both pricier handsets than usual.
They're also both richer with premium features than usual. The Note 10+ runs a cool thousand quid and comes with various enhancements over the previous model, including a much sleeker design, enhanced S Pen stylus, and quite a bit more power packed within.
Meanwhile, the OnePlus 7 Pro vaults the brand into the ultra-premium space with a nearly bezel-less Quad HD panel at a silky smooth 90Hz refresh rate, as well as a triple-camera setup and a top-end processor.
Do the Note 10+'s added perks justify the price bump, or is the OnePlus 7 Pro still the more sensible option for most? Here's what we think now that we've reviewed the Note 10+.
Design: They're beauties
We're taken with the design of the Galaxy Note 10+, which sheds most of the extraneous bezel from the Note 9 and is also slimmer and lighter, packing a lot of phone within a reasonable footprint. The single, center-mounted punch-hole camera looks pretty unobtrusive overall, while the backing has a flashy, Huawei-esque appeal to it.
Even so, it's hard to top the OnePlus 7 Pro. It's a bulkier phone, but the lack of huge bezel, a screen notch, or a punch-hole cutout gives it a gorgeous effect, while the Nebula Blue and Almond colour options are both very appealing. This one really comes down to preference, because both are definitely lookers.
Winner: Draw
Screen: Smoother is better
These are two of the largest screens you'll find on a phone today, at 6.67in on the OnePlus 7 Pro and 6.8in on the Galaxy Note 10+. In both cases, they're Quad HD AMOLED panels – stunners across the board.
The OnePlus 7 Pro has a pair of key advantages here, however. First, the screen is completely unadorned by a notch or cutout, whereas the Note 10+ has a small punch-hole camera cutout atop the screen. That's because the OnePlus 7 Pro hides its selfie camera in a pop-up module, which only raises when you need it. That's handy.
And second, the OnePlus 7 Pro has a 90Hz refresh rate, which delivers notably smoother performance than we see from the average smartphone screen. All told, it makes for the best screen we've seen on a handset to date, and the Note 10+ isn't. built to beat it. Still, it's very close in overall quality, and one of the next-best screens on the market today.
Winner: OnePlus 7 Pro
Camera: Snap happy
Samsung has a slight advantage in this category, however. The OnePlus 7 Pro has a versatile triple-camera setup on the back, with a 48-megapixel main camera along with a 3x zoom telephoto lens (8MP) and a 16MP ultra-wide sensor. The results aren't the most consistent we've seen from a flagship smartphone, but at its best, the OnePlus 7 Pro comes very close to matching the competition.
Meanwhile, the Note 10+ essentially carries over the excellent triple-camera setup from the Galaxy S10, with a 12MP main sensor, 12MP telephoto lens, and 16MP ultra-wide camera. It then adds a time-of-flight sensor for enhanced depth sensing. They're similar setups in terms of overall capabilities, but in our experience, the Note 10+ delivers stronger shots on a more consistent basis.
Winner: Samsung Galaxy Note 10+
Performance: Packed with power
The OnePlus 7 Pro and Galaxy Note 10+ are about even in terms of processing power. OnePlus used a Qualcomm Snapdragon 855 chip on the OnePlus 7 Pro, packing it with as much as 12GB RAM depending on configuration, and the result is perhaps the speediest Android on the market as of now – and it feels even speedier thanks to the screen's 90Hz refresh rate.
Meanwhile, the Note 10+ has opted for Samsung's new Exynos 9825 chip in Europe, and it makes modest improvements over the previous Exynos 9820… which itself was just a smidge behind the Snapdragon 855 in benchmark testing. It has 12GB RAM onboard here too. Everyday performance is speedy on both, and benchmark results go one way or the other depending on test selection. In other words, they're very close.
Winner: Draw
Battery and perks: Note plus perks
Both phones opt for beefy batteries, with 4,000mAh in the OnePlus 7 Pro and 4,300mAh in the Galaxy Note 10+. That's a pure size advantage for Samsung, but more critically, we know that the 90Hz screen option on the OnePlus tends to deplete the battery a little faster than usual. Ultimately, they're both built for a strong day's usage, but not much more.
The Note 10+ packs in both wireless charging and reverse wireless charging, with the latter feature letting to put another wirelessly-chargeable device on the back to give it a top-up. Meanwhile, the OnePlus 7 Pro does neither, sticking instead to wired charging. That's part of the cost savings with OnePlus phones.
You'll also get more starting storage on the Note 10+, which comes in 256GB and 512GB editions, while the OnePlus sticks with 128GB and 256GB. Both can be augmented with microSD cards for significantly increased storage, however.
Both phones also put their fingerprint sensors in the screens. The OnePlus 7 Pro's sensor is the best we've used to date, but the Note 10+'s is a big improvement over the Galaxy S10 sensor. It works well most of the time.
The Note 10+'s S Pen stylus is a one-of-a-kind perk in this comparison, of course. You can pop it out of the phone at any point to scribble on the screen, annotate documents, and take notes, plus the latest enhancements let you use it from afar as a camera shutter button and to control media. Most people do just fine with fingers for smartphone control, but the S Pen is ideal for productivity functions and easy note-taking.
Winner: Samsung Galaxy Note 10+
Verdict: Value wins out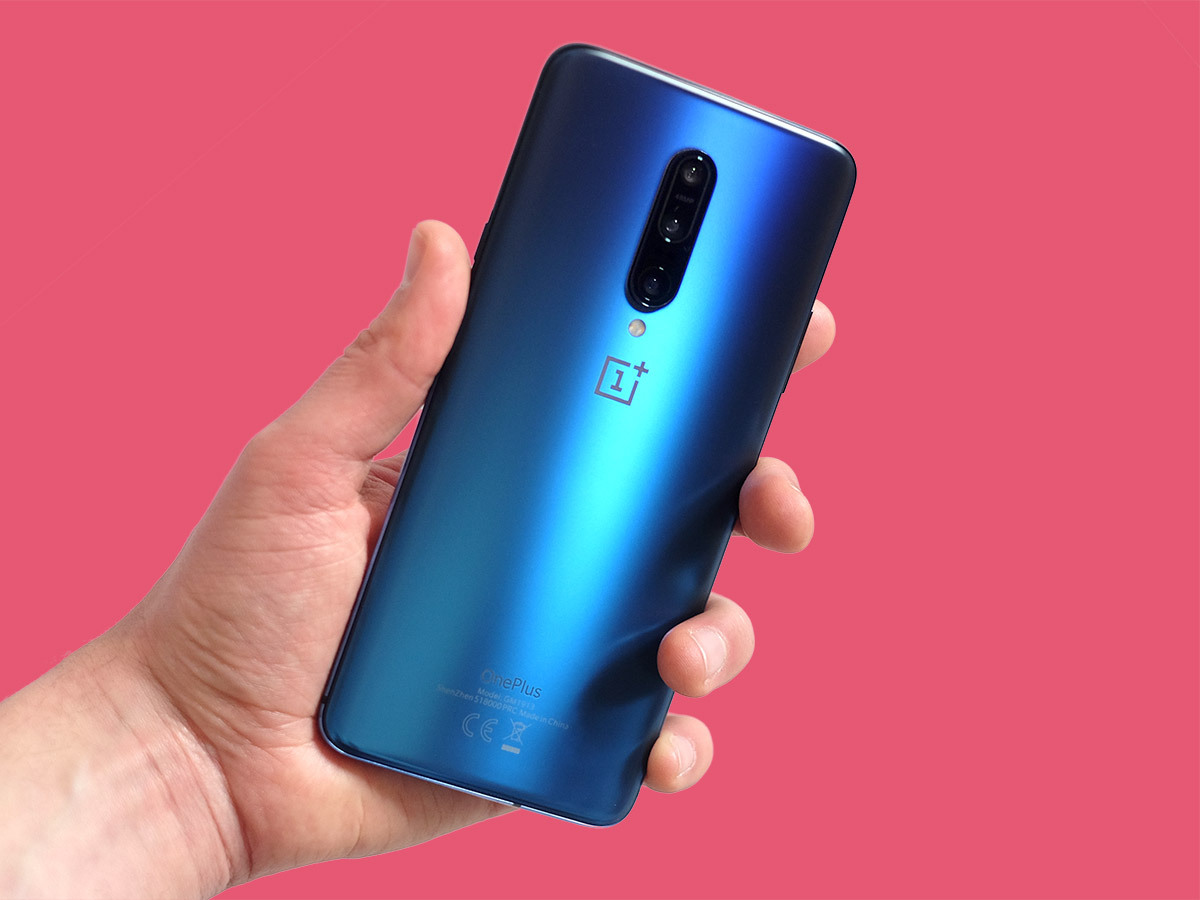 The Samsung Galaxy Note 10+ certainly packs a lot of appeal between its enormous QHD+ screen, sleek design, versatile camera setup, and S Pen, but £999 is a hefty price to pay for a smartphone. Is it worth it? Only for those who love the physicality of a stylus.
But the OnePlus 7 Pro offers a very robust and impressive flagship smartphone experience for much less, starting at £649, and even one-ups the competition in a couple of key regards. For our money, it's the best deal in top-tier flagships today, and one heck of a phone for anyone.
The percentage of potential buyers who would see significant advantage from the Note 10+ is very small indeed, and we think there are better phones in the £800-1000 range for most prospective users. With the OnePlus 7 Pro coming in well below that price point, it's (almost) a no-brainer here.
Winner: OnePlus 7 Pro