Samsung Galaxy Note 10+ vs Apple iPhone XS Max: The weigh-in
Big phones, big price tags… and a big winner among them?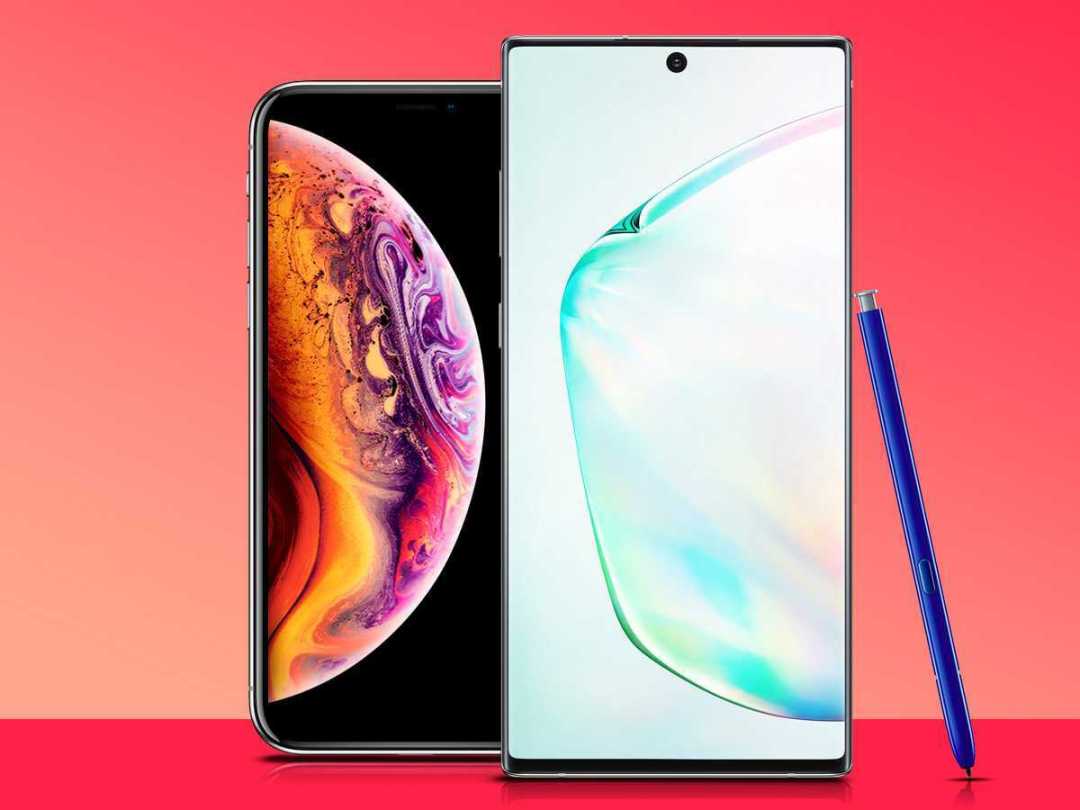 Samsung just unveiled its latest premium powerhouse, and the Galaxy Note 10+ (and smaller, slightly trimmed-down Note 10) looks like another impressive, fully-loaded handset.
With a huge Quad HD AMOLED screen and single, centered punch-hole camera – as well as a newer processor, four back cameras, and an improved S Pen stylus – the Note 10+ seems to have just about anything anyone would need from a smartphone… at a steep price, of course.
That's familiar terrain for Apple, of course, and its iPhone XS Max is the biggest wallet-buster of them all. We're on the verse of an iPhone 11 (and likely iPhone 11 Max) launch, but for right now, how does the Galaxy Note 10+ compare to the current iPhone XS Max? Here's what we think, now that we've been hands-on with the Note 10+.
Design: Pick and choose
The Galaxy Note 10+ makes some big design strides over last year's Galaxy Note 9, shaving off a lot of the top and bottom bezel via the use of the small punch-hole camera cutout. It's also nearly a milimetre thinner and a few grams lighter than the Note 9, despite the larger screen.
Flip to the back and you also get flashier backing glass, along the lines of what Huawei has been putting on its phones the last couple years. It's a mighty fine-looking handset, in our view.
Meanwhile, the iPhone XS Max remains the embodiment of Apple's focus on minimal sophistication, with its super-thin bezels (and big camera notch), stainless steel for the frame, and a single, simple backing colour. It's definitely less showy than the Note 10+, but some might prefer it that way.
Screen: Samsung's edge
Samsung has the edge on this front, as its huge 6.8in Dynamic AMOLED display is crisper at Quad HD resolution (3,040×1,440) than the 6.5in OLED panel of the iPhone XS Max (2,688×1,242).
That's not a huge difference, mind you, and the XS Max has an excellent screen on its own merits (and the panel is made by Samsung anyway). But side-by-side, we'd expect a little bit more sharpness and overall pop from the Note 10+.
Also, the tiny little camera cutout takes away less screen real estate than the iPhone's huge notch, but then you also lose 3D facial scanning capabilities as a result. The Note 10+'s simple 2D facial scan isn't as secure. Meanwhile, the Note 10+ puts a fingerprint sensor within the screen… and we just hope it's more reliable than the Galaxy S10's spotty sensor.
Camera: Double double
The next iPhone might add a third back camera (according to the rumour mill), but for now, the iPhone XS Max has a pair of 12-megapixel shooters: a standard wide-angle and a secondary telephoto lens for zoomed shots.
For our money, other flagship cameras might hit higher peaks on occasion, but Apple's camera still delivers some of the most consistent, well-judged shots we've seen. To put it another way, it disappoints less often than nearly any other camera we've used. And the front-facing camera's Face ID security tech is a delight, consistently capturing our mug to unlock the phone with exceedingly rare issues.
Meanwhile, the Galaxy Note 10+ effectively carries over the quad-camera setup from the Galaxy S10+, with a 12MP main wide-angle sensor, a 12MP telephoto lens, a useful 16MP ultra-wide-angle camera that's lets you essentially "zoom out" of a shot, and then a time-of-flight sensor for better depth sensing.
Both the S10+ and triple-camera S10 took excellent shots, so we're expecting much the same from the Note 10+. We doubt that we'll be disappointed, given the history there.
Performance: Should be close
The Galaxy Note 10+ is the first to use Samsung's new Exynos 8925 chip, which was built on a 7nm process and offers more speed than the Exynos 8920 in the Galaxy S10. We're not expecting vast strides on performance in every usage, given that the S10 is already plenty fast, but the difference is sure to turn up in benchmark testing.
Meanwhile, Apple's A12 Bionic chip had led this spring's Android chips, but we'll see whether the Exynos 8925 and Qualcomm's new Snapdragon 855+ close the gap. In any case, the iPhone XS Max is likewise super speedy and effective, with excellent gaming performance.
Amazingly, the iPhone XS Max does that with just 4GB RAM, while the Note 10+ will arrive with a hefty 12GB in tow. We're certainly curious to see how they compare in everyday use, especially when it comes to the battle between iOS 12 and Samsung's take on Android 9 Pie.
Battery and perks: Note-worthy enhancements
At 3,174mAh, the iPhone XS Max has just enough juice to give most users a solid day with modest usage, although it's not really built to endure a heavy pummeling of gameplay and streaming media without a top-up. It has wireless charging, at least, so it's easy to toss the Max on a charging pad during the day.
Meanwhile, the Note 10+ goes larger at a hefty 4,300mAh, so we're expecting more like day-and-a-half territory, or at least plenty of buffer for a strong day's usage without worrying about hitting the charger before bedtime. The Note 10+ has both wireless charging and reverse wireless charging onboard, with the latter letting you put another compatible wirelessly-chargeable phone or accessory on the back to charge it.
The iPhone XS Max starts at a perplexing 64GB internal storage with no way to increase that total with external storage, although you can pay quite a bit more for 256GB or 512GB models. Meanwhile, the Galaxy Note 10+ starts at 256GB and there's also a 512GB version available, plus you can add up to 1TB more via microSD cards. That's a huge advantage.
Of course, the Note 10+'s key feature is the S Pen stylus, which lets you scribble on the screen, take down notes without unlocking the phone, and even control the phone from afar via air action gestures. It's a helpful productivity-booster that you won't find with the vast majority of other phones on the market.
And neither phone has a 3.5mm headphone port, so you'll need to go with Bluetooth, a USB-C port on the Note 10+, a Lightning port with the iPhone, or a dongle adapter.
Initial verdict: Close call
With the Note 10+ starting at £999 and the iPhone XS Max at £1,099+, Samsung has already won the battle on price – and could win the overall war with features, too. These phones don't seem far apart on quality: both have great screens, sleek and premium designs, stellar cameras, and plenty of power.
However, with the much larger battery, significantly improved storage options, and added S Pen stylus, the Note 10+ packs some perks at a lesser price. If you're not hooked into the Apple ecosystem, then we have to imagine that Samsung's latest large phone will be appealing indeed. Check back for our final verdict once we've posted our full review of the Galaxy Note 10+.