Ones to watch: Samsung's entire 2018 TV range explained
Samsung is sticking to its QLED guns in 2018, but has it got what it takes to win the battle against OLED?
While the rest of TV land turned to OLED in 2017, Samsung stuck to its guns with tried-and-tested LCD, and instead gave the world QLED.
Yes, despite the suspiciously similar-looking names, QLED is nothing like OLED. In fact, it is an advancement on Samsung's 2016 Quantum Dot LED technology, and became the name for the company's flagship range last year. In 2018, it moves it on further still.
That means there's still no peep of OLED from Samsung's line up, leaving plenty of room for some clever LCD tech that promises improved colours, deeper blacks and even better brightness.
Here's all we know so far about Samsung's 2018 TV range.
4K QLED – Q9FN, Q8CN, Q7FN, Q6FN
Q9FN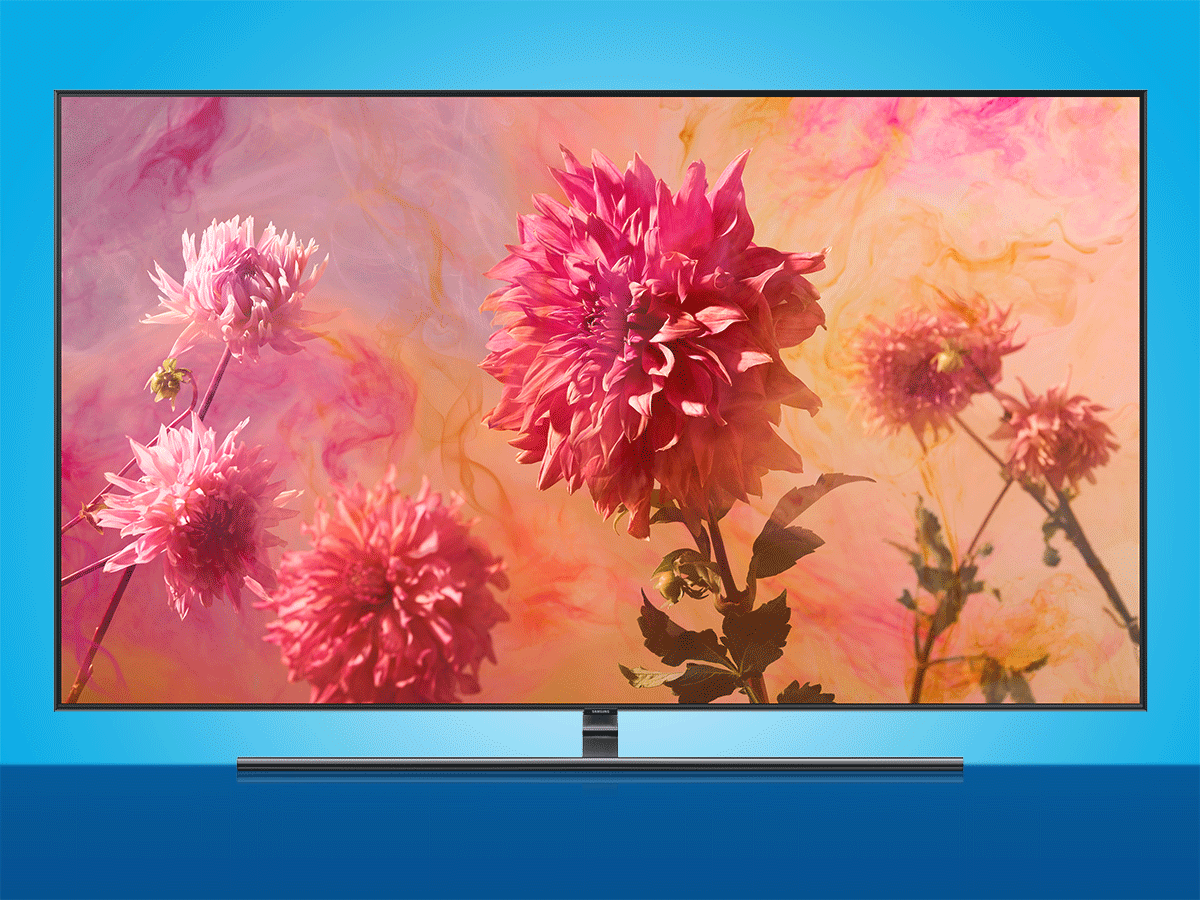 Sizes: QE55Q9FN (55in), QE65Q9FN (65in), QE75Q9FN (75in), QE88Q9FN (88in)
Sitting at the top of the range is the Q9F, a 4K flatscreen panel that benefits from something last year's sets did not – full-array backlighting (where the LEDs sit behind the screen rather than at the edges) with local dimming, for a whopping 2000 nits of peak brightness.
Local dimming should be a very effective addition to improving on last year's performance, with Samsung promising hundreds of dimming zones to make contrast as accurate as possible.
To help things further, Samsung is also using an improved anti-reflection filter to keep glare to a minimum and upping its picture processing skills, to help prevent blooming of bright objects in dark scenes. It's also introducing a further filter to prevent diagonal light leakage and improve off-axis viewing.
Don't think the improvements stop there though. The new Q Engine that sits at the heart of QLED, works with the improved Quantum Dot technology to improve colour accuracy and shadow detail.
Using granular colour recalibration tech and 5% better colour purity than last year, it now manages to cover 100% of the key DCI-P3 (Digital Cinema) color spectrum. And since there are no white sub-pixels used in QLED production, colours remain vibrant even at their brightest – something OLED isn't always quite as good at.
As for HDR, Samsung has joined Panasonic in adopting the advanced HDR10+ format, with frame-by-frame tone mapping to improve colour and contrast at every step. It will also support standard HDR10 and HLG but not the competing advanced format, Dolby Vision. HDR10+ support continues all the way through the QLED range.
It wouldn't be a Samsung TV without a good chunk of time being spent on the design, and the Q9F is certainly a looker. As well as adopting Samsung's signature 360-degree design with no visible inputs or panels (it will still use Samsung's separate One Connect box), it also adopts something Samsung is calling an 'Invisible Connection'.
A single, slim and near-transparent cable, it will carry both data and power to the TV from the One Connect Box to keep wire mess to a minimum.
Finally, the Q9F is taking cues from its design-focused Frame TV cousin (which continues into 2018), by introducing an Ambient Mode. This will essentially provide some form of display on the screen, should you wish, to prevent you having a big black screen in the corner of your living room.
It can display art, personal photographs, weather, sport or news feeds or even blend in with your wallpaper, with Samsung promising low power consumption for the bill conscious.
And since we're being thorough with new additions, you can also expect an overhauled smart TV interface with Bixby integration and a new shiny SmartThings hub for controlling all of your smart home gadgets from your TV. Phew.
Q8CN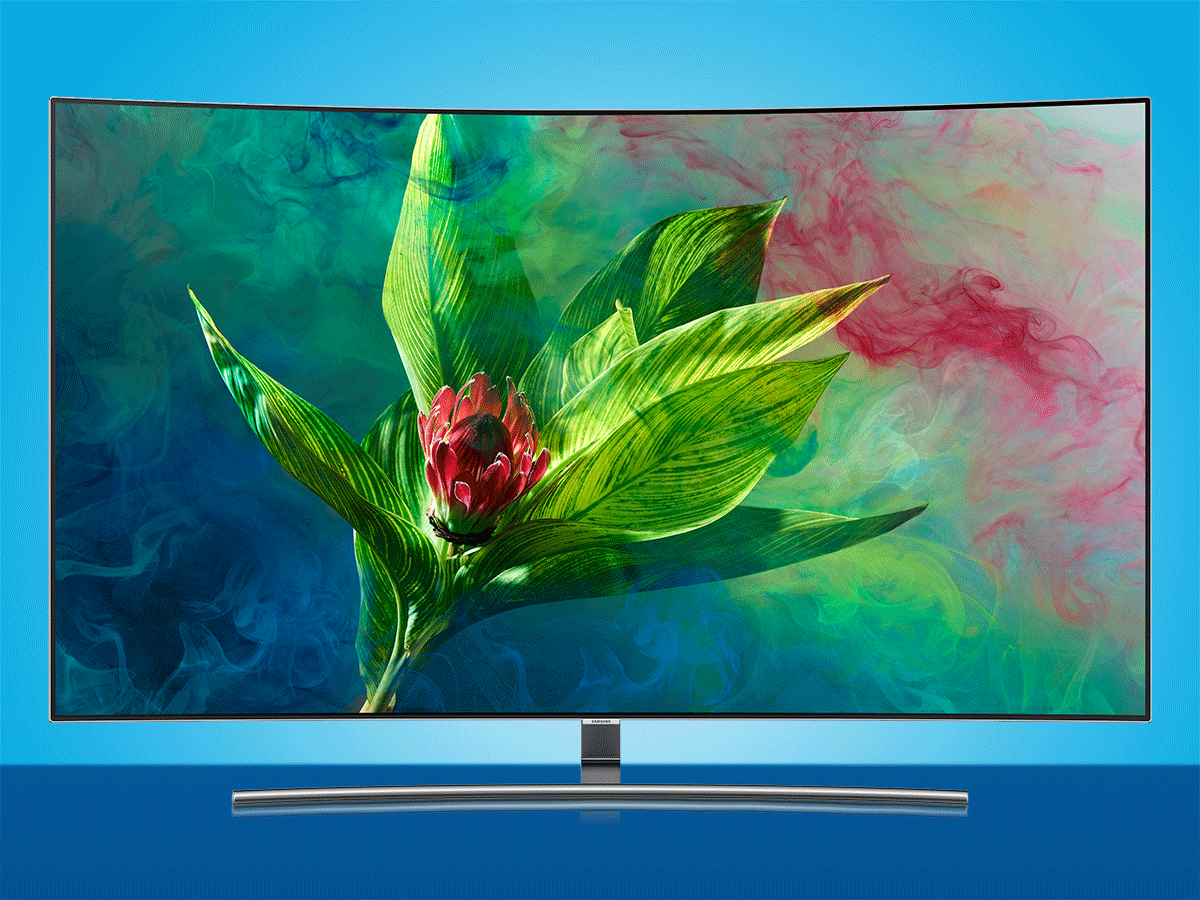 Sizes: QE55Q8CN (55in), QE65Q8CN (65in)
With the biggie is out of the way, things get little easier to explain from here on in, because as usual, it's a game of subtracting features as we move down the range.
Samsung is one of the only manufacturers still dabbling with curved screens, and if you're still a fan, the Q8C is the only curved option in the QLED range – a considerable reduction compared with last year.
Aside from the way it looks though, the biggest difference here is the switch from full-array backlighting to edge lighting (in the UK at least, the US will get a flatscreen version with full array), with peak brightness dropping to 1500 nits as a result.
Elsewhere, it's mostly business as usual, with the Q8CN keeping much of the software and design improvements as the Q9FN. We'll update this as soon as we hear any more.
Q7FN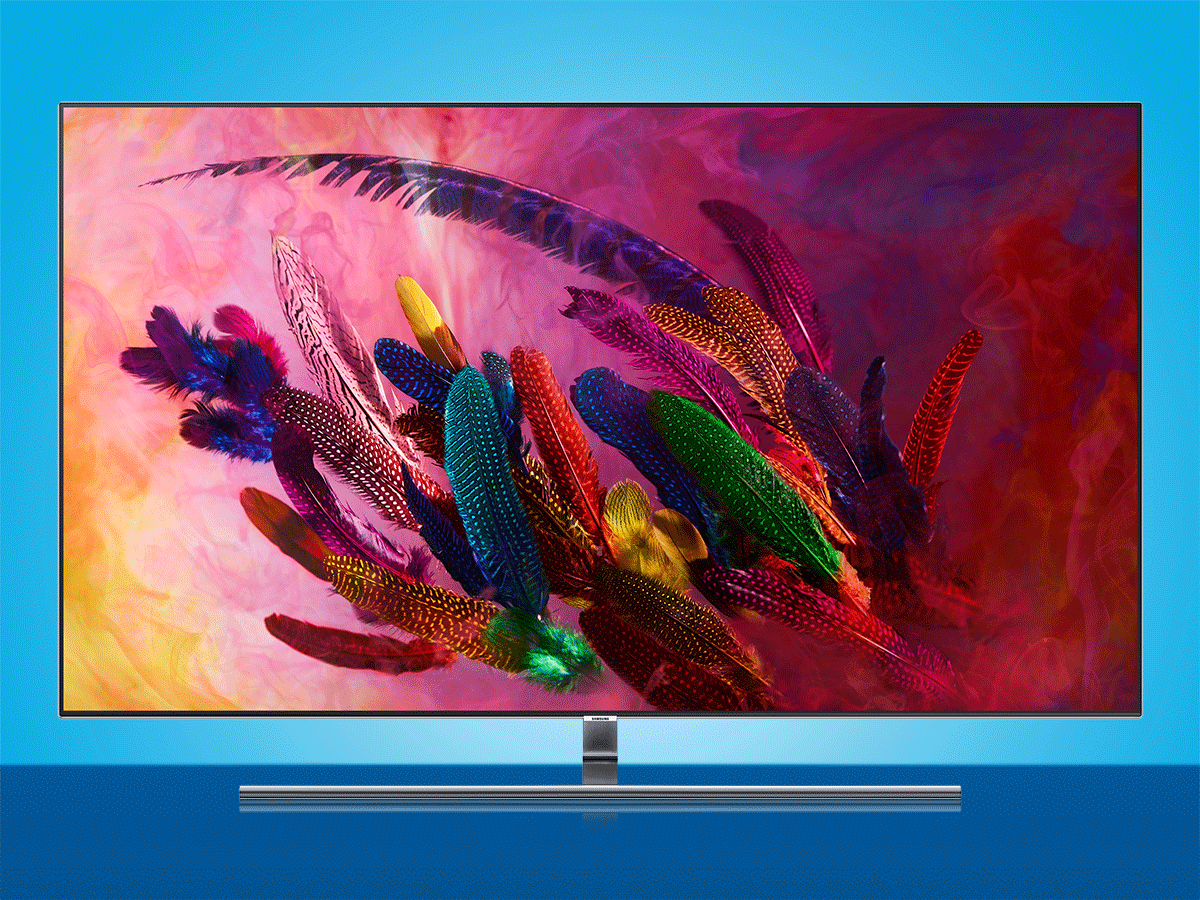 Sizes: QE55Q7FN (55in), QE65Q7FN (65in), QE75Q7FN (75in)
Last year, the Q7 was the entry level set in the QLED family, and we really liked how it did things, with a great balance between features, performance and price.
This year looks to be promising again, offering the same 1500-nit peak brightness, edge lighting and local dimming as the Q8CN, but with a flat screen.
Its connectivity matches its pricier siblings, as does a lot of its design and feature set, including the new Ambient Mode and Invisible Connection cable.
Last year this range was available in a smaller 49in screen version (which we tested), but it ditches that this year, and adds in a 75in option instead.
Those looking for a smaller QLED set should take a look at the new entry-level range below.
Q6FN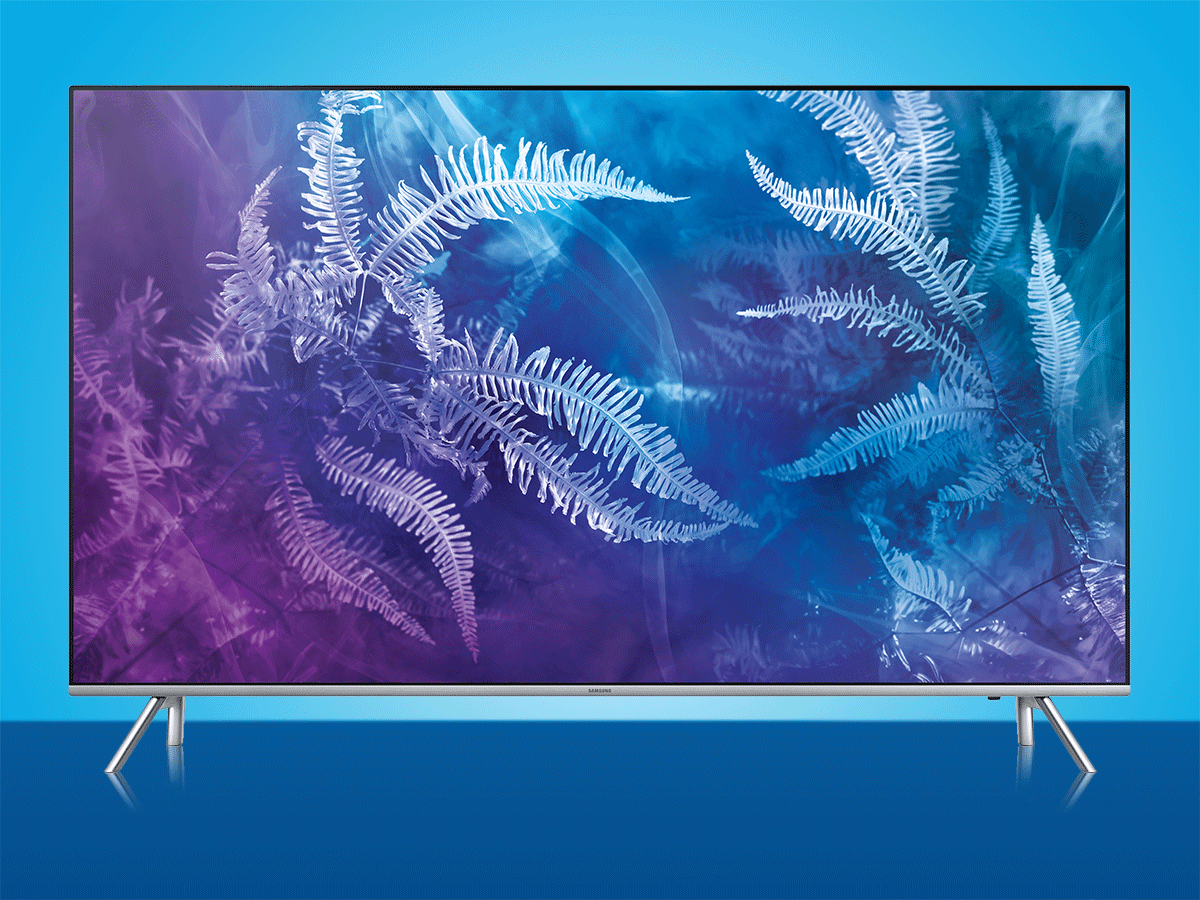 Sizes: QE49Q6FN (49in), QE55Q6FN (55in), QE65Q6FN (65in), QE75Q6FN (75in), QE82Q6FN (82in)
The new entry-level QLED option, the Q6FN comes in five different screen sizes and takes a few considerable hits on spec to meet its entry-level price point.
The biggest is in the backlighting. Despite still using edge lighting, it takes a dip down to frame dimming only, in place of local dimming. This means the whole frame changes brightness on a frame-by-frame basis, rather than in smaller zones, which will in turn affect contrast.
This also has a knock-on effect to overall brightness, which drops to 1000 nits – half that of the Q9FN flagship set.
We'd expect to see a drop in some of the more premium picture processing too, but we're still waiting for more details specs to get this confirmed.
As for the design, it's just a little more basic than the rest of the range. The stand is different (goes for legs at the outside edge in place of a slim, central one), metal detailing is exchanged for plastic and the Invisible Connection cable is dropped too.
4K NU range
We've had very little confirmed on Samsung's standard LCD range, but if last year's MU range is anything to go on, the NU sets are bound to be worth considering for smaller budgets.
As was the case last year, the NU range won't use Samsung's premium Quantum Dot tech, but is still 4K HDR (and HDR10+ no less), using step-down tech instead.
This means it will likely take a hit on brightness, colour saturation and contrast compared with QLED. But their prices are likely to still make them worthy of consideration.
We know the details of two UK-bound ranges so far, which we've included the details of below.
NU8500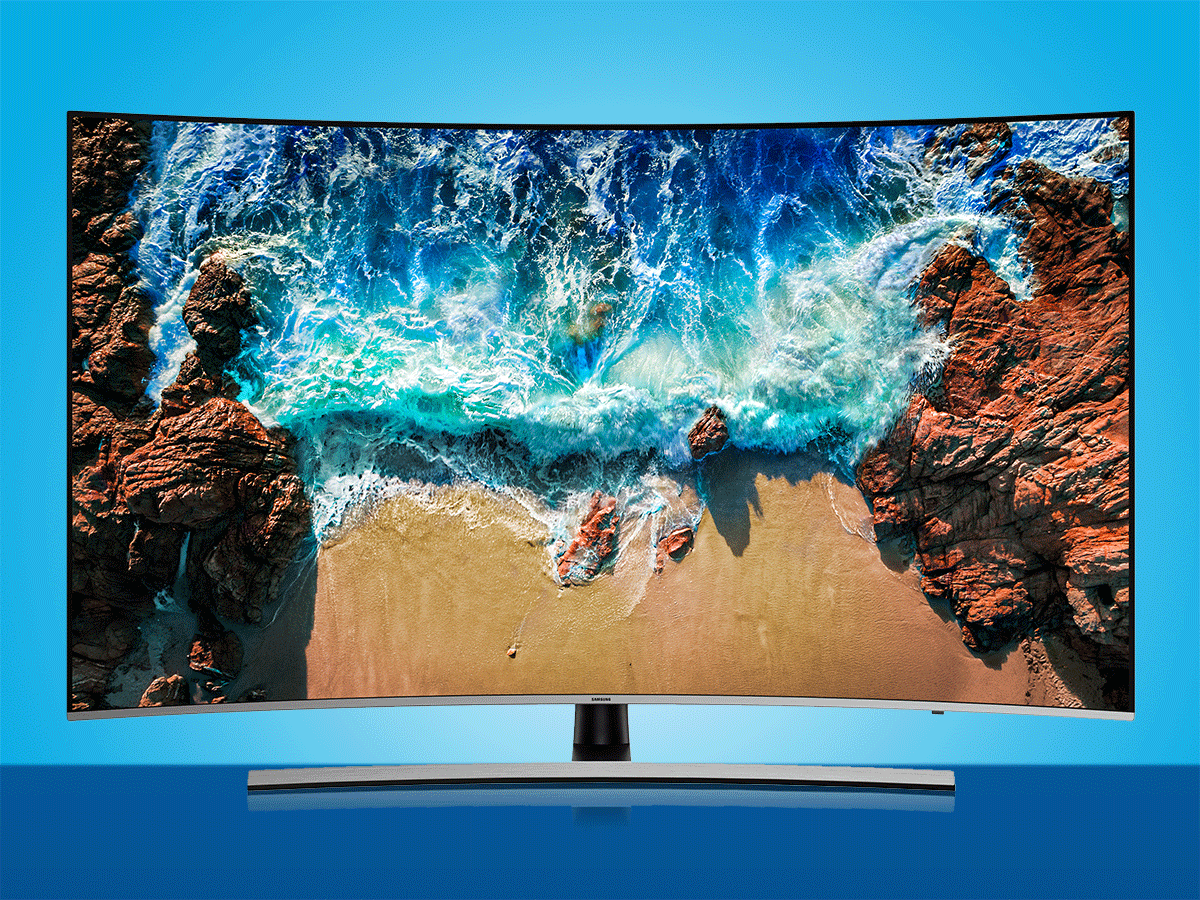 Sizes: UN65NU8500 (65in), UN65NU8500 (55in)
The NU8500 is a curved range working with Samsung's Dynamic Crystal colour technology to promise a wider range of colour than you might expect at this level.
It's an edge-lit set, with local dimming, arguably better than the frame dimming available on the entry level QLED. We're not sure of peak brightness figures though, so this could still take a hit on contrast, despite the more sophisticated technology.
It also matches the QLED range on several software features, including the improved user interface with Bixby, the SmartThings hub and the Auto Game Mode for optimising the set when it recognises a games console has been selected.
NU7300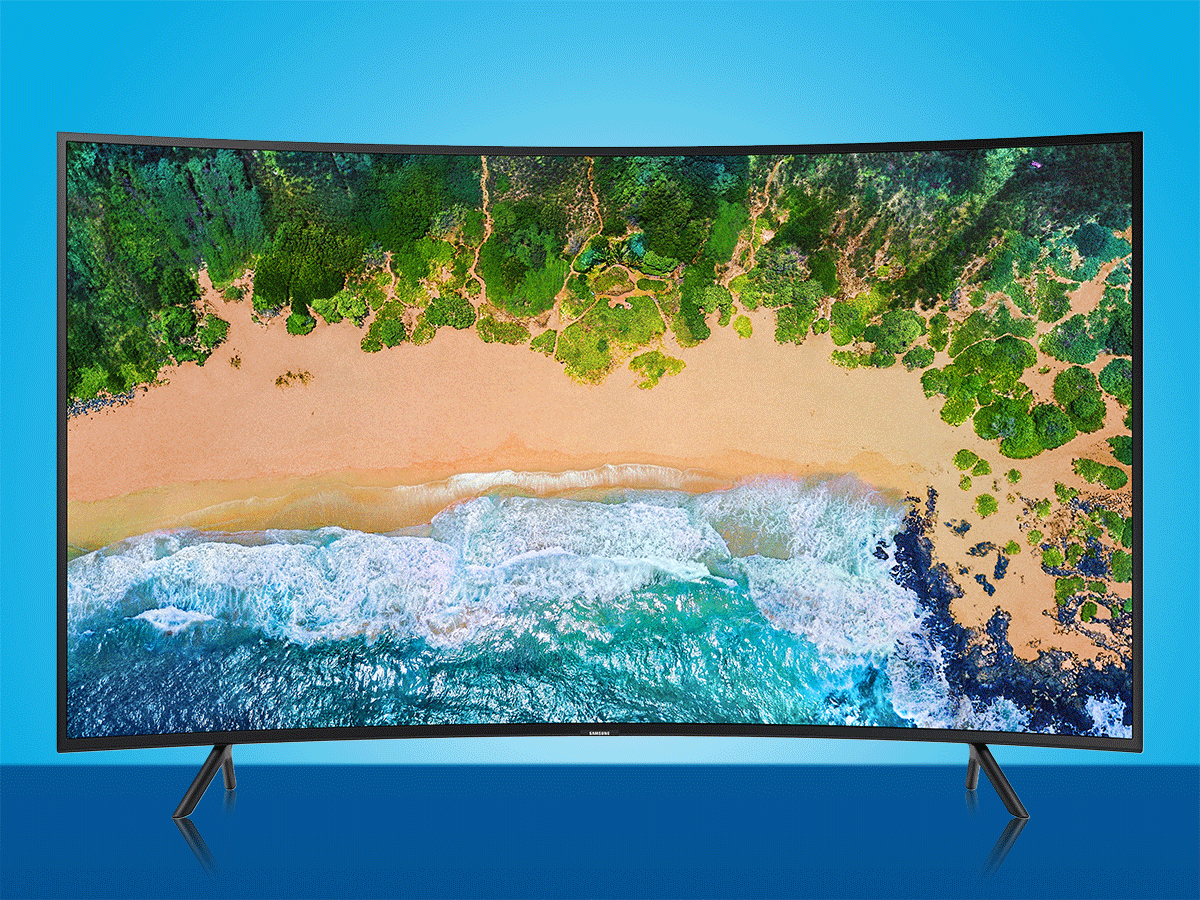 Sizes: UN55NU7300 (55in), UN65NU7300 (65in)
The NU7300 is another curved set, but certainly takes a step-down in both design and technology from its NU8500 sibling.
Not only does it drop from local dimming to frame dimming, but it also takes a knock on its picture processing, down to Samsung's PurColor engine. It still comes with a promise of wider colour and millions of shades, but it won't be as advanced as that on the NU8500.
Elsewhere, motion rate drops from 240Hz to 120Hz, the overall design looks less slick and software takes a knock too, losing the Auto Gaming mode and Bixby support.