Ones to watch: our guide to every Panasonic 2018 TV
Eenie, meenie, miney, mo, which of Panasonic's new sets is worth your dough?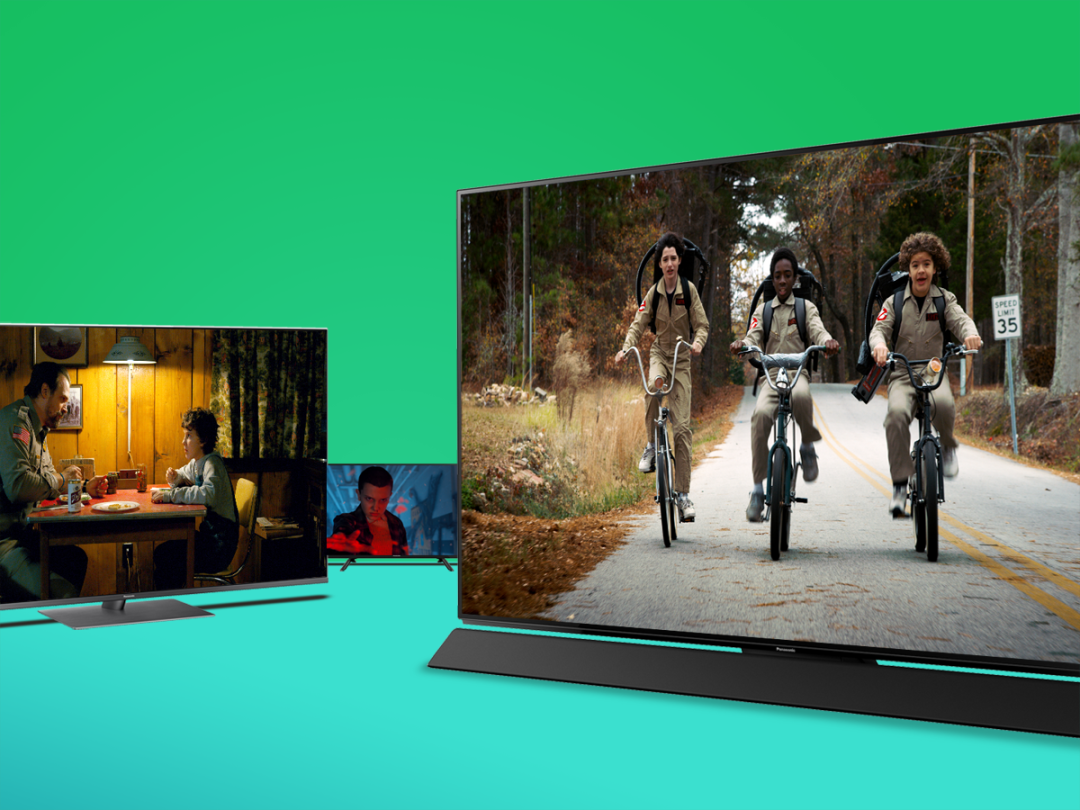 It's now less than four months until the World Cup kicks off in Russia. If that's not an excuse to upgrade your telly, we don't know what is.
Panasonic is doing its upmost to tempt you to do just that, with two new 4K OLED ranges and four 4K LCD options (plus a couple of full HD options thrown in, just in case).
With the former getting the hat tip from a large chunk of Hollywood's major mastering studios, you can be sure that brightness and colour accuracy are top of priorities on this year's sets.
The full range also support the Panasonic- and Samsung-backed HDR10+ advanced HDR format, which is going head-to-head with Dolby Vision in offering more precise frame-by-frame HDR processing. It's looking promising too, with support from big studios including Warner Bros., not to mention compatibility with the entirety of Amazon's HDR catalogue.
If your full HD set is looking a little 2010 right about now, allow the following to whet your appetite.
Acronym buster: how to understand all those model numbers
If you've ever thought TV model numbers were just a jumble of letters and numbers thrown together… you wouldn't be far off. But there is a method to the madness.
This year, you'll be able to tell Panasonic's 2018 sets by the letter F (last year was E, 2016 was D, and so on), and the screen type by the letter that follows – Z represents OLED, X for LCD and S for full HD.
The number that follows that will tell you how far up the range that set is, and the higher the number more advanced it will be. But just to make things more confusing, while we've labelled all the sets by their international model number – FX950, for example – the UK versions usually end in a 2 to show the fact they feature a Freeview tuner.
As for the number that precedes the model number – that simply represents the size of the screen.
4K OLED – EZ1000, FZ950, FZ800
EZ1000
Models: TX-77EZ1002 (77in)
Sound familiar? That would be because the EZ1000 was Panasonic's flagship 4K OLED set last year, and it is the only model to continue (officially) into 2018 – albeit in a rather huge 77-inch screen size. The reason it gets to stay on is because the EZ1002 is the consumer-grade TV used in the majority of Hollywood mastering studios, so to chuck it out of the line-up after 12 months might seem a little churlish.
If it's a really big screen you want, then this is the one to go for, as the rest of the OLED range max out at 65 inches. However, in terms of screen tech, 2018's FZ952 and FZ802 have made a few notable improvements to brightness and colour depth to offer the very best in picture quality.
The EZ1002 will get a firmware update to allow it to read HDR10+ though – Samsung and Panasonic's advanced HDR format competing with Dolby Vision – and comes with a built-in soundbar for boosting audio.
FZ950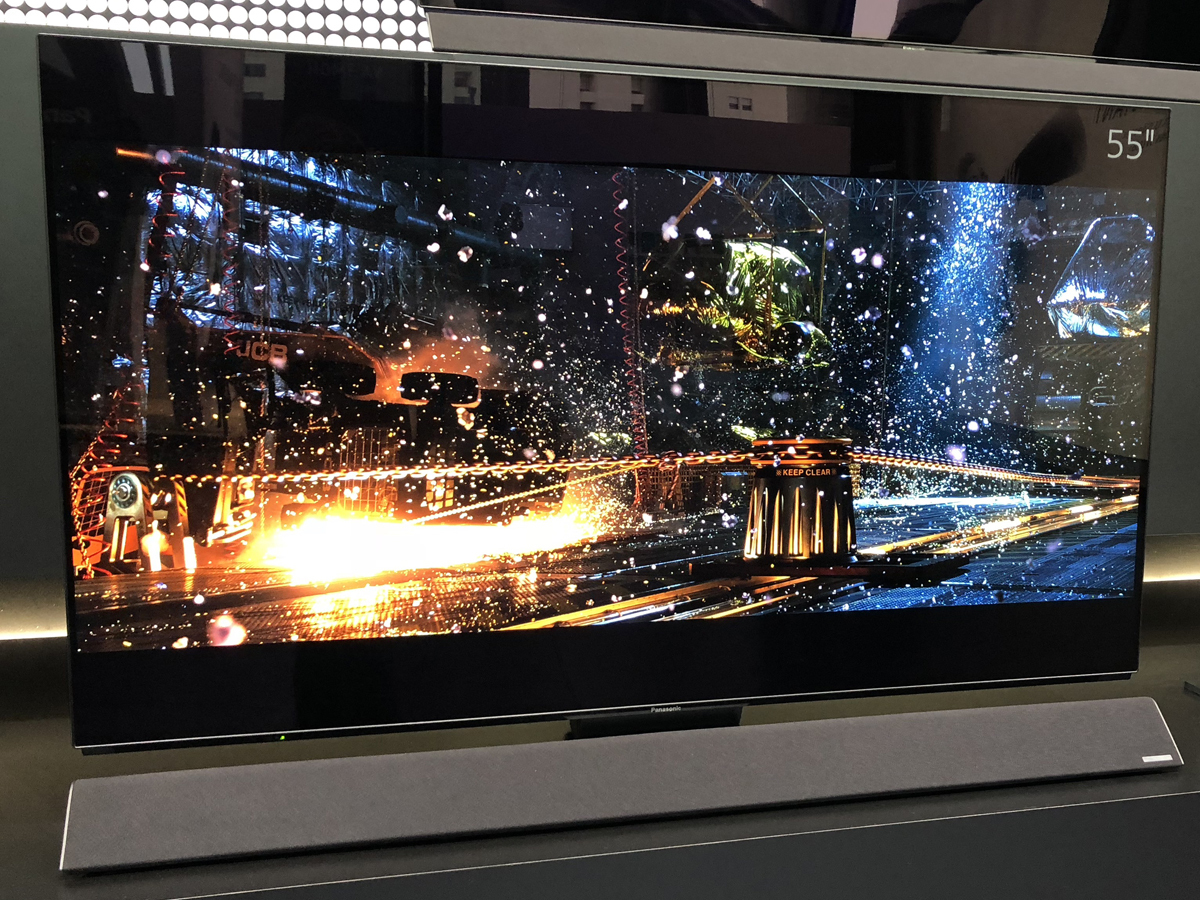 Models: TX-55FZ952 (55in), TX-65FZ952 (65in)
Waving the flagship flag in 2018 is the FZ952, a stunning set that boasts several improvements on last year's TVs.
To look at, it's pretty similar to last year's range toppers, and still features Panasonic's Art & Interior Glass design language, with a super slim glass frame. Inside though, it's seen a few more changes, including brightness improvements, better performance in dark scenes and an overall richer, more detailed picture.
This comes down to a few things – the panel has been upgraded on last year, but much of the work is actually down to a better processor (the next-gen HCX processor) and more powerful picture processing.
It also gets support for HDR10+, an advanced, dynamic HDR format that improves the picture accuracy on a scene-by-scene basis.
You can read more about this in detail with our hands-on review of the FZ952 at CES 2018, but take it from us – it comes together to create one heck of a picture.
As with the EZ1002, the FZ952 features a built-in soundbar, tuned by Technics. While it's no more powerful than last year's option (80W), it manages a richer, more confident low-end performance thanks to having 40% more space in the cabinet.
FZ800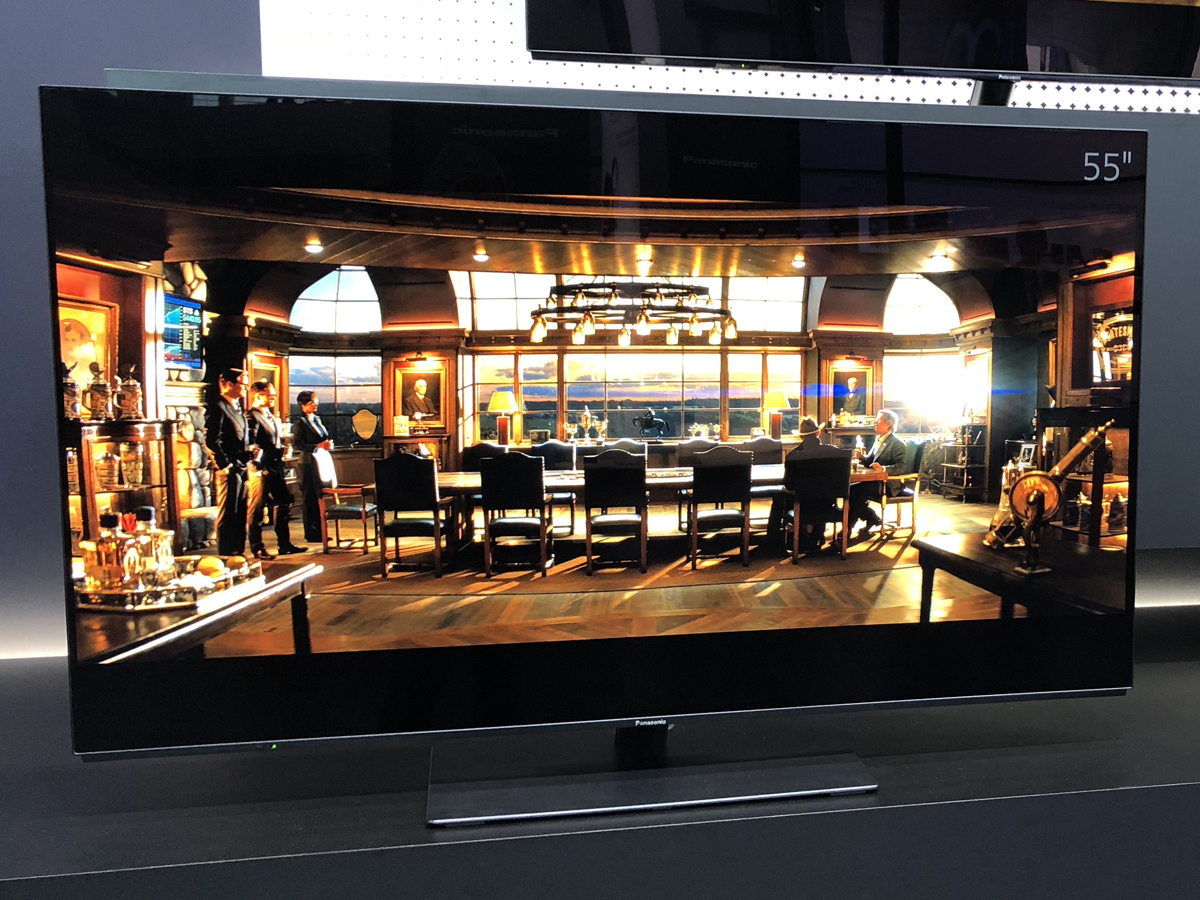 Models: TX-55FZ802 (55in), TX-65FZ802 (65in)
In a similar vein to last year, if you're looking for the best OLED picture quality but already have your audio setup sorted, then the FZ802 will be the model to go for, not to mention will save you a decent chunk of money in the process.
That's because the FZ802 uses exactly the same panel and technology as the FZ952, but just ditches the soundbar for a regular plinth stand instead.
4K LCD – FX750, FX740, FX700, FX650/600
FX750 (FX780 in Europe)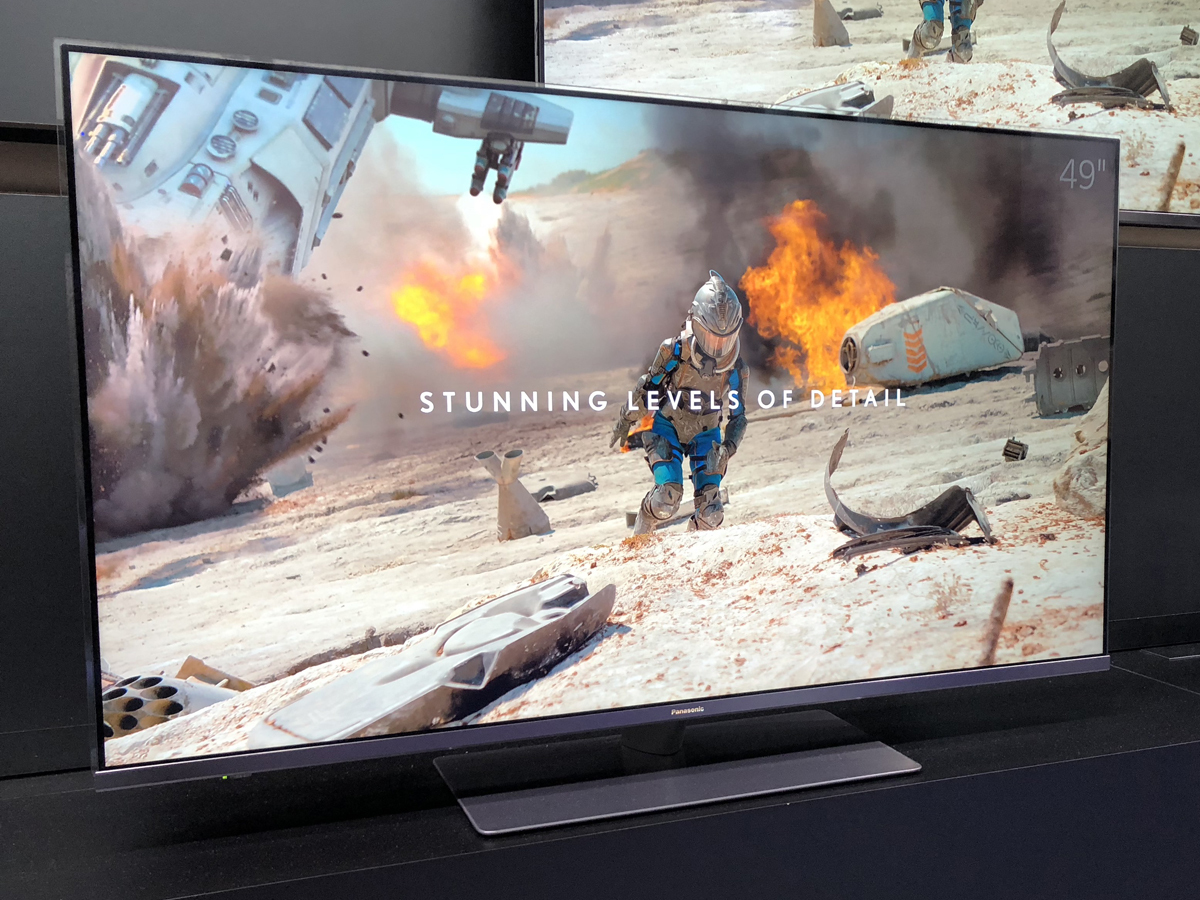 Models: TX-75FX780 (75in), TX-65FX780 (65in), TX-55FX780 (55in), TX-49FX780 (49in)
If you haven't got OLED cash to splash and are looking for the best LCD model Panasonic has to offer in 2018, the FX750 is the model you'll be looking for.
Its premium spec list starts with the fact it borrows the top-notch HCX processor from the OLED sets for 10x more accurate picture processing than last year, and adds to that with a native 100Hz panel (the only one in the range) and the most advanced backlighting technology of Panasonic's LCD line-up.
It's an edge lit set (there are no direct lit panels this year) that features Panasonic's Local Dimming Pro technology, combining a traditional zonal dimming system with a digital one. This allows the set to be more picky with where it directs light, and is more accurate than last year's flagship LCD set, and indeed any other LCD in Panasonic's 2018 range. This ultimately means better contrast, for improved black levels in dark scenes.
It doesn't disappoint in the design stakes either, picking up Panasonic's Art & Interior Glass design language from its OLED models, for a 360-degree, ultra-slim design on all but the largest 75in model. It's a touch too big to support it, so uses metal instead of glass.
FX740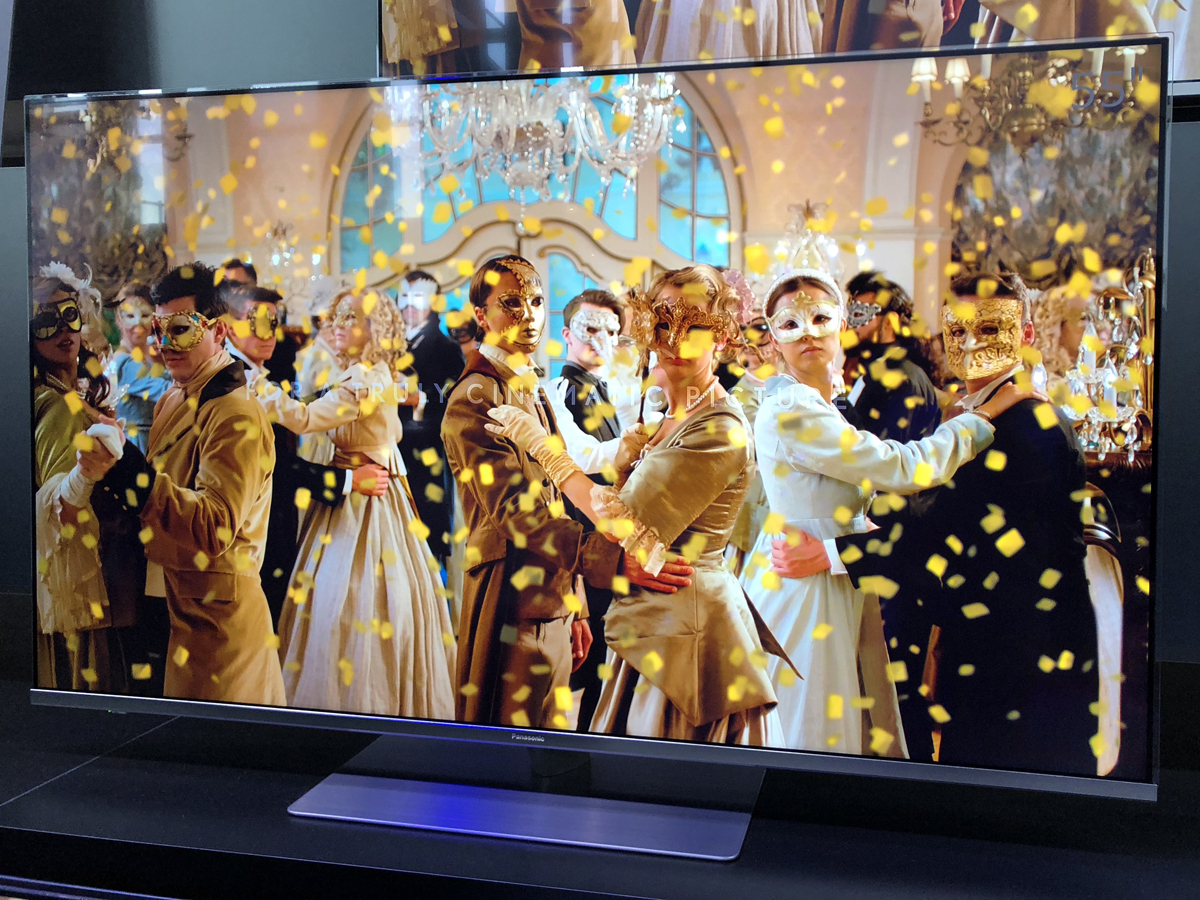 Models: TX-65FX742 (65in), TX-55FX742 (55in), TX-49FX742 (49in)
Despite being pretty close in number to the FX750, the FX740 is actually closer to the FX700 in specification, but comes with the fancier 360-degree, super-slim Art & Interior Glass design.
This means, it loses the HCX processor and the more advanced digital dimming found in the FX750, while also dropping down to a 50Hz panel. This means motion processing is rated at 1600Hz here, compared with 2200Hz on the FX750.
The result will be a drop in colour and contrast accuracy, though it does still support Panasonic's wide colour spectrum as found on all the ranges above it.
The FX740 Series will be available exclusively in Currys and PC World in the UK.
FX700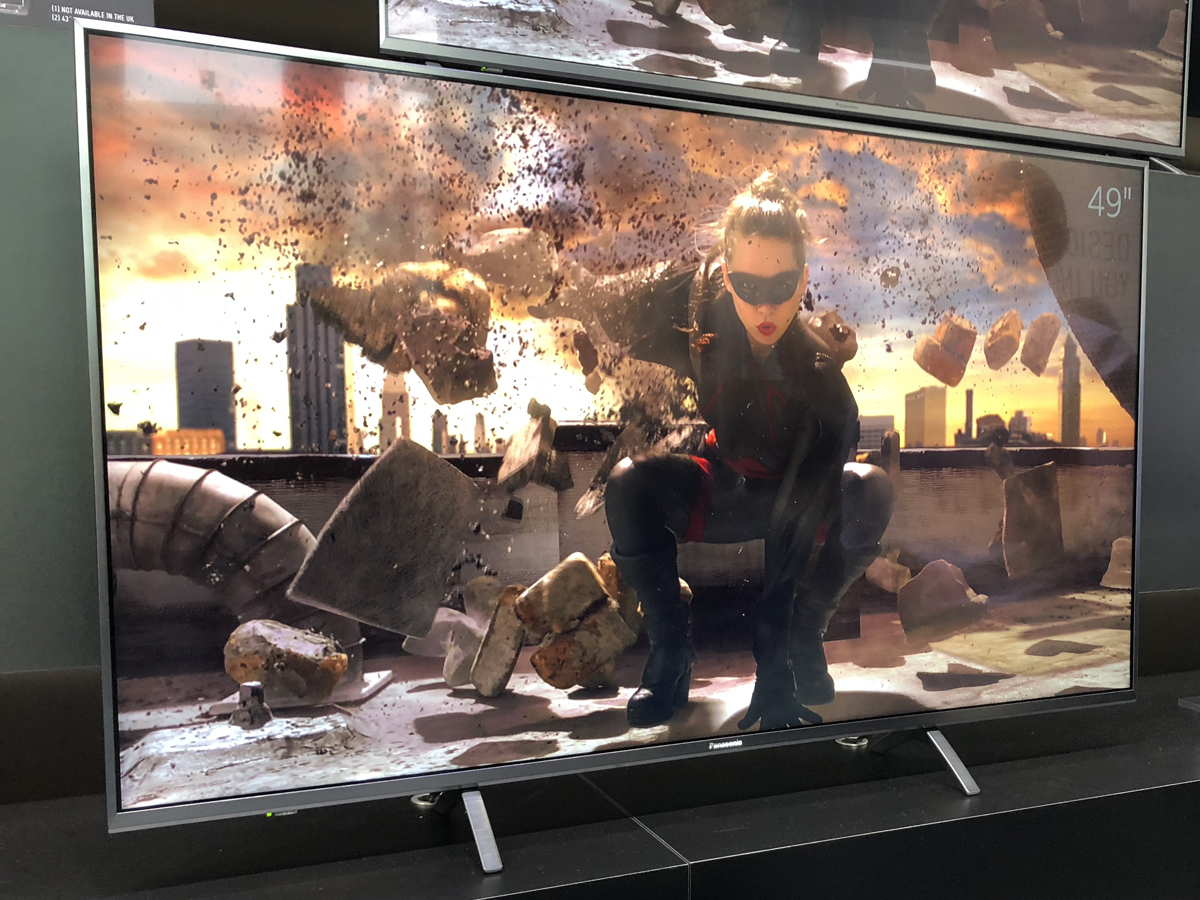 Models: TX-65FX702 (65in), TX-55FX702 (55in), TX-49FX702 (49in)
This is the main mid-range model in the line-up and differs from the FX740 in design only, swapping from glass to metal, and introducing Panasonic's Switch design. This allows you to choose where you want to place the TV's metal feet – towards the outside edge, or more central.
FX650/FX600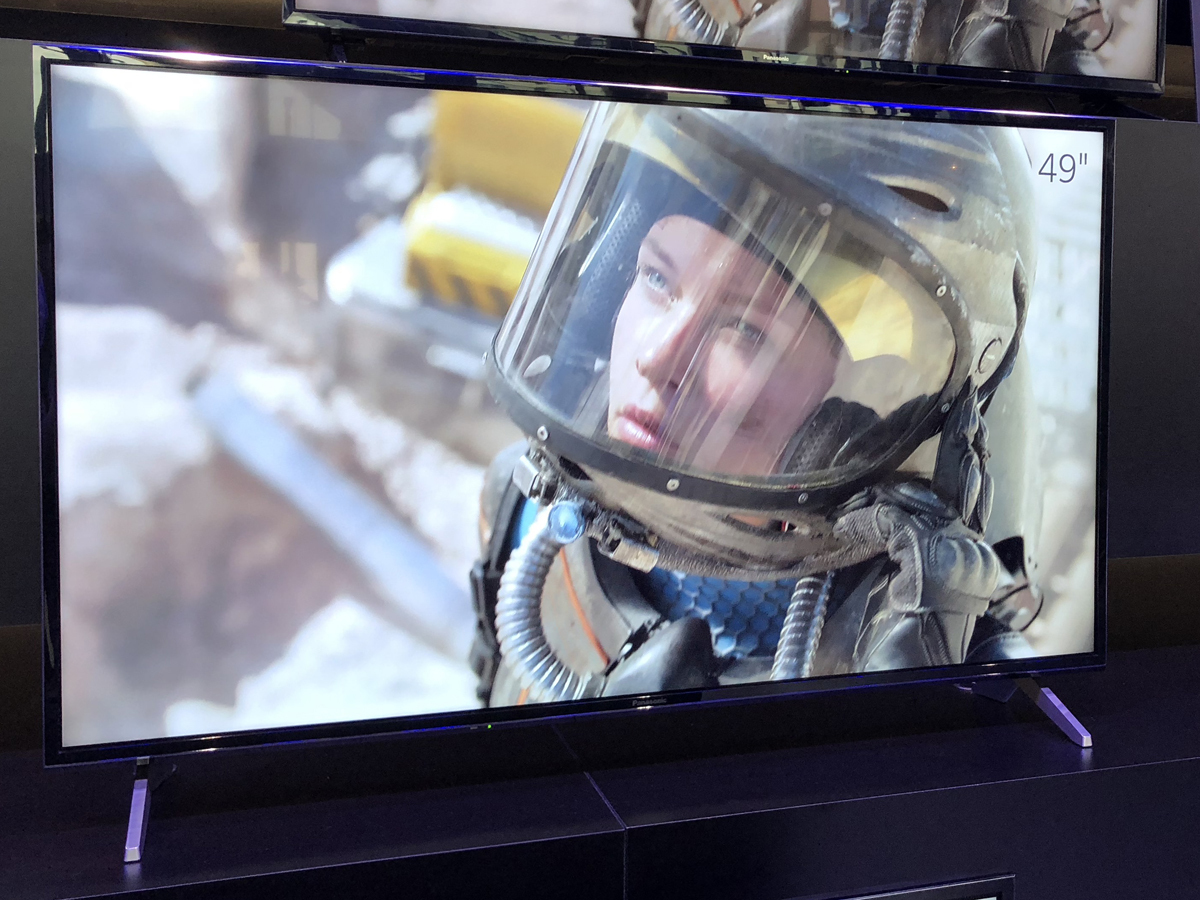 Models: TX-65FX652 (65in), TX-55FX652 (55in), TX-49FX652 (49in)/TX-43FX602 (43in)
As Panasonic's entry-level 4K set, the FX650 takes some expected compromises in spec. The biggest of those is the loss of local dimming, which is replaced by Panasonic's Adaptive Backlight Dimming Plus technology. This is basically the digital part of the more advanced backlighting setup on the higher ranges, and will adjust the backlighting based on the content on screen.
There's also a drop in motion processing. It's still a 50Hz panel, but motion is rated at 1300Hz, so you can expect things to get a bit more blurry in fast paced action scenes.
Despite its entry level status though, the FX650 still gets full multi-HDR support including HDR10+, and features the adjustable Switch design as before.
The FX600 model is almost exactly the same as the FX650, but its size means it's too small to take on the Switch design. It's also 30% less bright than the screen sizes in the FX650 range.
FS500/FS400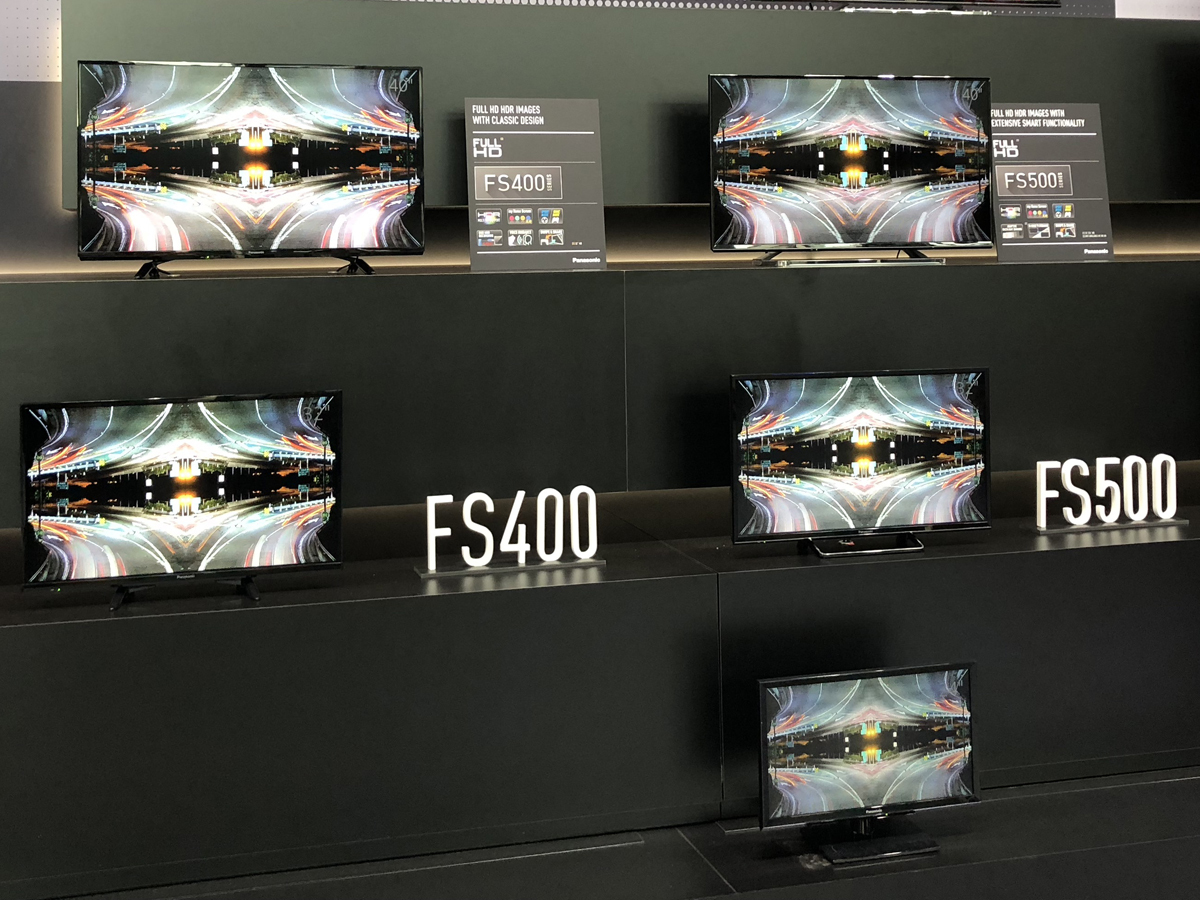 Models: TX-49FS502 (49in), TX-40FS502 (40in), TX-32FS502 (32in), TX-24FS502 (24in)/ TX-40FS402 (40in), TX-32FS402 (32in)
While 4K TVs are the biggest news in tellyland, if you're on the look out for a smaller second screen for your kitchen or bedroom, you might not be too fussed by all those extra pixels (not to mention, the extra cash).
Panasonic has two smaller ranges for just that, separated only by looks – the FS500 with its curved metal central stand, and the FS400 with wide-set feet.
They both offer a full HD picture with a motion processing rated at 600Hz and a further drop down in backlighting tech. They also feature Panasonic's most recent My Home Screen 3.0, which comes with a good line up of smart TV apps, including Netflix and iPlayer.