OnePlus 5 vs HTC U11: Which is best?
Does the OnePlus 5 top HTC's squeezable, wallet-squeezing wonder?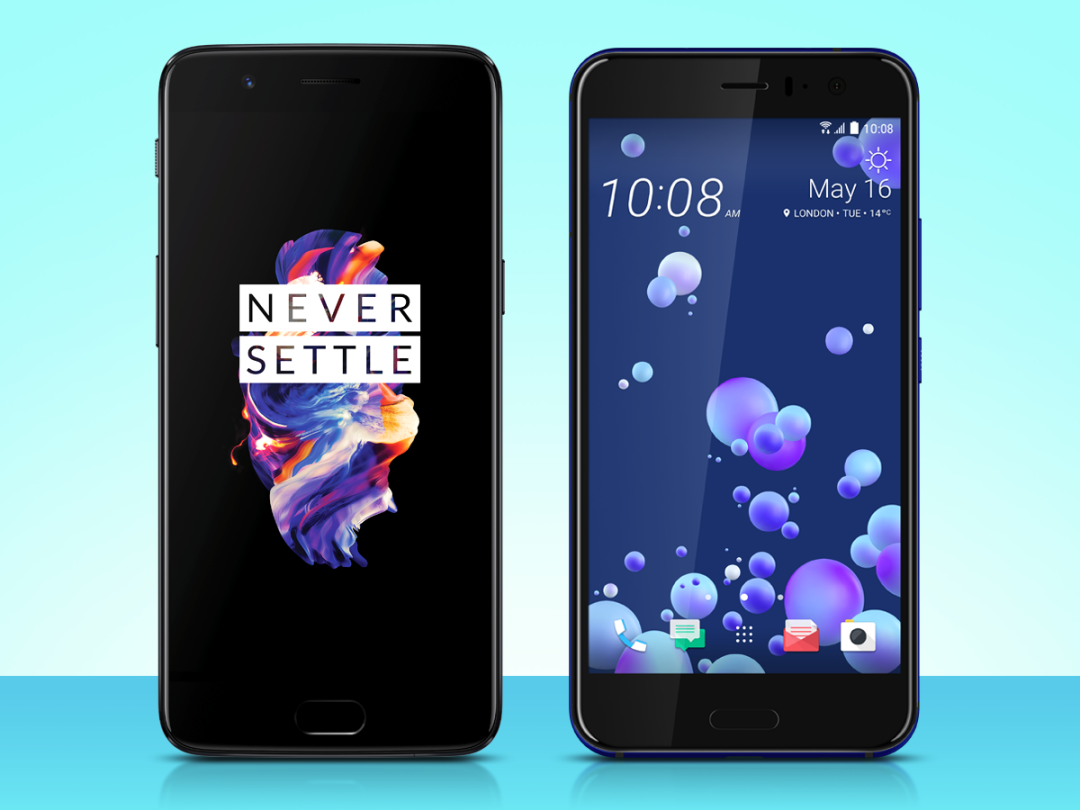 Every big Android flagship has its own unique aesthetic, but the HTC U11 has a more functional twist: pressure-sensitive touch panels on the sides.
You'll use them to interact with the phone in certain ways, letting you open apps and snap selfies, among other actions. Everything else here is flagship-grade, but that's one thing that definitely sets the U11 apart from the pack.
By contrast, the OnePlus 5 is a lot more ordinary with its functional design choices – but it still fits in well with the top-end crowd and does so at a price that's £200 less than the competition. So are you looking for extra bells and whistles, or just the best phone you can get without spending several hundred quid?
You'll have to sort out your own priorities there, but we've gone ahead and put these two top Androids against each other.
Design: Give it a hug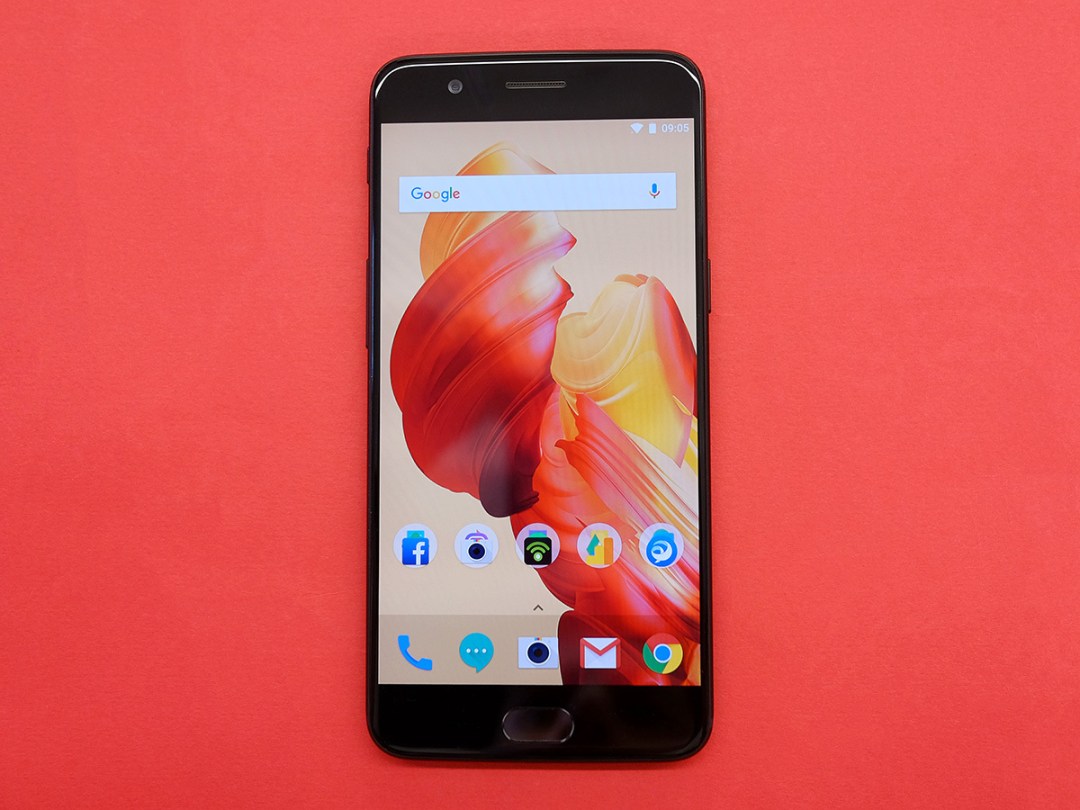 At a glance – from the front, at least – these two handsets have a lot in common. They're pretty iPhone-esque, with standard 16:9 widescreen displays, a typical amount of bezel all around, and a fingerprint sensor (and home button, on the U11) at the bottom.
Flip 'em around and it's a different story. The OnePlus 5 keeps up the Apple tribute, looking much like an iPhone 7 Plus on the back: the antenna lines ride along the top and bottom edges of the metal, there's a dual-camera module popping out, and a company logo in the upper-middle.
But the HTC U11 is something else: it's gorgeous "Liquid Surface" glass, which is super-reflective and looks much like a pool of water. And with different colours put in various layers, the resulting combinations are dazzling. Still photos don't do it justice, but it's really striking in person. The U11 certainly has the advantage in looks.
And then it does something else: it responds to your hand hug. Wait, what? Indeed: the pressure-sensitive left and right sides let you squeeze to trigger various actions, as mentioned before. It's kind of odd, but it lets you get to certain things faster – however, it's limited to HTC's own apps now, for the most part.
Even so, it's a clever little addition, and it helps the HTC U11 feel extra-unique. And the HTC 11 is also IP67-rated for water and dust resistance, while the OnePlus 5 still doesn't make any effort in that regard. C'mon, OnePlus.
Winner: HTC U11
Screen: More (pixels) is better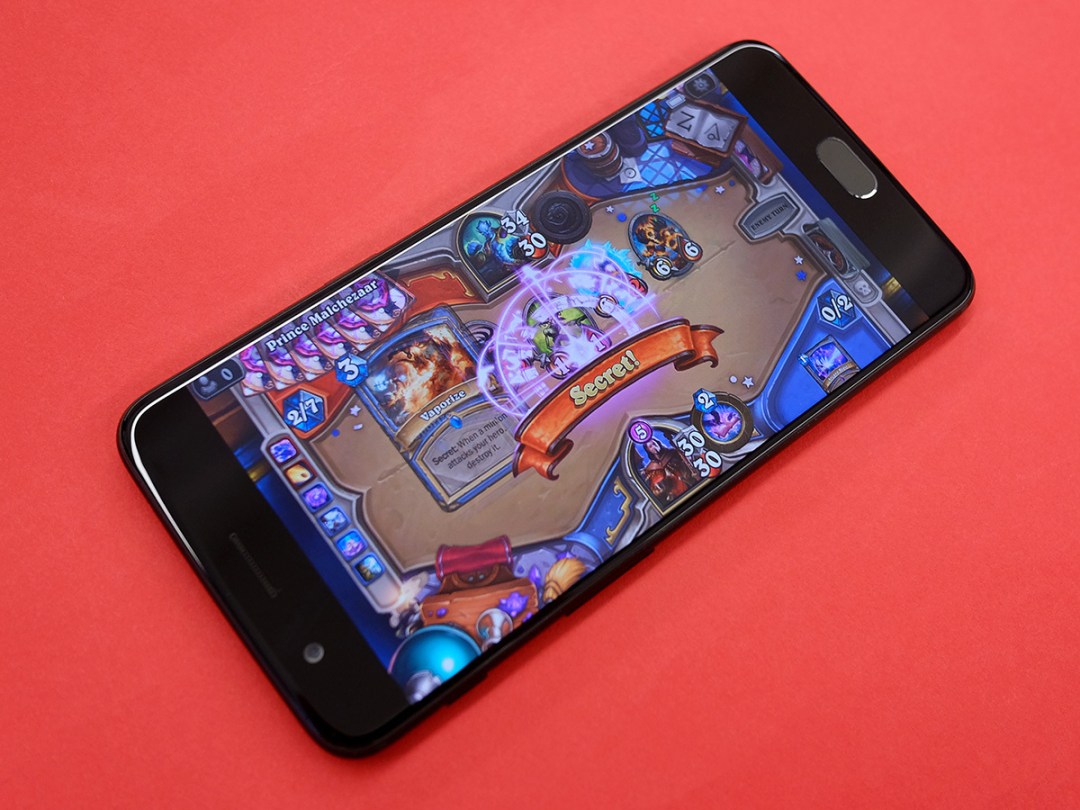 As with past models, the OnePlus 5 bucks the Android flagship trend of using higher-resolution Quad HD (2560×1440) displays and sticks with a cheaper, less-power-hungry 1080p panel. Even so, at 5.5in, the screen offers a crisp 401ppi (pixels per inch), and the AMOLED panel provides awesome contrast and colours.
The HTC U11 isn't AMOLED, unfortunately, but it is an excellent 5.5in IPS display with vibrant colours and plenty of brightness. And in this case, it is indeed a Quad HD panel, which means it's even sharper than the OnePlus 5 – albeit ever so slightly. We're giving it to HTC here.
Winner: HTC U11
Camera: No losers here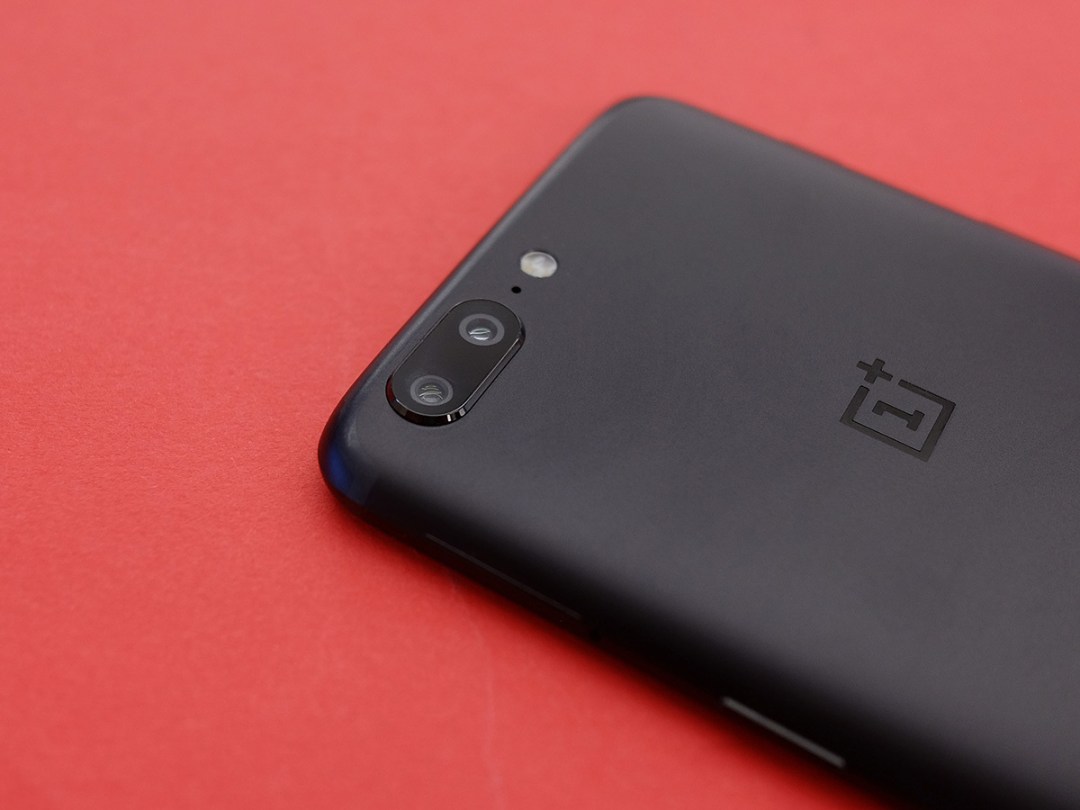 HTC has had mixed results in the past with its flagship cameras, but the U11 is its best effort to date. Everyday snaps are pretty exceptional, with speedy auto-focus and a hybrid stabilisation system that works with the wider 12-megapixel f/1.7 lens to pump out clear, bright images.
The shutter tends to feel a bit slow, though, as there's a slight delay between your screen tap and the capture. It's the one big downside here, even if the results still prove pretty strong.
Likewise, OnePlus hasn't usually been able to hang with the top heavyweights when it comes to camera quality, which is understandable given the price – but with the OnePlus 5, we finally have a back camera that's about as good as anything out there.
The OnePlus 5 uses a dual camera setup with a 16MP (f/1.7) main sensor and a 20MP (f/2.6) secondary sensor alongside, which team up to deliver fantastic shots. You'll get great colours and contrast, a speedy HDR mode, and pretty good electronic video stabilisation. And the second sensor means you get neat tricks like the backdrop-blurring portrait mode.
Low-light auto shooting struggles a bit, although you can make up for it with manual shooting. The HTC U11 does better in low light, but on the other hand, the OnePlus 5 doesn't have the sluggishness of the HTC. Both of these produce really fine shots overall, with maybe the slightest advantage for the U11 – but everything considered, they're very close.
Winner: Draw
Performance: Boundless power
The HTC U11 packs the top-of-the-line Qualcomm Snapdragon 835 system-on-a-chip – but so does the OnePlus 5.
Granted, you can get more RAM on the OnePlus: either 6GB or 8GB depending on model, while the HTC U11 offers 4GB or 6GB in its choices. But really, both of these are absolute powerhouses, and they'll handily plow through any high-end games, media, and multitasking needs you throw their way.
The HTC U11's Sense UI skin over Android Nougat is a little quirkier than the nearly-stock OxygenOS atop Nougat on the OnePlus 5, but both are plenty effective. We like the latter more, but you can pick your pleasure and then customise to your heart's delight, of course.
Winner: Draw
Battery and perks: Expandability or not?
When it comes to battery life, these two handsets aren't worlds apart: you'll get a 3,000mAh battery pack inside the HTC U11 and 10% larger 3,300mAh cell in the OnePlus 5. Both are very capable all-day performers, and the OnePlus 5 might give you a bit longer into a second day, depending on usage – especially with the lower-res screen to power.
As far as storage, meanwhile, the HTC U11 has one big advantage: a microSD slot. That means you won't be stuck with whatever internal storage level you select from the start.
Both devices are essentially the same with the internal options, though: you'll get 64GB in the base model, or you can pay a bit more for the 128GB model and extra RAM. But that's your cap on the OnePlus 5, whereas you can just invest in microSD cards for the HTC U11 as needed. It's enough to sway this category towards the U11.
Winner: HTC U11
Verdict: Less is more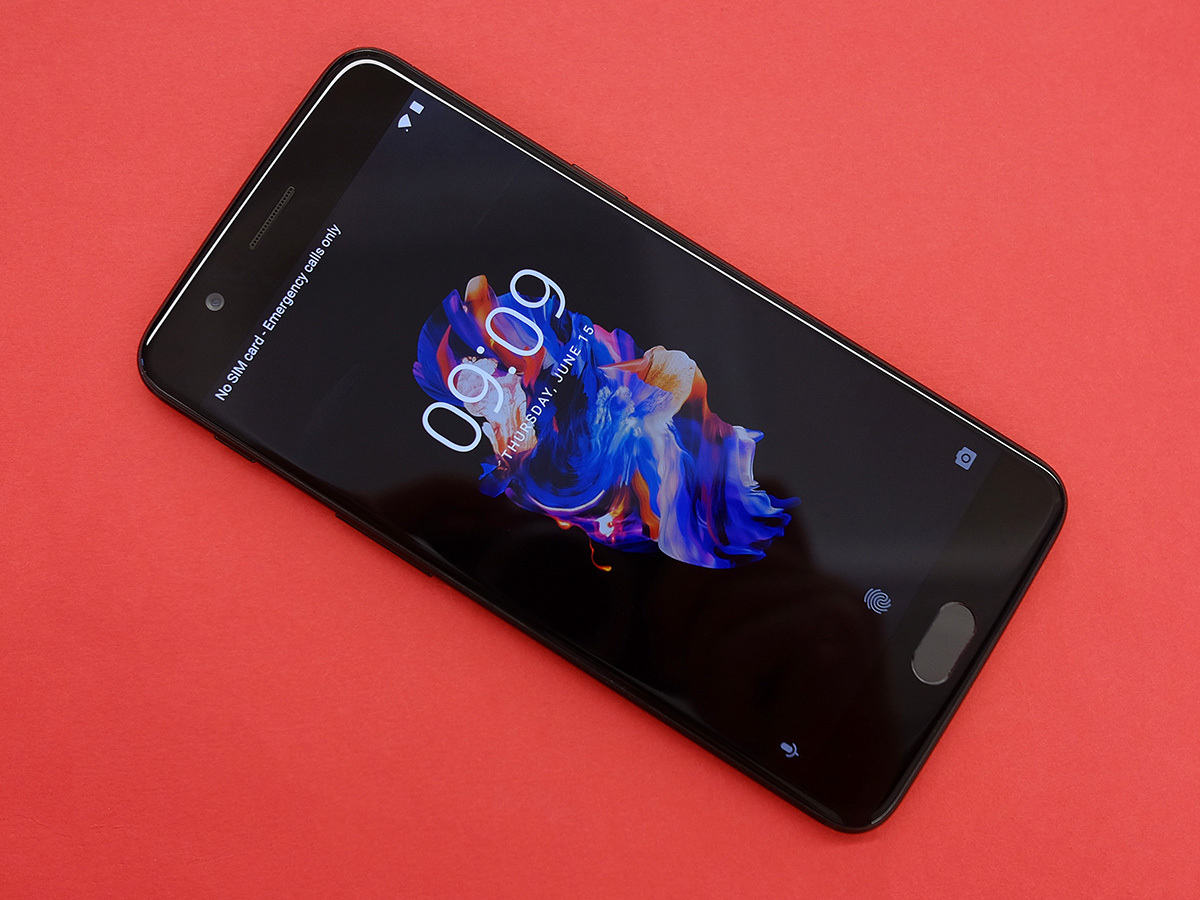 Based on the category wins, it's pretty clear cut, right? The HTC U11 (£649) won three categories, while the other two were draws. And yet we still pick the OnePlus 5 (£449).
Why? It's all about value: the HTC U11 takes the slight edge in those categories because they're premium perks: the glossy glass backing, the Quad HD display, and the microSD card. All are great, and any could help sway your decision. In fact, the squeezable sides could do it, if you fancy an uncommon twist.
But when we consider the £200 price difference between the base models, not to mention the fact that the OnePlus 5 is effectively the HTC's rival in performance and camera quality – and close enough in most of the other respects – we just can't ignore the savings.
The OnePlus 5 is truly excellent and completely desirable, and it's an affordable flagship on top of that. The HTC U11 is also excellent and desirable, yet we don't feel like it's £200 better than the OnePlus 5.
If you're not bothered with the added expense, or you really dig the glass backing or added input options, then the HTC U11 shouldn't let you down. But for everyone else, the OnePlus 5 has a strong advantage here.
Winner: OnePlus 5