OnePlus 3 vs Apple iPhone 6s
Can the mighty iPhone withstand the challenge of OnePlus' latest budget wonder?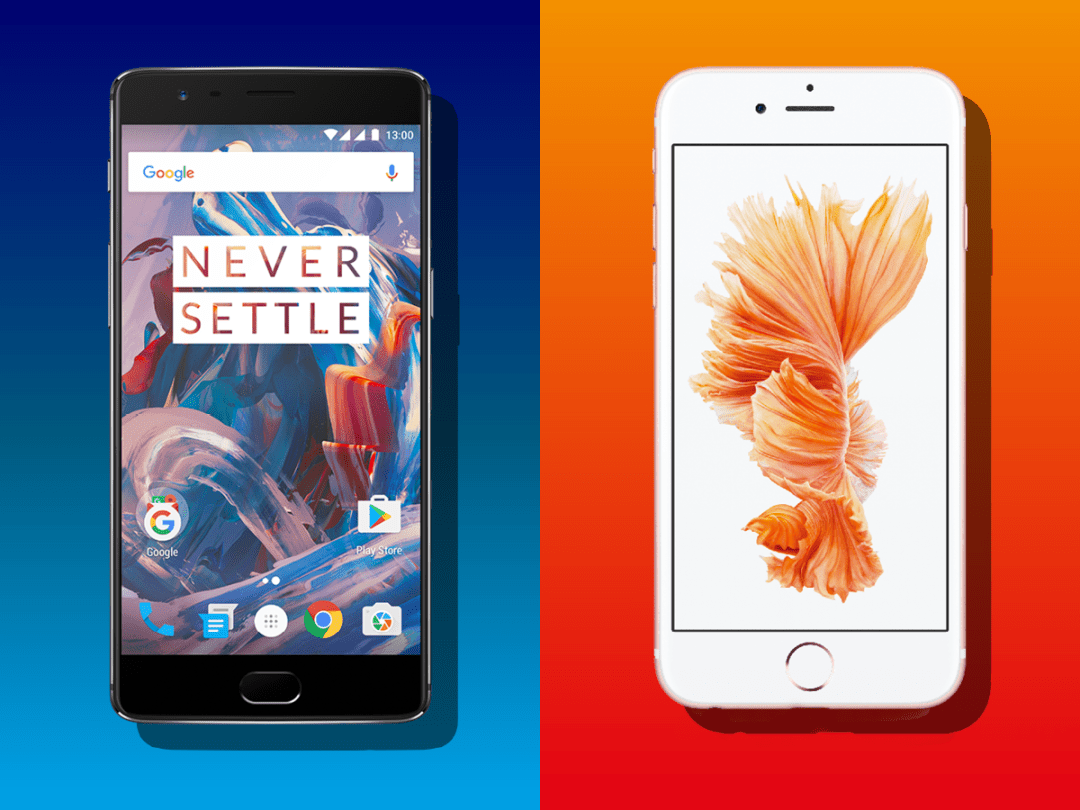 The OnePlus 3 is sort of blowing our minds right now, delivering a flagship-level Android phone at nearly half the price. But how does it fare against the ubiquitous iPhone?
Say what you will about Apple lagging behind top Android makers in some component choices, but every iPhone release is a massive event and last year's iPhone 6s is ultra-fast, has the best version of iOS to date, and boasts a better app and game selection than the Play Store.
Still, the OnePlus 3 has undeniable perks, and it's very much a full high-end package at a price that honestly just doesn't make a lot of sense. But is a mid-range price enough to put this new Android flagship ahead of Apple's best device?
We put the two handsets in a head-to-head showdown covering aspects such as looks, camera, screen, and power to see which emerged victorious. Here's the rundown.
Build me up
Despite slightly different shapes, the OnePlus 3 and iPhone 6s have a lot in common when it comes to build and design. Both are super-slim, unibody aluminium designs with fingerprint-sensing home buttons on the front – and otherwise minor differentiating details. In other words, they're both modern smartphones.
The iPhone 6s is almost completely identical to the iPhone 6 before it, albeit with a near-imperceptible thickness boost and a slightly-more-noticeable weight bump to make for a more durable device. It's got great curves and is solidly distinctive, albeit perhaps not as memorable as some past iPhone designs.
Meanwhile, the OnePlus 3 can't help but look like a HTC 10 sibling, and accordingly it's a really nice-looking device with some attractive angling along the lower half. Both are near the top of their class in design and refinement, so honestly, we're happy either way. It's a draw here.
Winner: Draw
Screen time
Apple's insistence in sticking with a near-720p display for the iPhone 6s remains a real head-scratcher. It's a nice-looking 4.7in LCD screen, with great contrast and colour reproduction, but the pixels aren't that hard to spot when you give it a close look.
No £500+ Android phone today would settle for anything less than 1080p, so why does Apple? In fact, the OnePlus 3's 1080p screen puts it on a lower shelf in this category than the Samsung Galaxy S7, HTC 10, and LG G5, which all sport Quad HD stunners – but that's the concession made to secure a much lower price.
And in this case, the 5.5in OLED display is still a step up in resolution over the iPhone 6s, even if the colours can be a little oversaturated. It's a great screen, even if some others on the market are greater still.
Winner: OnePlus 3
Sharp shooters
This one's a tricky category. Apple's iPhone cameras the last few years have consistently held up well when compared to higher-specced competitors, although the move to a 12-megapixel back shooter with the iPhone 6s helped bridge any remaining gap.
We might see slightly stronger results from the Samsung Galaxy S7, but otherwise the iPhone 6s takes consistently strong everyday photos with lots of detail and natural-looking colours. The only real downside is that the standard iPhone 6s doesn't have the optical image stabilisation of the larger Plus model. You do get Live Photos, though.
The OnePlus 3, on the other hand, has OIS alongside a 16MP sensor – and the results are regularly very nice. We found the image processing a bit excessive at times, and the OIS isn't always used well enough, but it's a great upper-mid-range shooter. The iPhone 6s has a small edge in day-to-day usage, however.
Winner: Apple iPhone 6s
Performance and personality
It's apples and oranges here, right? Or rather, Apples and Androids. We're not going to dig through the entire laundry list of Android vs. iOS differences, but with iOS 9, you get a supremely quick and very user-friendly experience, not to mention a much improved app and game ecosystem. That's a big deal.
Android, of course, is the OS for tinkerers, customisersm and power users. Android 6.0 Marshmallow is the best yet (well, until Android N gets a public release), and thankfully the OxygenOS-skinned version on the OnePlus 3 takes a very light touch to muddling Google's best laid plans.
When it comes to performance, the OnePlus 3's Snapdragon 820 paired with an absolutely insane 6GB RAM puts up better benchmark numbers than the iPhone 6s' A9 chip with just 2GB RAM.
But truly, in regular usage, both are absolutely zippy devices that have no power running high-end games, shuttling you between apps, and keeping you happily entertained and productive. Given the two different, yet both strong operating systems and the impressive performance across the board, we're calling this one reasonably even.
Winner: Draw
Day in the life
Apple has pushed for thinner, more powerful phones, but hasn't really done much about battery life: the iPhone 6s has a relatively meager 1715mAh pack that will get the average user through a day, although often only just. Run through some heavy-duty games or do a lot of streaming video and a mid-afternoon top-off will be essential, however.
The OnePlus 3 has a larger, sharper screen, but also a much larger battery at 3000mAh. Getting through a day is generally no problem at all, and you're likely to have a bit more life left at the end of the day compared to an iPhone 6s. Also, the OnePlus 3 has fast charging, which Apple has yet to implement.
And when it comes to storage, both lack microSD support – but you're getting 64GB on the OnePlus 3, while the entry-level iPhone 6s still starts at a damn paltry 16GB. You can thankfully bump up to 64GB or 128GB, but they're pricey upgrades. In both cases, the OnePlus 3 seems the better-equipped option for most.
Winner: OnePlus 3
Bonus: 3D Touch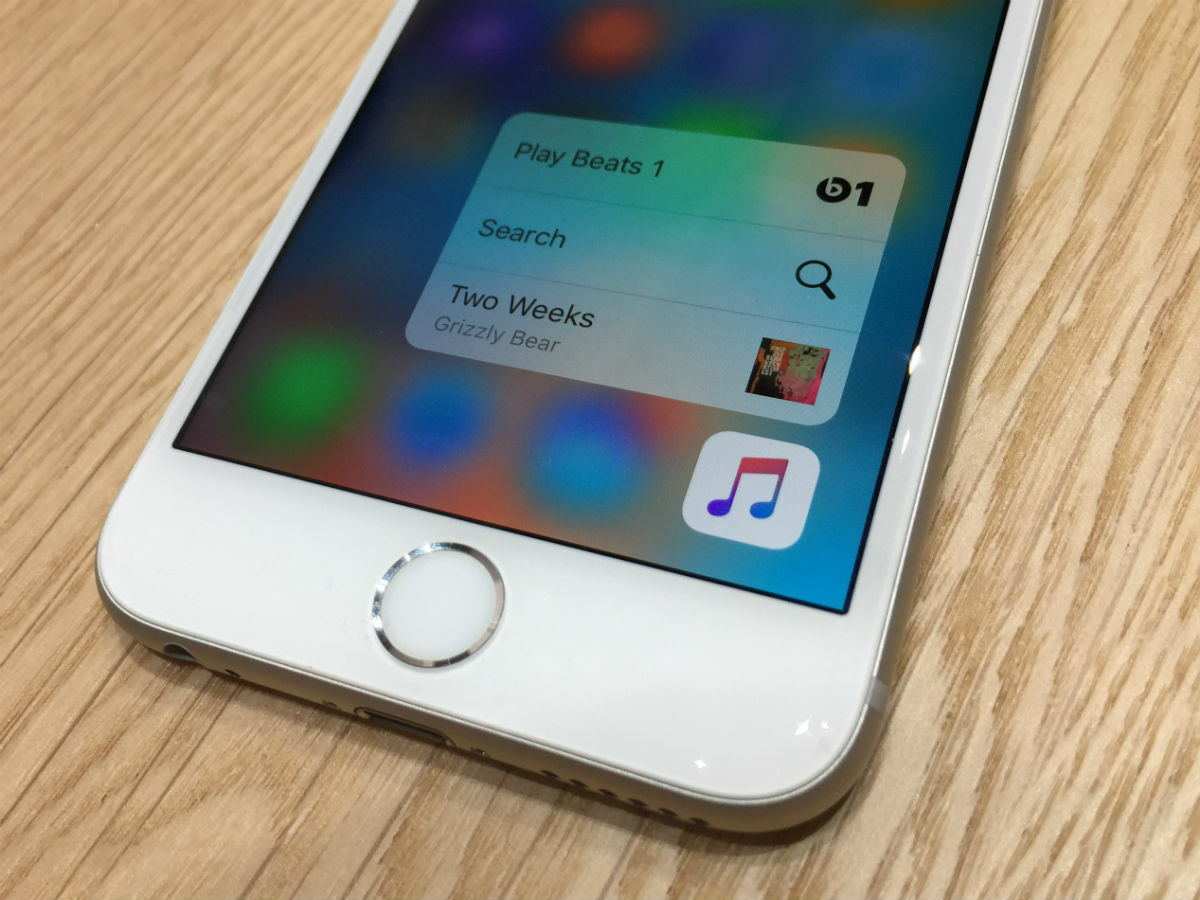 It didn't fit comfortably in any of the other categories, but we can't overlook it: the iPhone 6s introduces 3D Touch, which lets you press harder on the screen to dig into pop-up menus, interact with games in new and surprising ways, and just generally make the phone speedier to use.
Would we buy a phone just for 3D Touch? No, probably not – although it's a strong reason to bump up to the 6s from an older iPhone. Still, it's a smart, intuitive, and important feature that's becoming more useful by the week as more and more developers tap into it. And iOS 10 will bring even more 3D Touch functionality, too.
The OnePlus 3 doesn't have a pressure-sensitive screen, nor does it have a standout, one-of-a-kind perk like 3D Touch. That's one big difference between these devices: OnePlus makes phones that are comparable to other Android flagships, albeit at a lower price. Apple makes phones that often come with truly unique features and enhancements, but not cheaply.
Winner: Apple iPhone 6s (by default)
Verdict
Because of the OS differences and all that comes with each platform and market, the OnePlus 3 and Apple iPhone 6s aren't all that evenly matched – but they are both excellent, well-equipped smartphones that will keep you connected and swimming in on-the-go entertainment options.
But the OnePlus 3 does it for much, much less. The £309 price tag is dramatically less than the £539 starting price for the iPhone 6s, and if you bump up to the 64GB storage level for the iPhone – the same you get with the OnePlus 3 – then it's (almost) literally double the price at £619.
That's not chump change. Even if you don't mind spending several hundred quid for a device you'll use daily and are a die-hard iOS fan, the so-called Apple premium seems a little harder to justify when you can get a well-equipped alternative for so much less.
Even if the prices were matched, we'd call this a pretty fair fight. The iPhone 6s gets the slight lead on camera and the unequaled addition of 3D Touch, not to mention the iOS ecosystem, but the OnePlus 3 is an even or better contender in nearly every other way.
Besides, they're not the same price. The OnePlus 3 is the absolute best value smartphone on the market today, not to mention a damn fine phone on its own merits. If you don't have long-standing Apple allegiances, then there's little doubt that the OnePlus 3 is the better pick for most buyers.
Winner: OnePlus 3