Nike Training Club vs Apple Fitness+: Which app gives the best workout?
Survival of the fittest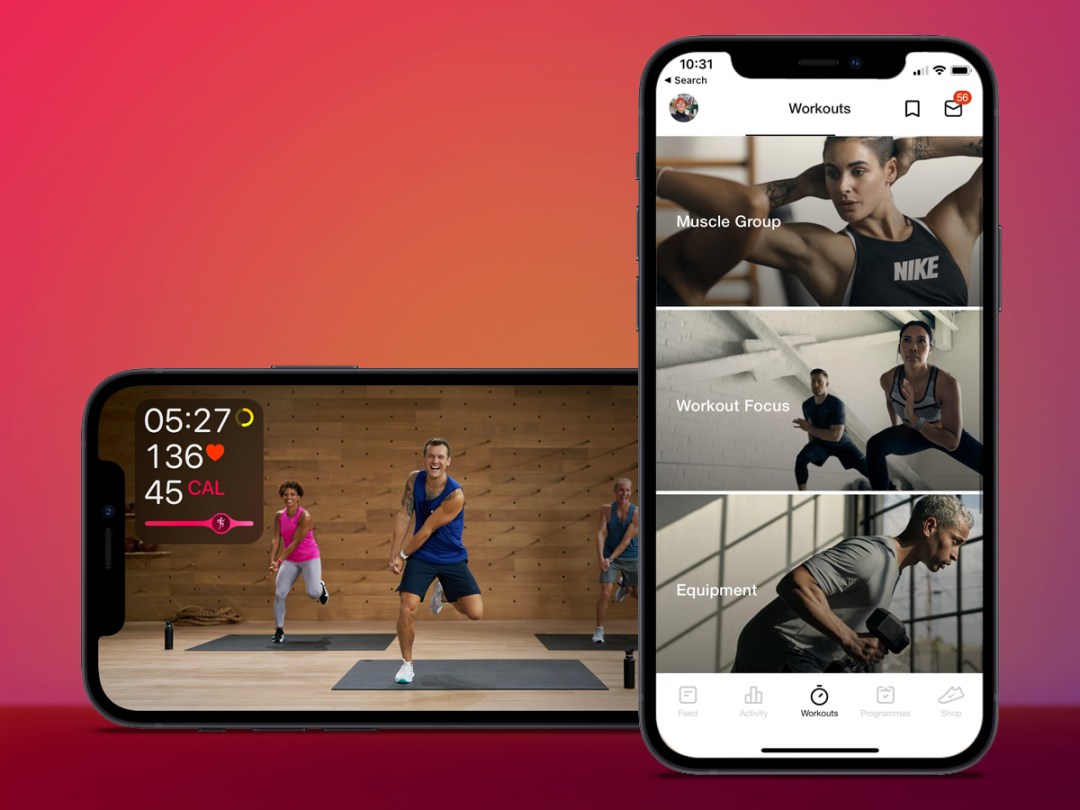 The scent of chlorine and rubber as you enter the gymnasium are now buried in the recesses of our collective memory – but with gyms preparing to reopen, the thought of enduring the dramatic moans of our fellow bench-pressers, remembering spare pants, and mopping up a stranger's sweat all seems somewhat less appealing. Thankfully, apps to help us keep fit without the worry of gym anxiety have come into their own during the ye olde pandemic.
When Apple's Fitness+ launched (£9.99 a month or £79.99 annually), we couldn't help notice it looked incredibly similar to Nike's Training Club app, which is now free. You get a load of workouts led by Nike's PT ambassadors, the option to start a proper training programme, plus expert tips on training, nutrititon and recovery. Not only is the Nike app free, it's not plagued with ads either, and only very subtle attempts at persuading you to buy any Nike clobber.
Apple's offering blends seamless iOS device integration, plus the new (and brilliant) Time to Walk feature, allowing you to access wonderfully intimate stories from the likes of singer Dolly Parton and NBA star Draymond Green while you're out having a stroll – so sort of like a cross between a podcast and an audiobook.
These are all welcome extras of course, but if Nike is getting us sweaty for free, why would we pay Apple? We've given our exercise mat a good pummeling over the past few weeks to weigh-up Nike Training Club vs Apple Fitness Plus.
App: Nike wins for simplicity
Available on iOS and Android, we commend Nike Training Club for its simplicity and accessibility. Mostly monochrome, it's fuss free and easy to get stuck into by browsing categories such as muscle group, workout focus, equipment, trainer-led courses, and short workouts and so on.
When you reach a workout milestone you're awarded digital badges and eventually trophies for a fun element of competitiveness. You can also filter things by level – beginner, intermediate or advanced – and you'll know whether you need equipment or not before selecting a session so you know exactly what you're letting yourself in for.
Apple Fitness+ App is integrated into the pre-installed iOS Fitness app, and you'll need an iPhone (6s or later) and an Apple Watch (Series 3 or later) to get a far greater insight into your workouts. The app is chock-full of options, and if it all gets a bit too much we suggest reverting to the top menu to navigate through the various types of workouts, from HIIT, yoga, core, strength, treadmill, cycling, rowing, dance and mindful cooldown.
Unlike the Nike app, you can't filter by difficulty or by equipment, however Apple places three trainers into each session (see the article's main picture) with each individual showing a modified version of the drill with varying degrees of difficulty. Meanwhile, you have to listen to the instructor do the whole introductory spiel before you find out if you need any equipment or not.
Trainers: Apple wins for variety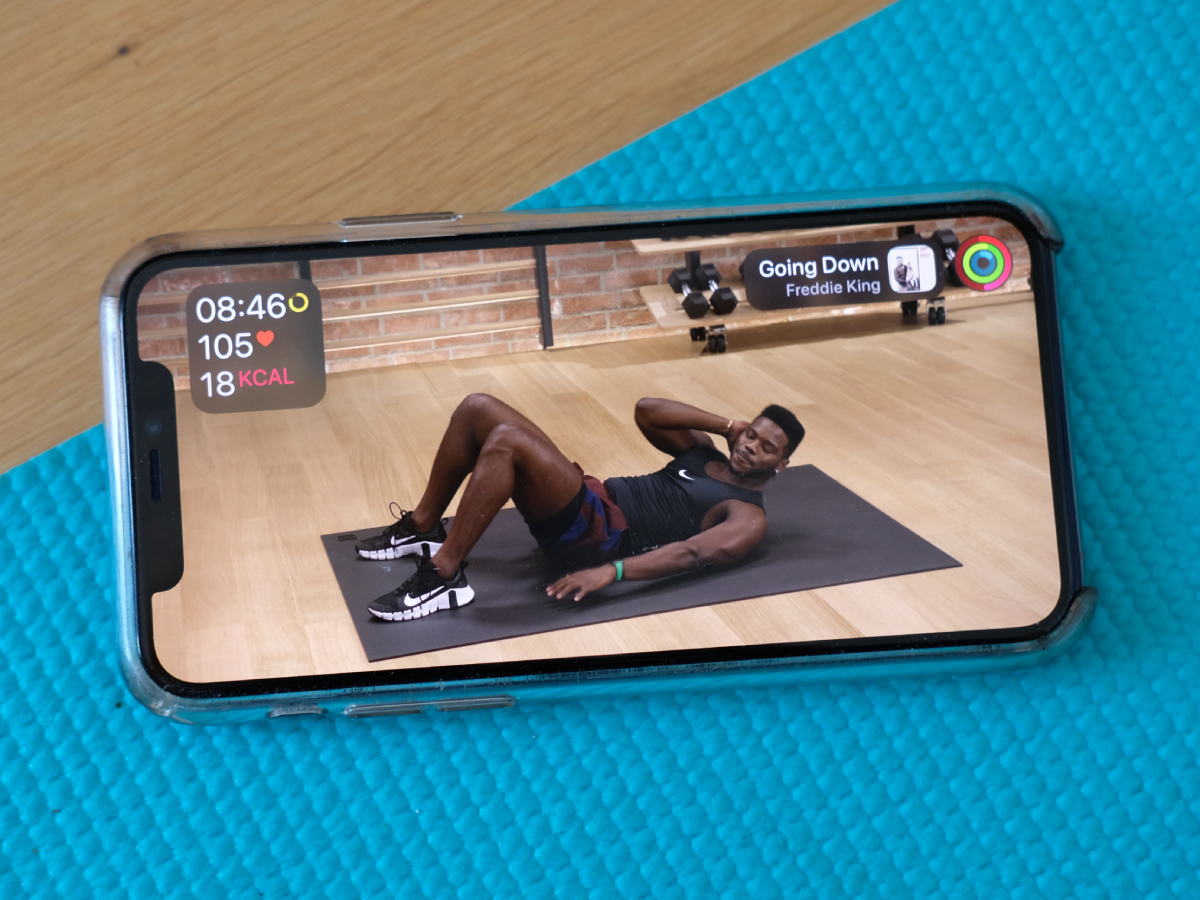 Nike Training Club offers some excellent trainer-led classes, but there's also the option to have a more robotic audio guide taking you through reps with video clips, if you'd rather opt for something less in-your-face. There are fewer Nike trainers compared to Apple, but we found them all quite likeable.
KG (Kirsty Godso to everyone else) manages to push us through with motivational nuggets and helpful reminders like "keep breathing" – thanks Kirsty – though we don't always agree with her sentiments – "what better way to celebrate yourself than with 20 seconds of all out burpees?".
Then there's the beefcakes like "your boy" Josh Adamson, who mentions "spicy meatballs" when things really start to burn.
There's rarely more than one trainer per workout, so things feel one-on-one, but we do wish there were a wider variety of Nike master trainers to choose from, and maybe some more senior too.
Apple's roster brings greater personalisation to workouts. They're all keen to tell you how they curated the workout playlist and the two extra bodies make you feel like you're part of a bigger class.
There's a musical theme to each class, understandable given the access to a major streaming service, that's where Apple has the edge. We particularly enjoyed the sparkly energy of Kim Ngo's rock-inspired HIIT class, because we never thought we'd be doing hopscotch to 'Cut the Cord' by Shinedown. "Do you lot love rock?!" she asks. Less so now we associate it with squat jumps.
Overall, Apple has plenty of bases covered. We even did a quick core morning workout with Amir Ekbatani to a blues soundtrack, and maybe that's what's fun about Apple Fitness+; it's not just the variety of trainers, but the diverse integration of music.
Contrast that with Nike, where the music choice is a bit more bland and you don't get the option to play your own.
Workouts: A score draw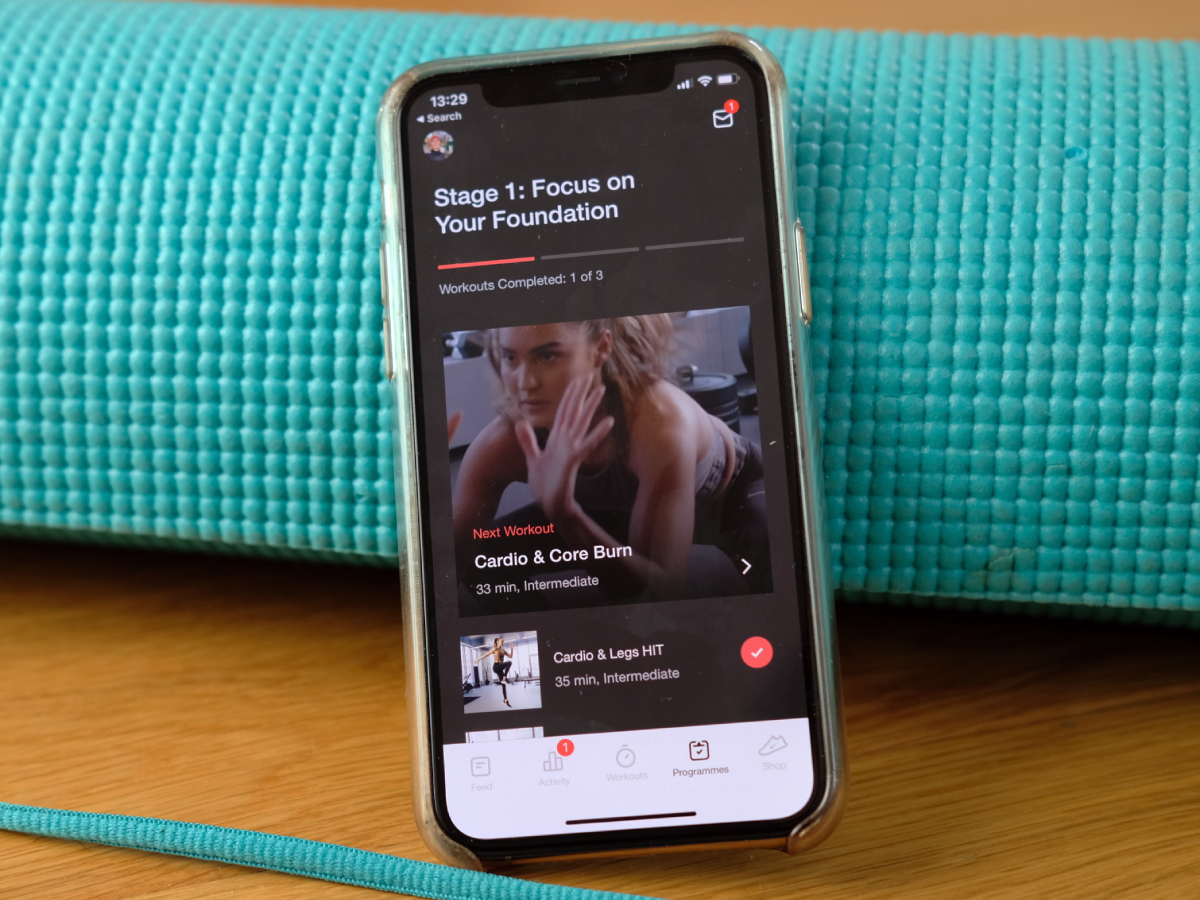 What we particularly like about Nike's workouts is you can choose a suitable level: beginner, intermediate or advanced. So if you're doing an intermediate class, you won't be patronised by someone explaining exactly what a lateral bound is.
Apple is a lot more didactic, and there's far more in the way of instruction. It feels as though it's aimed at mixed abilities, and to that end can feel less intimidating.
We do love Nike for its ability to select a four or six-week programme to work towards specific goals, and if you're a glutton for punishment you can allow push notifications to remind you to stay on track.
Both apps, though, do offer something for everyone, so it largely depends on your individiual aims and trainer preferences as to which feels right for you.
Verdict
Now, we know one app costs money and the other doesn't, but the real test here is whether it's worth paying for a fitness app at all.
Nike Training Club does everything we want it to do. The interface is clear, the instructors are encouraging, and the workouts are easy-to-follow. Why would we pay for an Apple-approved alternative?
For some that's not quite enough, they want sprinkles and raspberry sauce on their ice cream. They want to see real-time heartrates on the big screen, and have a curated thumping playlist alongside a HIIT blast. Then there are pleasant extra features like 'Time to Walk', which brings the Apple Watch to life in new ways – it's the cherry on top.
So, you're getting quite a lot more with Apple Fitness+, but for us, we really just want to lollop on our exercise mats until we're suitably sweaty, and so Nike Training Club is basic, brilliant and costs nary a penny.
Time to Walk (episodes)
Dolly Parton Draymond Green Uzo Aduba Shawn Mendes Ibram X. Kendi Ruby Bridges Bubba Wallace