Google Pixel 4 vs OnePlus 7T: Which is best?
Can Google's own Android top the current budget flagship champ?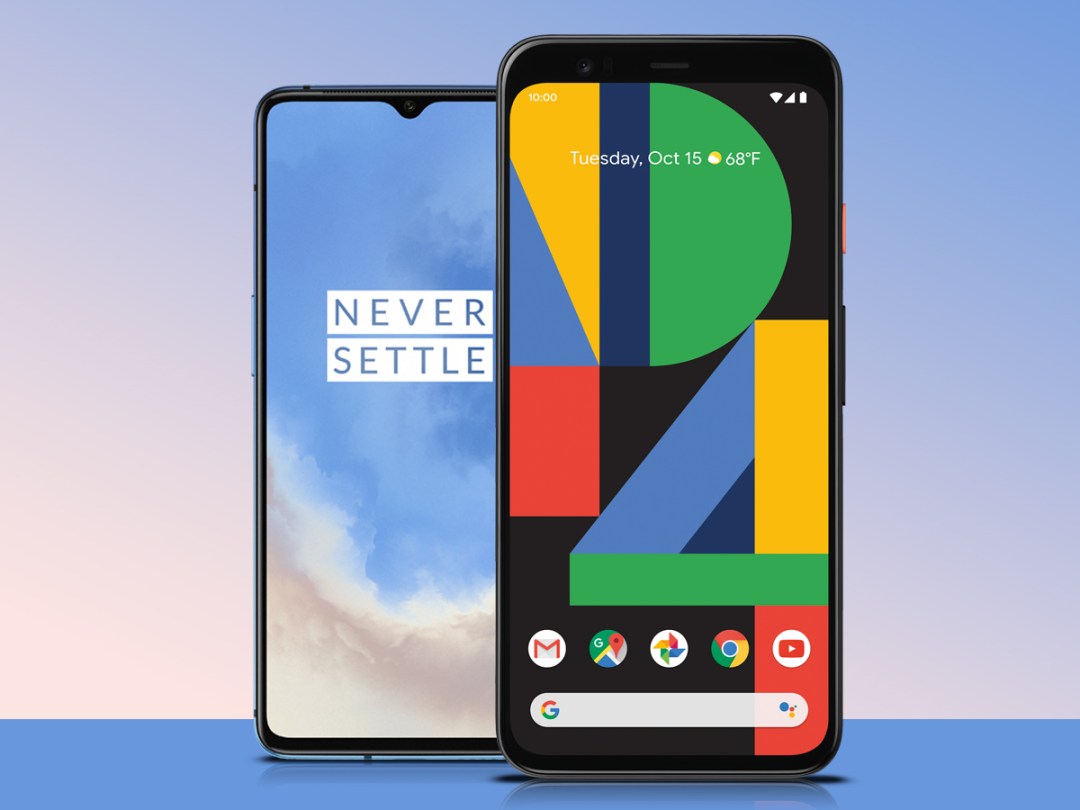 Google did something truly unexpected with the Pixel 4: it lowered the price from the Pixel 3.
At £669, it's not exactly in budget territory – but that's still a strong perk for anyone considering a top-end phone without a top-end price tag attached. Meanwhile, the new OnePlus 7T is actually more expensive than its predecessor at £549, putting these two appealing new Androids within shouting distance of each other.
Which prevails in a head-to-head battle? Here's what we think.
Design: They're very different
There's no getting around it: the Google Pixel 4 is a bit dull looking. That's not hugely shocking given Google's pedigree in the space, but the company managed to kill the one distinctive feature of past versions (the two-tone backing) while putting a big bezel of forehead on the top. It's just… very plain. Fine, but plain.
Meanwhile, the OnePlus 7T improves on the previous model by making the tiny front-facing camera notch even smaller, plus the phone is a little taller and thinner than before. And the Glacier Blue colour is a treat. We're fans.
Verdict: OnePlus 7T
Screen: Smooth operators
Both phones pack a 1080p OLED display with a higher 90Hz refresh rate for super-smooth scrolling and browsing, so they're pretty even on that front.
The OnePlus 7T's screen is a fair bit larger at 6.55in vs 5.7in on the Pixel 3, but we'll leave that call to personal preference. The Pixel's screen is a tiny bit sharper due to packing its pixels into a smaller space, but it's not a significant enough difference to factor in here.
Verdict: Draw
Camera: Pixel perfect
Camera prowess has always been a key part of the Pixel experience, and it's better than ever with the Pixel 4. Here, you get a telephoto camera on the back to augment the standard wide-angle shooter, and everyday shots are frequently fantastic thanks to Google's winning algorithms. It's really hard to take bad photos with the Pixel 4.
It also has handy perks, such as an improved Night Sight mode for low-light shooting, an astrophotography mode for starry long-exposure shots, and clever real-time exposure adjustments that fit in well with the interface.
And just as is usually the case with OnePlus camera setups, the triple-camera array on the OnePlus 7 is pretty good – but not consistently excellent. It's versatile, thanks to a third ultra-wide camera to join the wide-angle and telephoto cameras, and does an admirable job with both still photos and videos in most scenarios.
But the Pixel 4 is more consistent and has some great extras on top of that.
Verdict: Google Pixel 4
Performance: Newer is better
Both of these phones are rolling out around the same time, but Google opted to use the original Qualcomm Snapdragon 855 chip from earlier this year… while OnePlus went for the brand-new Snapdragon 855+.
There's no huge difference between them in benchmark tests, and they're both plenty speedy in everyday usage. But if we're talking about one chip vs. the newer, faster version… then we have to give the nod to the newer, faster version. It's odd that Google didn't use it, too.
Verdict: OnePlus 7T
Battery and perks: Big differences
The OnePlus 7T packs in a pretty beefy 3,800mAh battery cell, and it's well-equipped to last through a full day even with solid usage. On the other hand, Google skimped with just 2,800mAh, and it's much easier to run the battery down enough to need a top-up before evening. That stinks.
At least the Pixel 4 has wireless charging onboard, which the cheaper OnePlus 7T lacks.
But the Pixel comes up short on storage, including just 64GB in the base model with a pricier 128GB version available. The OnePlus 7T, meanwhile, starts at 128GB – and you can get 256GB instead, if you please. Neither phone supports expandable memory, either, so be sure to get enough storage for the long haul.
The Pixel 4 has a 3D facial camera for secure scanning but skips the fingerprint sensor entirely. Meanwhile, the OnePlus 7T puts its fingerprint sensor in the screen, and has less-secure 2D facial scanning if you'd rather go that route instead.
Verdict: OnePlus 7T
Verdict: Easy pick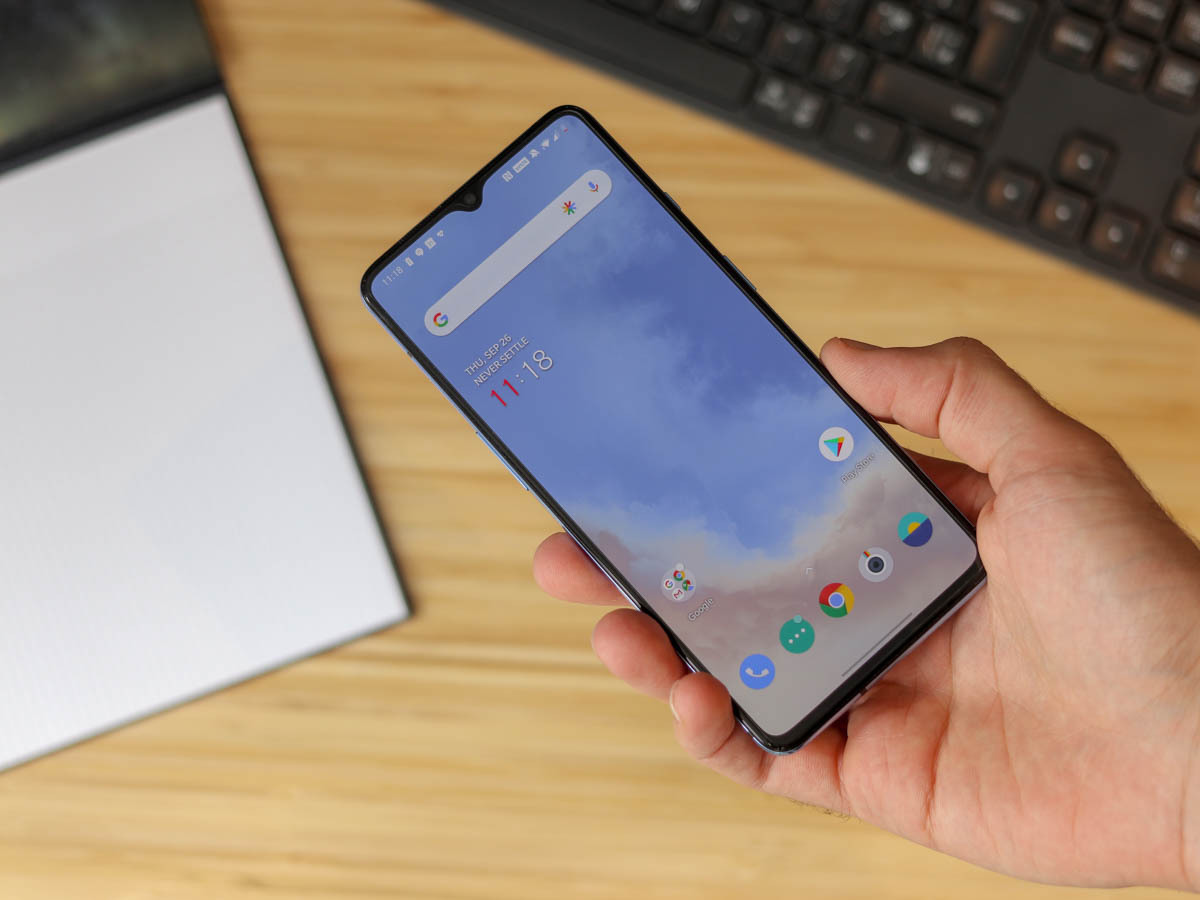 Google's Pixel 4 has a clear advantage on the camera front here, but comes up short in a few other ways – especially when it comes to battery and design.
The OnePlus 7T isn't as accomplished of a shooter, but it gets the job done. And as an overall device, we think it's the better phone by a solid margin. Add the £120 discount compared to the Pixel 4 and this battle is pretty one-sided in favour of OnePlus.
Winner: OnePlus 7T