Can muscle stimulation improve performance? Therabody PowerDot tested
Watt promises to stimulate your muscles?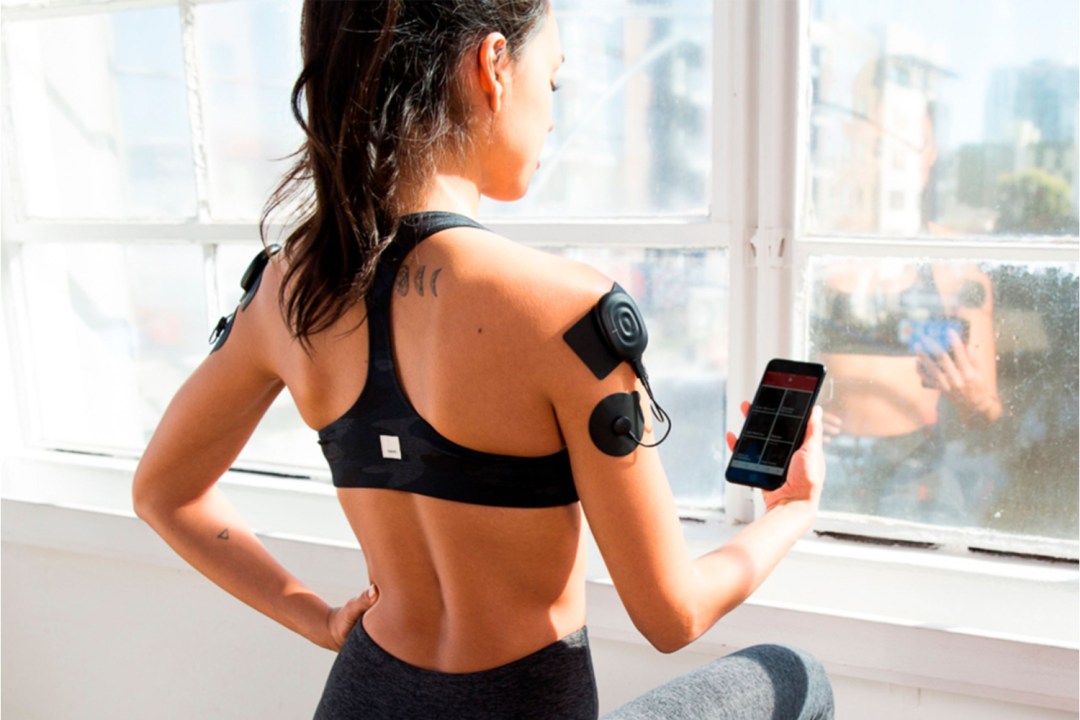 While keeping your fingers out of the plug sockets in generally good advice, what if we told you there's a good kind of electrocution? That's exactly what electrical muscle stimulation is – activating your muscles with small pulses of electricity. A far-cry from nipple clamps and car batteries, this light stimulation won't have your hair standing on end.
Rather, you'll feel small pulses on targeted groups of muscles. The idea is to activate them, just like electrical impulses coming from the brain through your nerves. See, there's a lot more science behind the tech than just a set of double As. What's the point of all this? To enhance your muscle recovery, boost performance, and avoid any degrading of your muscle cells.
Naturally, there's only one way to test this. So, here I am again as the Stuff guinea pig, ready to get electrocuted in the name of tech testing. How well does electrical muscle stimulation actually work? We'll be trying out Therabody's PowerDot to find out.
Electric havin' you: what's the science behind it?
While biology lessons are never fun, it's important to understand just how electrical muscle stimulation works. There are two different types of electrical stimulation: Neuromuscular Electrical Stimulation (NMES) and Transcutaneous Electrical Nerve Stimulation (TENS).
The former focuses on small electrical signs to contract your muscles. It can help aid recovery, helps to avoid atrophy if you can't use a muscle, and can even improve strength. Whereas the latter sends larger electrical pulses to stimulate the nerves instead. This can help with temporary pain relief, including for menstrual discomfort.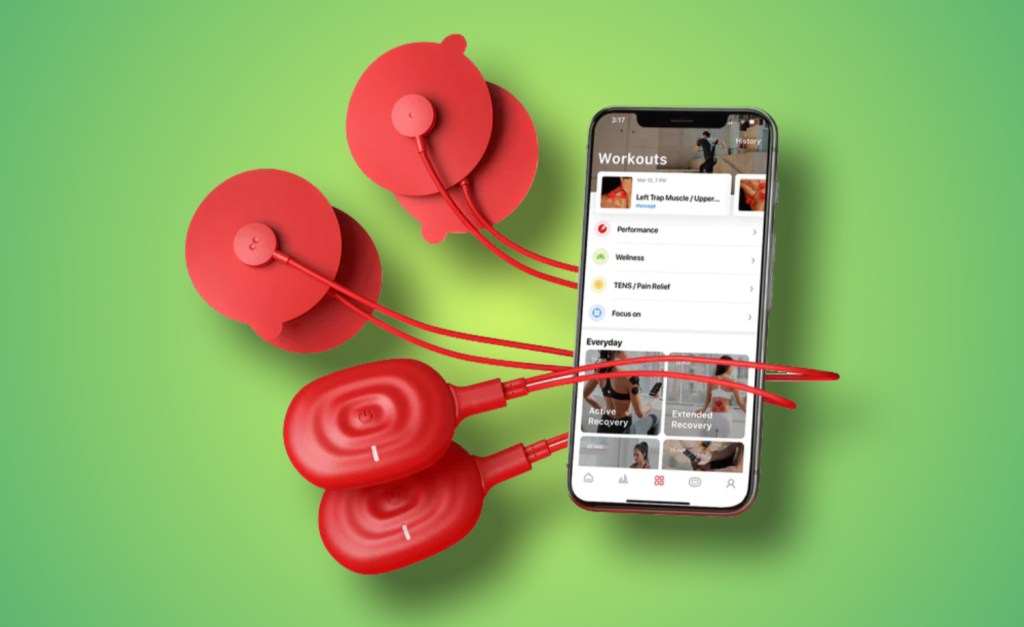 Let's be clear here, electrical stimulation isn't some magic bullet for you to avoid exercise. Any strength improvements you see will be from extra muscle stimulation, and quicker recovery times. Rather than doing the work for you, the clever tech will supplement your daily efforts to improve results. That is to say, it works with you, not for you. If you're hoping for washboard abs after a couple of shocks, you'll be disappointed.
Therabody's PowerDot system takes typical electrical stimulation from clinical environments, and shrinks it down to a portable and more convenient package. It's the same tech behind it – just smaller for you to take on the go. Therabody wants to make electrical stimulation a little less intimidating, so everyone can reap the benefits. And we're all for that.
Shocked up: using the PowerDot
Now that we've taken a look at how electrical stimulation works – it's time to get to the shocking. We used the PowerDot Duo, which provides two units for stimulation. It means you can do both sides of your body at once for muscles that need it. You can also opt for the single model, and take things one at a time. Some muscle groups only require one unit, such as your core or lower back.
In the box, you'll find the two main units, cords for the pads, the Micro-USB charging cable, and some pads. It's pretty easy to get the PowerDot set up. Once the main units are juiced up, you can pair them with your phone via Bluetooth through the companion app. And that's pretty much it – you'll be ready to go.
When you want to take on a session, magnetically attach the main units, and cords to the pads. Pads should last about 25-40 sessions, and are a gentle adhesive. The app will show you where to stick these on your body, depending on what program you use. You can pick your own program for relaxation, recovery, and endurance. Alternatively, Therabody's app can sync your workout data for a tailored recovery session. The key takeaway here is that the app guides you through everything – so there's no need to brush off your old bio textbooks.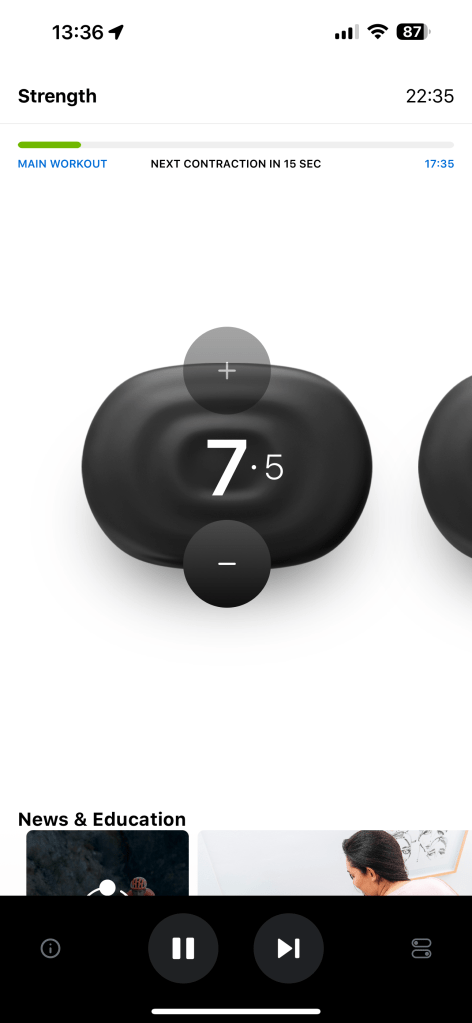 As for what it feels like, there's no simple way to describe it. The massage session does feel like a massage, if somewhat more pointy (I'm aware how that sounds). Endurance sessions can get a lot more intense, as you're supposed to crank the power up. They feel a little strange, as each impulse contracts your muscle. I'd liken it to the sensation when someone squeezes you by the sides unexpectedly – a jolt. You'll be able to see your muscles twitch, too, so that might not be for the queasy folk. It doesn't hurt per se, but can certainly get quite uncomfortable. It's best to take things at your own pace – it's all about your performance after all.
And the all important question: how effective is it? After a somewhat intense back day in the gym and some poor sleep posture, I was suffering with a sore lower back one morning. Perfect timing to give the PowerDot a go, eh? After whipping the stimulator on for a half hour massage section, I went straight back in for another. Somewhat surprisingly, Therabody's electrocuting gadget made it feel better, and rather quickly too. It was as effective as going for a massage, but all done on the sofa.
It's a similar story when it comes to active recovery. The PowerDot manages to subdue any aches or niggles, just like being more active after a workout. This is arguably where it really comes into its own. By boosting your recovery, you're able to get back to your full performance more quickly – leading to better results from your workouts. The PowerDot isn't necessarily getting you ripped, but putting your body back in peak condition, so you can train with maximum effort.
The strength and endurance sessions are a little more blurry. While Therabody has done studies that using the PowerDot alongside your workouts can increase your rep count, we haven't seen that – yet. After doing a few sessions across the week, we compared rep counts to before using the PowerDot. Reps and weight weren't up more than they usually would be week on week. This is most likely because we haven't been using the PowerDot for long enough. Repetition is your friend here, just like the actual gym.
Now, as a fella, I obviously don't have ovaries so haven't been able to test out the menstrual pain relief programs. Fortunately, my girlfriend was up for trying the electrical stimulation. Despite being slightly reluctant at first, she was incredibly pleased with the results. Therabody asks you to rank the pain on a scale of 1-10 before you start and after, and from the 30-minute session, she'd dropped down a few on the scale. In fact, she was rather pleased with the pain relief, and asked to go again. For those wondering what it feels like, she described it as "pins and needles, but pleasant". It's a lot less intense than the pulsing of the regular massage feature, so there's some specific stimulation at work here.
Charged up: can electrical muscle stimulation aid your body?
Having used the PowerDot across multiple sessions, it's pretty clear that the science is right – electrical stimulation can aid your body and performance. We experienced the biggest assistance on the recovery side of things. It helps you feel better on the day to day, and get back to peak performance more quickly.
Therabody designed PowerDot for you to use alongside your regular training, supplementing your activity. And it works. Small, light, and convenient enough to whip on in a few minutes, the stimulation isn't a chore. More importantly, it works, and the benefits are noticeable rather quickly. Say you're injured and can't train, the PowerDot can help out with that too, in addition to when you can get your sweat on. It's a rather comprehensive system.
Electrical stimulation sounds scary, but it isn't. It's accessible, convenient, and can help to boost your recovery and performance. It hurts less than a sports massage, arguably, and you can do it all on the sofa. Just don't expect a superhero transformation after your sessions, and you'll be golden. Use it to supplement your training, and you'll see results. I'm off for another round of shocking.