Buying guide: the best drones under £1500
Soar through the skies with these camera-equipped 'copters...
Drones are no longer the preserve of pro filmmakers and the military.
The past couple of years has seen an abundance of affordable, easy-to-fly quad- and hexacopters hit the market, putting the power of aerial photography in the grasp of anyone with a bit of spare cash to burn.
GoPro, Yuneec, DJI… with all this choice, which drone is the right one for you? Read on and we'll give you all the answers.
What can you do with a drone?
So why exactly do you need a drone? They have two main skills in their armoury:
1. Flying high
Drones fly by means of propellers (usually four, sometimes six or more) driven by electric motors and powered by a rechargeable battery.
Flight time per battery usually runs between 10 and 30 minutes, and but fast flying (if you engage a drone's "Sport" mode, say) or flying in poor weather conditions can reduce battery life substantially.
Drones are usually (but not always) flown using a twin-stick controller, linked wirelessly to the flyer via Wi-Fi or a radio signal. To make flying simpler and safer, some drones employ systems to do a range of things from avoiding obstacles to automatically returning to the take-off point and landing in the event of low battery power or poor transmission signal.
They can also stay in a stable position using GPS, GLONASS or downward-facing cameras, automatically follow you, and fly along a preset or automatically-generated route.
Drones are capable of causing a lot of damage and harm if flown irresponsibly, so make sure to check out Dronesafe's Drone Code, which breaks down all the UK rules and regulations. It might save you a trip to the police station, a substantial fine or even jail time.
Now that's out of the way, it's time to move onto the really fun stuff…
2. Sky snapping
Not all drones come with a camera, but almost every one we've reviewed here at Stuff does. Otherwise they're just a flying toy, aren't they?
These are usually small modules similar to smartphone cameras in image quality and mounted on a gimbal that provides automatic stabilisation and the ability to tilt and pan smoothly.
Camera controls are usually handled via buttons on the controller or touchscreen icons on a connected tablet or smartphone. Images and video are usually saved to an on-board microSD card or internal memory, but some Wi-Fi-connected drones will also save them to your phone or tablet on-the-go.
As well as allowing you to capture photographs and video footage from way up in the sky, on-board cameras serve another purpose: a live drone's eye view video feed direct to the pilot. This aids flying and the framing of shots, and some drones allow you to hook up the camera to FPV (first-person view) goggles for a real cockpit experience.
How to buy a drone
1. 4K or 1080p?
Assuming you buy a camera-toting flyer, how good do you need the camera to be? Some drones can capture 1080p clips at a smooth 60fps, others offer full 4K but at a slower 30fps. On the stills front, some drone cameras can snap highly editable RAW files, while others only hand you pre-processed JPEGs.
2. How vital is portability?
Drones have become smaller, lighter and easier to carry around – but portable drones sometimes sacrifice flying stability, battery life or camera quality in order to shave off those all-important millimetres.
Or they simply cost more. Do you need a drone you can fit in a tote bag, or are you OK with a little more heft in order to save some money or add some functionality?
3. Consider stamina
Battery life and flight time are hugely important factors with drones, because once that power plant is dry, your wings are clipped.
Some pilots invest in extra batteries to avoid frequent trips to the wall socket, but these tend to be fairly pricy. You should also consider buying an in-car charger for road trips.
1) DJI Spark (£500)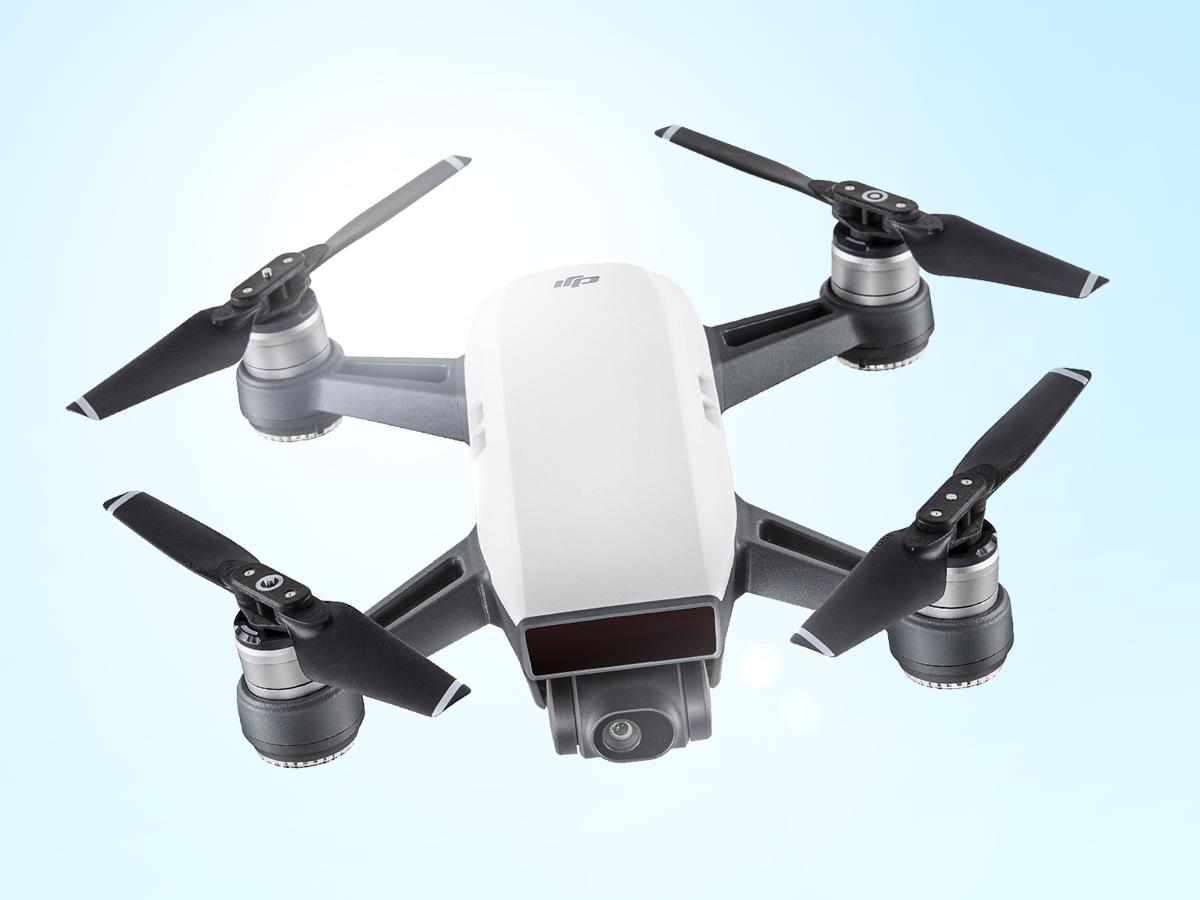 Stuff says ✭✭✭✭✭
PROS: Small and light | Crisp HD video quality | Superb auto flying modes
CONS: Limited battery life | Not so cheap once add-ons factored in
Buy the DJI Spark here from Amazon (UK) | Amazon (USA)
The drone world's answer to the Kodak Super 8, the Spark is a compact, lightweight camera drone that's designed for simplicity and spontaneity.
Portable enough to be carried around in your bag at all times (or tossed into your car's glove compartment), it's a fast, agile and stable flyer that captures impressively detailed 1080p video clips and 12MP stills.
Just as valuable is its ability to be be flown without a controller – you can instead use a mobile app or hand gestures to position it for specific shots, or engage a wealth of auto flight modes.
What sets the Spark aside from other tiny entry-level drones is that it retains the "proper drone" feel of larger, pricier models – although its short battery life and the fact it flies best with the optional twin-stick controller mean you'll likely feel compelled to shell out on add-ons shortly after purchase.
2) DJI Mavic Pro (£1100)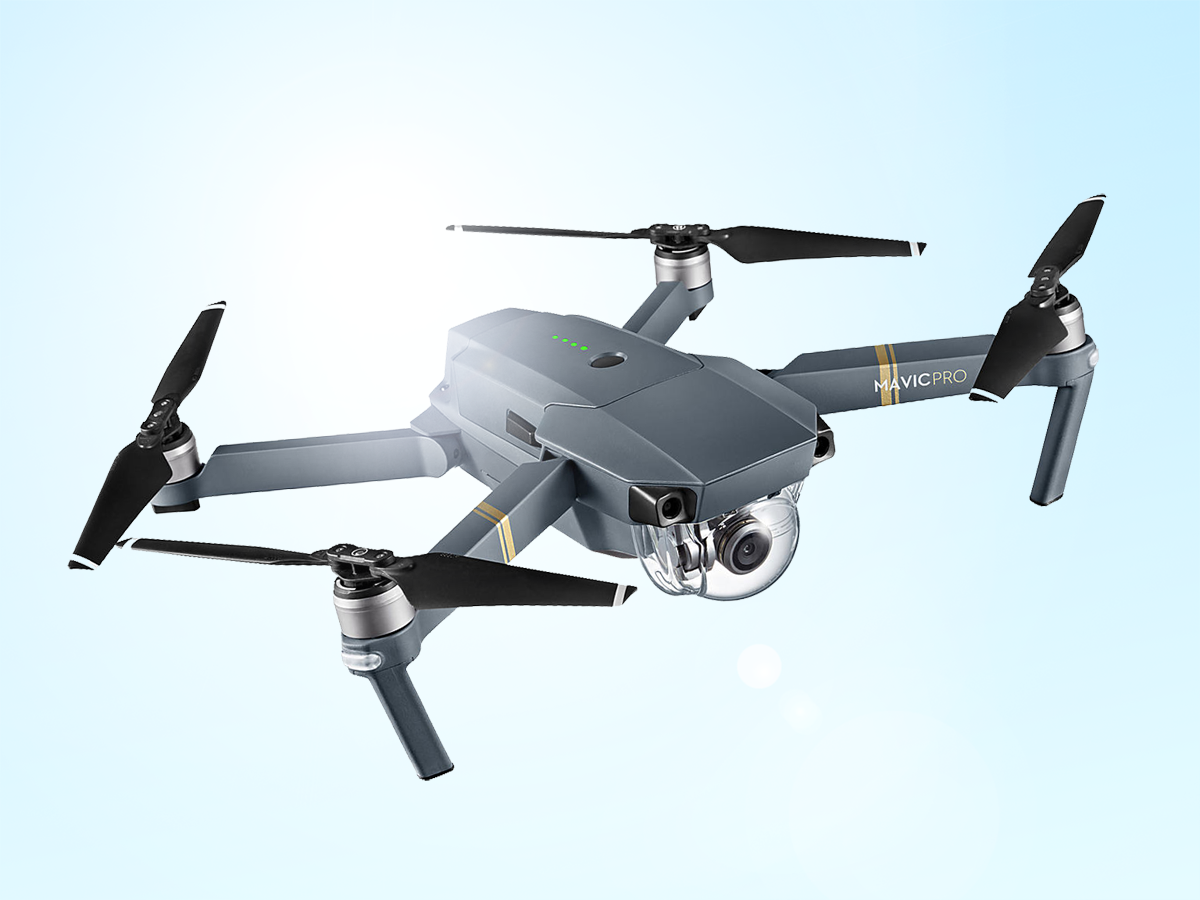 Stuff says ✭✭✭✭✭
PROS: Superb battery life and range | Excellent image quality | Small, lightweight build
CONS: Stubby landing gear | Not as stable as Phantom in high winds
Buy the DJI Mavic Pri here from Amazon (UK) | Amazon (USA)
Despite being of a similar shape and only slightly larger than the Spark, the Mavic Pro is a far more advanced drone.
Everything is better: battery life runs to an impressive 27 minutes of flight time; the controller range extends to an astonishing 7km (with a 1080p live video feed to your phone); the camera can record video at 4K resolution and capture RAW stills; the automatic flying modes are richer; and the drone itself can cut through the air at a hair-raising 40mph in Sport mode.
The Mavic's shape means it doesn't handle windy days as well as the Phantom 4 or Yuneec Typhoon H, and its squat landing gear means you have to pick take off and landing sites more carefully. But the numerous benefits of its diminutive size will outweigh those issues for most people. The most advanced compact drone we've flown so far.
3) DJI Phantom 4 (£1100)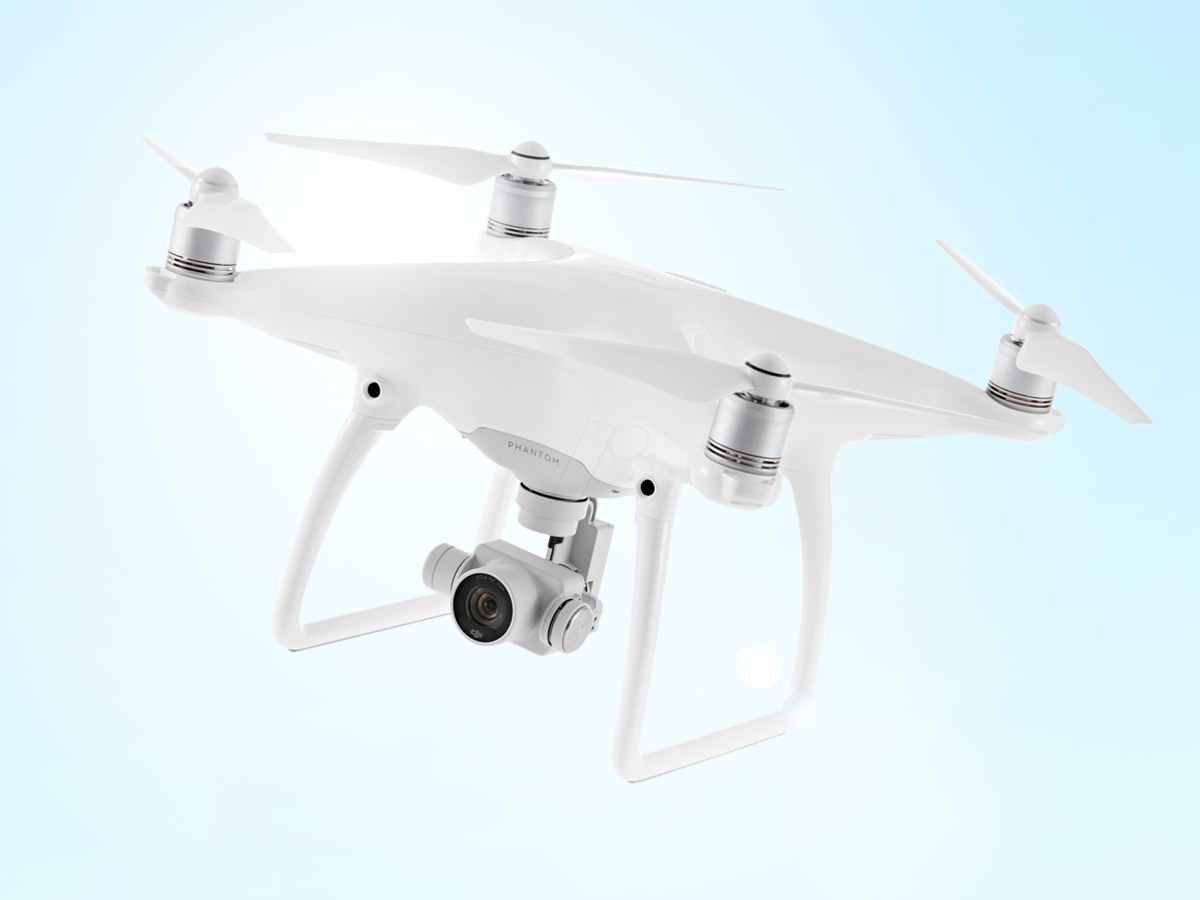 Stuff says ✭✭✭✭✭
PROS: Practically flies itself | Simple controls | Superb camera and gimbal
CONS: Low light photography remains tricky
Buy the DJI Phantom 4 here from Amazon (UK) | Amazon (USA)
The fourth generation of DJI's classic consumer quadcopter, the Phantom 4 is designed for mass appeal.
Sturdily built, simple to fly using the included controller and your phone, packed with clever tech to prevent collisions and a stable, zippy flyer with 28 minutes of air time per battery charge, it's so smart it practically pilots itself.
The underslung camera is steadied by a superb three-axis gimbal and pairs a 2/3in 12.3MP sensor with an f/2.8 lens. It can record 1080p at up to 120fps or 4K at up to 30fps, and shoot stills in RAW for maximum editing potential.
The camera isn't fantastic in low light conditions (the Mavic Pro's is similar), but since we reviewed the Phantom 4 a Pro version has been released. With a 1in camera sensor and the ability to record 4K at a smooth 60fps, its photo and video skills are a few notches higher. So's the price, of course: expect to pay £1,500 for it.
4) Propel Star Wars Battling Drone (£200)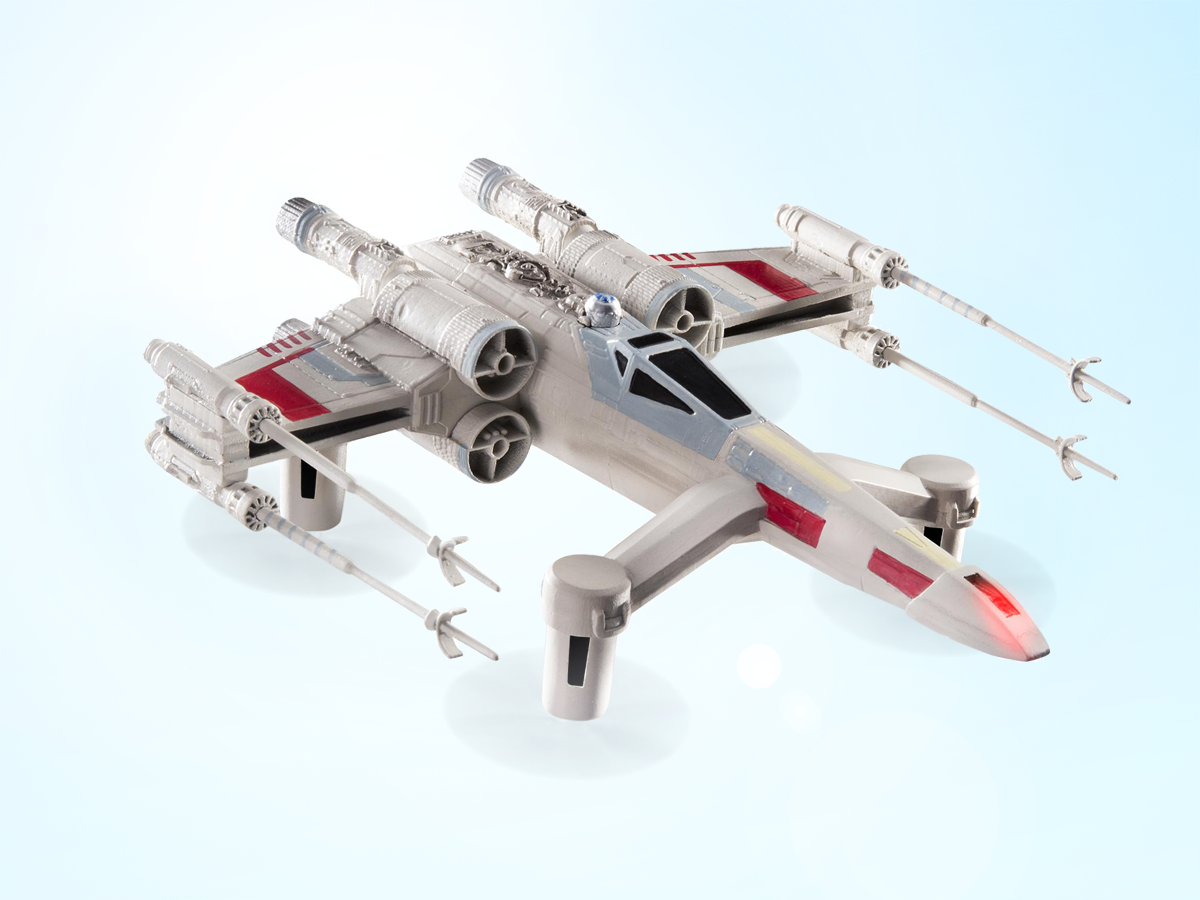 Stuff says ✭✭✭✭✭
PROS: Durable and easy to set up | So much fun to fly
CONS: A very pricey toy | No smartphone/FPV controls
Buy the Propel Star Wars Battling Drone here from Amazon (UK)
We've talked a lot about camera-equipped drones above, but here's a quadcopter that jinks away from any pretensions of usefulness or creativity. This is "just" a toy – albeit one that's a ton of fun whether you're eight or 80.
Buy two (X-Wing, TIE Fighter and Speeder Bike models are available, and battles can accommodate up to 12 drones) and you can dogfight just like in the movies, using infrared to "blast" critical spots and cause your opponents' flyer to spiral slowly to the ground.
There's no on-board camera and no option to control it via your smartphone, but make no mistake – this is a real drone. It's a sturdily-built, sprightly flyer able to hit 35mph for the 6-8 minutes of flight time per charge, and as toys go it's mightily impressive.
5) Yuneec Typhoon H (£900)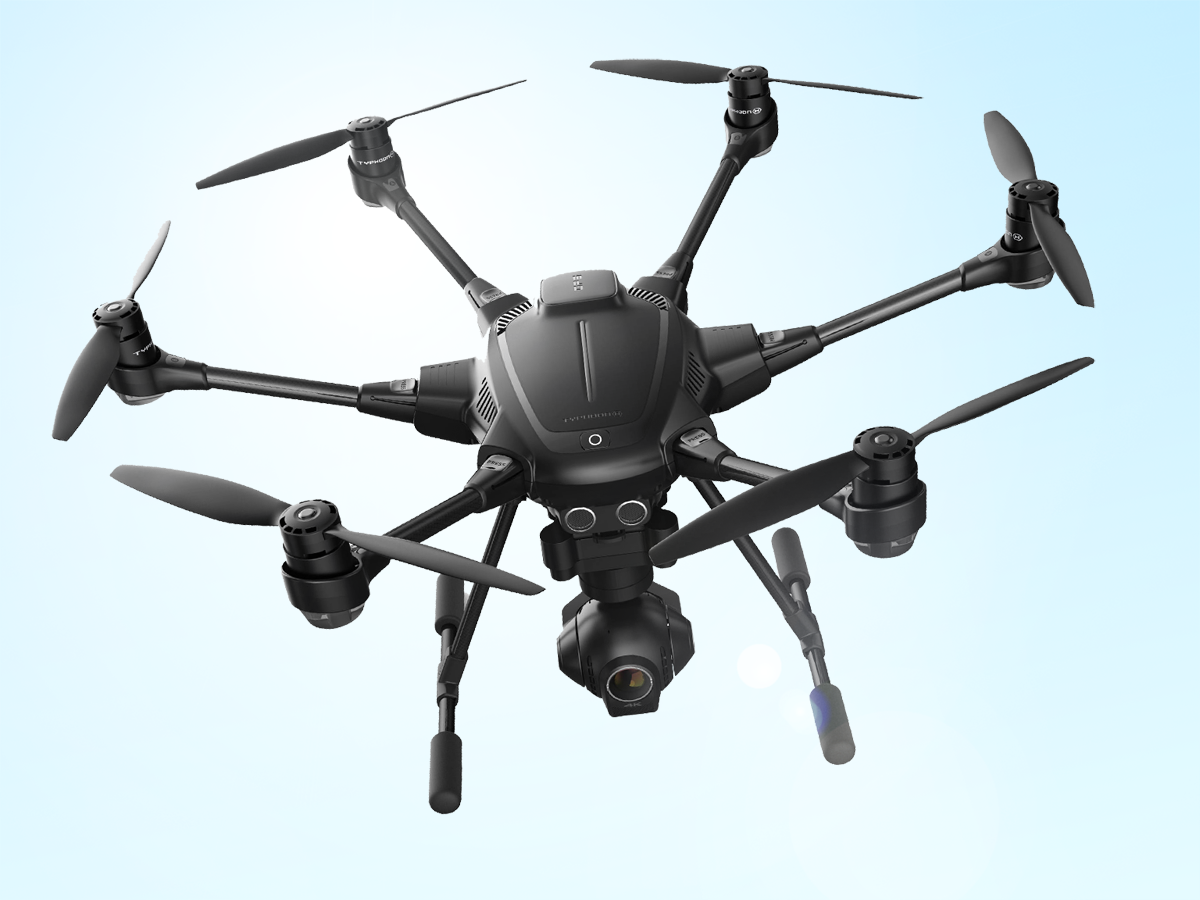 Stuff says ✭✭✭✭✩
PROS: More stable than a quadcopter | Retractable landing gear | Supports dual operator controls
CONS: Long charging times | Some Wi-Fi pairing issues
Buy the Yunecc Typhoon H here from Amazon (UK) | Amazon (USA)
Constructed partly from lovely, lightweight carbon fibre, the Typhoon H is a hexacopter – and that extra pair of propellers makes a big difference to stability, especially in windy conditions that'd see a quadcopter buffeted around.
There are other attractions here too: the controller with built-in 7in touchscreen; support for dual controls (one person flies, the other films); beautiful image quality (including 4K video) from the 12MP sensor; and the retractable landing gear, which lets you spin the camera without getting the drone's feet in your shot.
Sadly, the Typhoon is held back from greatness by its slow-charging battery (two hours to charge it fully, for 25 minutes of flight time) and pairing problems between the controller and drone.
We suspect the latter issue may have been fixed by a software update since our review, but the former is a big black mark given DJI drones' brisk charging times.
6) Parrot Bebop 2 (£335)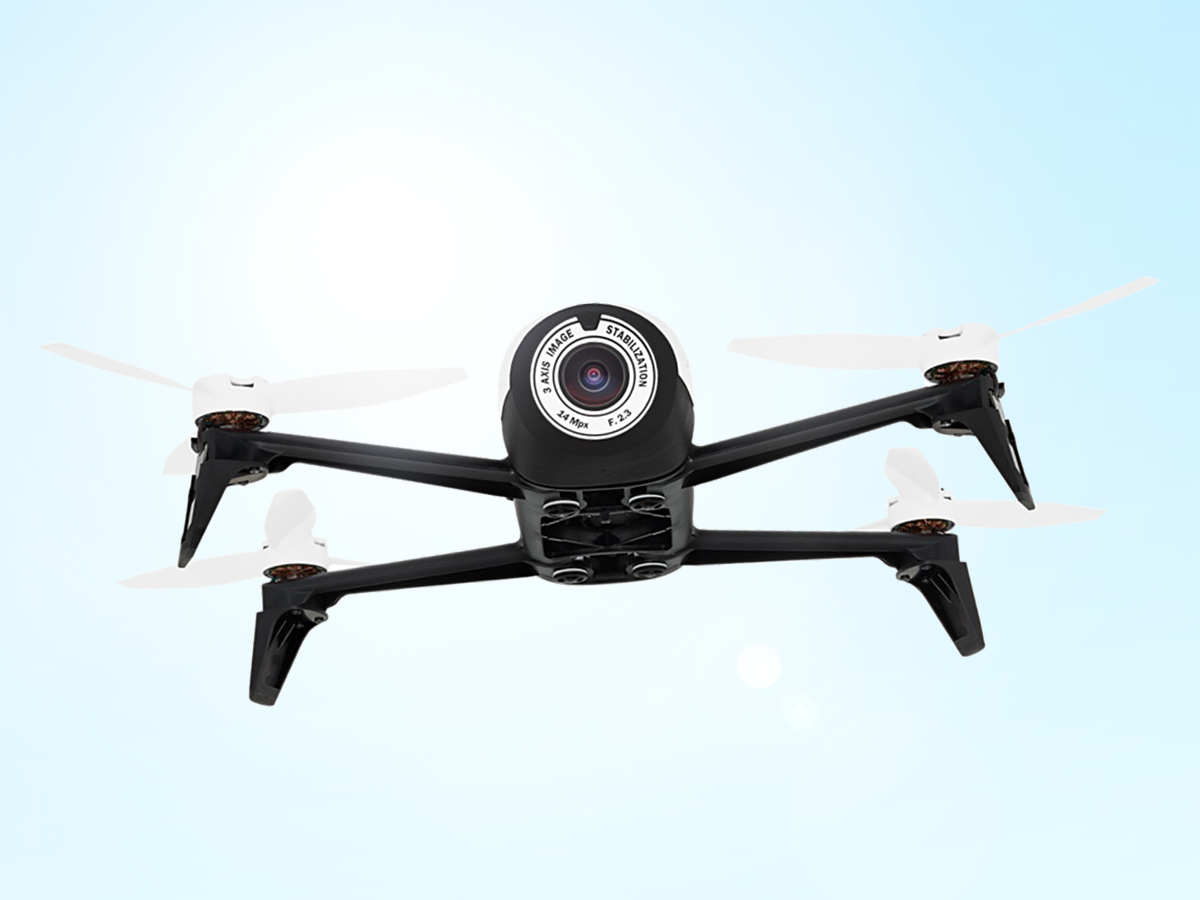 Stuff says ✭✭✭✭✩
PROS: Amazingly affordable | Small, light and portable | Decent battery life
CONS: Average camera quality | Spotty connection
Buy the Parrot Bebop 2 here from Amazon (UK) | Amazon (USA)
Keen on becoming a drone pilot, but a little worried about shelling out a grand on something you're not sure you'll feel comfortable flying? The compact, lightweight and super affordable Bebop 2 is probably the perfect starter model to cut your teeth on.
Low-priced but undeniably a full-blooded quadcopter, it zips around in lively fashion. It's far from perfect, though, with its low transmission range (supposedly 300m, but we found it having issues at just 150m) and uninspiring camera quality being the biggest offenders.
1080p footage produced by the latter is grainier than that from DJI's drones, while the lack of a gimbal limits your options regarding stable, level filming too.
Still, at this price, it's a hugely tempting first step into aerial photography.
7) GoPro Karma (£1200)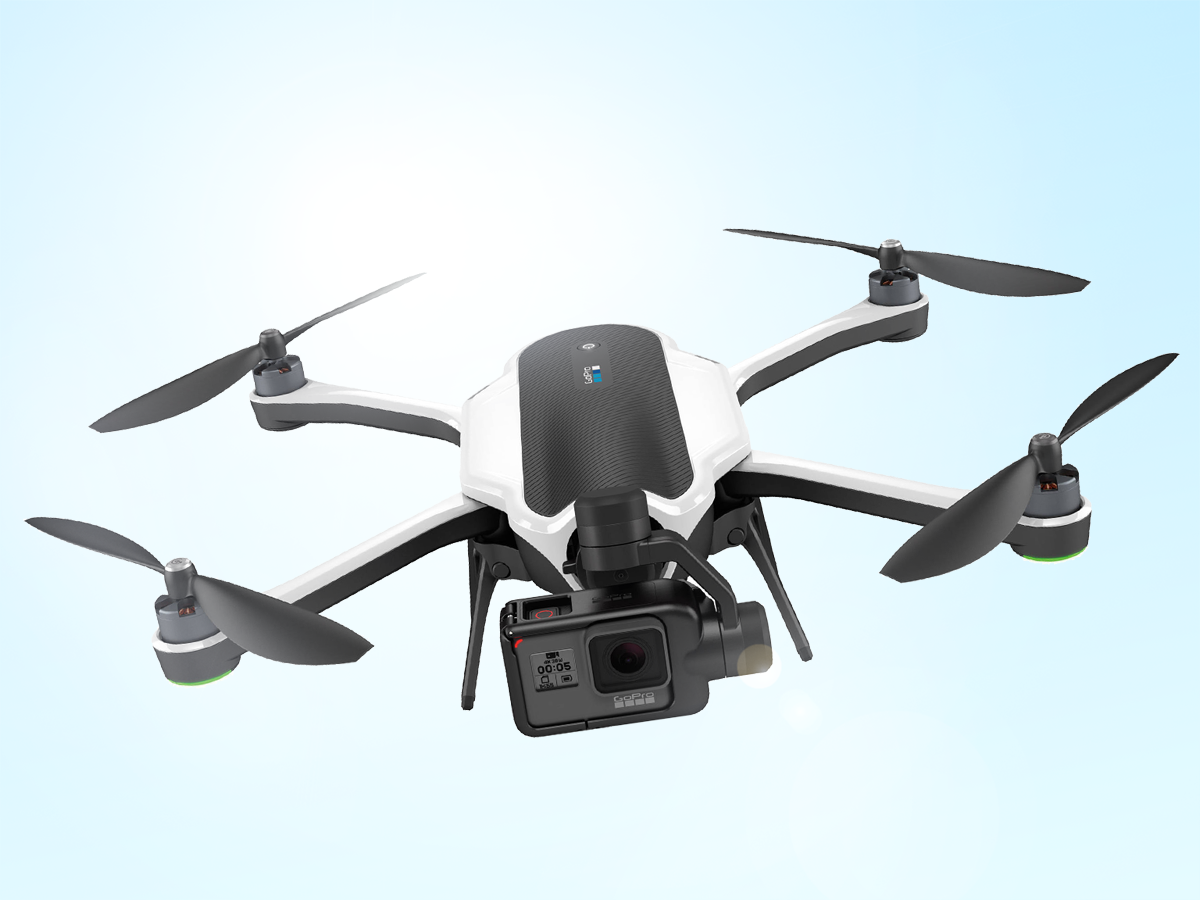 Stuff says ✭✭✭✭✩
PROS: A complete self-contained package with handheld Grip | Simple to fly | Sturdy build quality
CONS: Limited transmission range | No obstacle detection | No "follow me" mode | Short battery life
Buy the GoPro Karma here from Amazon (UK) | Amazon (USA)
GoPro's first drone sits a couple of tiers below DJI's Phantom 4 and Mavic Pro. Why? Because it lacks the flight time, transmission range, obstacle detection and wide selection of auto flying modes offered by either of those similarly-priced models.
Still, it's not without its charms. The Karma is available as a full-on system – GoPro camera, quadcopter, controller with touchscreen and Karma Grip handheld gimbal (a cut-price Steadicam, essentially) – that fits inside an included tough, slimline backpack.
This self-contained approach has undeniable appeal, particularly if you're already heavily invested in GoPro's system of mounts, because the camera used by the Karma will be usable across them all.
Is it a flawless drone? No way. It's a decent first effort, and we suspect GoPro's followup may iron out many of the wrinkles, but in most cases you'll be better spending your money on a Phantom 4 or Mavic Pro.