DJI Phantom 4 review
Thinking of giving drones a go? The Phantom 4 is where you start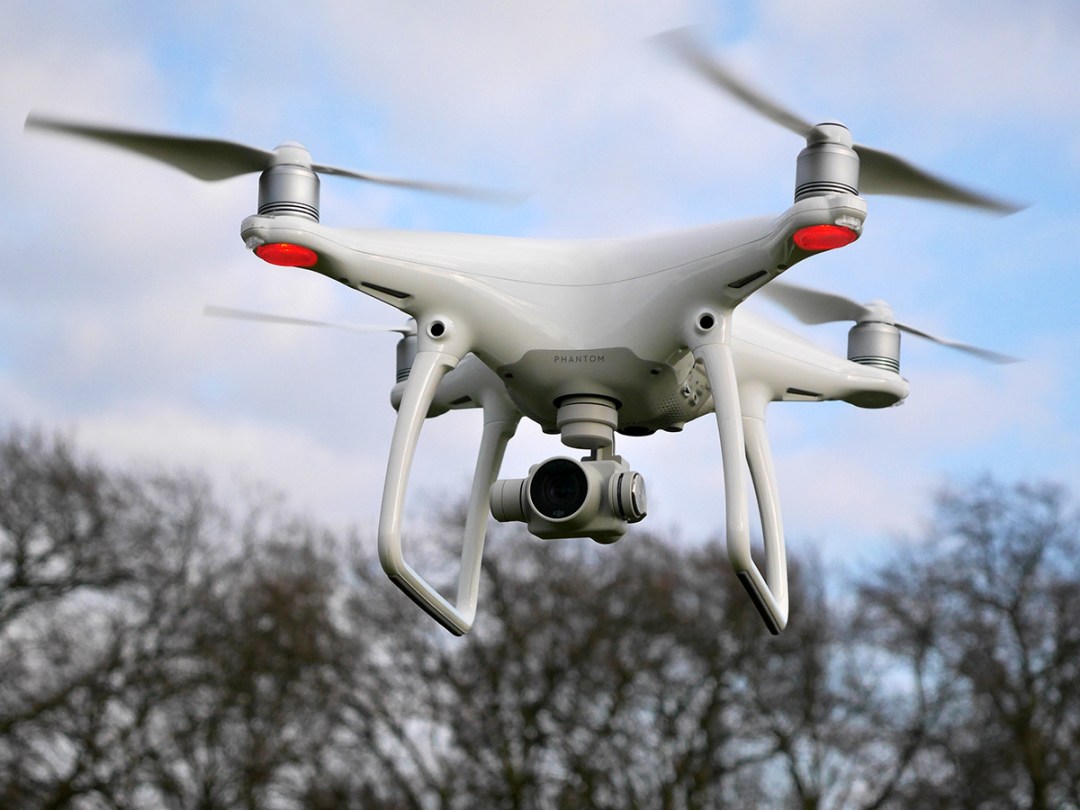 Eight months ago, we said DJI's Phantom 3 was "pretty much the perfect first flying camera." That was true then, but the Phantom 4 simply blows it out of the sky.
The latest of DJI's camera-toting quadcopters takes everything we've come to expect from the line and adds features that mean pretty much anyone can fly one. It'll dodge obstacles, line up your camera shots for you and create some truly breath­taking 4K video in the process.
I've been flying one around South London for the past week, but it's now so smart I'm pretty sure it could have done the job even if I hadn't turned up. 
Box clever
Everything about the Phantom 4 feels more user­-friendly, right down to the box it comes in. The grey Styrofoam suitcase is compact, but has room inside for drone, controller, battery charger and spare propellers, as well as the iPad Mini I was using as a display. You could easily mistake it for something the secret service might carry the Nuclear Button around in, but it's a whole lot nicer than the basic cardboard the Phantom 3 turned up in – and it means you don't need to invest in a carry case right away.
Lift the drone out of the box and it's easy to spot DJI's visual tweaks: the glossy, white, plastic frame looks thinner and more aerodynamic; the quick­-release propellers make set-up much faster than older Phantoms; the exposed motors and smooth curves make it the ideal match for Apple's retail stores, which will be the only place to pick one up for the first month.
Flip it over and you'll spot the second IMU, or Inertia Measurement Unit, as well as the cameras and sensors that help keep the Phantom perfectly stable in the air, even in moderate winds.
Dodge this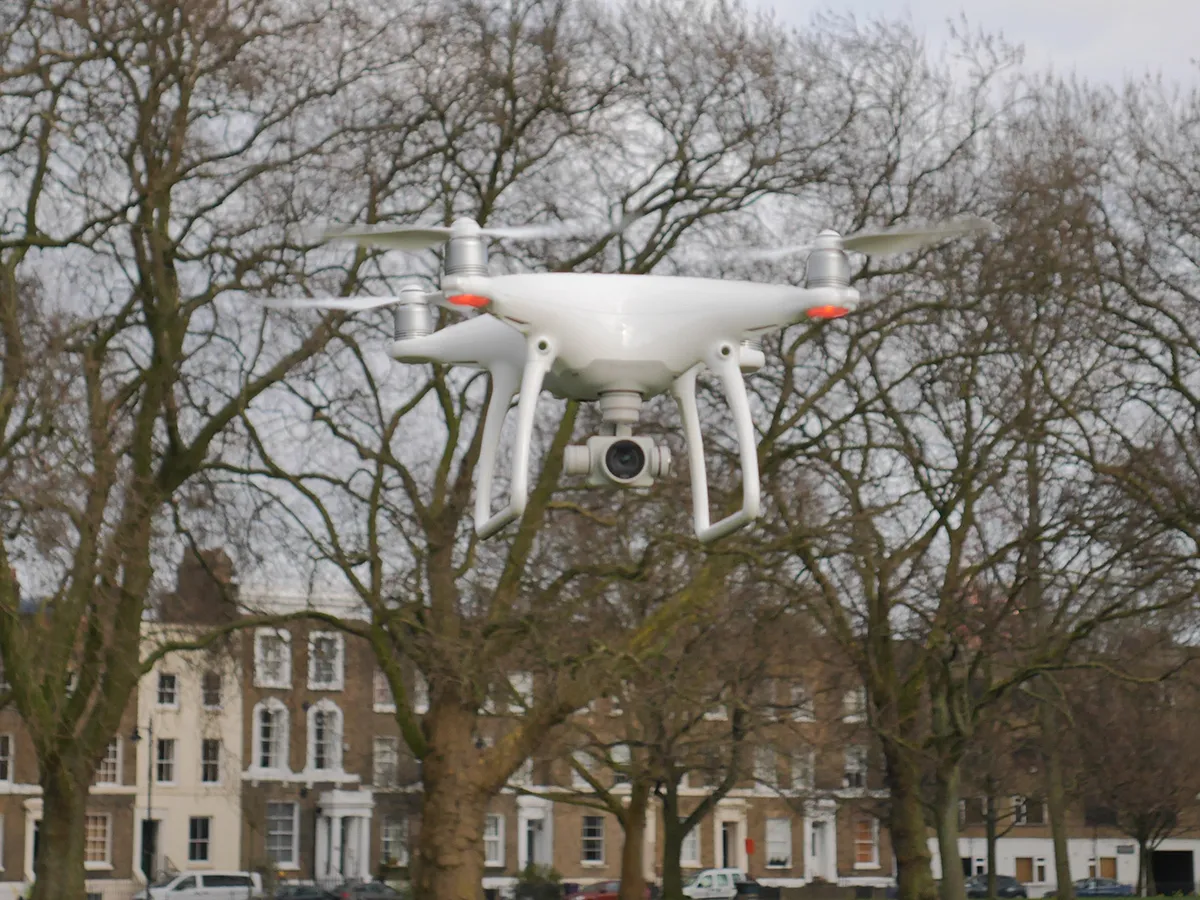 It's these new additions that help keep the Phantom 4 in the sky, and away from obstacles.
While other drones that rely purely on GPS don't know if they're about to fly into a tree, DJI has given its drone eyes and a brain to stop you crashing. Obstacle Avoidance works a bit like the parking sensors on a modern car; you get green, yellow and red indicators on­screen as you get closer, but get within six feet and the Phantom will simply refuse to go any further.
Trying it out against a brick wall at high speed brought me out in a cold sweat, but thankfully the drone came out unscathed. Because the cameras only face forwards, obstacle avoidance won't work when you're flying backwards or sideways, and it can sometimes refuse to go through gaps that a pilot would be able to navigate by hand. But they're minor drawbacks really to what is a fantastic addition to the Phantom's skills.
All of the Phantom 3's intelligent flight modes return, but they're limited to GPS navigation only. That means you won't be able to use Obstacle Avoidance with the likes of Waypoint Navigation, Follow Me and Point Of Interest Orbiting and will have to do the spotting yourself instead.
Fortunately, you really don't need to be an expert behind the sticks to use the Phantom 4: tap-to-take-off and -land return, but you can now tap-to-fly too. With TapFly enabled, pressing anywhere on the live view will send the drone in that direction. It's smart enough to turn smoothly, so your footage looks perfectly stable.
The feature doesn't work until you're at a certain height, so it's not like you can ditch the controller altogether, and you'll want to have it to hand in case you need to take manual control, but it's a great way for novice fliers to get started. When you're ready to give the physical controls a workout, though, the Phantom 4 becomes an entirely different beast.
The need for speed
The last Phantom was hardly a slouch, but DJI has turned things up a notch for the Phantom 4. You've essentially got three speeds now; switch on Obstacle Avoidance and you'll reach 22 miles per hour. In normal mode, that jumps up to 35mph, and in the aptly-­named Sport mode, you'll top out at a frankly terrifying 45mph.