The best smart scales 2018 – reviewed
Forget simple weighing devices - these connected scales serve up more health data than BUPA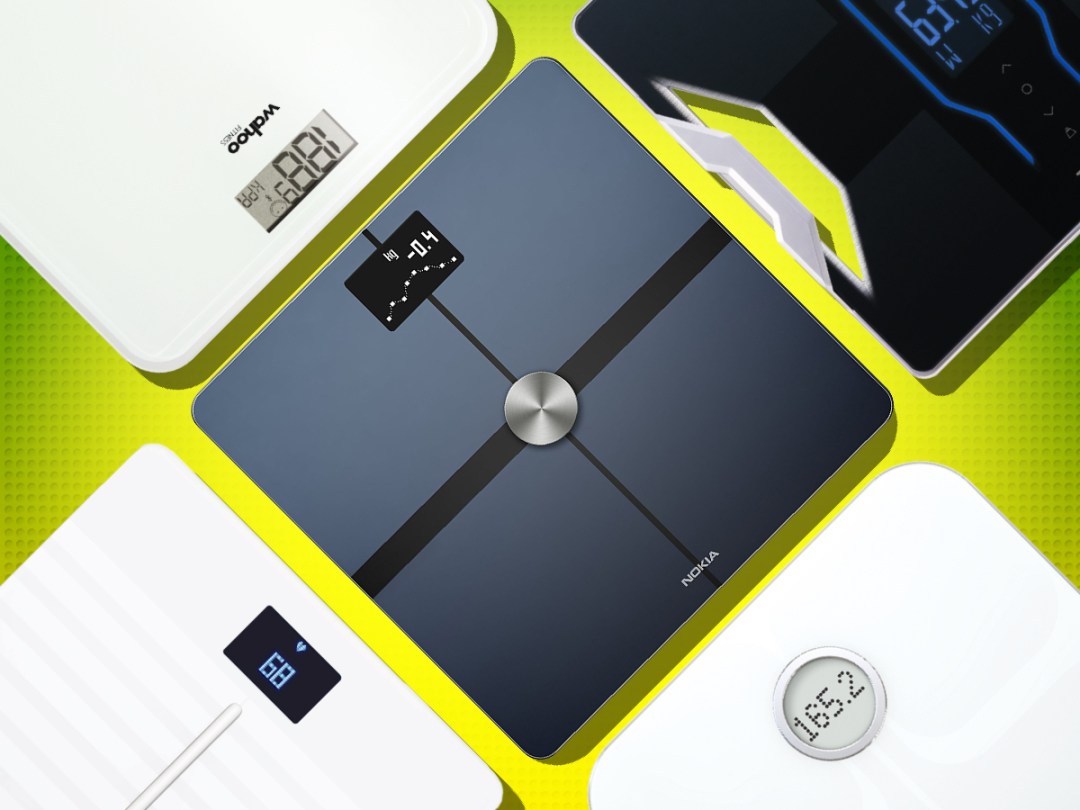 Weighing yourself used to be a simple process: you stepped on the scales, winced at the dial, then lied about the figure to your significant other.
These days, there's more to it. A new breed of smart scales can now track all manner of stats, from BMI and body fat to heart rate, plot your progress on your smartphone, and even link with your fitness band for true 360-degree health monitoring.
In fact, about the only thing these scales won't do is lie to your family for you; you'll still have to do that bit yourself.
We've put the best models through their paces to see which is best entrusted with your precious BMI info. 
Test winner: 1) Nokia Body+ (£90)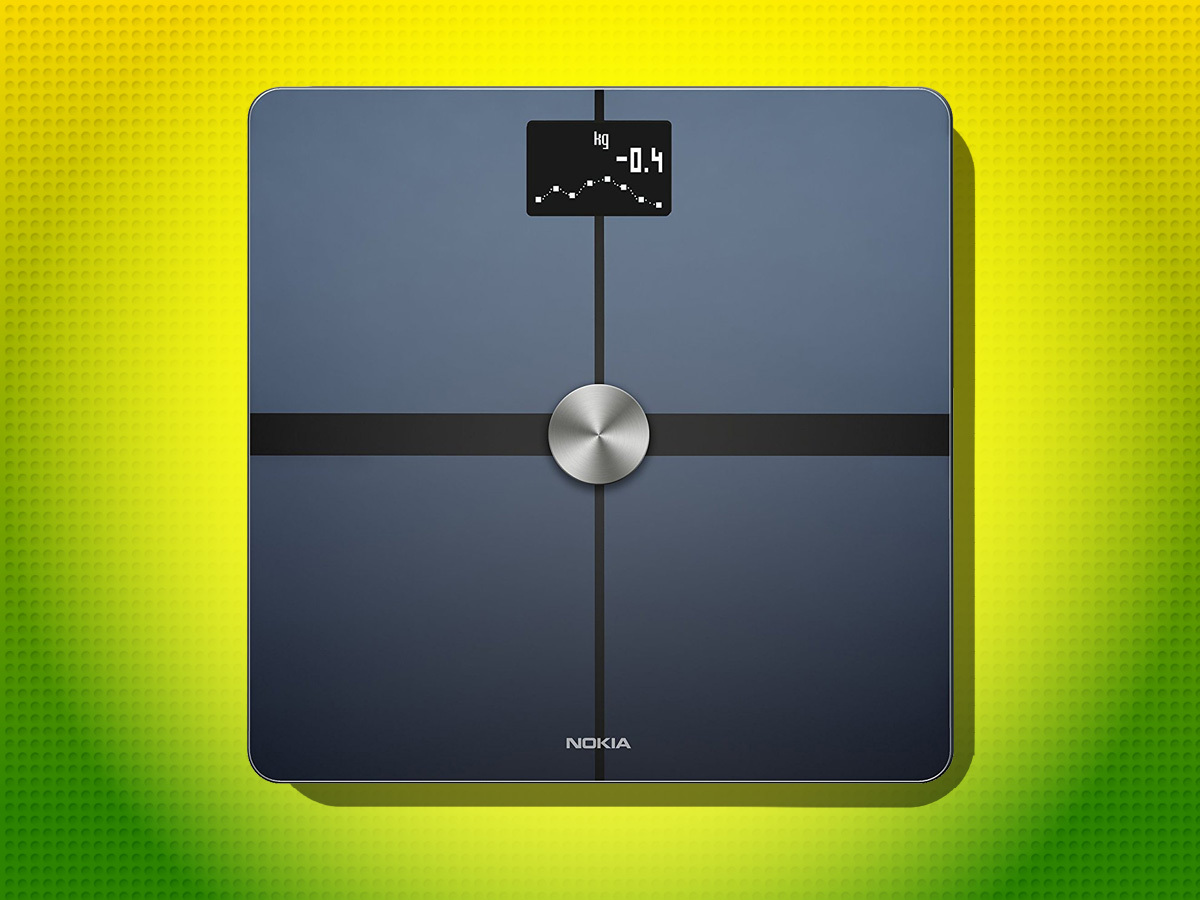 What's the story?
The Nokia Body+ is a rebadging of our original test winner, the Withings WS-50. It still tracks your weight, BMI and fat percentage, while serving up a weather forecast as you stare glumly at the screen.
There are some subtle changes though, for better and worse. Battery life has improved to 18-months and the scale can also track your body's water composition and both muscle and bone mass.
Oddly, though, the Nokia Body+ no longer monitors indoor air quality and can't track heart rate through your feet. This is now done using the camera flash and your finger on your smartphone.
The Body+ sits in the middle of the Nokia smart scale range, in between the basic £60 Nokia Body (which just tracks your weight and BMI) and the £150 Nokia Body Cardio (which packs heart-rate tracking).
In the transition from Withings to Nokia, the Health Mate app has also been given a complete – and slightly controversial – overhaul. On launch, Withings owners, whose products remain compatible with the Nokia ecosystem, complained of bugs, dropped features and synching issue.
Several months on and several updates later, how does the Nokia Health Mate app stack up?
Any good?
Despite Nokia's decision to drop the heart rate tracking, the Body+ remains an impressive set of scales, with reliable accuracy and seamless set-up.
We never quite saw the point of the air quality assessment, so that's hardly missed and can be done better by other devices. While heart rate tracking is still available via your smartphone, being able to see resting heart rate on the scales was a nice indicator of cardio vascular fitness, so it's a shame Nokia has dropped it for this model.
As for the Health Mate app, it's a minimalist affair with acres of white space; think luxury hotel spa lobby. It screams wellness. During our test it never froze, the data synched smoothly from Apple Healthkit (for historical heart rate, exercise and step counting data), and the scale measurements transferred quickly.
The Dashboard section is clearly laid out with your vital statistics, and a quick click through takes you to graphs displaying your progress. Still, it would have been nice to be able to overlay weight and body fat percentage, for instance.
Sleep, weight, heart and activity alerts can be set to remind you to do a whole load of different things, from going for a post-dinner stroll and weighing yourself at the same time each day, to eating more fruit and going to be at a decent time.
It's nicely done and doesn't feel overly preachy. The 'coming soon' wellness and fitness guides are also promising – these will include programs including sleep training and pregnancy tracking, although most will need another Nokia Health gadget along with your scales.
Stats tracked
Tech
Battery life (max): 18mths
Display: 128 x 64 pixel backlit LCD
Connectivity: Wi-Fi
Compatible products: Nokia Pulse, Nokia Steel Watch, Nokia BPM+ Blood Pressure Monitor, Thermo
Best for: Wellness obsessives
2) Fitbit Aria (£100)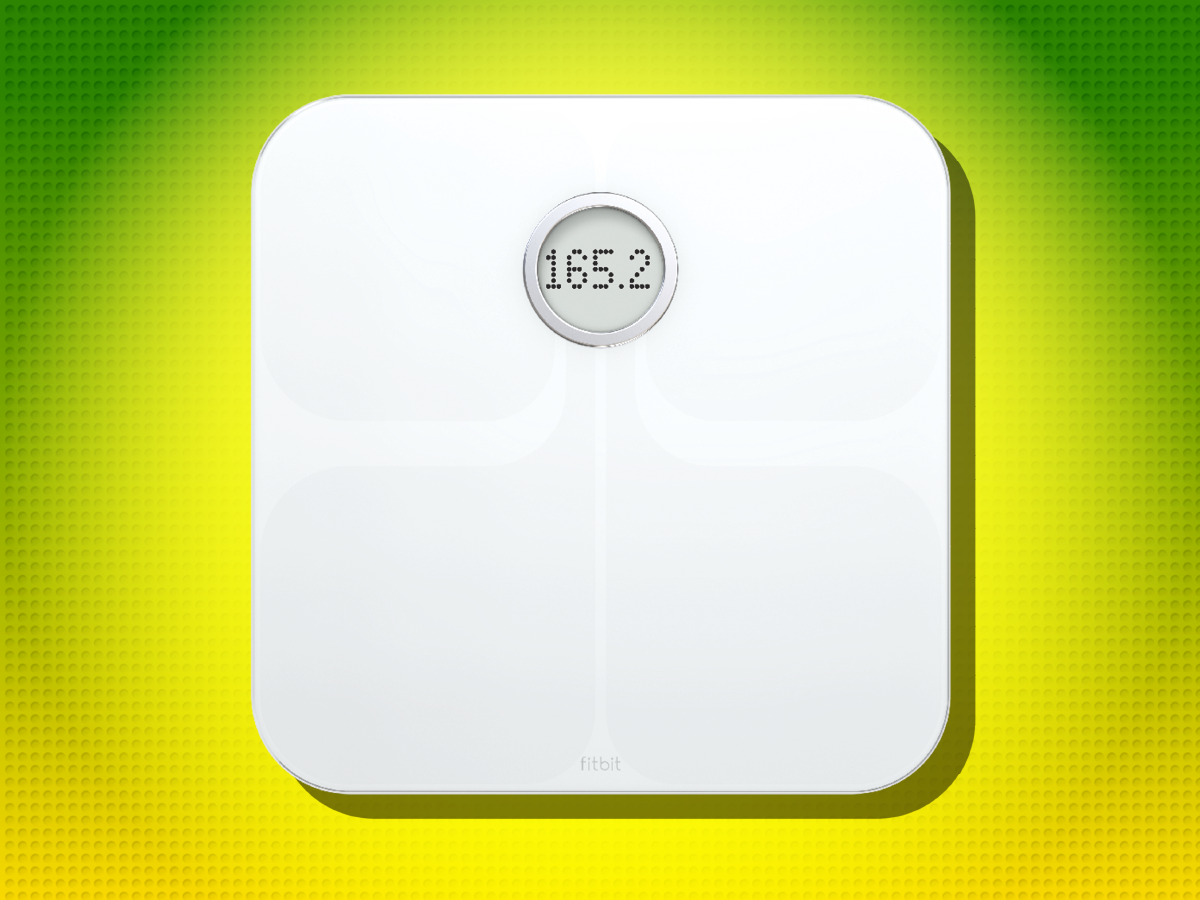 What's the story?
The Wi-Fi connected Aria looks the business in black or white glass. Once it's synced to your Fitbit account – it creates its own Wi-Fi hotspot to make setup seamless – it streams weight, BMI and fat % info directly to it.
It's iOS and Android compatible and recognises up to eight users automatically (based on average weight) so your stats are safe from harm (or hacking).
Fitbit devices aren't compatible with Apple's HealthKit, but there are apps – such as Sync Solver – that can get round the problem if it's a deal breaker. The app itself is pretty simplistic (the desktop version offers considerably more detail) but good for quick updates, checking that you're hitting daily goals and inputting calorie info, if that's your thing.
It also syncs seamlessly with Fitbit's range of fitness monitors so, in theory, you should see a correlation between steps walked, calories consumed and weight, fat or bmi.
Fitbit has since announced the Aria 2, which promises better accuracy and Bluetooth connectivity. We'll update this review when it becomes available later in 2017.
Any good?
If you've invested in one of the many excellent Fitbit health trackers and want to get a better idea of your overall health, then the Aria is an ideal option.
The combination of activity, weight and fat data builds a useful health profile, and thanks to the simple smartphone apps and detailed online software, everything works seamlessly.
The Aria, while not a patch on the silky QardioBase, also looks good, with a crisp scrolling screen that displays a surprising amount of information.
It takes its time to calculate and even longer to transfer data, but Wi-Fi removes the need to have your phone on you, leaving you to just hop on daily just like you would a standard set.
While it lacks the in-depth data of the Tanita and a smidge of the usability you get from the Nokia, the Aria is a fine all-rounder.
Still, although the original Aria is still available, it's probably worth wating for the minor upgrades of the Aria 2, which is due to arrive later in 2017.
Stats tracked
Weight, BMI, fat %
Tech
Battery life (max): 6mnths
Display: Backlit LCD
Connectivity: Wi-Fi
Compatible products: All Fitbit trackers
Best for… Fitbit fanatics
3) Tanita RD-901 Bluetooth Body Composition Monitor (£147)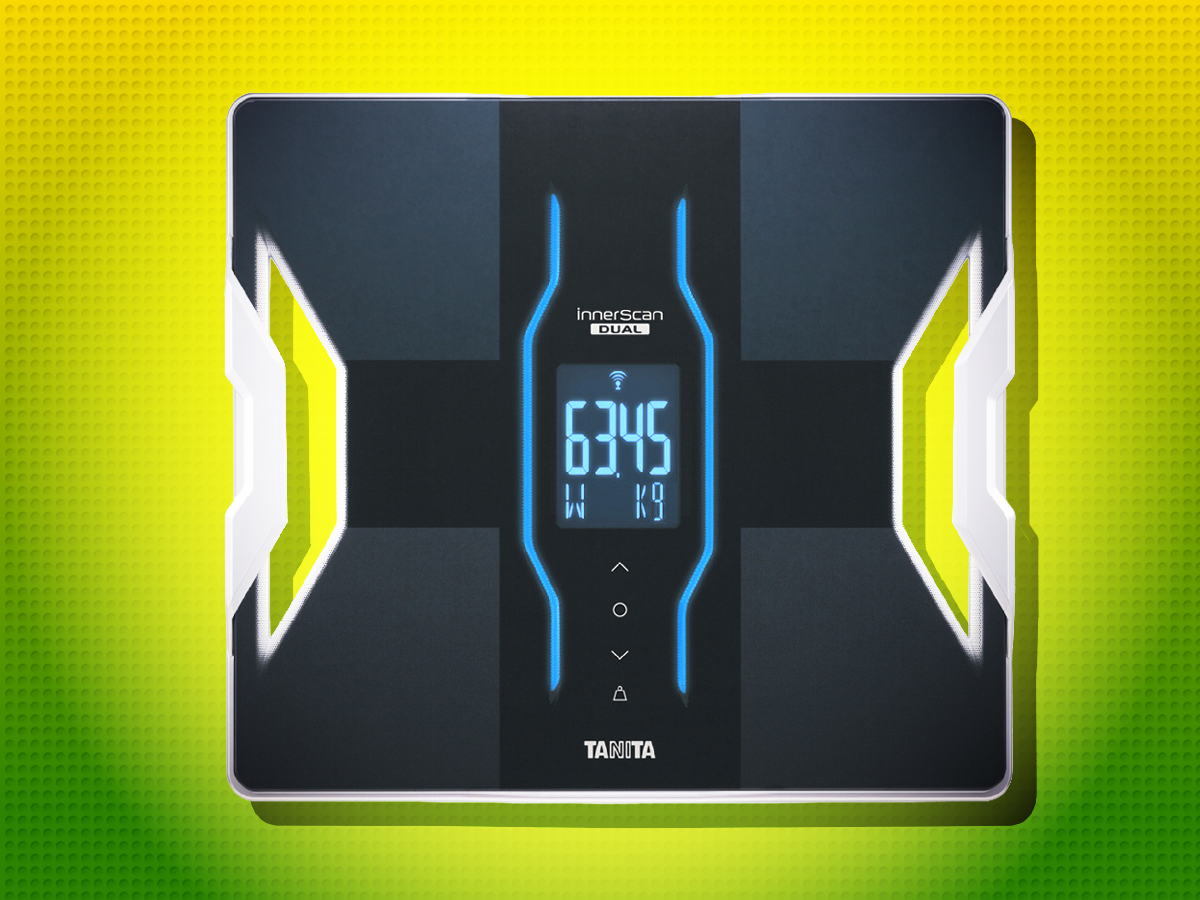 What's the story?
The self-crowned 'world's most accurate home-use wireless body composition monitor' features more medical grade tech than your local hospital. Dual Frequency BIA (Bioelectrical Impedance analysis) technology and goes way beyond basic weight and BMI with ten body measurements taken. These include bone mass, visceral fat, muscle mass and basal metabolic rate, which is the amount of energy you expend each day when at rest.
It's an impressive list of stats that should help paint a complete picture of your health. It connects via Bluetooth to any iOS device (iPhone 4 and newer) and, unlike many scales, has a traffic light alert system – green healthy, yellow borderline and red for tubby/send help. This is handy instant feedback to look at while the rest of the data is uploaded to the Health Planet App. It's also worth noting that the ThirdSpace Medical Practice – where Stuff was recently subjected to a full medical – took their data from a professional set of Tanita scales.
Any good?
The RD-901 packs in the tech spec and we appreciate the sheer depth and accuracy of health data collection available, but the setup lacks simplicity.
Tanita has stepped back to the 90s with a dated design and weak instructions. Connecting via Bluetooth shouldn't be this complicated. The design also feels more like a cheap digital watch than cutting edge health monitor.
It's not ugly, but compared to the slick interior-friendly appeal of the Fitbit and Nokia there's no comparison. Still, once you've set up your account and start to record your health data, you'll be treated to an enormous amount of information.
The Health Planet app is well laid out and displays more at-a-glance stats than we know what to do with. Understanding just what's being recorded takes a degree in sports physiology or at least a thorough Googling.
We're not sure on the accuracy of all the stats – this 37-year-old reviewer has an unlikely metabolic age of 22 – but like any health data the important thing is knowing which direction the figures need to go in.
Stats tracked
Weight, BMI, fat %, muscle mass, physique rating, bone mass, visceral fat, BMR, metabolic age, total body water
Tech
Battery life (max): 6mnths
Display: LCD
Connectivity: Bluetooth 4.0
Compatible products: iOS
Best for… Stat monkeys
4) Wahoo Balance Bluetooth Smart Scale (£47)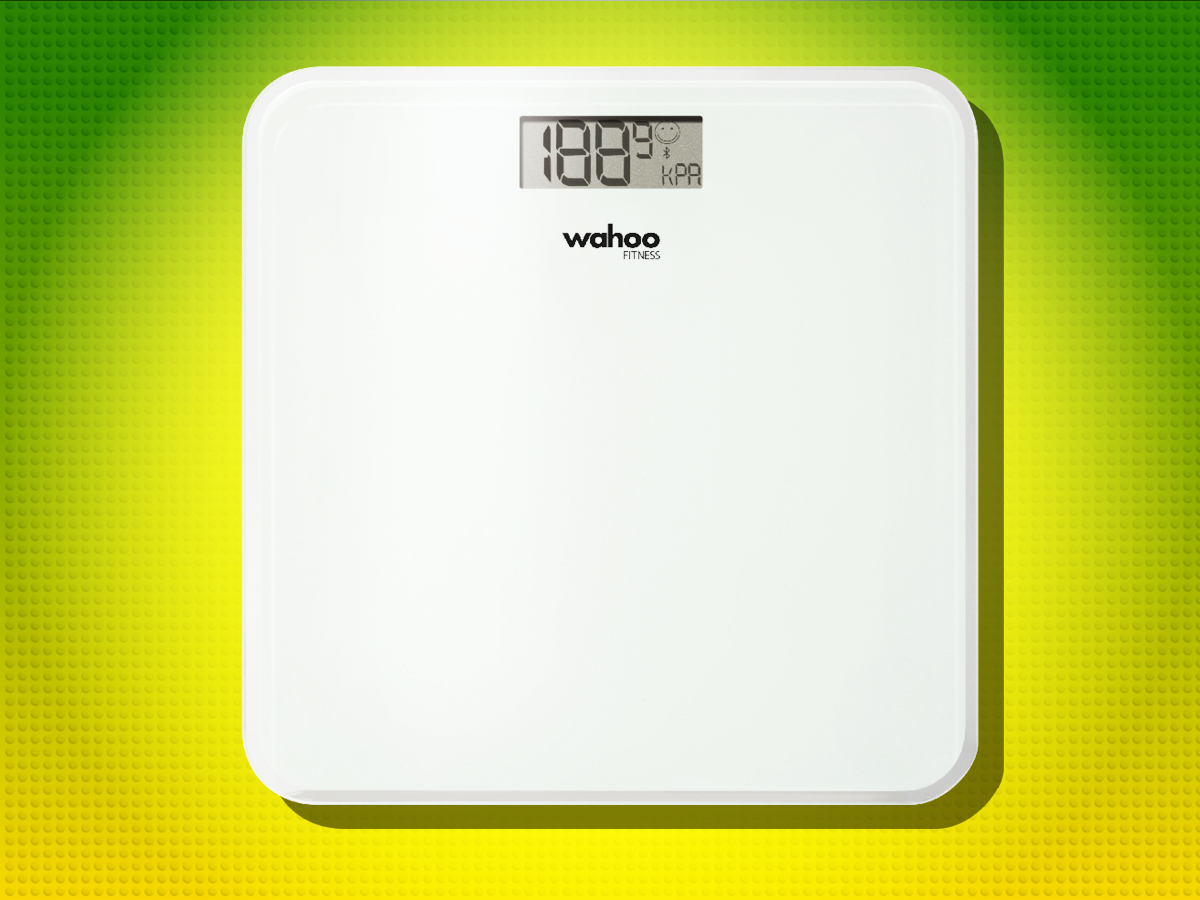 What's the story?
Wahoo's scale is a bargain basement option with a basic but understated, bathroom-friendly design. It records your weight and BMI quickly, accurately and consistently before pushing the data via Bluetooth to either the Wahoo Wellness app or the likes of HealthKit and MapMyFitness.
The Wahoo Wellness app offers simple graphs, lists and charts to help plot weight changes, and makes it easy to see where you started and how you're progressing towards a goal. The internal memory can store up to 16 unique user profiles and 130 weigh-ins and automatically syncs when your phone comes into range.
It's built for iOS, although Wahoo's other fitness products offer Android support, so it may only be a matter of time.
Any good?
Compared to the rest on test the Wahoo Balance is a bit basic, lacking the technology to calculate fat percentage for instance, which makes them more suited to someone dieting and weight watching rather than into fitness training.
As a basic set of connected scales they're more than acceptable. The setup is seamless and requires minimal faff and the Bluetooth connection was quick and certainly more consistent than the Tanita.
The Wellness app offers little in the way of information and motivation so we'd recommend using one of the compatible apps like Apple Health. We're also disappointed that Wahoo's other health tech – like the TICKR fitness tracker – doesn't all sync together.
You can pull data to the likes of MyFitnessPal, but it doesn't feel as useful as the Garmin, Fitbit or Nokia ecosystems. But at less than half the price of the next cheapest on test, if you want to start tracking your weight and feel the need to have cold hard data on your iPhone, Wahoo does the job without fuss.
Stats tracked
Weight, BMI
Tech
Battery life (max): 12mnths
Display: LCD
Connectivity: Bluetooth 4.0
Compatible products: iOS only
Best for… Getting started
5) Under Armour UA Scale (£129)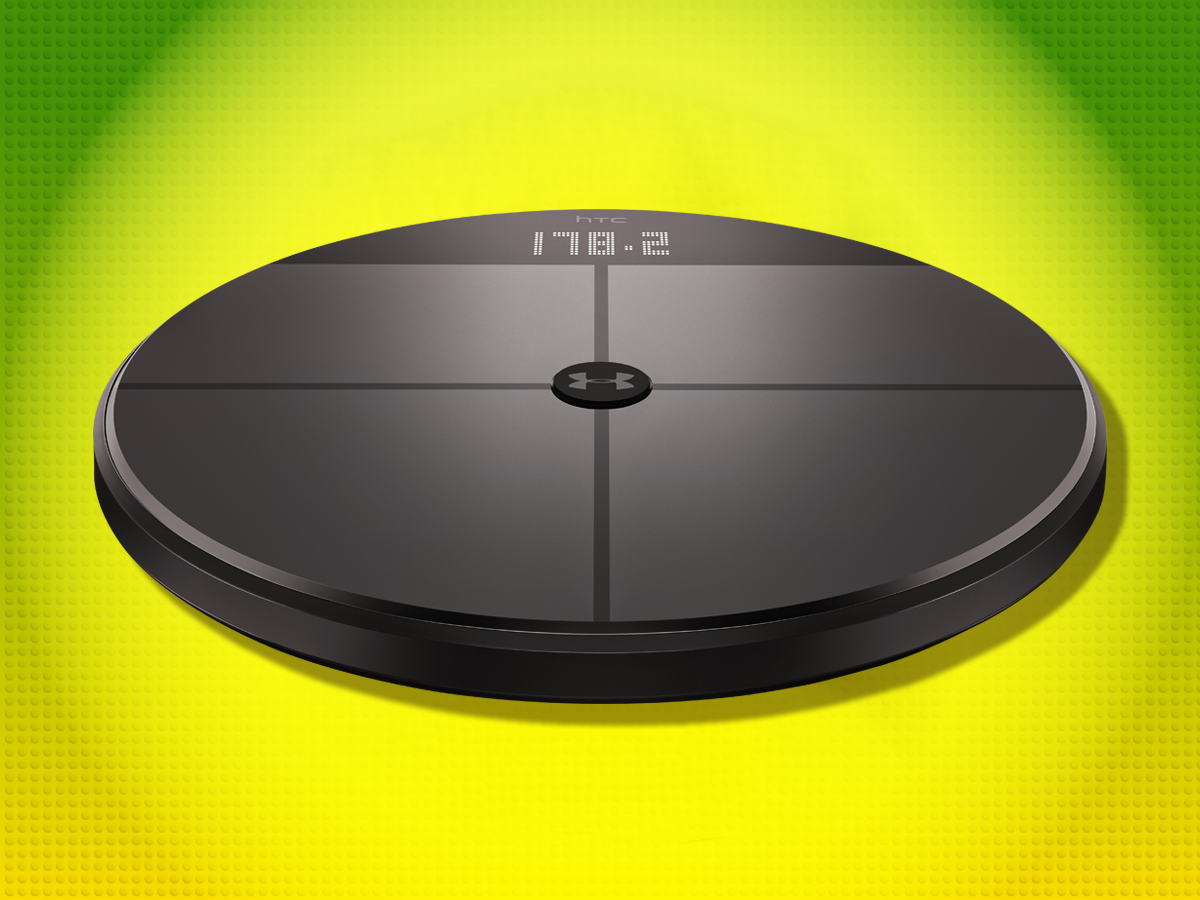 What's the story?
This good-looking, glass-topped design with a large scrolling LED display offers up weight and body fat percentage data as well as 'motivational' messages to help you hit your goals.
The HTC-made scale forms part of a collection of UA-branded devices, including a heart rate chest strap monitor and fitness tracker (also available as a £299 Healthbox bundle). While the macho design is firmly aimed at the gym crowd, the lack of body analytics would suit a beginner better.
You're by no means limited to Under Armour's own brand kit, as the app lets you sync data from apps like Fitbit and Garmin. So it's certainly possible to build your own ecosystem of fitness tracking kit to suit your needs.
The UA Scale can recognize up to eight users and distinguish between them based on weight and profile, and unlike the majority on test, you can navigate your way around your data manually via the scale, not just the app.
Any good?
Over twenty short minutes Stuff's weight fluctuated by as much as three kilograms, which hardly inspires confidence. It also failed to recognize us on more than a few occasions – lunch hadn't been that gluttonous – and even added some erroneous data to our profile. Oh, and if you move it, you'll need to recalibrate it which irritates immensely.
But the clear majority of weigh-ins proved as accurate – give or take a few percentage points – as the rest on test, the bright scrolling display offered plenty of instant feedback and the scales feel solid underfoot.
All the data feeds into the exceptional UA Record App which makes it easy to set goals, view your progress and geek out over piles of personal data. It's based around the MyFitnessPal range of apps that Under Armour recently acquired, so not only works effortlessly with existing user's data and UA's own trackers, but plays nicely with most leading brands and fitness apps including Garmin Connect, Suunto, Polar and Misfit.
If the UA Record app wasn't free we'd say it's worth buying UA Scales just for access to it, but given there are far better scales that are also compatible, we'd recommend buying another set and enjoying the best of both worlds.
Stats tracked
Weight, Body Fat %
Tech
Battery life (max): Five months
Display: LED
Connectivity: Bluetooth, Wi-Fi
Compatible products: UA Record App, UA Band, UA Heart Rate strap, Fitbit, Garmin, Jawbone, Misfit, Polar (via their apps)
Best for…the app ecosystem
6) QardioBase (£130)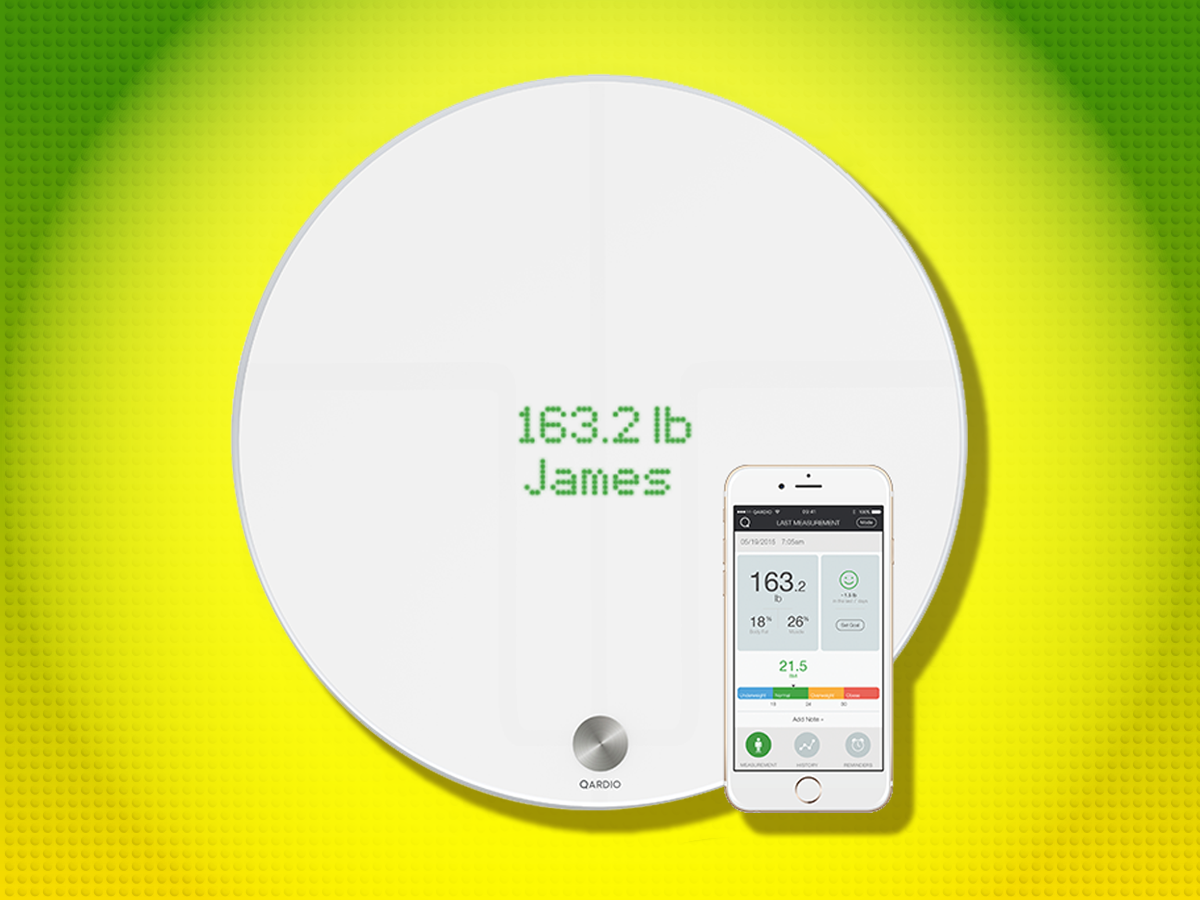 What's the story?
The super-stylish QardioBase targets the average exerciser rather than CrossFit obsessives, with friendly graphics, nifty haptic feedback and cute companion app. It tracks an impressive selection of body measurements including the usual weight, BMI and body fat percentage. Despite the fluffy inspirational language used, it also has a stab at calculating muscle, bone and water composition.
If you're petrified of numbers you can switch to Smart Feedback mode, which swaps pounds and kilograms for smiling, frowning or 'meh' emoticons, while still recording the hard data to your app.
Although not compatible with any third-party fitness trackers – Apple HealthKit doesn't count – the app can also pull data from the Qardiocore ECG and Qardioarm blood pressure monitor. Both devices seem aimed more towards the ageing baby boomer than the gym bunny. That said, there's also a pregnancy mode that tracks progress week by week, both during and after birth, and no matter your weight, you'll always see a smiley face…which is a nice touch.
Any good?
Turns out there's a pretty good reason why more bathroom scales aren't small, stylish and round. They tend to wobble. The QardioBase's small 12.5in diameter was only just big enough for Stuff's size 10 feet and every single time we stepped on them it moved a bit. It's a niggle we can live with, but we wouldn't recommend letting your gran anywhere near them.
The larger diameter of the Under Armour might be bulky, but it is at least stable. Set-up is straight forward and despite some misgivings there's something really pleasing about a big green smiley face looking up at you first thing in the morning.
Accuracy is on a par with the rest on test, although Body Fat % was consistently higher than the Fitbit and Nokia. Irritatingly though, despite having data on water, bone and muscle composition, there's not much information to help you make sense of the data. Still, there is a 'Set Goal' page which shows weight target and loss/gain per week, which should help you avoid setting unrealistic targets.
Stats tracked
Weight, BMI, Body fat %, bone, muscle, and water composition
Specs
Battery life (max): 12 months
Display: LCD
Connectivity: Bluetooth, Wi-Fi
Compatible products: Apple Watch, iOS, Kindle, Qardiocore ECG, Qardioarm blood pressure monitor (via Qardio App)
7) Garmin Index Smart Scale (£150)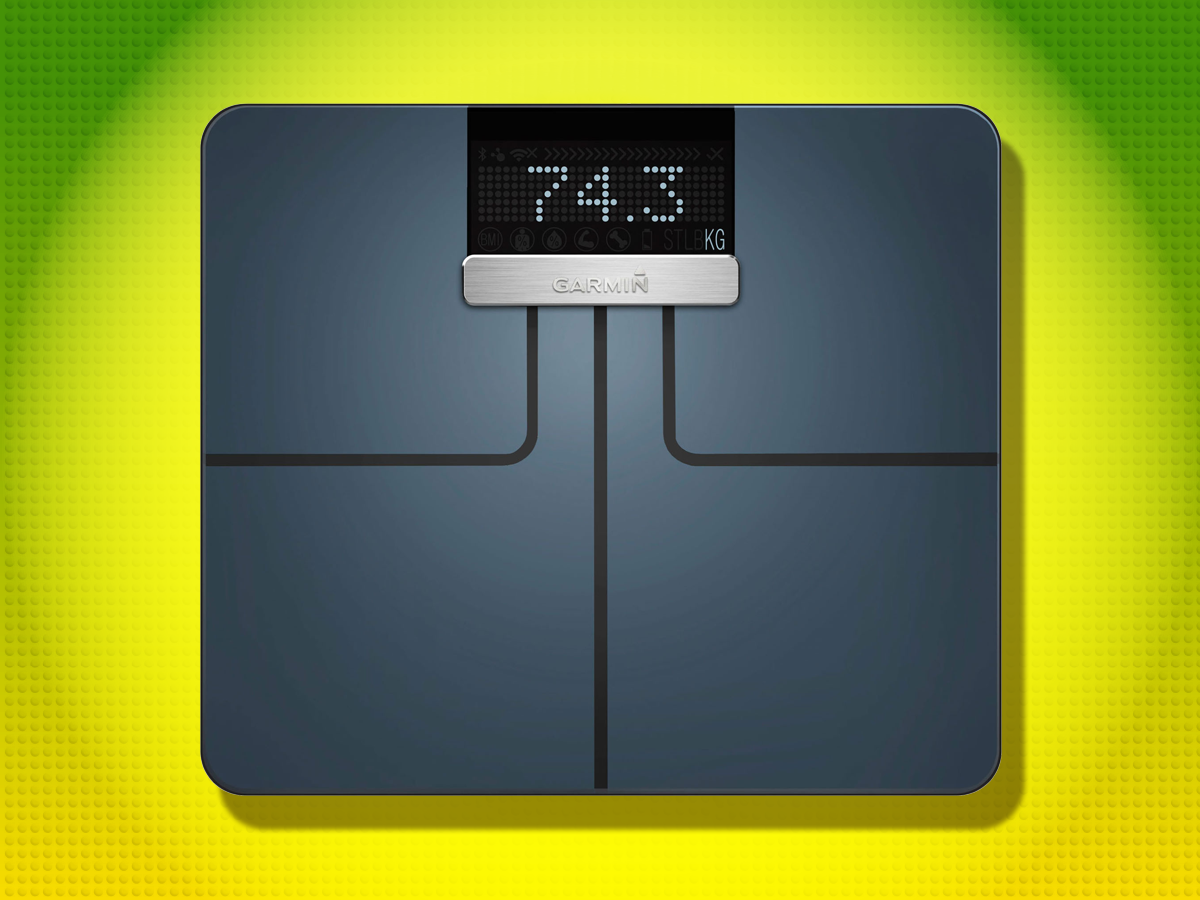 What's the story?
A welcome addition to Garmin's massive range of running watches and wearables, the Index Scales are the most likely here to satisfy fitness fiends. With a huge LCD display, they're the easiest to read and boast the most health data, including body water, muscular and skeletal mass measurements alongside the usual weight, body fat and BMI readouts.
The Garmin Connect mobile and desktop apps are already hugely popular and for good reason; both display your vitals in a clear, understandable way, and offers a huge number of graphs, charts and health data. Although be warned – the focus is on running watches and wearable data analysis rather than weight.
Third-party integration is still quite limited with Garmin – there's Strava export and MyFitnessPal data sharing if you're calorie counting. But there still isn't the cross-brand sharing of something like the Fitbit Aria. Connect IQ, a developer site for third-party apps, should change this, but for casual users it remains quite limited. Still, you can add up to 16 users to the Index Scale, which is more generous than the rest, and potentially handy if you're a Von Trapp or want to buy a scale for your Sunday league team.
Any good?
It's impressively simple to set-up with either desktop or mobile apps, and a pleasure to use – well, as pleasurable as weighing yourself gets. The large, scrolling display offers all the detail you'll need, including body fat and bone mass, so there's no need to jump into the app every day to see all your stats.
Accuracy, as with all the scales, was reasonably consistent, although an erroneous body fat reading of 8.5%, while flattering, was laughably off. Double-checking the mistake also highlighted the fact you can only log one weigh-in per day, and the scales will override the previous result with the new one.
But overall the Index is a superb set of scales, and if you're already invested in the Garmin ecosystem, they're close to a must-buy. Combined with a fitness tracker and the Connect app, the scales give you a much more detailed breakdown of your overall health, although some more information on what to do with bone mass data would certainly be useful.
VERDICT
A lot has been written about the value of the data collected by fitness and health tech – not least by Stuff ourselves – but whatever the insurance companies have planned for our future premiums, there's no escaping the benefit of cold, hard statistics right now.
The good news is that data remained consistent and trustworthy throughout our testing – although natural fluctuations always occur when measuring body fat levels, as time of day, amount of water drunk and even how clean your feet are will all have an impact.
But which to buy? If money is tight and you're only interested in weight then the Wahoo Balance will do just fine, but given there are so many more factors to fitness than pounds and ounces, it's worth spending more. The Tanita RD-901 is based on a professional machine and piles on the stats – useful, but with a less-than-perfect app, it could be daunting to the uninitiated. It's a similar story with the Garmin Index Smart Scales, which could be overwhelming to the non-Garmin fan. Elsewhere, the Under Armour UA scales don't quite live up to their app, while the QardioBase is more fun to look at than it is to use.
That leaves Nokia and the Fitbit. All combine a slick app with stylish looks and accurate data; all are intuitive to use and provide motivation far beyond the statistics.
Although the Nokia Body+ sadly lost heart-rate monitoring in the takeover from Withings (you can get this feature on the £150 Body Cardio), we'd say it just about wins this race, particularly as it's now easily in the sub-£100 bracket.
At this point, it's probably also worth holding off on the original Aria and waiting for the minor upgrades of the Aria 2 later in 2017.
Either way, it's also worth bearing in mind that neither the Nokia or Fitbit will exactly be cheap if you go the whole way (as you should) by investing in a fitness tracker too.
Still, if there's one thing worth spending some money on, it's surely your health.