Best portable grill 2023: top compact gas and charcoal BBQs
From compact charcoal cookers, to foldable gas-powered grills, there's something for everyone
There's nothing quite like the sound of a sizzling supper while you're enjoying the great outdoors. So instead of buying a trailer just to take the best outdoor grill with you on the move, try one of the best portable BBQs instead. From basic (but capable) budget charcoal affairs, to fully-loaded gas grills, we've rounded up some of the best compact BBQs to help make your buying decision easier.
There are a range of budgets and designs to choose from, so once you've settled on your fuel of choice, have a browse, hit the order button, and it won't be long before you're sipping a cold brew while your lunch is cooking. Shame about the wasps, though.
What's the best portable grill or BBQ for you?
Best charcoal portable grill: Weber Smokey Joe Premium
Weber's iconic charcoal BBQ is shrunk down to a more compact size while retaining all the charm of the original. With a solid grill, generous capacity, and premium build quality, it's the perfect choice for on the go Weber fans.
Best gas portable grill: Char-Broil Grill2Go
Char-Broil's clever TRU-Infrared Cooking System produces a more even heat with less flare-ups, resulting in juicy, evenly-cooked food, with all the convenience and speed of gas to boot.
Best cheap portable grill: Oilzz BBQ Grill
What it lacks in design and name recognition, it more than makes up for with its price. A charcoal tray with foldable legs, this is about as basic a BBQ as you can get, but it does the job just fine.
Buying tips
Fire drill
Not all barbies burn the same way. Gas and electric grills offer switch-on convenience and intensity control, while charcoal and pellet burners can impart food with that fabled smokey flavour.
Grill estate
Most balcony BBQs have limited grilling space, but some sacrifice more than others. Roasting for three? Check the griddle capacity before splashing out on patties.
Hot take
Seasoned backyard chefs can discern temperature by eyeball alone, but you don't need sorcery to assess the heat. Poke with a probe or get a grill with a thermometer gauge.
Burn notice
A hot bottom is a hot ticket to scorched stonework. Some stoves have insulated bases, while others stand on fold-out feet – but you'll still need to find a spot where radiation won't singe the surroundings.
The best portable BBQs or outdoor grills to buy today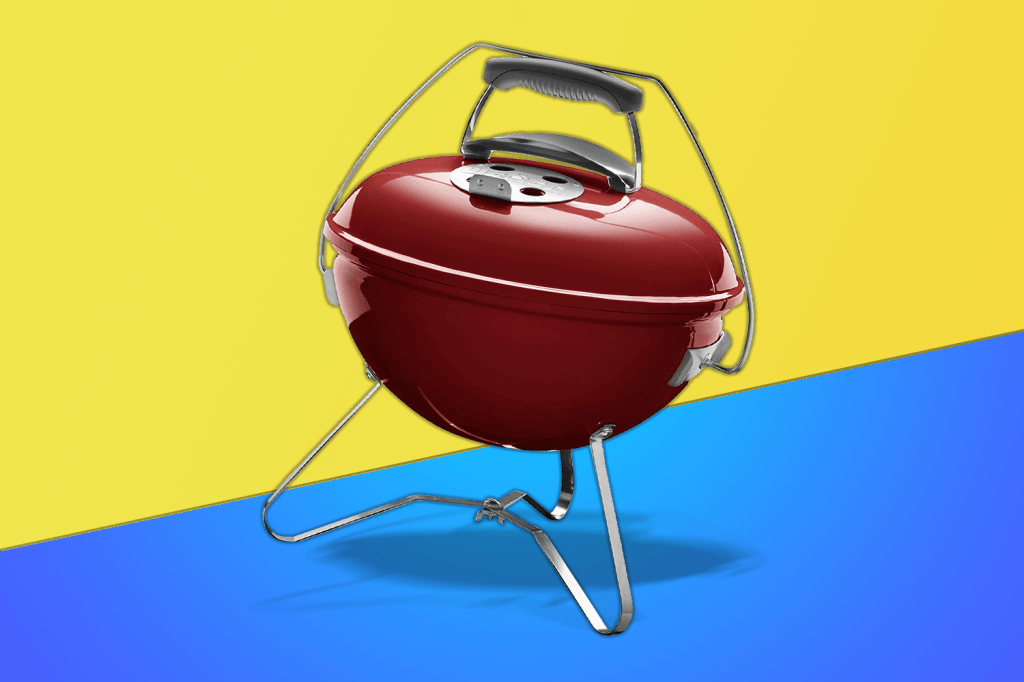 Weber Smokey Joe Premium
You don't need an all-singing grill to get flavoursome food for two. Shopping for a simpler sizzler? Weber's pared-back barbie combines form and function in a portable porcelain package. Good to go and for roasting at home, the compact cooker's enamel coating keeps temperatures consistent while resisting rust. Swivel the lid to shield from windy weather, or lock the top when it's time to travel.
Char-Broil Grill2Go
Miniature grills might be easier to manage, but offset flames can still lead to lopsided sizzling. Like your kebabs consistently cooked? This rugged gas barbie uses a ridged plate to evenly distribute heat from the stainless steel burner below. Hit the ignition, latch the lid and your skewers should roast just right. A temperature gauge tracks the Celsius score, too.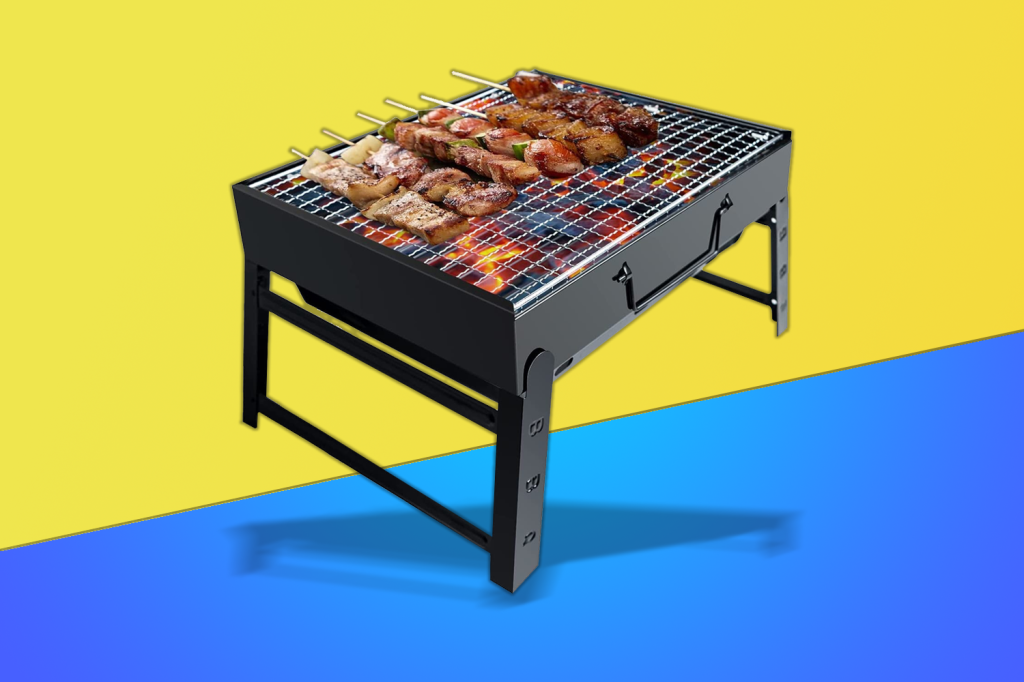 Oilzz BBQ Grill
This wallet-friendly offering from Oilzz won't win any design awards. But if you're after something that's cheaper than the food you'll be cooking on it, then look no further. Essentially a charcoal grill tray with folding legs, it's about as basic a BBQ as you can get. But it's all you need. Light it up, and you'll be chowing down in no time.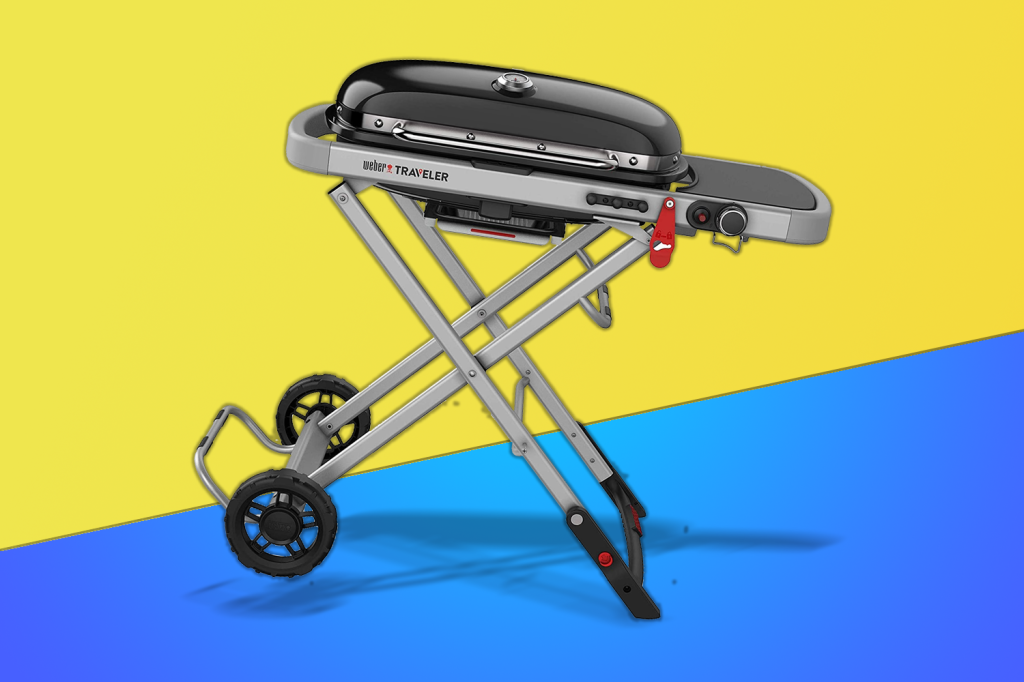 Weber Traveler
Weber's aptly-named Traveler is one of the largest offerings on this list, and you won't be carting it around for long distances. But stick it in the boot of your car or camper van (it folds up for portable convenience), and it'll happily follow you on your adventures while offering a full-size experience to boot. No more crouching down and doing your knees in. You can stand tall like a true grill master.
LotusGrill
LotusGrill stands out from the pack by serving up a charcoal BBQ with a built-in battery-powered fan system. Thanks to this bit of technical wizardry, your charcoal will be ready to cook in record time, while producing far less smoke than a regular fanless charcoal grill. You can even dial in the fan speed to change the heat intensity as you see fit.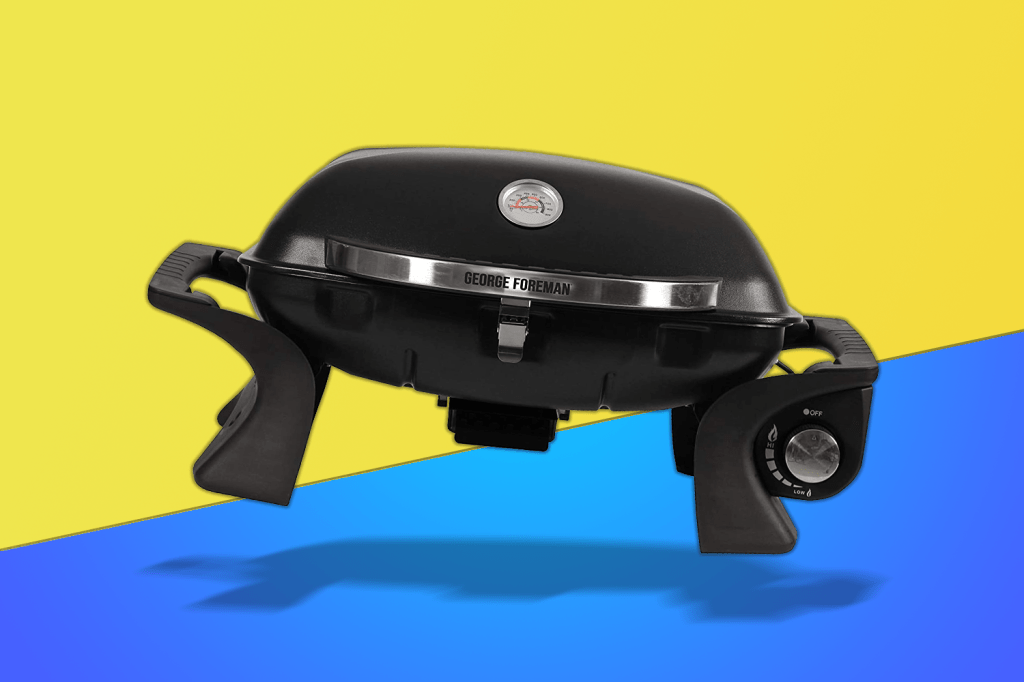 George Foreman Portable Gas BBQ
Mr. Foreman's portable gas-powered BBQ is a rugged little number, with raised legs to prevent any scorching if you're cooking directly on the ground. This also provides better heat circulation, while a reasonably sized grill area means you can churn out a decent amount of chow in between drinks. At 7.5kg, it's not too heavy either, though you wouldn't want to go hiking with it.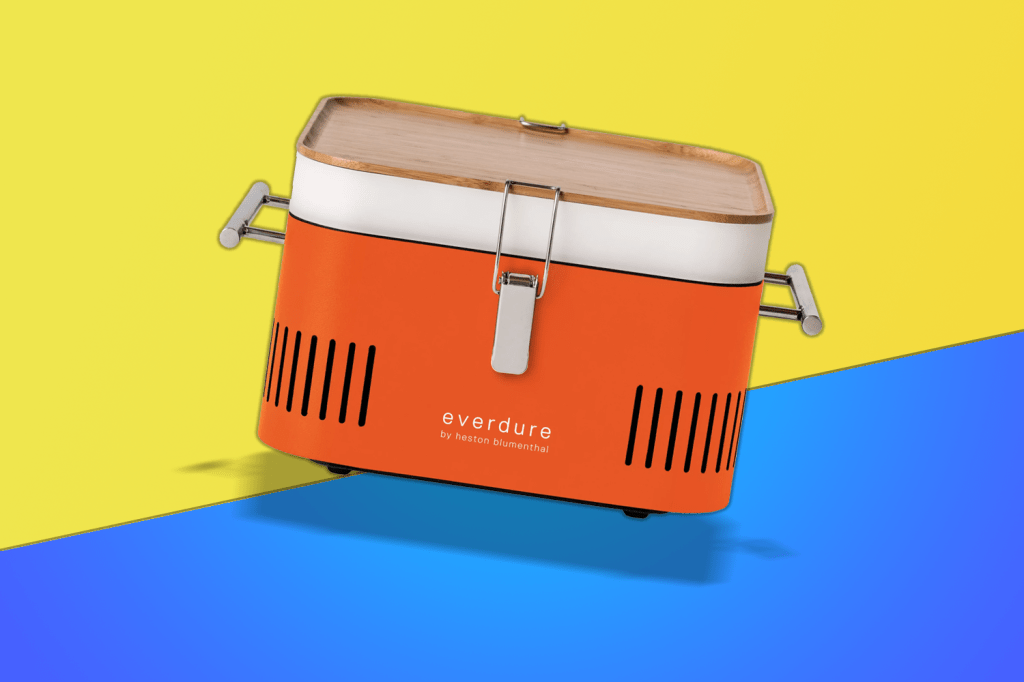 Everdure Cube
Some gourmet chefs cook food at the table. Give your picnic pals the same experience with Heston's natty BBQ box. Neat and tidy by design, the bamboo lid doubles up as a prep board, with a storage tray beneath. Lined with enamel and clad in lightweight steel, the Cube's built-in heat shield should also protect inquisitive fingertips while you fry.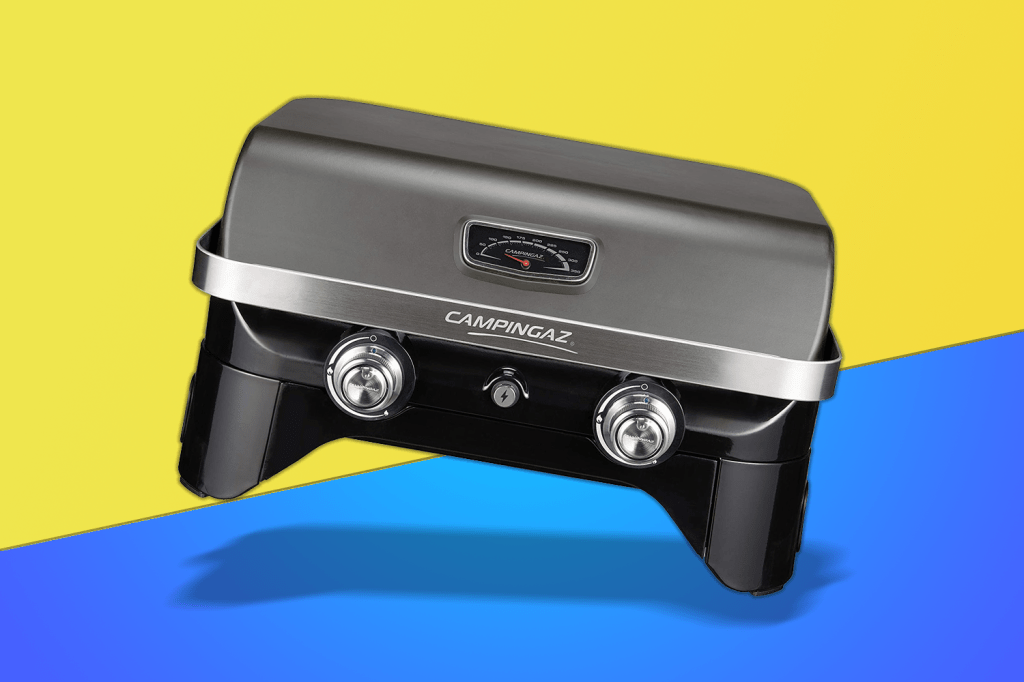 Campingaz Attitude 2100 LX
This tabletop gas BBQ offers a generous cooking space across two enamel-coated cast-iron grills. So far, so standard. What really makes the Attitude stand out is its Culinary Modular system: remove the grill ring on the left and you can fit a range of inserts – think pizza stone, roasting skillet or paella pan. So while your veggie skewers are sizzling on the right, you can have a bird broiling on the left. Whatever you're cooking, a three-branch burner system delivers even heat all over – and when you're done with your combo dish, a front-loading grease tray makes clean-up a cinch.
---
BioLite FirePit+
Stoke a standard firepit on your terrace and you'll soon smoke out the neighbours. Drop wood or charcoal in the belly of BioLite's FirePit+ and the only thing wafting over the wall will be the scent of sizzling sustenance. 51 air jets fan the flames for a smoke-free burn, while mesh sides radiate heat and reveal the cosy glow inside. Use the partner app to control intensity via Bluetooth, then attach the top grate to create a hibachi grill – sure to have some curtains twitching.