Best dash cam 2023: the top choices to protect you and your vehicle
One for the road? Here's our guide to the top dash cams you can get your hands on - perfect if you want to keep an eye on what's happening around you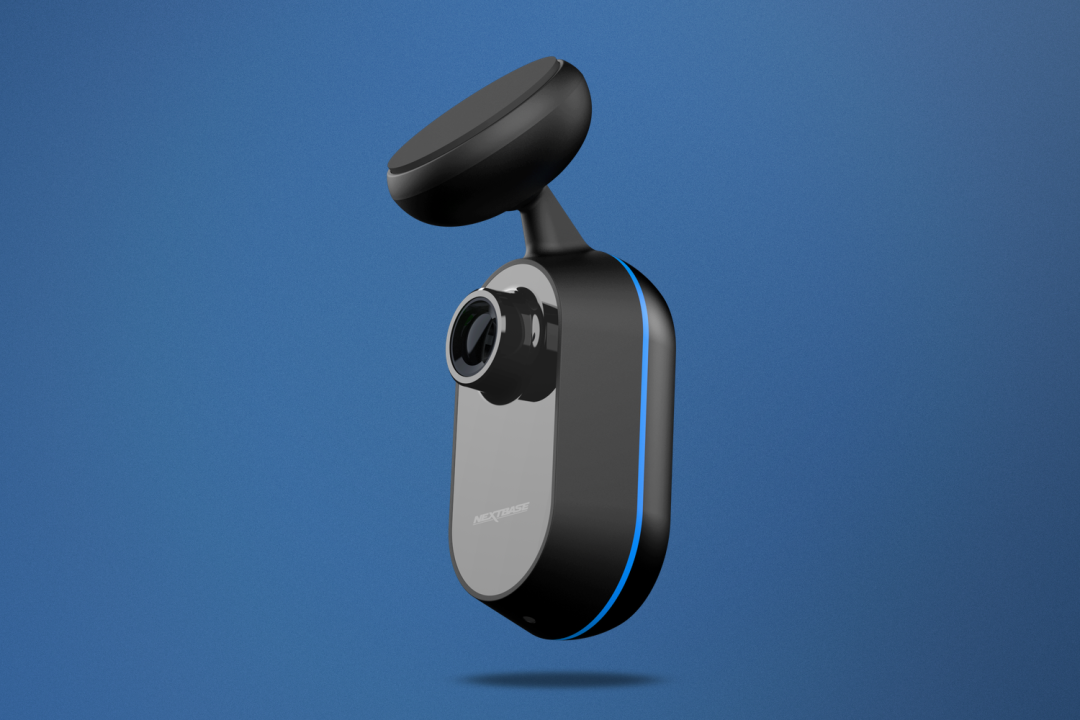 Whether you're cruising down the motorway or parked up on the road, it's only natural to feel protective over your vehicle, whether you're sitting in it or not. Dash cams offer that extra reassurance and peace of mind for those who want to look out for their cars (and their insurance premiums).
Drivers need to consider whether they want a front camera only or a front and rear setup. You'll also need a high-speed, high-capacity memory card for high-res or dual cameras. Our top tip? Don't skimp on image quality — while most many serviceable models offer 1080p recording, some feature 2K or even 4K camera resolution. High-end branded cams also typically fare better in nighttime driving conditions, and HDR is also important for capturing crucial detail in low light and minimizing motion blur.
Most modern dash cams also feature a parking protection mode, which saves any footage it takes if it detects a collision. However, you'll usually need a hardwired connection to your vehicle's power supply for continuous coverage. With so many dash cam options in the ether, which are the best to consider? Set your sights on our list of the ten best models.
What's the best dash cam for you?
Best overall dash cam: Nextbase 622 GW
The 622 GW is our undisputed champion of dash cams. It'll cost you considerably more than most, but Nextbase's flagship cam brings so much to the table, including super clear 4K recording, digital image stabilisation and its massive 3in touchscreen.
Best compact dash cam: Garmin Dash Cam Mini 2
Got a smaller vehicle or want no distractions in your eye line? The Garmin Mini 2 offers a perfect fit, marrying excellent voice control and decent recording, all crammed into a tiny dash cam you can discreetly hide behind your rearview mirror.
Best dual dash cam: Road Angel Halo Pro Front and Rear Dash Cam
For extra protection and reassurance, this Halo Pro dual cam kit offers front and rear recording, both with slender units that won't get in the way of your drive. These cameras aren't slouches either, with the front giving 2K resolution and the rear featuring 1080p recording.
Our full list of the top dash cams
Nextbase 622 GW
The 622 GW's price point is quite a jump from that of the 522 GW, the next model in Nextbase's Series 2 dash cam range. However, it justifies this with a powerhouse of features.
Recording in 4K provides gloriously crisp and clear imagery, while there's also the option to crank the cam up to 120 fps by turning down the resolution. Digital image stabilisation also makes for some buttery smooth footage on playback, and its night mode provides best in class performance where so many cams fall short. There's even an adjustable polarising lens to help minimize glare.
The 622 GW is also a doddle to use — its 3in HD capacitive touchscreen is clear and super responsive. Additionally, handy driver assistance features, including Alexa, what3words and emergency SOS response, are on hand to help with any scenario. Where the 622 GW does fall short is on its design — it isn't quite as easy on the eyes as its nearest top brand rival, the Garmin 67W.
Stuff Says…
Costly it may be, the 622 GW is one of the best dash cams available, combining 4K recording, a 3in touchscreen and image stabilisation in its large yet delicate chasis.
Tech spec:
• Max resolution: 4K • Field of view: 140° • Display: 3in touchscreen • Connectivity: Wi-Fi, Bluetooth • GPS: Yes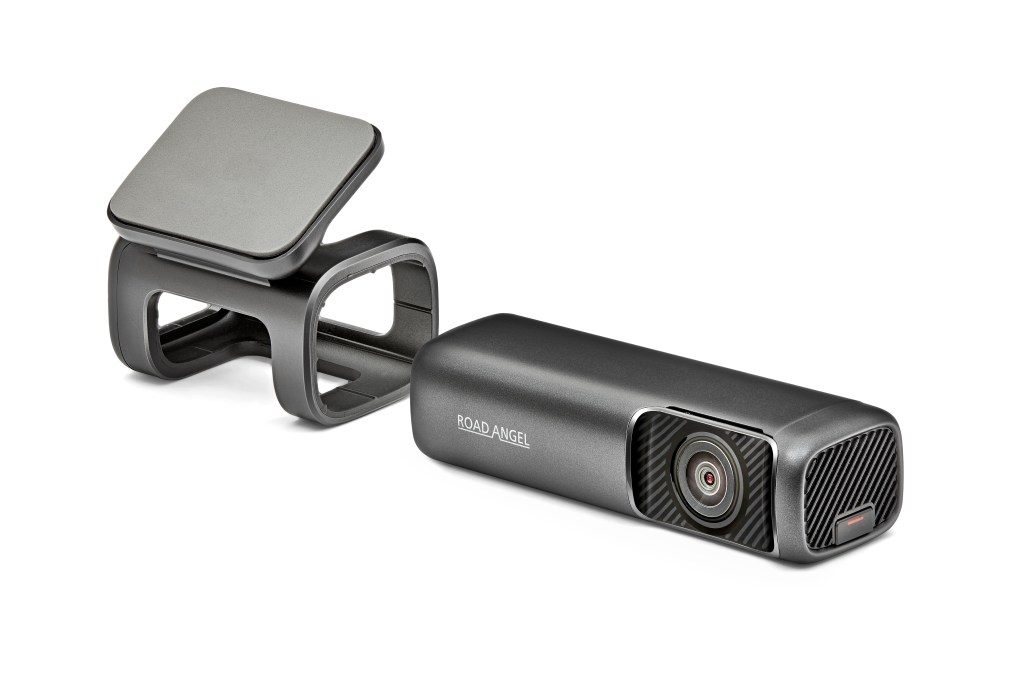 Road Angel Halo Ultra
Savvy road users will spot that Road Angel is known for its speed camera detection devices. Now, the UK company has recently launched a series of dash cams, and the results are promising. The Halo Ultra is the firm's flagship dash cam, featuring 4K video recording, GPS and 64GB of internal memory, all packed into its slim barrel, so there's no display. Uniquely, there's even a winter heating mode that'll help keep the screen clear from frost and ice during operation.
In Road Angel fashion, there's also a suite of driver assist features, such as lane departure warning, collision warning and vehicle proximity notifications, though these are often unnecessary and result in repeated warning beeps that are more irksome than helpful. Best to turn these off and keep your attention on the road.
As with most 4K cameras, recording quality is excellent, even at night. Plus, the addition of onboard memory is great if you grow weary of swapping microSD cards in and out. Users have reported connectivity issues with their dash cam and companion app, however.
Stuff Says…
A strong perfomer in almost every respect, the Ultra comes with a decent amount of features, even if a few aren't that useful.
Tech spec:
• Max resolution: 4K • Field of view: 140° • Display: None • Connectivity: Wi-Fi • GPS: Yes
Nextbase iQ
Meet the smartest dash cam system around. The iQ comes with a raft of advanced tech, including SmartSense Parking, which sends a notification and video feed to your phone if it detects an impact or activity with its onboard radar. There's also Witness mode, which sends a live feed to an emergency contact. You can also remotely activate its built-in alarm to help deter any intruders. At the time of writing, there are additional incoming features to help futureproof the system.
The 4K model makes images clean and crisp, and the iQ also comes in more wallet-friendly 2K and 1080p flavours. All standard packages include a front and cabin camera unit, with an additional rear camera available separately.
However, note that the system is on the bulky side, so be prepared for it to take up some space on your windshield, particularly if you're in a smaller car. The Nextbase iQ also isn't cheap, especially when you factor in the monthly subscription, but there is a free option. All in all, this is a complete package that is chockful of smart tech to help protect your marque and give you ultimate peace of mind.
Stuff Says…
While it's not cheap, this futureproof dashcam system has a lot of smart tech to offer.
Tech spec:
• Max resolution: 4K • Field of view: 140° front 160° rear • Display: None • Connectivity: Wi-Fi • GPS: Yes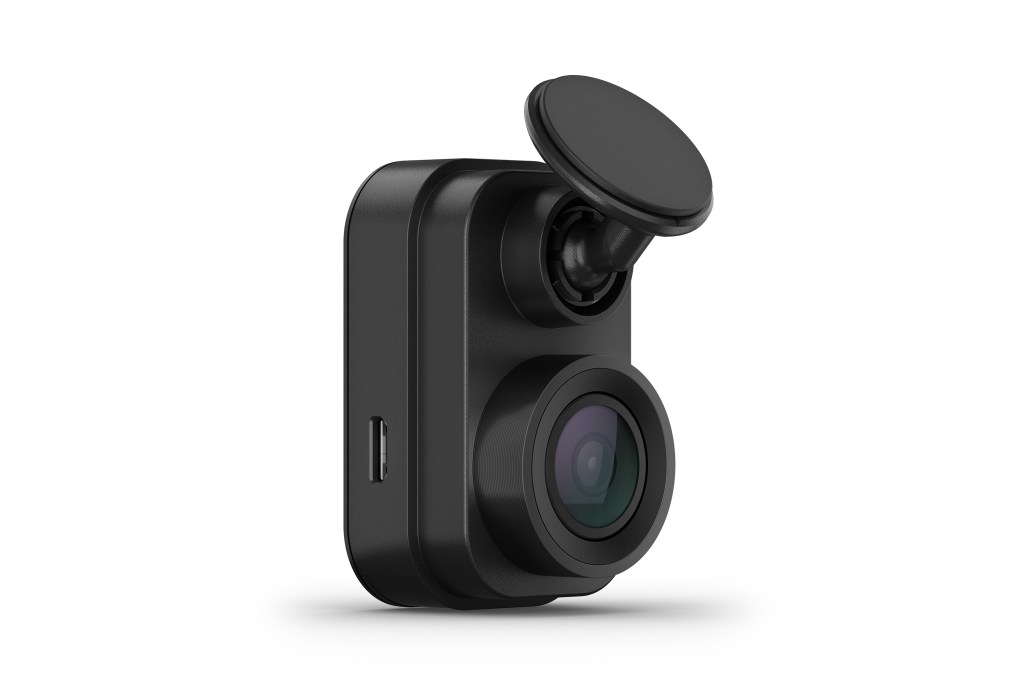 Garmin Dash Cam Mini 2
Who says you need a screen with your dash cam? With the Mini 2, Garmin has made a wonderfully minimal cam that's, if we're being honest, totally adorable. A touch girthier than a thumb, this unit can be perfectly and stealthily placed between the rearview mirror and the windshield, keeping your eye line free from distractions.
There is a tradeoff to this diminutive dash cam, though. Resolution is limited to 1080p, and while there's Wi-Fi, GPS is a notable exclusion. Despite this, voice control works a treat, and the simple two-button system protects recordings and mutes/unmutes the microphone.
We can't help but fall low-key in love with the Mini 2. It's extremely cute and discreet, and it offers decent image quality for the price. It's one to seriously consider if you run a small vehicle or aren't too bothered about the lack of display.
Stuff Says…
The Mini 2 packs alot into a tiny package. There's no screen, but it's a capable dash cam that you can hide just about anywhere on your windshield.
Tech spec:
• Max resolution: 1080p • Field of view: 140° • Display: None • Connectivity: Wi-Fi, Bluetooth • GPS: No   
Thinkware F790
The Thinkware F790 dash cam's design is remarkably compact and discreet. There's no display, so it'll sit on the top of your windshield without intruding on your eyeline as you drive.
The F790 is also packed with features, including dewarping tech, which reduces the typical fish-eye lens distortion you get from dashcams, and an energy-saving mode, which can protect your car for longer if you're away on holiday, for example. When hardwired to your car, one bump and it'll reportedly wake up in 1 second and start recording.
There's also driving safety alerts, such as a red light, speeding and speed camera alerts. The Dual CH pack comes with a 160-degree rear camera for more coverage.
Image quality is decent, even at night, though 1080p resolution is getting a little long in the tooth, considering the 2K and 4K systems now available for less money. However, the F790 is still a solid package with an impressive suite of extras.
Stuff Says…
With decent (if not 2K/4K) image recording, its small form factor and safety features make it a tempting proposition.
Tech spec:
• Max resolution: 1080p • Field of view: 140° front 160° rear • Display: None • Connectivity: Wi-Fi • GPS: Yes
Viofo A229 Pro
In the last few years, Viofo came out of relative obscurity to offer dash cams with stunning image quality. The A229 Pro is the latest system that doesn't buck this trend. Thanks to a meaty 8MP Sony STARVIS 2 IMX678 image sensor that captures images in ultra-high 4K clarity, you'll be able to discern a high level of detail on the road. The A229 Pro is also a dual-channel system, so there's a 2K rear camera that's fully rotatable for backward-facing protection.
While the unit itself isn't much to look at, it offers a 2.4in screen and 5Ghz & 2.4Ghz dual-band Wi-Fi for faster file downloads. It also comes with a host of features standard in many dash cams, including parking protection and timelapse modes.
It's not a cheap system, and even if its peers have it beat on build quality, the A229 Pro offers cracking image clarity that rivals even the big players in the dash cam space.
Stuff Says…
Don't be fooled by its so-so design — the A229 offers blistering daytime image performance that lets it compete with the big players.
Tech spec:
• Max resolution: 4K front 2K rear • Field of view: 140° front, 160° rear • Display: 3.2in • Connectivity: Wi-Fi, Bluetooth • GPS: Yes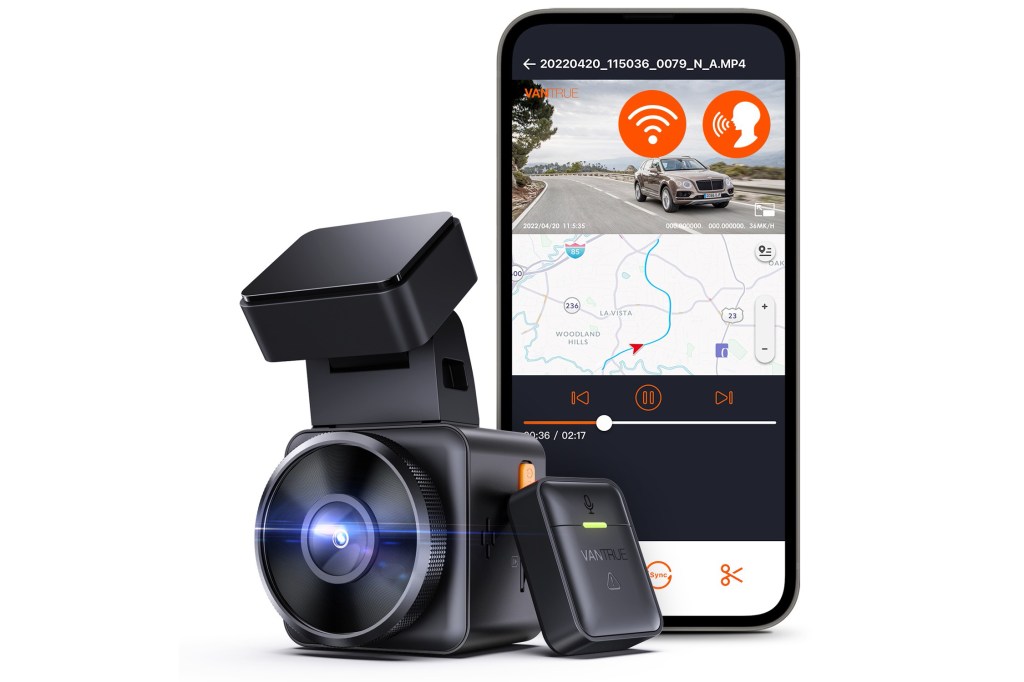 Vantrue E1
The Vantrue E1's funky cube design is diddier than you first realise, making it almost as diminutive as the Garmin Mini 2. Not only that, it features 2.5K resolution recording, Wi-Fi, GPS and a wide angle, 160-degree lens to capture more. The E1 is also one of the few dash cams to be packaged with a remote, making it useful for larger vehicles, where reaching for the main unit might be trickier.
Recording in the day is decent, though night recording needs improvement, with graininess seeping into evening captures. We also found that the screen was a little too small to be of real use, preferring instead to transfer files over to a phone or computer to review. Thankfully, there's a USB-C connection as well as Wi-Fi to help on that front. These features make the Vantrue E1 a tiny, good-looking dash cam that's packed with features for a very reasonable price.
Stuff Says…
The VanTrue E1 offers a lot for its price, including 2.5K recording, Bluetooth remote, and a solid design. As a mid-ranger, it can't hold a candle to the best in this list, but it comes at around a fraction of the cost.
Tech spec:
• Max resolution: 2.5K • Field of view: 160° • Display: 1.5in LCD • Connectivity: Wi-Fi • GPS: Yes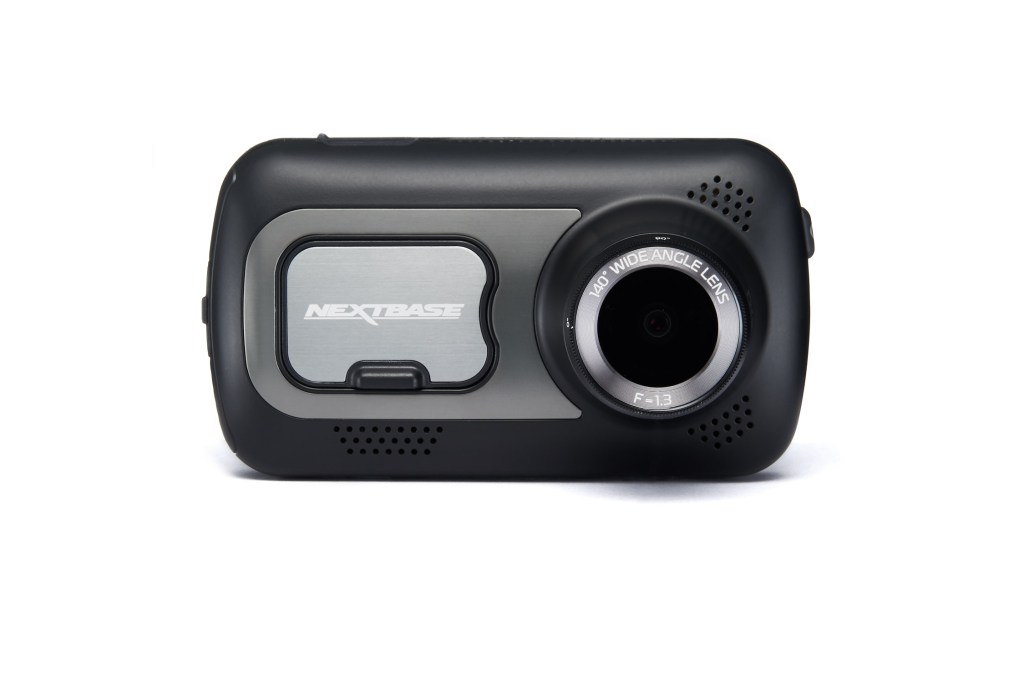 Nextbase 522 GW
The Nextbase 522 GW offers many of the same features as its bigger brother, the 622 GW, including Alexa, GPS and Wi-Fi connectivity, a polarising filter and a 3in touchscreen. For the price reduction, on the chopping block are image stabilisation and 4K recording, in favour of 1440p resolution. Despite this, daytime recording is still excellent, although the footage loses some clarity at night.
That said, it's significantly cheaper than the 622 and represents an excellent mid-range all-rounder. We're also big fans of Nextbase's quick-release magnetic mount system, so there's no need to remove the power cable to take the device out — just tug the cam off the mount and you're away. With several cams now offering 4K recording, the 522 finds itself pushed into the pricier side of mid-range dash cams, but it's still a superb and solid device with a brilliant interface.
Stuff Says…
As one of the strongest mid-range dash cams out there, the 522 GW is an excellent all-rounder, with a generous touchscreen, polarising filter and good image performance, both during day and night,
Tech spec:
• Max resolution: 1440p • Field of view: 140° • Display: 3in touchscreen • Connectivity: Wi-Fi, Bluetooth • GPS: Yes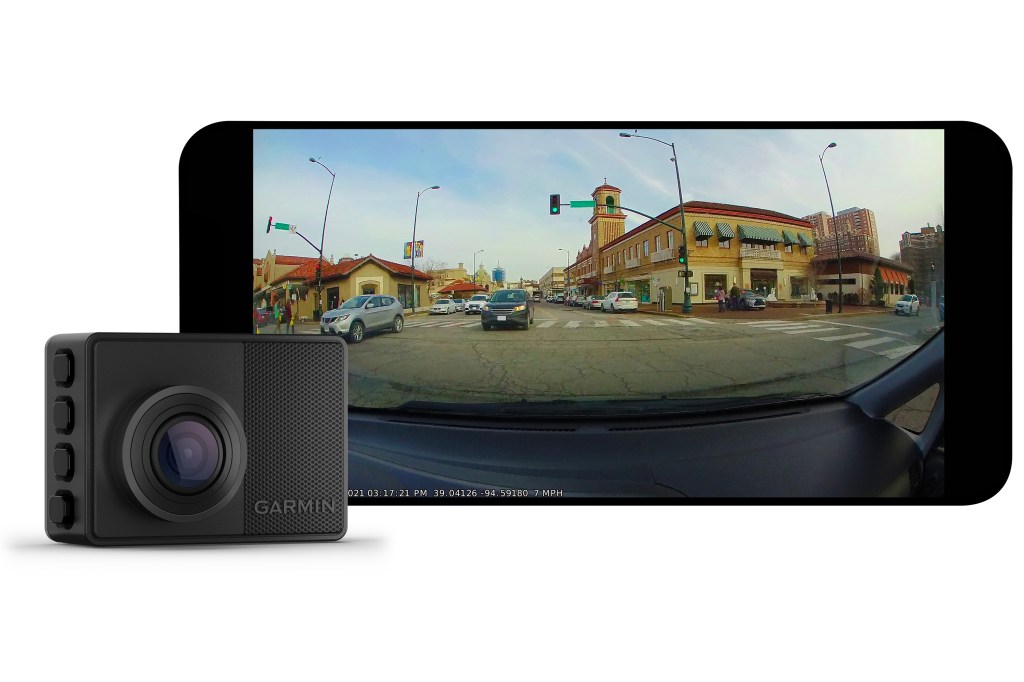 Garmin Dash Cam 67W
We're big fans of how Garmin has designed its current crop of dash cams. This extends to the 67W, a matchbox-sized dash cam with tactile bumps and lines. It's also incredibly light and easy to carry compared to others on this list.
One major advantage is that this dash cam is one of the few to offer 180-degree wide-angle recording, while most only stump up 140 or 160 degrees. This gives users the best chance to capture more action at the sides, though it does result in some fish-eye distortion. As you'd expect from Garmin's top of the range dash cam, recording is impressive whether during day or night, even with no 4K video option. It also lacks a capacitive touchscreen, but the accompanying buttons feel solid and reliable, with the save recording button more pronounced for on-the-go footage protection.
Garmin also offers live view via your phone, letting you check on your pride and joy, while its Vault subscription service automatically saves footage to the cloud.
Stuff Says…
With a wide angle view to capture more action, the 67W is small and impeccably designed. The lack of 4K is a small dampener, however.
Tech spec:
• Max resolution: 1440p • Field of view: 180° • Display: 2in LCD • Connectivity: Wi-Fi • GPS: Yes
Viofo A139 PRO 3CH
The Viofo A139 PRO is a triple camera system, with front, rear and cabin recording. With three separate camera modules, there's more freedom to mount them where you see fit, but that does require a fair bit of wire-tucking if you want to operate all three.
While the standard A139 came with 2K video recording, this new Pro update ups the ante to 4K. The quality shows in the images, thanks to its Sony STARVIS 2 sensor and HDR mode crunching hard to make details crystal clear, such as license plates when lit up at night and better views of pedestrians, as well as reducing noise and motion blur. Cabin camera quality is also excellent, even in low light conditions.
Its looks are a little unorthodox, being a wedge-vape shape, but it's designed to sit at the top of your windscreen and largely out of sight. Thankfully, the main camera is adjustable vertically up to 300 degrees, but there's no option to swivel it sideways.
Stuff Says…
Suitable for those needing a complete front, rear and cabin dash cam system, the awkwardly-named A139 PRO offers strong recording resolution and an excellent HDR mode.
Tech spec:
• Max resolution: 4K • Field of view: 140° • Display: None • Connectivity: Wi-Fi, Bluetooth  • GPS: Yes  
Mio MiVue 886
The MiVue 886 is Mio's 4K dash cam offering, with an 8MP image sensor taking care of the recording efforts. As such, image quality is decent thanks to its HDR and larger sensor, though it's slightly pipped by class-leading rivals in this list. Again, there's the option to trade up in framerate if you're willing to sacrifice resolution.
If we're not quite sold on something, it's the 886's chunky camera-box design looking a little awkward, though at least the unit itself is relatively small enough, and there's a sizeable 3in LCD display, though no touchscreen function. Speed camera alerts are also a welcome feature, with the unit giving you a distance indicator when you'll reach one. Users can also download MiVue Pro, the companion app, which they can use to review camera footage as well as a live view function.
Stuff Says…
It's got a design only a mother can love, but the Mio 886 still offers 4K resolution, speed camera alerts and a wide angle lens.
Pros
Good driver assist features
Cloud storage
Cons
Very expensive to buy and run
4K would have been nice
Tech spec:
• Max resolution: 4K • Field of view: 160° • Display: 3in LCD • Connectivity: Wi-Fi • GPS: Yes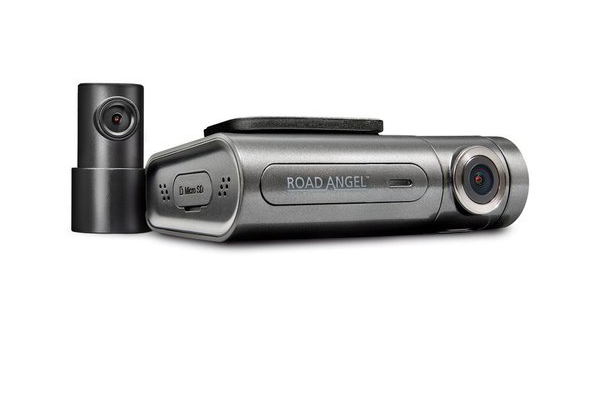 Road Angel Halo Pro Front and Rear Dash Cam
The Halo Pro takes our pick for the best front and rear dash cam system. Both units are discreet and svelte, fitting at the top of your front and rear windshields neatly without much fuss. Image quality is impressive, particularly in the day, though the omission of HDR means that details aren't as crisp as its peers under low light conditions. Additionally, its field of view may be an issue compared with others, with only 140 degrees offered for the front and 120 for the rear.
If you're willing to improve your driving, the Halo Pro comes with driver telematics, which tracks degrees of harsh braking, hard acceleration and sudden turning, all geared to help you fine tune your motoring skills if you've got a lead foot. Additionally, Road Angel is very confident of the longevity of the Halo Pro, as there's a 3-year warranty included as standard with this bundle.
Stuff Says…
A decent front and rear dash cam system, the Pro also features driver telematics and a longer warranty. However, image quality isn't quite as good as its peers.
Pros
Good driver assist features
Cloud storage
Cons
Very expensive to buy and run
4K would have been nice
Tech spec:
• Max resolution: 2K front, 1080p rear • Field of view: 140° front, 120° rear • Display: • Connectivity: • GPS: Yes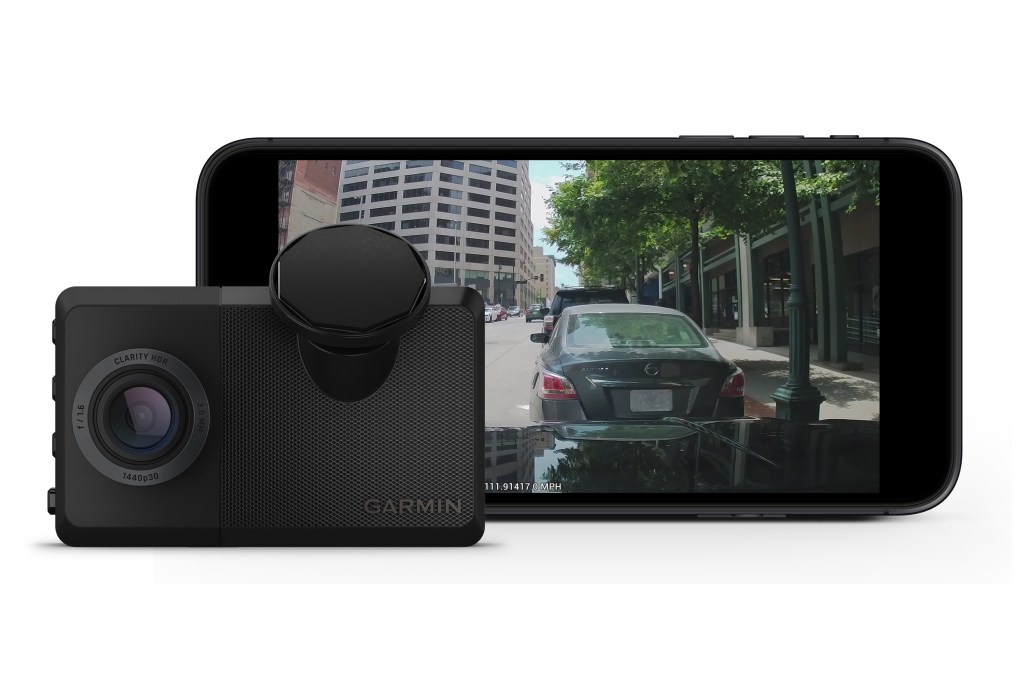 Garmin Dash Cam Live
With an active LTE subscription, the Garmin Live is your very own security camera for your automobile, offering live view, location tracking and theft alerts, though to get the full benefit of this, it'll need a hardwired connection.
With Garmin Clarity, HDR is utilised to create crisp and clear images using multiple exposures. And with 2K recording, images are sharp, even at night. As with other Garmin models, the Live features driver assist modes such as red light and speed camera alerts as well as lane departure and forward collision warnings. There's also voice control, which helps keep your mitts on your steering wheel.
As a single camera system, the high price could be a dealbreaker for some. Additionally, the LTE Vault Subscription Plan, which includes cloud storage, means operating costs can get very expensive. That said, its function as a virtual guard dog might offer ultimate peace of mind for those with high-end marques.
Stuff Says…
Part dash cam, part security solution for your car, this always connected cam lets you look after your set of wheels. Expect to pay through the nose for it, though.
Tech spec:
• Max resolution: 2K • Field of view: 140° • Display: 3in LCD • Connectivity: LTE, Wi-Fi • GPS: Yes