Autographer hands-on review: it captures everything, but we're not sure why
Stuff puts the tiny, wearable automatic camera through its paces at London Zoo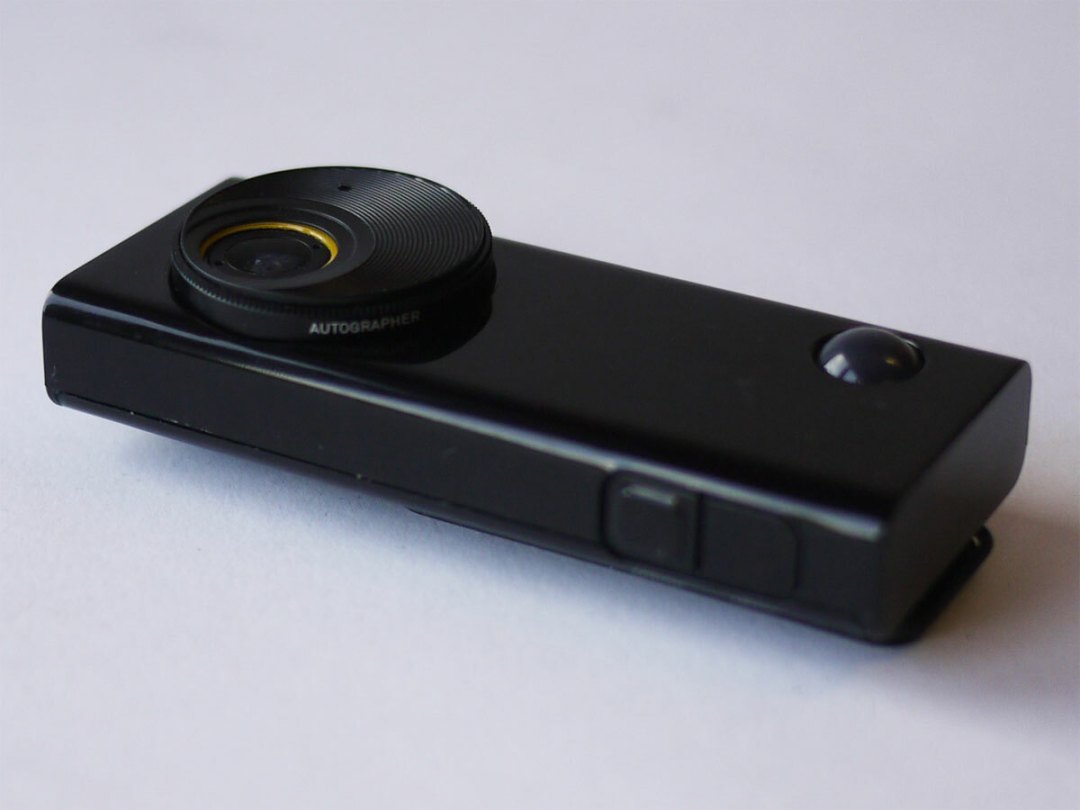 Google Glass, Fitbit, the Pebble watch – gadgets are getting quite a taste for being 'wearable'. On first glance the Autographer, an 'intelligent' camera with a clip and lanyard, looks like the latest opportunist to ride in their slipstream. But it's no bandwagon jumper, with tech roots stretching back to a medical camera system in the early 1980s and an original launch date of November 2012.
After extended beta testing, it'll finally be available to buy from July 30th for £400. That's right, £50 more than the Sony HX50, Stuff's current favourite compact camera. So why spend that on a 5MP pendant with no zoom or flash? It's certainly a lot, even considering the camera's five sensors, GPS and free software (desktop and iOS). But as we found on a day out with the all-seeing snapper, the reason you might be tempted is because nothing else takes photos quite like the Autographer…  
The hardware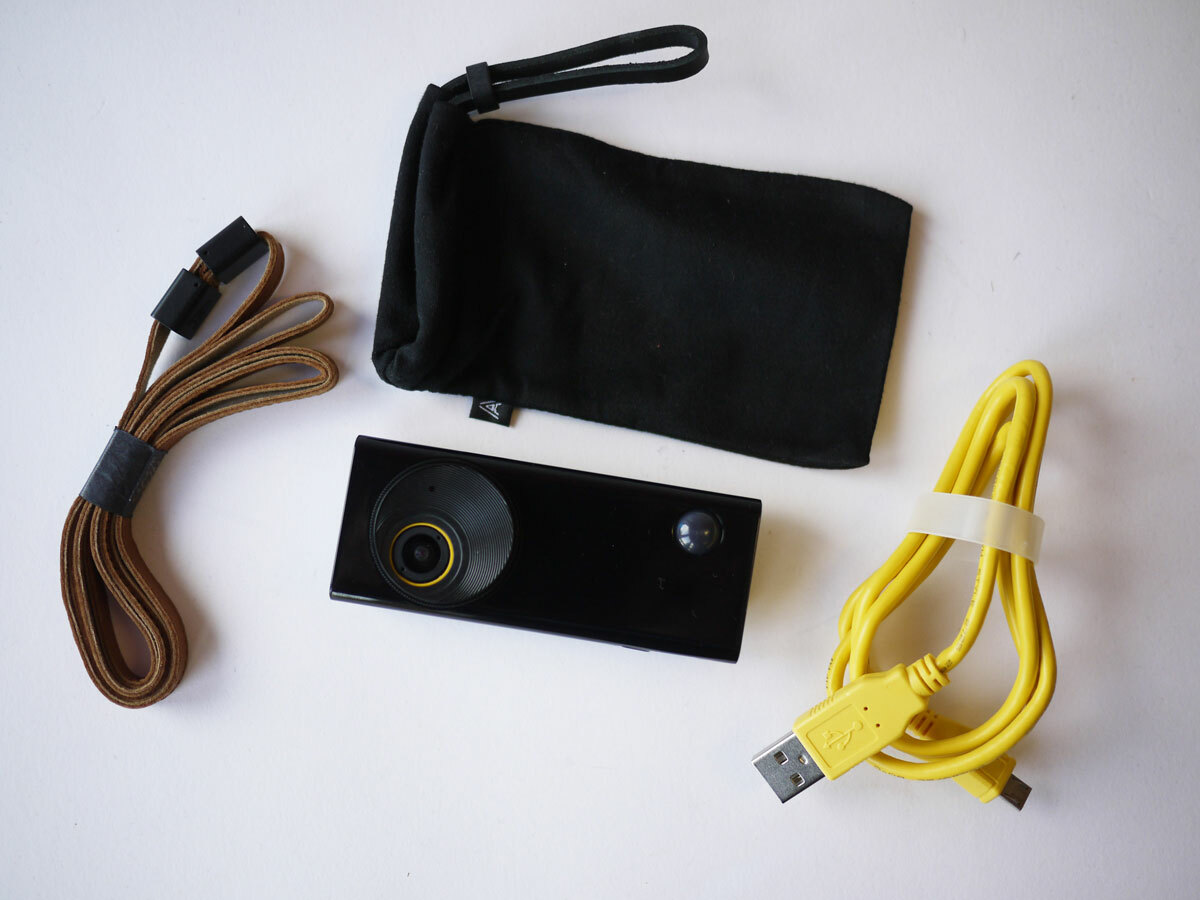 The Autographer weighs a barely noticeable 58g and is the size of a large pack of chewing gum. There are two ways to wear it – dangled on the pendant included in the box or clipped to your top via the its strong clip. We found the clip made it more steady and discreet.
On board are the five sensors (colour, temperature, magnetometer, accelerometer and motion detector), GPS, 8GB of internal memory, Bluetooth, an OLED display for menus and, of course, the wide-angle, 5MP camera. This has a 136-degree, fisheye field of view (compared to an average smartphone's 60 degrees), so the whole idea of 'framing' photos is redundant – if you're looking at it, so is the Autographer.
Automatic photos, triggered by change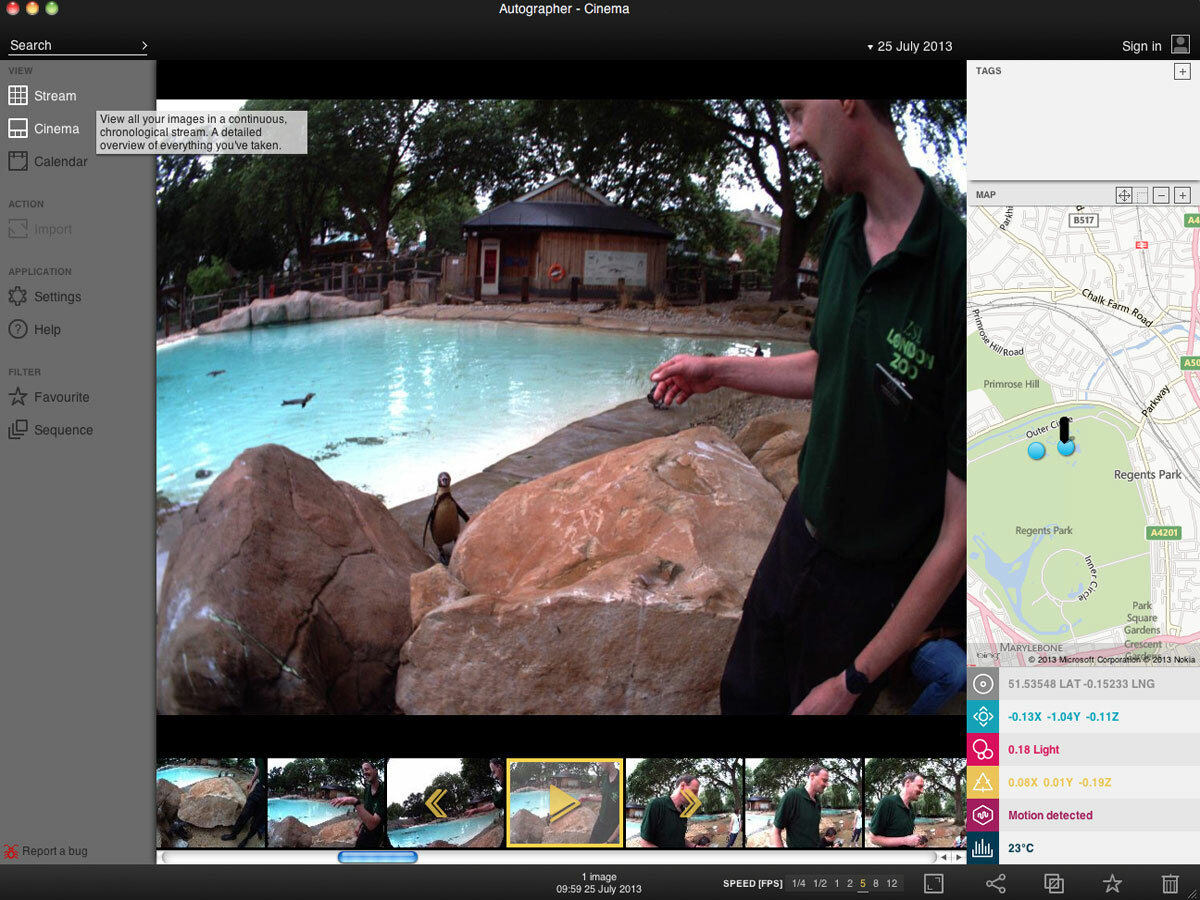 Precisely when it decides to release the shutter depends on a few factors. The Autographer is primed to respond to 'change' – so a drop in temperature, change in colour or slowing of your movement could all signify a snap-worthy moment and trigger a photo. Though its maker, OMG Life, told us that these algorithms are constantly being tweaked fine-tuned, so 'change' doesn't always mean 'photo'.
Even in the absence of triggers, the Autographer will take a certain number of photos depending on which setting you choose – so on 'low' it snaps 50 images per hour, 'medium' 100 images per hour and 'high' 200 images per hour. It's a shame there's no instant shutter button for you to press manually, but a press of the 'Action' button will (after a short delay) start a quick 'Sequence' of around ten photos.
Autograph hunting
To give the Autographer a proper spin, we took it to London Zoo. After initial concern about whether it was on or not (it emits only a small flashing icon and the odd beep), we found that the Autographer was at its best in busy, outdoor spots where subjects are a few feet in front of you. When this happened, we got some interesting, natural shots of the zoo's penguins and some besotted humans. But at other times the fixed lens can miss action or just capture wodge of mundane snaps that'll clutter your timeline.
The fisheye photos it took were perfect social media fodder, if not quite up to the standard of a good smartphone or compact camera snap. It's important to quell your urge to take photos with other devices while the Autographer is on – otherwise you get first-person photos of you taking photos, and the universe implodes.
Perfect for candid snaps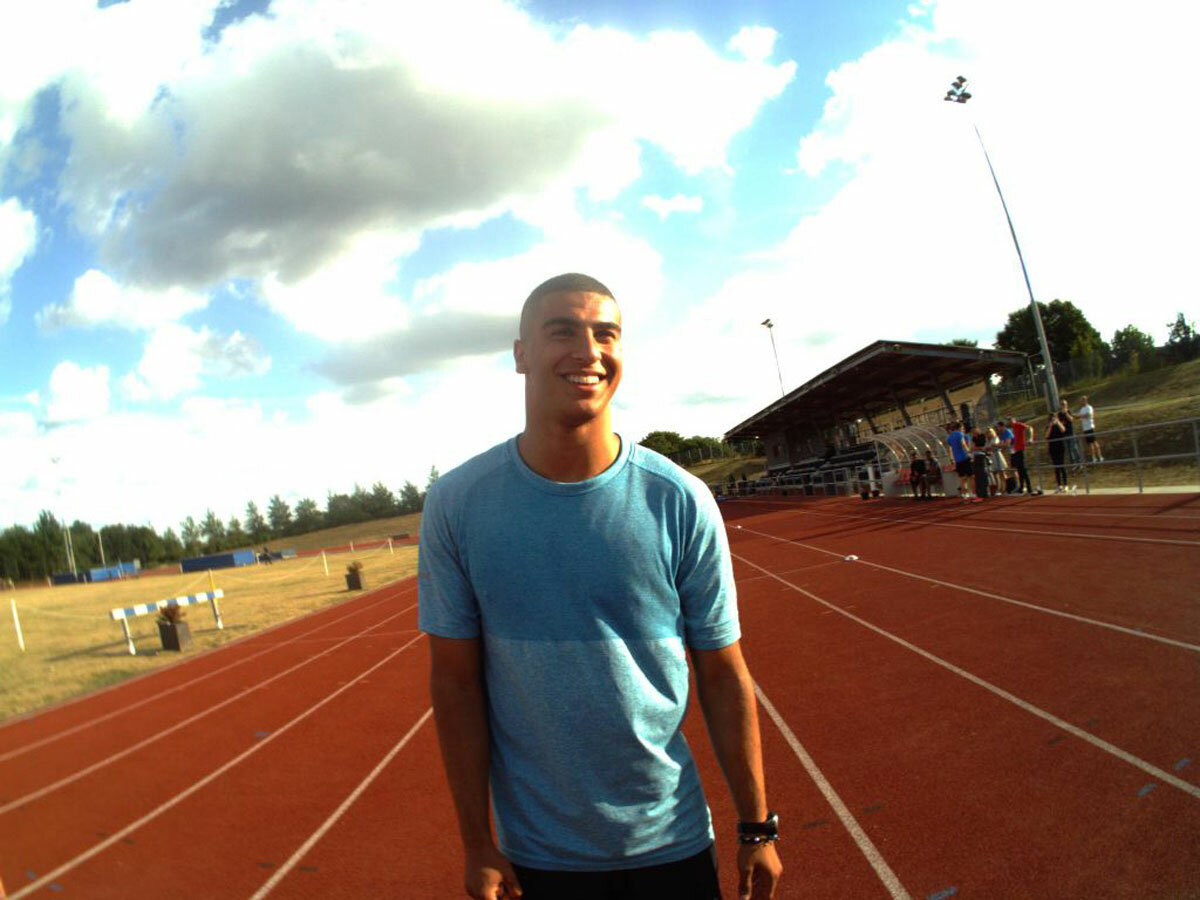 The Autographer is really designed for street photography and snapping unguarded humans. It can do a fine job (such as our shot above of Team GB sprinter Adam Gemili at a training session). And it raises interesting questions, such as – what is the social etiquette of wearing an always-on camera? Do you forewarn others or go full Donal MacIntyre in the name of getting natural shots?
The software
Stored on the device in Windows and Mac flavours is the Autographer's excellent bespoke software. At the end of our day's testing we ended up with over 1200 photos, but the software's range of viewing options and filters meant they didn't feel too overwhelming.
'Stream' gives you a thumbnail overview, 'Cinema' blows the selected photo up to full size and lets you play your stream as a movie, while 'Calendar' organizes your collections into a diary. There's also a very useful location search box, which uses the GPS data tagged to very photo to let you search by places.
The app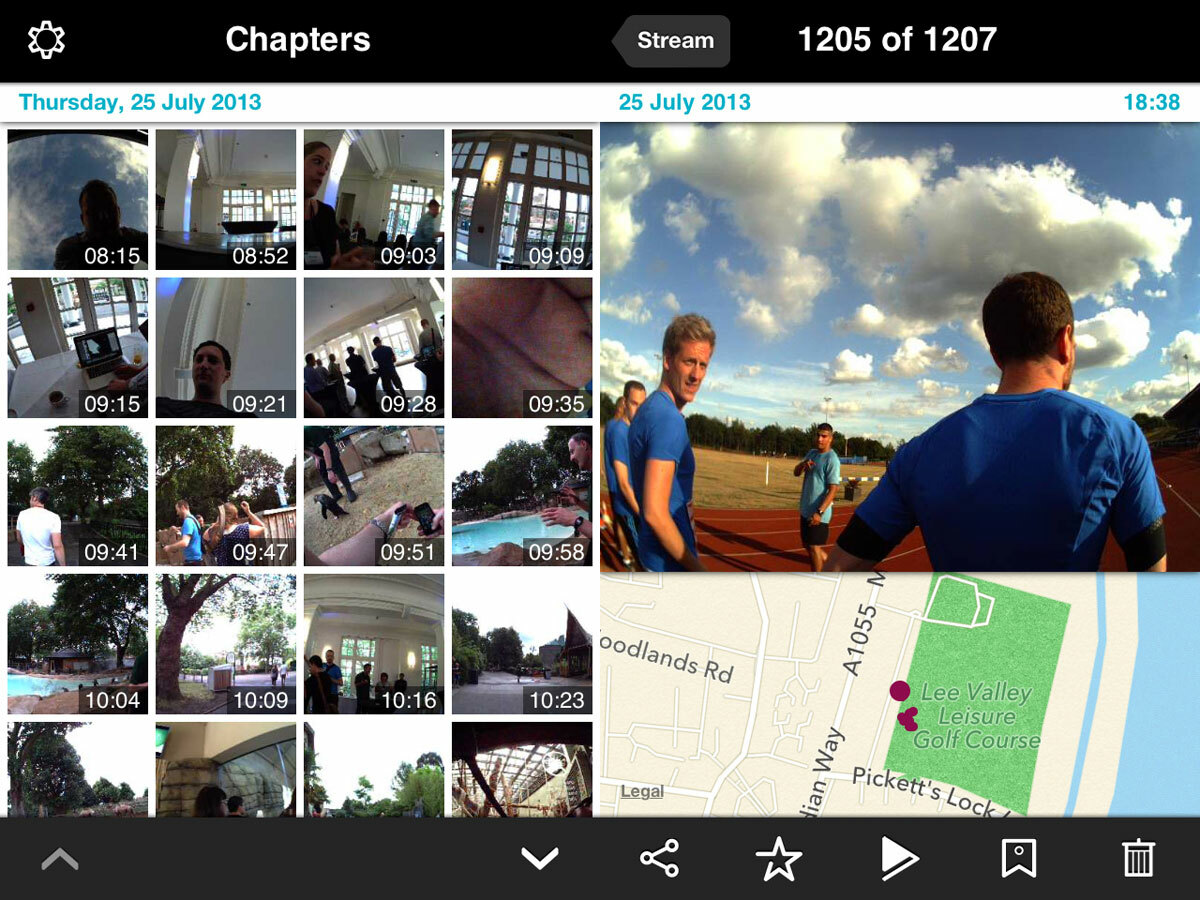 Given the device's lack of a playback screen, the app (currently iOS only) is an essential companion if you want to view photos while you go and upload them to social media. It pairs via Bluetooth and gives you similar viewing options to the desktop software. Instant viewing of photos goes rubs against the Autographer's hands-free ethos a little, but it's certainly nice to have the option.
Stuff says
The Autographer provides something akin to Google Street View for your life. Use it regularly and you get a searchable, first-person photo stream of almost every moment you've experienced – a feeling that's equal parts mind-blowing and unsettling.
We're not yet sure exactly what we'd use the Autographer for – a camera 'safety net', street photography, a life streamer, social experiment or occasional night out companion. Whether this versatility turns out to be a strength or a weakness we're not yet sure, but it's certainly a fascinating (if overpriced) device. Stay tuned for our final verdict soon.