Looking back at Apple's iPhone App Store at 15 – and 15 notable launch day apps
As Apple's always said: there's an app for that. In fact, even on day one, there were over 500 of them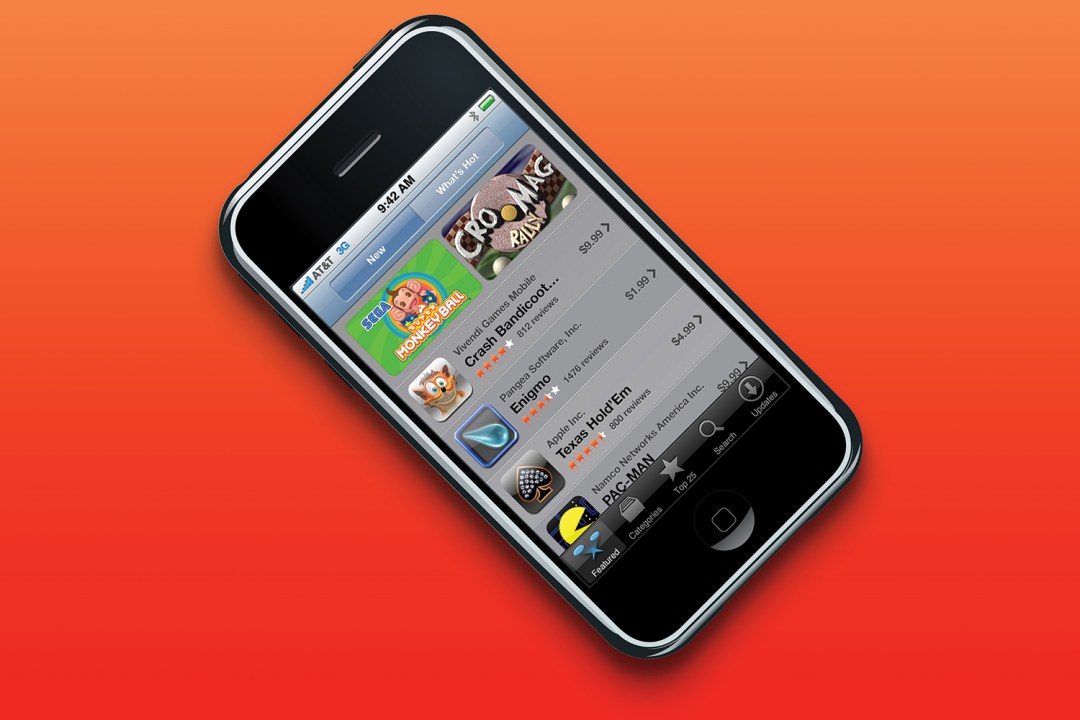 Happy birthday, App Store! Apple's revolutionary smartphone store for grabbing apps and games for iPhone has turned 15. Within just a few days, ten million apps had been downloaded.
A year later, that number was north of a billion, and a whopping 50,000 apps were available. Apple stopped giving download numbers in 2016, but estimates suggest there are now well over 1.5 million apps in the store today. Which is plainly bonkers.
And it's also amazing to think that, before the App Store, it was impossible to buy apps!
Less of the sarcasm. Yes, Apple has over the years exaggerated the transformative impact of the App Store, but it did shake things up. Before 2008, mobile was a mess. A central place to grab your apps delivered trust and simplicity – a boon for creators and users. The initial gold-rush made some devs very wealthy… although the inevitable race to the bottom was harder to watch, as were the rules and review processes that blocked perfectly good apps and even entire app categories.
So that famous slogan should be 'There's an app for that, except when there isn't'?
Again, it's hard to criticise too much. Apple's foundations helped developers build ambitious mobile apps far beyond what went before. But its rules meant niche concerns like emulators were barred. Worse, the App Store's entire life has been punctuated by stupid app rejections, such as dystopian puzzle game Papers, Please (for nudity) and Mastodon client Ice Cubes (for no good reason at all). Apple's mucking around has now resulted in EU regulators saying they'll force other app stores onto the platform.
Time to switch that slogan again: 'There's an app store for that!'
That might be where we end up. It's unclear if multiple app stores will benefit users, or if the major players will take their app-shaped balls home and 'force' you to use their stores in order to keep enjoying your favourite software. On the plus side, if you fancy playing SNES games on your iPhone, you might soon be able to do so via an alternative store – after a mere 15 years. Still, with well over 150 billion downloads from the original App Store to date, no doubt Apple will argue it must have done something right.
15 early iPhone App Store highlights
Some of our favourite iPhone apps and games that were there on day one.
Band foreshadowed Apple's GarageBand, giving you a selection of instruments at your fingertips.
Currency kicked off a raft of apps that provided instant access to vital info, without you needing a browser.
eBay Mobile let you sell all your rubbish directly from your iPhone, rather than you needing a Mac or PC.
Enigmo explored how to reimagine a popular Mac game for touchscreens, with intuitive gestural controls.
Flickr let you gawp at fuzzy snaps shot on iPhone, with Apple's blower having rocketed up the camera rankings.
Flixster cleverly used your iPhone's GPS to figure out movies showing nearby, saving you the hassle of searching multiple listings.
iBeer was the best of many gimmick apps, using the iPhone's tech to simulate you downing a tiny pint.
Instapaper rethought how to consume text, letting you save web pages for later, like a DVR for the internet.
NYTimes was an early example of a publisher realising many people would prefer pocketable digital over print.
OmniFocus hinted at a future where ambitious pro-grade office apps would head to mobile platforms.
Pac-Man showed how traditional games could work on iPhone, even though Apple's device lacked physical controls.
PCalc gave hope to devs that you could compete with built-in apps – by making third-party products better than Apple's.
Super Monkey Ball signalled iPhone games could rework recent console fare – and in some ways improve on it.
Things sought to rewire your brain regarding processing tasks, and establish the iPhone's position as your daily driver.
Twitterific redefined social networking for phones, with a gorgeous interface. Alas, killed by Elon Musk in 2023.