Amazon Kindle Scribe vs Remarkable 2: which is the best E Ink tablet?
Which digital notepad gets top marks on paper?
Doodling on books will get your library card revoked. Want to scribble where you read? The Amazon Kindle Scribe and ReMarkable 2 are two of the best e-readers you can write on.
Equipped with E Ink displays that are designed to replicate paper, both devices blur the line between e-reader and tablet. Each ships with a stylus for digital scrawling. So like actual paper, you can annotate and sketch by hand. Unlike actual paper, your notes are editable, safely stored and easy to share without firing up the photocopier.
But which of these digital notepads is superior? We've jotted the details, tabulated the specs and compared the stats, all to determine which one is worthier of note: the Amazon Kindle Scribe or the Remarkable 2.
Amazon Kindle Scribe vs Remarkable 2: price & release date
Amazon revealed the Kindle Scribe in September 2022. The price depends on which of its three storage capacities you opt for: 16GB ($340/£330), 32GB ($390/£380) or 64GB ($420/£410). You can spec the smallest version with a Basic Pen, or stump up an extra $30/£30 for the Premium Pen, which features an eraser and shortcut button. Both the 32GB and 64GB versions include the Premium Pen as standard.
Remarkable's pricing is easier to compute. Rolled out in May 2022, there's just one version of the Remarkable 2. Shipped with 8GB of non-expandable storage, the Remarkable 2 will cost you $279/£279. As standard, it doesn't arrive with a stylus in the box. You can spec it with Remarkable's Marker ($79/£59) or stump up for the Marker Plus ($129/£109) if you'd like an eraser.
Amazon Kindle Scribe vs Remarkable 2: tech specs
| | | |
| --- | --- | --- |
| | Amazon Kindle Scribe | Remarkable 2 |
| Display | 10.2in Paperwhite, 300ppi | 10.3in monochrome, 226ppi |
| Built-in light | Yes | No |
| Storage | 16/32/64GB, non-expandable | 8GB, non-expandable |
| Dimensions | 196x229x5.8mm | 187x246x4.7mm |
| Weight | 433g | 404g |
Design: two sheets to the bind
The Amazon Kindle Scribe and Remarkable 2 follow a very similar design formula. Both are styled like tablets and fronted by greyscale E Ink screens. Notable bezels frame the displays, with a larger strip on the left to allow for easier holding. But there are also visual differences which set the two slates apart.
The all-black Kindle Scribe features tidy, uniform bezels on three edges. In contrast, the Remarkable 2 has a white surround with a silver-accented grip strip, and a thicker bottom bezel. Which looks better will be down to the eye of the beholder.
Physically, both devices are approximately the size of an A4 sheet of paper. The Kindle Scribe is the taller of the two by 9mm, while the Remarkable 2 is wider by 17mm. Each slate is slender as well: 5.8mm for the Kindle and 4.7mm for the Remarkable 2, which make each e-reader slimmer than any contemporary smartphone. On the scales, there's a little more in it. The Kindle Scribe is weightier at 433g, undercut by the 404g Remarkable 2.
Display: on the paper trail
Headlining both shows are those E Ink displays. The Kindle Scribe's screen measures in at 10.2in. Amazon hasn't published the exact resolution, but it works out at a decent 300ppi. The Remarkable 2 features a 10.3in panel. While it's a tiny bit bigger, the resolution comes in at a less sharp 226ppi.
How significant this factor feels in practice will be something we test in our full side-by-side review of the two E Ink tablets. In theory, it should mean that the Amazon Kindle Scribe is able to render text and edges more crisply than the Remarkable 2. That said, the difference is unlikely to be a deal-breaker for legibility when reading and scrawling.
Both panels are designed to mimic the look and feel of paper. That includes a glare-free coating for reading outdoors, plus a surface texture that's meant to make stylus scribbling feel natural. Neither e-reader can produce colour visuals, but the Amazon Kindle Scribe does trump the Remarkable 2 with its adjustable front light, allowing you to continue doodling in dim conditions.
Interface & pens: the pens are mighty
It's that doodling ability which puts the Kindle Scribe and Remarkable 2 in a different class to traditional e-readers. While the touchscreens on both devices support finger inputs for swiping through pages and navigating the interface, each is also designed with pen use in mind – whether you're tapping around or taking notes.
Wield Amazon's Basic Pen and you'll find a pen-like stylus in your hand, which sticks magnetically to the side of the Kindle Scribe. And because it's a passive tool, there's no battery to charge. Shelling out for the Premium Pen adds an eraser on the end, as well as a shortcut button, which allows you to switch between pen settings with one click. So you can go from jotting to highlighting in a jiffy.
It's a similar setup for the Remarkable 2. The standard Marker looks like a pen and attaches magnetically to the side of the E Ink tablet, which is more secure than tucking it behind your ear. Like Amazon's quills, it's also battery-free. And like Amazon's quills, you'll need to choose the Marker Plus if you want an eraser on the end. Its tip is replaceable, too.
How the styli compare in practice will be another factor to assess in our full side-by-side test. Our five-star review of the Remarkable 2 found that tilt support and 4096 levels of pressure sensitivity contributed to a natural and enjoyable note-taking experience, with minimal lag and a useful range of stroke settings. We'd expect a similarly intuitive experience from the Kindle Scribe, but we'll only know the performance of features such as palm rejection after we've had the chance to scribble on it.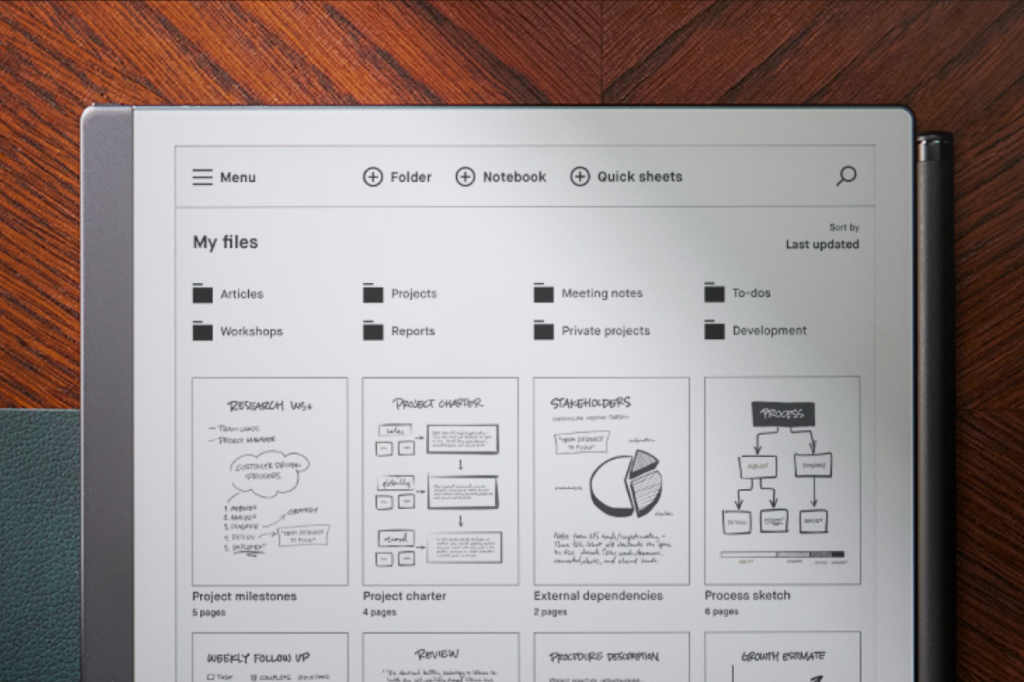 Software & features: two takes
Bespoke software inhabits both the Kindle Scribe and the Remarkable 2. Each adopts a pared-back approach, with clean visuals, tidy menus and neat icons for switching tools. Remarkable's E Ink tablet offers 51 templates to guide your note-taking, spanning everything from lined paper to creative storyboards. Amazon's device includes notebooks, checklists and layouts.
Where the Kindle Scribe trumps the Remarkable 2 is file format support. Remarkable's slate lets you open ePUB and PDF documents, with a workaround for Word documents. Files are converted to PDF for annotating. The Kindle Scribe can handle all of the above, as well Kindle e-books. So you can jot thoughts on any of the countless books in Amazon's library. You can also add sticky notes directly to Word docs, and from later this year you'll be able to send documents to the Scribe from within Microsoft Word.
The Scribe also wins on storage, offering twice the capacity of the Remarkable 2 even in its smallest guise. Amazon's E Ink tablet offers unlimited cloud storage for documents as well. This is an option for the Remarkable 2, but only with a Connect subscription. A one-year trial is included, after which you'll need to pay $2.99/£2.99 per month.
Firmware updates have equipped the Remarkable 2 with handwriting-to-text conversion, plus Google Drive, Dropbox and One Drive support. Neither of those features are offered by the Kindle Scribe, giving the Remarkable 2 an edge here.
Battery & performance: easy does it
Amazon's promised a battery good for several weeks on a single charge, depending on how much you use it. Scribble for half an hour per day and Amazon reckons you can eke longevity out to 12 weeks. Performance is pretty good, even if it doesn't have the zippiness of a full-fat tablet.
Remarkable's more open about its E Ink tablet specs. It runs a 1.2Ghz dual-core processor with 1GB of RAM, while the battery is a 3000mAh number. Despite the lack of backlight, the Remarkable 2 is rated at three weeks from a full tank. In testing, we found that it lasted for a day of constant note-taking, but not much more.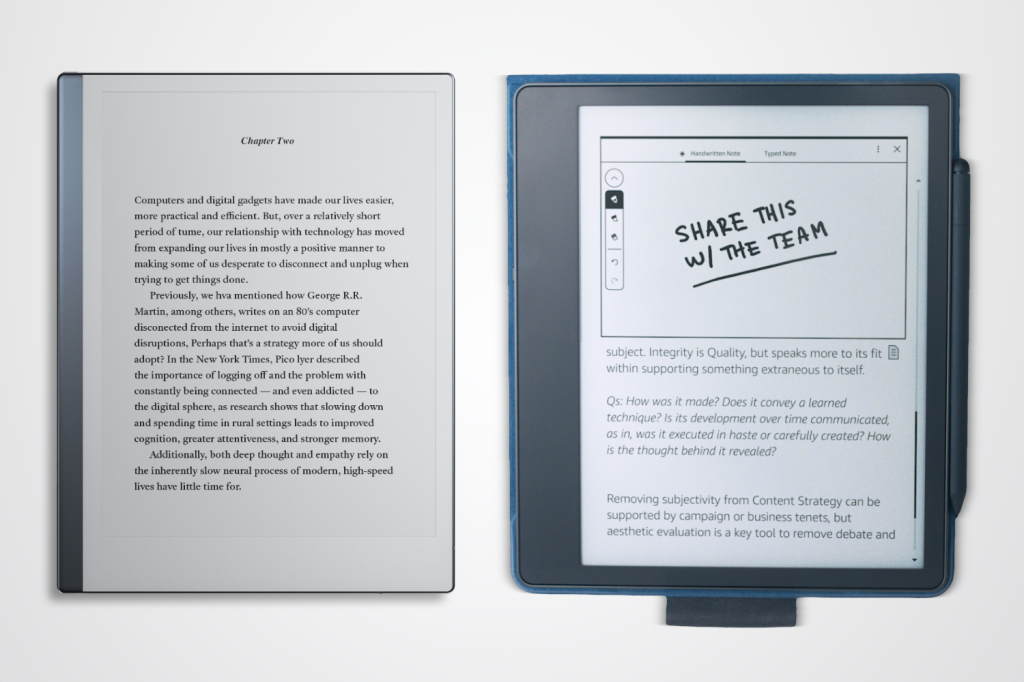 Amazon Kindle Scribe vs Remarkable 2: initial verdict
On paper, the Remarkable 2 and Amazon Kindle Fire look like two editions of the same device. They share similar slate-like designs and feature E Ink screens which imitate paper. And they support battery-free styli for scrawling and scribbling. But they also take distinctly different approaches when it comes to fulfilling the brief.
The Remarkable 2 is a digital notepad first and foremost, with the option to use it as an e-reader. The Amazon Kindle Scribe follows the opposite road: it's an e-reader with added jotting skills. That's reflected in their respective specs and skill sets. The former goes light on smarts, providing effective note-taking tools for clutter-free productivity. The latter takes the feature-packed foundation of previous Kindle devices, including weeks-long battery life and broader format support, and adds the useful option to jot on documents.
Although it is costly, the Kindle is a winner for readers in need of a notepad, but the Remarkable 2 is our top choice for getting things done without distraction.