Amazon Echo Buds vs Apple AirPods: the weigh-in
How do Amazon's new Alexa-packing earphones measure up to Apple's wildly popular AirPods?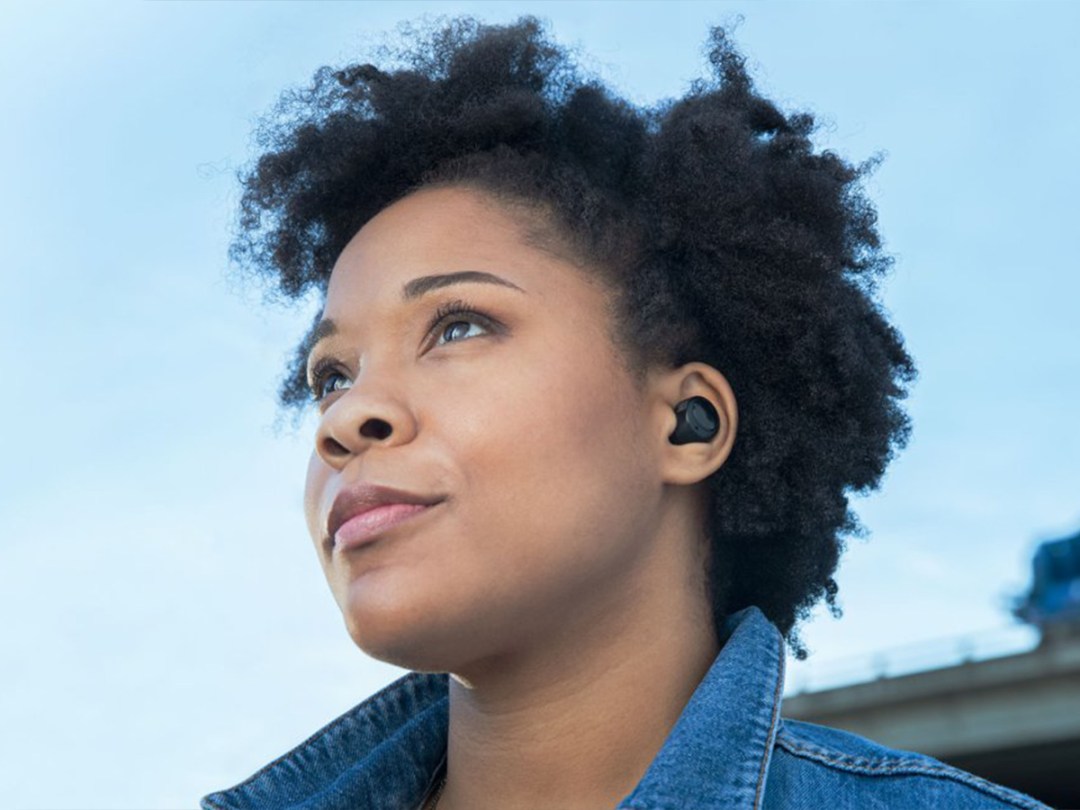 Amazon unleashed an absolute torrent of Alexa-powered tech this week, but it's the AirPod-esque Echo Buds that really stuck out.
With no wires, built-in noise-cancelling, and everybody's favourite AI assistant onboard, the £120 Echo Buds could offer some real competition to Apple's high-tech in-ears. But how do they stack up against each other?
Design
While Apple's AirPods have their very own, er, distinctive look, Amazon's Echo Buds follow a similar template to many other true wireless earphones: black and compact. In fact, they probably bear the closest resemblance to Bragi's The Dash (RIP). They're certainly less likely to attract attention than AirPods, although that said, Apple's wire-free 'phones are so ubiquitous now most people probably don't even notice somebody wearing them. How times have changed, eh?
Where Amazon's Echo Buds may just trump the AirPods is with fit. Apple's one-size-fits-most approach is all very well if you're one of the lucky ones with uniformly shaped lug holes, but some people just can't get them to stay in place at all. Echo Buds come with six different tips – three with extra ear scaffolding and three without – in three different sizes. If you can't find some that fit, you might want to submit your ear holes to medical research.
Sound
The snugger fit of the Echo Buds may also help when it comes to sound quality. Not only does a bit of sound isolation help when it comes to making sure your music sounds like it's supposed to, it means the Echo Buds can make use of Bose's active noise-cancelling tech. There are two different modes, switched with a quick tap, allowing you to decide how much of the outside world you let in.
AirPods are better known for their ease of use than their audiophile-pleasing performance, so it shouldn't be too hard to trump them on that front, although Amazon's Echo products are often no more than 'good enough' when it comes to sound quality. This is one that's impossible to call until we've had both in our ears, although preferably not at once.
Smarts
While Apple's AirPods only work with Siri, the Echo Buds are compatible with Alexa via an app, and can also be used to summon whichever voice assistant already lives inside your phone. That certainly makes more sense if you want to do something that's specific to the OS, like sending a text message or making a call.
Where Alexa is likely to trump Siri is with its access to Skills. The Buds give you access to Amazon's catalogue of extra Alexa talents that can be installed as you wish, adding personalised functionality to your robo assistant's list of abilities.
Like a pair of AirPods, the Alexa Buds will also pause the music automatically when you remove them from your ears, but despite being sweatproof there's no fitness-tracking built-in. Shame somebody can't just make a skill for that.
Battery life
Amazon reckons you'll get five hours' playback from a single charge of the Echo Buds, with a rather chunky case adding another 15 hours on top of that.
That's just shy of the 24 hours that you'll get from a pair of AirPods and their neat and tidy carry case, which can also be charged wirelessly – something that the Echo Buds don't offer.
Initial verdict: the sound will decide
At £120, Amazon's Echo Buds are £80 cheaper than Apple's second-gen AirPods with the wireless charging case, or £40 cheaper than the ones without it. That's a significant chunk of cash.
They're also cheaper and a good deal smarter than RHA's TrueConnect, and £100 less than Sony's noise-cancelling WF-1000XM3. But can their sonic performance match up? We'll have a full review very soon.