The 46 best free Android games for your phone or tablet
Fun doesn't have to require funding. Got an Android phone or tablet? Then download these games – now!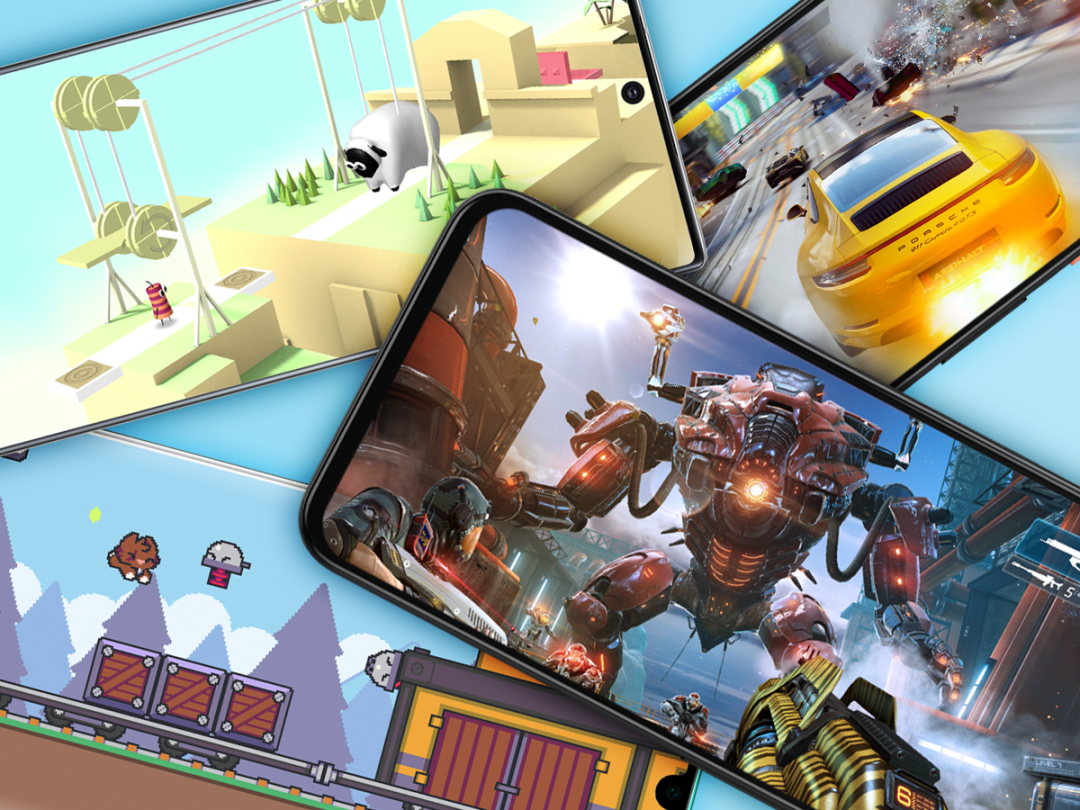 There are many fantastic games available for Android smartphones that cost nothing. Whether ad-supported or based on a 'freemium' model, these titles are free – and guaranteed to make your day a little less painful.
To help you find just the sort of thing you're after, we've grouped the games into sections, so you can quickly grab the best platform games, endless runners, arcade games, shooters, puzzlers, strategy games, adventures, racers and sports titles.
There ae enough free games here to keep you busy for months, and if you can't find something you like in all that lot, then perhaps it's time to take up a new hobby, like macrame or birdwatching.
The best new free Android game
Get an instant fix with the free Android games tickling our fancy right now.
Dadish 3
Hey, kids! Don't hop on any old bus under the promise of a 'field trip' – especially if you're a radish and the person running said trip has a thing for radish soup. That's the set up for this tasty platform game that has the surprisingly serene Dadish bounce through dozens of levels, to rescue his kids.
You won't be serene, mind, because Dadish 3 is ferocious. It's a platform game that punishes the slightest error, and where restart points are rare. Stick with it, though, and you'll revel in its tight level design, oddball sense of humour, and sewer dolphins. Yes, you read that right.
Otteretto
It might look like the ancient Columns, but Otteretto is a much more thinky puzzler based around blocks lurking in a well. Instead of directing shapes to match blocks of three or more, squares are removed by dragging out palindromic sequences – that is, ones that are the same in both directions.
The longer the sequence, the more points you get – and you'll need them to beat the points target that ramps up after every level. Still, that'll just make you look all the more carefully at the squares, until spotting a ridiculously labyrinthine sequence and feeling like a champ.
If all that isn't enough, chuck three quid the creator's way and you unlock additional modes, including one that has you peruse a set of squares to find a single, massive palindrome.
Knotwords
Having reimagined chess, word searches, pool, solitaire and anagrams, Zach Gage now turns his attention to crosswords. And like his other games, Knotwords is an exercise in subversion, playing with a familiar form, yet leaving you with something unique.
Instead of solving clues, you start with an empty crossword comprising Tetris-like shapes that have letters inside. You arrange those letters in spots that allow a completed crossword to be made. With smaller efforts, that's simple enough; with the larger puzzles, you'll be begging for those missing cryptic clues – but won't get any.
For free, there's a daily puzzle – and a static set for each month. If you want more, a one-off IAP unlocks the archive.
Logica Emotica
By law, all visual communication will be emoji by 2027. This game's getting a head start, then, with 50 single-screen puzzles that have you shunt emoji about in what comes across like Soko-Ban designed by a Snapchat-obsessed teen. Elsewhere, Snake is the inspiration, with your emoji leaving trails you cannot cross.
What elevates the game is the mind of its creator, known for devious minimalist puzzlers. This one doesn't smash your brains out in the same manner as his titles named after colours, but that's no bad thing; and the way Logica constantly shakes things up, combined with its breezy vibe, makes for another winner.
Dungeons of Dreadrock
You might need to stifle a yawn as Dreadrock kicks off, with its 'worthy' intro and conventional gameplay. Your brother's been kidnapped and you need to work through a bunch of blocky dungeons set out in a grid pattern.
But that intro has the odd humorous moment that makes you wonder if this will be something more – and you'll know it really much is when you're a few levels in. Bar the self-aware humour, what grabs hold are the game's relentlessly clever, frequently inventive puzzles and a smattering of smart storytelling.
Rarely does a game that starts out feeling so familiar transform into a mobile classic, but if you've any interest in puzzles peppered with the odd adrenaline-fuelled real-time sequence, Dreadrock is a must.
Linia super
Many moons ago, we reviewed the original Linia, which we described as "a bit like Fruit Ninja, as reimagined by a lover of precision geometry". The game had you swipe through moving shapes to match a pattern of coloured dots. Careful timing and precision were the difference between success and ego-smashing abject failure.
This follow-up looks very smart indeed, with gorgeous visuals informed by filters found in Stuff favourite GeometriCam. And, like the original Linia, it remains deeply rewarding when you nail a particularly tricky challenge by way of split-second 'finger sword' skills.
Marvel Snap
This card game's for folks who lack the time, patience or inclination for Magic: The Gathering or Hearthstone. Marvel Snap bouts last mere minutes as you plonk down cards across six rounds, trying to secure two out of three locations.
You win through placing more power units than your opponent on a given location. But cards and locations alike have abilities that can instantly change everything. You'll wish you could 'Thanos snap' your opponent into oblivion when they pull out a game-upending move on round six.
Still, that'll just make you want to further refine your decks. You'll dive deep into Marvel's comic book roster, mull that the collectables aspect is sound (shiny 3D cards!), and wonder if it's the smartest move to play a game with a compelling gameplay loop and a compulsive card collection mechanic.
Airborne Motocross Bike Racing
Side-on motocross games typically dump you on a bike, give you an accelerator and a brake, and have you balance your racer by rotating them anti-clockwise and clockwise. A quick glance at Airborne would suggest much the same's going on here – but it really isn't.
The rotation mechanic remains, but directional controls instead flip your bike around, to head in the opposite direction when tackling the maze-like courses. You also end up juggling a hang glider and boosts, along with fending off other riders and blowing up bits of scenery with a rocket launcher.
It's tough – not least if you take on challenges that range from completing the course when cat-sized or belting beach balls to the chequered flag. But stick with it and you'll discover hours of varied and exciting racing larks.
Get Airborne Motocross Bike Racing
Rocket League Sideswipe
The original Rocket League asks the question: what about soccer, but with rocket-powered cars? Rocket League Sideswipe then asks: and how about a version for mobile? To which the answer would usually be: sure, but it'll be a horribly cut down and hideous IAP-infested mess. Turns out just two of those words are correct.
The game is cut down, since it's played side-on. But the pace and fun of the original game remain, with vehicles jetting about and smacking around an oversized ball. At the time of writing, there's no hideous IAP either, even if the underlying mechanics are there. Here's hoping that remains, because right now Rocket League Sideswipe is a mobile gem.
Download Rocket League Sideswipe
Touchgrind Scooter
The Touchgrind series has long carved itself out a niche on mobile, giving your digits a direct way to perform extreme sports. In Touchgrind Skate, two fingers become legs that flip a skateboard around; here, you're instead on two wheels, bombing along on a scooter at speeds that would have any onlooker making loud gulping noises.
To say the game eases you in gently would be a lie. Like its predecessors, Touchgrind Scooter demands mastery. Initially, you'll crash often and be 'rewarded' with terrible scores. But commit a course to memory and learn to pull off a string of death-defying stunts and you'll feel like a Scooting god. Just probably don't then try somersaulting off a building in the real world – that won't end well.