Create the perfect home office setup with MSI
A two-punch combo to make your home office super slick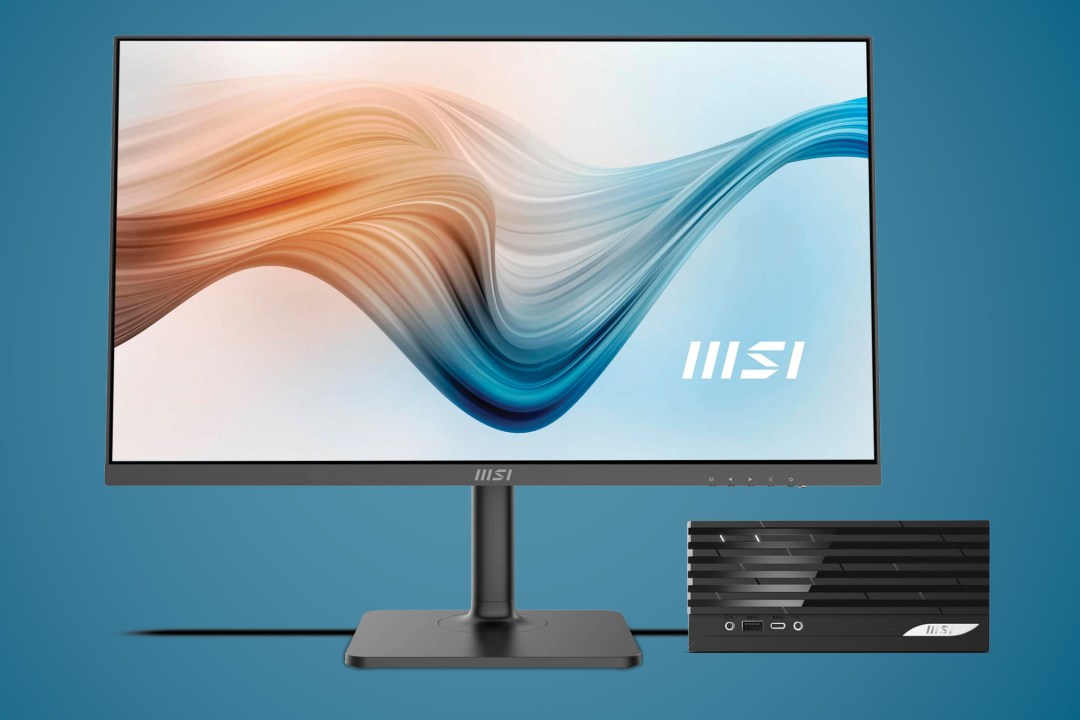 Sometimes you want to show off your tech. But a home office PC? Save the desk space for discarded coffee cups and office toys.
We're going to look at how to get your home work space kitted out in stylish, minimalist fashion. You won't need a giant desk, you won't end up with back and neck pain after a month, you don't have to spend a fortune either. And it is all centred around the MSI Pro DP20Z.
The MSI Pro DP20Z is a small form factor PC, a tiny 85mm wide, 193mm tall box that fits serious power into just a tenth the volume of some classic desktop PC designs.
Sure, you will find even smaller mini PCs if you go looking, but the MSI Pro DP20Z is made for the long haul. Just pop off its side panel and you'll find space for two ultra-fast M.2 SSD drives plus an additional two 2.5-inch hard drives or SSDs.
If you want a mind-boggling amount of storage, you can have it. This is one to bear in mind if you've ever been tempted by the idea of dabbling as a YouTube content creator, which mounts up data like almost nothing else.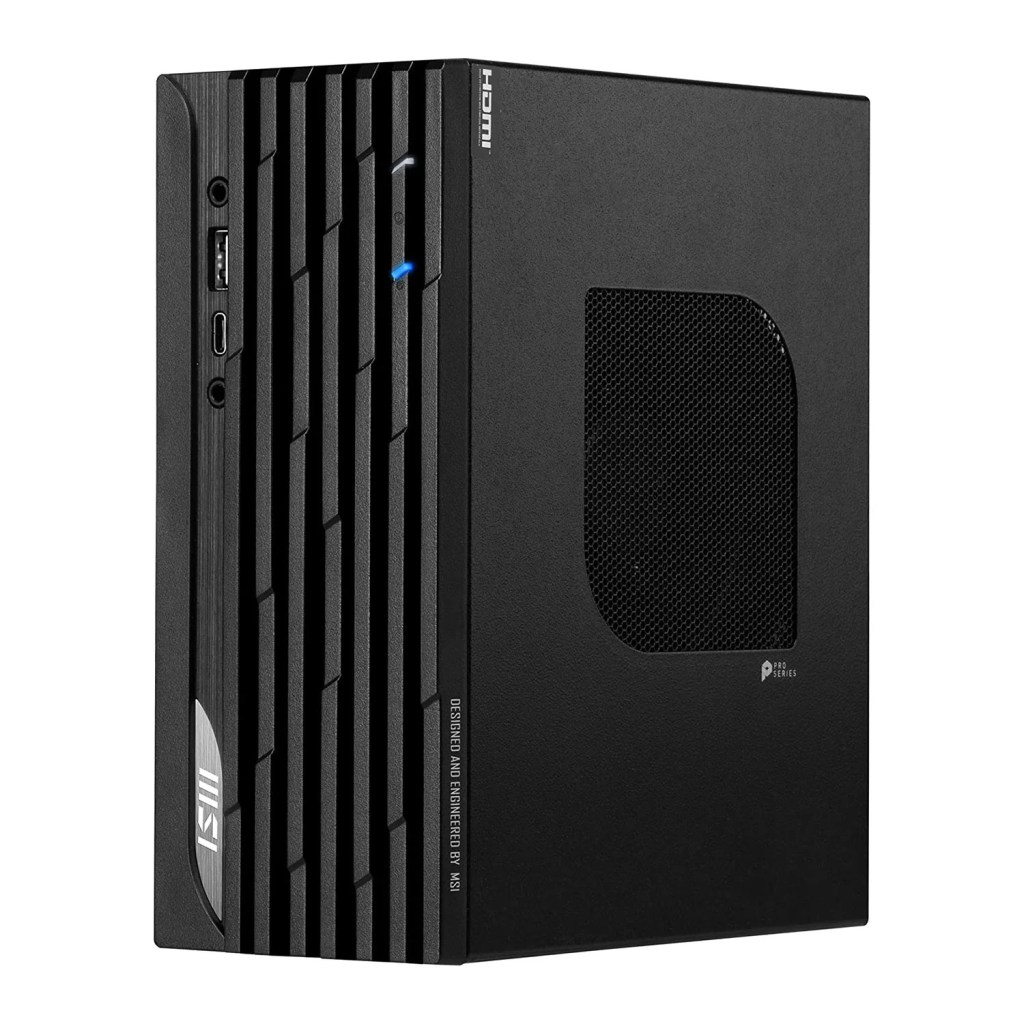 All rise for Ryzen
Despite its small size the MSI Pro DP20Z has the power for tough jobs like video editing too. It's available with CPUs up to the 8-core Ryzen 7 5700G, and can fit up to 64GB of RAM. That Ryzen 7 even has enough power to keep you entertained long after the work day has finished. It's able to breeze through Fortnite and play recent blockbusters like Resident Evil: Village at a smooth frame rate.
Prefer not to see the PC at all? No problem, you can mount it onto the back of your monitor using a standard VESA small form factor PC attachment.
Connect a wireless keyboard and mouse using the MSI Pro DP20Z's baked-in Bluetooth 5.1 connection and you'll have a supremely slick work surface ready to be ruined by crisp crumbs and work detritus, rather than tech.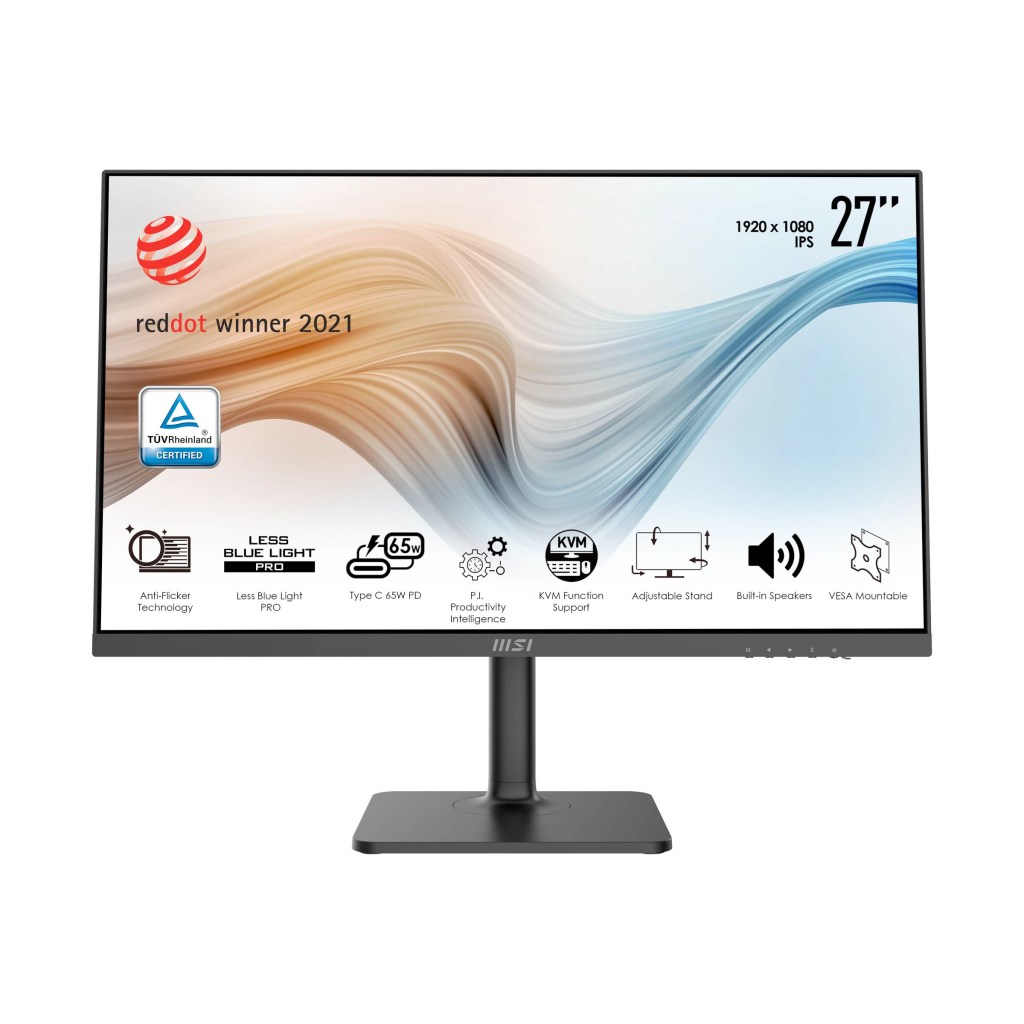 Eyes up
But what monitor should you choose? MSI also has you sorted there. Its MSI Modern MD272P is an affordable 27-inch Full HD IPS monitor that has everything you need for productivity bliss.
The number one priority is something you may not guess: adjustability. You can spend £1000 on a fancy office chair and still end up with neck pain because your monitor is not set up properly.
An MSI Modern MD272P can be lifted up by 110mm, twisted +/- 30 degrees on its base, tiled back 20 degrees or forwards 5 degrees, and be whipped around by 90 degrees for use as a portrait display. We can't stress enough how important it is to get your monitor placement right if you intend to spend hours a day looking at a screen.
The MSI Modern MD272P offers a stack of other comfort features too. MSI's Anti-Flicker tech avoids the rapid brightness modulations seen with a PWM backlight. Most people wouldn't notice this with the naked eye, but it's part of the reason staring at a monitor can tire your eyes out, and it may also cause eyestrain and headaches. They should not be not a problem here.
MSI's Less Blue Light Pro mode works with Anti-Flicker to keep your eyes comfortable through a full work day. It reduces the blue light output of the display because that light, again, increases fatigue and eye strain. Unlike other blue light-zapping modes, Blue Light Pro avoids an overly warm colour tone by rebalancing other shades to make the on-screen image look more, well, normal. All of these features are certified by TUV Rheinland.
A 75Hz refresh rate also makes the Windows interface scroll by more smoothly than a standard 60Hz monitor.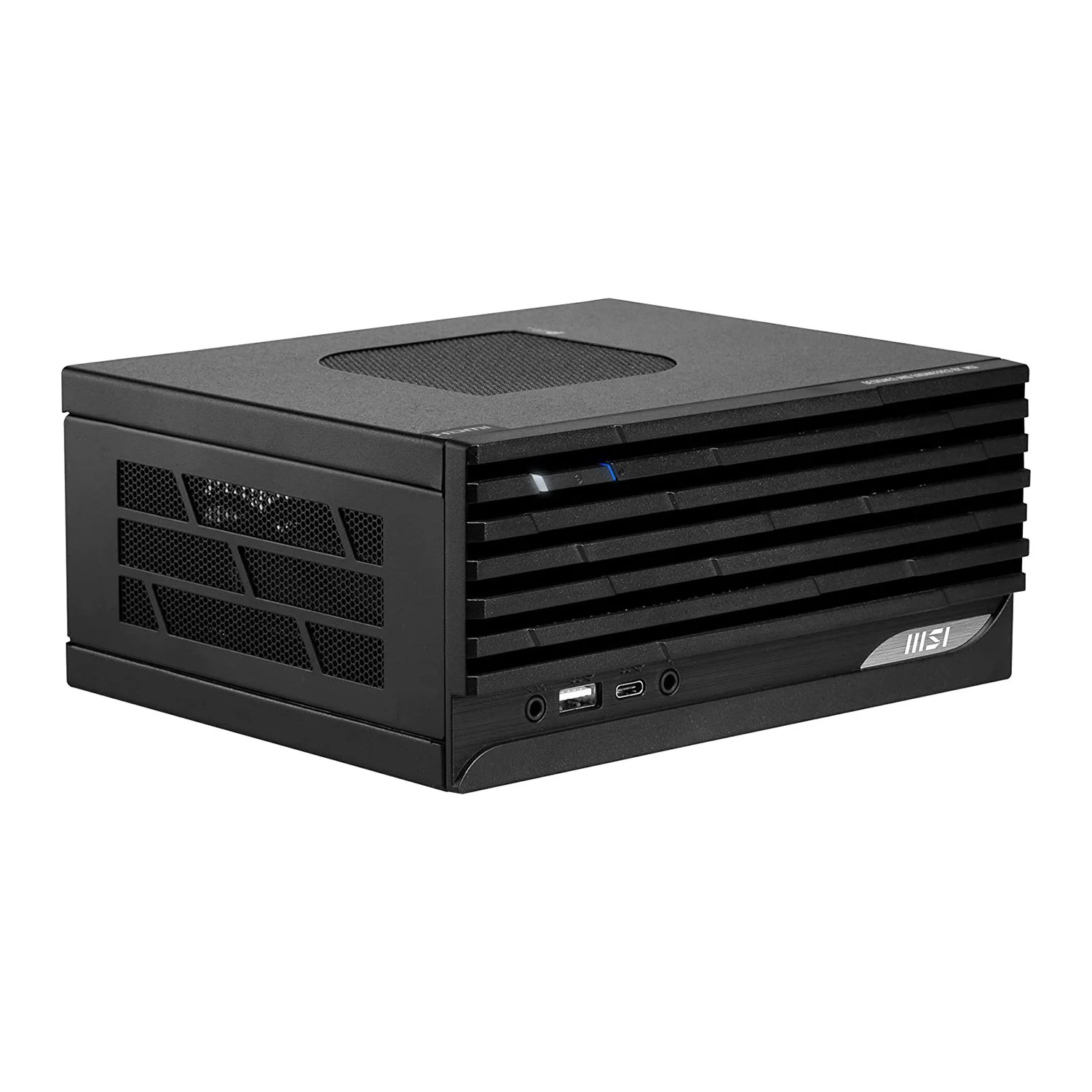 Future-proofed
Happy eyes, posture sorted, desk clear: an MSI Pro DP20Z plus MSI Modern MD272P monitor combo offers all the basics of a healthy home office. But there's more too.
You can hook the MSI Modern MD272P monitor up to two sources, like the MSI Pro DP20Z and the laptop you use when out and about. You can flick between them with a keyboard shortcut, and even use the Split Window mode to display the feed from both sources at the same time. A USB-C connector with 65W power delivery will keep your laptop charged while plugged-in too.
MSI lets you flip-reverse that scenario. The MSI Pro DP20Z small form factor PC can connect up to three monitors at once for the ultimate desk setup.
Persuaded yet? The MSI Pro DP20Z starts at £299 ex VAT for the barebones model, but for the easiest life pick one up with an AMD Ryzen SoC, RAM and SSD preinstalled. The MSI Modern MD272P is available for around £249.99 online. Check them out at MSI's site.