Withings Steel HR review
Digital smarts, meet analogue style - Withings does the double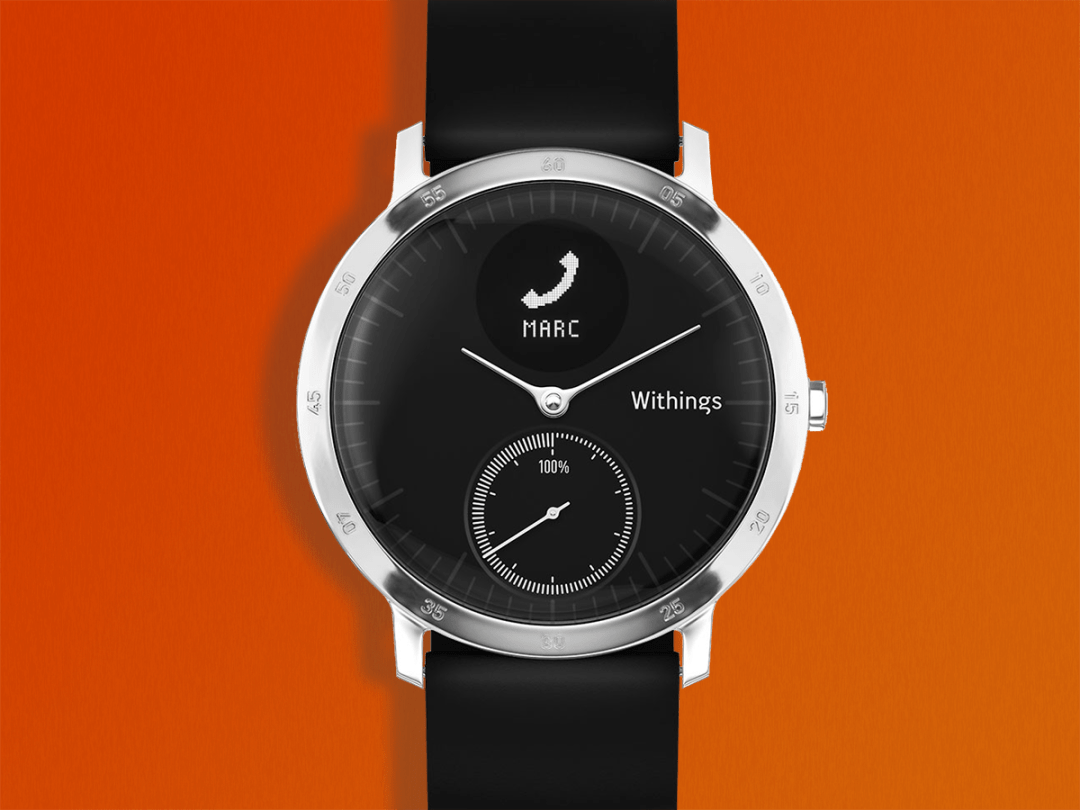 Complication – it's a funny word. Unless you're hearing it at the doctor's surgery.
In watch-speak, though, it's decidedly less panic-inducing. Here, complications are those tiny little bonus dials dotted around the main watch face on a chronograph.
I'm probably going to be using that word a lot in this review. It's the crux of Withing's incredibly slick Steel HR – an analogue smartwatch with decidedly digital innards.
It takes everything we loved about the Activité Pop, sticks it in a stainless steel chassis, and adds an LCD complication for notifications, exercise tracking, and pretty much everything else you'd hope to find in a wearable.
With slick yet subtle looks, plenty of fitness-friendly features, and almost a month-long battery life, I'm struggling to find anything not to like.
TOUCH OF CLASS
The Steel HR doesn't look all that different from last year's Activité Steel, which was already one seriously good-looking smartwatch. You get the same slim stainless steel case, only now it's got numbers etched around the face for easier time-telling.
On my chunky wrists, the 40mm Steel HR looks just right – slimmer than just about every other smartwatch, and small enough not to demand attention when it peeks out from underneath a shirt sleeve.
There's a smaller 36mm version for daintier wrists, and it's available with a white watch face, in case black isn't really your colour. You'll save a tenner by going smaller, too.
It might be rocking a basic silicone strap out of the box, but quick-release pins mean you can swap it out for a different one easily enough. The larger watch takes 20mm bands, while the smaller one takes 18mm ones. Withings has a few of its own to choose from, including leather ones that'll match the classic looks perfectly.
Regular runners will probably want to stick with the standard strap – it's sweat-resistant, fastens securely and sits comfortably, even when you're getting hot and sweaty during exercise. That means you're covered for swimming or showering, too – the whole thing is water resistant down to 50m.
The whole thing is impressively light, too, at only 49g – you'll quickly forget it has a smartwatch brain underneath the timeless facade, and won't mind leaving it on at bedtime for sleep tracking.
IT'S COMPLICATED
At a glance, the Steel HR will tell you the time (kind of a must-have for any watch, really), and show how active you've been so far that day, courtesy of an analogue complication that slowly ticks up to 100% until you've reached your step goal. When the clock hits midnight, it ticks back down to 0, ready to start a new day.
So far, so basic, but it's the second complication where things get interesting. It's a monochrome LCD display, which blends in perfectly with the black watch face – you'll barely notice it until you switch it on with a press of the crown.
One tap will wake up the screen, showing the date and time. Keep tapping the crown and it'll scroll through different screens, showing your heart rate, exact step count, miles walked, and remaining battery life.
That's right: Withings has somehow squeezed an optical heart rate sensor squeezed into the Steel HR, along with an accelerometer – yet it's barely any larger than a regular analogue watch.
All this info flashes onscreen for a few seconds, just long enough to read, then the display shuts off to conserve power.
Pair the Steel HR to your smartphone and that screen will show notifications, too, with an accompanying vibration to get your attention. Right now, it only works with incoming calls, text messages and calendar appointments, which feels a little limited – but Withings told me that support for social media apps is in the works.
There's not enough room on-screen to actually read out messages, so you just get an icon and the name of the sender whenever a text comes through. Honestly though, that's enough to know whether to fish your phone out of a pocket, or ignore it and leave it for later.
For me, this is exactly what a smartwatch should do – gently remind you of what's happening on your phone, without trying to replace it altogether. Otherwise it sinks into the background, handling things like step and sleep tracking automatically.
SUPER STAMINA
The simple display is particularly kind on the Steel HR's battery, too. Worn every day, you'll easily hit three weeks between charges – that's ten times the lifetime of most Android Wear watches.
That's if you're using continuous heart rate monitoring, too. Stick to basic step tracking and you'll last even longer away from the mains. Impressive stuff.
It's a shame the magnetic charging dock is so fiddly. The magnets aren't all that strong, and there's no clear way to tell when you've lined up the charging pins properly. The watch is easy to accidentally knock it out of place, too. Good job you won't be charging it very often, then.
If you do end up taking it for a run, the Steel HR holds up well against dedicated fitness watches. Hold down the crown for a second or two and it'll start tracking; hold it again when you're finished and the results get synced to your phone.
Heart rate monitoring was very accurate, with results that were almost on par with a chest strap. Not bad at all for a wrist-based wearable that looks more suited to the boardroom than the running track.
Just keep in mind that there's no GPS – even if you bring your smartphone along for the ride.
Withings' Health Mate app is comprehensive enough without it, though. The basic timeline view gives a brief run-through of your day, and you can dig down into each activity to get distance, heart rate, or step counts. Add a Withings smart scale and you can get automatic weight tracking, too – handy if you're trying to shift a few pounds.
WITHINGS STEEL HR VERDICT
With its combination of analogue hands and step tracking, and a digital display for notifications and extra detail, I think the Steel HR absolutely nails what I want from a smartwatch.
It's easily one of the best-looking timepieces I've worn all year, and I don't just mean smartwatches: the Steel HR can stand proudly alongside regular watches too.
OK, so it might not be as comprehensive as an Apple or Android Wear watch, but that digital complication is perfect for calendar, call and text alerts, and it still does all the fitness-friendly extras you'd expect.
Even with limited support for notifications from third party apps right now, the Steel HR earns a well-deserved five stars. If you've not liked smartwatches before, be prepared for this to change your mind.
Tech specs
| | |
| --- | --- |
| SCREEN | analogue face w/ monochrome LCD digital complication |
| FEATURES | automatic sleep tracking, step tracking, continuous heart rate tracking, smartphone notifications |
| SENSORS | accelerometer, optical HRM |
| CONNECTIVITY | Bluetooth |
| BATTERY LIFE | 25 days (average) |
| DIMENSIONS | 39.5×39.5×12.5mm, 49g |
Stuff Says…
Combining style and functionality in a way few other smartwatches manage, the Steel HR is a fantastic all-round wearable. Shame notifications are a bit limited, though.
Good Stuff
Sublime looks
Fantastic stamina
All the fitness tracking us mere mortals need
Bad Stuff
Notifications limited to old-school SMS
Only basic smart functions
No GPS for exercise addicts