Withings Activité Pop review
Is the Activité's baby brother the perfect package of step-tracking smarts?
A gorgeous mug is rarely a clever one. Aside from the unrivalled Bonnie and Clyde, few things do the double of prettily packaged killer smarts.
The same goes for wearables. Fancy a wrist-wrapper to track your moves? One that's slim-and-light yet fat on features? It'll be a tough search.
Take one look at the watch industry and you'll see just how tricky designing attractive wristwear is, and that's without cramming in step-tracking, sleep-sensing and dietary smarts. This explains why trackers often aim to be good-at-one-thing instead of taking a Jack of all trades approach to fitness, and the Withings Activité Pop is no exception.
A cheaper alternative to the standard Activité, it's a traditionally-styled ticker with an analogue approach to activity tracking. Can its go-anywhere abilities and sleek style make up for more limited tracking tech than its competitors? Read on to find out.
Stellar styling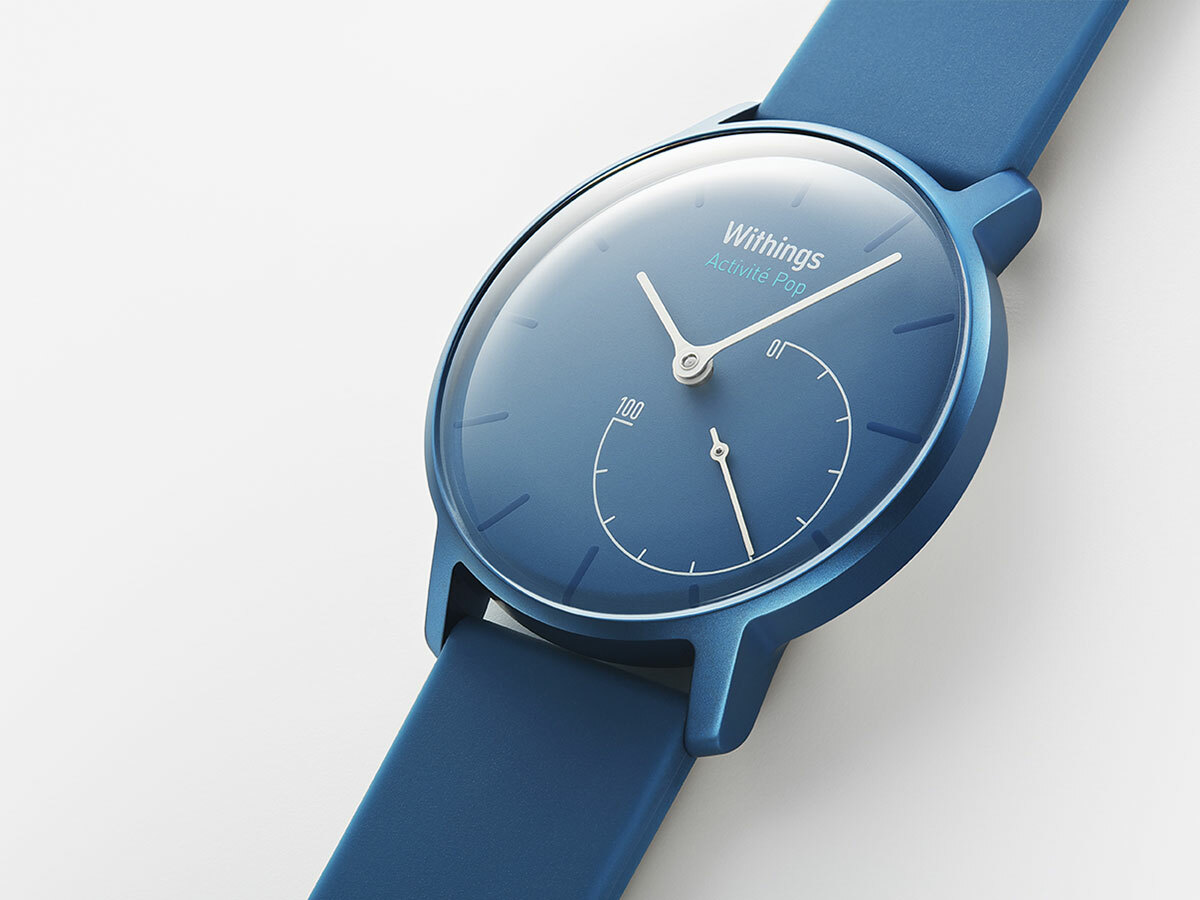 What hits you first with the Pop is its distinctive styling. Sure, we've seen tracking bands-with-hands before, but Withings has done a stellar job on the Pop.
Its frontage is pleasingly uncluttered, pushing clean lines and pared-back brilliance. With so many trackers lacking time-telling functionality, Withings has performed quite the coup by basing the Activité Pop around its clock.
As just a watch, it's a striking piece of kit – even though its silicon strap lacks the premium feel of its older Activité sibling. The coloured fascia back-plate makes for great contrast against the white hands, whilst the body itself is barely thicker than a standard time-teller. Throw in that subtle, analogue activity target hand in the bottom-right and you've got a timeless tracker for the 21st Century.
The best news for those of short-term tastes? The straps are interchangeable, meaning you can clip in new colours, or, in theory, have one custom made.
Will last for miles and miles and miles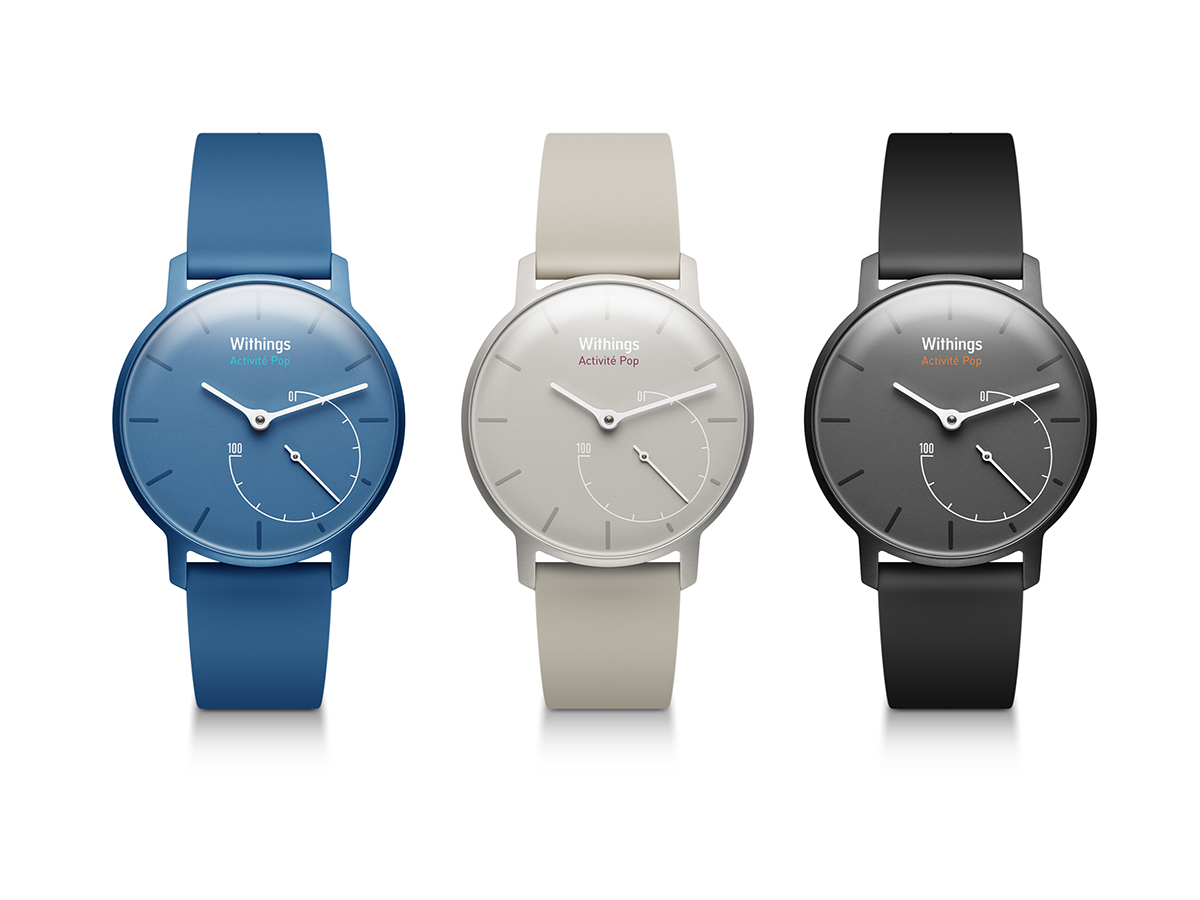 The Pop is a real looker, so much so that you'll want to wear it wherever you go. Thanks to proper waterproof packaging (good down to 50m), you can.
Jump in the shower or dive in for a dip and you needn't worry. The Pop's clasp is plenty sturdy and the frontage feels like it could take a good bump before breaking.
Even better, you won't have to un-strap every second day. Sticking with its wish to be watch-like, Withings has packed the Pop with a battery that's supposedly good for 8 months. Admittedly, we didn't test it for that length of time, but this tracker will definitely stick with you for weeks on weeks of wearing.
Does it reward that commitment? In the step-sensor stakes it most certainly does. Accuracy is hard to measure concretely, but its step totals matched up with the average amounts reported by other units we tried and was far less prone to proclaiming phantom strides than some competition.
With your target set in-app, you can treat the Pop like a normal watch as you toddle around town. Have a glance at lunch time and you'll see that activity-chrono showing you're halfway there.
OK, so it doesn't give you a boot up the bum: despite its name and styling, subtlety is without question the Pop's forte. It's a tracker, not a trainer. That said, there's something immensely satisfying about trying to make an analogue hand reach the end of its three quarter loop.
What about running?
Where does fast-paced fun feed in? Well, the Pop will automatically detect more vigorous movement and log it as running, meaning you won't miss out on credit for that desperate dash to the bus stop.
Those waterproof smarts also mean automatic swim-tracking – and it generally works really well. Because in-pool strokes have distinctive arm movements, the Activité Pop is clued-up on recognising acqua algorithms and splashing actions.
For multi-sport movers, though, that's the limit. Unlike other on-wrist offerings, there's no sport-spotting mode in the app, nor can you edit detected activities after the fact. Instead, you have to live with the fact that it'll track a weights session or ab-burner as a figure of steps.
This might sound frustrating, but, once you've got over not having precise data for every dumbbell curl and diving tackle, we actually found it to be a much purer pavement-pounding experience. Your focus becomes the activity hand: getting it to turn to target, even if some of your 'steps' were actually sit-ups, is what makes you move.
Simple app smarts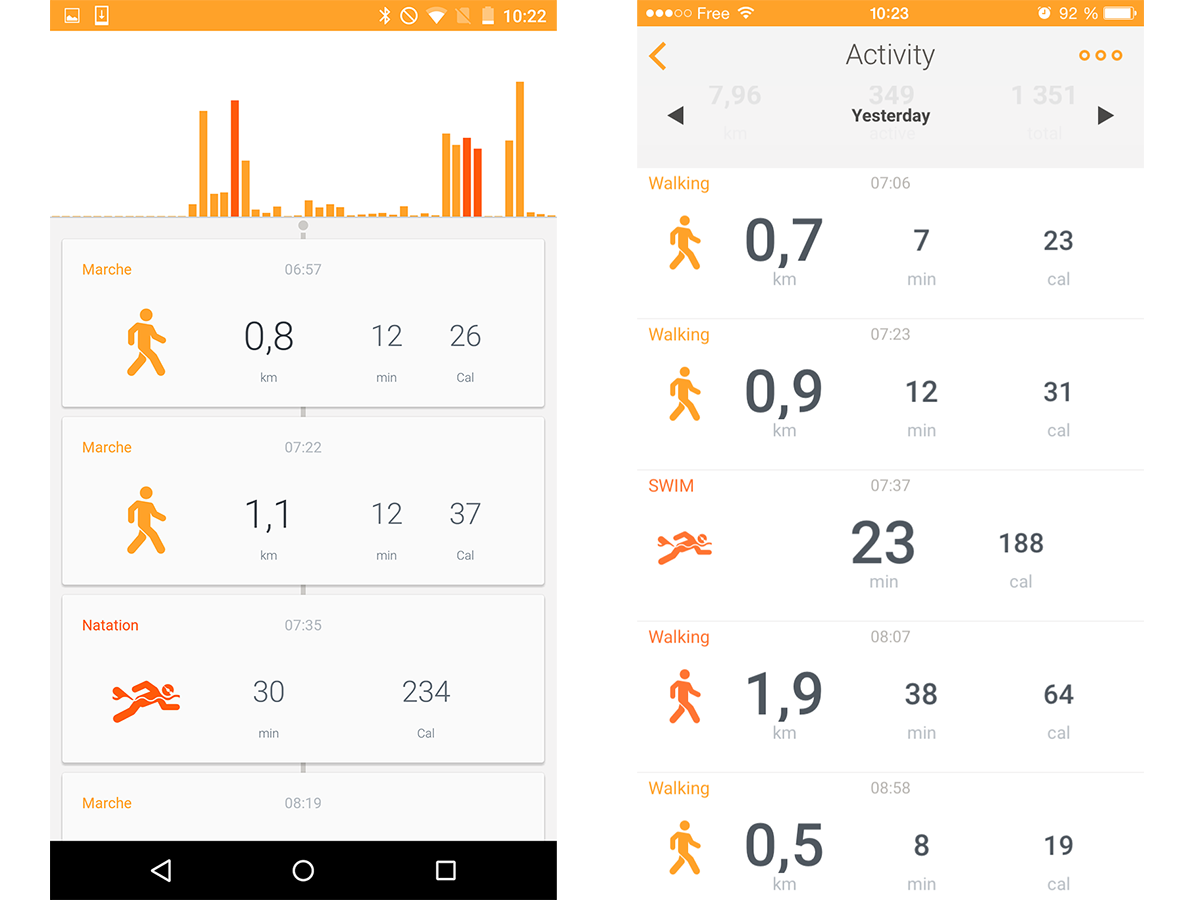 In fact, the automatic-sensing of the Pop is a real plus. There's no need to brace it for bedtime or ready it for running, which only adds to the feeling that this is a wearable you can really live with.
If anything, its lesser tracking smarts play to that same tune: there's no feeling that the Pop is overloading you with data. Fire up the Health Mate app and you'll be greeted by a simple display of your current step count and what percentage that is of your daily goal, auto-synced from your Withings. Below is a timeline of previous activity, alternating between sleep hours and daily strides. It's simple, and it works.
Tap the top and you'll get more in-depth stats: distance travelled, calories burned and a breakdown of your bounding (or lack thereof). For sleep, it'll shed light on your after-dark activities, from the depth of your slumber to the number of times your shut-eye was disturbed. It's alarmingly accurate, but only if you look for it.
This is all very much in-theme with the easy-going approach of the Pop.
Get fit with friends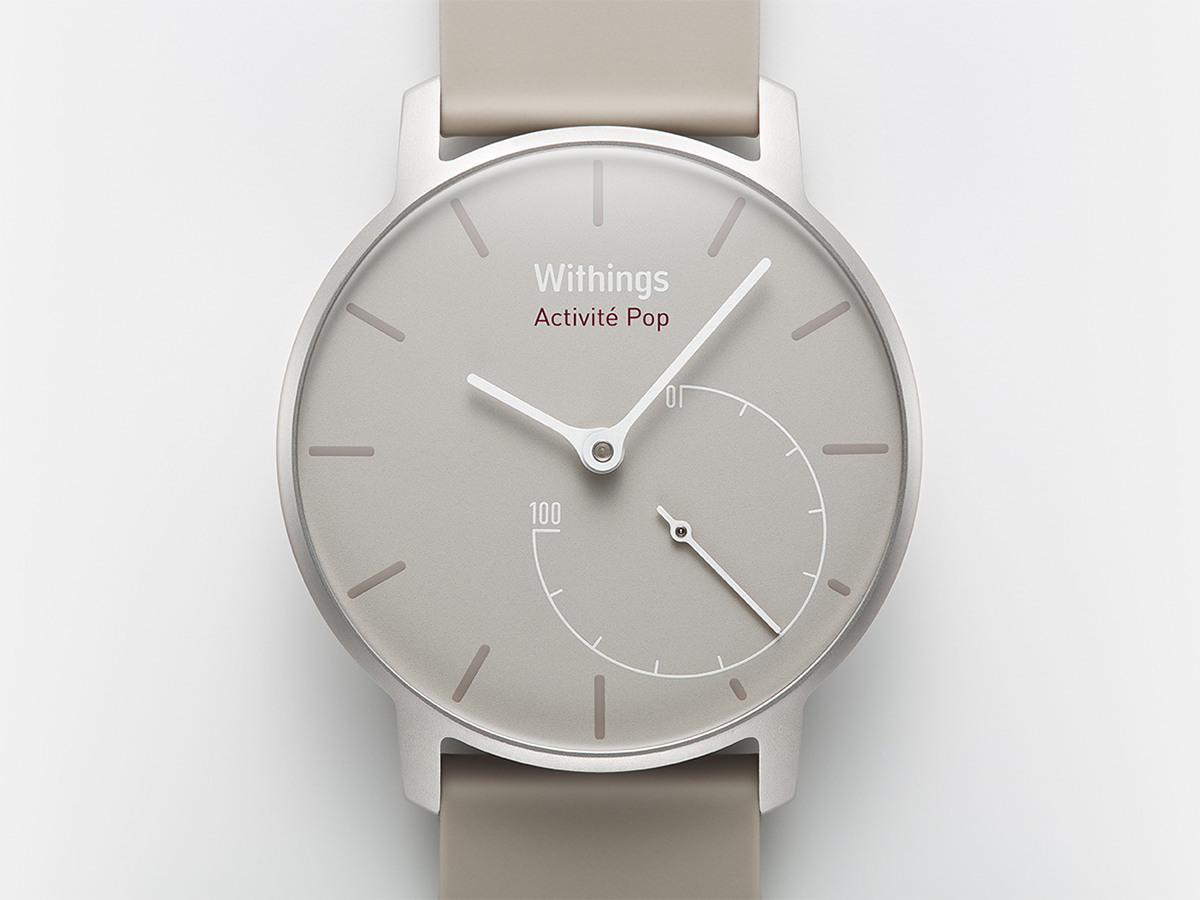 There are some nice extras in the app, too, with dinky badges to earn as you hit day and lifetime distance goals – though these feel more like activity add-ons than meaningful motivators – alongside target notifications that actually get you going. You can't input diet decisions, but weight updates are an option and are especially easy to input if you have a set of Withings' Wi-Fi scales.
Better still is the Friends functionality: add fellow Pop-owners and start a leaderboard with a rolling weekly challenge for step superiority. This is a nice change from social sharing and over-complicated challenges.
As for the all-important ticking tech, paired with your phone the Pop will auto-set its time, with the vibration alarm also adjusted in-app.
The one frustration we've encountered with the Pop is getting it to show the set alarm time. Supposedly a double tap on its face shifts the hands to the time you'll be awoken but, whilst this does work sometimes, there are times that it refuses to respond no matter where you tap. This can also be a real annoyance of an issue when trying to get the alarm itself to deactivate.
Withings Activite Pop verdict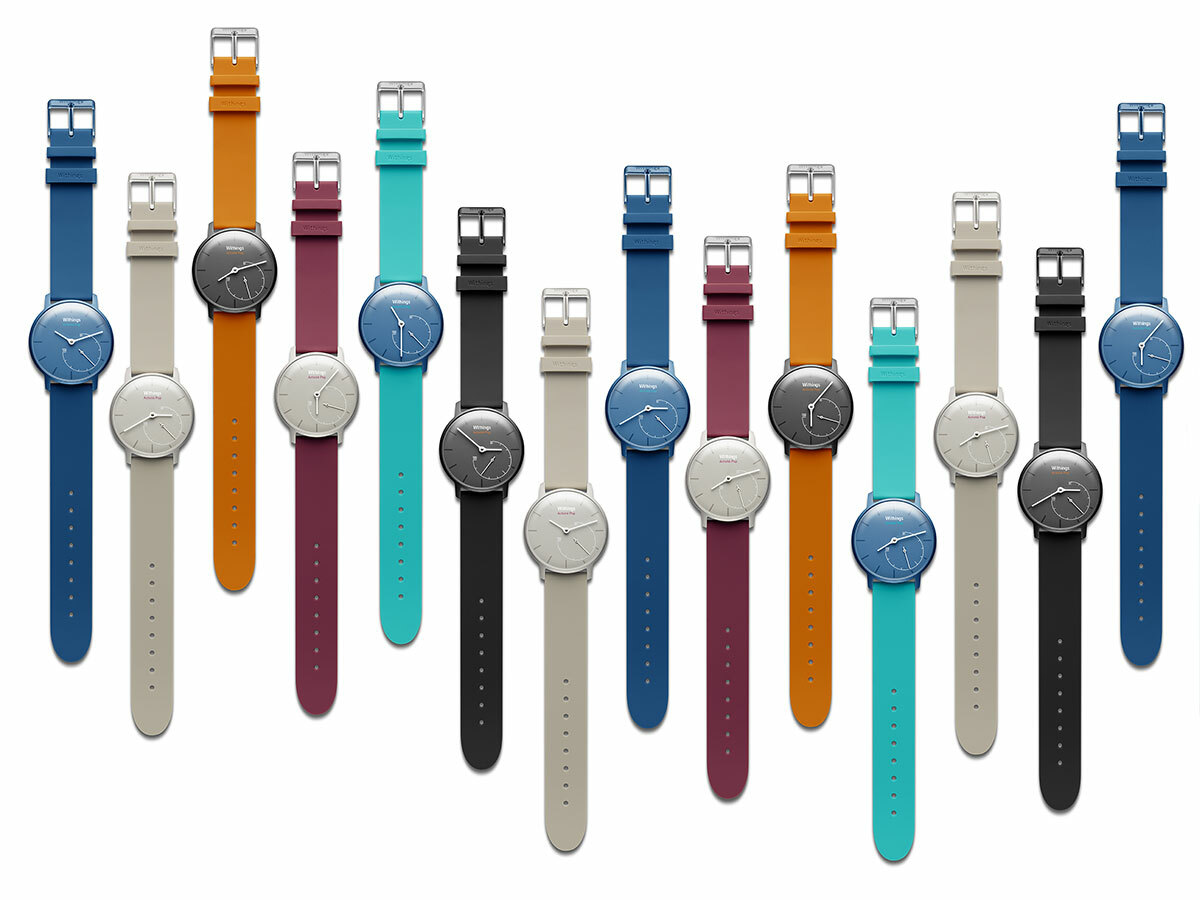 Is the Pop perfect? No. For many people, it'll seem like an over-priced pedometer in a traditional case.
But the Pop is a fantastic fitness friend to live with 24/7. With a battery that lasts for a genuinely useful length of time, plunge-proof packaging and a simple step-sensing interface, it's a straightforward tracker that you're happy to take anywhere.
Add to that a well-designed app and styling that stands out, and you're left with a watch that packs enough smarts to satisfy most movers and shakers. It'll never be a sports watch, but it'll shift you in style.
Buy the Activite Pop here from Withings
Stuff Says…
A sleek step-tracker for those of simple tastes and sophisticated wrists
Good Stuff
Beautiful traditional design
Properly waterproof
Brilliant battery life
Bad Stuff
Double-tap alarm interface is hit-and-miss
Cheap-feeling stock strap
Basic activity tracking options