Ultimate Lightning McQueen by Sphero review
A technologically advanced remote control car in search of a better controller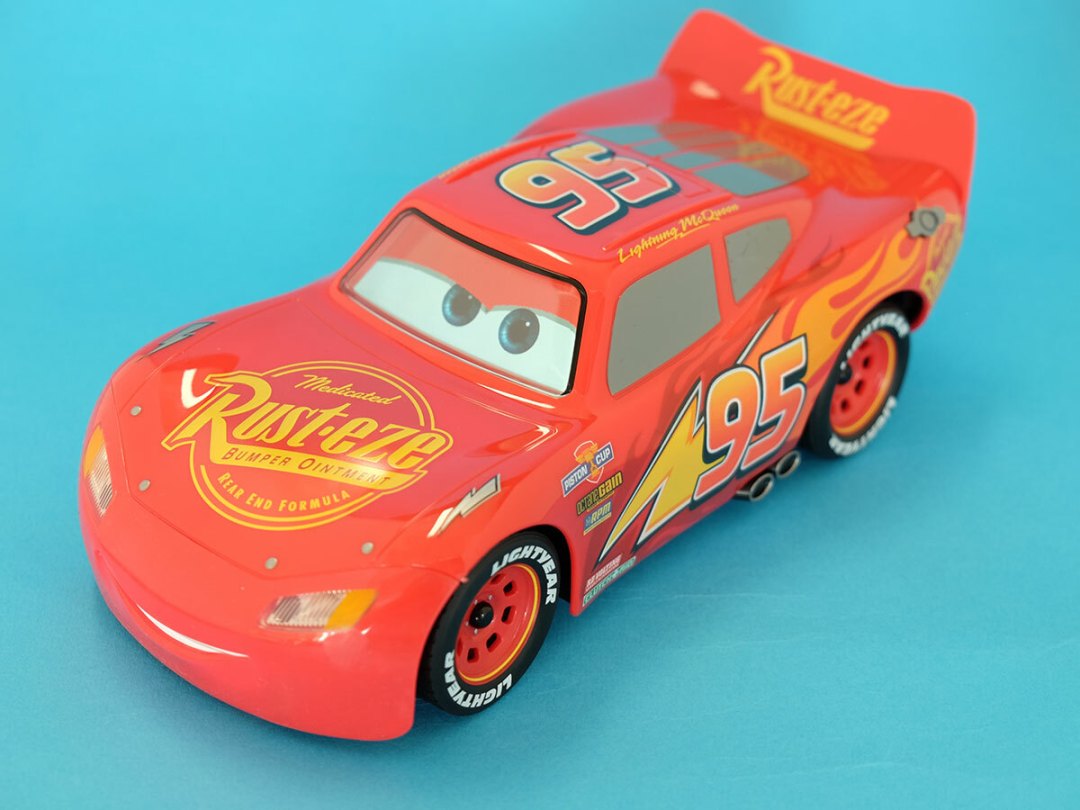 Cars might not be Pixar's most popular film with critics, but it's a licensing juggernaut, notching up over US$10bn in merchandise to date.
Among adults, the likes of Buzz Lightyear, Nemo and Wall-E are arguably more recognisable. But kids LOVE Lightning McQueen and co.
Of all the Cars toys released to date though, none of them have captured the character quite like Ultimate Lightning McQueen by Sphero.
This remote control car does a phenomenal job of matching the physicality, mannerisms and movement style of the animated character.
It helps that the car has been voiced by Owen Wilson himself, but there's also some incredibly smart technology under the hood. Sphero calls it the most advanced remote control car ever made, and it's difficult to argue with that statement.
As well as being one of the most advanced remote control cars ever made, though, it's also one of the most expensive, at a penny under £300.
On top of that, you also need an Android or iOS device to control the car – there's no remote included in the box.
Is it worth the asking price if you've got a Lightning McQueen-obsessed nipper? Let's find out.
PEDAL TO THE METAL
Ultimate Lightning McQueen makes a great first impression. He's immaculately presented in a shiny foil-covered box, and looks more like a collector's item than a children's toy. Once you open it up, though, you'll find there's not much actually inside there, apart from the car, a manual and a charger.
It's clear, though, that this is a premium item as soon as you open it. The wheels are protected by small plastic clamps, and the accessories slide neatly out of a drawer underneath.
As immaculate as it is, however, we can't help but feel like Sphero could have gone even further given the price. We'd have loved to have seen the packaging come in the form of the Mack truck, from which Lightning McQueen would roll out, just as he does in the movies.
Your first interaction with Lightning McQueen is a frustrating one. Sphero tells you to plug in the car and wait 30 minutes for him to charge up. Yes, the Christmas Day tradition of unwrapping your favourite present and then not being able to play with it right away is alive and well.
It's here that you discover Sphero's first attention to detail though. The charging port is accessed by pulling on the car's fuel cap. And when you plug him in, everything starts to light up and begin moving.
Sphero has done a phenomenal job at mimicking Lightning McQueen's characteristics in toy form. He moves up and down thanks to motors in the front wheels. His mouth moves, and speaks lines voiced by Owen Wilson. And his eyes are animated thanks to an LCD screen in the windshield.
It's not just any old LCD screen, either. Sphero has used a trapezium-shaped screen to perfectly match the shape of McQueen's windshield from the films.
In fact, there's advanced tech all over this R/C car. There are four touch-sensitive panels along the side, bonnet and roof, and when you touch them, McQueen moves up, down, and side-to-side.
Once he's charged, he'll also say his favourite catchphrases like "ka-chow!". He does this through a speaker within the car, and his mouth moves as he's talking.
All of these things combine to truly bring the character to life, and Cars fan or not, it's impossible not to feel affection for the little guy.
HERE IN MY CAR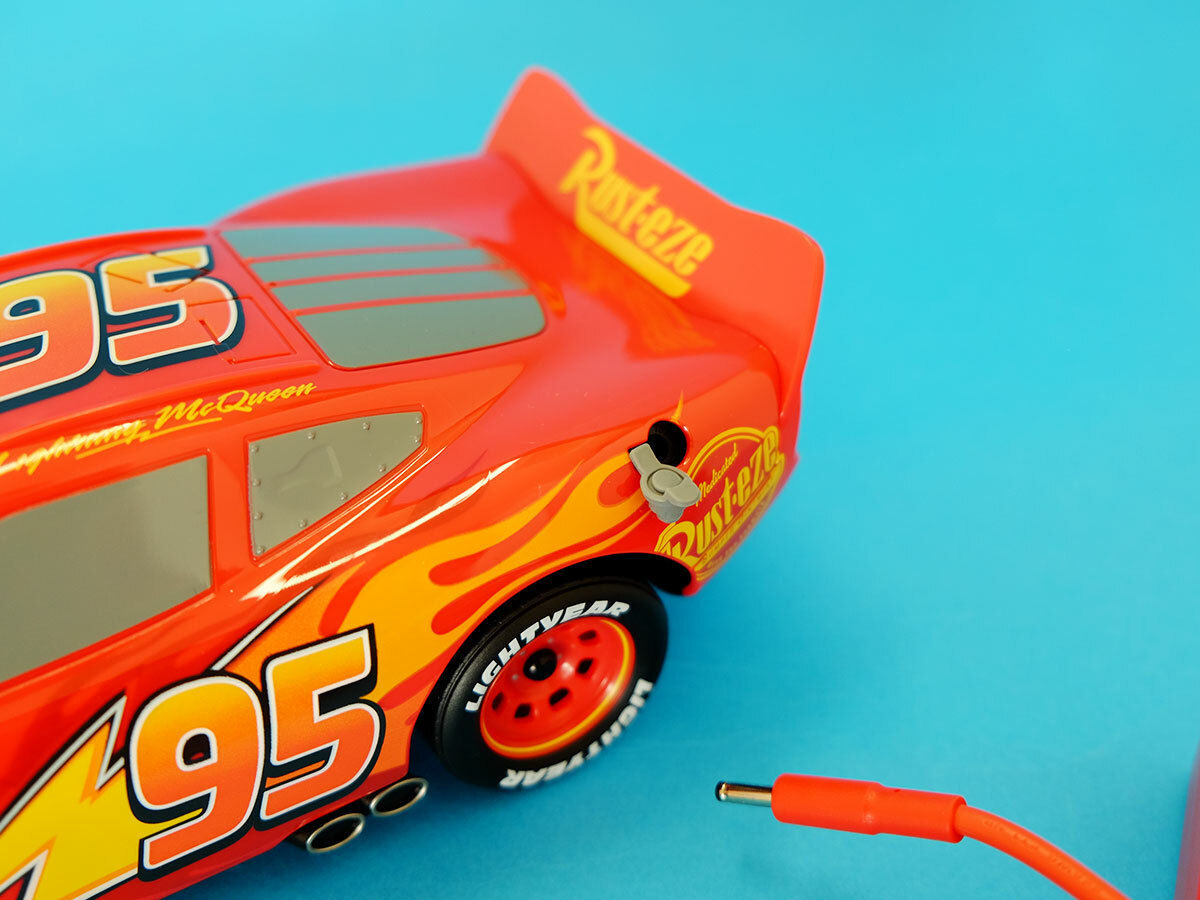 Lightning McQueen doesn't come with a remote control; it's all done through an Android/iOS app.
The recommended age for the toy is 8+, so there's a good chance those kids will have access to such a device, but it's something parents need to bear in mind before buying.
The app itself is as slickly designed as the car – you press a button to "start the engine", you can turn the headlights on and off, and have McQueen spout his famous catchphrases on demand. However, in terms of actual controls, we found ourselves wishing we could just use a physical remote control instead.
First of all, you need to press a small button to orient the car when it's facing away from you, just so when you press "up", it goes forward. There are no instructions in the box or on the app to do this though – it's only because we met with Sphero that we were aware of this.
You use an on-screen joystick to control the car's movement in 360 degrees, which is simple enough. But if you want to reverse, you have to both hold a button down AND push the virtual joystick up or down. It's the same with boost and drift, which also have their own on-screen buttons.
All these on-screen buttons mean you have to constantly look down at the display to see what you're pressing, so you're constantly flitting your attention between two things at the same time. If you had a physical controller, you'd be able to just feel these buttons in your hand instead, and not need to look down at the screen.
Sphero's BB-8 also used an app for controls, but it was less of an issue there because you didn't need to be as accurate with a rolling ball. The thrill of racing a remote control car comes from making a tight turn, or weaving around objects in your house. It's difficult to do this using a phone screen, which makes it less fun as a toy.
There are some really nice features within the app itself though. You can queue up your favourite Lightning McQueen catchphrases and activate them as you're cruising around your living room. There's also a mini-game where you work in the pit stop during a race, equipping cars with the right oil and wheel changes within an allotted time.
The aim is to play this game to unlock extras, although these weren't activated in the pre-release version of the app we were using. You'll also be able to put the car into viewing mode for when you're watching one of the Cars movies on your TV. Lightning will listen in and react to what's happening on-screen, but we were unable to test this feature at review time. We're told support for Cars 2 and Cars 3 (out in cinemas this summer) will come further down the line.
GREASED LIGHTNING
Aside from looking like the animated character, Ultimate Lightning McQueen moves like him too. He leans into corners and performs drifts with ease, particularly if you're racing on a hardwood floor. He's slower on carpet though, and if you hadn't guessed already for such an expensive and technologically advanced car, he's unsuitable for use outdoors. He's well built though, and didn't take any cosmetic damage from the numberous bumps and crashes we put him through. The rubber fuel cap did break within the first 24 hours though, and it was generally fiddly to take in and out.
Lightning doesn't feel particularly fast, even when he gets up to 6mph in boost mode. We found Sphero's stated range of 30m to be optimistic – racing him around our office, we got a disconnection warning on our iPhone 7 Plus at around 15m. He uses Bluetooth, so it could have been interference from other devices, but it still felt fairly limited.
The battery life of 40 minutes is good though, and you can set him to charge while sleeping. It would have been great if he could charge over microUSB, but he uses a proprietary connection, so you'll need to remember the bright red charger if you're taking him away from home.
Sphero Ultimate Lightning McQueen verdict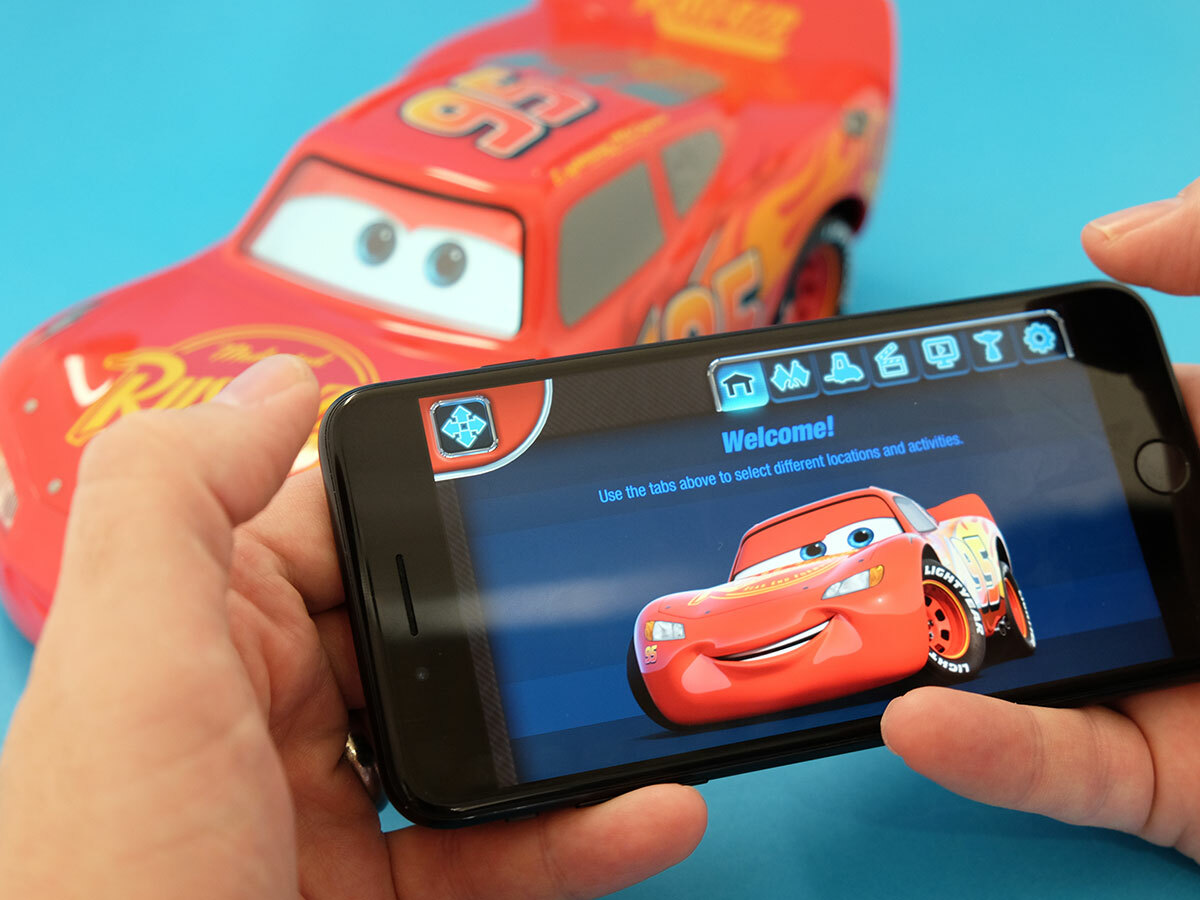 Ultimate Lightning McQueen by Sphero uses technology and design to brilliantly recreate the character in toy form. When you first see him switched on, it's impossible not to fall in love with the little guy – it's like he's been plucked from the movie and brought into the real world.
However, controlling the car using the app feels cumbersome, and we longed for a proper remote control. There's also not much to do once you've driven him around a couple of times – there are limited challenges to complete in the app, but like many toys, he becomes boring all too quickly.
What you're left with is a very expensive R/C car, and one you can't actually do that much with. If your kids really love the Cars movie series, they'll love Ultimate Lightning McQueen, but if they're over eight years old, they'd probably prefer something you can take outside, or that has proper, accurate controls.
Stuff Says…
Sphero's latest toy makes a great first impression, but fiddly touchscreen controls spoil the fun
Good Stuff
Mimics Lightning McQueen perfectly
Fun to perform drifts and boosts
Sturdy construction
Bad Stuff
Requires a mobile phone for controls
Could be easier to drive
Doesn't go that fast