THEA500 Mini review: Commodore's Amiga returns after a hot wash
Amigo or Amigaaaaahh? This one's a bit of both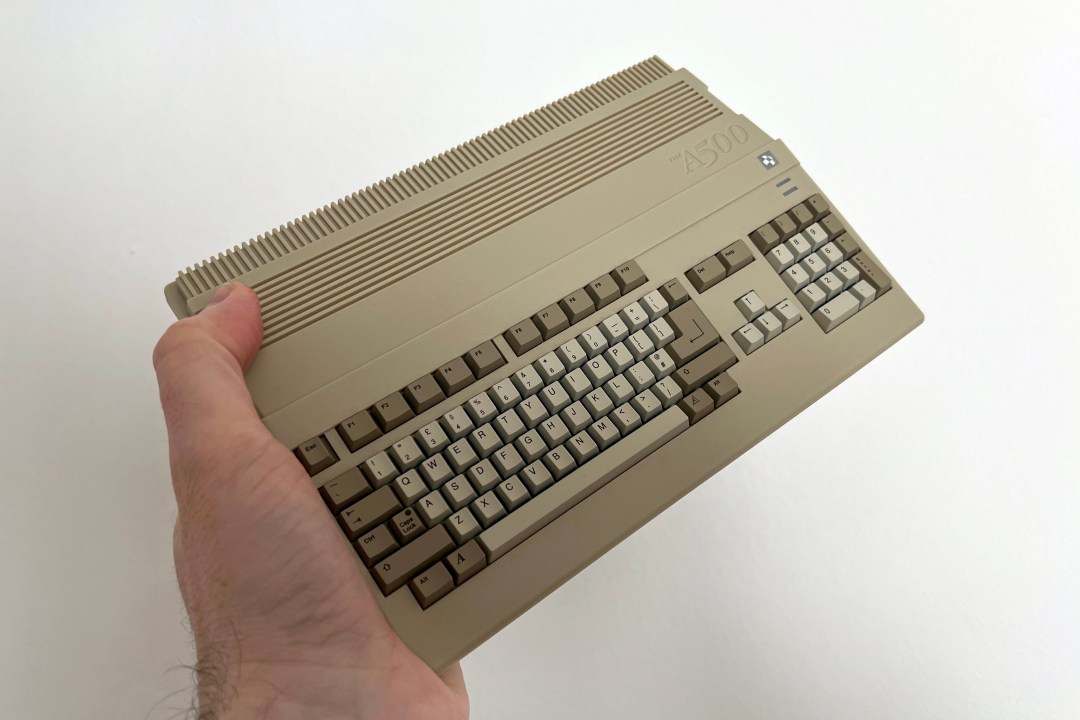 A miniature Amiga? Sure, why not? After all, we've already had a diminutive NES, SNES, Mega Drive, PlayStation and C64. So now here's Commodore's seminal 16-bit machine, put through a hot wash, with 25 pre-loaded titles to convince us games were better in the old days.
The thing is, the Commodore Amiga was a bit special. The leap in visuals over 8-bit systems was eye-popping at the time, and the machine appeared before developers had their imaginations worn down due to the demands of consoles and major publishers. That, along with the Amiga being a computer, featuring a mouse and keyboard alongside games controllers, resulted in a diverse catalogue – a fair chunk of which still holds up today.
What's less impressive now is the original machine's design: a bland hunk of beige that's been faithfully recreated here in teeny-tiny form. As with similar products of its ilk, much of what you see is for show. So that miniature keyboard and disk drive slot don't work. The ports around the back do, though: HDMI out, USB-C for charging and 3x USB-A for plugging things in. But how does it play?
It's more fun to compute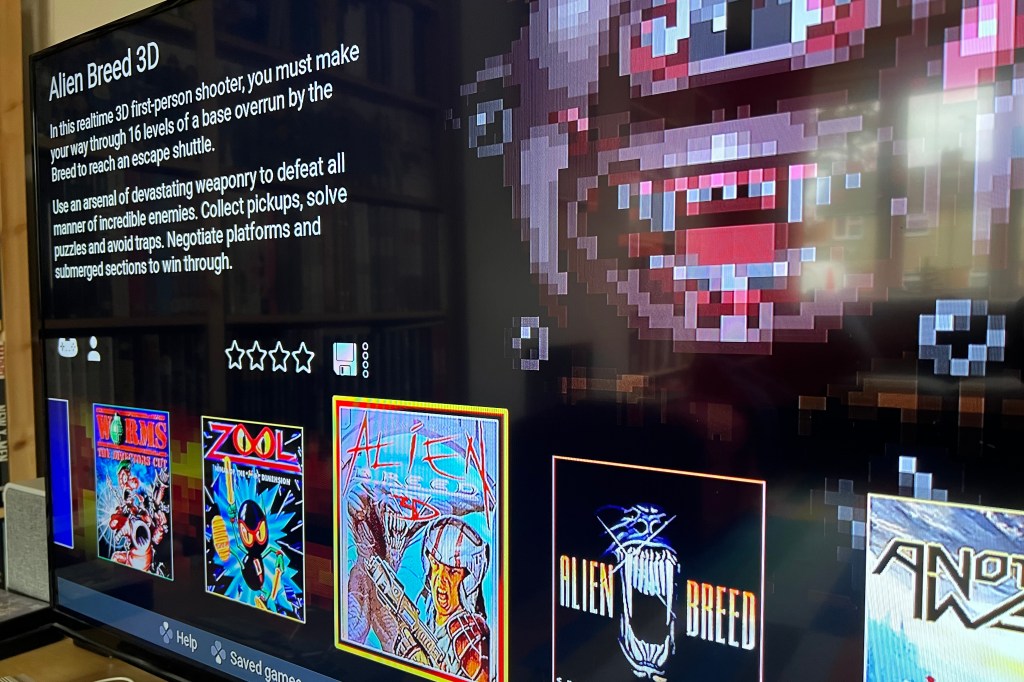 Easy does it: Amiga emulation remains a massive faff, but everything here just works. You can go from turning on THEA500 to losing 5-nil in Kick Off 2 in moments. Output is at 720p, emulation is accurate, and lag is mercifully minimal –a good job, given the twitchy and face-punchingly demanding nature of these old games.
Slots of fun: Credit to the folks behind the interface of THEA500 – it's top-notch. Every game, including those you add (more on that in a bit), has save states, so you can dig into a game for a short while and continue later. Built-in games get vibrant cover art and a means to peruse the controls before you play too.
Thumbs down: Consoles live or die on their controls and… we've got bad news. The Amiga's mouse has been replicated well, and you fortunately only rarely need the on-screen keyboard. The gamepad, though, is based on the Amiga CD32's and it's horrible – cramp-inducing to hold and nightmarish to find diagonals on. Boo.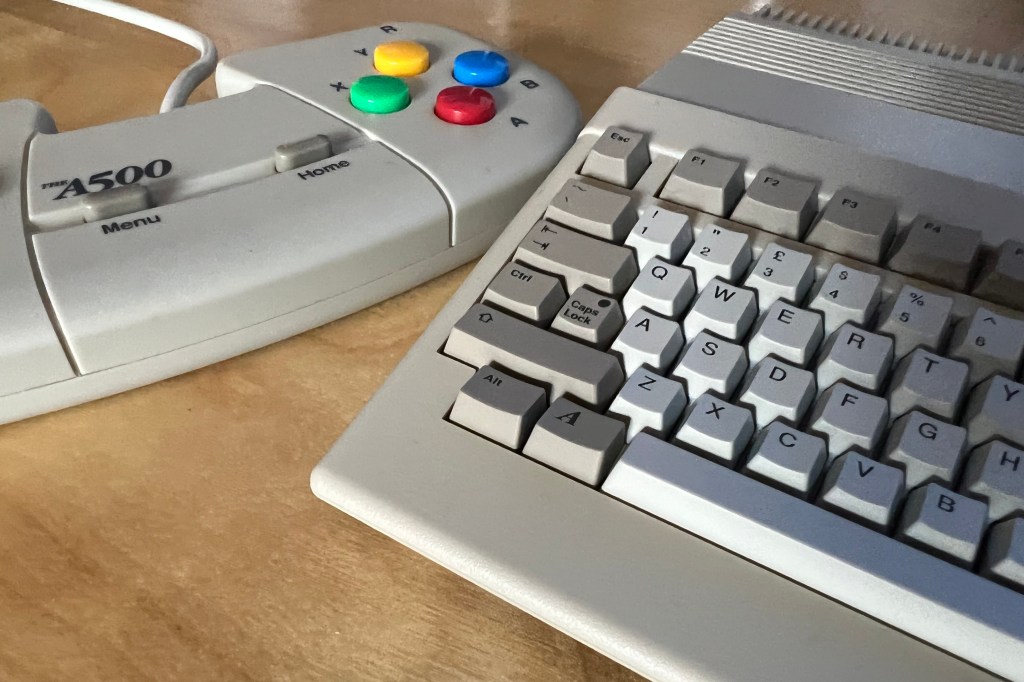 Plug and pray: Back in the day, joysticks were king, but Retro Games Ltd's awkwardly named THEJOYSTICK is also poor. You can connect third-party controllers to THEA500, but it's a lottery if they'll work. PlayStation/Xbox ones should. Our SNES-like 8BitDo ones resolutely didn't. Want a proper keyboard? Any USB one should do.
Roll your own: Most mini consoles don't want you messing around and loading your own games. THEA500 has no such qualms. Getting started's a faff, involving unzipping a download to a USB stick and finding LHA (not ADF) images of your old favourites (that you of course own original copies of). But when you do… YASSSS!
Game on
Unlike THEC64, which bundled a whopping 64 titles, you only get 25 here. Quite a few are rubbish and one is liable to start a fight: Kick Off 2, which Stuff helpfully suggested was the Amiga's Everton compared to the Man. City that was Sensi. Elsewhere, you can 'delight' in blocky Doom wannabe Alien Breed 3D, ancient flight sim F-16 Combat Pilot, and third-rate point-and-clicker Simon The Sorcerer. Oof. But before you drown your sorrows in back issues of Amiga Power, there is goodness to be found as well. Here are our top five titles on THEA500:
Stunt Car Racer: Stunning head-to-head racer that has you barrel along in nitro-injected cars, on tracks akin to roller coasters. The basic 3D visuals require you to use your imagination, but the chunky physics and track design remain spot-on.
Speedball 2: Another future sport, this time mixing up handball, Rollerball and armour-clad goons repeatedly punching each other's faces in. It's intense arcade action, with a smattering of management as you lead your hopeless team to glory.
Qwak: This one actually started life on the BBC Micro, but the souped-up Amiga version is much better. With echos of Bubble Bobble, its fast-paced two-player co-op platforming action feels like something out of the arcades. Superb fun.
Chaos Engine: Another co-op game, but approximately 97% less cute, Chaos Engine is a steampunk top-down blaster, where you shoot everything that moves, activate nodes, find exits, and keep upgrading weapons to do it all again.
Pinball Dreams: With lush 3D pinball games now even existing on phones, the notion of 2D tables might seem quaint. But Pinball Dreams appeals, due to its smart table design, lovely graphics, and trigger-based controls on the otherwise iffy bundled gamepad.
Verdict
Once you stray from mega-hit consoles, you're into odd territory with miniaturised classic hardware – and that's definitely the case here. THEA500 feels comparatively niche – and has too many problems to get a full-throated recommendation. The controller is poor, meaning you'll need to add your own. The games selection is middling – but at least you can add your own there, without resorting to hacking.
You might also argue you could instead use a Pi for Amiga emulation. And it's true: for the price of THEA500, you could grab a Raspberry Pi 400, all the requisite other bits, and probably end up with 20 quid in change to spend on Haribo. One quick Batocera install and you'll be immersed in Amiga bliss – and be able to play other systems too.
But that route has its issues. Beyond venturing into legally grey territory, it requires some time and effort. THEA500 is an instant hit, with fully licensed games. So if you're a greying computer gamer, looking to relive your youth, THEA500 Mini should do the trick – especially if you later bolster the meagre games selection with your own.
Stuff Says…
With a better controller (and more games), we'd add another star. Even so, we imagine THEA500 will make old Amiga fans happy enough. Even Kick Off fans.
Good Stuff
Solid emulation
Lovely interface
Can add your own games
Bad Stuff
Variable game selection
Third-rate gamepad
No power brick in the box