Tardis Speaker System review
Doctor Who's Tardis may be able to take you anywhere and anywhen in time and space, but for the first time ever it can play all your favourite tunes, too.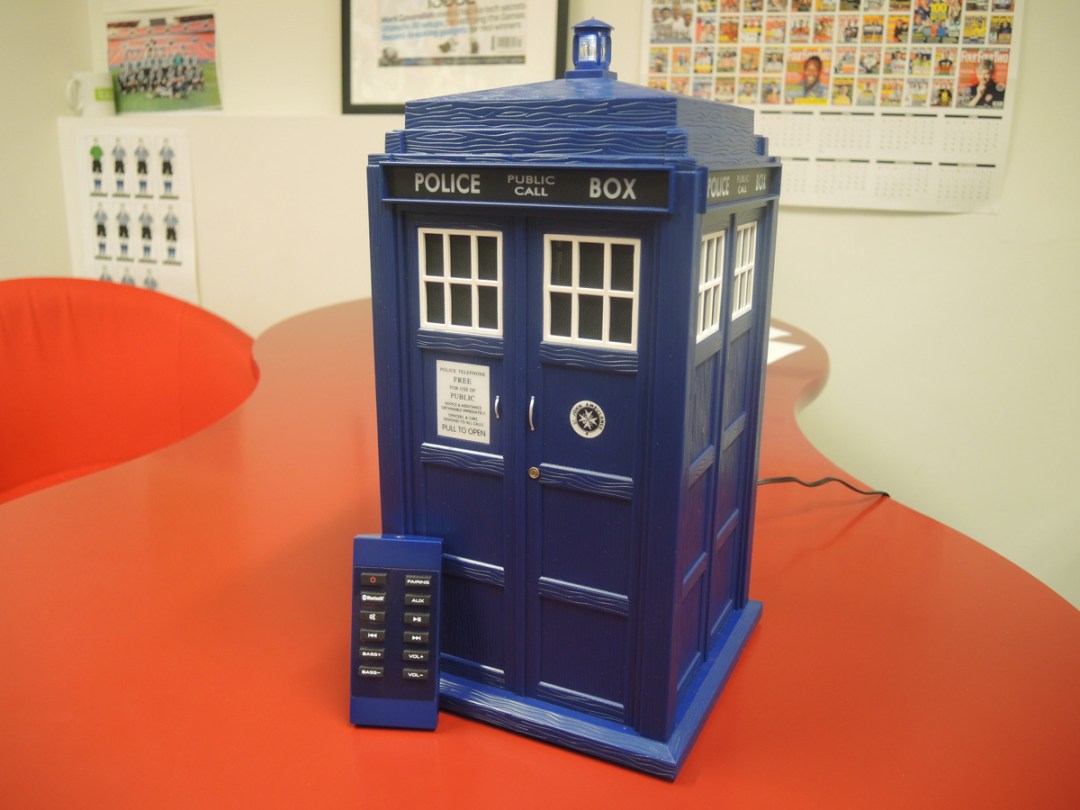 Celebrating the 50th anniversary of Doctor Who, WhoSounds has created the first ever Tardis speaker system – a 2.1 stereo speaker unit with Bluetooth connectivity that costs a pretty penny at £150. It would be easy to dismiss it as a novelty item, but this has clearly been thought about and designed far more thoroughly than that.
Fan-proof design
For a start, it looks fantastic – the fully scaled model is a perfect replica of the Doctor's Tardis. It's surprisingly heavy and the build quality is excellent – we've no doubt many a Whovian will wish this was the official toy version. The attention to detail is impressive, from the wood grain in the blue box, to the Pull to Open sign whose instructions the Doctor has been ignoring for over 1100 years. The St John's Ambulance badge marks it out as the most recent, 11th Doctor's Tardis.
Look closely and you'll see the police box's windows are actually speaker grilles, although only two sides (left and right) actually output sound. Inside the box are two full-range speakers and a subwoofer, with a total output of 20W.
Well connected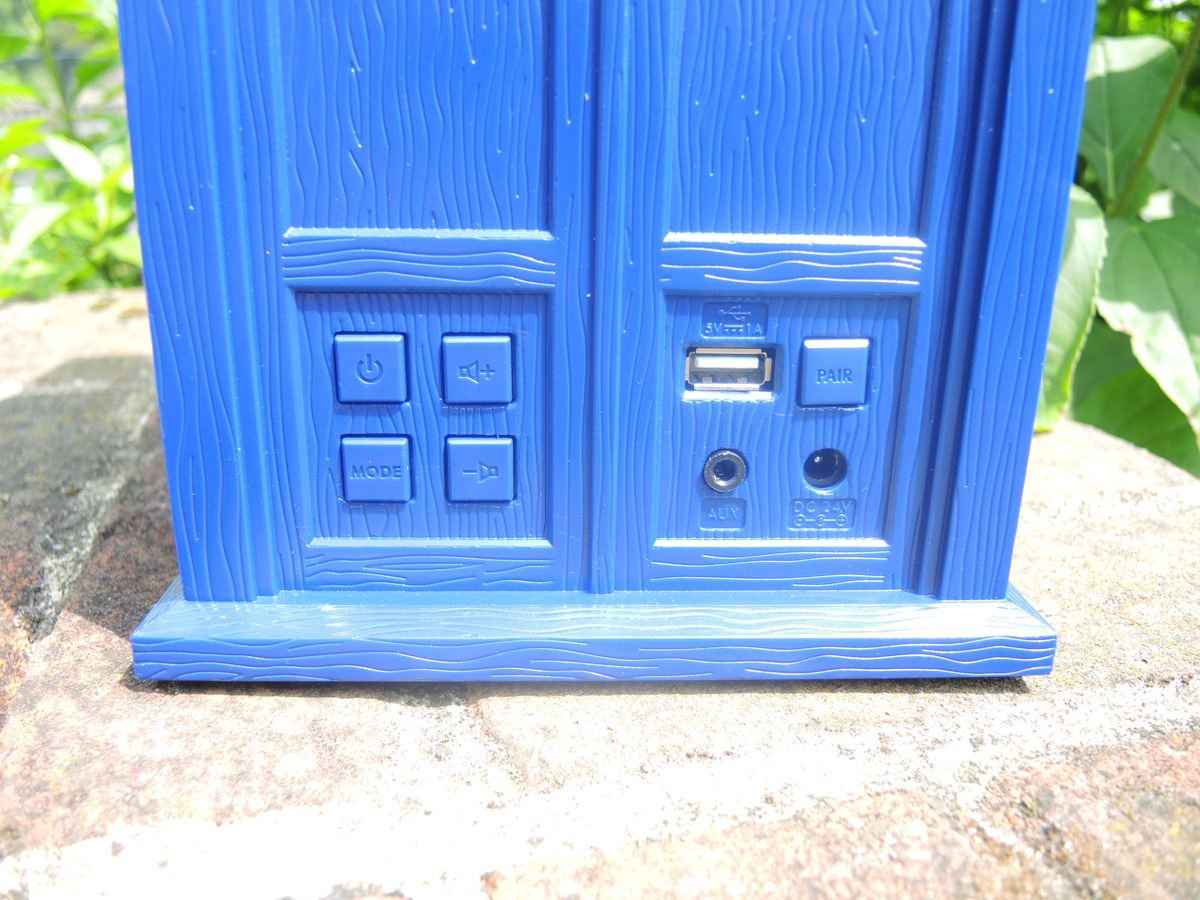 It's not just a pretty face, either – the Tardis has sonic connections for both wired and wireless playback. Bluetooth is the main draw for playing your tunes wirelessly from a smartphone or tablet, but you also have a 3.5mm auxiliary input to hardwire your smart devices, MP3 player or laptop. There's a USB port, too, but it's only for charging. Oh, and the mains-powered operation unfortunately means you won't be able to carry it into your back garden for portable listening.
Control matters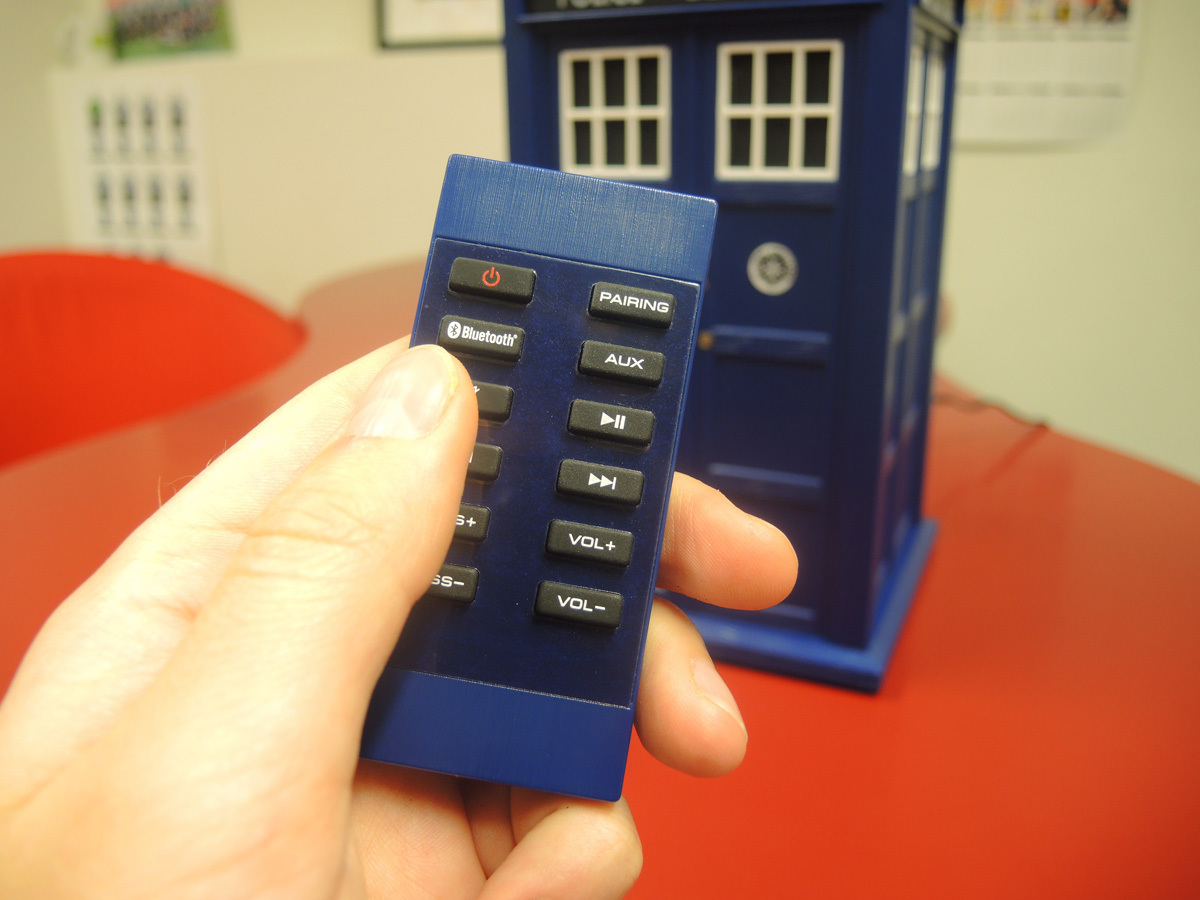 It does come with a dinky remote control that has all the buttons you'll need to navigate the Tardis speaker system, but we can't help thinking the small and plastic remote doesn't quite match the quality of finish of the Tardis itself. It's not too much of an issue, though, as in all likelihood you'll be using your smartphone as both controller and source.
Nerdy touches
But the icing on the cake and cherry on top are the light and sound effects. Not only does the LED on top of the Tardis light up depending on your choice of connection (white for auxiliary input, blue for Bluetooth), it also plays the iconic Tardis landing sound when you're in Bluetooth pairing mode. We're almost in geek heaven.
The prescribed partner
Want to make it all the way to the pearly gates of Doctor Who fandom? Turns out the Tardis speaker system can indeed be controlled the Sonic Screwdriver universal remote.
Audio is no after-thought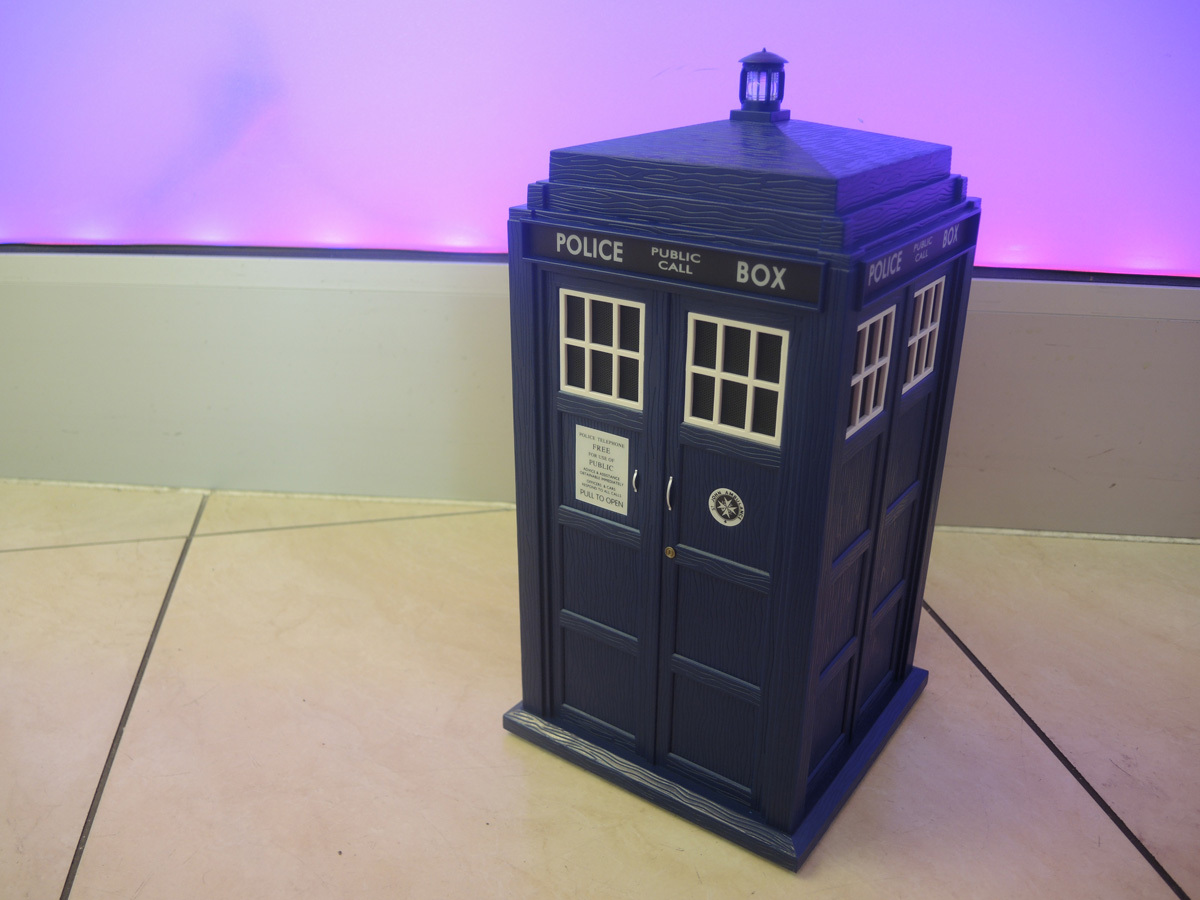 Once paired (the device will show up as 'Tardis' on your smartphone), we of course immediately started streaming the Doctor Who soundtrack, and were met with a big, eager-to-please sound that's high on energy and bold dynamics. It's a much bigger sound than you might expect given the size and powerrating, and there's a good amount of detail uncovered when playing Murray Gold's compositions.
Fish Custard sounds playful while I am the Doctor is appropriately rousing and heroic – there's a good sense of timing and the solid, weighty sound is a lot of fun to listen to.
But you can buy better sound
It's not the most refined speaker – there's a slight hardness to the sound that can sound a bit brash when it comes to gentler tunes, and it can be a tad boomy, too. We'd tone down the bass level and avoid placing it too close to the wall. The Tardis does sound a bit rusty and muddled when played straight out of the box, so a lot of running in time is needed.
Verdict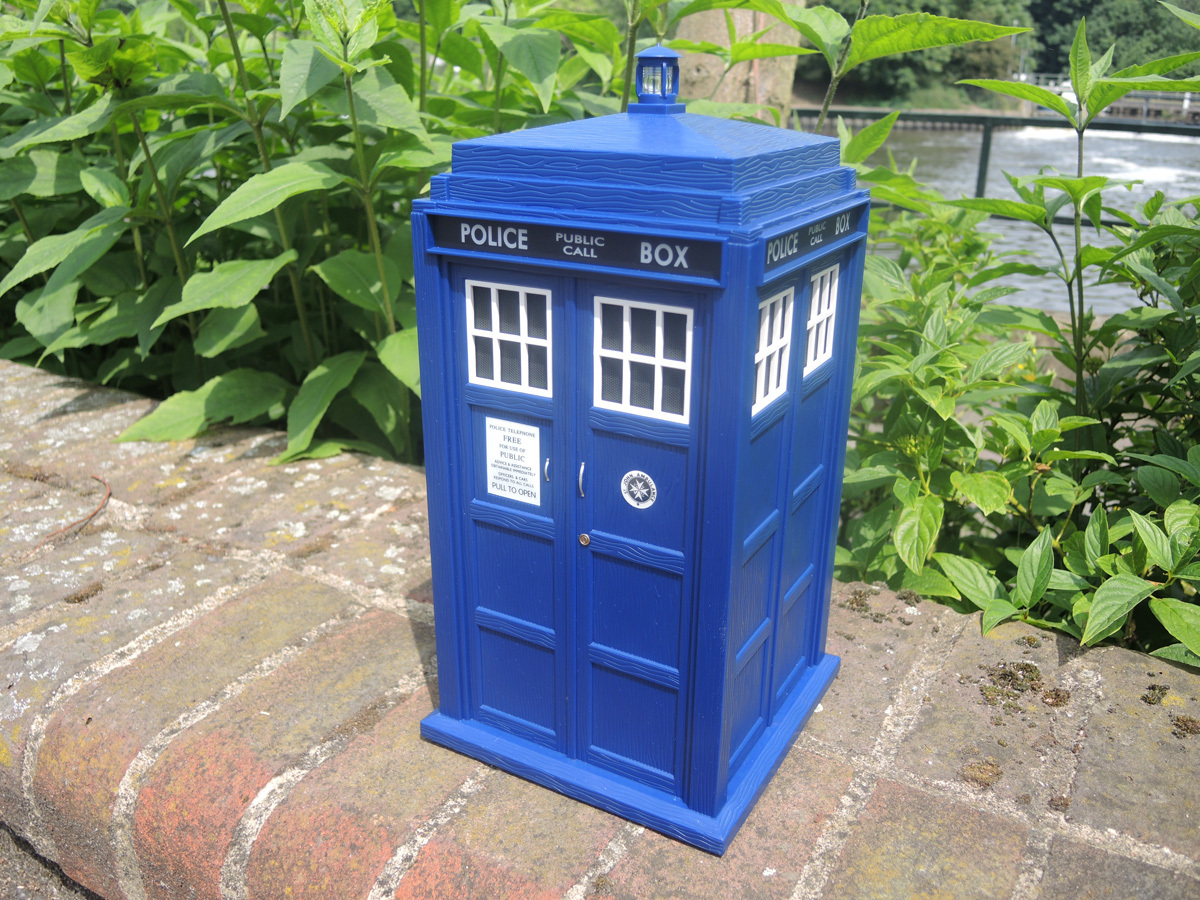 So on a scale of Clom to Gallifrey, how does the Tardis speaker system rate? It's no dud – this is a good speaker that delivers big on enthusiasm and delivers a surprisingly great deal of sonic detail, but it's not quite as refined or subtle as hi-fi speakers at the same price.
Saying that, the liveliness of the sound those special effects will be genuine hits with fans, and while we can't imagine any non-Doctor Who fans plumping for a Tardis over something a bit more, well, normal, the fact is it sounds pretty darn good and has a connection set that can't be argued with. Your friends might not understand your obsession, but they can't fail to be impressed by the Tardis (phone)box of tricks.