Tag Heuer Aquaracer Calibre S review
This Tag Heuer features the neatest chronograph functions ever seen on an analogue watch. And, you never know, you might actually use them…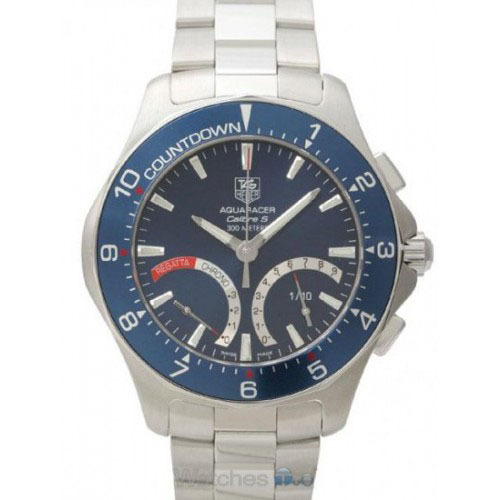 This Tag Heuer is all about the dials. You might think that it's got a couple of speedometers down at the bottom – nope, those are the chronograph dials, redesigned with bi-directional motors inside. 
Tag says this makes them easier to read. We say it's just to be different – but we've few quibbles when the result looks this sharp. 
It's my Regatta watch, darling
TAG also smugly points out that they actually designed the first car dashboards back in 1911, so it's like they're taking the design back. Naturally, the stuff inside that makes the speedometer bits go round is appropriately Swiss and insane – the Calibre S movement contains 230 moving parts and five bi-directional engines.  
Every one has to undergo 12,000 hours of testing before it's allowed out on the streets – or, rather, out onto the yachts, because just in case you'd forgotten that this is a luxury timepiece for rich gents, it also packs a Regatta function that counts down the important ten minutes before a yacht regatta kicks off. Wow.
Fit for divers
Precise to 1/10 of a second – it's quartz inside, although TAG has demonstrated an all-mechanical watch that is precise to 1/100 second – the watch is also waterproof to 300m, so the divers can reclaim it intact when you throw it overboard in a fit of pique after coming second in the regatta.
In one final blast of opulent pointlessness, it also has a perpetual calendar – using the Julian rather than Gregorian calendar – with a phenomenally complex movement which ensures you won't have to correct the date for over 100 years. Let's hope you live long enough to see it go wrong.