Sony XR-65X94K review: on the money
Full-array LED TV doesn't disappoint on picture quality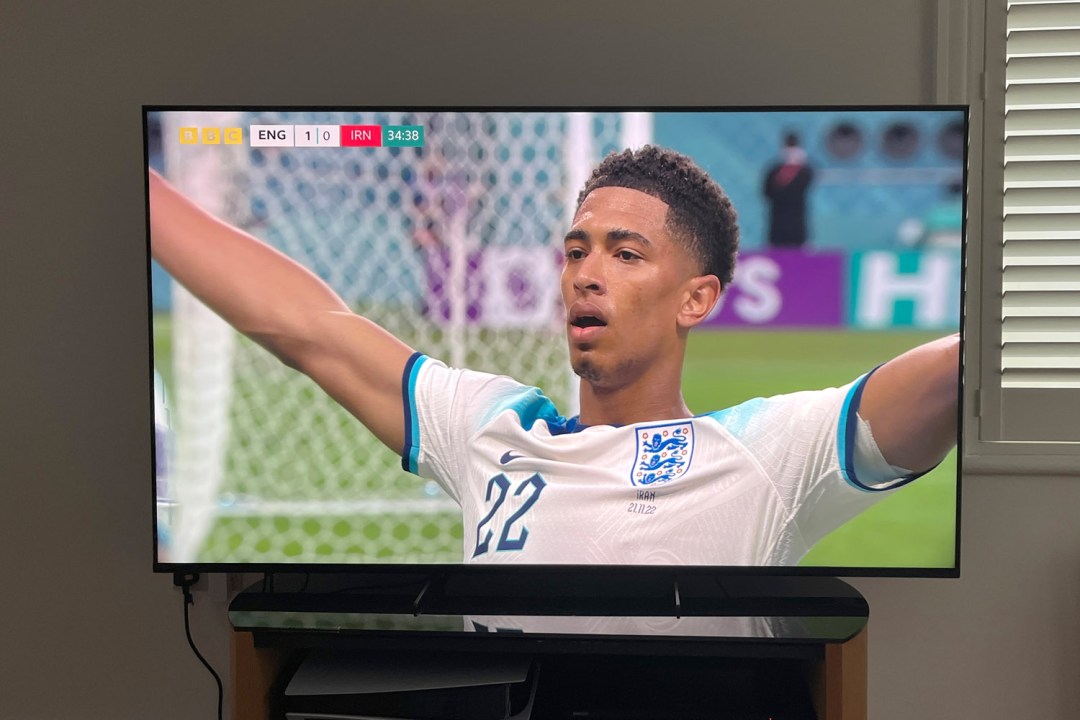 The newest technologies, the most expensive solutions – they're always the most exciting and the most glamorous, aren't they? But when you're on a budget, or simply not inclined to chuck a load of money at your particular tech problem, they don't always make the most sense. Sometimes you're better off looking into established technologies that have been improved and refined over time.
That's why you can buy a big TV like this one, from one of the biggest brands around, for what looks, on paper at least, to be very reasonable money. The Sony XR-65X94K (and its X90K twin) certainly has the sort of price-to-specification ratio to make you do a double-take. Really, all it has to do is perform brilliantly and that's 'job done'…
Design and build: the third dimension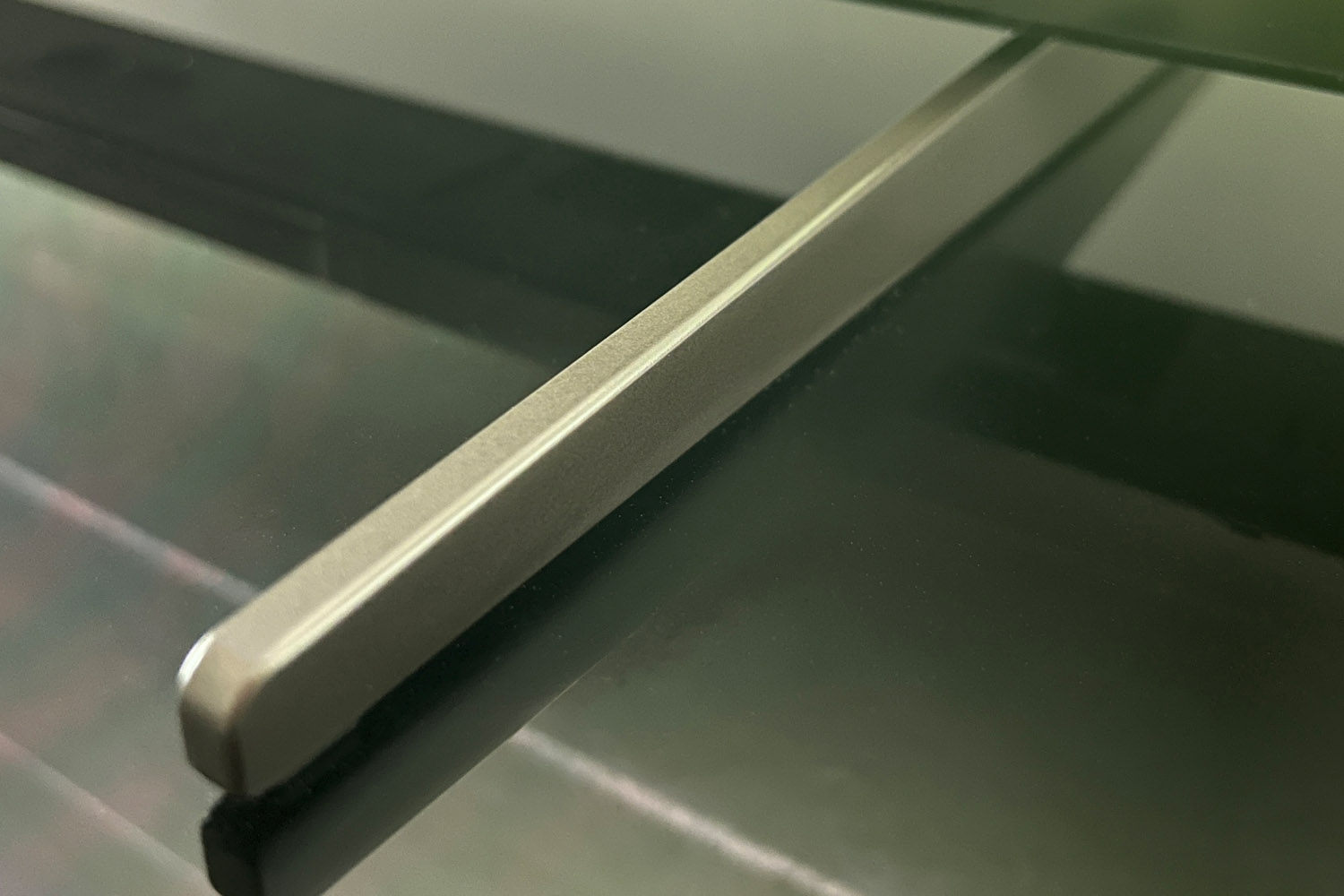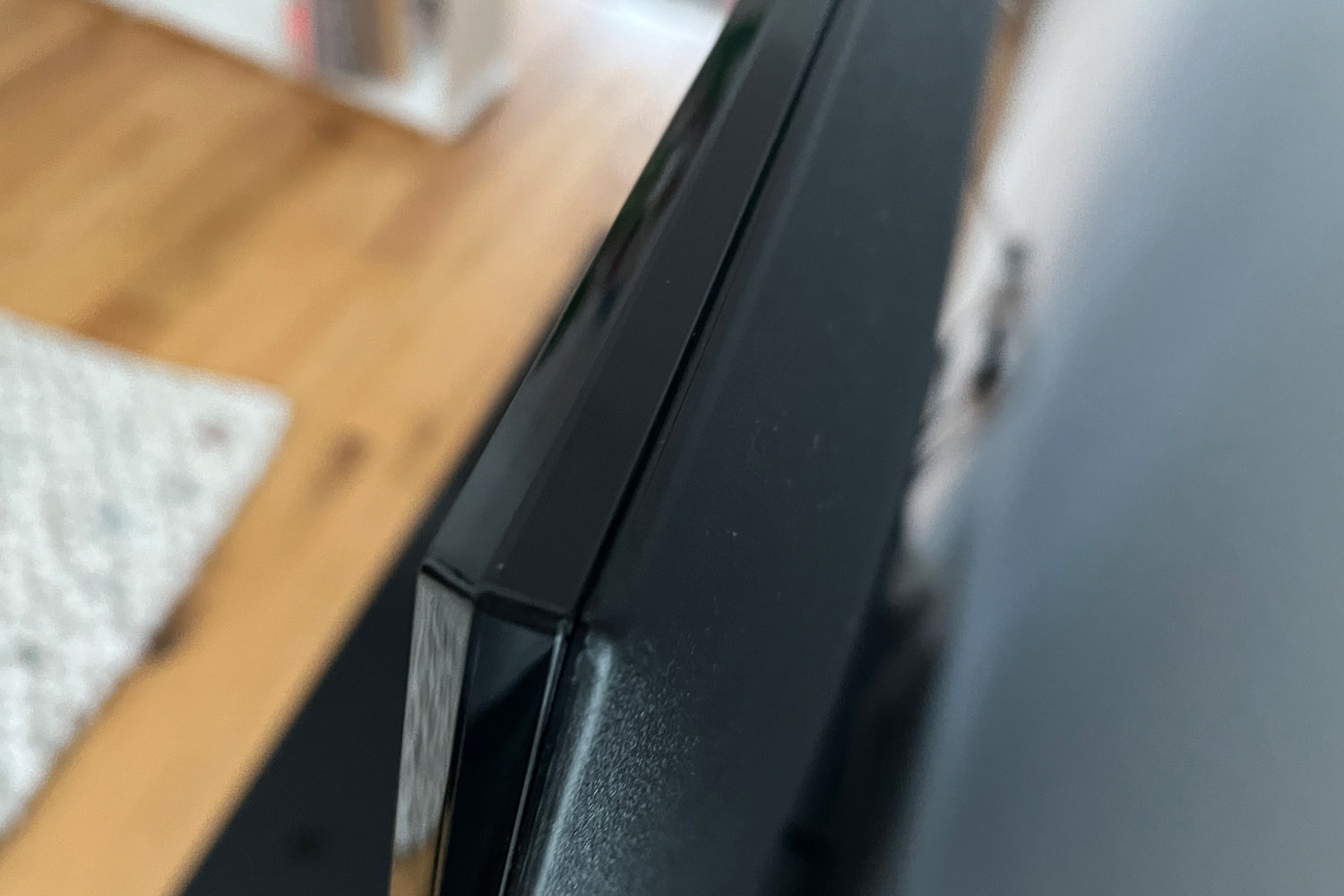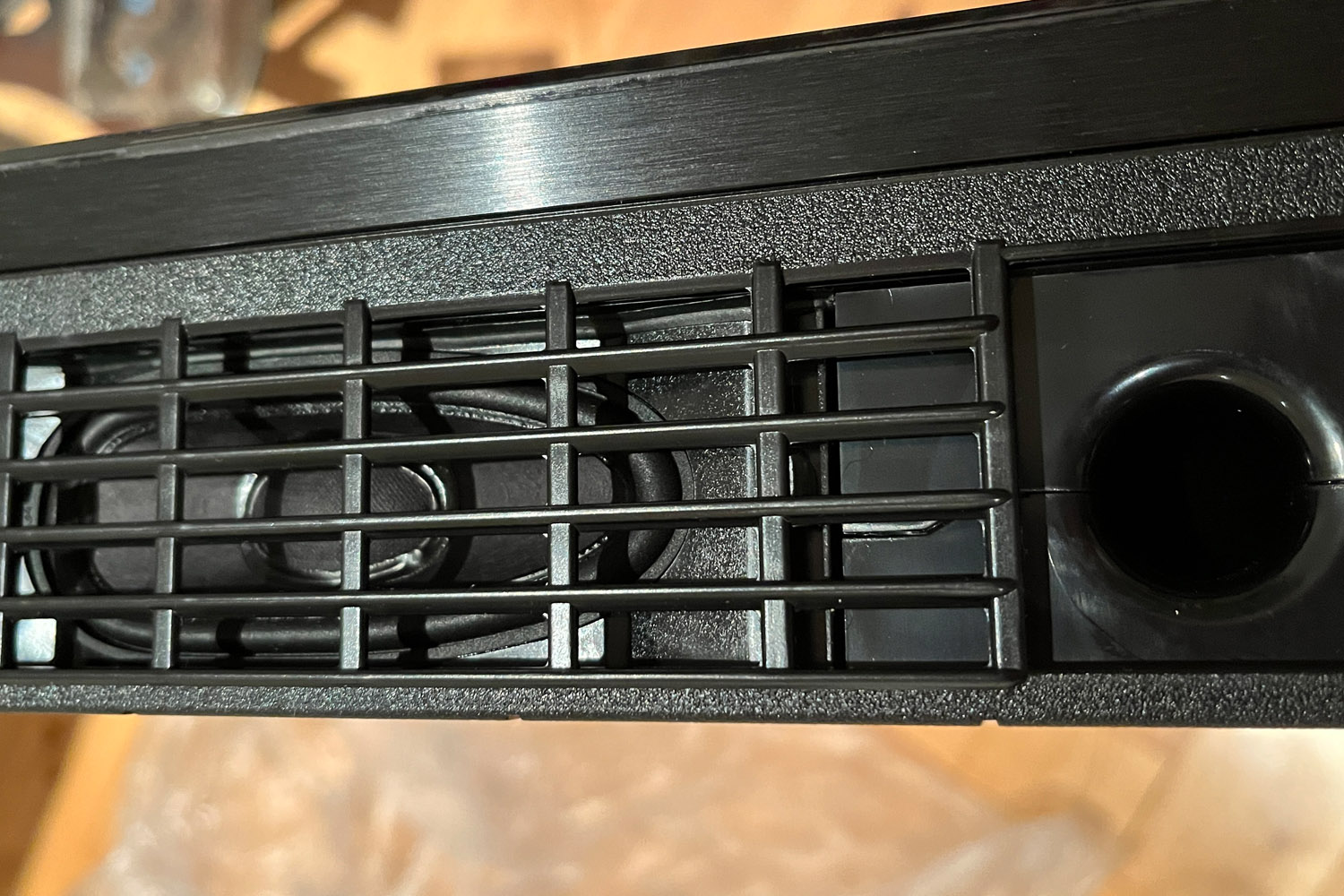 First things first: if you're keen on the idea of hanging your nice new TV on the wall, the Sony XR-65X94K may not be the screen for you. Dimensions of 1452x834x72mm (WxHxD) may not look all that remarkable when written down, but a depth of over 7cm means this is far from the slimmest television around. The lack of cable-management on the rear panel doesn't help its cause, either.
Happily though, Sony has done the right thing for people who want to plonk the X94K on a surface: it stands on a couple of slender feet that can be positioned either far apart (117cm) or close together (33cm), so pretty much any surface will do as a support. And the 'wide' position can be augmented to raise the screen to the point a soundbar will fit tidily beneath.
But while it might be, relatively speaking, a bit on the tubby side when seen in profile, its slim bezels and tidy screen-surround makes the X94K look the part from dead ahead. And while there's nothing special about the look or feel of the plastics it's built from, the Sony is properly put together and seems built to last.
Features: trust the process(or)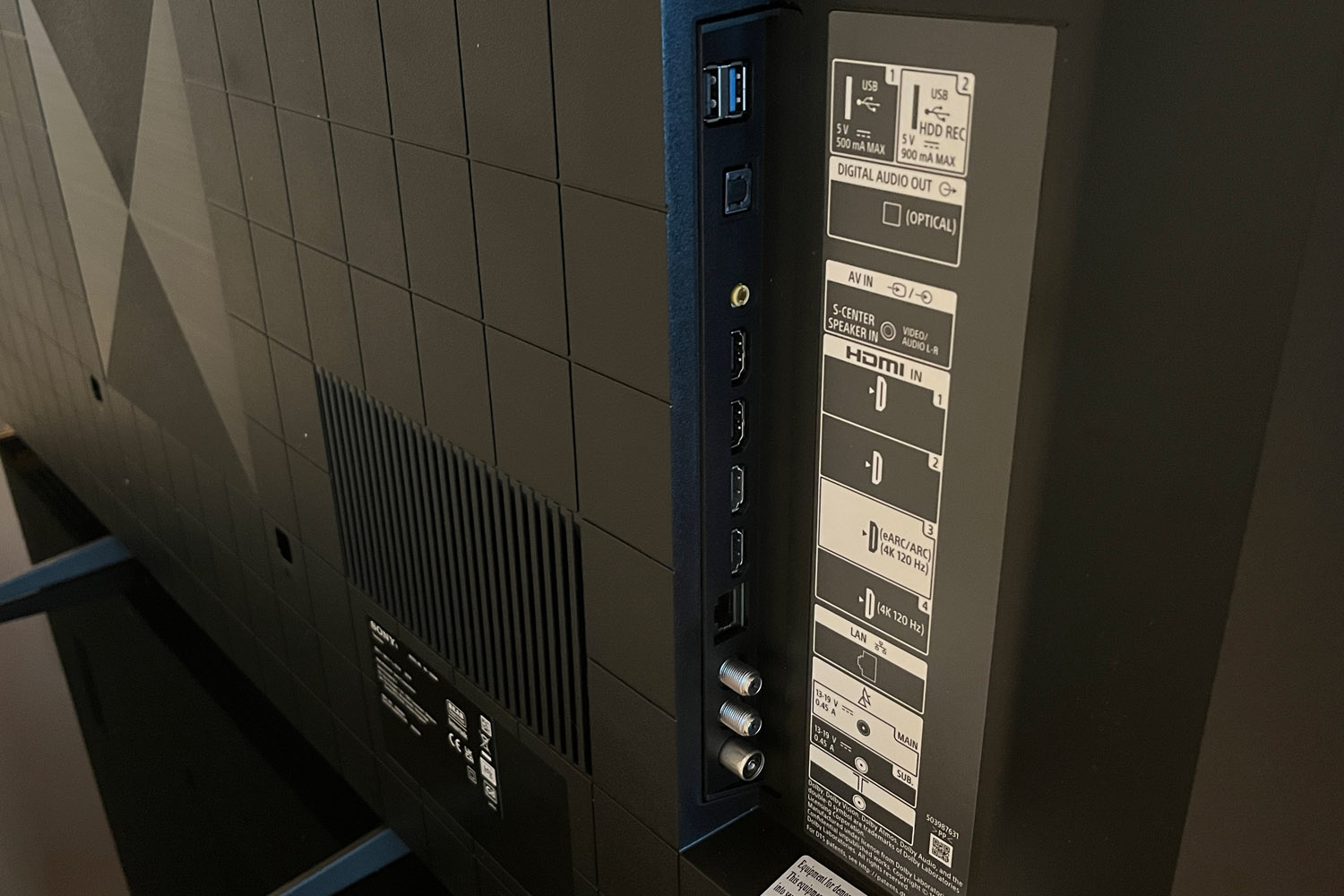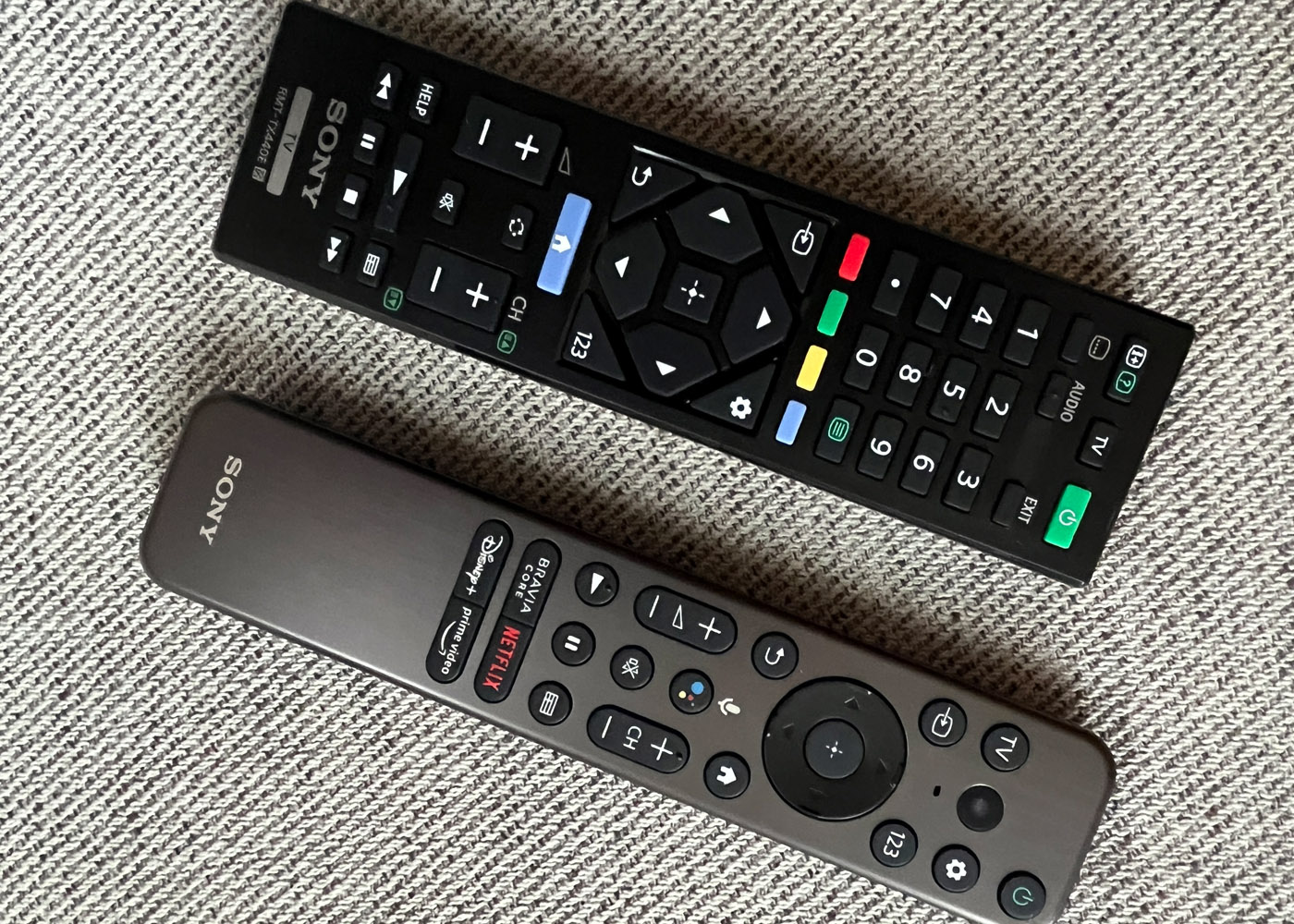 The Sony XR-65X94K is an LCD panel, with full-array LED backlighting – which goes some way to explaining the TV's physical depth. It's a 4K HDR set, of course, with Dolby Vision Dark and Bright, as well as IMAX Enhanced, as its headline HDR picture presets. Two of its four HDMI inputs are at full 2.1 standard, which means a complete current-gen gaming console experience, and one is eARC-enabled too.
In addition to its HDMI slots, the X94K has three aerial binding posts for twin TV tuners, a couple of USB inputs and an Ethernet socket. There's a digital optical output, handy for less up-to-the-minute soundbars, and a 3.5mm hybrid socket that can either receive composite video information or allow the screen's audio system to form the centre channel of a surround-sound set-up (the integrated audio system consists of 30 watts powering four drivers).
Wireless compatibility is extensive too. Dual-band wifi, Bluetooth 4.2, compatibility with Apple HomeKit and AirPLay, and Chromecast Built In should be more than sufficient for even the most source-heavy users.
Picture quality is the ultimate responsibility of the same Cognitive Processor XR that fitted to a good many of Sony's pricier, higher-profile televisions. Its associated technologies, like 'XR Motion Clarity', 'XR Contrast Booster' and plenty more besides, all put a shift in to bring 4K HDR picture quality to the viewer no matter the standard of the incoming signal.
Sony XR-65X94K interface: different, but the same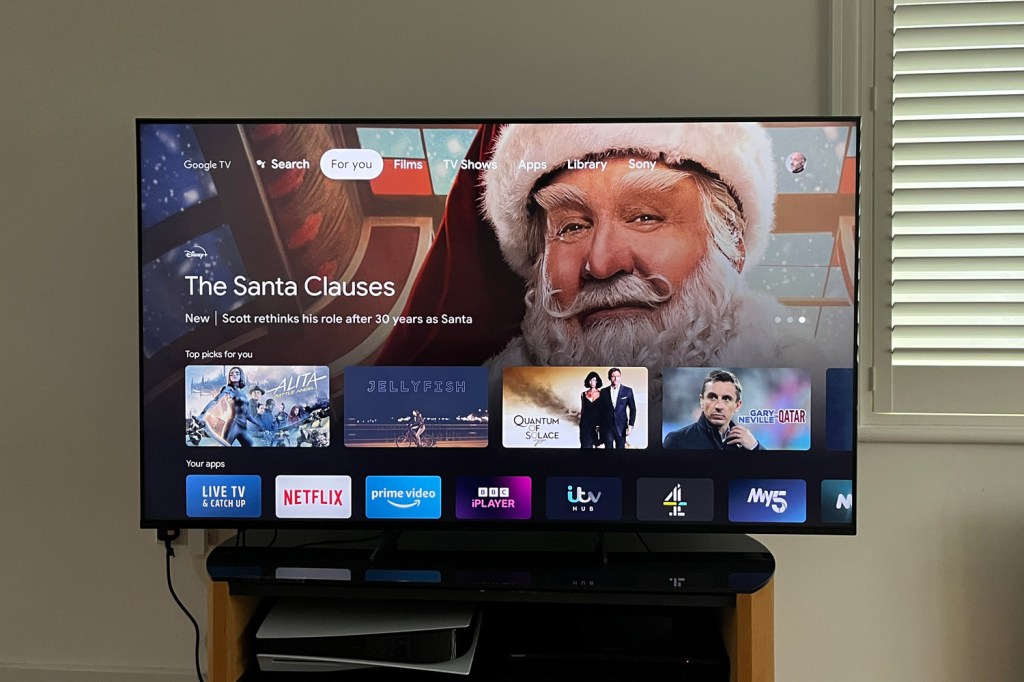 As is generally the case with Sony televisions, the X94K's set-up menus are a model of clarity and mercifully brief. There's plenty of scope for tweakers to fiddle around the edge of picture performance as much as they like, of course, but the rest of us can get a very workable picture in next-to-no time. The X94K's preset picture modes should be sufficient for the majority of users for the majority of the time.
The Google TV smart interface is similarly accomplished. Yes, it hogs the screen a bit and yes, it takes a while to come up to speed with its recommendations – but it's extensive, and it has every meaningful catch-up and streaming service at their highest available quality. And Sony can point to a unique selling point in the shape of its Bravia Core streaming service, which – naturally enough – is exclusive to the brand.
Bravia Core, in fact, is one of the few differentiators between this X94K and its X90K doppelgänger. The X90K comes with a twelve-month, 5-credit Bravia Core subscription, while this X94K (yours from the Sony website, Sony Centres and branches of Currys) gives you two years and ten credits.
The other differences are interface-centric, too. Both variants come with a couple of compact remote controls – as is usual in these circumstances, one features too many buttons that are all too small, while the other is more minimal and takes care of the most common functions. Both the X90K's remotes are plastic, but the X94K's less burdened handset is metal. And while the X90K has to make do with a mic button on each remote to waken Google Assistant or Amazon Alexa, the X94K has one integrated into the frame of the TV itself. No matter how you get hold of your assistant, though, the responses are rapid and accurate.
Sony XR-65X94K performance: bright and beautiful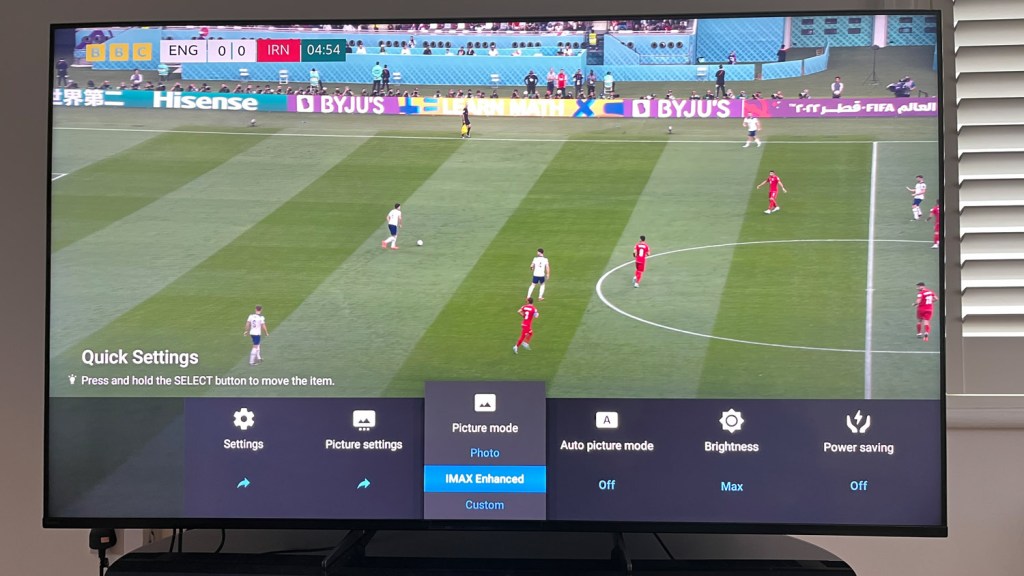 There are numerous reasons to be dubious about the FIFA World Cup in Qatar, but the BBC's 4K UHD coverage is ideal for letting a television showcase its strengths as well as expose its weaknesses. And with an iPlayer stream of England v Iran on board, it becomes apparent the Sony's strength outnumber its weaknesses by a distance.
By the standards of backlit LED TVs, the Sony XR-65X94K generates impressively deep and nicely detailed black tones. The opposing white tones are equally detailed, equally varied and clean – and so contrasts are wide and convincing. It's not above letting a halo appear around bright objects on a predominantly black background, it's true – but by prevailing standards the Sony controls its backlighting well.
The colour palette in between is vibrant and extensive, too. A big area of uniform colour (like a football pitch, for example) can quite often become featureless, but the X94K is attentive enough to offer proper gradation and variation in the big swathes of green. Skin-tones, too, are convincing – and the Sony carries more than enough detail to make textures seem naturalistic and persuasive.
Switching up to higher-quality content (a Dolby Vision-assisted 4K Blu-ray of Bullet Train) and the Sony's facility with edge-definition, motion-control and depth-of-field generation come to the fore. In even the most trying circumstances – and this movie is full of shouty, hectic rushes of movement – it's a calm and composed picture-maker. Edges are smooth and crisp, motion is handled with real confidence, and there's considerable depth of field available too.
Less information-rich content is handled with equal aplomb – up to a point, of course. The Sony's a decent upscaler, keeping picture-noise low and motion-control high, and it doesn't give away too much detail either. Of course, properly low-resolution stuff from one of those daytime TV channels where it's always the 1980s ends up looking a bit soft, indistinct and noisy. Blame your viewing choices, not your TV.
All of this assumes you're sitting directly in front of your X94K, mind you. Moving even mildly off-axis results in the rinsing of black tones and a significant drop-off in colour fidelity too. So if you paid for it, make sure you get the sweet seat in front of it.
The gaming experience via a Playstation 5 is just as gratifying in its own way as the UHD viewing equivalent. All of a current-gen console's clever features can be exploited by the X94K, and when in 'Game' mode the Sony's a swift 8.5ms to respond to a player's inputs. This mode can take a little of the subtly away from overall images, it's true – but motion-control, edge-definition and, particularly, wide and convincing contrasts are all available to be enjoyed.
'Enjoy' is a rather strong description of what happens in relation to the X94K's sound, mind you. No one's expecting miracles from a four-driver, 30-watt arrangement fitted to a TV, of course – but even by prevalent standards the Sony sounds tepid and undynamic. It can understand Dolby Atmos soundtracks, and its '3D Surround Upscaling' algorithm strives to present a sensation of spatial audio – but really, if you want audio quality to bear comparison with the pictures then you'll need to put a few quid aside for a soundbar.
Sony XR-65X94K verdict
Admittedly we'd pay a little more for a little less chassis depth, but there's no arguing with the sort of performance (or the size of screen) this sort of money put Sony's way will buy you.
As long as you remember to budget for a modest soundbar, the downsides to owning a Sony XR-65X94K are remarkably few.
Stuff Says…
It's hardly the most glamorous TV in its portfolio, but the XR-65X94K proves Sony's ability to keep the asking-price down while keeping the performance levels high.
Good Stuff
Composed, accomplished and convincing picture quality
Rapid and absorbing gaming experience
Superior smart TV offering
Bad Stuff
Off-axis performance is iffy
Sound is iffier still
Backlighting can betray itself
Sony XR-65X94K technical specifications
| | |
| --- | --- |
| Screen size | 55/65/75in |
| Resolution | 3840 x 2160 |
| HDR | HDR10, HLG, Dolby Vision |
| Inputs | 4x HDMI, digital optical, 2x USB, Bluetooth, Wi-Fi |
| Smart TV OS | Google TV |
| Weight | 22.9kg / 24kg (without/with stand) |
| Dimensions | 1452x834x72mm / 1452x903x331mm (without/with stand) |