Sony XR-55A95K review: QD-OLED excellence
Brighter and better than ever before
We're about due a new TV technology, aren't we? It's been more than five minutes since the last one, after all. So here's QD-OLED.
It's an innovation designed to include all the many advantages of OLED technology while addressing its one obvious shortcoming – a lack of outright brightness. And, what's more, it's a Samsung innovation – that's the same Samsung that swore it would never ever ever have anything to do with OLED televisions. In fact, Samsung is the only manufacturer of this panel technology at the moment – but just like LG, which has cornered the market in OLED panels, Samsung is prepared to sell QD-OLED panels if the price is right.
And so it's Sony, rather than Samsung, that's first out of the blocks with a QD-OLED TV. You only need a quick glance at the spec-sheet, and an even quicker glance at the asking price, to realise this is a range-topping television. But when a 55in LG G2 (which features the company's extra-bright 'EX' panel) is yours for a touch over two grand, can the Sony XR-55A95K possibly be worth it?
Sony A95K design and build: stand and deliver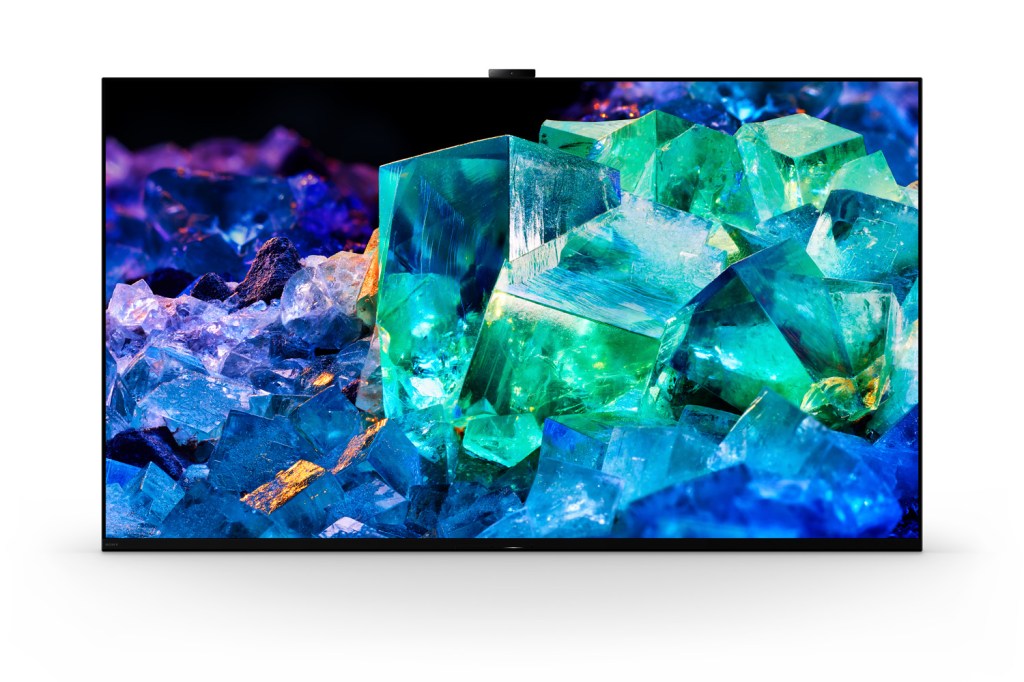 The A95K, like most premium TVs these days, has the ideal dead-ahead appearance – it's almost entirely screen. Three of the four bezels are very slim indeed, while the fourth (along the bottom) isn't much bigger despite being where the TV keeps its mics, IR sensor and what-have-you.
From the side, though, it's a bit disappointing if you're expecting some of that beguiling OLED skinniness. Only the very top of the screen is slim, the rest is a (relatively hefty) 43mm. Some of this is the fault of the audio system Sony has fitted (more on that later), so it's semi-forgivable.
Even at a little over 21kg, it shouldn't be too difficult to wall-mount the A95K. But if you want to keep it on a shelf or surface, the supplied stand gives you a couple of options. Attach it to the rear of the TV and it pretty much disappears, and lets the screen lean back just a touch in the name of good viewing angles. Attach it to the front instead, and it means the television can sit more-or-less flush to the wall behind it.
Build quality is everything you expect from a premium Sony product – that's to say, it's basically flawless. Even the rear of the chassis, with its textured grid-pattern, looks good – and it hides its snap-off panels that conceal all the connectivity well.
Sony A95K features: all of this and more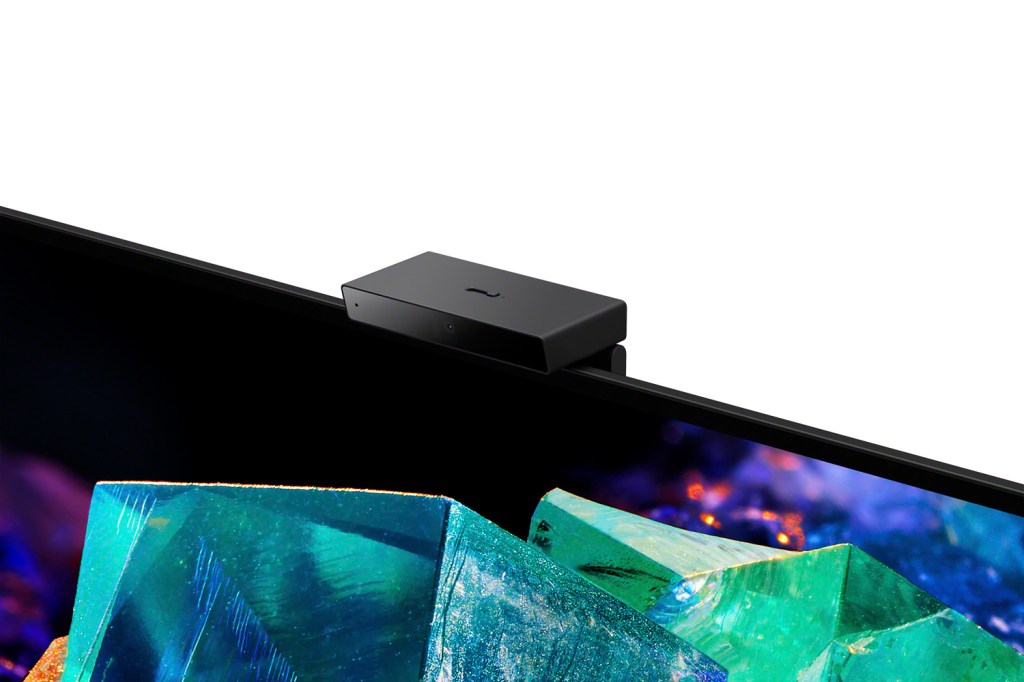 Well, first and foremost this is a QD-OLED TV – which is a feature all by itself. After that, it's a bit more like 'expensive premium TV' business as usual.
That means four HDMI inputs, two of which are of 48Gbps 2.1 standard (with 4K@120Hz, Auto Tone Mapping and eARC compatibility too), and all of which will support VRR and ALLM. There are a couple of USB inputs, twin-tuner binding aerial binding posts, an Ethernet socket and a digital optical output. There's even a hybrid 3.5mm for composite video or a centre-speaker input, as well as speaker binding posts in case you want your TV to function as the centre channel in a surround-sound system. It means dual-band wi-fi, Bluetooth 4.2, Apple AirPlay and Chromecast wireless connectivity.
The A95K supports HLG, HDR10 and Dolby Vision HDR standards, and it can understand Dolby Atmos soundtracks too. Bear in mind that the audio system (which is basically the screen itself, excited by a couple of actuators, along with two rear-firing subwoofers) makes no attempt to deliver an Atmos-style sensation of spatial audio, though.
About the only puzzling feature here is the Bravia Cam. It clips magnetically into a slot at the top of the rear of the chassis, from where it peeps over the top of the screen. One day, says Sony, it'll be good for gesture control, for adjusting picture settings on the fly by monitoring ambient conditions, and all sorts of other worthwhile things. For now, it's good for making video calls using Google Duo. Yay.
Sony A95K interface: choose your weapon
The Sony ships with a couple of remote controls – one is good to look at, nice to hold, has good and positive button action, and features direct keys for Netflix, Disney+ and Amazon Prime Video, while the other is none of those things but supports more functions.
Either remote gives you access to a Google TV smart interface that's miles better than the Android interface Sony has lately binned off. It's quick to learn your habits when it's making viewing recommendations, and while it naturally puts a lot of Google-affiliated content front-and-centre it's still packed with third party streaming and catch-up apps like Apple TV and Sony's own Bravia Core service. And with the exception of Disney+, which doesn't have Dolby Atmos support, all these apps are in their most upmarket versions.
Sony A95K performance: the light fantastic
It's fair to say that while the XR-55A95K isn't startlingly, or even noticeably, brighter than the brightest non-QD OLEDs around, the brightness it's capable of generating is the most convincing currently available. Bright scenes on this Sony's screen are more detailed, more nuanced, and basically carry more information, than the 'bright-and-nothing-but-bright' alternative that's more prevalent.
Which basically means the Sony's overall picture performance is about as enjoyable, as naturalistic and convincing as 4K televisions currently get. Detail levels, from the darkest scenes (which are that lovely inky OLED black) to the brightest (which, like we said, are uncommonly detailed and varied) are high, colour fidelity is effortlessly natural, and depth of field is (given the right material) almost three-dimensional.
A Dolby Vision HDR-assisted stream of The Umbrella Academy looks – to use a technical term – the absolute business. Detail and insight into scenes of all kinds, all lighting levels and all types of complexity, is outstanding – you'll never doubt you're being fully informed. Edge-definition is smooth and confident, and the way the Sony handles skin-textures and skin-tones – even those that are meant to look ill or alien – is assured. Contrasts are both extensive and properly controlled – so a fire in the darkness is stable, with no light-bleed or other uncertainty. Motion is handled with similar confidence, and the overall sensation of sitting in front of the A95K while it does its thing is thoroughly engrossing.
As long as you're not expecting miracles, the Sony's a very decent upscaler of lesser content too. HD content hardly suffers at all, with edges remaining composed and the colour balance just as believable as native 4K stuff. Motion control drops of a smidgen, but it's nothing that will spoil your experience. Drop down from high-definition watching, though, and the A95K undeniably struggles – it can look rough and coarse, yet soft and indistinct at the same time. But then you didn't spend the thick end of three grand on a TV in order to watch reruns of Murder, She Wrote did you?
Gamers who are after a complete experience (but not so complete they're prepared to buy a dedicated gaming screen) can enjoy all those positives of picture performance too. Gran Turismo 7 on the PS5 looks a treat on the A95K, obsessed as it is with the lighting of vehicles as they scream past the 'camera'. Images are smooth, tear-free and composed even during the moments of greatest intensity, and while input lag of around 20m/s isn't class-leading for a big 4K TV it's not exactly sluggardly either.
As far as sound is concerned, the A95K is one of the best out-of-the-box TVs you can buy that hasn't had some extra (and expensive) attention by a third party. Like all of Sony's OLED TVs, the screen itself acts as a speaker – the A95K is fitted with a couple of actuators that excite the screen, and then reinforces this output with a couple of rear-firing subwoofers.
Sony's so confident in the ability of the screen to deliver the audio good, in fact, it's fitted a pair of speaker binding clips in case you want your A95K to be the centre channel in your surround-sound set-up. We'd advise against that, for no other reason than it's important your centre speaker shares the same tonality as the rest of the speakers in the group – but when it comes to scale, fidelity, detail retrieval and straightforward punch, this Sony is a match for any TV you can name. Except, like we say, those screens that have little 'Technics' or 'Bowers & Wilkins' logos alongside that of the manufacturer.
Sony A95K verdict
We don't think it's quite the game-changer the claims for the technology implied, but the Sony XR-55A95K is nevertheless an outstanding television. The shamelessly premium price will put some people off, of course, but anyone who can afford it absolutely must check it out.
Stuff Says…
QD-OLED is here – and it seems to be the real deal
Good Stuff
Lovely natural picture balance
More varied bright tones than OLED seems capable of
Punchy, assertive sound
Bad Stuff
Expensive
Superfluous Bravia Cam
Not the great leap forward we might have been expecting