Sony Xperia Z5 Compact review
Revenge of the small-fry
The Sony Xperia Z5 Compact is the kind of phone no-one seems to make anymore: a small one. And it's not just small, it's powerful too. Just about as powerful as the full-fat Sony Xperia Z5, in fact.
It costs about £100 less than its big brother, at around £430 SIM-free, or on contracts of around £37.50 a month. It's cheaper, but it's certainly not cheap.
If you have money to burn and are just gagging for a smaller phone, it's your best bet. However, its chunky body doesn't actually make it feel as small as you might be hoping for, and now that the half-the-price Motorola Moto G has a good camera, the cheaper competition is all the more attractive.
Tubby round the edges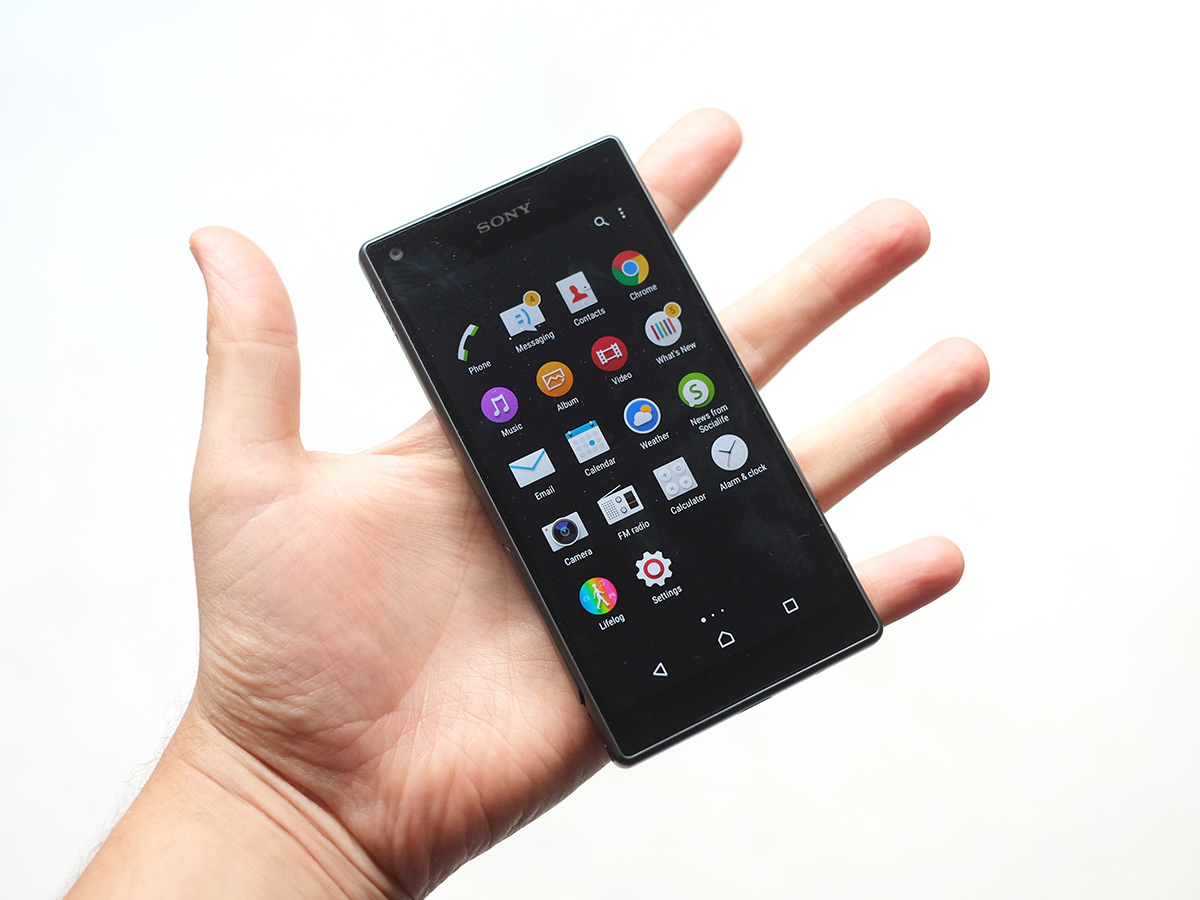 I like the Sony Xperia Z5 Compact. It's a nice phone. But I have an issue with this little guy. He's really not that little in all respects.
Calling an 8.6mm-thick phone fat may sound like playground bullying, but the Z5 Compact really does feel like a little bit of a brick. A chubby funster next to the slick 'n' svelte full-size Z5.
It's not unusual for smaller phones to be a bit chunky, but the Sony Xperia Z5 Compact emphasises this with its very rectangular shape. It may have virtually the same dimensions as the Xperia Z3 Compact, but in the year since that phone's release plenty of 5in skinny phones have arrived, almost (but not quite) bridging the size gap.
This kind of chunk factor does make the Xperia Z5 Compact feel like lesser hardware than the Z5.
Sony pretty much endorses this idea too. Where the big brother has metal sides, this one has plastic sides, which feel more ordinary. On the positive side, using plastic also gets rid of the hard 'lip' the Z5 has on its back.
Enough of the bad-mouthing: there's still a lot to like about the Sony Xperia Z5 Compact hardware. Top of the list is the back style. It's covered with frosted glass. It looks great, feels great and comes in a few different colours.
I've been using the boring black version, but you can also get pink, yellow and white. It's also a must-try for those who find today's phones that bit too big. While brick-like, the Z5's still petite.
Fingers in pies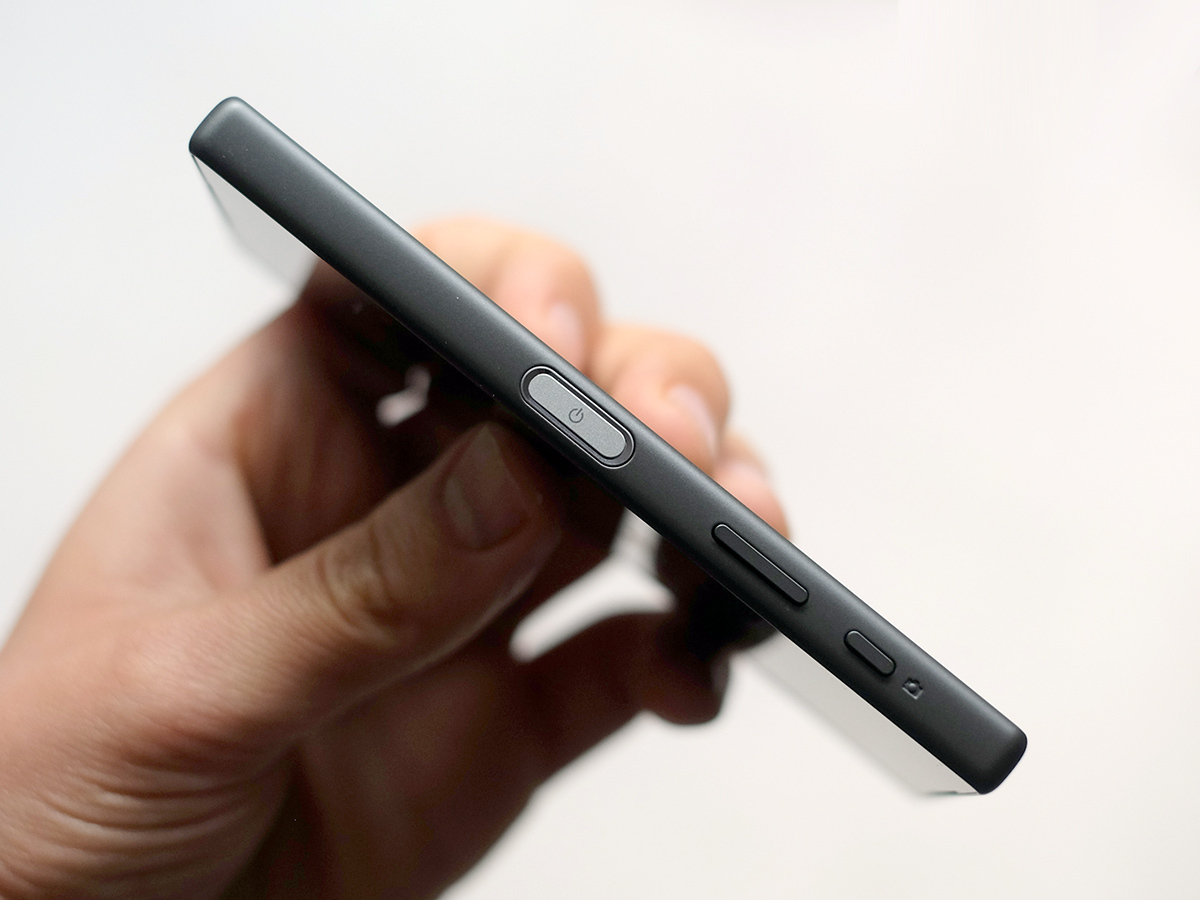 The star attraction of the phone, though, is what sits on its side. It looks like a power button, and it is. But that big grey button also functions as the Xperia Z5 Compact's fingerprint scanner.
It's right where it needs to be, is reliable and quick. It's just what we want from a phone finger scanner. It doesn't like wet fingers, but then neither do all the current phone scanners.
Like the other members of the Xperia Z5 Compact family, the phone is also waterproof, and the best kind. It's waterproofing that doesn't demand daily re-seating of flaps. The USB and headphone jacks are designed not to let in water without needing a bit of rubber to help. Sony says you shouldn't submerge the phone anymore, but its certification is just the same as the old Xperia Zs.
There is one flap on the side, but it covers the SIM and microSD slots. How often are you going to need to open that one up?
With 32GB inbuilt storage, you might not even need a memory card. But having the option earns Sony 10 bonus points.
Superstar small-fry
The whole point of the Sony Xperia Z5 Compact is that it's a high-end phone with a small screen. It's just 4.6in across, a lot smaller even than phones like the Moto G. It's no wonder the phone's a bit chunky when all its tech has to be crammed into such a small footprint.
It has a 720p IPS LCD screen, getting you a Retina-grade-a-like 323ppi, but not the sort of crazy pixel density you get with a larger QHD phone like the Samsung Galaxy S6, or Sony's own insane 806ppi 4K-screen Z5 Premium.
Does it matter? The Sony Xperia Z5 Compact has a nice screen: good colour, good viewing angles. However, the thought of paying £450 for a 720p phone might put your defences up. In which case, forget about the £539 iPhone 6s too.
We understand. This phone is definitely for people who just hate the idea of a giant-screened phone and are willing to pay pretty big. After all, by reducing the screen size, the Sony Xperia Z5 Compact does reduce how good films, games and websites look.
I also found that typing took a bit of adjustment, where I can flit between using 5in-6in screens dead easily these days. What I'm trying to get to here is: make sure you definitely want a small- screen phone, and don't just think you want one.
Also bear in mind that the chunk factor makes the Sony Xperia Z5 Compact feel not a million miles removed from something like the Microsoft Lumia 435. It might not be as sleek as you're hoping for.
Small frame, big battery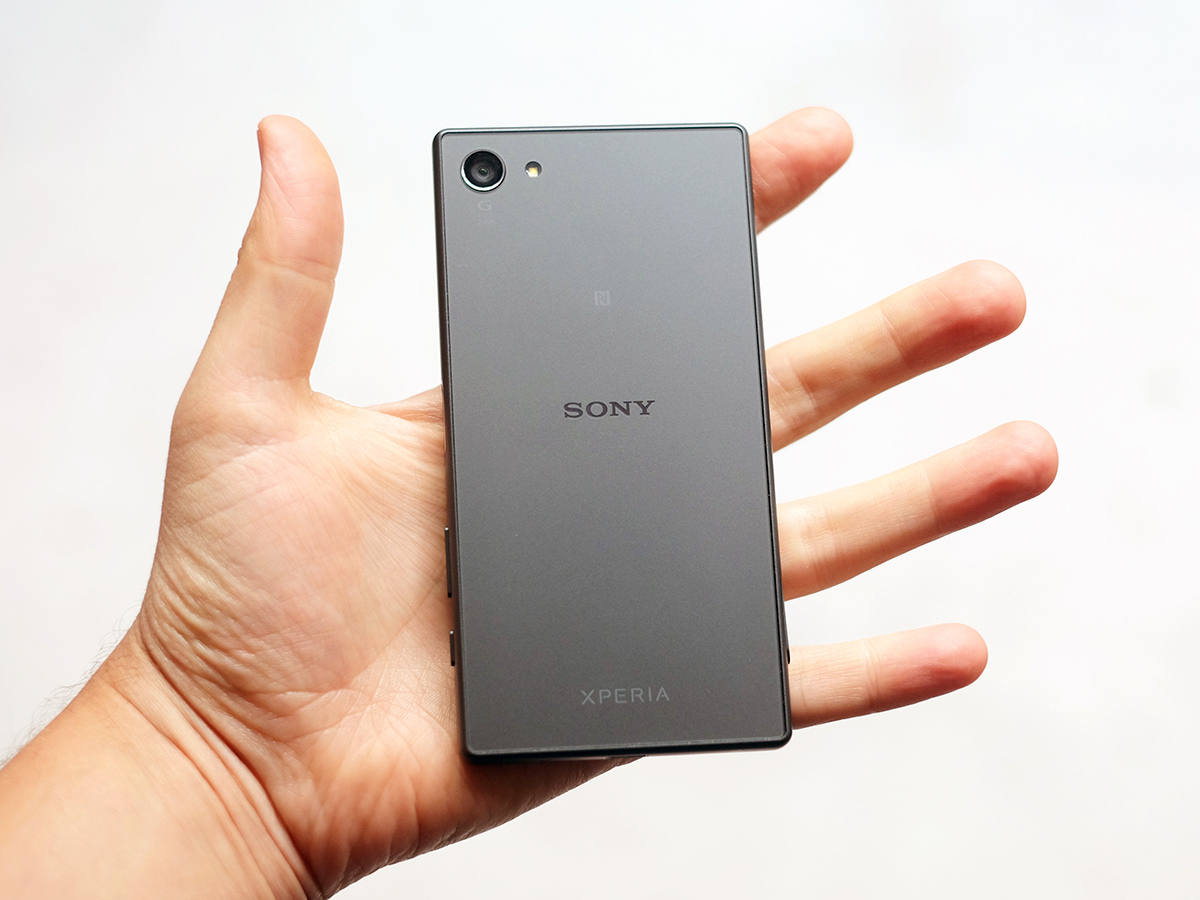 One thing that helps excuse the Compact's size, though, is its battery stamina. Where I found the full-size Xperia Z5 to be a bit of a stamina slouch after a string of long-lasting Xperias, the Z5 Compact lasts for ages.
Playing a locally-stored 720p movie it soldiers on for 16 hours, and in day-to-day use it's a trooper too. Even on a day when I used the little guy to stream several hours of podcasts over 4G, spent my usual small eternity on Whatsapp and went around town taking some snaps, it still sailed to bed time with 28 per cent battery left.
By contrast, the full-size Xperia Z5 would have been dead for a couple of hours given the same treatment. Look at the specs and it's not hard to understand why. The Sony Xperia Z5 Compact has a 2700mAh battery, the Z5 has just 200mAh extra with a 2900mAh unit, even though it has a much larger, much higher-resolution display.
While I don't love that the Sony Xperia Z5 Compact has a 'premium' price but build that's only premium in parts, this phone isn't half easy to live with. It has that road warrior reliability that most of this year's flagships don't. The rest simply tend not to last long enough.
A cold shoulder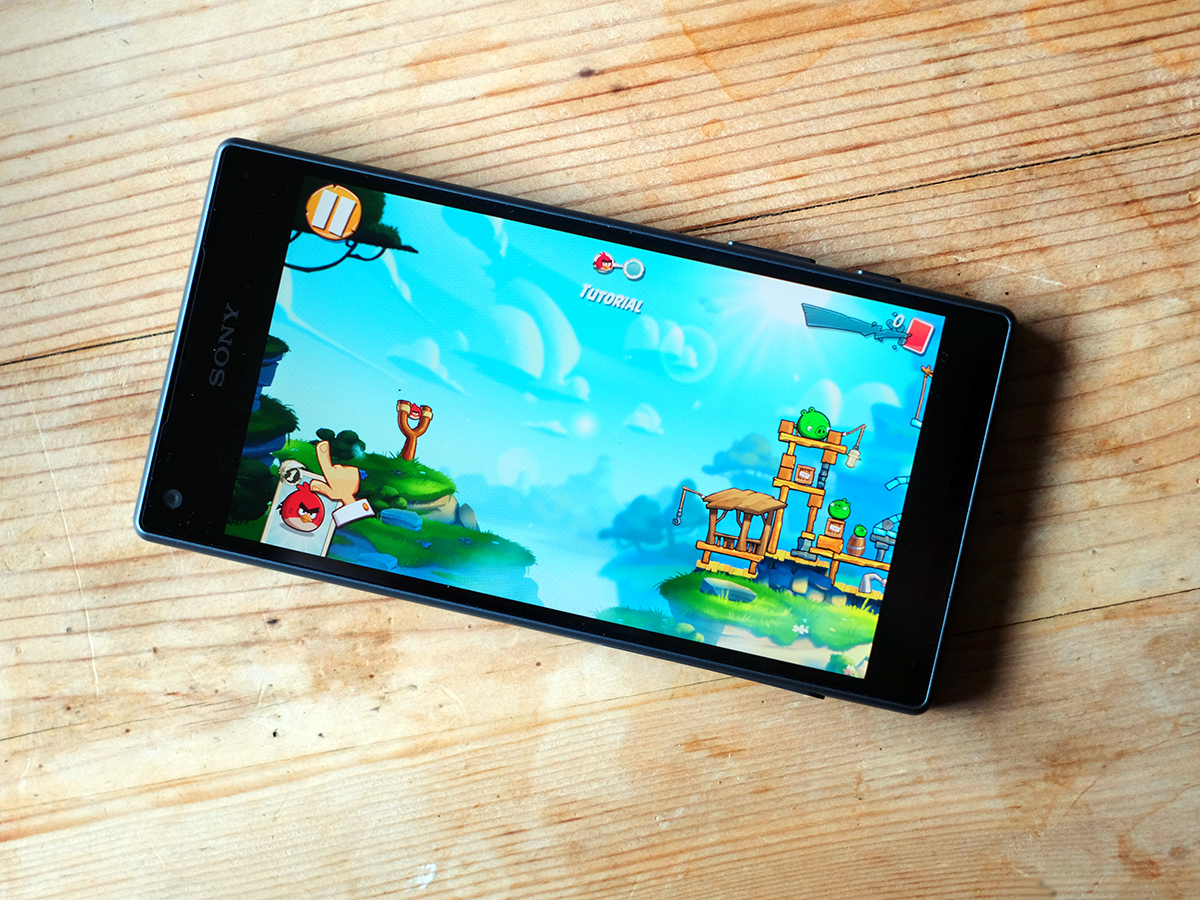 Funnily enough, I also found that the Z5 Compact doesn't tend to get nearly as warm as the Xperia Z5, even though they have more-or-less the same insides. Getting a bit warm up at the top of the rear is an Xperia family heirloom, and sure enough the Compact doesn't stay as cool as something like the iPhone 6S. But it's way less of an issue than in any of the full-size Xperias I've used over the last year.
Do the thicker body and less power-sapping screen help out? It certainly looks that way.
At the core of the Sony Xperia Z5 Compact is the same Snapdragon 810 used in the larger Z5. It's a top-tier 2GHz processor backed up 2GB RAM. This phone may have a go-kart body, but it has a sports car engine.
Performance is generally great, the camera being the only bit that seems to slow the phone down at times. In Geekbench 3 it scores 4280 points, which is right at the level we'd expect for a top-end Snapdragon phone right now.
Without wanting to sound like Eeyore, there is a question of what that power will get you, though. The Snapdragon 810 has enough muscle to play high-end 3D games on QHD-resolution phones, so isn't it a bit wasted on a 720p screen? Rendering fewer pixels needs less power.
Sure, the thing'll probably run games better for longer as a result, but then the next generation of Snapdragon processors are sure to be a lot more efficient than the Snapdragon 810, which already lags behind the alternatives from Apple and Samsung Exynos. That's where we're at with processors now: efficiency rather than pure power is king.
Still, if you care more about the here and now, the Sony Xperia Z5 Compact is great. As well as having a fast CPU, the software is fast too.
Android in a dinner jacket
Sony has just tweaked its custom Android UI a bit for these latest phones, and as ever it's among the most stripped-back Android interfaces in the world. No extra menu guff here. There are a few bonus apps, including Sony's usual video and music players, but if you don't like them you can delete most.
As I said when reviewing the Xperia Z5, the Compact's interface is perhaps a bit serious-looking, but I'd much rather work with it than what HTC and LG are using at the moment. And, most important, it doesn't introduce any major lag.
Having lived with the phone for a little while, though, there's one bit that needs fixing. The camera is often very slow. It's not in the camera app itself that this really sticks out but when, as I expect many of you do, you take a photo in a third-party app like Whatsapp. It's shutter lag-tastic.
All the megapixels
This doesn't seem simply down to an app problem. The Sony Xperia Z5 Compact camera just isn't as fast as that of, say, the iPhone 6S or Samsung Galaxy S6.
This is a bit disappointing when the all-guns-blazing 23-megapixel camera is one of the big new features. Especially when one of its main boasting points is its hybrid phase detection focusing system.
Here's the thing: the focusing is very fast, but focusing is just one part of the process of taking a photo. And the whole thing is often not as quick as I'd like, especially if you're taking HDR shots.
There's shutter lag, and a post-shoot delay between shots. In some other respects the Sony Xperia Z5 Compact camera is great. Its colours are generally lovely and the camera app has more modes than you need, including plenty of fluffy fun ones.
One of the kinda-hilarious highlights is the ability to paste real-time 3D masks of animals and other people on your selfies. It's deep silly stuff, but quite fun. In the right conditions the Sony Xperia Z5 Compact can also take photos up there with the best phone cameras in the world: the Galaxy S6, iPhone 6S Plus and LG G4.
The main camera is also very, very high-res at 23 megapixels. However, I'm ultimately a little bit disappointed with the worth of all those pixels.
Meaning in megapixels?
Even in daylight, 23-megapixel photos look quite scrappy right down at the pixel level. That's why the phone actually takes 8-megapixel photos as standard, using oversampling to try to get rid of this pixel-level ugliness. Sony says it lets you use digital zoom losslessly, but experimenting with it, shots tend to look pretty grim at full zoom (x5).
My advice: don't be drawn into the idea the Sony Xperia Z5 Compact is going to get you more detail than any other camera out there. I also find the app style a bit convoluted. It actually has two 'normal' modes, Superior Auto and Manual, which only really gives you as much control as the normal camera apps of the LG G4 and Galaxy S6.
Rather than bunging on more silly extra modes, maybe it's time for Sony to pare everything back and make one 'main' camera mode that really works, and works quickly. Ultimately, this is not among my favourite phone cameras because there's just too much shutter lag, and shot-to-shot speeds aren't fast enough.
Low-light photo quality isn't among the best either, as the Sony Xperia Z5 Compact doesn't have optical image stabilisation. It only has stabilisation for video, which involves cropping into the frame and using the borders to smooth out any jaggedy motion.
What we will say is that the Sony Xperia Z5 Compact must one of the the smallest phones to support 4K video capture. I took it for a spin on what's sure to be one of 2015's last warm UK days and even after two minutes of video-shooting it was showing no signs of overheating. The Xperia Z5 got warmer just by streaming video in the browser.
Whether the Xperia Z5 Compact has hit the bullseye or the Xperia Z5 was another heat management fail, it's good news for this phone.
Among phones of its size, the Sony Xperia Z5 Compact also has one of the better speaker sets. The little-known Alcatel OneTouch Idol 4.7 is louder still, but the Compact is not bad. It uses a pair of front-loaded speakers just like its big brother.
Forgetting about size for a minute, the HTC One M8S sound is a bit fuller and the latest Galaxy phones (Note 5, S6 and the Edge contingent) all have a bit better mid-range sound quality. But the speakers are not too bad at all.
Sony Xperia Z5 Compact verdict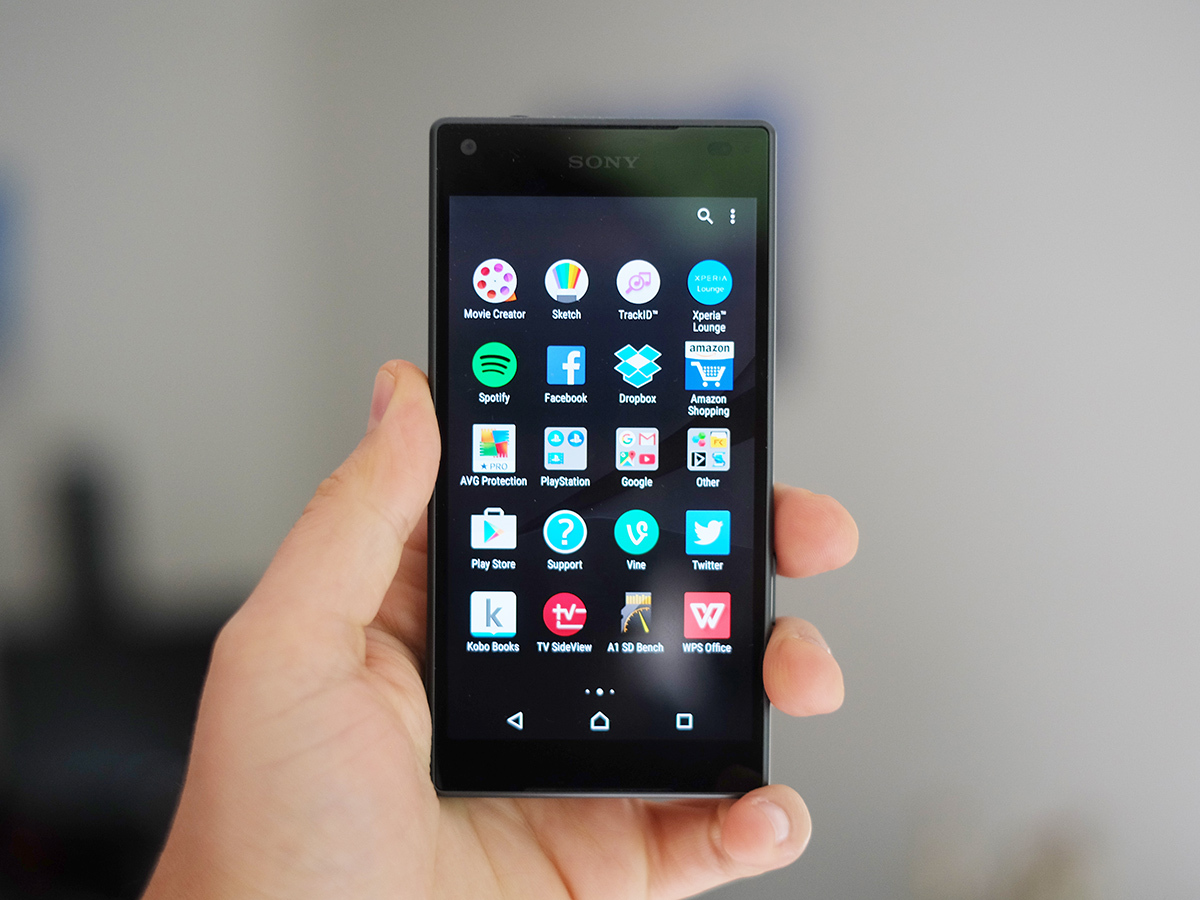 The Sony Xperia Z5 Compact snatches the 'small phone, big specs' baton from the Z3 Compact with ease. It updates the processor and the camera, and doesn't mess with too much else.
It also beats the Z5 in a few fields, trashing its battery life and seemingly keeping cooler despite having to fit all those chips into such a small body. But does it do enough?
The fingerprint scanner is great, performance is very good. But a kinda-slow-at-times camera and the just-720p screen mean it has plenty of competition from phones half the price. While Compact enough, this Z5 could do with feeling a tad more premium.
Tech specs
| | |
| --- | --- |
| Software | Android 5.1 with custom UI |
| Screen | 4.6in 1280 x 720 IPS LCD Screen |
| CPU | Snapdragon 810 2GHz octa-core CPU |
| RAM | 2GB |
| Storage | 32GB with microSD |
Stuff Says…
A long-lasting phone that's dead easy to live with if you're after a smaller screen.
Good Stuff
Good battery life
Friendly to smaller hands
Plenty of power
Bad Stuff
Screen is still 720p
A bit expensive?
It's small, but also chunky
Camera is quite slow at times