Sonos Move 2 review: moving portable sound up a gear
Improved in pretty much every way, but how portable do you need a smart speaker to be? Sonos thinks it has the answer: not very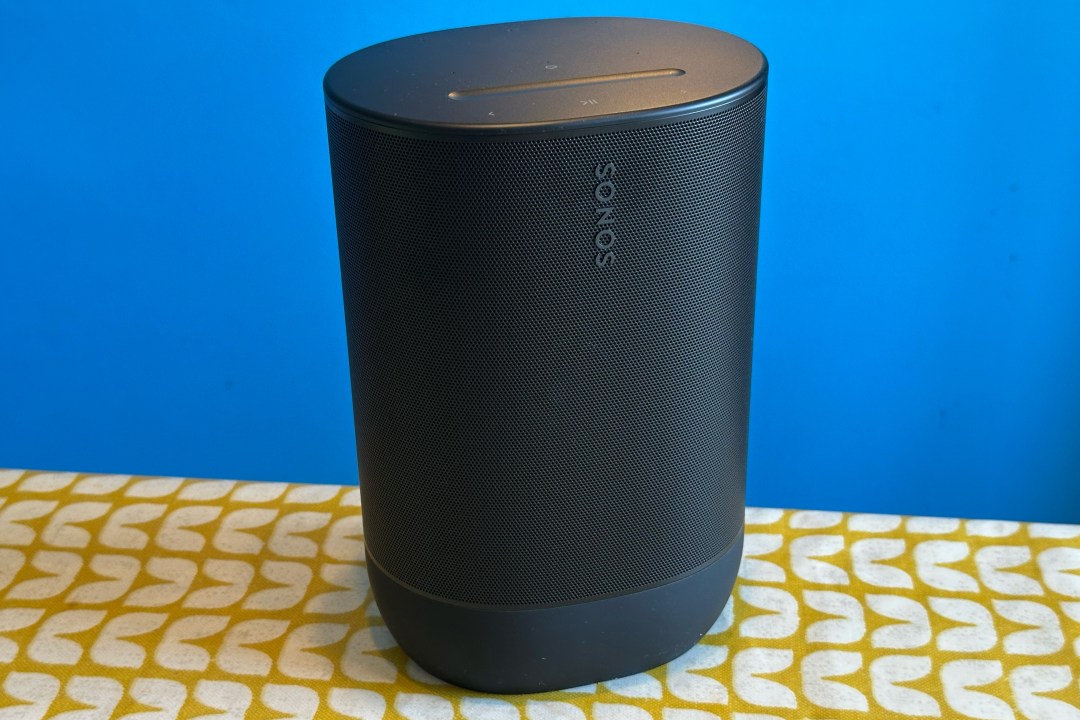 Stuff Verdict
Beefed up audio and a longer-lasting battery – a winning combo
Pros
Excellent audio upgrade
Brilliant battery life
Handy charging base
Cons
Expensive
No Google Assistant
Rubbery material around the basee
The Sonos Move 2 brings the usual slew of improvements over the older version. It's a bone fide Sonos multiroom speaker when it's in your house but you have the flexibility to take it out and about and use it with Wi-Fi elsewhere or, as is more likely, with Bluetooth from your phone.
The original Sonos Move in 2019 marked a new era for Sonos as it embraced Bluetooth. Yes, indeed, prior to that, Sonos was very much in the Wi-Fi-only camp.
That has now changed; every new Sonos product since has included it – the Roam super-portable and the new generation of premium Sonos home audio gear, the Era 100 and Era 300. We're still expecting Sonos to replace the Sonos Play 5 with an Era 500, but it hasn't happened yet.
The original Move was great, backed up by a five-star Stuff review. But with its new range of home speakers Sonos has updated its interface on the devices – that's changed here. Sonos has also introduced stereo sound as well as drastically extended the battery life. So it's fair to say there are improvements in all the right places.
The only real bum note is that it costs more than its predecessor. That's quite a step up from other comparable smart speakers like the Amazon Echo Studio and Apple HomePod 2, but both of those aren't portable.
Design
There's a lot of commonality with its predecessor – it remains quite weighty at 3kg, it's IP56 water resistant, there's a wireless charging stand (a pleasantly long 2m cable is supplied) and a rubberised base housing the battery that we're not terribly keen on; it feels quite sticky but is clearly there to protect what's inside.
Once again it's 24cm tall; this is not a minature option. Nor is it super portable with that weight.
It's a worthy home speaker as well as something you can put in the car and take elsewhere – you aren't going to chuck this in a backpack.
As well as the usual Sonos black and white matte finishes, there's also a new outdoorsy green colour. Olive? Maybe, but Sonos just calls it green. Sadly our review sample was just plain ol' black.
The new design is very similar to the older model but with some changes. There's a new volume slider similar to that on other recent Sonos devices as well as other touch controls for normal audio functions.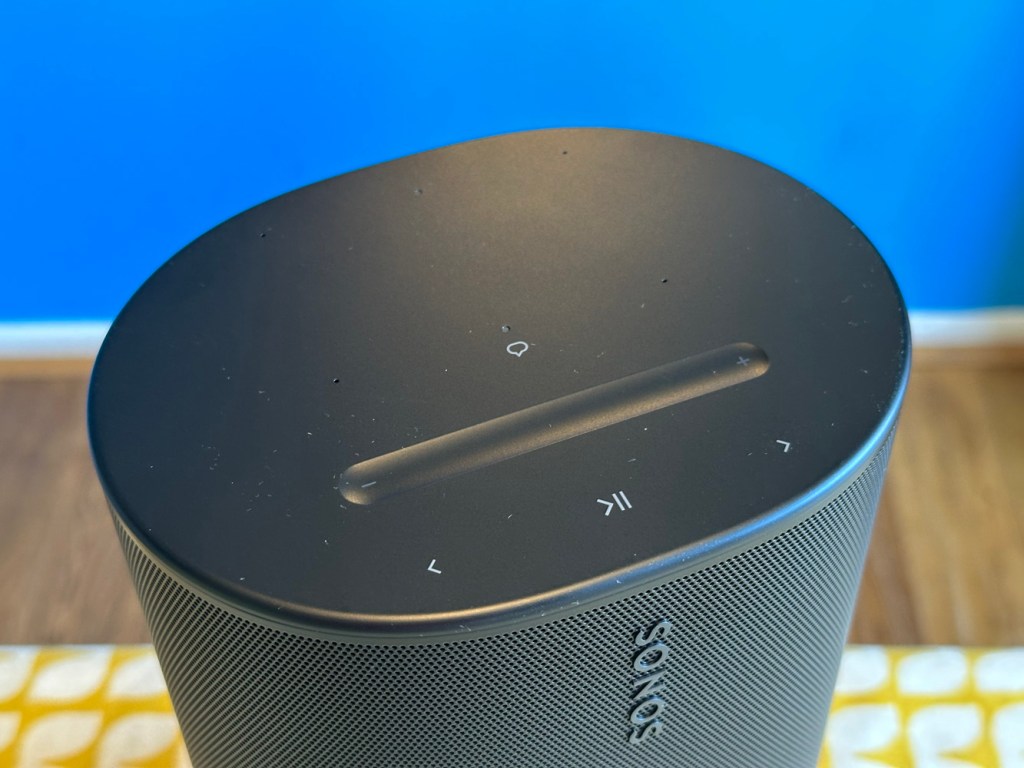 Plus as with the original Move there's a sculpted bit on the back that acts as a handle (you can also get a Wall Hook that fits the sculpted bit should you want to hang it somewhere).
It has all the other basics present – a power button, Bluetooth pairing button, mic mute switch to turn off the far-field mics and USB-C.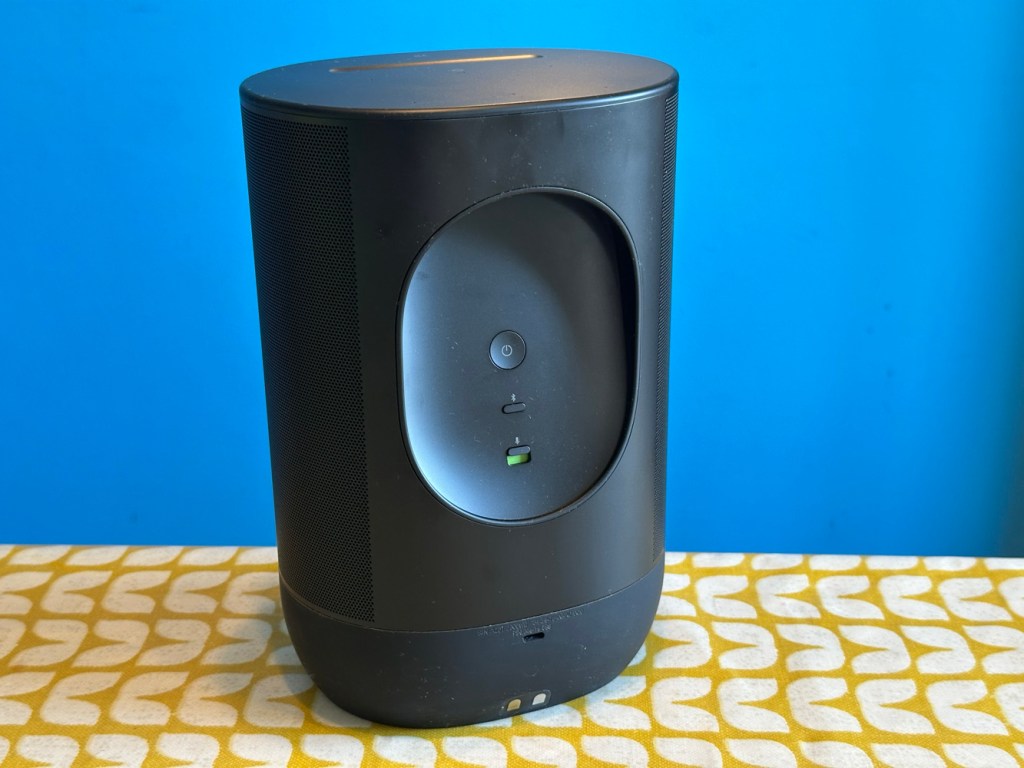 You can also charge mobile devices through the USB-C port which is rather handy. A small LED indicates various states including charge status, whether the mics are muted and so on.
Sonos Move 2 has an IP56 rating. That means it's protected from dust ingress and high-pressure water jets, but it's not fully waterproof. You certainly won't be taking it into the pool, but it'll be fine next to the lounger.
Sound quality
Sonos has completely reworked the audio in this product with newly-introduced dual tweeters and mid-range woofer really do pack a punch and while the difference is noticeable versus the Era 300's bulk and power, there's much less of a noticeable difference versus the Era 100.
It's worth noting that no spatial audio like the Era 300 or Arc soundbar – hardly surprising – but that won't be anything like a dealbreaker for most. Both of those products have upward-firing drivers for height. (Beam Gen 2 features virtualised Dolby Atmos).
And unlike many other portable speakers, you can adjust the EQ in-app.
Like the recent Era 100 and Era 300, the Sonos Trueplay tuning tech is supported on Android as well as iOS. With older Sonos devices, it was limited to Apple devices only.
It's worth mentioning that the Bluetooth capability here is such that you can play Bluetooth audio to the rest of your Sonos system. You can also stereo pair two Move 2s, but not with an original Move.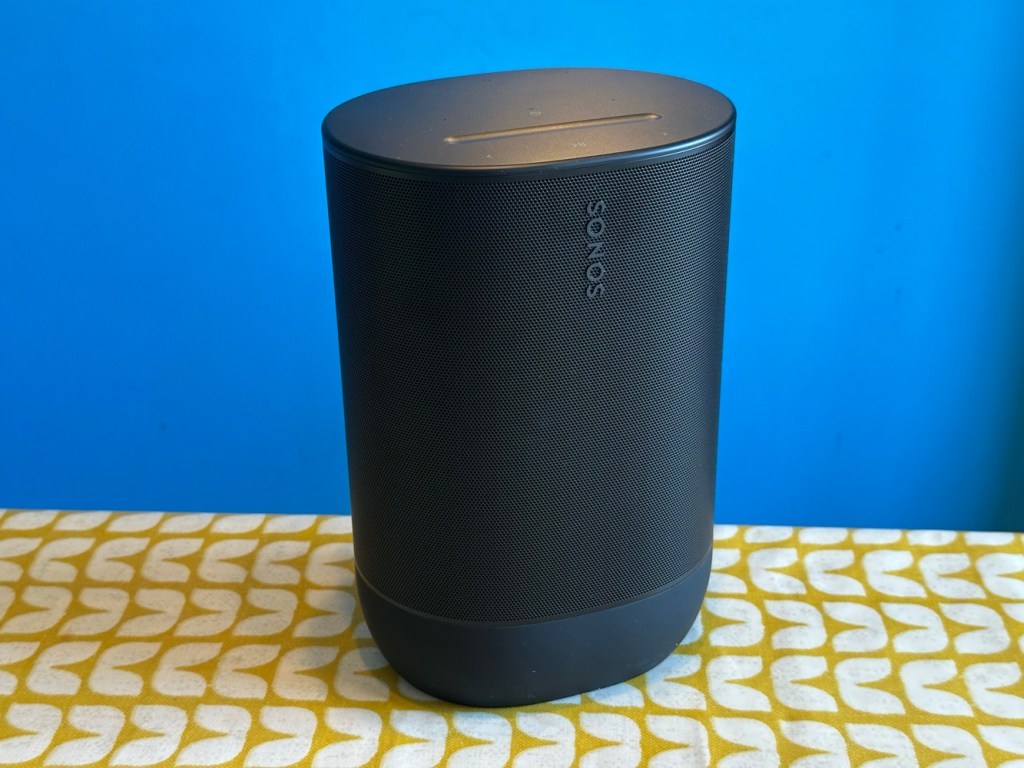 Smarts and battery life
There's support for Sonos' own voice assistant as well as Amazon Alexa. The Alexa integration is smooth and pretty responsive – we're a long way from the early days of its patchy appearance on the Sonos One. Sonos' own assistant is fine for the basics, but if you're used to Alexa you won't be using the Sonos one.
Google Assistant has now fallen out of favour with Sonos, which is a shame but stems from a legal spat between the pair.
As with all Sonos devices there is support for Apple's AirPlay 2 as well as Spotify Connect. Both are very welcome.
In many ways Sonos still prioritises Wi-Fi here – for example, you'll need to set up the Sonos Move 2 with Wi-Fi and the Sonos app. You can't simply take it out of the box and use it with Bluetooth. Is that a problem? Not really.
The biggest boon of the new setup is the battery life, which has increased from 11 to 24 hours – meaning you can take it away for a few days without issue. It also makes it a much more appealing option for a location in the house where having a power cable would be unacceptable, like on a shelf.
Should your Move 2's 44Wh battery fail, you can also buy a new one – a replacement kit is available, though it's not quite a simple clip in and out so it's not really practical to have two in case the power should run out.
The USB-C port supports audio-in though you will need an additional Line-in Adapter, but you can make a simple system using it for a turntable, for example, or connect it up to a PC.
There's also an optional Combo Adapter, too, should you want to use Sonos Move 2 with Ethernet…though that surely defeats the object of paying for a portable speaker.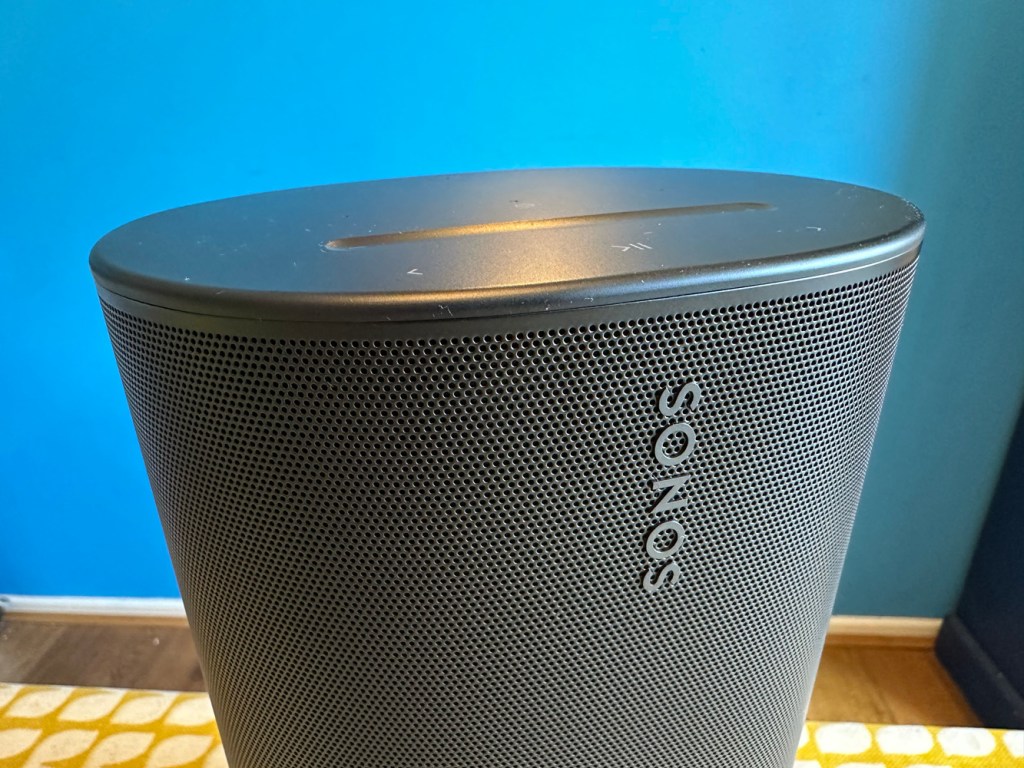 Sonos Move 2 verdict
Sonos has upgraded the Move 2 in the areas that matter most – sound quality and battery life, the latter of which has more than doubled.
The criticisms are the high price compared to premium smart speaker rivals and the weight, although the latter is the trade-off for the muscular sound.
Line-in is also a little bit of a faff with the extra adapter. But if you're in the market for this, you're probably beyond cables.
Stuff Says…
Beefed up audio and a longer-lasting battery – a winning combo
Pros
Excellent audio upgrade
Brilliant battery life
Handy charging base
Cons
Expensive
No Google Assistant
Rubbery material around the basee
Sonos Move 2 tech specs
| | |
| --- | --- |
| Audio | 2x angled tweeters, mid-range woofer (class D amplifiers for each) |
| Battery | 44Wh (24 hours playback) |
| Connectivity | Bluetooth 5.0, Apple AirPlay 2, Wi-Fi 6 USB-C |
| Dimensions | 24x16x12.7cm |
| Weight | 3kg |