Sonos Era 100 review: a new yet familiar friend
Does this cheaper new speaker spoil the Sonos Era 300's party? And is it a worthy replacement for the outgoing Sonos One?
How do you replace one of the best wireless speakers out there? One that's generally not left the best-seller or best-in-class lists since it was launched over half a decade ago. So how do you replace the Sonos One?
The answer, at last, is here. Alongside the also-new Era 300, the new Era 100 is designed for a new age of Sonos. One with more flexibility (exemplified by long-ignored Bluetooth support for Sonos home speakers) and a new control panel.
Unlike the spatial audio-compliant Era 300, the smaller sister is a direct replacement for an existing. October 2017 is a long time though, so it's high time that Sonos replaced its venerable Sonos One.
In terms of rivals, there are two key competitors in terms of high-end smart speakers; the slightly more expensive Apple HomePod (2nd gen) and Amazon's Echo Studio. If you use Spotify, then there's a definite argument for getting the Echo Studio (it boasts spatial audio if you use Amazon Music, too).
The HomePod is a more expensive investment and really is only recommendable over this, though the overall sound quality of the HomePod does have the edge on the Era 100 – however, it costs significantly more.
Design
The Era 100 is slightly larger than the speaker it replaces, but is clearly designed to fill roughly the same space but bring more punch. Again available in regulation white and black, the speaker itself is all mesh aside from at the back with a subtle Sonos logo vertically on the front. A status light (which you can toggle on and off in the app) is above the logo.
On top there's a new slider volume control – just move your finger left and right within the indentation. Or you can tap the + and – on each end for smaller alterations.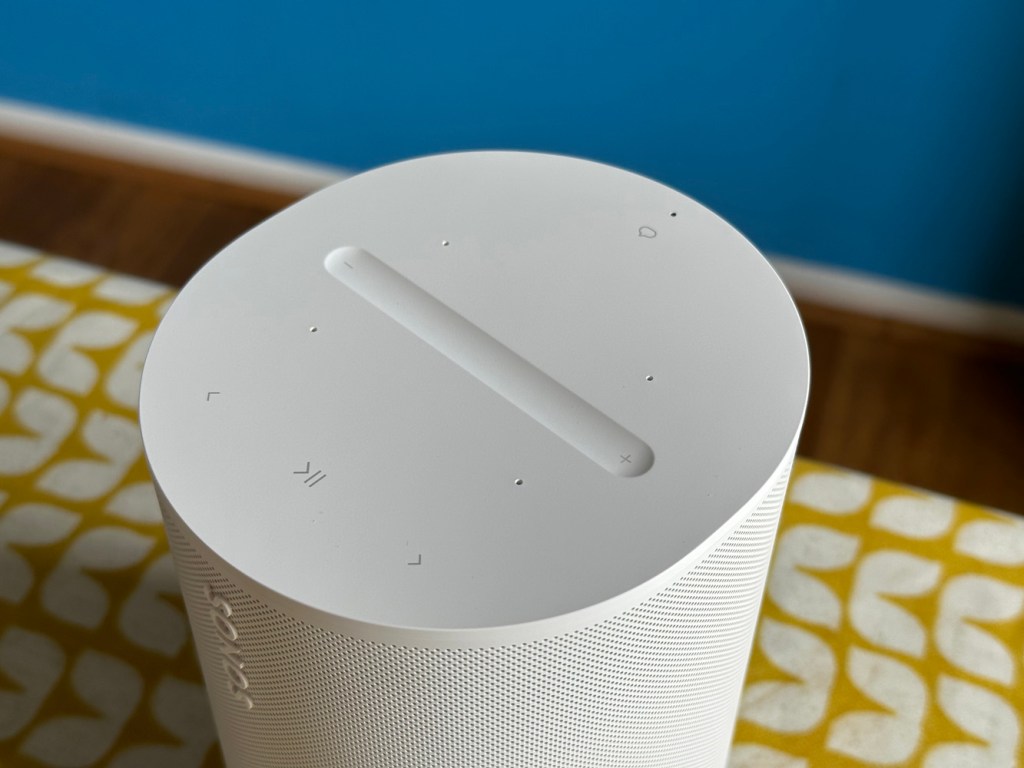 There's also the standard play/pause and forward/back buttons, too. Then you've got a voice control light if you enable Sonos Voice Control or Amazon Alexa. Google Assistant isn't supported on the Era 100 or Era 300. Sonos Voice Control works well and is very quick, but we found ourselves defaulting to Alexa, simply because our household is used to dealing with her foibles.
On the rear, you've got a Bluetooth button for pairing devices as well as a mic mute button which is a pre-requisite for Amazon Alexa support. There's also a USB-C socket into which you can put one of two adapters – one to connect to an external device like a turntable or another with 3.5mm audio and Ethernet should you wish to wire them up. Both require an extra investment, they don't come in the box – not that you'd necessarily expect them to. The Era 100 can also act as rear speakers in a surround setup.
Features and sound quality
Setting up your Era in the Sonos app is dead easy. You don't even need to put in Wi-Fi details – it'll take them from your phone.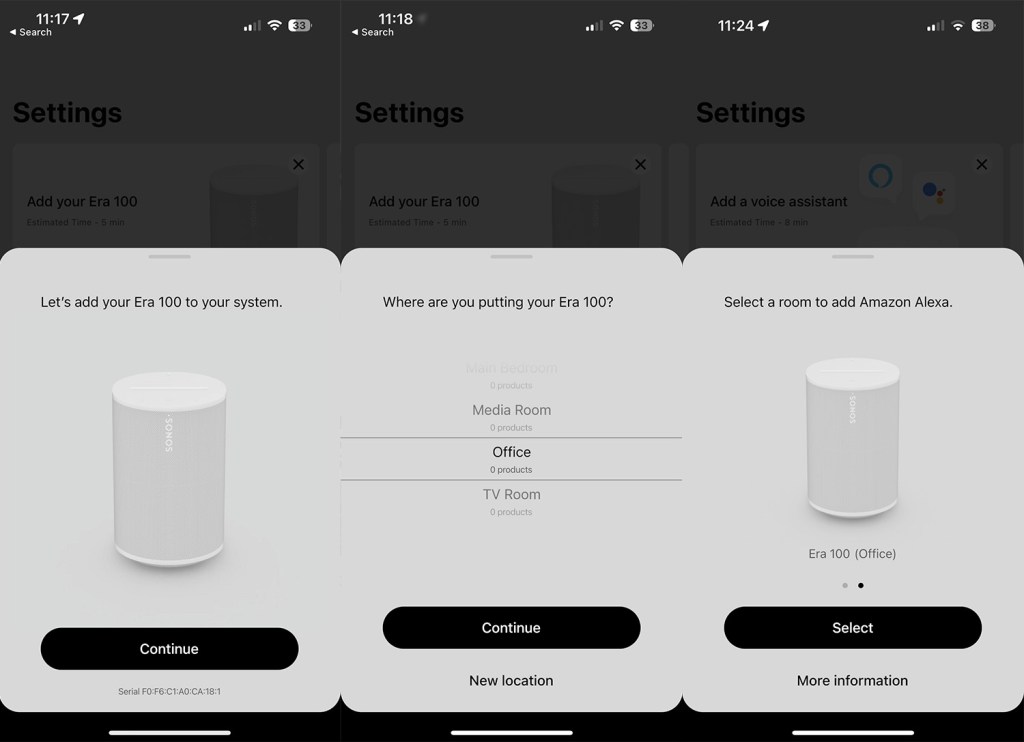 Spotify Connect and Apple's AirPlay 2 are both supported well, and you can also use the excellent Sonos app to connect to the music service of your choice alongside radio station support. Chances are that you'll use your music service's own app, of course.
It really depends how you listen – if you want control over your whole-household Sonos system then it might be the place to be but you can also easily get that multiroom control with AirPlay 2, too so it's worth experimenting if you're new to Sonos – the key is flexibility. You can establish groupings in the Sonos app, which is handy if you want to play things on a couple of speakers. You can also control EQ settings and so on.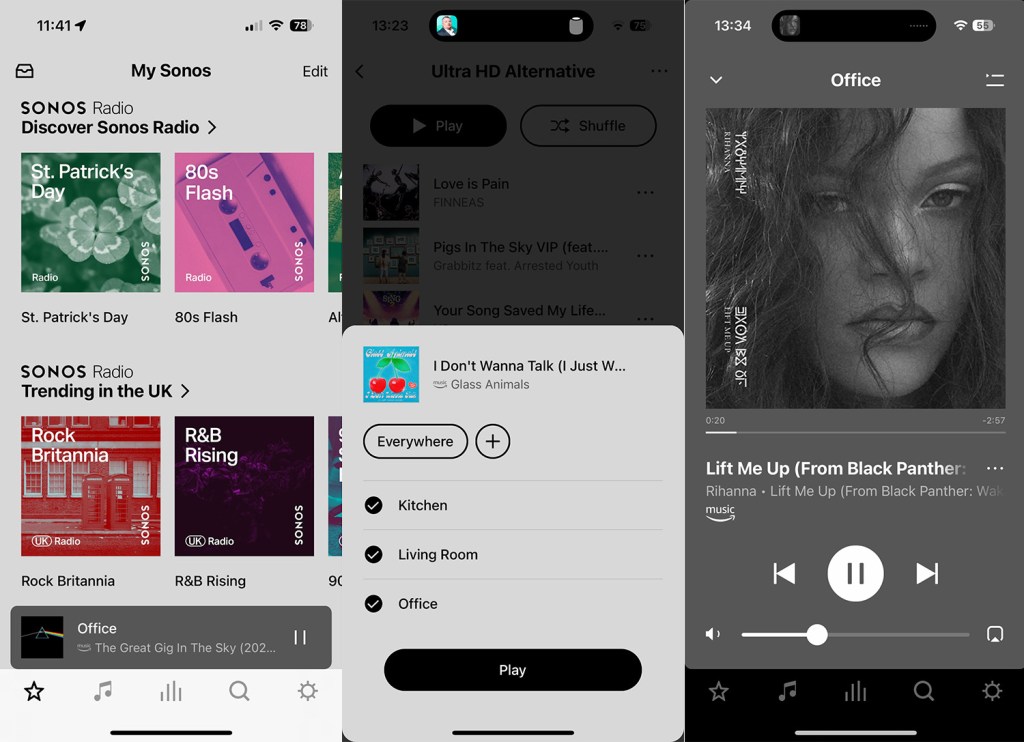 Whereas the Sonos One had two Class-D amplifiers, a woofer, a tweeter, and six far-field microphones, the Era 100 predictably brings upgrades. Dual-angled tweeters join a larger woofer in the package.
As a result the sound quality is a definite upgrade on the already impressive Sonos One. Sound is even more powerful this time around from such a compact unit – unless you really crank it up to high volume (when it sounds somewhat less refined) there's an overwhelming sense of powerful but delicate sound and the detail is seriously impressive. As is the deep bass on heavier tracks, which really defies the size of this unit. For larger spaces, you'll want something more powerful, but for most people playing music in a study, office, smaller living room or kitchen it's got so much to offer.
And, of course it works brilliantly as part of a larger Sonos setup. We had it running alongside the Era 300 as well as the Beam soundbar and Sub Mini and everything works so well. AirPlaying music is even better than on the HomePod (it always connects) and Spotify Connect is even faster.
Trueplay – Sonos' tech for ensuring the sound best reflects your room's acoustics – has also been developed with a version that uses the device's own mics (as opposed to the mic on a mobile device). This has also opened up the feature to Android users – previously it was the preserve of iOS only. We set ours up using iOS.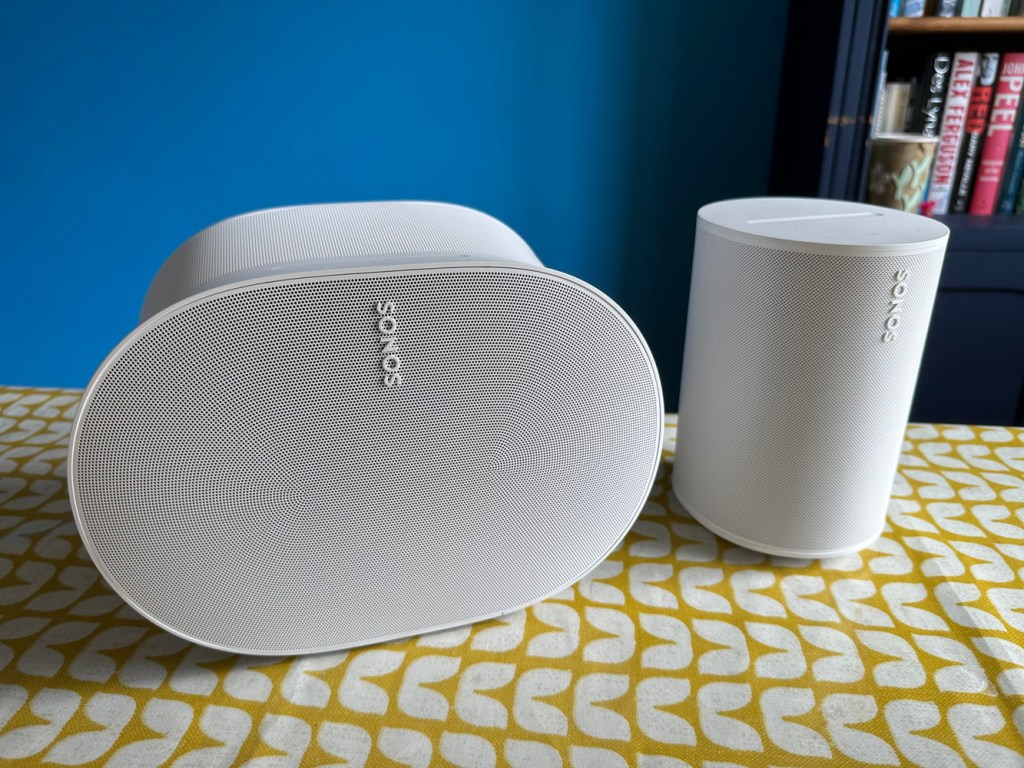 Sonos Era 100 verdict
Improved in every way, the Era 100 matches its key rivals for sound – if you've got an existing Sonos system, it's the obvious choice. And while it may cost more than most at present, discounts will change that soon enough. It won't be something you'll rush out and buy if you already have a Sonos One, for example, but it does bring the reliable speaker bang up to date, with even more punch and even more flexibility with Bluetooth. And who can argue with that?
Stuff Says…
The most classy smart speaker you can get for the price – and it's even better than the Sonos One.
Good Stuff
Improved sound quality
Brilliant smart speaker
Bluetooth a bonus
Bad Stuff
Echo Studio is a formidable rival
No Google Assistant
Adapters needed for cable connection
Sonos Era 100 tech specs
| | |
| --- | --- |
| Audio | 3x Class D amps, 2x tweeters, 1x woofer |
| Connectivity | Wi-Fi 6, Bluetooth 5.0, AirPlay 2, Spotify Connect, USB-C |
| Dimensions | 183x131x120mm |
| Weight | 2kg |