Snapchat Spectacles review
Update 2/6/17: Snapchat's video-recording sunnies are now out in the UK...
Social media could do with a bit of a shake-up. After all, you've probably seen photos of your friend's face from every conceivable angle, not to mention lattes from all of the coffee shops within a 20-mile radius. 
That's where the Snapchat Spectacles come in. A pair of sunglasses with a little camera installed in the top right corner of the frame, they're like an invisible GoPro – only for filming trips to the beach rather than an extreme bunjee jumping. 
Unfortunately, you won't be able to find them at Specsavers, as the Spectacles are currently US-only. It is possible to import them over the Atlantic (see boxout below), but are they worth the hassle? I went on a stylish Snapchatting spree to find out.
Where can I buy them?
Until now, Snapchat's Spectacles had only been available to buy within the US (unless you used a shopping service like Big Apple Buddy).
But you can now buy them from two places in the UK – from its pop-up vending machines throughout June 2017, or directly from the online store. The locations of the Snapbot vending machines, will be teased on Snapchat's map.
The web store has the same teal, coral and black versions, though, so the vending machines are strictly for truly hardcore Snap fans (or vending machine spotters).
Snapchat Spectacles design: suitably touristy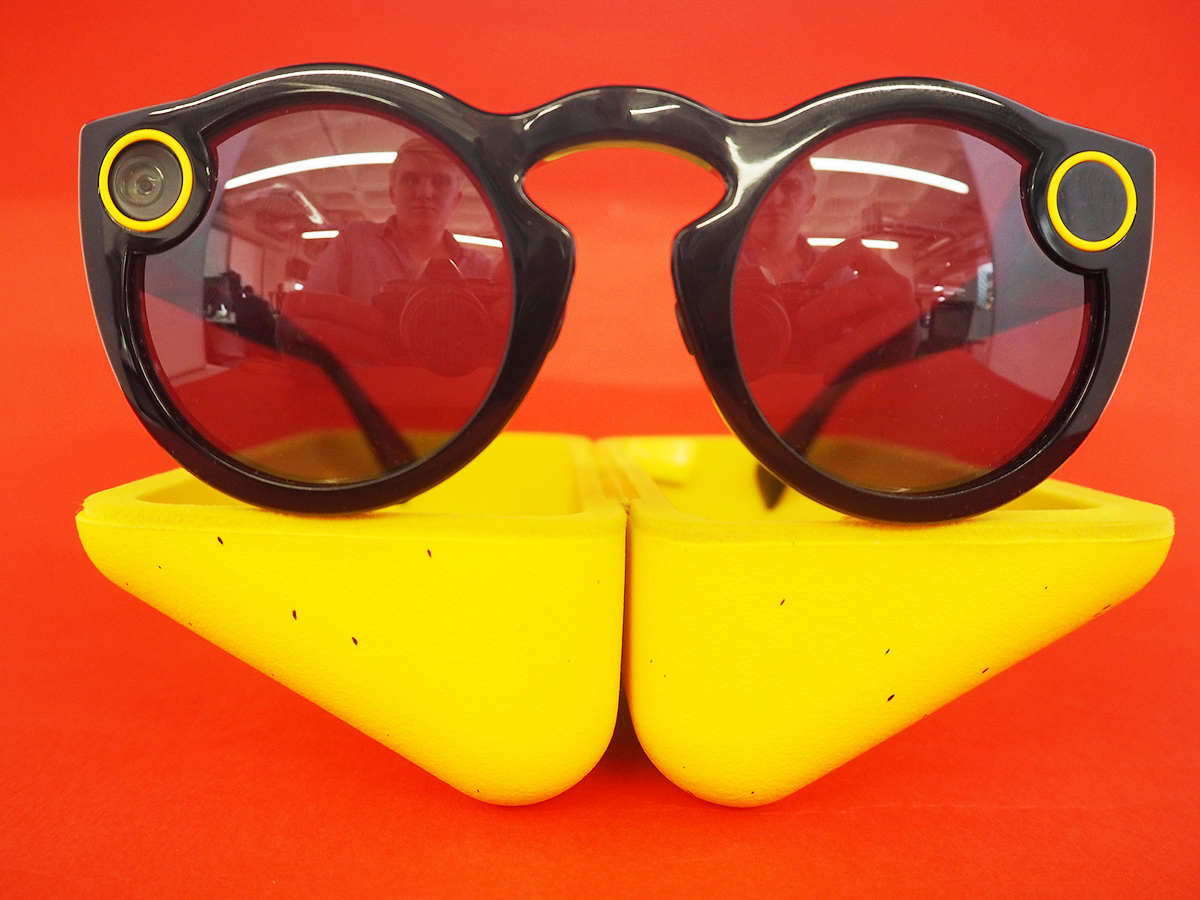 The Spectacles resemble a typical pair of shades that you'd find in tourist shop – and that's important. Snapchat wants them to blend into your everyday activities as seamlessly as possible and they do just that.
Like any good pair of budget sunnies, they're lightweight and plasticky yet comfortable. They by no means have a premium build, but since that would send the price skyrocketing, we have no complaints.
Snapchat has ensured that the Spectacles are just as much a fashion product as they are a social media companion. In testament to this, they're available in three different colours: black, coral red and teal blue.
Previous wearables like the Google Glass failed partly because people were too self conscious to wear them. The Spectacles, though, can easily replace your sunglasses, both in terms of fashion and practicality.
Snapchat Spectacles features: the anti-spycam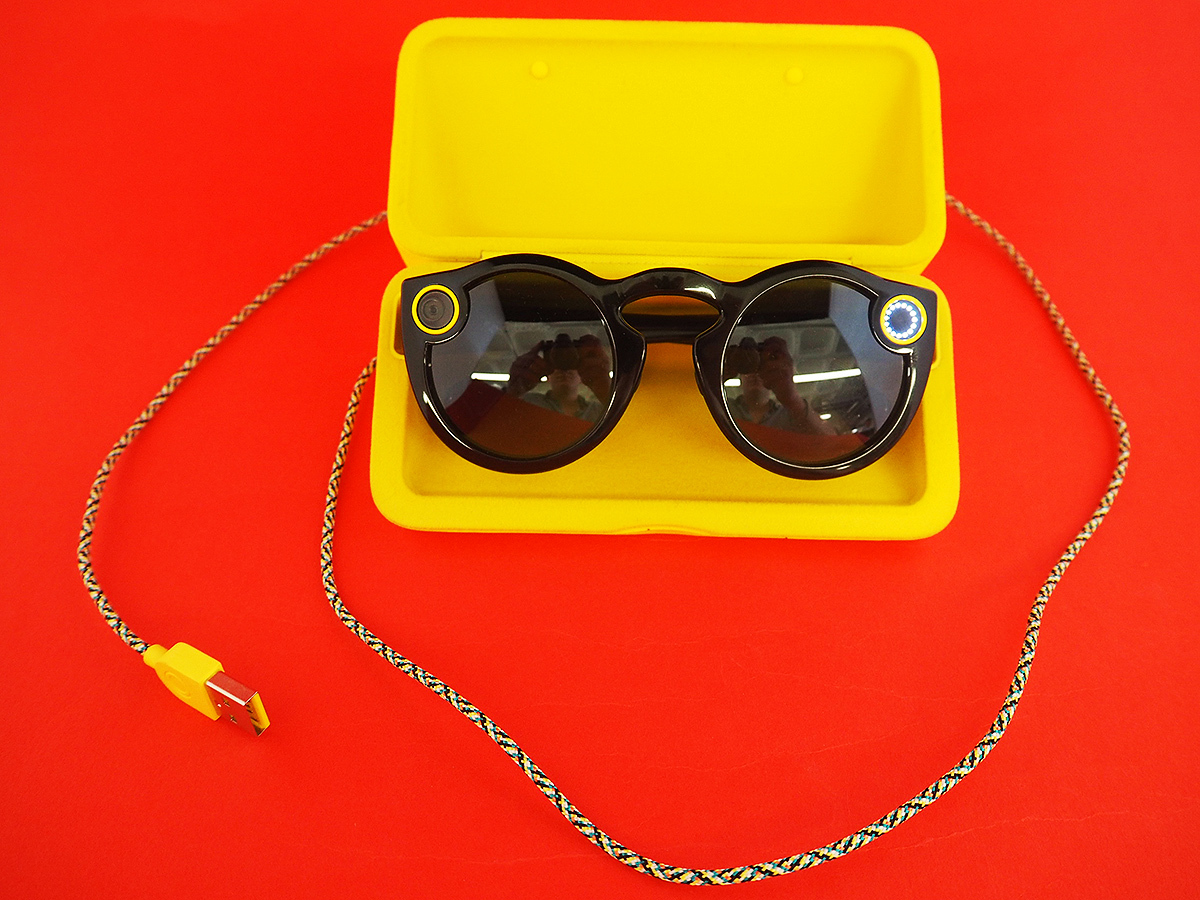 So they look like a typical pair of shades, but there's one feature that makes the Spectacles a significantly more attractive proposition to your average sunnies: the camera.
A tap on the button atop the left side of the frame will trigger said camera, which will immediately start shooting a ten-second video.
During this time, a white light will start spinning in the yellow ring adjacent to the camera. It's clear that Snapchat hasn't made this design choice in the name of fashion – its purpose is to alert people when you're in the process of shooting video.
This may be a simple feature, but I also feel it's an important one. In an age where it often feels like we're living in an episode of Black Mirror, the Spectacles' recording light eases the fears of anyone who thinks you've got the equivalent of a memory implant recording everything they do.
Snapchat Spectacles performance: made for social snapping
You'd expect the Spectacles' camera to be significantly worse than your premium smartphone's, right? Well, you'd be right, but we bet you'll also be pleasantly surprised by the video quality it produces.
The Spectacles' HD video is perfectly fine for social media. Since it shoots circular video, you do get a fish-eye effect, but I felt that to be more of a novelty than a downer. It is worth mentioning, though, that it can be difficult to know what you're fitting into the frame, since there's no way of previewing the video.
More of a problem is the Spectacle's inability to take pictures or video longer than ten seconds. Your footage can only be sent directly to Snapchat too, so it rules out any potential of live broadcasts on Facebook or Periscope, which would have been fantastic.
Still, you can at least import your ten second clips to your phone's video gallery, and distribute to other social media channels from there. But be warned: your video will appear circular, which will look pretty odd on YouTube and the like.
Snapchat Spectacles app: hassle-free syncing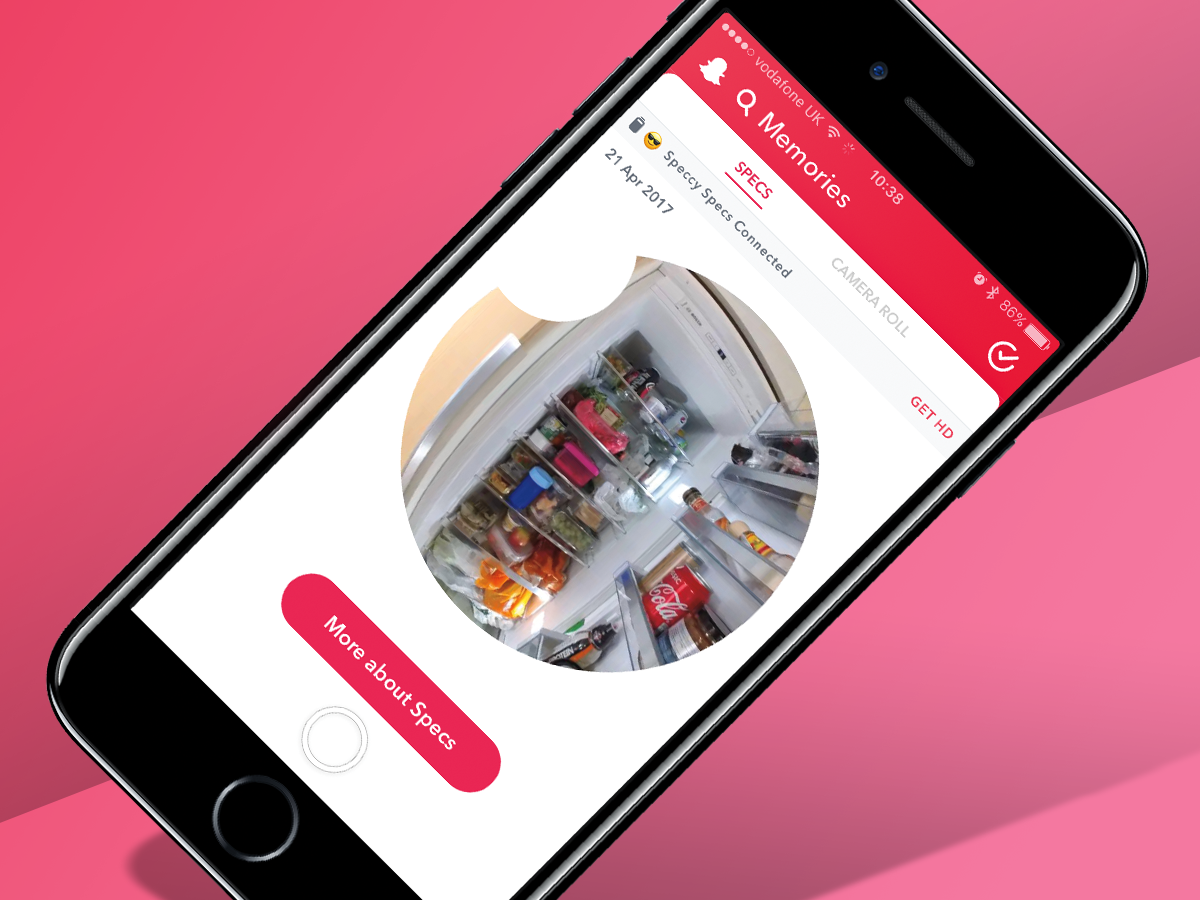 While you're busy shooting video with your sunglasses, you won't need the app. You could even leave your smartphone back at your house.
Of course, when you want to view your videos or share them with your friends, you're going to have to open the Snapchat app. Videos are automatically imported via Bluetooth once you open Snapchat in the Spectacles' proximity.
In my experience, video can take a while to import, but at least the process is hassle free. Once imported, you'll find your videos in the Memories section, waiting for you to share them with your friends.
You can also edit your videos by adding text or images, just like with any Snapchat media. Although, you won't be able to use the googly-eyed Snapchat filters that teenage girls wear more often than makeup.
Who needs filters though? Being able to shoot first-person perspective video really did invigorate my Snapchat use and I'm excited by the possibilities they offer. Watching a video of someone playing sports or attending a music gig while wearing the Spectacles will surely be more entertaining than another face swap video.
Snapchat Spectacles charging: the case of power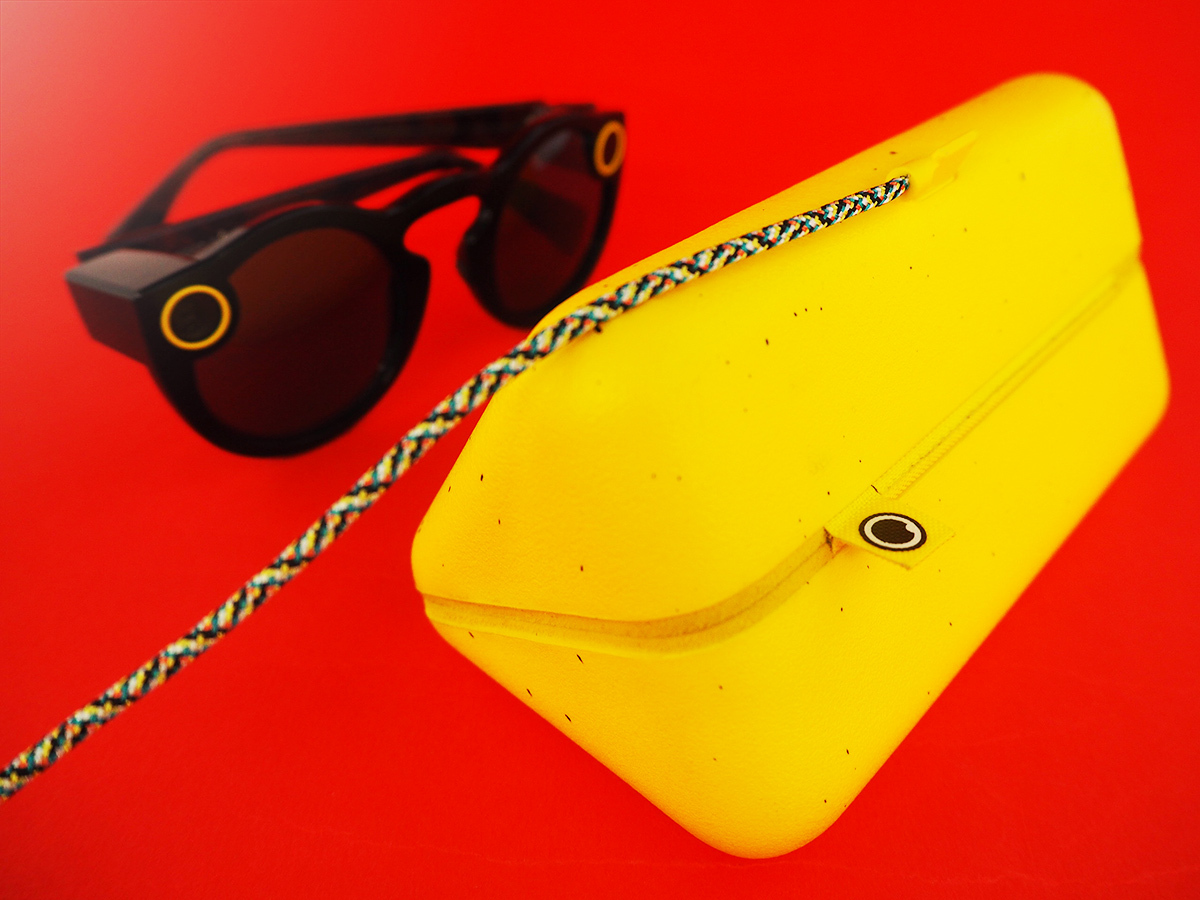 Being a pair of sunglasses, you might be wondering how their battery gets juiced up? Well, here's the clever bit: the case wirelessly charges them.
A USB cable magnetically clips onto the case to charge it, but you won't have to charge the case too often. Within the week I had to review the Spectacles, I didn't need to charge the case up once, although the battery-level indicator (which flashes up from the press of a button) is now suggesting that the case is about to zonk out.
Still, that's an impressively long time to go without a top-up. Forgotten your charging cable for your week-long holiday? It might not be an issue.
Like the glasses, the yellow case also has a simplistic, but fashionable design. The size is decent too. It won't fit in your pocket, but it will easily find room in your festival rucksack or handbag.
Snapchat Spectacles verdict
The biggest issue with Snapchat's Spectacles? They have limited uses. Firstly, you can only shoot ten second videos.
Secondly, there aren't many situations where wearing sunglasses to shoot video is convenient or socially acceptable, especially in the drizzly UK. Although I can see them being perfect for music festivals.
Let's not forget that they also only work via Snapchat. Not a fan of the social media app or don't have a huge amount of friends on it? Then these sunnies aren't for you. If you want to stick to Facebook, you're better off strapping your smartphone to your £5 shades.
But for Snapchat addicts the Spectacles could well be one of the most exciting gadgets of the year. The first-person perspective adds a lot more creative potential for social videos, which gives Snapchat a huge ace in its war against Facebook.
But more importantly, I had a lot of fun with them and can imagine them being the perfect accessory for documenting summer holidays and festivals, particularly if you're in the market for a new pair of sunnies anyway.
Stuff Says…
They might be limited, but the Spectacles are a brilliant summertime accessory for Snapchat addicts
Good Stuff
First-person view videos are refreshing
A simple and fashionable pair of sunglasses
Case has a lengthy battery life
Bad Stuff
Can't take pictures or record video longer than 10 seconds
Can only be used with Snapchat
Limited use cases