Skylanders: Superchargers review
Has adding land, sea and air vehicles made this the most enticing Skylanders instalment yet?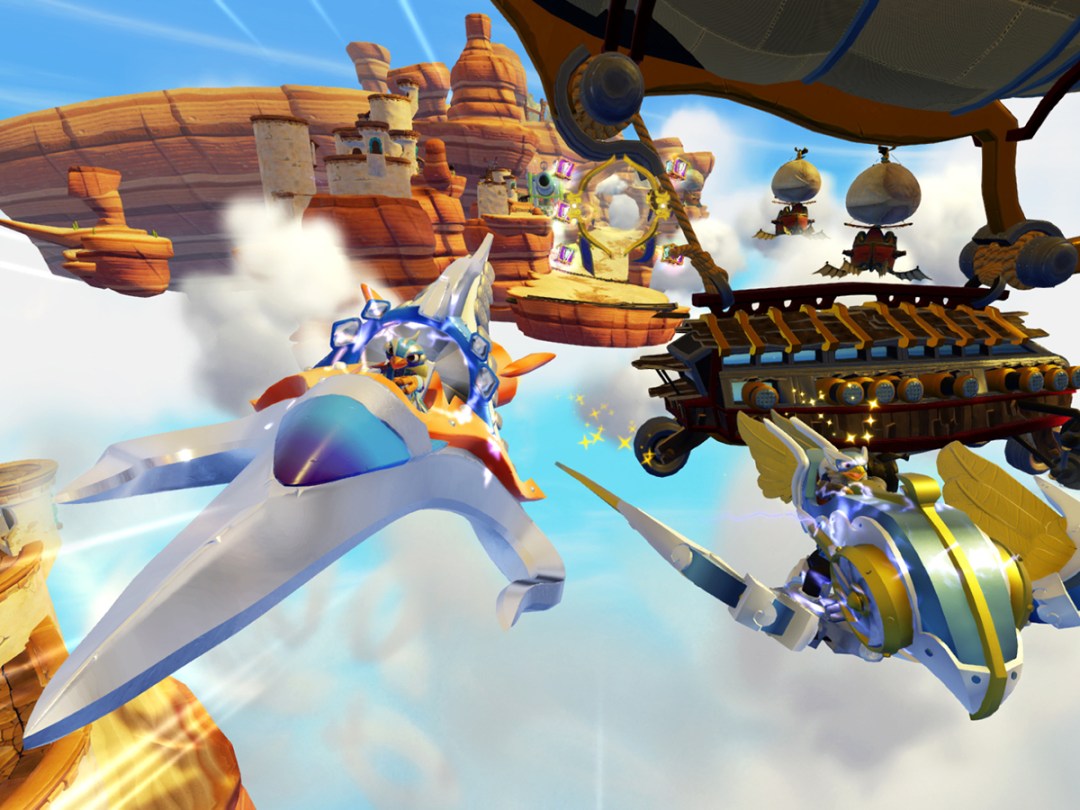 'Skylanders' is a word that's as likely to inspire joy in the eyes of children as it is to send adults scrambling for cover.
In being built around collectible cartoon figurines, this action-adventure series is designed to eek as much money as possible out of its players and their parents. Mainly their parents.
Trouble is, it's also an awful lot of fun and Skylanders: Superchargers amps up the action even further with the addition of vehicles that can traverse land, sea and air. If you pay for them, of course.
So does this latest Skylanders add up to more than a drain on your finances? We played it with a 10-year-old to find out.
Introducing Rory
For a direct line into the mind of Skylanders: Superchargers' demographic, I recruited the help of Rory. He's a big Skylanders and Disney Infinity fan, who already owns 20 characters in the series out of an available 117. This gave us the opportunity to employ different attacks and styles throughout our adventure.
Whether it's Krypt King with his undead style moves or Head Rush and her earth-based moves, every Skylander comes packing some serious heat. Although I'm as jaded as any journo, Superchargers induced a level of enthusiasm in Rory that's not been seen since Will Ferrell's Elf heard 'Santa's coming to town'. Especially now he could race around in the game for the first time ever.
On a Hot Streak
Superchargers' Starter Pack provides you with Spitfire and his matching car, the fiery Hot Streak, as well as the Super Shot Stealth Elf. As you progress through the game, you'll take the battle to evil on three fronts: land, sea and air – just like Winston Churchill. Investing in extra vehicles also means you'll be able to travel across different terrain.
Characters are able to use any vehicle, but when matched with the appropriate one they're Supercharged, which means special abilities like an engine that spits lava rocks. Naturally, this is all a ploy to ensure maximum revenues from the game. Activision claims you'll be able to complete 50% of the content just by using the land vehicle, but this didn't stop Rory from feeling hard done by Activision.
On the plus side, you're thrown into Skylanders: Superchargers' headline feature from the off. Trying to drive your way out of a portal to arrive safely back into Skylands by collecting gear bits and trying to hit boosts on the track along the way.
Collecting gearbits throughout missions allows you to accumulate currency that you can then spend on applying various mods to your vehicle. The mods you choose will depend on what you value the most, speed, weight, armour, handling or a couple of other specs. Rory decided that speed was our highest priority when escaping the forces of Kaos, so maximising acceleration and reducing weight was a must.
These mods are most important when you come to racing, which you have access to at Skylands Academy. There are plenty of sea, air and land races for you to take part in across various tracks. These are a good Mario Kart-esque activity on the side, challenging players to combine driving skill and tactical usage of weaponry. My calm temperament behind the wheel combined with Rory's ruthlessness with the weapons combined well, contributing vastly to the downfall of Kaos' forces.
Descending into Kaos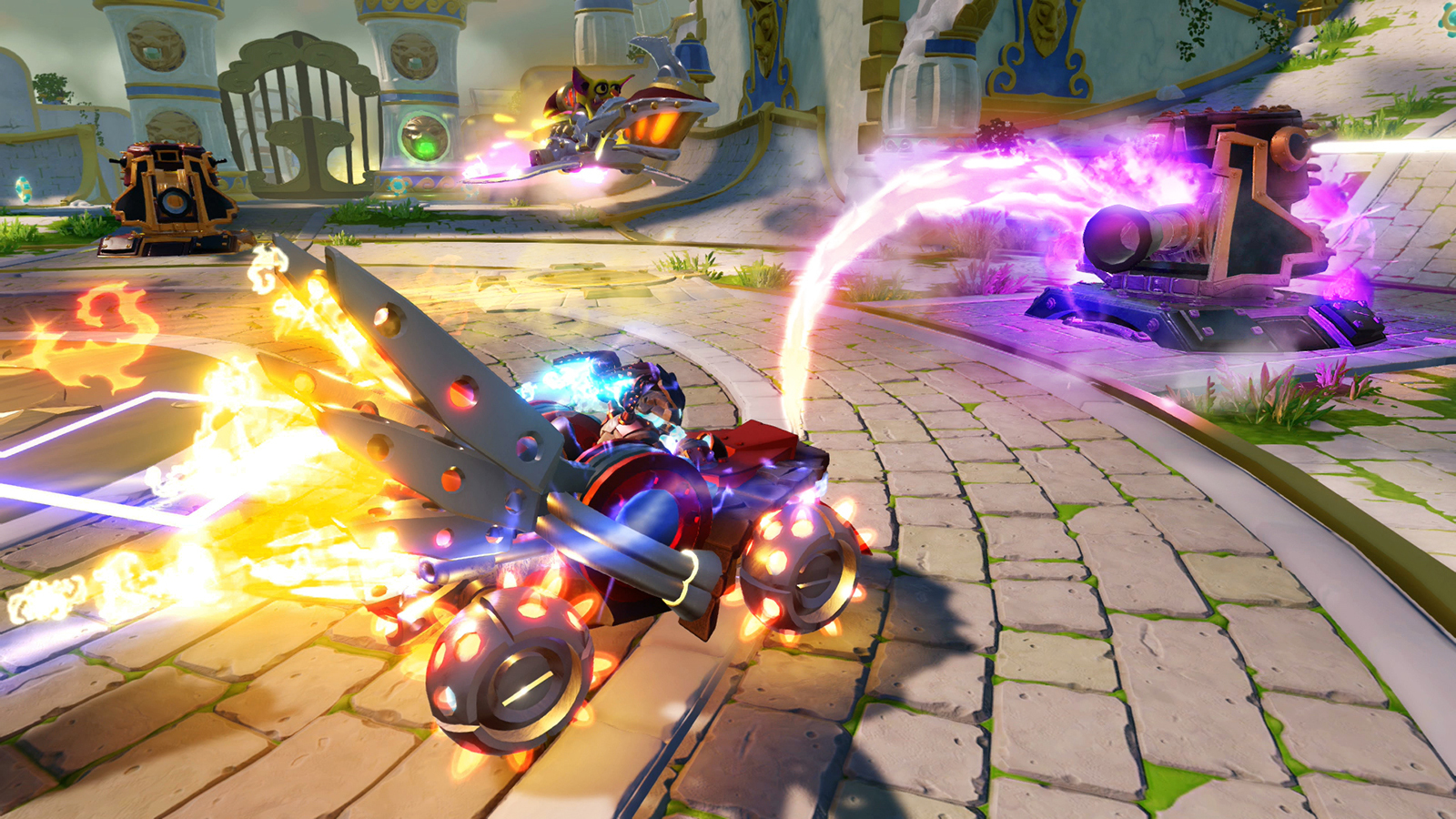 Away from Superchargers' straight-up racing segments, your aim in missions is to lay waste to as many enemies as possible, collect your fair share of gearbits and other items, and then eliminate the boss at the end of the chapter. If you're ever confused about where to head, usually look for the glowing portal gates that make you feel like you're in an episode of Stargate.
The in-game movement is smooth and fast, combat is easy and generally results in a lot of button-bashing. Colourful graphics and enticing surroundings peaked Rory's interest getting him out of his chair and up close to the TV.
Where Rory and I excelled was in vehicle-based multiplayer mode. One of you is the pilot/driver and one of you controls the weaponry, which we found particularly helpful during aerial exchanges – trying not to crash on its own is hard enough. As a team you can take on missions as long as you have enough characters. That means two people wandering around and killing villains, as well as taking on vehicle related challenges.
Supercharge your account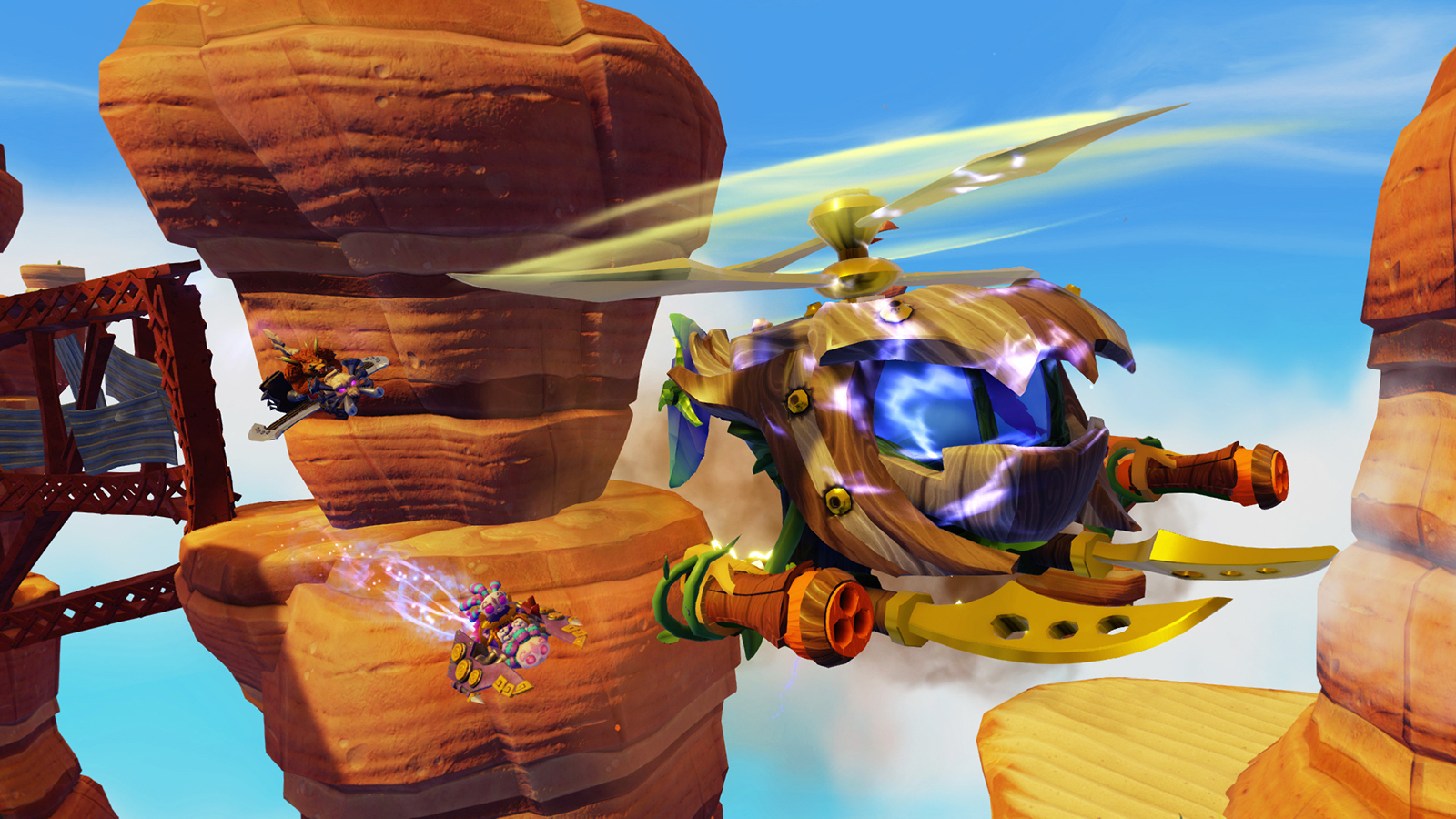 As enjoyable as Skylanders: Superchargers is, especially with Patrick Warburton (a.k.a. Joe from Family Guy) being the voice of your ally Finn – there's one glaring negative that slaps you square in the wallet. This game costs an absolute fortune to keep running, as soon as you've paid the £50 for the starter kit – your child or inner child is then going to need air and sea vehicles which cost an extra £30 combined.
So you're £80 down, but of course you want the matching sea character to supercharge the vehicle which is £13. You've now spent £100 and you haven't even unlocked all the available content yet.
I pity any parent whose child becomes a die hard fan of the Skylanders series, although you won't be lacking in present options this Christmas.
Skylanders: Superchargers Verdict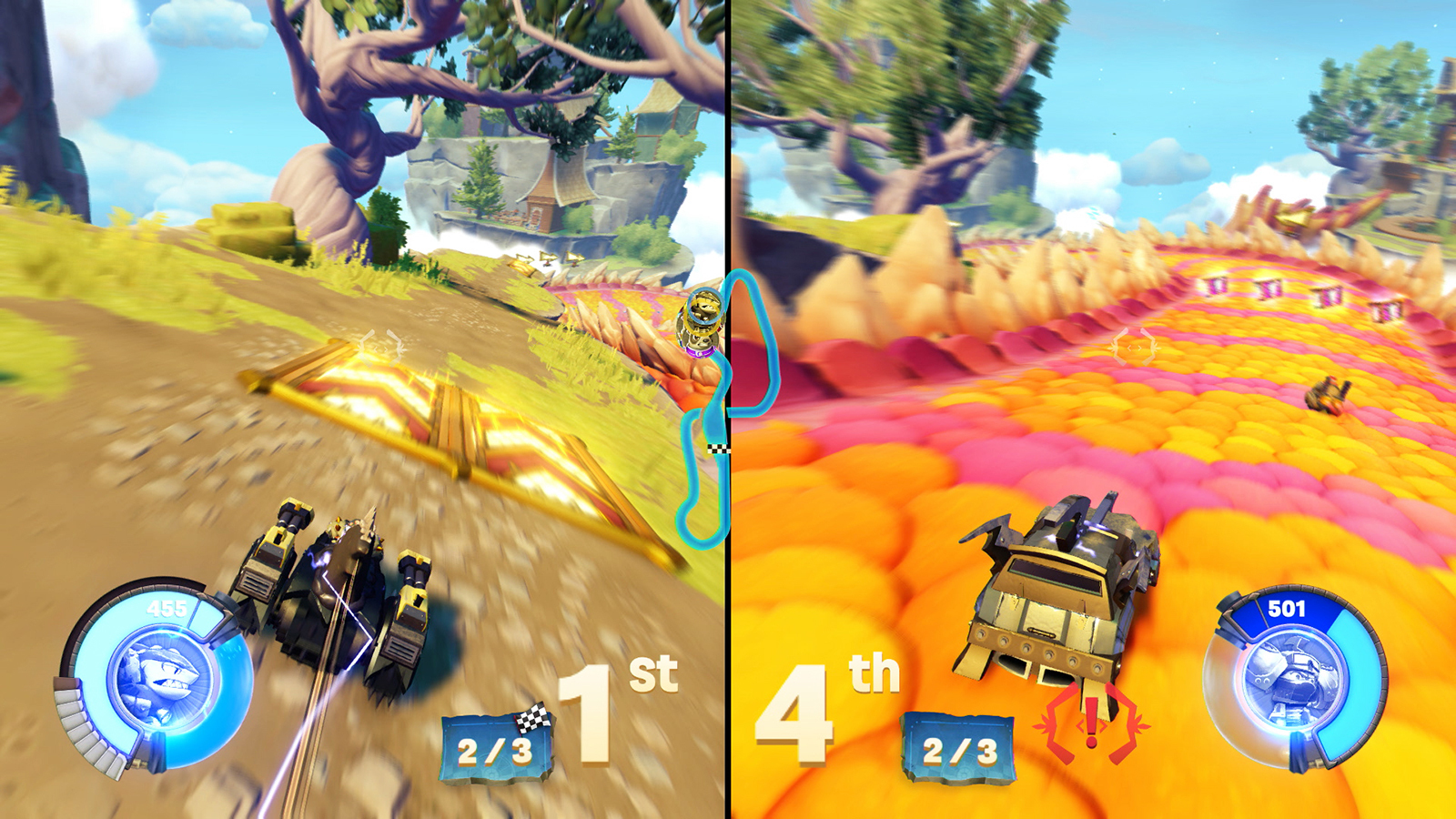 Skylanders: Superchargers trys very hard to gain your children's attention, as well as your your money – in my opinion it's probably going to get its way. Even for adults, it'll provide you with hours of fun, as well as a chance to play multiplayer missions with your younger ones.
The need to collect gearbits, to then further modify your vehicles and make them look as cool as possible is a task that'll keep any child up past their bedtime. Superchargers is something every young gamer should experience, just make sure Activision doesn't take up all their pocket money.
Stuff Says…
Fun gameplay, easy controls and exciting vehicles makes Skylanders: Superchargers great family-friendly fun
Good Stuff
Lots of characters
Vehicles are a fun addiction
Family friendly