Samsung QE65QN95A review
The Mini LED with the massive performance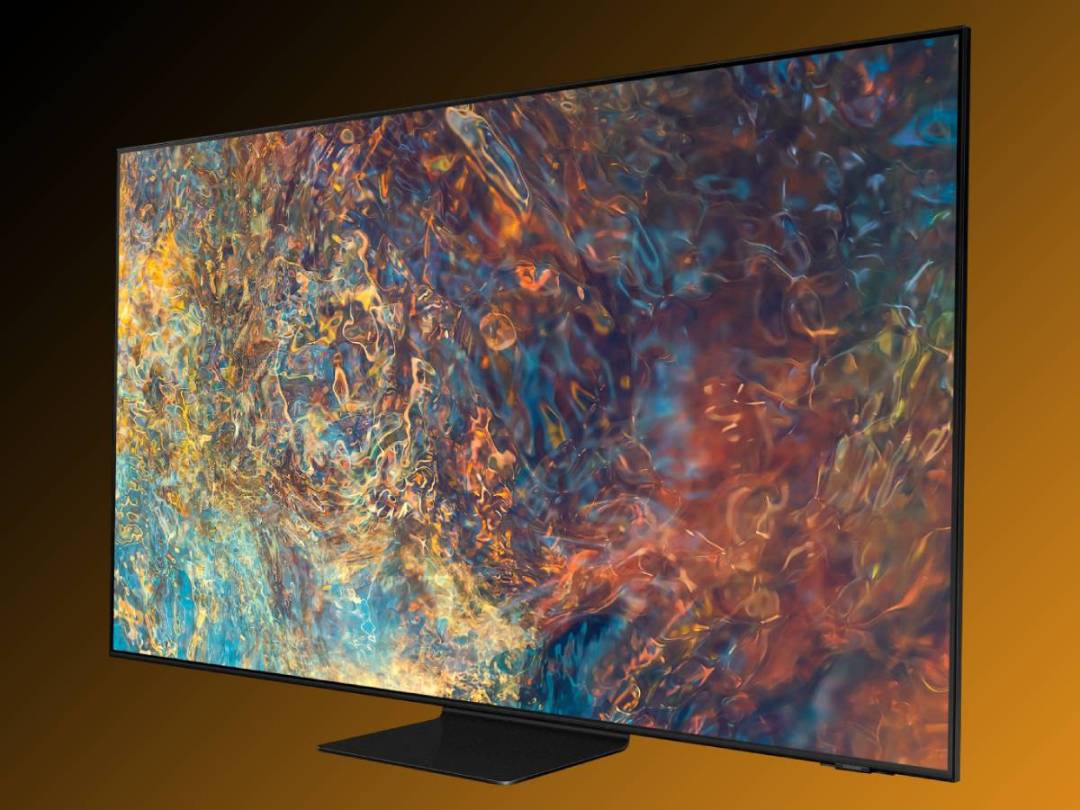 Not every new television technology lives up to the hype. Remember curved screens? Or 3D TV? No, us neither, not really – and if you happen to have a curved 3D TV, well, you also have our sympathy.
Mini LED might just be the real deal, though – a TV technology that deserves the 'NEW!' and 'IMPROVED!' tag. Samsung whipped the covers off its Mini LED line-up even before Virtual CES 2021 was properly under way and now the first of its 'Neo QLED' TVs (which is how it's describing its particular implementation of the technology) is here. Spoiler alert – it's a belter.
Yes, it's properly expensive. But it has the specification, the looks and, most importantly, the performance to make that price-tag look kind of fair enough.
Design and build: small is (sometimes) beautiful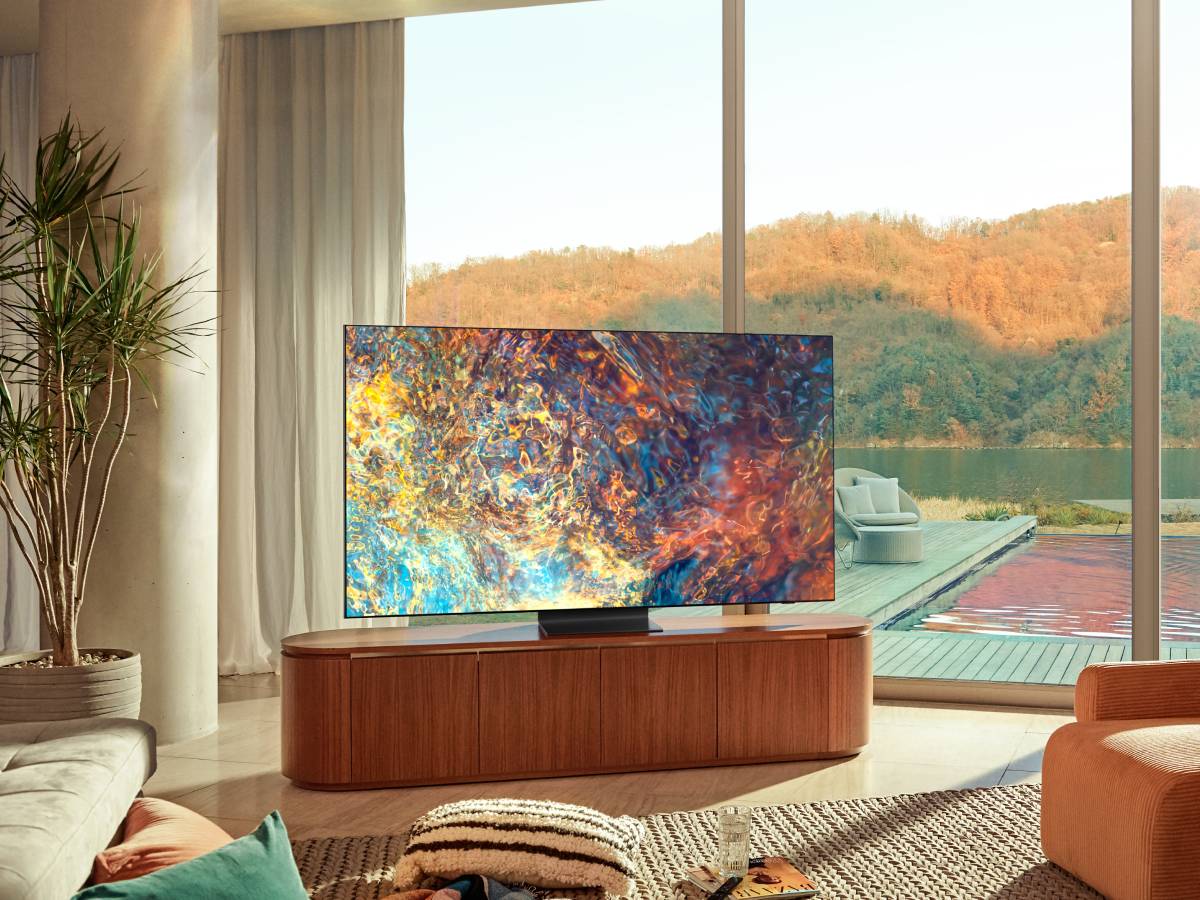 The general principle here is the same as with any Mini LED display: the hundreds of regular-sized LEDs that provide lighting to an LCD panel are replaced by many thousands of much, much smaller LEDs. The theoretical advantages to this arrangement are obvious – more and smaller LEDs, arranged into more and smaller dimming zones, means greater control of lighting. Which should mean deeper blacks than LCD panels have been capable of before, with more targeted and more precise backlighting control. Basically, Mini LED is supposed to bring LCD performance closer than ever to that of OLED TVs.
The QE65QN95A has many thousands of Mini LEDs, each a 40th of the size of a conventional LED, and very nearly 800 discrete dimming zones. Of course, Samsung being Samsung there's an extra layer of engineering involved in its Mini LED screens – the company has also dispensed with the relatively bulky lens that regular LEDs require to disperse their light evenly. Its Neo QLED arrangement features a vanishingly brief layer over each Mini LED to guide its light through the quantum dot pixels.
In terms of design, this arrangement has allowed Samsung to make the QE65QN95A a mere 25mm deep. And that's a consistent depth over the whole of the chassis – none of your OLED-style 'incredibly slim right until you reach the muffin-top bulge housing all the electronics' here. Allied to the extraordinarily minimal bezel surrounding the screen, this is a television made for wall-mounting if ever there was one. If a 65in screen can ever be called 'discreet', this is it.
To make the QN95A's wall-mounting credentials even more compelling, it's supplied with a super-slim version of Samsung's One Connect box. This takes all connectivity except for one cable away from the body of the screen and puts it in a separate box – that's all connectivity, including mains power. So if you want to hang your expensive new TV on the wall, you've only one cable to hide.
As far as build quality goes, well, this is (again) Samsung we're talking about. From its enormously hefty pedestal stand to its, ahem, bevelled bezel, the QE65QN95A feels robust and built to last. The One Connect box combines sturdiness and discretion equally well.
Features: got game
As is only right and proper for a TV that a) sits at the top of its manufacturer's range and b) costs, relatively speaking, an arm and a leg, the Samsung QE65QN95A is generously specified. So generously, in fact, it's probably easiest to just make a list of all its features.
So yes, this is a 4K Neo QLED TV with a 120Hz panel – all the better for making the most of those 4K @ 120Hz console games when they finally come on stream. On the subject of gaming, all four of the HDMI inputs on the One Connect box are of HDMI 2.1 40Gbps standard – which means Auto Low Latency Mode, HGiG tone-mapping, FreeSync Premium Pro (guaranteeing FreeSync performance even with HDR content), VRR and all the other goodies. It looks rather like Samsung is taking the gaming aspect of its TVs even more seriously in 2021 than it has in the past.
The One Connect box also features USB and digital optical inputs, an Ethernet port (as well as wi-fi, naturally), and aerial posts for terrestrial and satellite tuners.
Because (and we'll say it again) this is Samsung we're talking about, there's the usual lack of Dolby Vision HDR to be accommodated. It remains a terrible shame that Samsung can't see its way clear to serving up the full suite of HDR standards – after all, there's a dedicated 'Netflix' button on the little remote control, and Netflix features an increasing amount of Dolby Vision content. But the HDR10+ dynamic metadata standard will have to compensate.
The whole picture quality show is run by Samsung's latest Neo Quantum Processor 4K. As well as 'Ultra Precision Light Driving' (to properly exploit all those individual dimming zones), it features the latest AI upscaling technology Samsung introduced last year. The strong suggestion, then, is that the QN85A will be among the more accomplished upscalers of sub-4K content around.
As far as sound is concerned, the QE65QN95A features the most up-to-the-minute implementation of Samsung's 'Object Tracking Sound+' arrangement. Here there are a couple of mid/bass drivers positioned along the bottom of the frame, with a tweeter on each vertical plane and a couple more tweeters sited along the top. Samsung calls this layout '4.2.2′ and uses AI-assisted motion tracking to analyse the on-screen action and give sound some degree of sonic movement in sympathy.
If you use a Samsung Q-series soundbar too, 'Q Symphony' can be yours – the soundbar works in tandem with the integrated audio system to deliver as full and rich a sound as possible and, again, with a degree of motion-tracking.
Interface: talk to me
Samsung has very wisely continued with its Tizen-based user interface – for once in Samsung-land, here's a feature that's so obviously unbroken it requires no fixing whatsoever. It's clean, logical, easy to navigate and as customisable as these things ever get. And it's absolutely groaning under the weight of available apps, which doesn't do any harm either.
Control is either via the small, minimal remote control handset – it's solar-powered, which is a fine innovation and one we anticipate will be copied by pretty much everyone sooner rather than later. There's a mic at the top, and it's possible to specify your voice assistant of choice for when you feel like giving orders out.
Picture quality: deep and crisp and even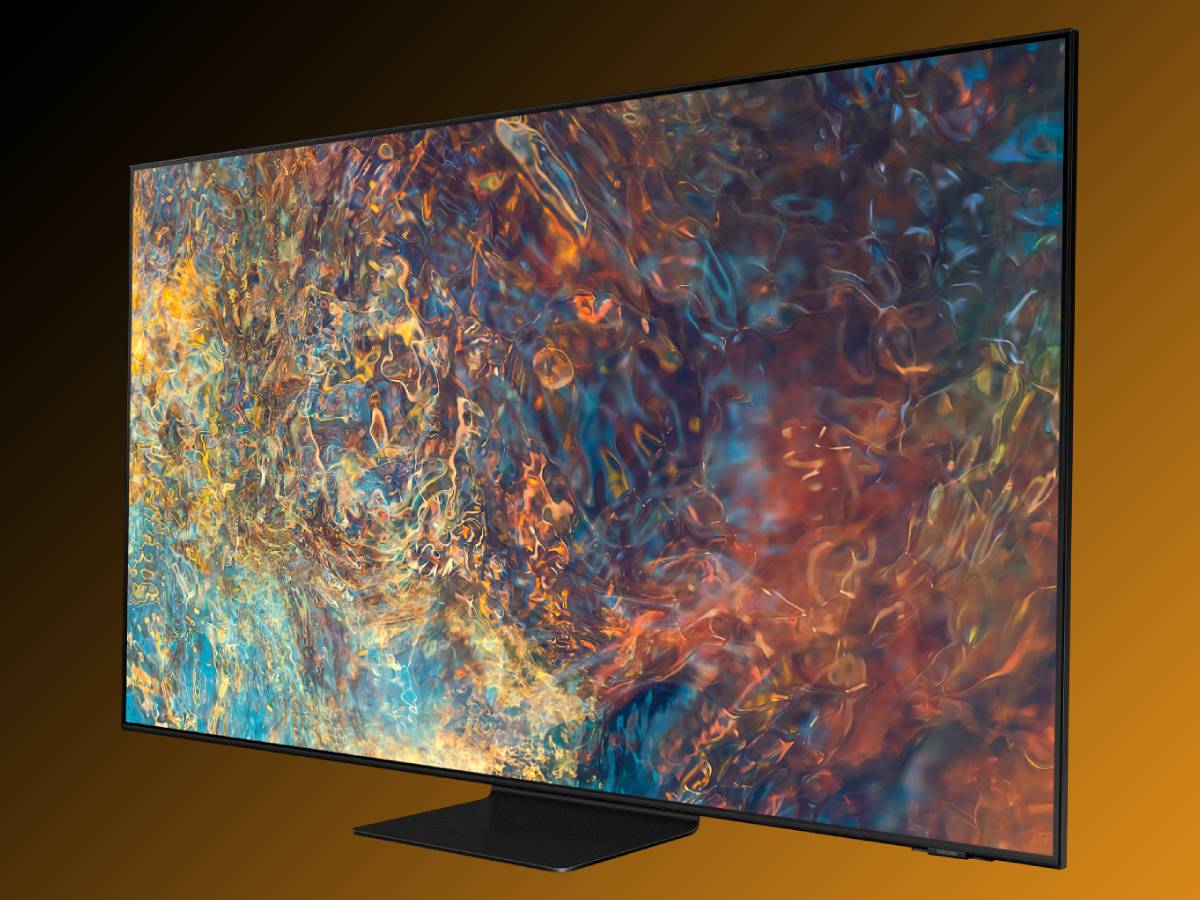 Right from the off (and 'the off' in this instance means a 4K stream of Blade Runner 2049 via Amazon Prime Video), the QE65QN95A is impressive across the board. Just one look at those opening titles – small white text on a massive black background – lets you know that Mini LED, at least here, is all business. The black of the screen is as deep and, yes, as black as we've seen from a backlit panel, while the text is bright – and there's no hint of backlight bleed, or blooming, or haoling, or any of the other unhelpful stuff backlit screens are associated with.
And everywhere else, too, the Samsung looks good. As well as deep black tones and impressive contrasts, detail levels are absolutely sky-high, there's fine depth of field, skin-tones and -textures are really convincing, and edges are defined smoothly. Picture noise is notable only by its absence, and the overall image is clean, deep and beautifully defined. Motion, even the dreaded slow pan, is gripped with the sort of tenacity more usually associated with vices.
An HDR10+ 4K Blu-ray of The Shining fares equally well. There's a little more picture noise evident in this vintage content, but in every other respect – detail levels, contrasts, lustrousness of black tones, movement handling and all the rest of it – the news is unambiguously good. Backlighting, again, is spot on – director Stanley Kubrick loved a bit of candle-light, and the Samsung describes and controls it beautifully.
Switching to some live football on BT Sport 1HD prompts the QE65QN95A to rearrange its picture settings – and it seemingly set itself to 'searing'. White tones are piercing enough to deal with cataracts, and colours are wildly overdriven – the green of the pitch is the single greenest thing we've ever seen. Dive back into the menus to tone everything down, though, and order is restored. Images are detailed enough to reveal individual pixels on the pitch-side advertising hoardings, and motion stays secure. When the broadcast switches from real-time to super slo-mo replay the QN95A can take a beat to adjust itself, briefly hiccuping through motion, but it's over in a trice.
As a gaming monitor it's everything you could realistically hope for – extremely rapid response times (between 5.8 and 9.3ms by all accounts), good grip of motion and an excellent colour palette. Lighting effects look superb – thanks again, Mini LED! – and blacks are as deep and detailed as we've (suddenly) come to expect.
As an upscaler, the Samsung is adept as long as you don't ask too much of it. Full HD content via iPlayer stays decently sharp and detailed, even if motion isn't subject to quite such Draconian control. Step down in quality until you're watching some vintage nonsense on ITV4, though, and it becomes apparent the Neo Quantum Processor 4K isn't a miracle-worker – images are soft, ill-defined and as all-around unwatchable as ITV4 is in general.
Sound quality: kind of sort of
When you consider the dimensions of the QE65QN95A, Samsung has done pretty well to find room for the audio system it's fitted – and, up to a point, it's successful. There's certainly appreciable width to the sound the QN95A delivers, a hint of height and a mild-but-definite suggestion of the sound tracking the on-screen images. There's even a degree of low-frequency presence too.
But – and this should, but doesn't always, go without saying – if you're spending this sort of money on a new TV you should really be budgeting for an audio system to do the images some justice. One of Samsung's Q-series soundbars would be the obvious place to start – but, whatever you do, make sure you start. High-achieving pictures like this deserve much better than 'quite good we suppose' sound.
Samsung QE65QN95A verdict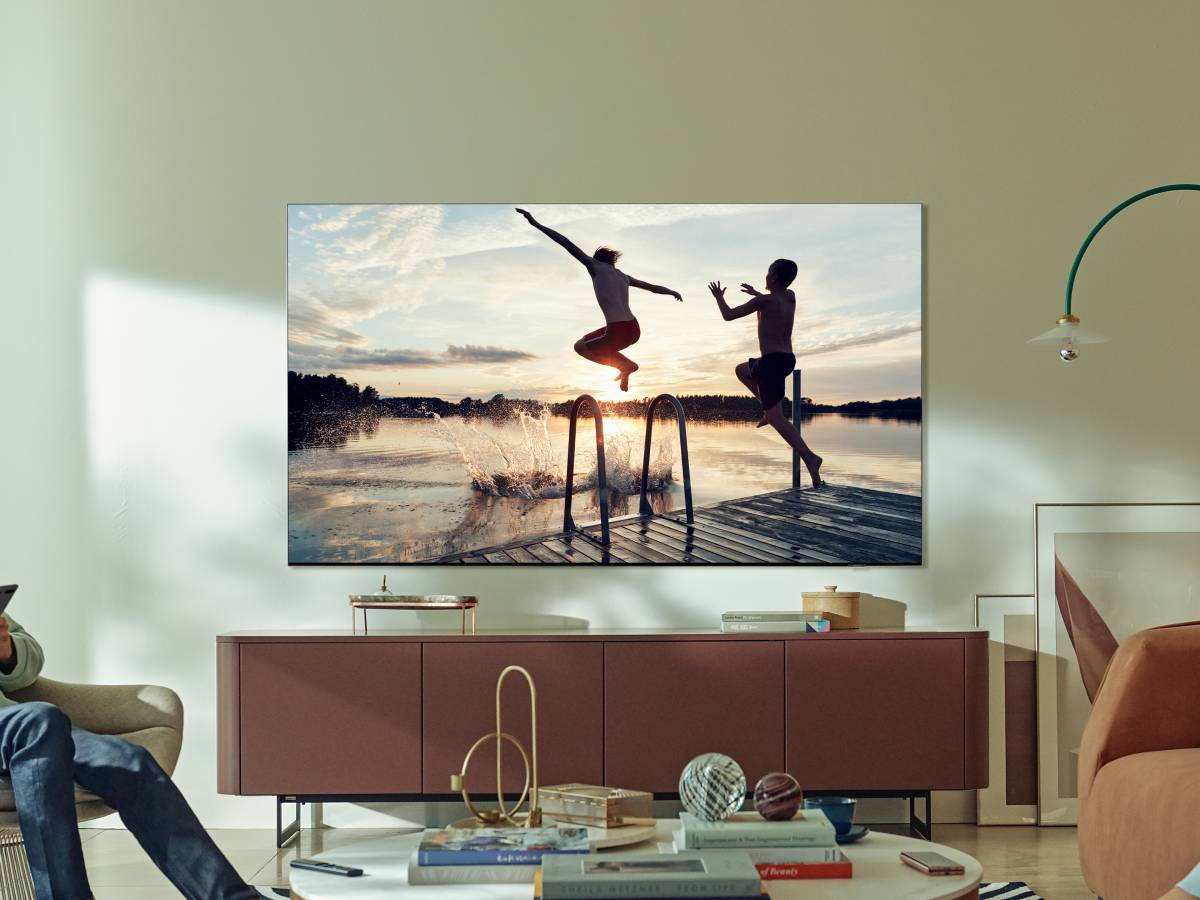 Yes, this is Samsung's single most expensive 4K TV for 2021 (unless you buy a bigger version). But nevertheless, the pictures it's capable of delivering justify the outlay and then some – the Korean giant's implementation of Mini LED is, on this evidence at least, something to be reckoned with.
We've seen precisely one 2021 television so far this year – and yet it's actually difficult to imagine how any of the others that are incoming could be appreciably better.
Tech specs
| | |
| --- | --- |
| Screen | 65in |
| Resolution | 3840 x 2160 |
| HDR | HLG, HDR10+ |
| Inputs | HDMI 2.1 x 4; USB x 3; Ethernet; Terrestrial tuner; 2 x satellite tuner; Bluetooth; CI slot |
| Audio power | 70W |
| Dimensions (hwd, mm): | 830 x 1450 x 25.9 |
| Weight (kg) | 26 |
| Smart TV OS | Tizen OS |
Stuff Says…
Sky-high picture performance that justifies the uber-premium price – the Samsung QE65QN95A is a fearsomely accomplished TV and (for now, at least) the one to beat.
Good Stuff
Epic picture performance, with contrasts and black tones a real highlight
One Connect box makes it as wall-hangable as TVs ever get
Great operating system and user interface
Bad Stuff
Sound ain't bad, but it doesn't come close to matching picture quality
Not in any way cheap
No Dolby Vision