5 things you need to know about Samsung's 2021 TV lineup
Neo QLED leads a lineup packed with dazzling new form factors and other surprises
CES 2021 is just days away, but Samsung has already gotten the jump on this year's streaming-only tech show, spilling the beans on its new TV lineup a few days early.
Samsung's 2021 TV offerings pivot towards dazzling-looking screen advances, with an array of Neo QLED sets with Mini LED and even more impressive Micro LED screens on the horizon. And that's not all, thanks to an array of new Lifestyle TVs to join the intriguing Frame model.
If you're eyeing a new screen for your space in 2021, then you'll want to see what Samsung has cooking in the months ahead. Here's what you need to know.
1) Neo QLED has arrived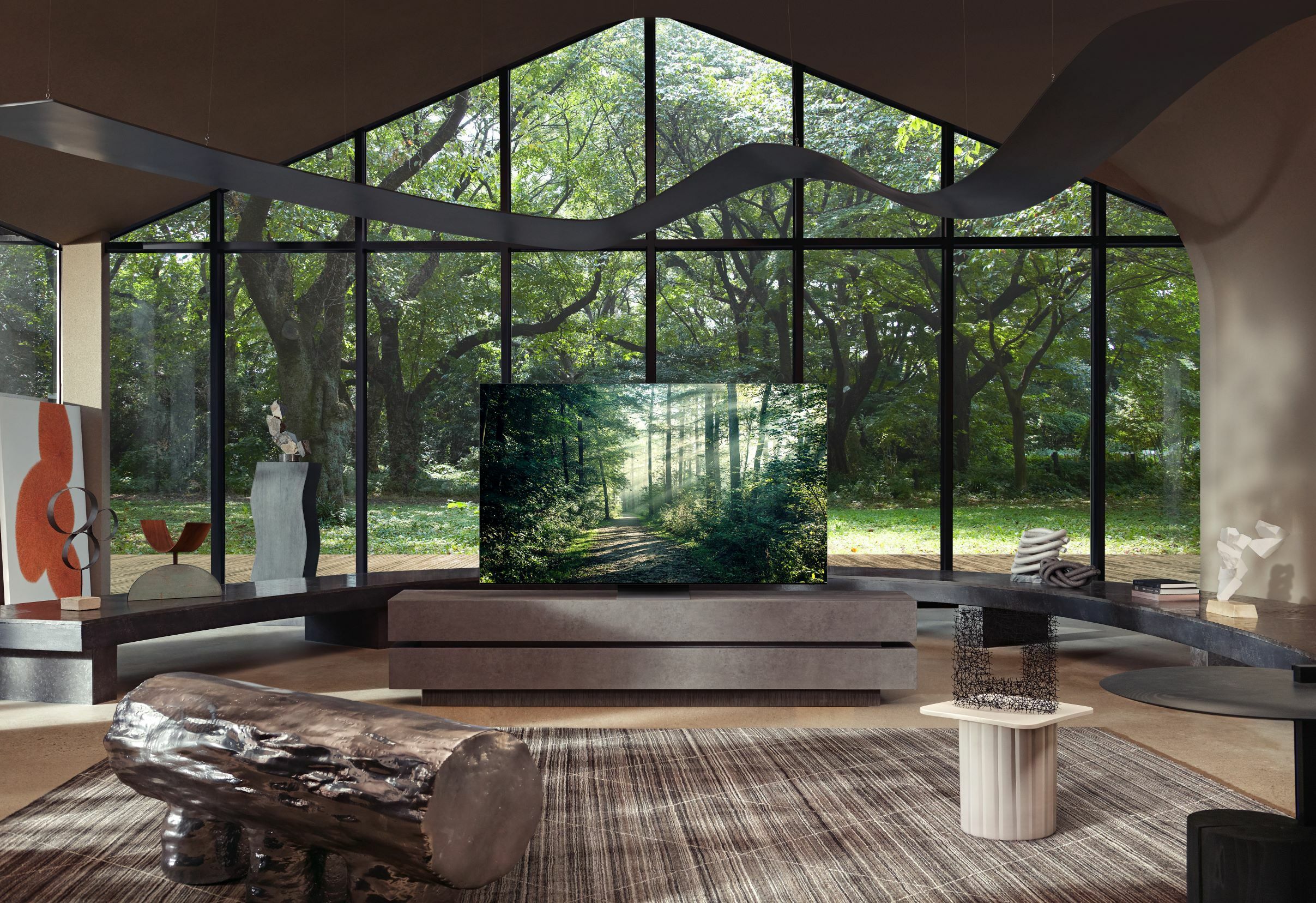 Neo QLED is the name Samsung has settled on for its Mini LED sets, which use teeny-tiny LEDs about 1/40th the height of normal LEDs or about the size of a grain of sand, replacing the traditional TV backlight with a much more precise and sophisticated lighting solution.
According to Samsung, it eliminates blooming effects for significantly cleaner images, plus the new sets promise more vibrant colouring with wider dynamic range. Meanwhile, the new NeoQuantum Processor uses deep learning for improved upscaling, delivering crisp pictures even when connectivity issues force a lower-res stream.
The new Infinity One design is thinner and nearly bezel-less, plus Samsung is promising improved audio performance via a built-in OTS 6.2 speaker system that analyses the onscreen content and delivers positional output. We'll see both 8K and 4K Neo QLED sets in 2021, and there are even more reasons to want one…
2) They're also smarter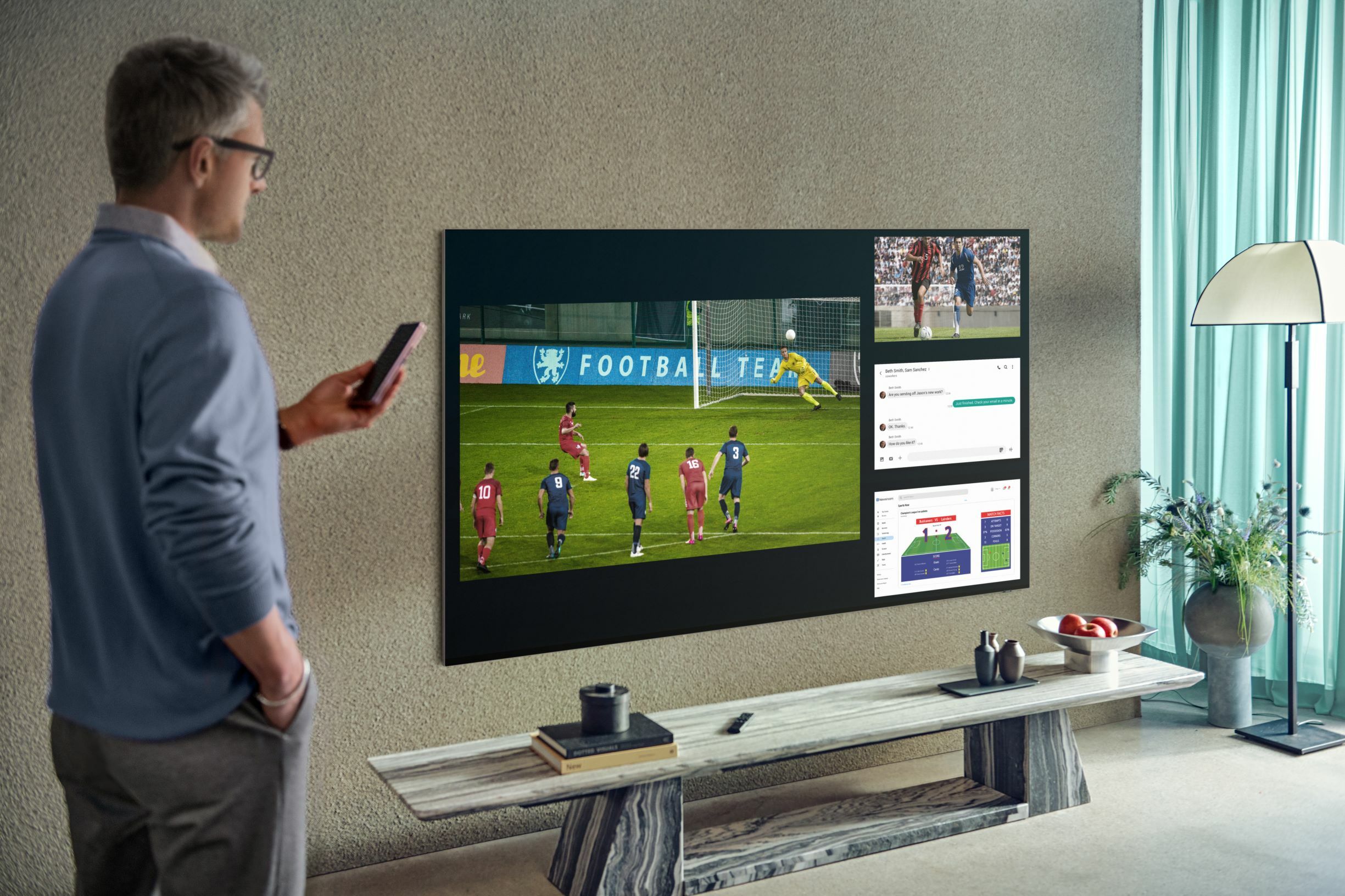 Samsung's Neo QLED sets will also boast some compelling new features, starting with Samsung Health. With an attached camera, the built-in app will serve up interactive workouts and analyse your actions, providing feedback on the quality of your form and moves.
Google Duo support lets you connect to a group video call with up to 32 people across platforms, plus Samsung will make it easy to wirelessly connect your PC to the screen via a computer app.
Additionally, Samsung will amp up the gaming capabilities of its Neo QLED sets with the ability to use super-wide 21:9 and 32:9 aspect ratios on the screen, while an on-screen Game Bar will put gaming-centric settings front and center for players.
3) There's Micro LED too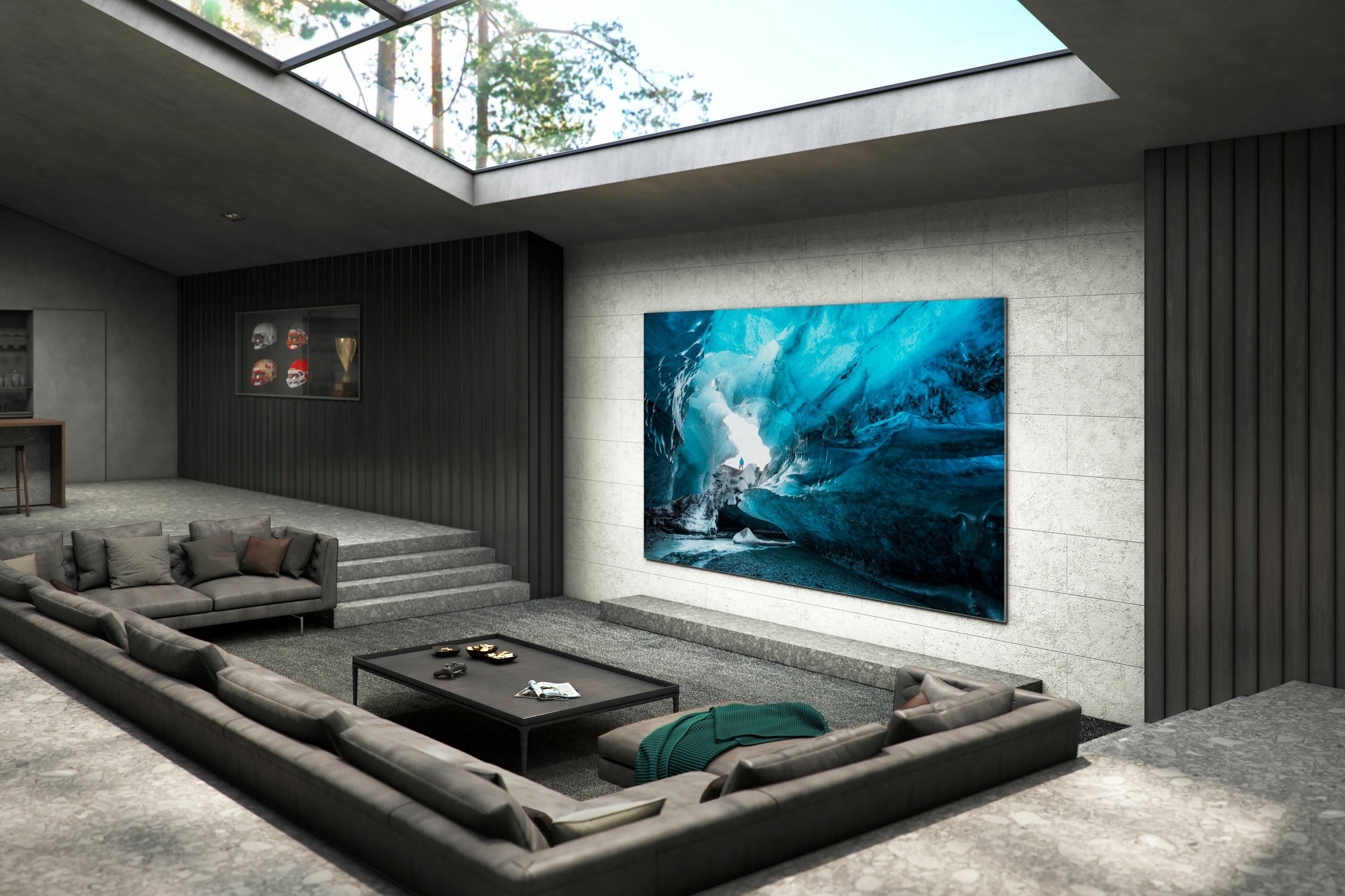 Neo QLED is Mini LED, but you could consider it a half-step towards something even greater – and that's Micro LED. Samsung recently announced the impending launch of a 110-inch Micro LED screen that packs in millions of itsy-bitsy LEDs for incredible brightness and clarity, no doubt at eye-popping prices.
Samsung has also announced a 99-inch model now, and will roll out smaller sizes later in 2021. Unlike "The Wall," the immense earlier model that had to be assembled with smaller chunks of screen, these Micro LED sets will arrive as singular, fully-formed panels.
A 4Vue feature on these sets lets you use four separate content streams at once, plus they have built-in 5.1 surround sound capabilities in a feature called "Majestic Sound." We imagine they'll look mighty majestic, as well.
4) The Samsung Lifestyle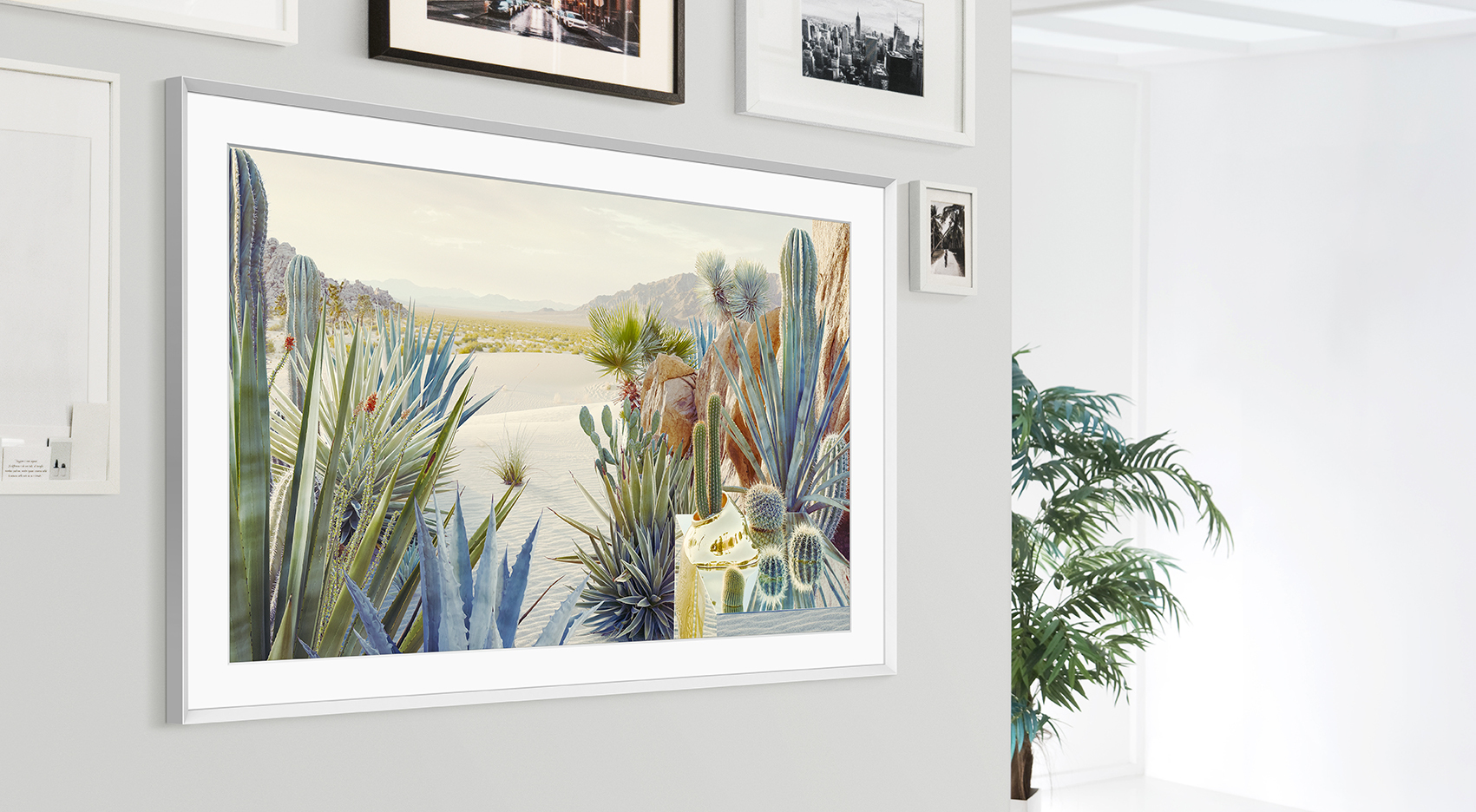 The Frame is one of the most charming and distinctive TVs on the market today, looking like a fine art frame that just happens to have a screen within in place of a painting. Samsung is bringing it back in 2021 with half the thickness, new attachable frame styles, and the ability to automatically rotate into portrait orientation (only for the 43in model) depending on your content of choice. Neat.
But that's not all. Samsung also showed off a few of its other existing sets with new 2021 models, all of which will sit in a new "Lifestyle TVs" category.
The Premiere is a short-throw projector with a triple-color laser system that promises bolder colors than your average projector. Meanwhile, The Terrace is an outdoor QLED television that's durable enough to withstand the elements, and The Sero is a mobile-centric set with a monolithic base propping up a rotating screen.
Lastly, The Serif has a distinctive frame that looks like a capital "I" (serif font, obviously) from the side and can be set up on a flat surface or propped up with a stand. Like The Frame, they've all been on the market already, but we're expecting refreshed versions this year.
5) Samsung goes green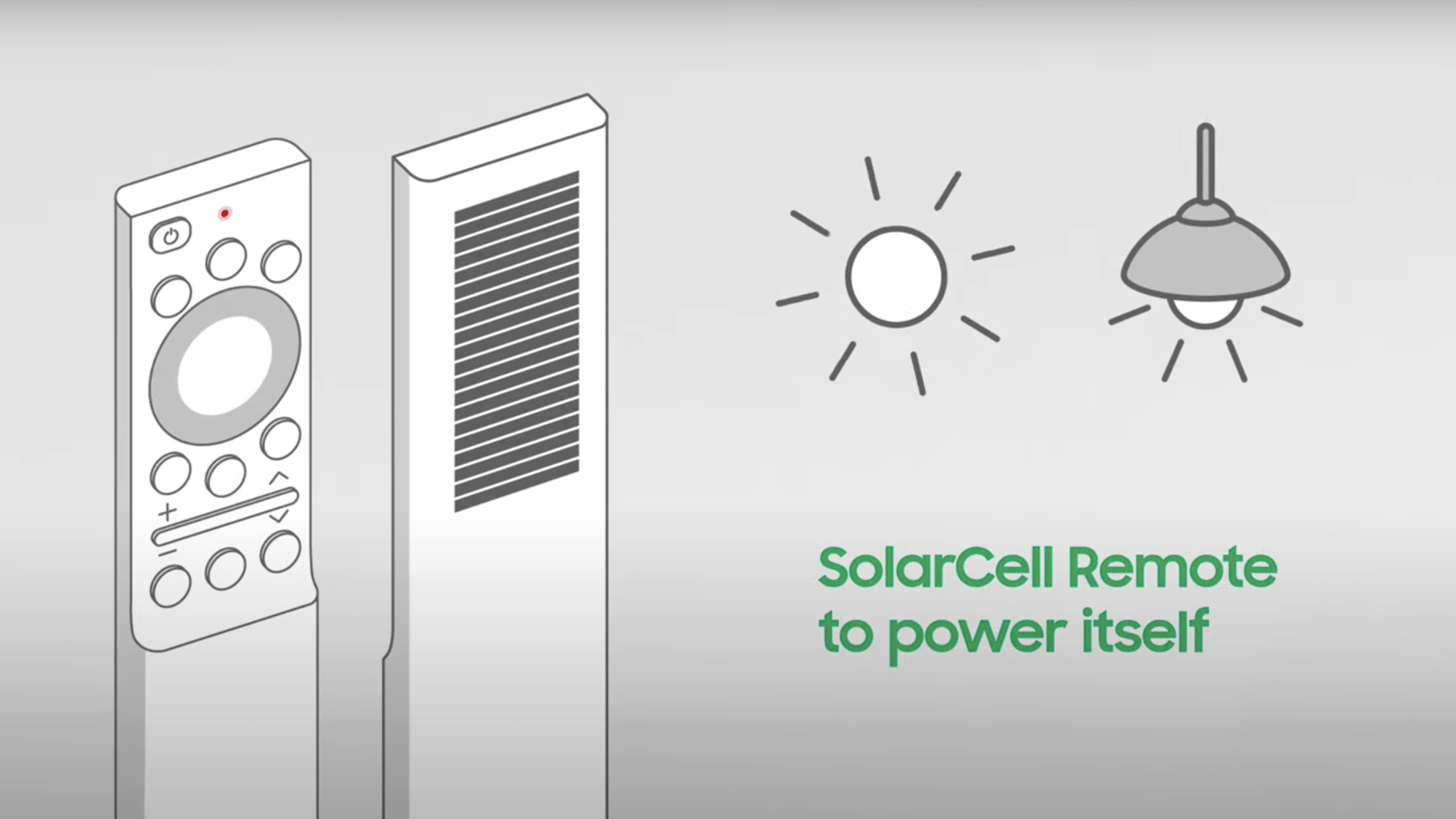 While technological advancements are front and center in Samsung's 2021 TV lineup, the company is also making a commitment to greener hardware, packaging, and behaviours as a company.
Most prominently, Samsung's 2021 sets will include a remote control with a solar panel on the back, which can recharge the internal battery via indoor or outdoor light. You can also plug it into a USB-C port for a faster charge, if desired, but so long as the panel is face up, it should soak in enough energy to stay ready and active.
Samsung will also use more sustainable packaging for most of its TVs this year, making it easier to upcycle the cardboard, plus the company is working to improve energy efficiency for its TVs and will work to reduce its carbon footprint.
All that and you still get a pretty killer TV, looks like. We look forward to putting our own eyes on Samsung's dazzling new displays over the course of 2021. Stay tuned for more coverage.