Samsung Gear VR Innovator Edition review
Oculus Rift + Galaxy Note 4 = portable VR perfection? Not quite yet [UPDATED 11/02/15 with more app info]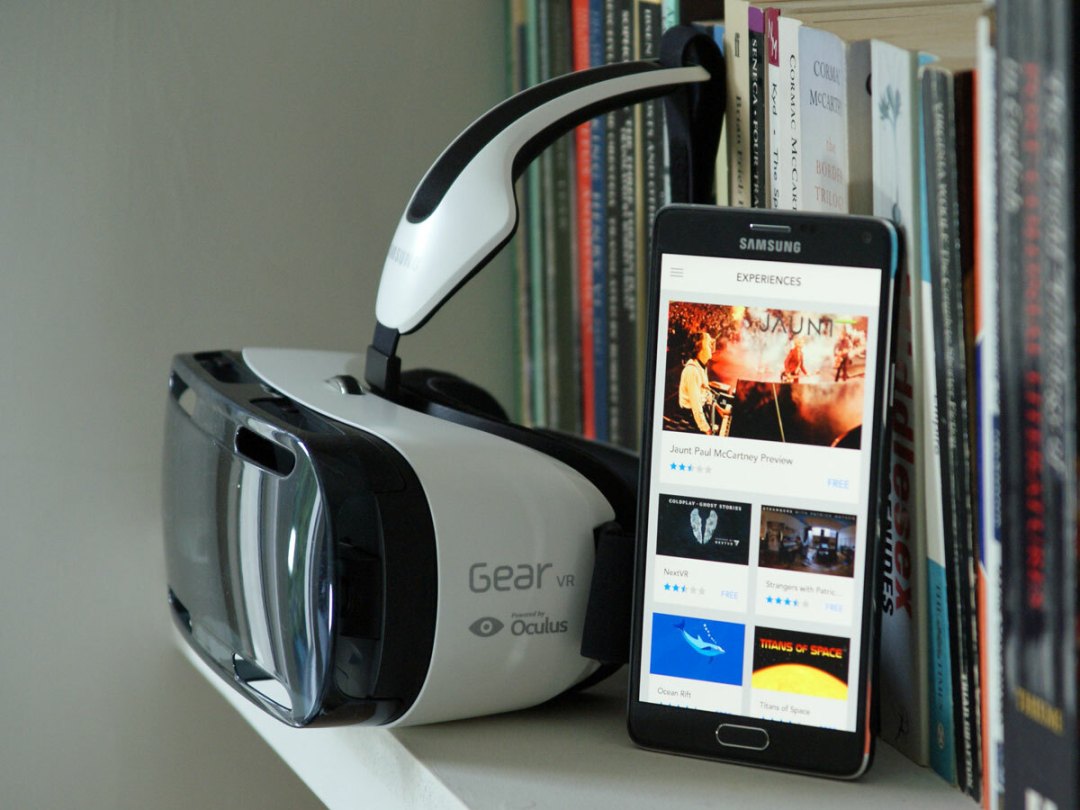 What do you think of when you think of Samsung?
The world's finest phablets? Possibly. Creepy smartwatch video ads? Maybe. A marketing budget that dwarfs the GDP of many developing countries? Perhaps. Making powerful phones and TVs that sell shedloads? Almost certainly. But partnering with the world's coolest tech company to bring to market before anyone else an accessory that'll fling you headlong into the metaverse? Not so much.
And yet the Korean giant has proved itself to be just that with its new virtual reality headset. Samsung's Gear VR, built with assistance from Palmer Luckey and pals at Oculus VR, is at the very vanguard of the first wave of VR headsets hellbent on changing the way we play games, watch videos and experience all sorts of impressive interactive stuff.
It's powered by Samsung's own Galaxy Note 4 phablet and uses the same tech as that in the Oculus Rift, but has actually managed to go on general sale long before the Rift itself. Or at any rate the first-run Innovator Edition has. 
We've been wearing one for the past few days (not all the time, mind you – it makes popping to the corner shop too stressful), and feel we're now primed to answer that all-important question: does it usher in a brave new world of entertainment or merely make you feel a bit sick while looking slightly ridiculous?
As you might have guessed, the truth is actually somewhere in-between.
READ MORE: Microsoft's incredible HoloLens headset fills your world with interactive holograms
Design and build quality
The Gear VR is constructed chiefly of hard white plastic and looks… well, like a virtual reality headset. But it also look like a real, finished product, a fact which instantly sets it apart from many of its current rivals. The headset is lightweight, but feels sufficiently solid to withstand regular use – there are no ominous creaks when you give it a squeeze.
A Galaxy Note 4 phone is a requirement for the Gear VR, and it slots into the front of the headset, connecting directly to a microUSB plug on one side. On the other, a catch locks the phone into place securely. You can then place a transparent plastic cover over the front of the headset, which we suppose serves to give the phone's back a little more protection but mainly seems intended to make the whole thing look a bit more presentable. Which it does.
The headset's light weight and padding, both on the eyepieces and the straps that go over and around your head, make it reasonably comfy to wear for extended periods. The straps are adjustable (great news for people with unusually large or small bonces), while a dial above the eyepieces allows you to shift their focus to compensate for short- or longsightedness.
READ MORE: Samsung Galaxy Note 4 review
User friendliness
The Gear VR comes supplied with a 16GB microSD card carrying a handful of virtual reality demos (you'll be prompted to pop this into your Galaxy Note 4 before use). You'll still need to download and install a few pieces of software, including an Oculus app, but this only takes a few minutes.
When you slot the Note 4 into the Gear VR, the phone's screen automatically switches to the correct mode, allowing you to simply don the headset (a proximity sensor lets the Gear VR know when it's being worn) and get straight into the virtual reality fun – the Oculus Home app opens automatically.
The UI is simple: you look around to move a cursor and use a touchpad and back button on the right hand side of the headset to navigate and select options. There's also a volume rocker on the left side. The touchpad can also be used to control many of the apps and games available – but Samsung also sells a Bluetooth gamepad which should make things less awkward, especially with faster-paced games. We say "should", because the gamepad wasn't included with our review sample, and we haven't tried it yet – one is on the way and we'll update this review once we've tested it.
One useful feature is the pass-through camera, which enables you to see the outside world without taking off the headset by feeding the screen a live stream from the Note 4's camera.
From within the Gear VR UI you can visit an app store or browse the apps you've already downloaded. Which brings us nicely to…
Apps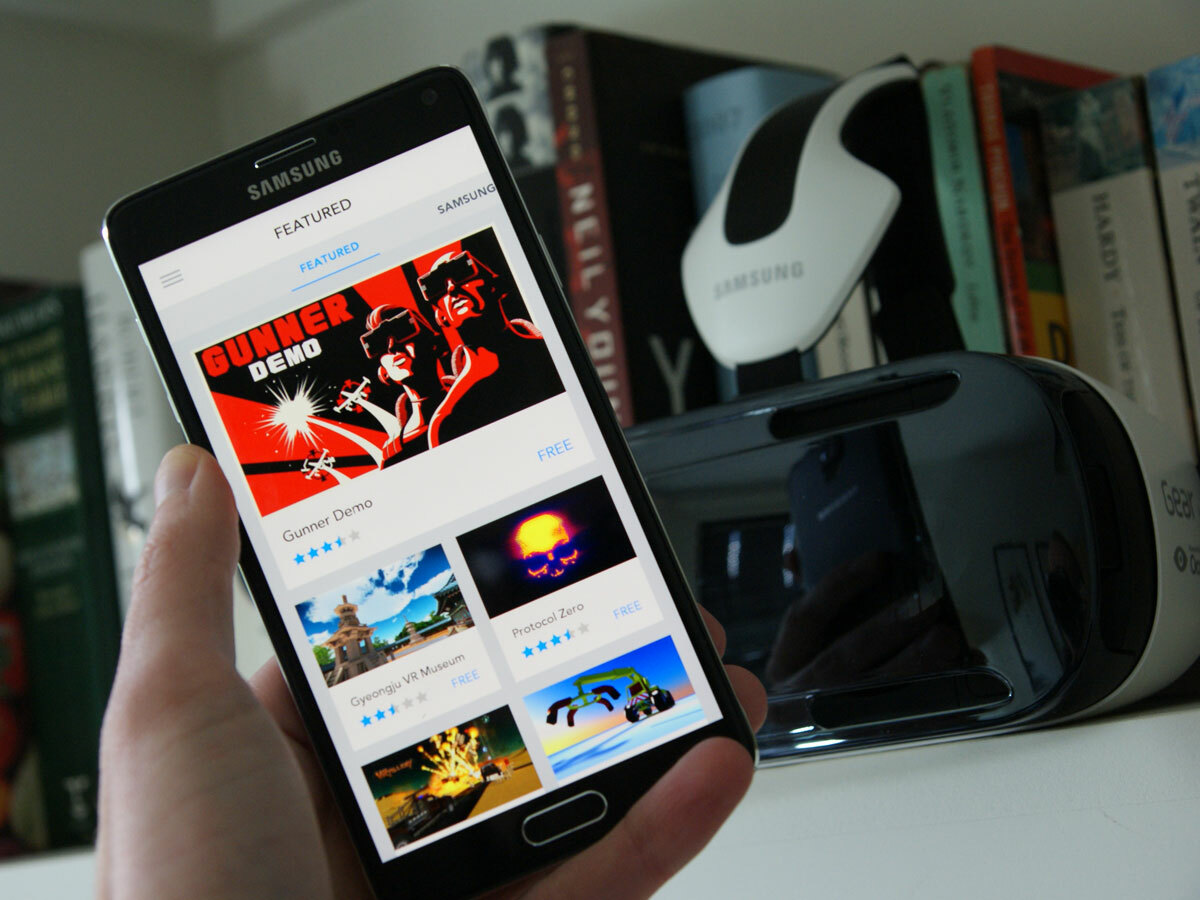 With no way to (currently) hook the Gear VR up to a PC, all of your virtual reality content has to be downloaded through the Oculus Home app running on the Galaxy Note 4. This divides the content into three broad areas: games, apps and experiences. The former are fairly self-explanatory, while the latter section contains mostly videos and animations designed to inform and/or entertain – a Cirque du Soleil performance in which you're an audience member, or live footage from a Coldplay gig in which you're, again, an audience member.
There isn't a huge selection of content available at the time of writing: we count 20 games, five apps and 10 experiences – all of them available free of charge, but that is expected to change. Still, given that the Gear VR SDK is in the hands of developers right now, we'd expect that number to rise in the coming months.
As mentioned above, without the gamepad we've been a little limited in what we can play. Some of the games don't require manual controls (you just look around to control things), while others – the interesting VR take on Temple Run, for instance – allow you to use the touchpad on the side of the headset to perform basic moves. That's a fairly unwieldy solution, though, and we imagine anyone serious about playing games on the Gear VR will invest in the gamepad.
The games themselves are fairly casual mobile affairs tailored for 3D and VR and, as demos of what the technology can do, they're impressive. As pure games? Not so much – and we suspect hardcore gamers will gravitate towards the Oculus Rift and other PC-friendly headsets, rather than the Gear VR, to get their VR fix.
The apps and experiences are mostly demonstrations of what the Oculus VR technology is capable of: there are 360-degree videos and photos to gawp at (and we did); a fake VR cinema that you can sit in to watch movie trailers on a virtual big screen; an app that lets you view your phone's videos and photos in a VR gallery; an experience that puts you in a virtual ocean and lets you watch fish, crabs and turtles move around you.
If none of the above sounds life-changing, that's probably because it isn't – but there's definitely a moment of joyful realisation the first time you experience the new generation of VR, and many of these apps are capable of providing it.
In terms of real, meaty content to get your teeth into, there's not much here – but you'll definitely want to show your friends what the headset can do, and the apps, games and experiences let you do just that.
Update 11/02/15: We've managed to get our hands (quite literally) on Samsung's Bluetooth game controller, and having used it test out a few gamepad-requiring titles from Oculus library we can say it adds a lot to the Gear VR experience – without making it the hardcore experience we suspect some gamers might be looking for.
BombSquad VR (which requires a controller) is the best game we played on the Gear VR – even if it's sort-of-but-not-quite a rip-off of Super Bomberman and doesn't really require VR to enjoy (all you're doing is viewing the game's arena in 3D from a fixed point). Also requiring a controller, Dreadhalls is a first-person horror game that makes more use of the headset's VR capabilities, but it's essentially a demo, it looks a bit rudimentary and it isn't remotely scary to anyone who's played the likes of Outlast, Alien: Isolation or P.T.
We say: if you're buying the Gear VR, the controller adds quite a bit of extra appeal right now – and probably will come in very useful as more advanced game titles appear in the future.
READ MORE: The 35 best free apps for Android
VR quality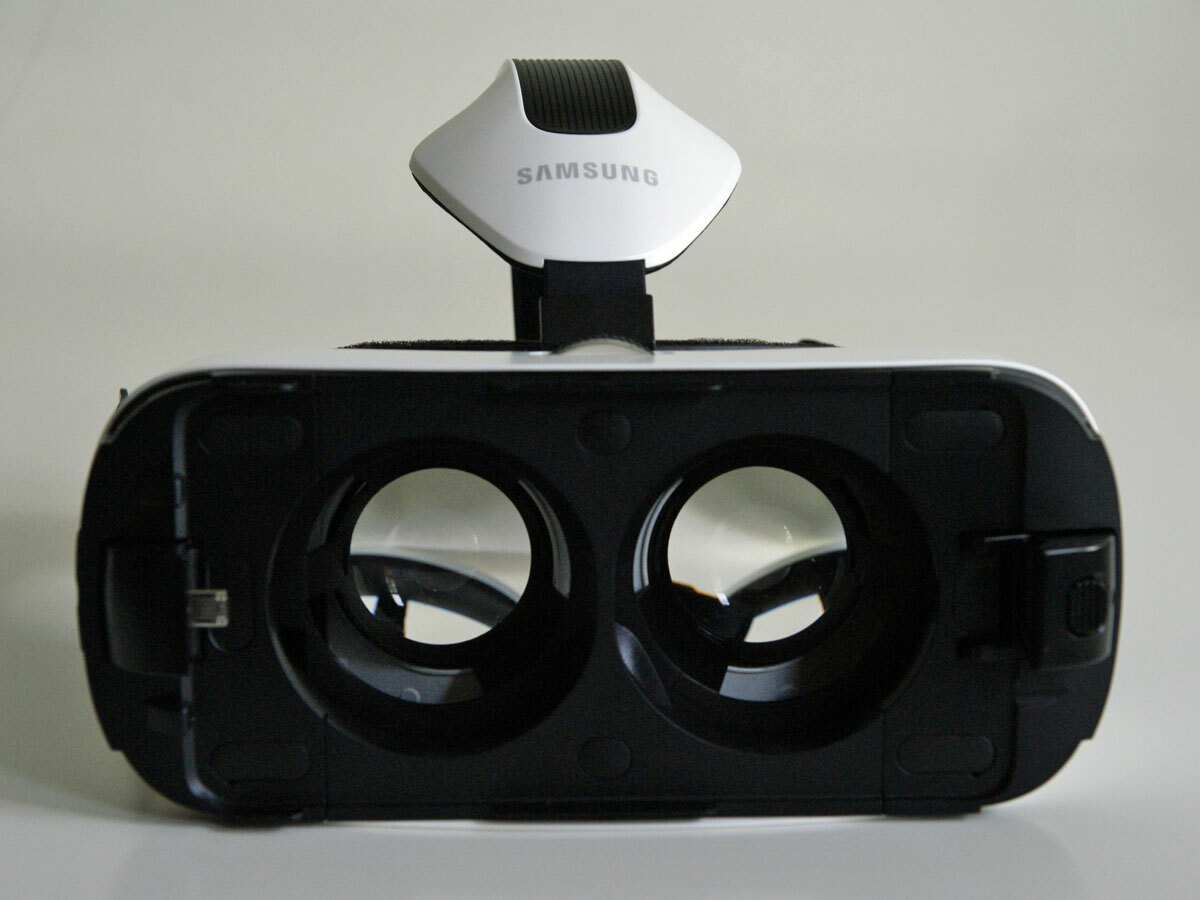 A few critics have mentioned that the Oculus Rift headset's image, which comes from a 1920 x 1080 screen split across two eyes (so each each is seeing a 960 x 1080 image), is too pixellated. You might think that the Galaxy Note 4's 5.7in 2560 x 1440 AMOLED screen would provide a pixel-free virtual reality experience, but once that's split in half and magnified by the headset's eyepieces you can still make out the pixel structure of the display.
The videos, for example, feel low-res compared to the pristine HD stuff we're used to watching. It's a minor annoyance, really – and once you start to feel immersed in virtual reality it fades into the background. The headset's built-in sensors work well to track your head movements and there's very little lag – at least we didn't find it left us feeling uncomfortable or nauseous. Audio comes through the Note 4's speakers, or a pair of earbuds you connect to the phone, and it works quite nicely.
The Gear VR affords a 96-degree field-of-view, which is about the same as that of the Oculus Rift. There are headsets that offer wider fields of view out there, but 96 degrees feels absolutely sufficient here with the apps and videos on offer.
One thing we should mention is that the Gear VR provides a mobile VR experience – it doesn't need to plug into anything other than a Galaxy Note 4, and it's small and lightweight. That means you can VR pretty much anywhere you like.
READ MORE: 10 VR rivals to give Oculus Rift a virtual reality check
Samsung Gear VR tech specs
Field of view: 96 degrees
Sensors: Accelerometer, gyroscope, geomagnetic, proximity
Display: 5.7in 2560 x 1440 AMOLED screen (on Galaxy Note 4)
Connectivity: Micro USB
Dimensions: 198 x 116 x 90mm
Weight: 379g
Verdict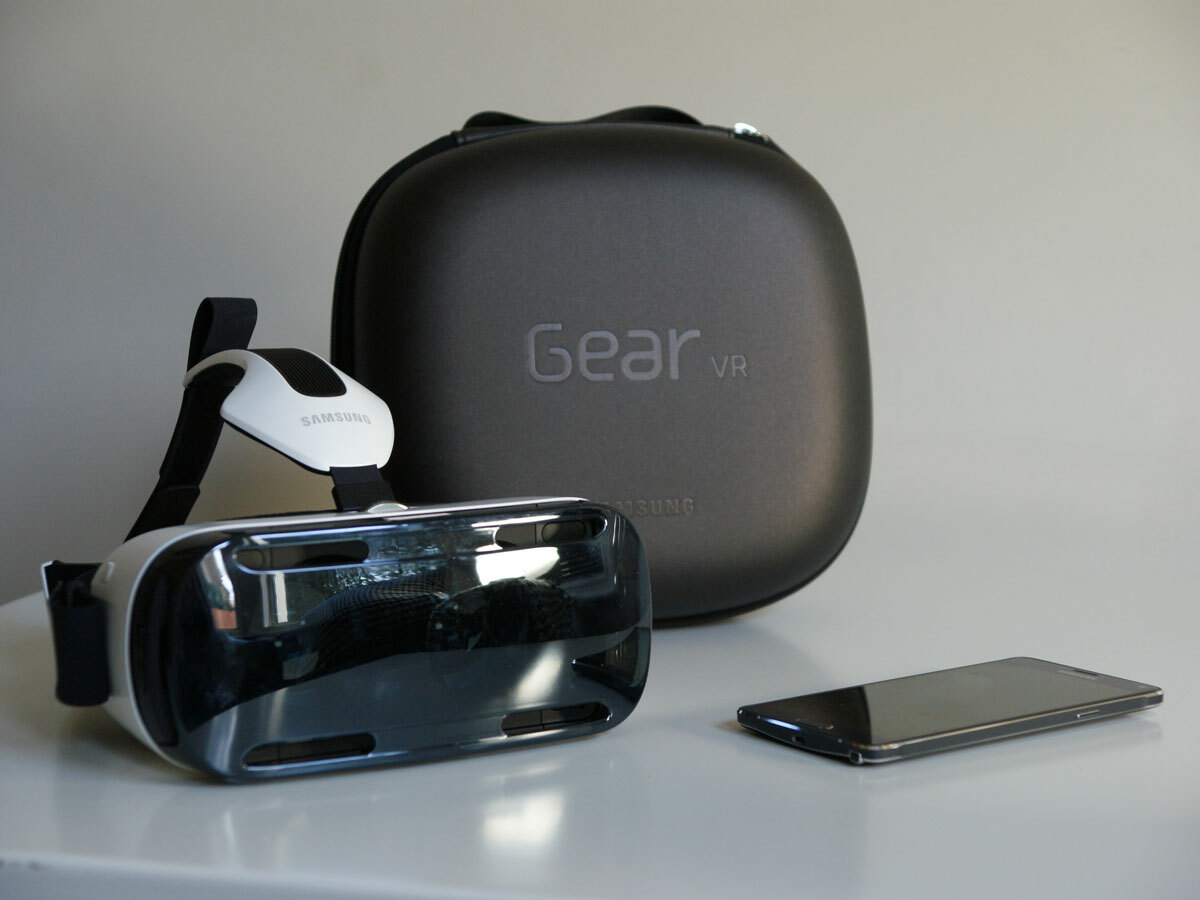 If Samsung wants to be regarded as an innovator, it needs to produce more devices such as the Gear VR. While the lack of content makes it feel a little like a prototype, it's an actual, buyable product that gives the user an impressive glimpse of things to come. It's really the first major VR headset of the new generation to go on sale.
We were quite taken aback by some of the apps and videos on offer, but they're all quite short-lived and simple, and we think headsets such as this will live and die on whether or not they get a steady (and improving) supply of new content.
The headset itself seems affordable, but it should be remembered that a Galaxy Note 4 is a requirement. And given that the Note 4 is a flagship phone that costs £600 SIM-free, you're probably not going to want to shell out for the Gear VR unless you already own the phablet. We certainly don't feel like what's available at present is worth an £800 outlay, but for existing Note 4 users who want to see what VR has to offer, it's an upgrade that might well be worth it.
READ MORE: How indie games conquered the world
Stuff Says…
It'll wow VR newbies, but the lack of content and the overall price make the Gear VR a niche product
Good Stuff
Delivers a strong VR experience
Comfortable to wear
Free apps and videos
Bad Stuff
Very limited supply of content right now
Expensive when you factor in a Note 4 and gamepad