Samsung Gear VR (2016) hands-on review
A fresh new look, wider view and USB-C means the Gear VR still rules the roost for mobile VR
Samsung had more than a new Galaxy Note to show off this week – it also unleashed an updated version of the Gear VR headset.
If you picked up a Samsung phone in the last year or two, the Gear VR has been the best way to get a first taste of virtual reality – it was hard to go wrong for £99, but that doesn't mean there was no room for improvement. 
That's basically the idea behind this refreshed model. It's lighter (just about), has a new colour scheme, and gives you a more immersive VR experience.
We got the chance to try it out at the Note 7 reveal event earlier this week. Here's why we reckon it's still the king of mobile VR.
BACK IN BLACK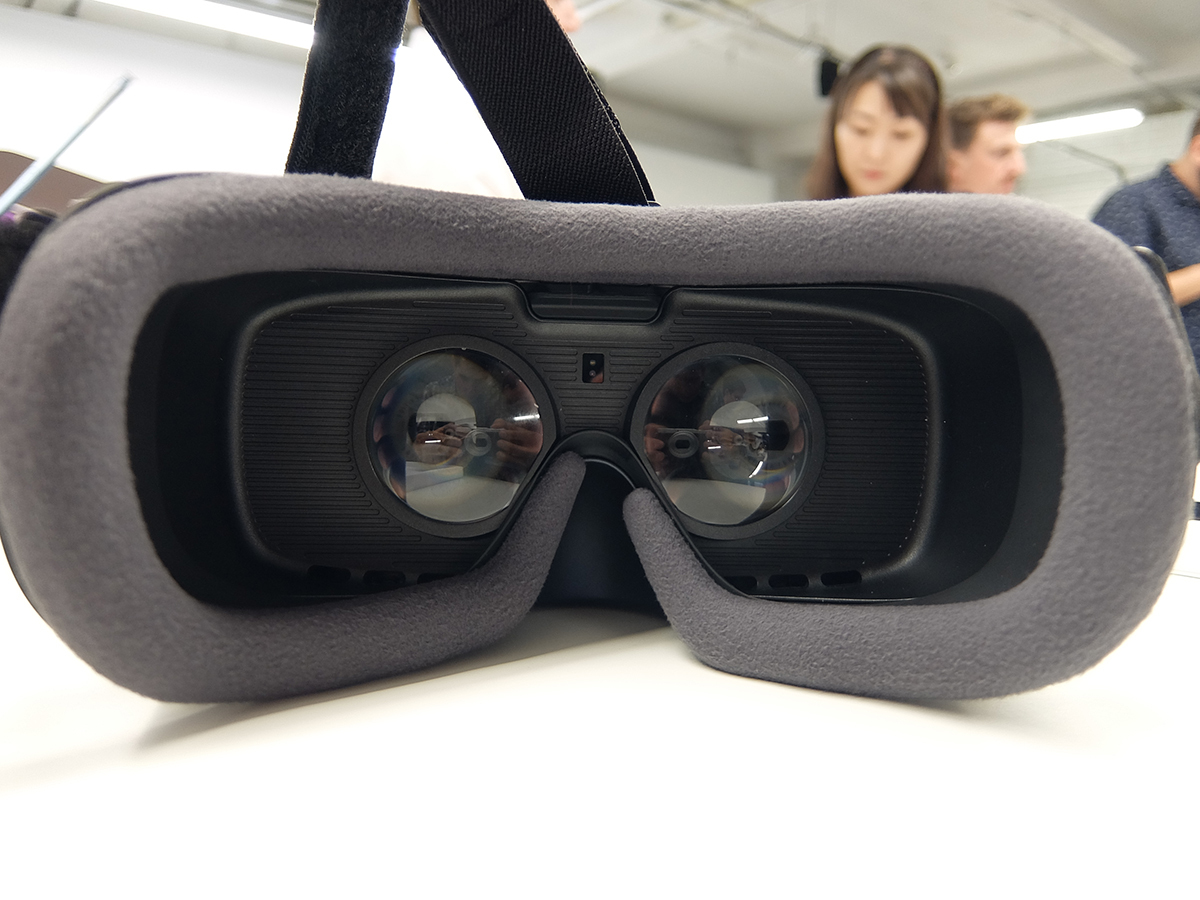 …well, ok then, really dark blue. But either way, the new Gear VR's colours should make it a lot easier to keep clean than the original model – that was mainly made from white plastic that would pick up grubby fingerprints in no time.
It won't reflect as much light, either. We felt completely sealed in when wearing it at Samsung's brightly-lit launch event. It helps that the padding feels thicker, so you can easily find a comfortable fit.
The basic design hasn't really changed, but it has gained an extra button. It jumps you right back to the Gear VR menu, so you don't have to continuously tap the touchpad.
Speaking of which, the touchpad has been tweaked too: it's flatter now. We're not convinced it's better than the grooved design on the old model yet – we'll have to wait until we've spent more time in VR to deliver a final verdict.
OPEN WIDE
The big change you'll spot once you've actually strapped on the headset is the wider field of view. The original Gear VR had a 96-degree FOV, but Samsung's bumped that up to 101-degrees for the refreshed version.
Samsung's demo clips weren't exactly the best way to try it out (the Gear 360 camera doesn't do great quality 360-degree video) but it definitely feels like it fills your vision more than before, letting you get lost in VR faster without those nagging gaps in your vision.
The Note 7 has the same screen resolution as the Note 5, so you're not getting any extra detail by buying Samsung's latest and greatest, but it's still the de-facto king of mobile VR.
A QHD AMOLED screen looks stunning however you look at it – either with the phone in your hand or strapped to your noggin.
PLUG IN BABY
It's packing a USB-C connection ready for the Note 7, but that doesn't mean anyone with an older Galaxy phone is out of luck.
Samsung's sticking a micro USB connector in the box, so you'll be able to slot in a Galaxy S6 or S6 Edge, S7 or S7 Edge, or Note 5 – handy if you haven't jumped on board the mobile VR bandwagon already.
There's no faffing about with adapters, either. You swap the whole connector on the headset, so it's a one-time job until you upgrade to a new phone.
Flip it over and you'll find a USB-C port on the bottom, too. This replaces the old micro USB connector, which could only keep your phone charged up while you were in VR.
Now, it'll handle data transfers too. Think gamepads, accessories, and maybe even motion controllers somewhere down the line, without the lag and flakey connections you get with Bluetooth.
Samsung Gear VR (2016) early verdict
It doesn't matter if you've already got a modern Samsung phone, or are planning to upgrade to what might be the best big phone of 2016) – based on what we've seen, this is probably the best way to get into mobile VR.
Samsung will probably keep the price the same, has an ongoing partnership with Oculus to product some great games and apps, and if you pre-order the Note 7, you can nab one for free. It's pretty much future-proof too, so you won't need to upgrade it even if you get a newer Galaxy phone later down the line.
If the Oculus Rift and HTC Vive are a little out of your price range, and you're rocking a Samsung phone, grab one of these and get into VR on the cheap. It'll officially go on sale towards the end of August.
Buy the Samsung Gear VR (2016) here from Amazon