Samsung Galaxy Buds 2 Pro hands-on review
End-to-end 24bit sound aims for audiophile appeal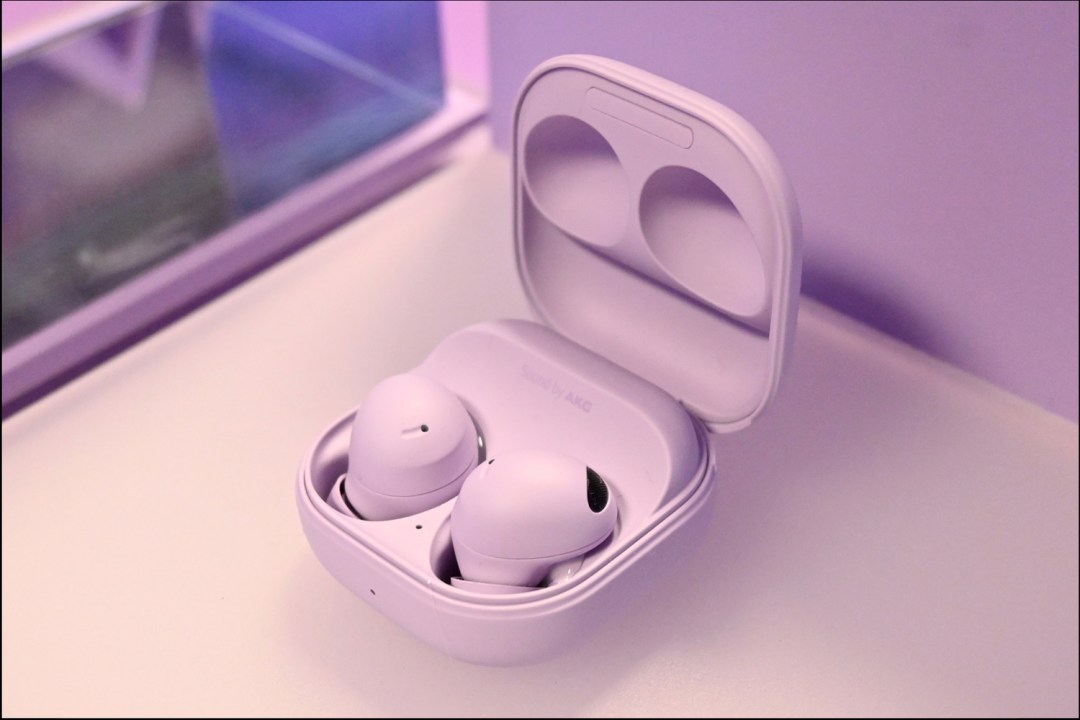 As top-end earbuds go, Samsung's Galaxy Buds 2 Pro seem to tick every box. Active noise cancellation, head-tracking spacial audio and wireless charging are all must-haves to earn the "Pro" label, and the AKG-tuned dual drivers promise high quality sound as well.
The second-gen in-ears still manage to undercut the Apple AirPods Pro, while also gaining more audiophile-friendly features like end-to-end 24-bit playback. It all sounds pretty promising on paper – but do they hit all the right notes in reality?
We had a listen ahead of the official reveal, alongside the Galaxy Flip 4 and Fold 4 smartphones and Watch 5 wearable, to see if they deserve pride of place in your lugholes.
Design & build: soft touch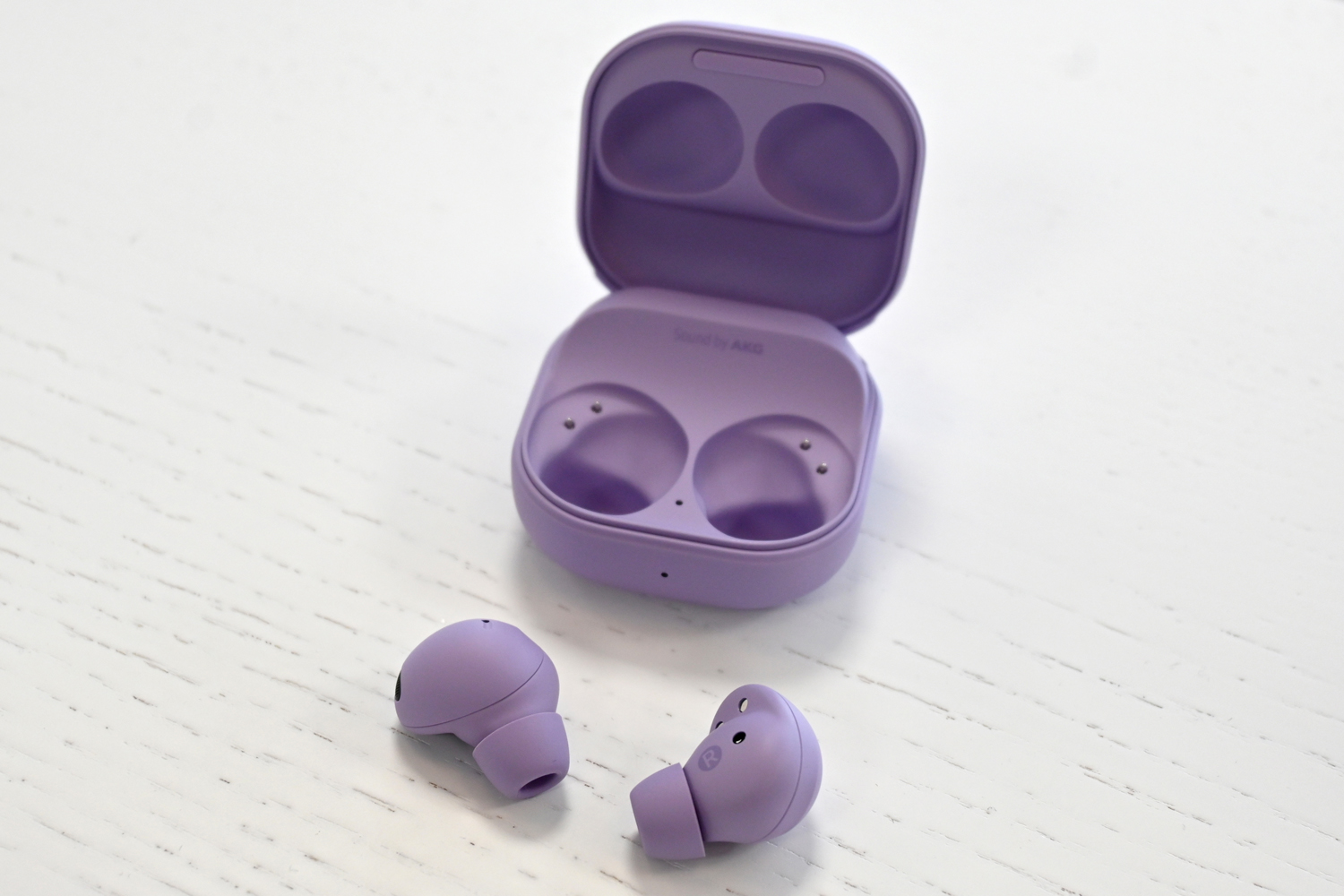 Gloss and shine are out for 2022: apparently matte is where it's at. The Buds themselves and the charging case now have a soft-touch finish that's not as blingtastic as last year's version. That said, you can still pick up a pair in head-turning Bora Purple if that's what you're in to. The Graphite (black) and White versions are a little more subtle.
The shape of the case hasn't changed all that much, sticking to a squircle design with minimal branding, a USB-C port on the back and LED charging indicator up front. It slips into a pocket easily enough, though perhaps isn't quite as compact as some rival in-ears.
It might seem like the Buds haven't changed much either, but Samsung has managed to shrink each one down by around 15% compared to the first-gen model. They still use silicone ear tips to create a tight seal, with a wing-like shape that nestles comfortably in your ear. They fit brilliantly, and didn't fall out after some vigorous headbanging – though we'll need to take them for a run before deciding if they're any good for exercise. IPx7 sweat resistance bodes well, though.
Each bud has an air vent to help relieve pressure on your ears during long listening sessions, but we didn't get enough time to judge if they help cut down fatigue or not.
Features & software: where's your head at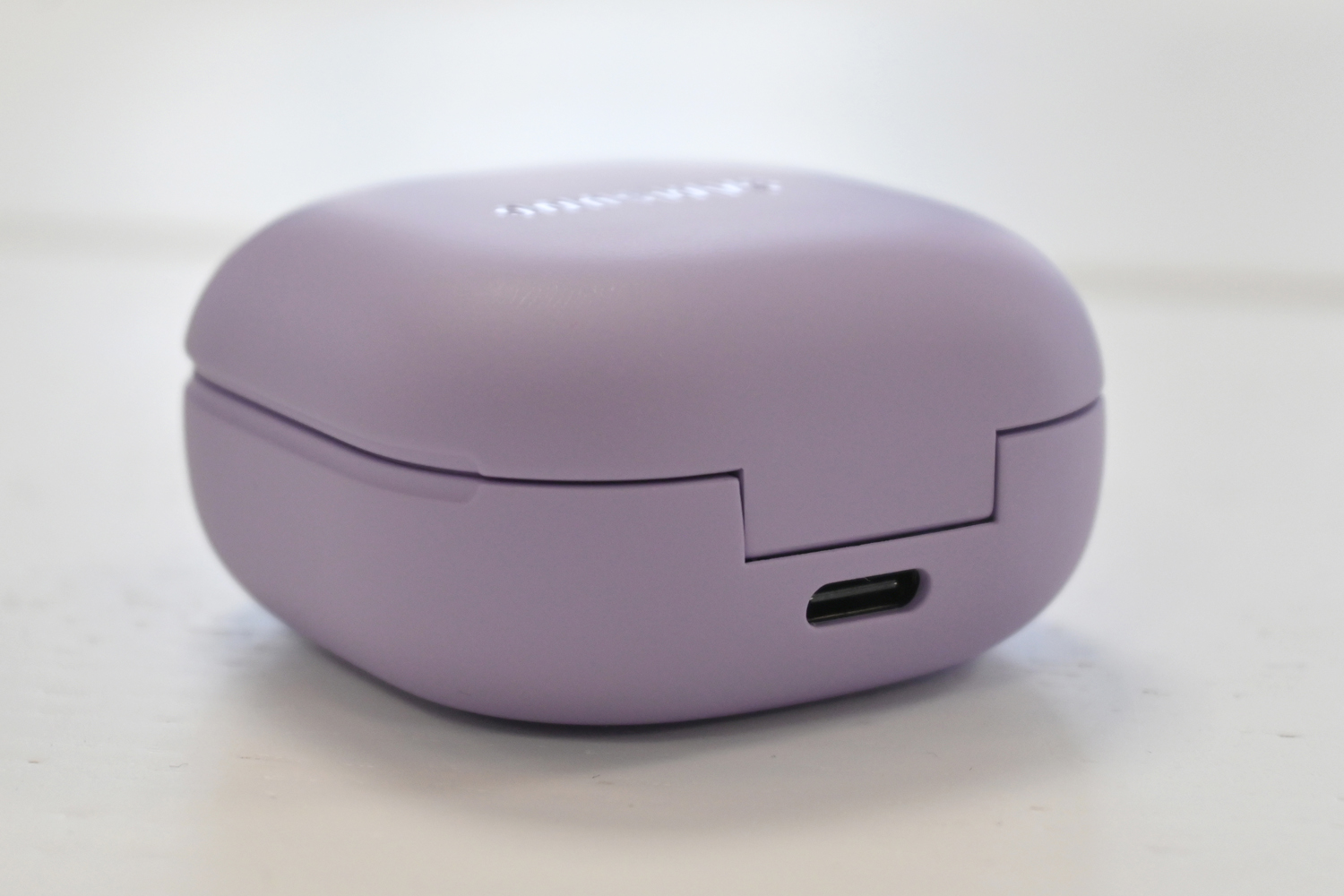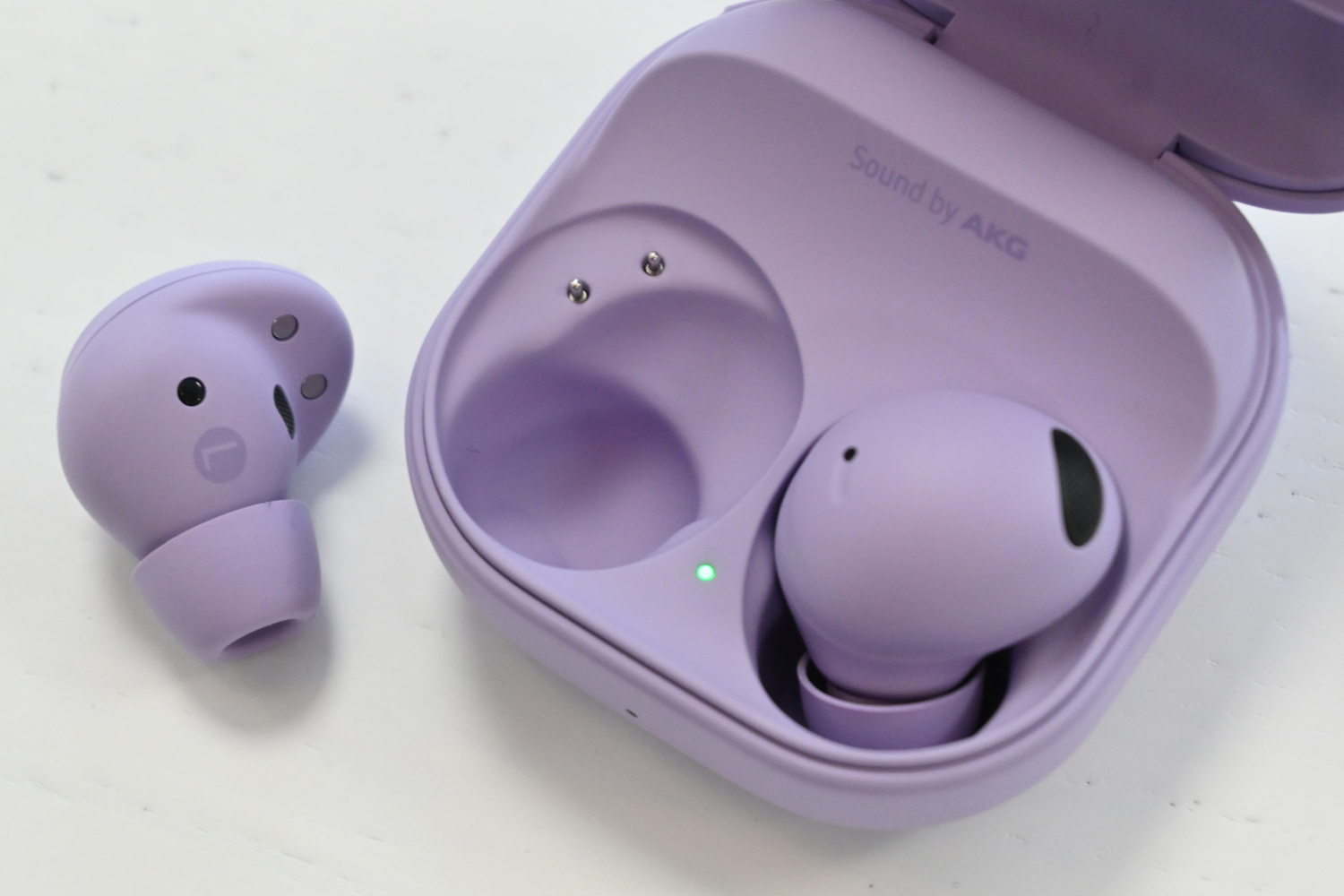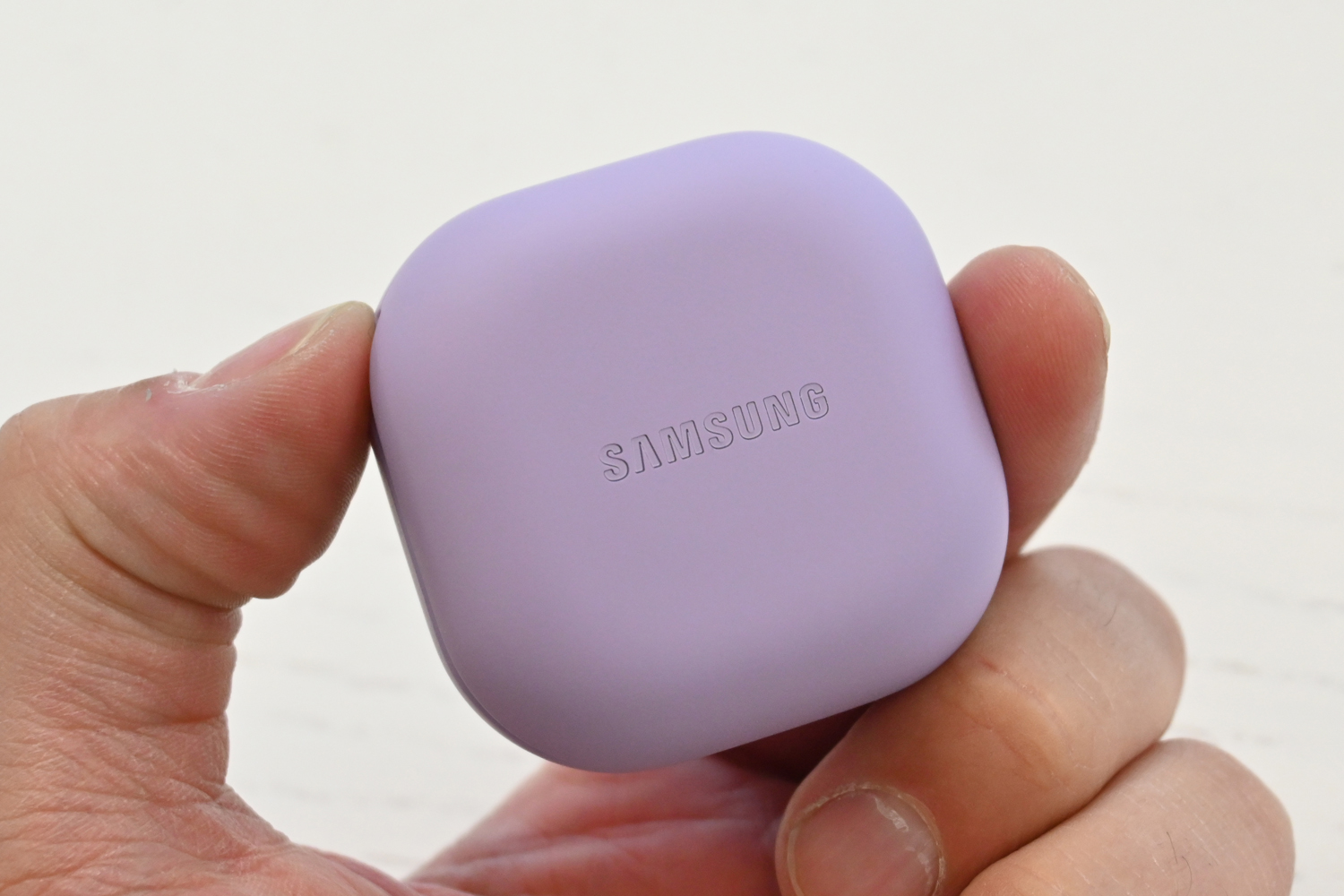 Samsung's top-tier earphones have had active noise cancellation for a while now, but this year's effort promises to be a bit smarter and knowing when and when not to silence the outside world. Start talking to someone and transparency mode automatically kicks in, which is neat. ANC managed to cut out background chatter reasonably well, in an environment not too dissimilar to an office, but traffic and public transport will have to wait for a full review.
An expanded wind shield covering the three mics inside each bud is also meant to cut out even more wind noise, although we weren't able to test it out at the tethered demo station.
Spacial audio makes a return, with Dolby Atmos-compatible head tracking for a more dynamic listening experience. Whether this is the next step in music mixing or merely a gimmick is up for debate (we reckon some tracks sound pretty good – others, not so much) but the effect is convincing. AirPods Pro aside, there aren't many in-ears that feel as accurate as these at knowing which way you're facing at any given moment.
Samsung is also bigging up the ability to pair the phones directly to one if it's 2022 model-year TVs, for private listening so as not to disturb the rest of the house. That's in addition to Auto Switch, which makes a return for quickly swapping between Samsung phones, tablets, laptops and other gear.
Battery life remains a mystery for now: Samsung hasn't upgraded the battery at all, so we're betting it'll be a similar story to the OG Galaxy Buds Pro. That should mean up to five hours with ANC on, or eight with it off, plus 13/20 hours extra from the charging case. It supports wireless charging, naturally, with a handful of Samsung's top-tier phones able to juice them on the move using reverse wireless charging.
Sound quality: testing times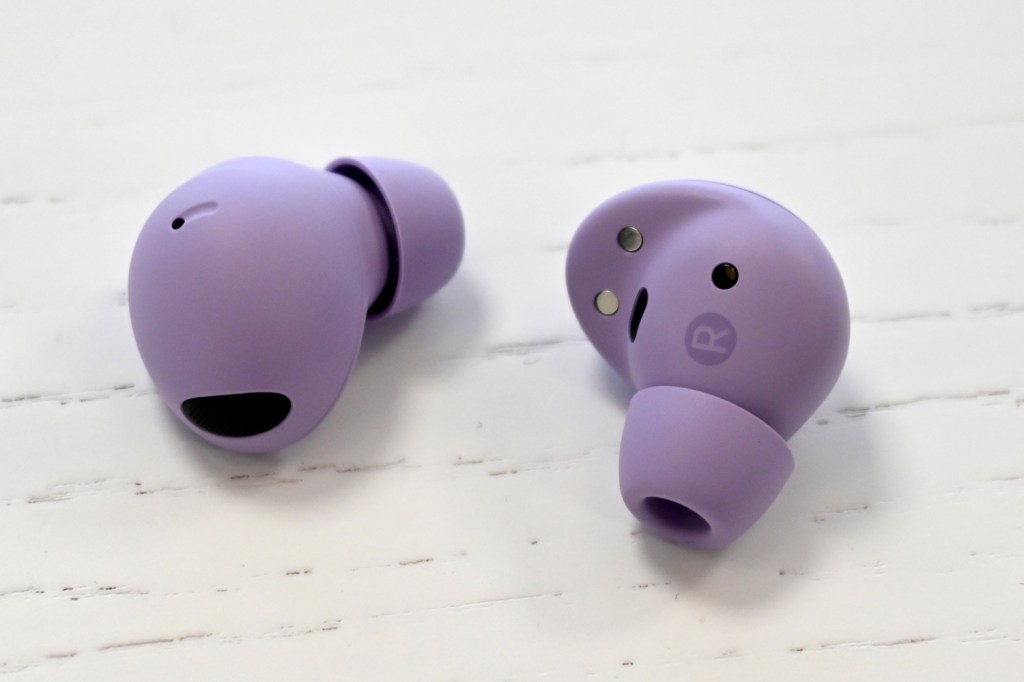 Given they use a dual-driver design, just like last year's Galaxy Buds Pro, we weren't expecting a massive difference in overall sound quality – although Samsung has mixed things up a bit here, with a 10mm woofer and 5.3mm tweeter driver. During our brief demo session we only got to listen to a few tracks, so can't give a definitive verdict just yet, but Samsung's tuning feels very familiar.
These are energetic in-ears, with ample bass and plenty of volume. The detail seemed well-defined and we didn't notice any major sibilance or distortion near the top-end. Whether they can dethrone the likes of Apple's AirPods Pro and Sony's wonderfully balanced WF-1000XM4 remains to be seen.
Samsung does have 24-bit audio on its side, as long as you're connected to one of the firm's more recent phones. The SSC codec already delivered adaptive bitrate playback on par with AptX adaptive, but here Samsung promises end-to-end 24bit from compatible hi-res sources. Will this make a difference in daily use? We'll have to break out the Tidal subscription to find out, but are sure it'll give audiophiles another reason to check these buds out.
Samsung Galaxy Buds 2 Pro initial verdict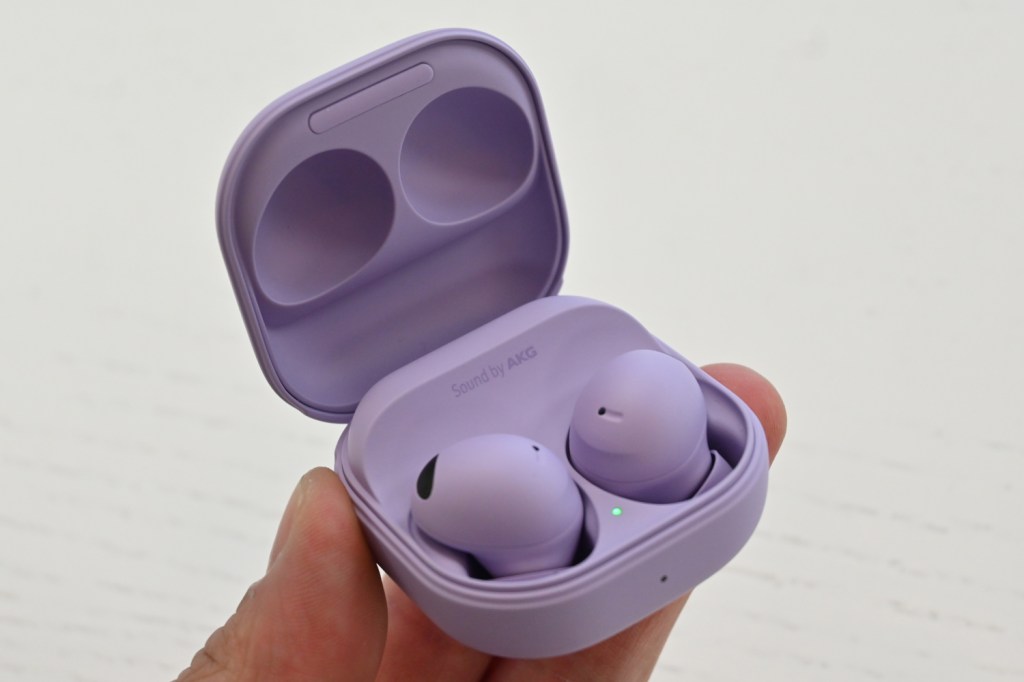 You could be forgiven for thinking there's little to the Galaxy Buds 2 Pro beyond a matte finish and new colour choices – but the changes are more than skin deep. Not only has Samsung managed to shrink them down, which results in a more comfortable fit and better passive isolation, but it has also improved the active noise cancellation too.
We'll have to wait for a full review to see how they stack up to the class best in the real world, and we won't give a final verdict on audio quality until we've racked up a lot more listening hours. But smarter spacial audio, faster-acting ANC and the energetic sound signature we expect from AKG's tuning suggest there's plenty here to like for the price.