Samsung Galaxy A54 5G review: S23 lite in all but name
A return to form for Samsung's A-series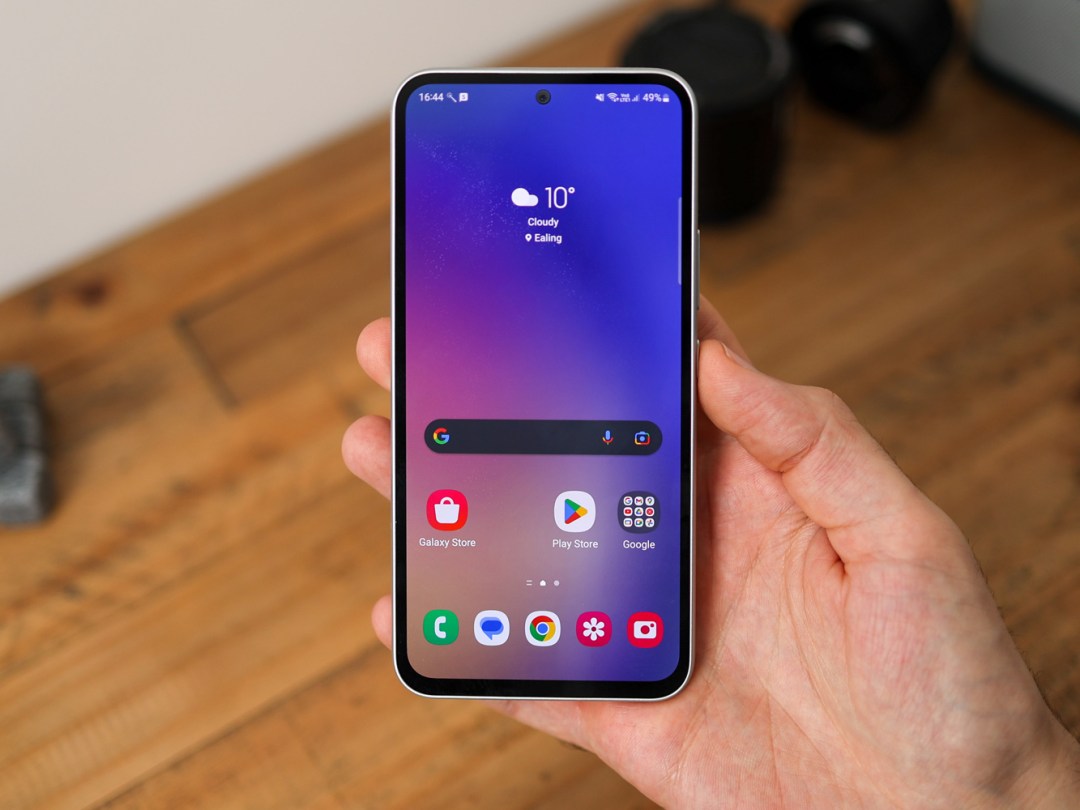 Samsung's Galaxy A54 5G wants to be the obvious choice for anyone who needs a new phone but doesn't want to stump up for a pricey Galaxy S23. Its styling is similar, its interface is virtually identical, and its photos and videos have that trademark Samsung pop.
After last year's Galaxy A53 was so hampered by underpowered internals, though, can its 2023 refresh win back some goodwill for the line? Samsung certainly hopes so, after all, it's packed the phone chock-full of features, including water and dust resistance, a punchy, smooth screen, and a nifty triple camera setup. Best of all, there's a new processor, so hopefully, it doesn't grind to a halt like the A53 did when we tested it.
While the A53 cost £399 when it launched, though, the A54 5G starts at a pricier £449. With its higher price and stiff competition from the 200MP Redmi Note 12 Pro+, and cheaper alternatives like the Poco X5 5G and Nothing Phone (1) chomping at Samsung's heels, can the A-series still earn a spot on our best affordable smartphones list?
Design & build: bulbous but flat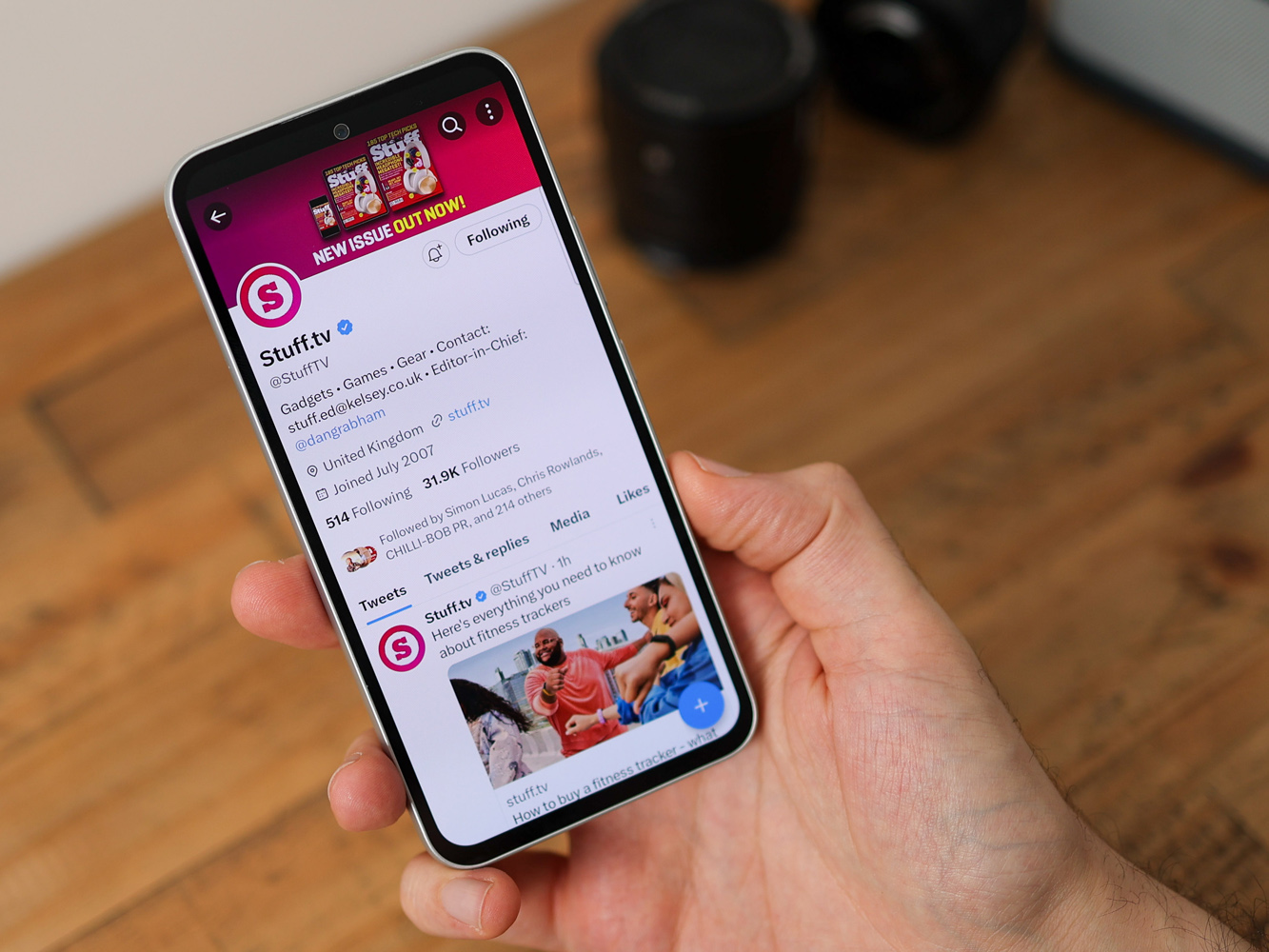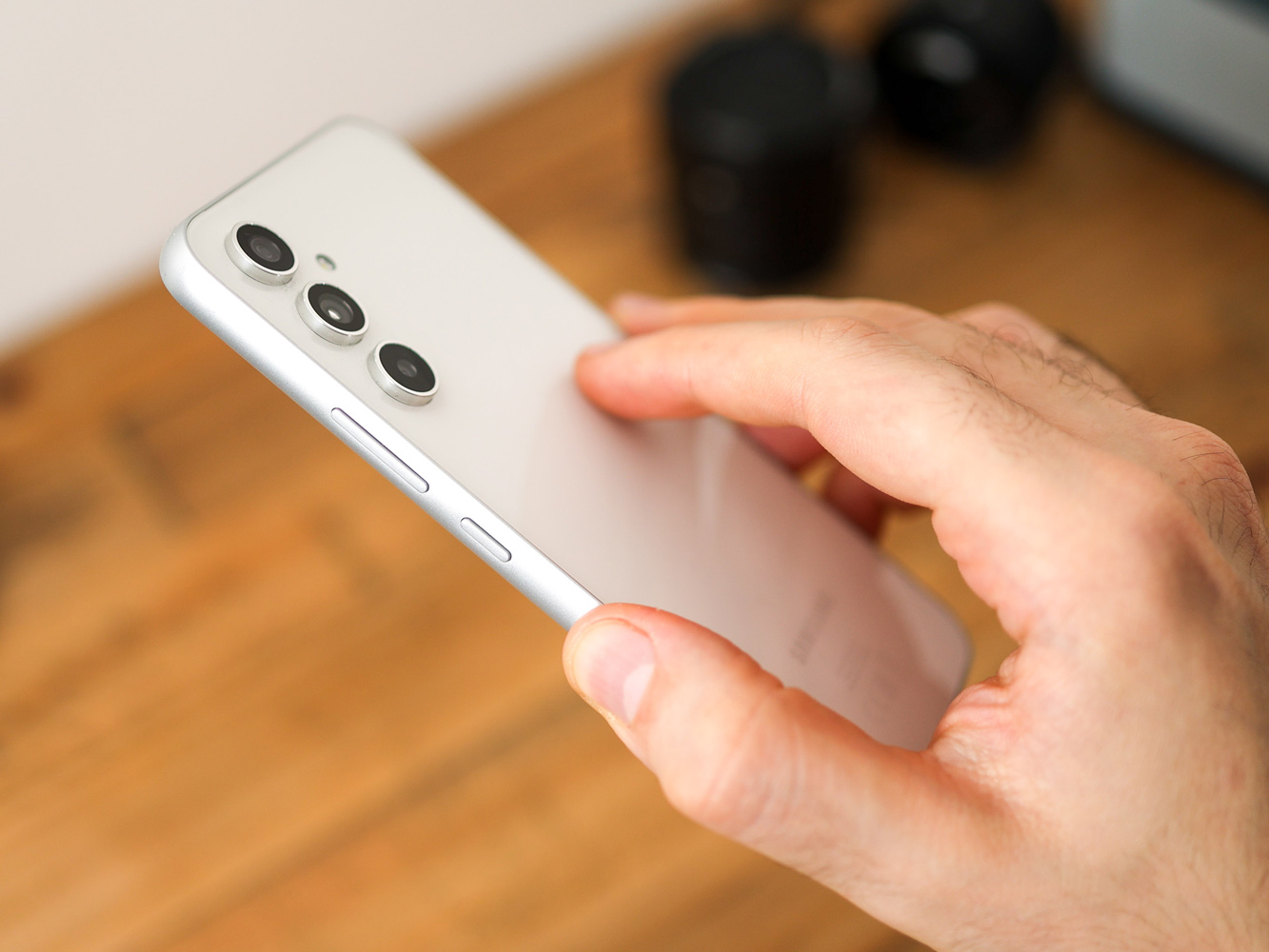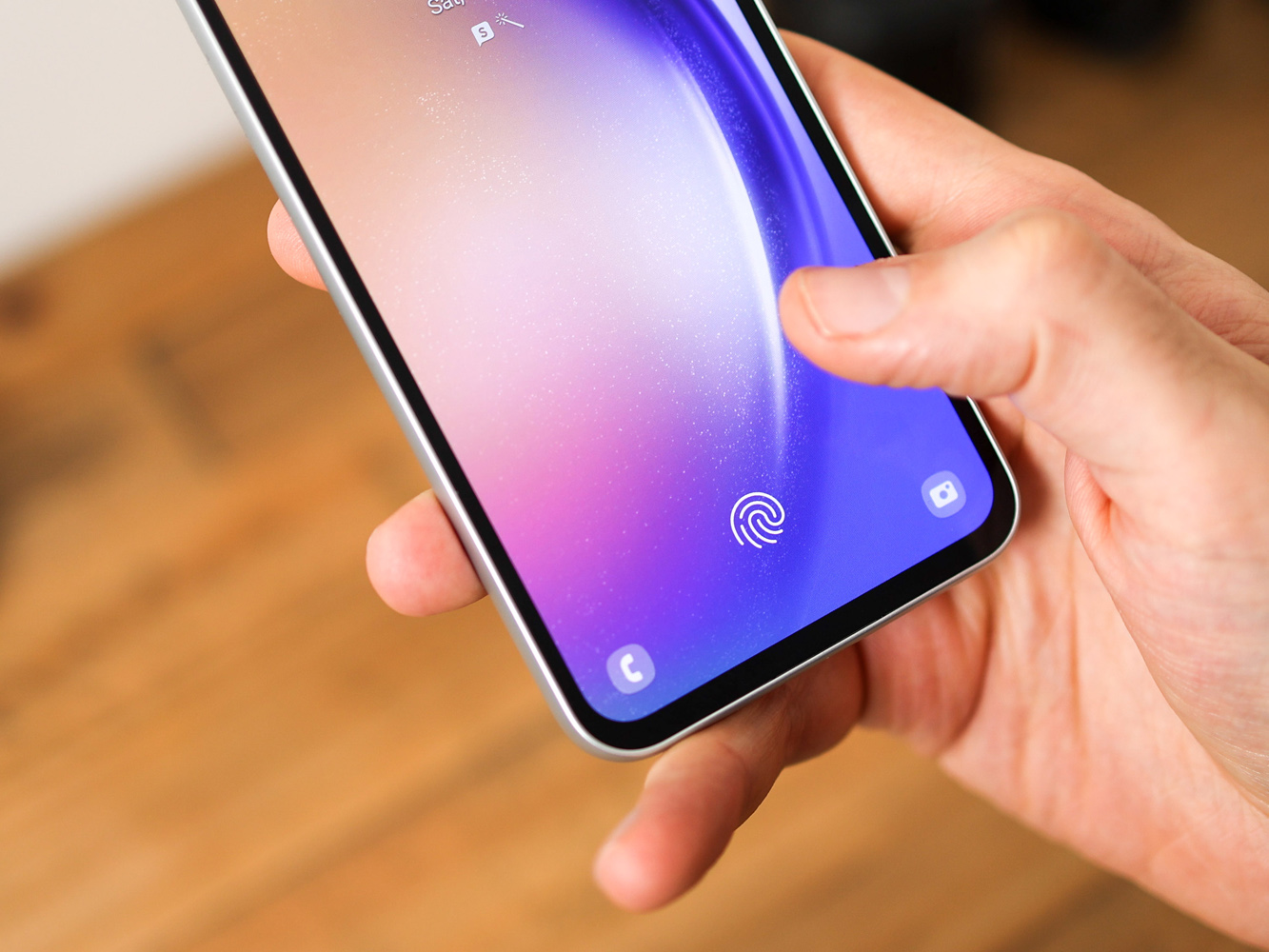 The A54 5G has a rounded, bulbous frame that's set against its very flat front and back for a nice bit of contrast. It's available in Black, Lime, Violet and White; we tested the white one, complete with a silver plastic banding sandwiched by two sheets of glass. It's comfortable to hold and grippy.
While the white version repels fingerprints nicely, the glossy back will look smudgy in no time if you pick up a darker option. Choose a light-coloured A54 5G if you want it to stay looking box-fresh for longer.
It looks like a Galaxy S23, but the A54 5G's glass back panel doesn't look or feel super-premium. The phone also misses out on a cool-to-the-touch metal frame most flagships pack. Alongside other plastic-framed competition like the Redmi Note 12 Pro+, between its chunky bezel and blocky design, its styling is on the whole less mature. Still, we can't argue with the fact the A54 5G is water and dust resistant up to IP67 – a feature that's seldom seen under the £600 mark.
With all the buttons on the right side, and a USB-C port and speaker at the base being the only interruption to the matte silver plastic banding, the phone misses out on a 3.5mm headphone jack. Around the back, the main visual draws are the three raised camera rings on the top left, that pull focus from a Samsung insignia and a CE marking.
Screen: Super, thanks for asking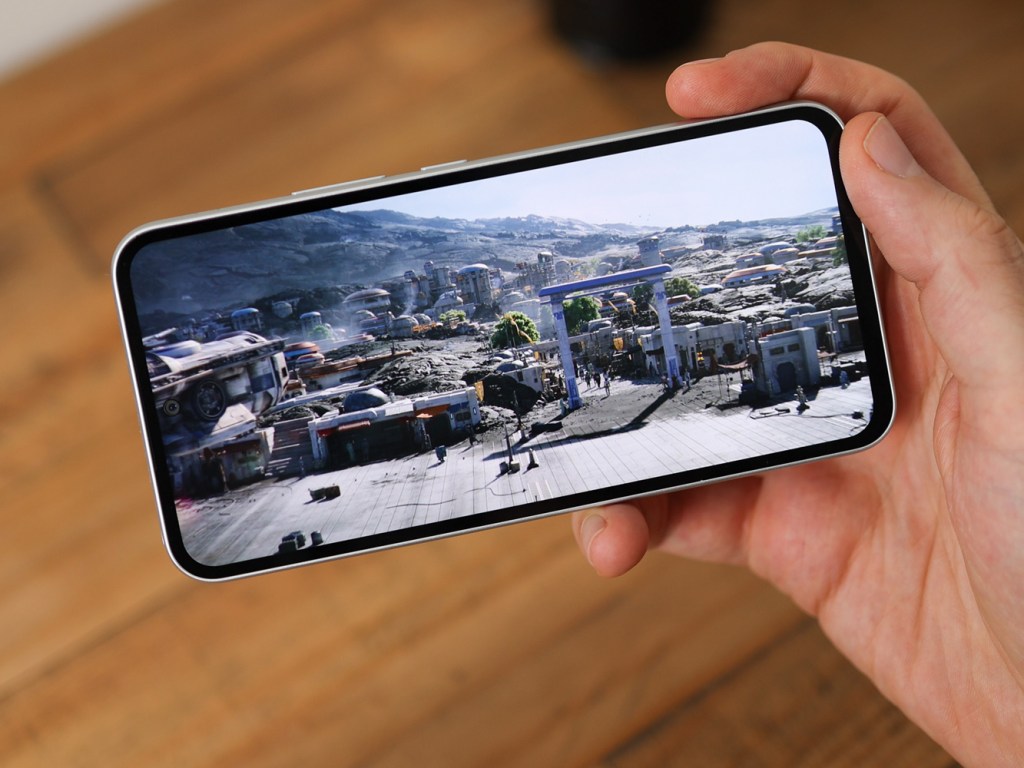 With a 6.5in Super AMOLED panel, the Galaxy A54 5G delivers exactly what you'd expect from a Samsung phone – quality display credentials. In the flesh, visuals pop nicely with vibrancy and saturation, blacks are inky and deep, and thanks to a smooth 120Hz refresh rate, feeds glide with the floatiness we'd expect at the phone's price point.
Samsung's upgraded the display to feature a more responsive dynamic refresh rate, so the A54 5G can switch between 60Hz and 120Hz depending on what's on-screen to save power.
While we can't complain about the phone's screen quality after a week with the phone – it showcased content across Disney+ and Netflix brilliantly – it doesn't get as bright as some competition, capping out at 800 nits in high brightness mode. London's April showers hardly pushed the A54 5G's screen to the limits of comfortable outdoor viewing, but if you live somewhere more perpetually sunny, the fact it isn't best-in-class when it comes to brightness might be a consideration.
Camera: Macroeconomics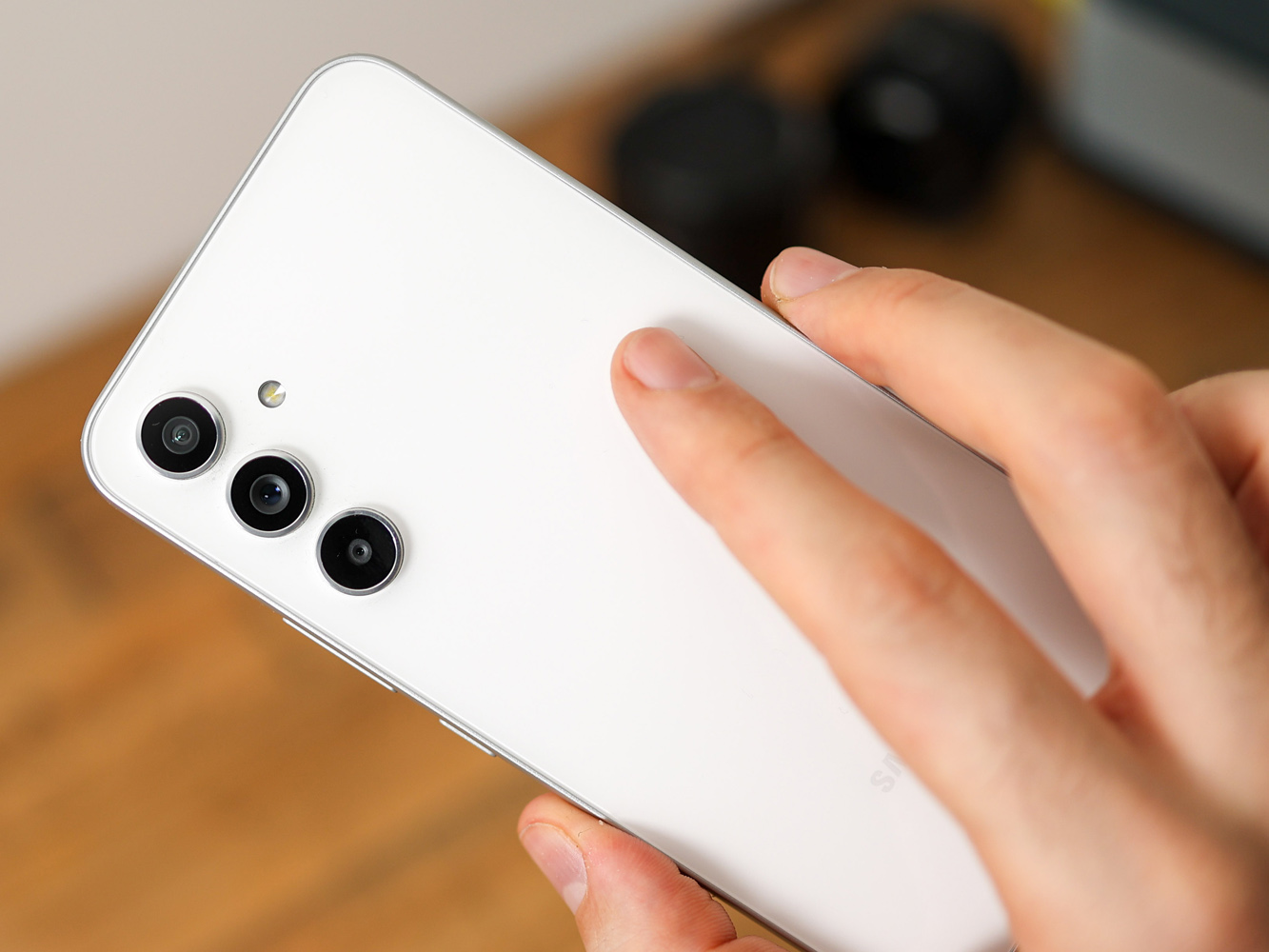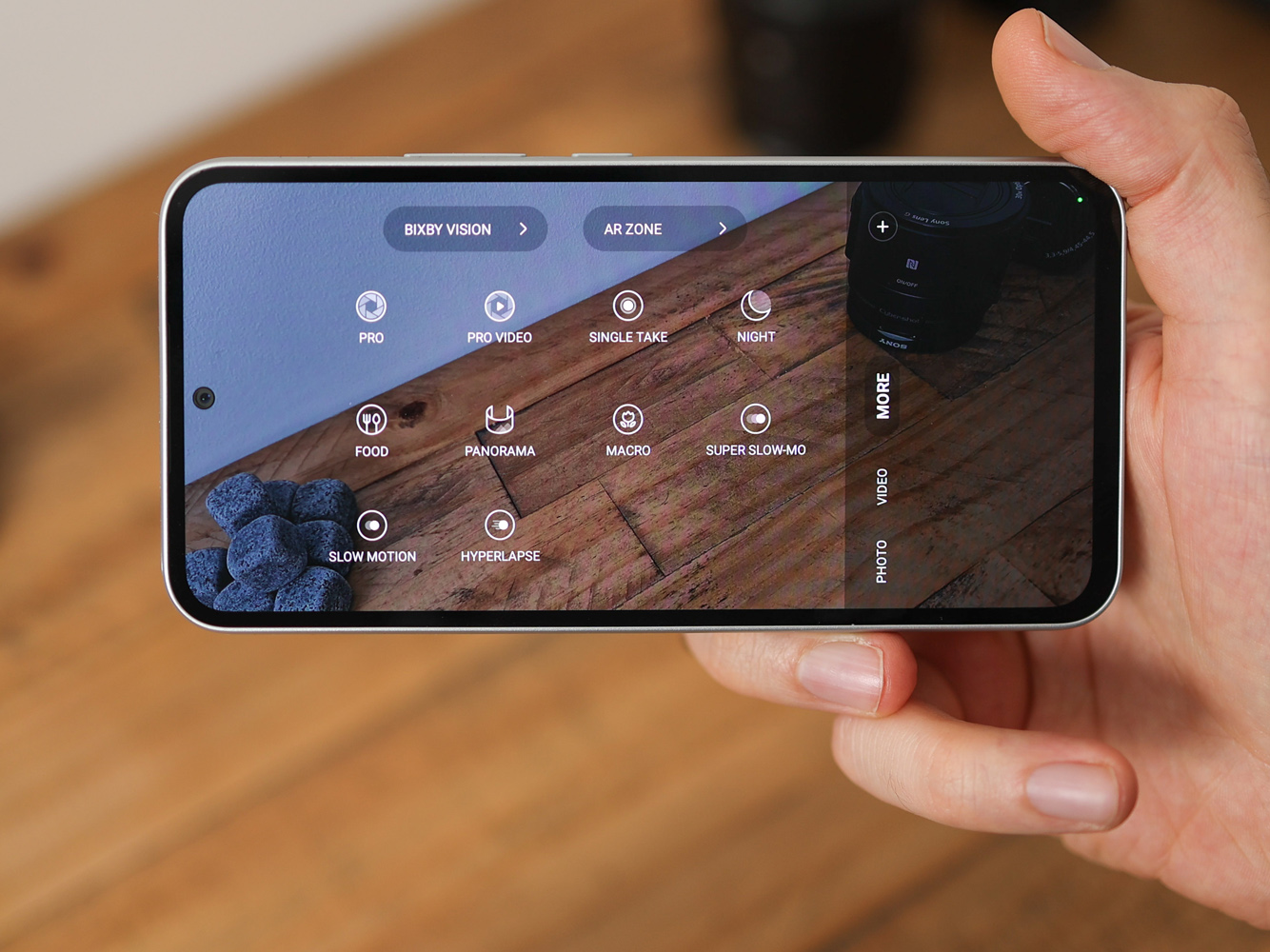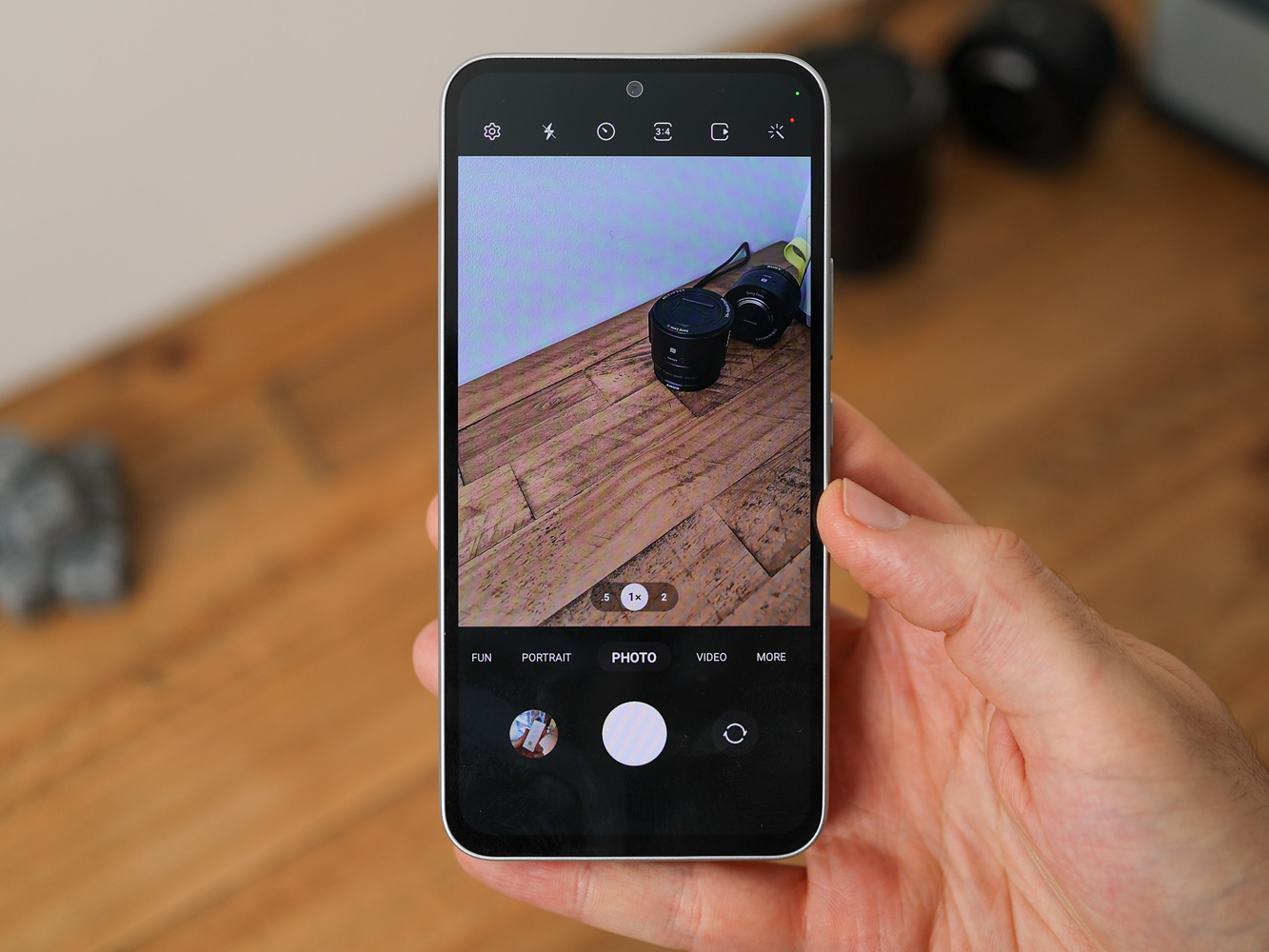 The A54 5G ditches the depth sensor from the A53's quad-camera to create a triple camera setup with a primary, ultra-wide, and macro camera mix.
This year, the primary 50MP camera is new and comes complete with an f/1.8 aperture and optical image stabilisation (OIS). The flanking cameras – a 12MP ultra-wide with an f/2.2 lens and a 5MP macro camera with an f/2.4 lens are the same secondary cameras we saw on its predecessor.
Photos captured in bright environments look excellent for the most part, loaded with contrast and saturation, but still sporting a decent amount of dynamic range. Provided you don't want to crop into your snaps too much or edit your photos, the A54 5G's main camera is about as good as you'll get for the price if you consider yourself a discerning casual picture taker.
For amateur photographers, though, you might find Samsung's processing a little heavy-handed, especially as the lights start to drop. The phone also misses out on RAW capture, so you won't be able to edit unadulterated versions of your photos in apps like Lightroom for Mobile.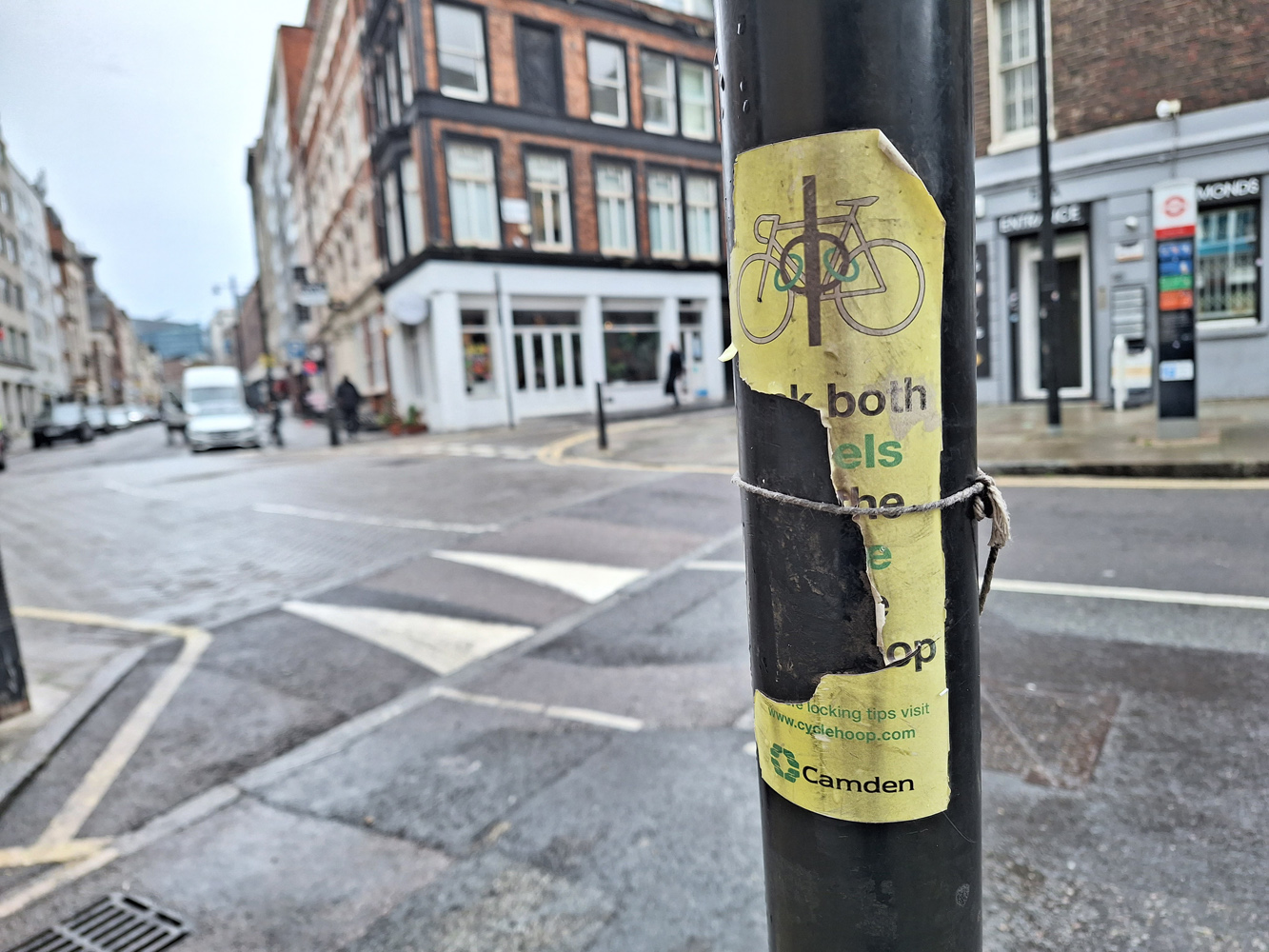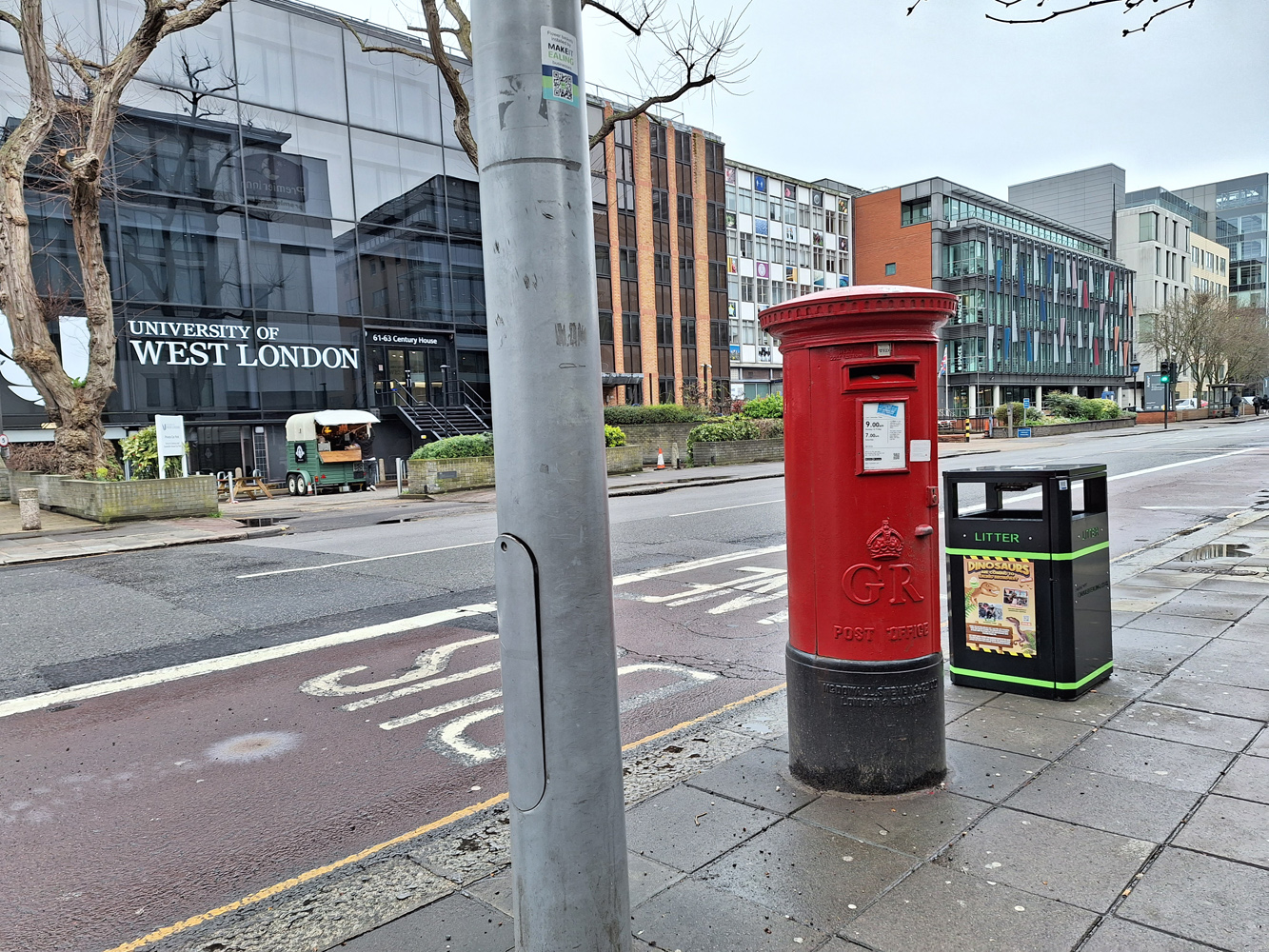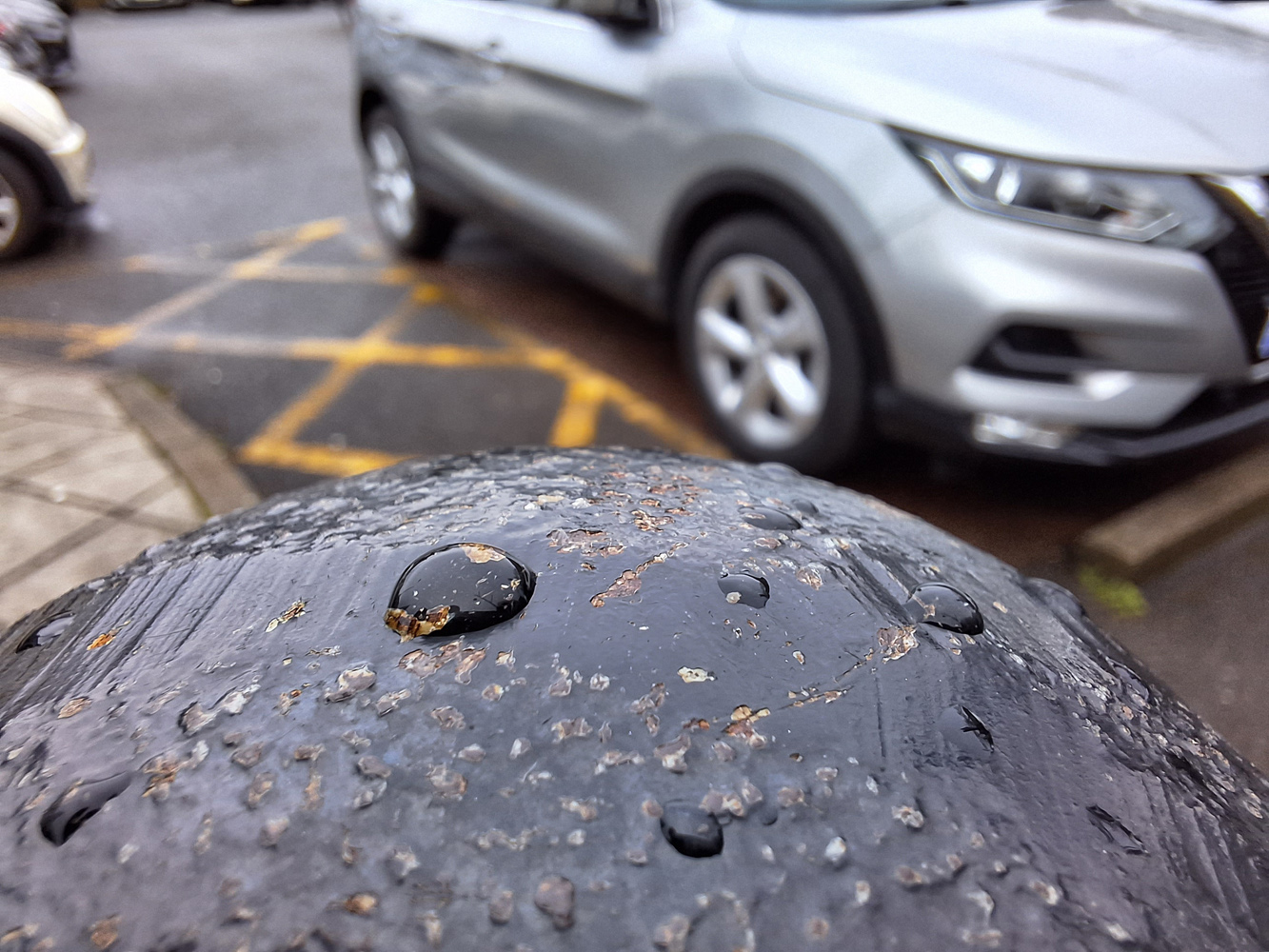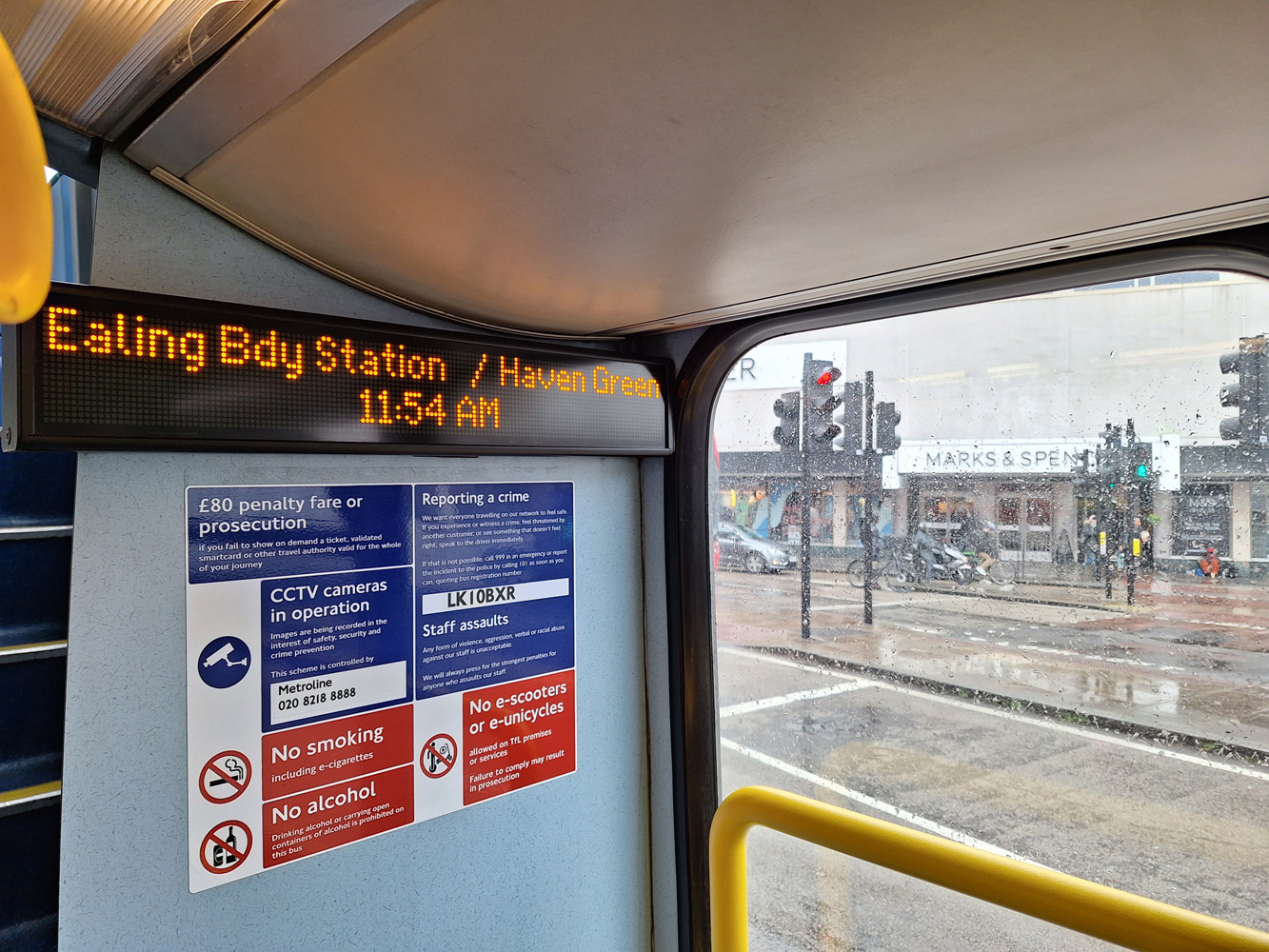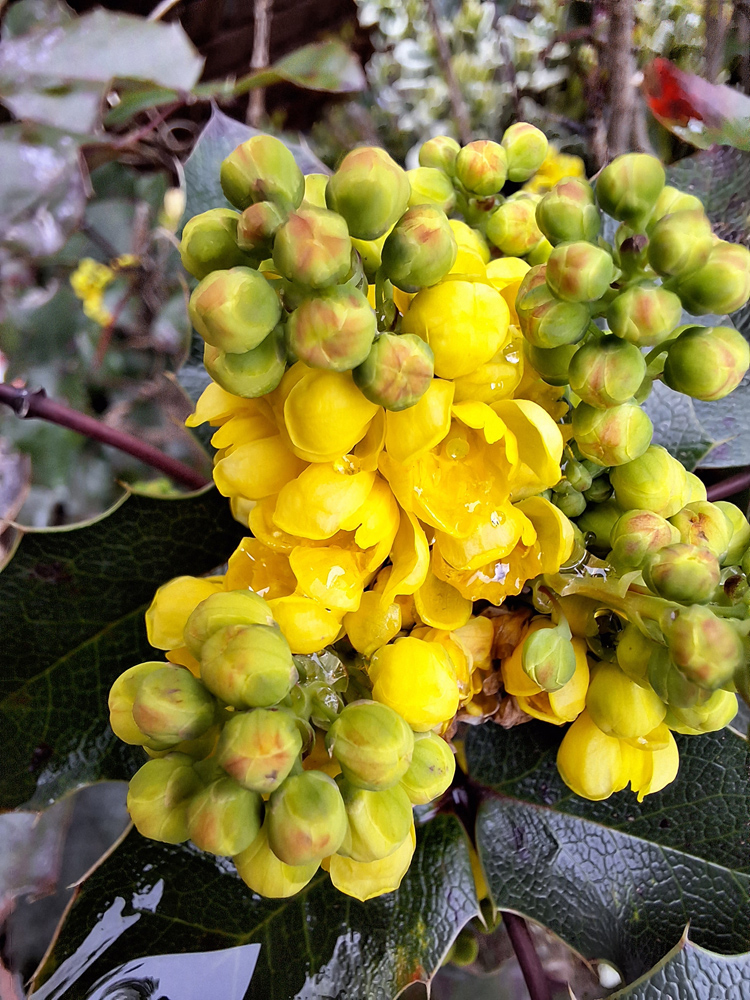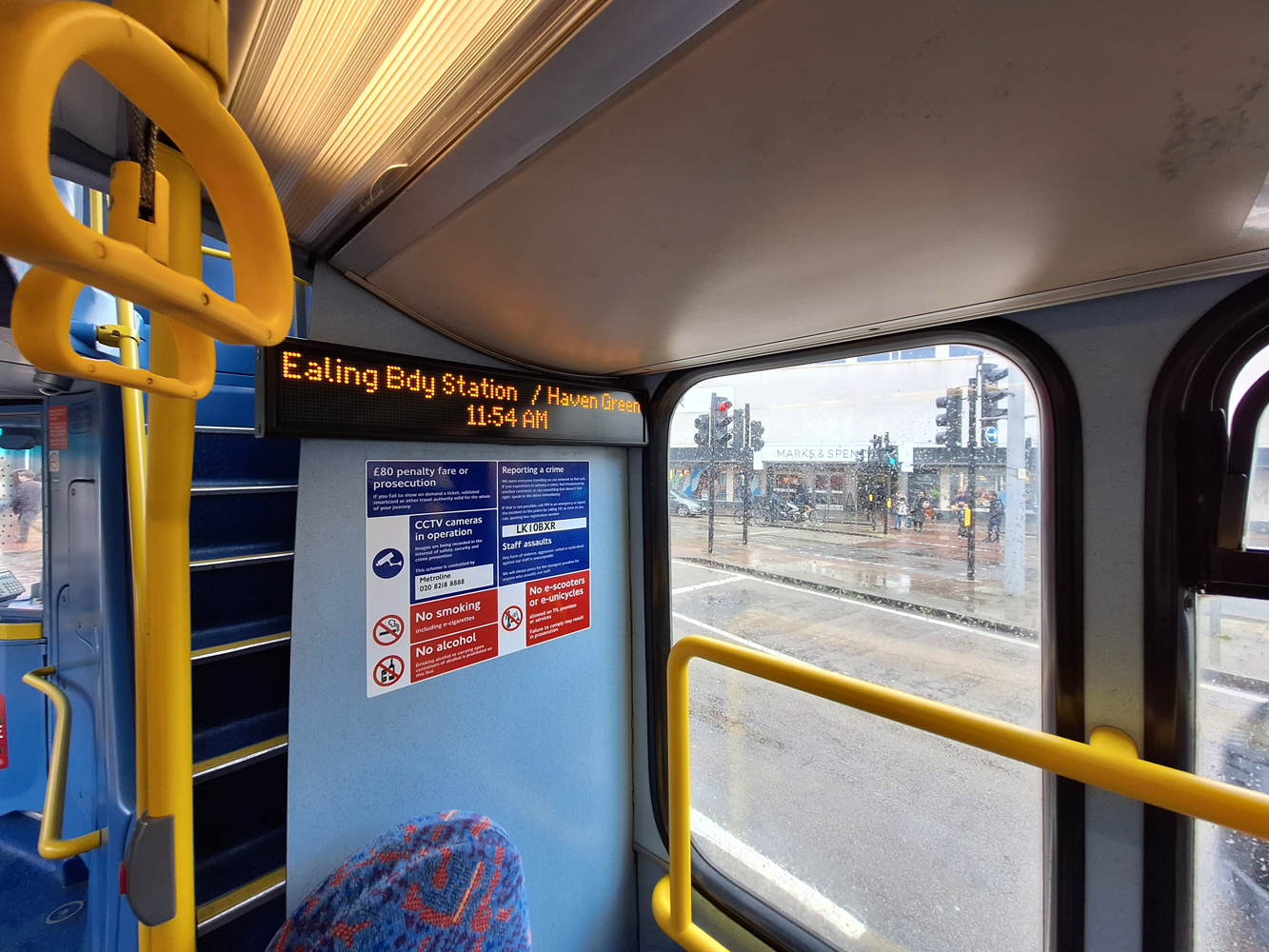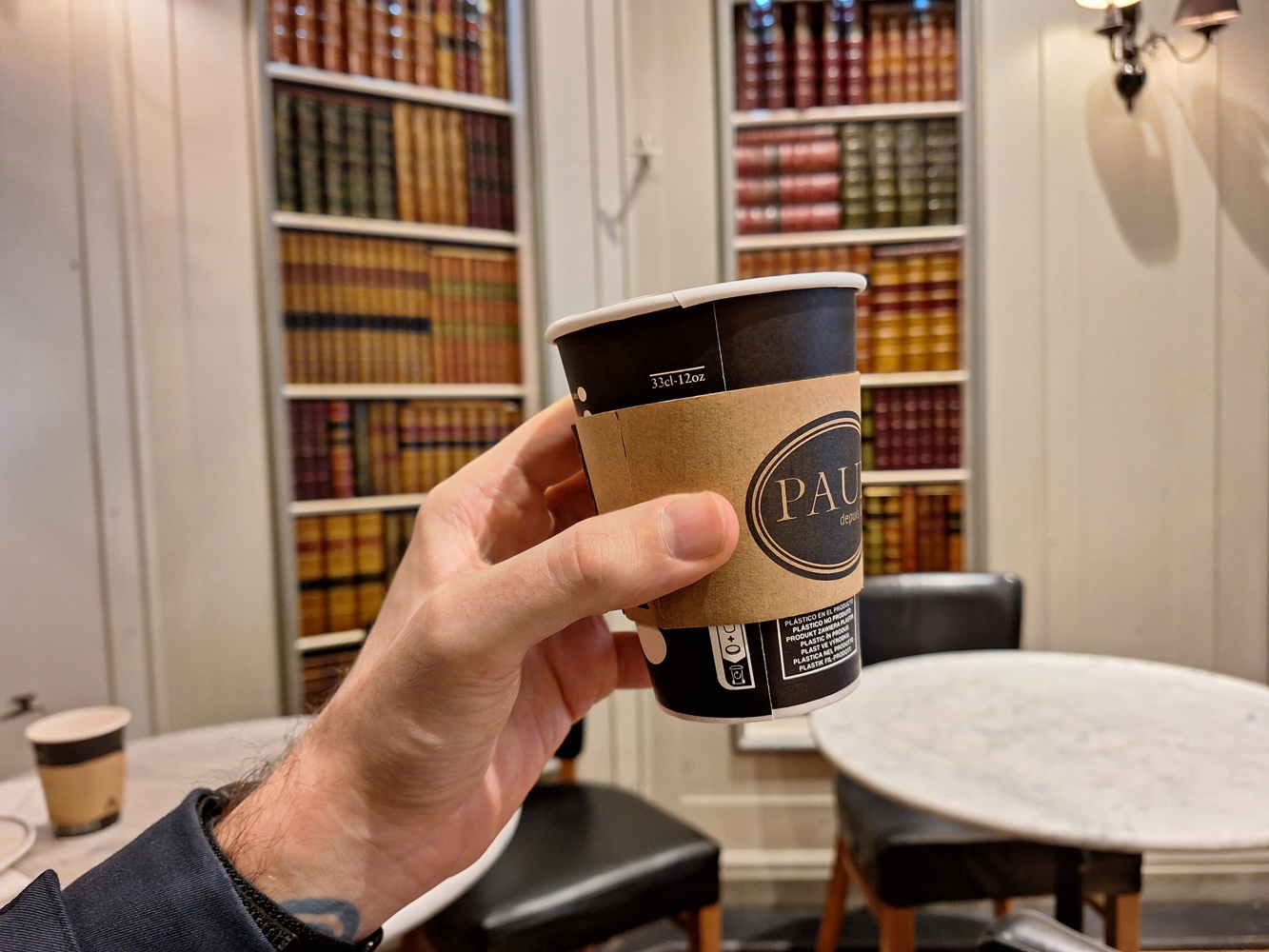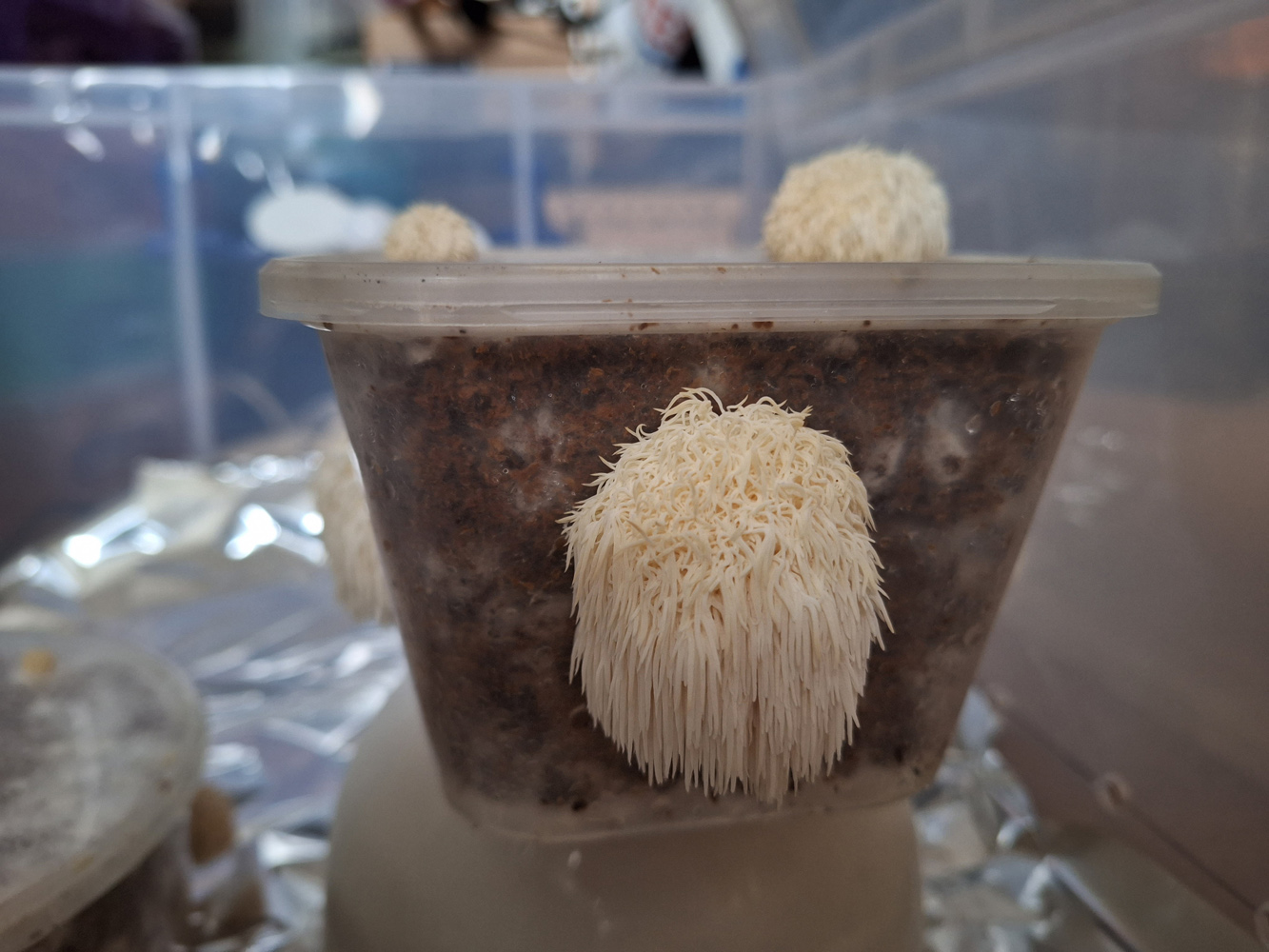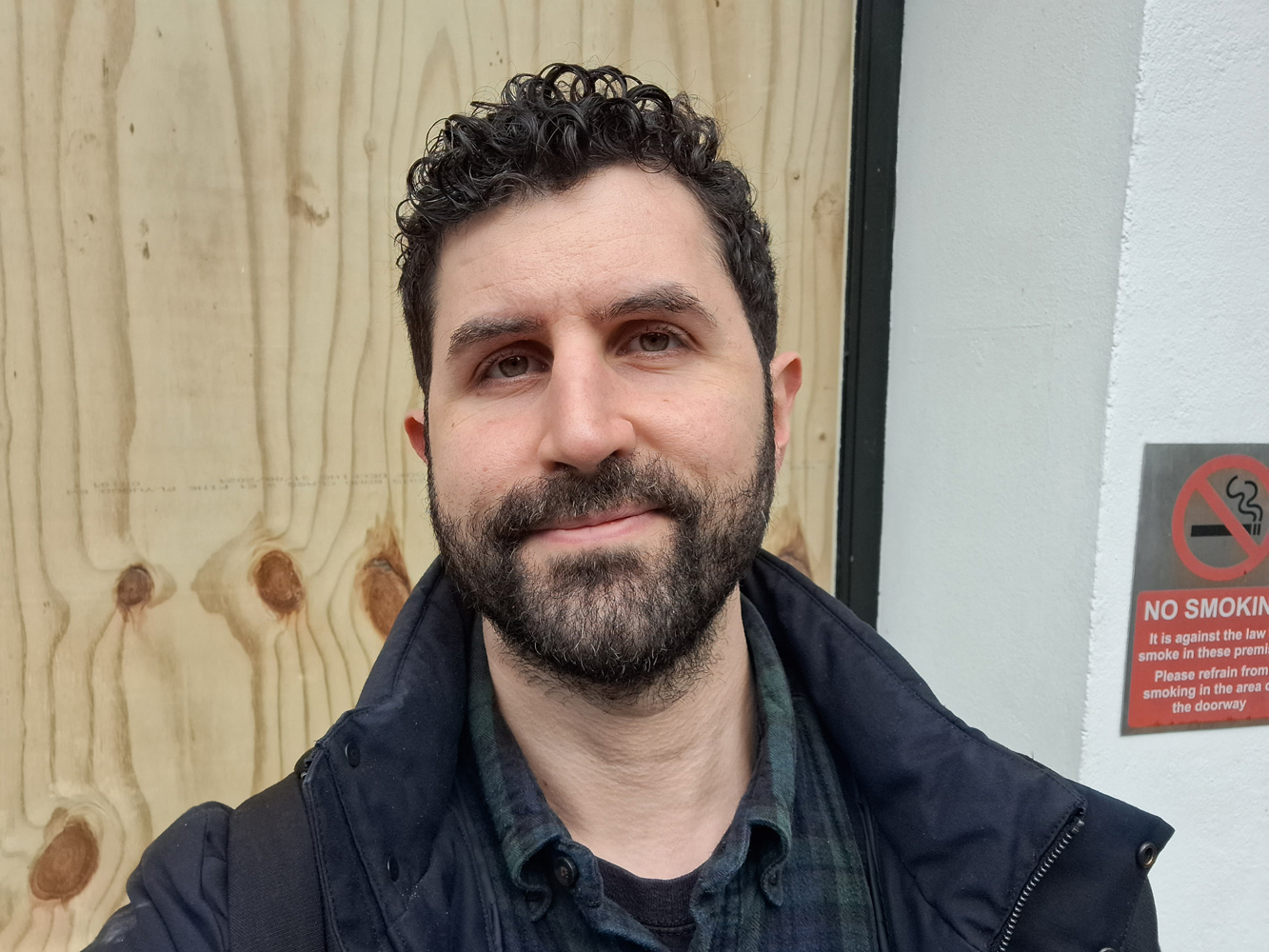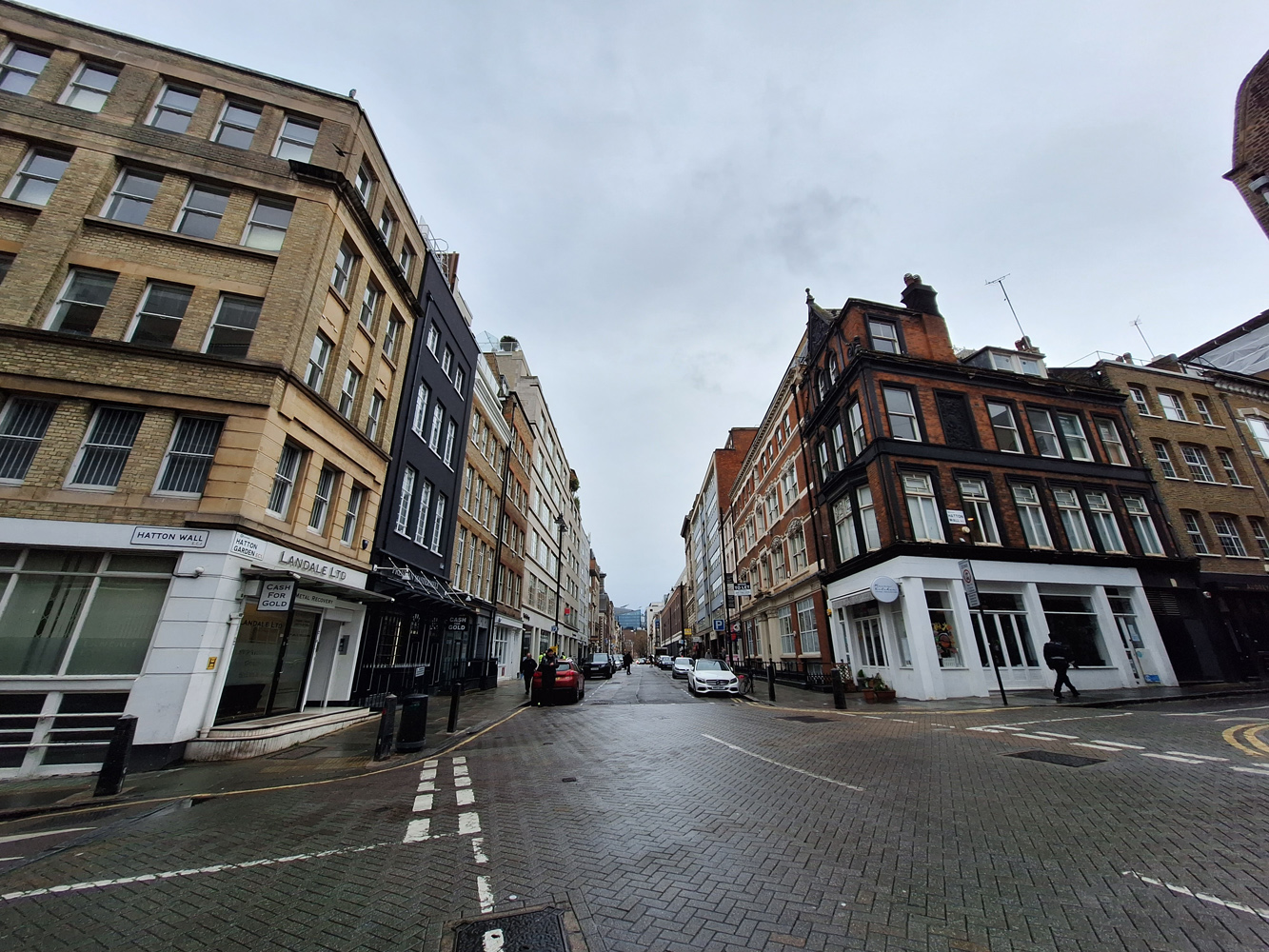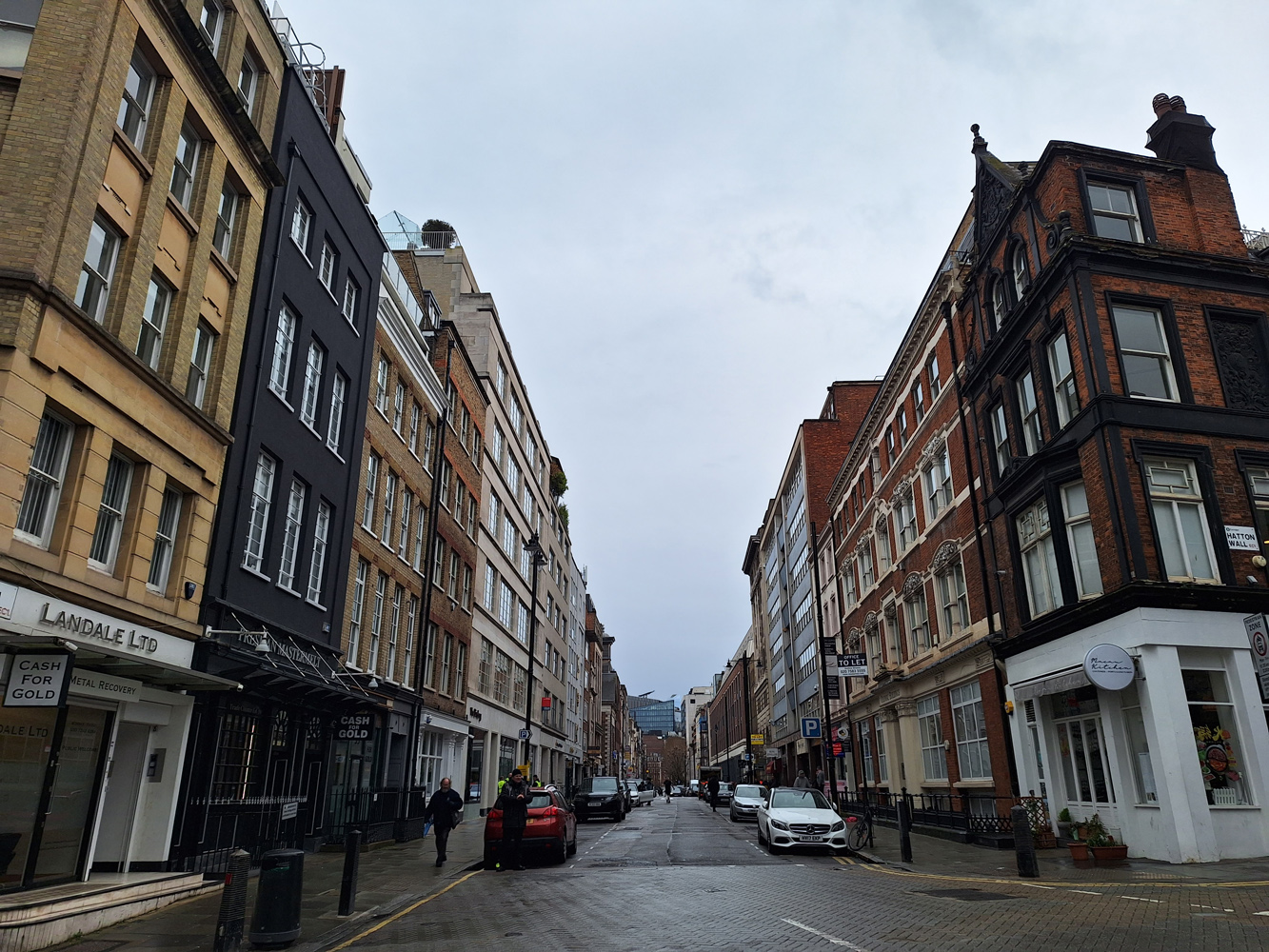 The phone's secondary cameras are decent for the price too, even if they won't blow you away. The ultra-wide is a fixed-focus lens system, and misses out on the dynamic range of the main camera, especially when recording video. Its nighttime performance is also inferior, though Samsung's processing keeps noise in check, provided your subject stays still.
The 5MP macro camera on the A54 5G is powerful in bright environments – more than can be said of its 2MP competition on almost every midrange Oppo, Poco, Realme, Redmi, and Xiaomi phone launched in the last two years. However when the lights drop, avoid shooting with it, as noise overtakes shots in all but the best lighting.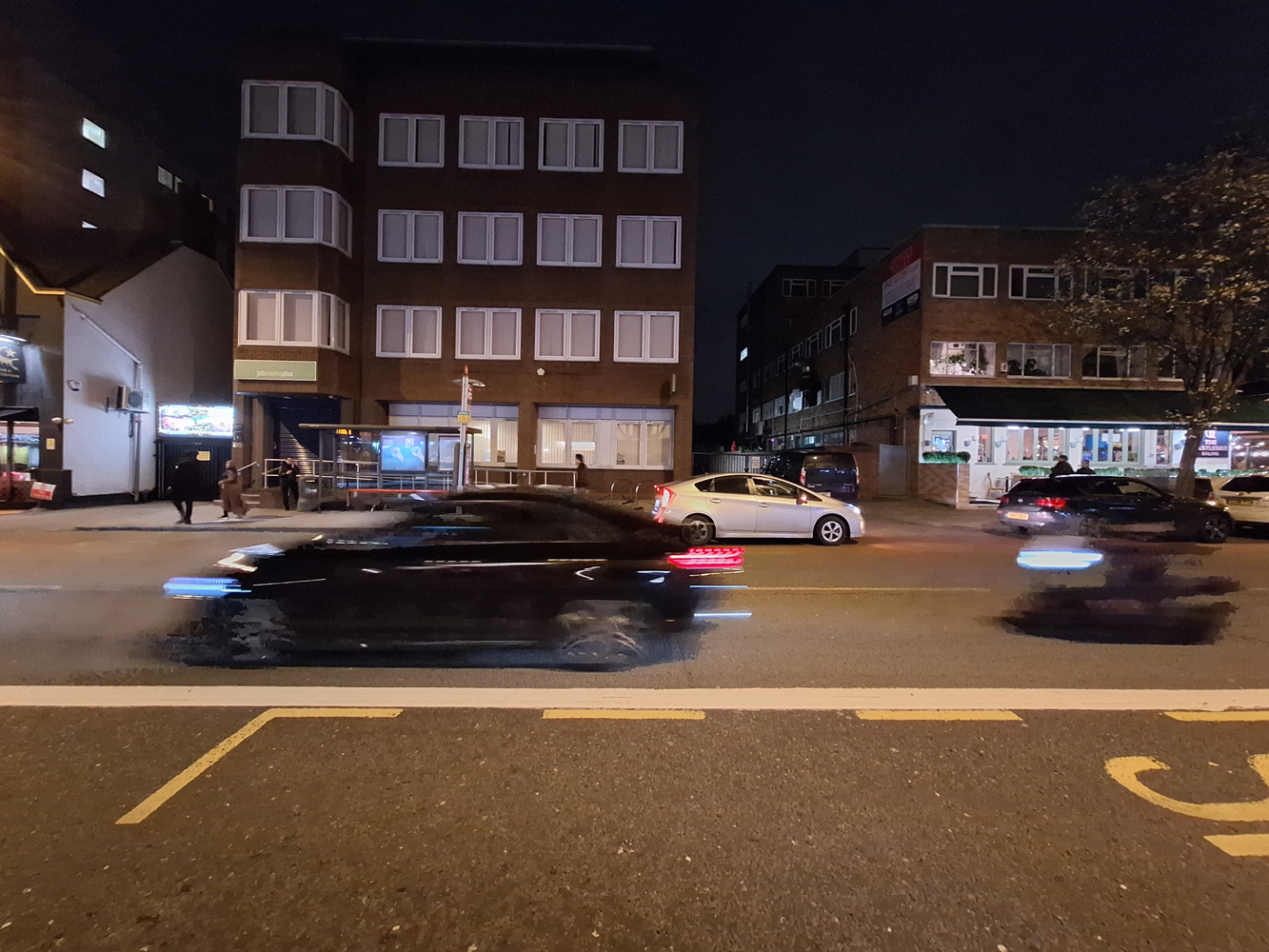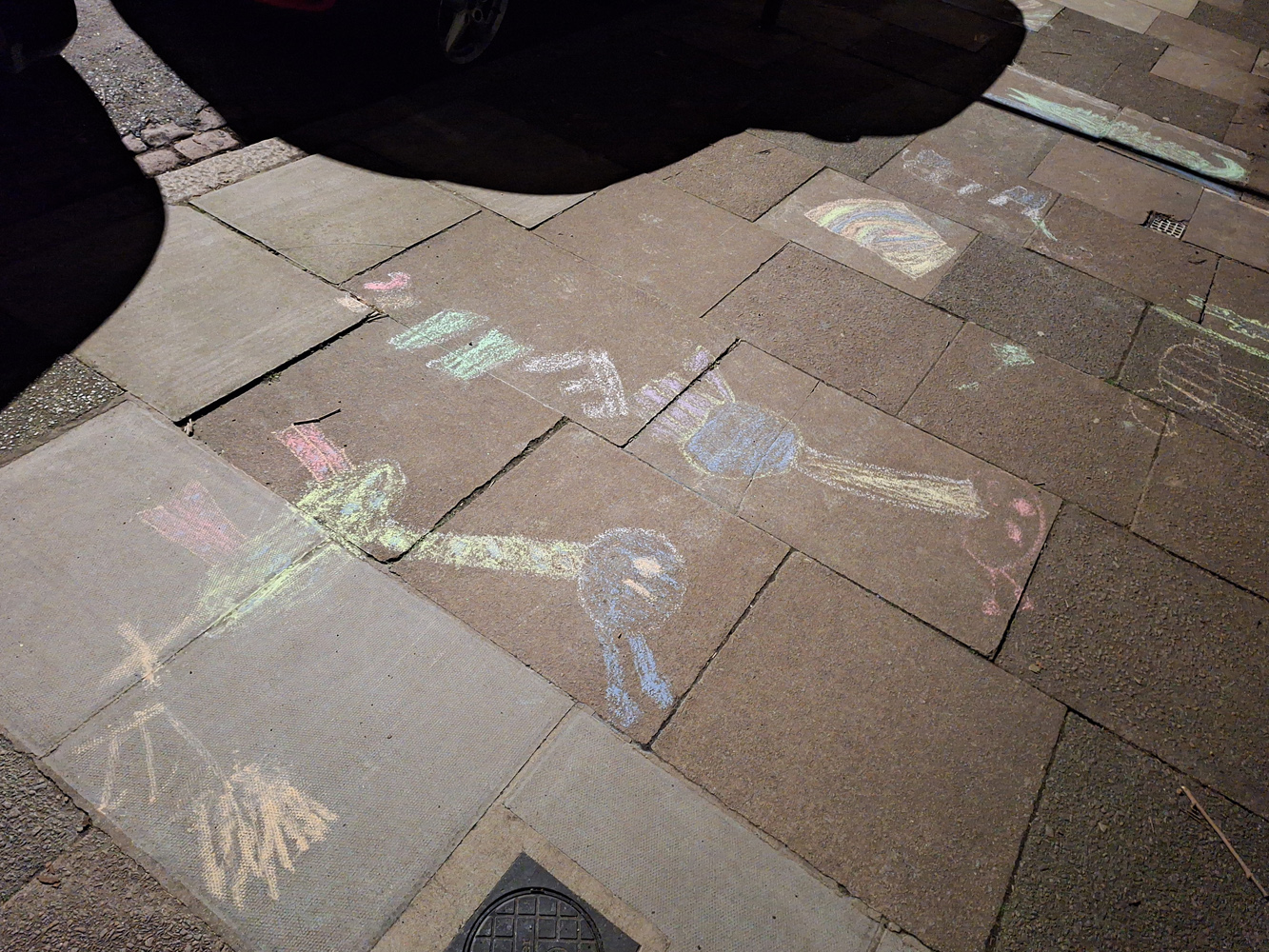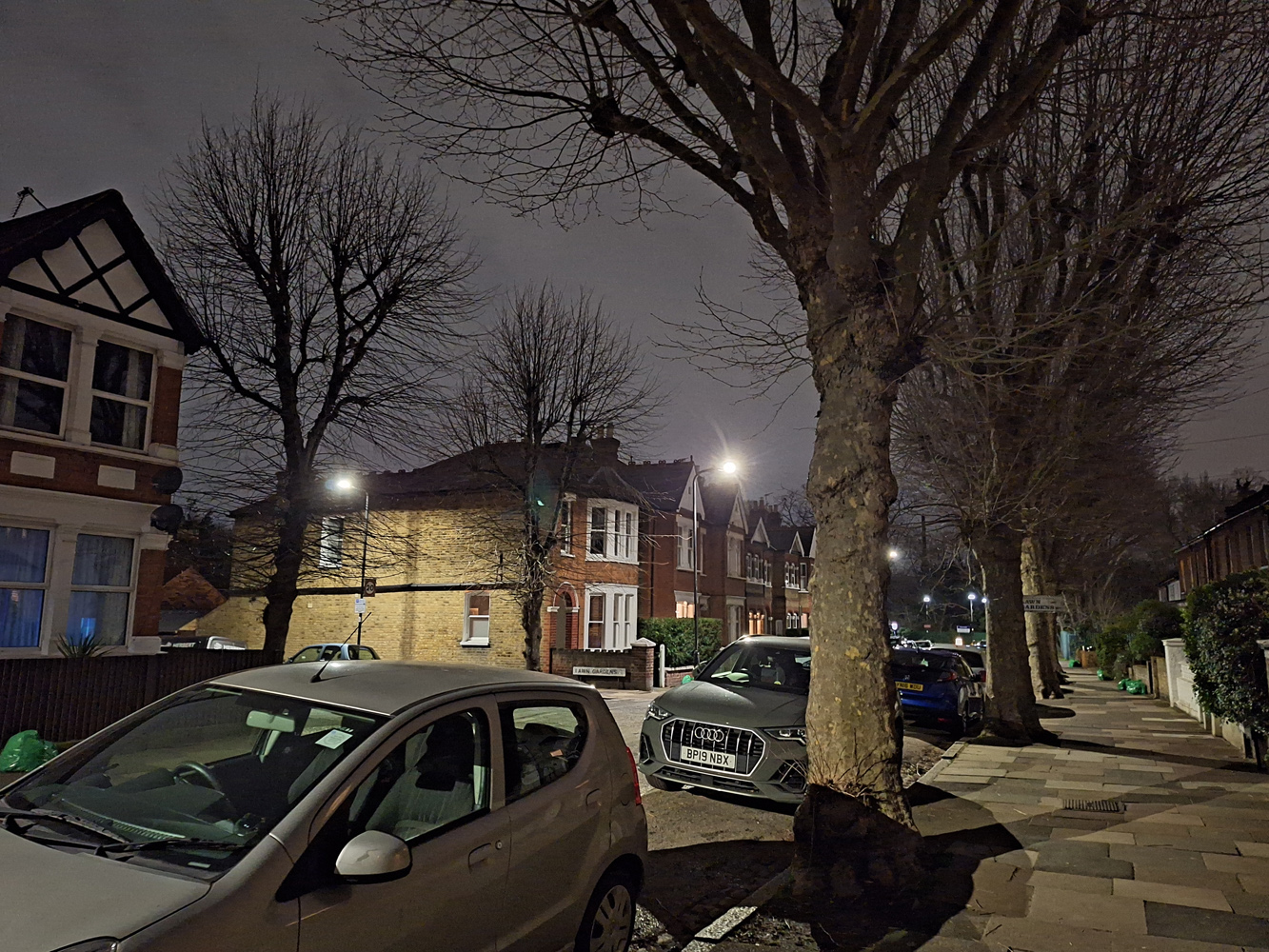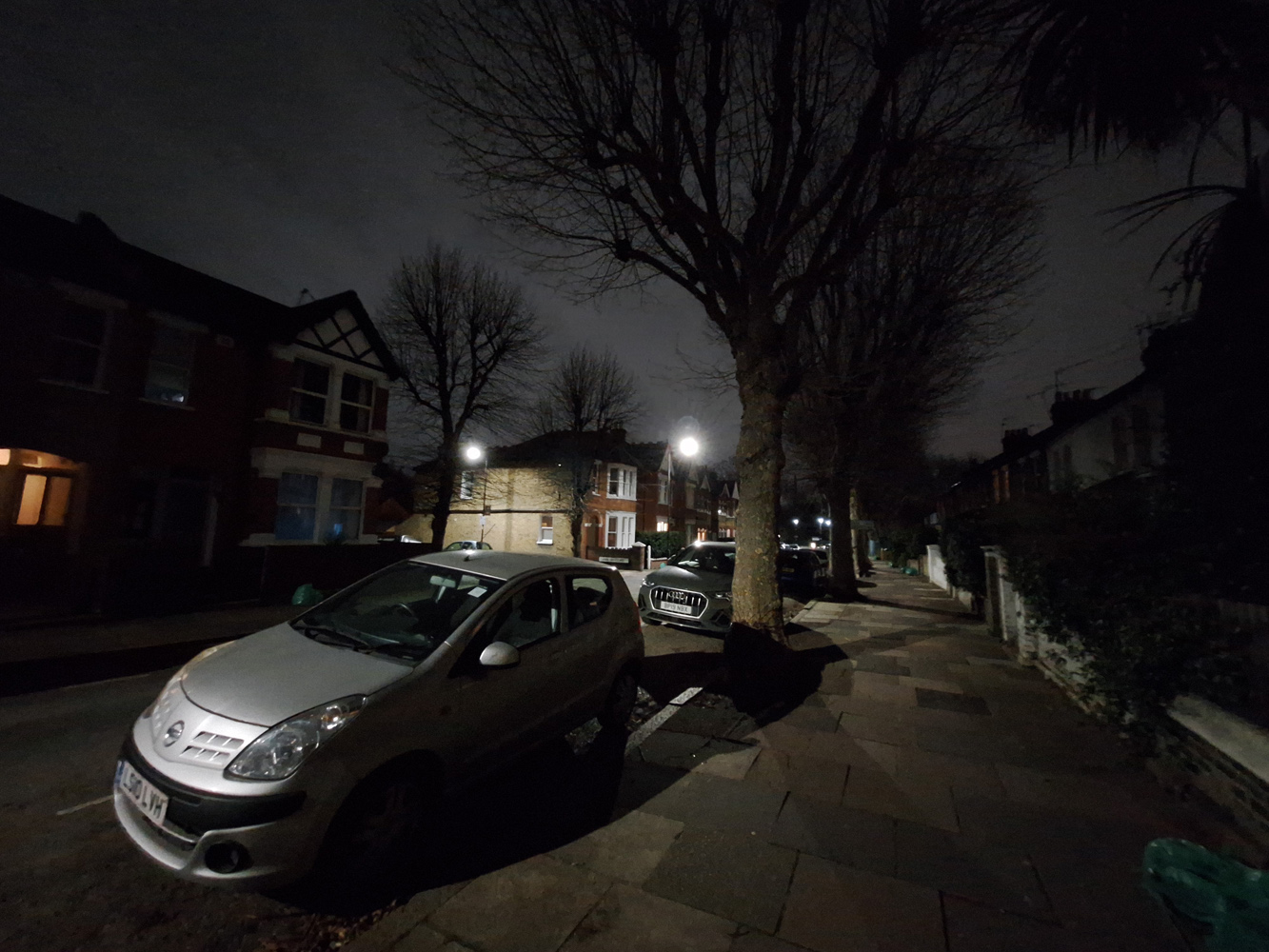 The 32MP selfie camera sports an f/2.2 lens and captures decent photos with pared-back beauty filters for realistic, yet flattering results out of the box. Video is captured at up to 4K (30fps) on both cameras, though stabilization is at its best at Full HD (30fps), so that's the resolution we'd suggest shooting in for great-looking footage for the price.
Performance: box checking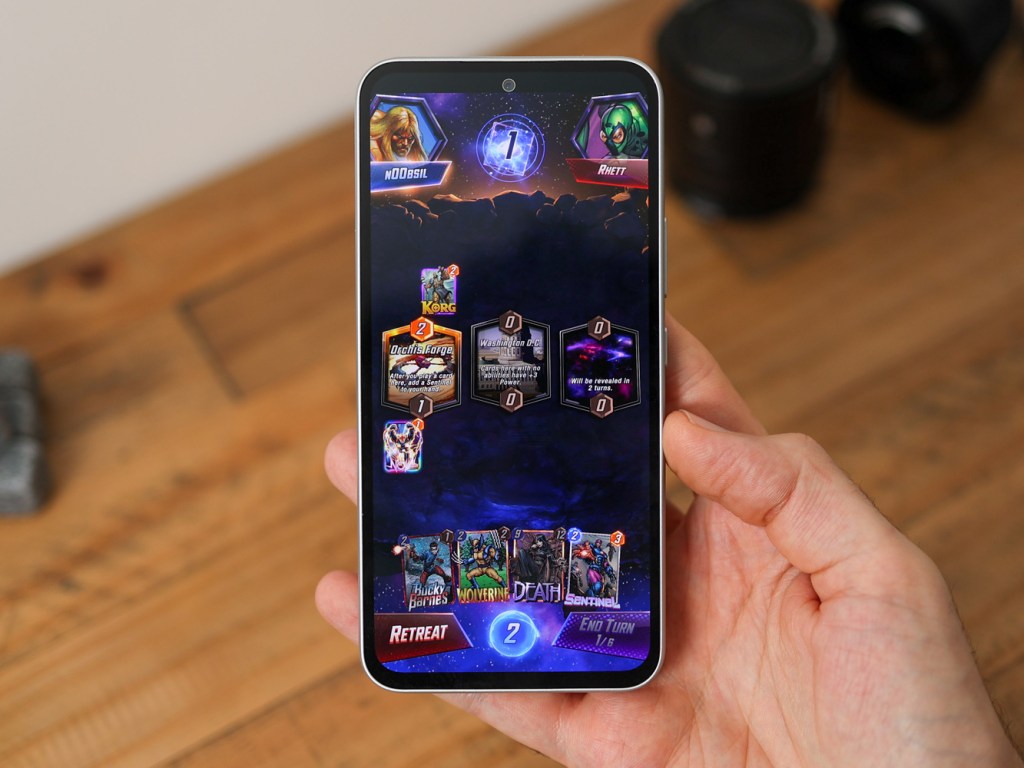 Thank goodness the A54 delivers better performance than last year's A53. By opting for an Exynos 1380 processor to power the experience, and matching it with either 8GB or 12GB RAM, the A54 5G is, for the most part, lag-free.
We tested the 8GB RAM, 128GB storage variant, and the phone also supports Dynamic RAM, so we sectioned off an additional 8GB of storage to help manage multitasking. There's also SD card support so you can bump up storage space.
Despite being a marked improvement over its predecessor, we still experienced a couple of teething problems in our first 24 hours with the phone – specifically, the Twitter app ground to a halt a couple of times. That said, by the second day, everything from games to social media apps ran well for the most part.
The phone runs with Android 13 and Samsung's OneUI 5.1 over the top. The fact OneUI packs many of the same core experiences as the Galaxy S23, including Link to Windows baked-in, means that, for the most part, it does indeed deliver an S23 Lite experience across the board which many will be looking for.
The A54 5G also benchmarks well – a little better than the similarly priced Redmi Note 12 Pro+. While it isn't a gaming champ, the phone chewed through Marvel Snap at maximum graphics settings (60fps), and played back Genshin Impact at low graphics settings (30fps) smoothly, making it a competent midrange gamer.
Battery: Wired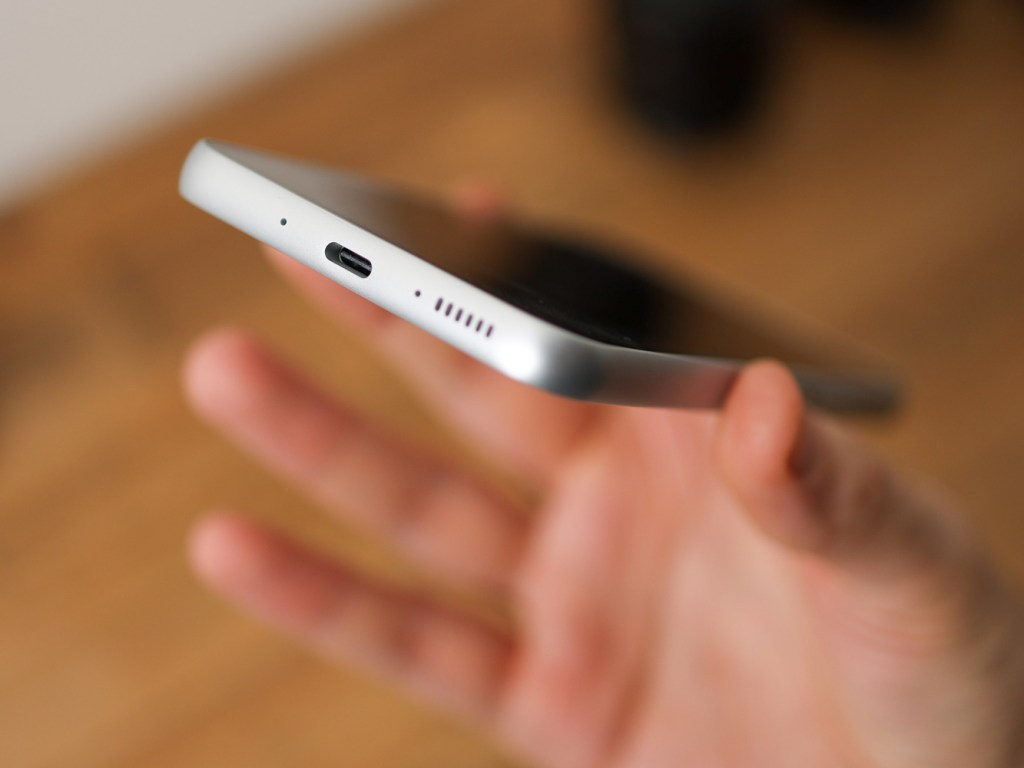 There's no wireless charging here, so that's one S23 highlight missing, and an area where lower-cost competition like the Nothing Phone (1) bests the A54 5G. You also don't get a power brick with the phone, just a USB-C cable – a win for the planet, but possibly not your wallet. Still, you do get a large 5000mAh battery to keep things ticking over.
Plug the A54 5G into a fast charger, and the phone powers up by 50 per cent in 28 minutes, and 100 per cent in an hour and 25 minutes. These numbers are hardly earth-shattering, and neither is the phone's 25W charging speed but should do the job for a quick top-up or an overnight charge.
The phone also makes it through a comfortable day with a fair amount of photo-taking, gaming, and watching. Generally, we had a quarter tank left by the end of the day, which is great going.
Samsung Galaxy A54 5G verdict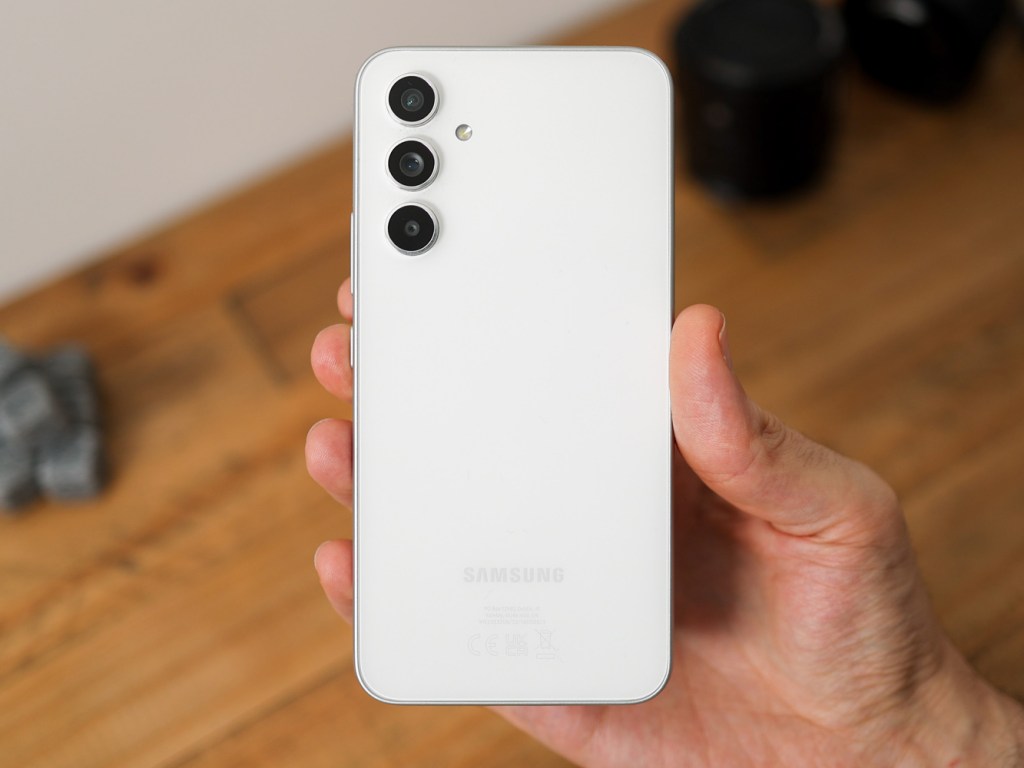 The A54 5G is a solid midrange phone. Is it exciting? Not especially. Its design is a clunky take on the flagship S23 line, and its respectable performance across the board is matched with very few wows. Still, we're happy to recommend the A54 5G to most.
The phone does what it needed to do, especially after last year's underpowered A53 5G, its cameras are capable for the price, and it has a great screen that's perfect for watching content on.
The price hike year-on-year, and the fact you can get more fully-featured phones for less both gave us early reservations when we first saw the phone. But if you can't justify spending £899 on an S23, want a Samsung phone and don't mind sacrificing some style and power, the A54 5G definitely warrants your consideration.
Stuff Says…
The A54 5G is a great shout for anyone who can't justify S23 prices but still wants Samsung's latest smarts
Good Stuff
Great-looking screen
Capable camera system
IP67 water resistance
Bad Stuff
Clunky styling
No RAW photo capture
No wireless charging
Samsung Galaxy A54 5G technical specifications
Screen
6.4in, 2400×1080 AMOLED w/ 120Hz
Processor
Samsung Exynos 1380
Memory
6/8GB
Cameras
50MP, f/1.8 w/ OIS + 12MP, f/2.2 ultrawide + 5MP, f/2.4 macro rear
32MP front
Storage
128/256GB, plus microSD
Operating system
Android 13 w/ OneUI
Battery
5000mAh w/ 25W wired charging
Dimensions
158x77x8.2mm, 202g