Retroid Pocket Flip review: decades of games in your pocket
Will Retroid's latest retrogaming handheld make you flip?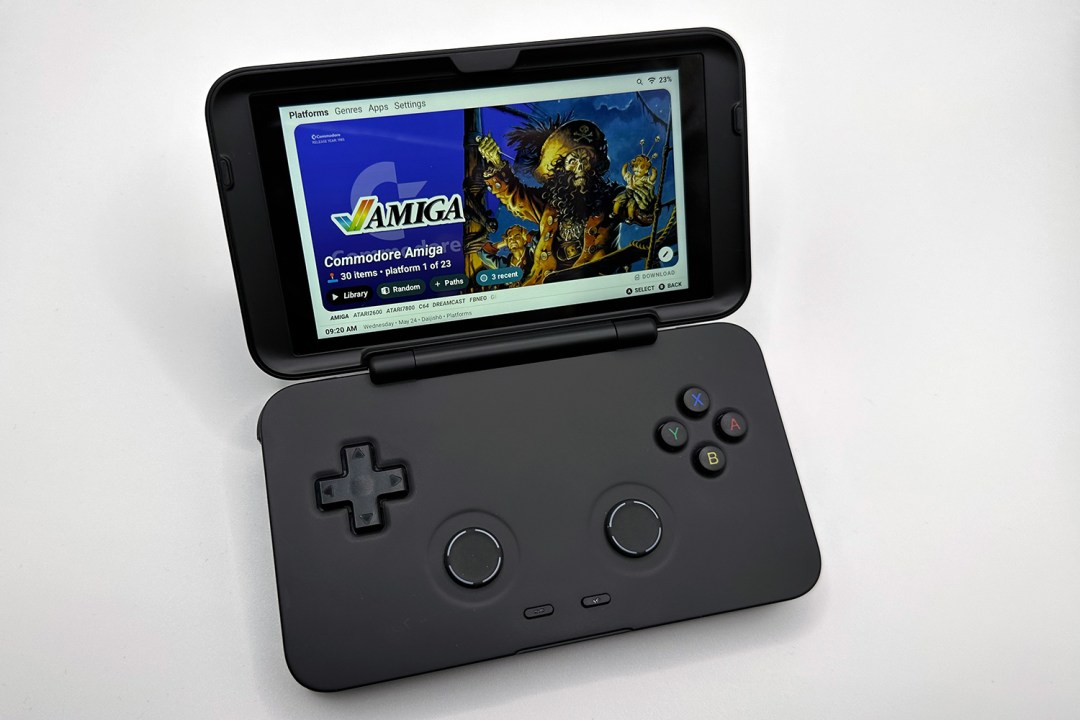 People are used to having instant access to the history of music on their phones. But affordable handhelds now allow you to dig into decades of gaming history, whenever you choose. The Retroid Pocket Flip is the latest device in this space, and a curious mix of old and new.
But given that Retroid only recently released the Retroid Pocket 3+, how does this newcomer compare? And will its clamshell charms be enough to win us over from its resolutely hingeless rivals? Let's find out.
Design: Look at DS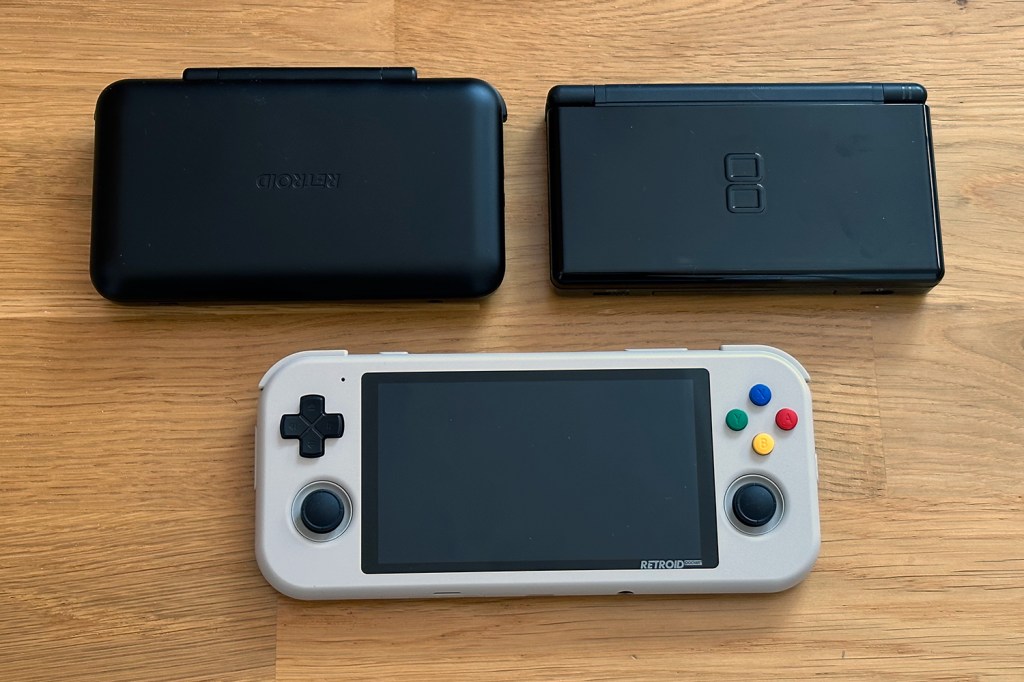 Because the Retroid Pocket Flip is a clamshell device, it brings to mind the Nintendo DS. But with its single screen, it's closer in nature to the GPD XD – albeit with arguably superior controls that are more ergonomically placed. We thought our black review unit looked very smart, placing emphasis on the display – which we were glad to see omits a distracting logo from its bezel.
We've seen grumbles online about 'wasted space' on the bottom half of the unit, and arguments a second screen should have been placed there. Just no. That would have ramped up costs and only been used by a handful of apps. But we wouldn't have said no to a Home button, or forward-facing speakers.
The clamshell form factor offers other pros and cons. Its chunky nature makes the Flip comfortable to hold, and the unit goes to sleep when the lid's closed. But it's resolutely landscape – not unusual for a handheld per se, but at odds with some devices in this space, which can be used in 'Tate' mode for vertical games.
Screen and sound: Phone it in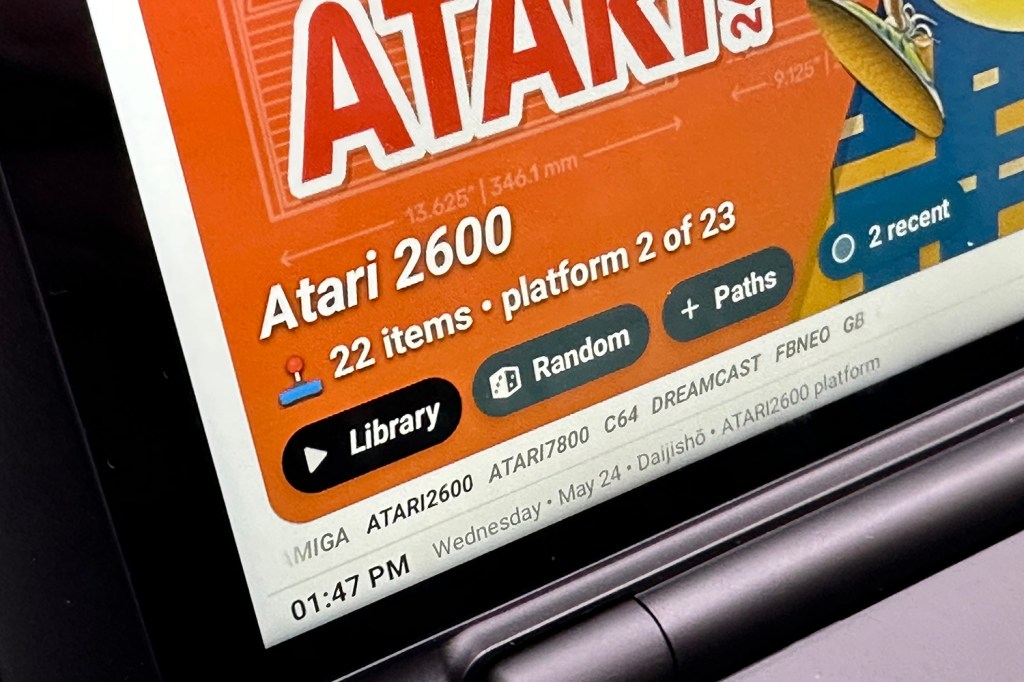 Specs wonks might look at the 4.7in, 1334×750 touchscreen and mull whether it's a panel pinched from an iPhone 6. Regardless, it looks great, viewing angles are top-notch, and the max brightness of 450 nits is more than sufficient. Due to the nature of the device, the screen angle is intentionally limited, to about 35 degrees from the horizontal. This ensures the rear triggers remain accessible. Fortunately, we found neither the play nor display experience was compromised.
The audio is less impressive. The speakers are downwards-facing, on the bottom of the unit. So there's the potential to accidentally muffle them. Volume levels also don't match what you get from the Retroid Pocket 3+. That said, we found the audio was good enough – it wasn't like we were struggling to hear music, sound effects and dialogue.
Controls: Button up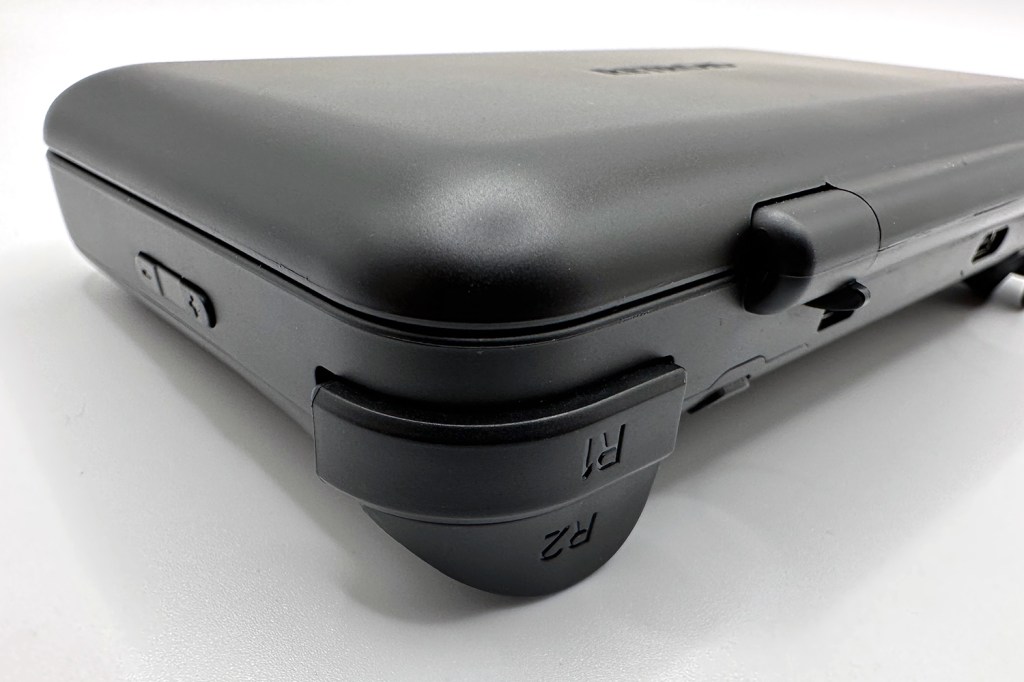 The D-Pad is responsive and accurate, with diagonals easy to reach but not accidentally triggered. The face buttons have a lot of travel and feel a touch wobbly, but are solid in use. The rear triggers – including analogue L2 and R2 – are fine, but we found using them a tad tiring during extended play.
The more controversial decision is the Flip having sliders rather than thumbsticks. This allows the unit to have a lowish profile, and the magnetic sliders won't suffer from drift. But with twin-stick shooters, we found the sliders hard to get to grips with – awkward and fatiguing. Another change from previous Retroid units is the addition of programmable M1/M2 buttons on the rear. These must be configured per app, but come in really handy as dedicated hot-keys.
Software: Plug and pray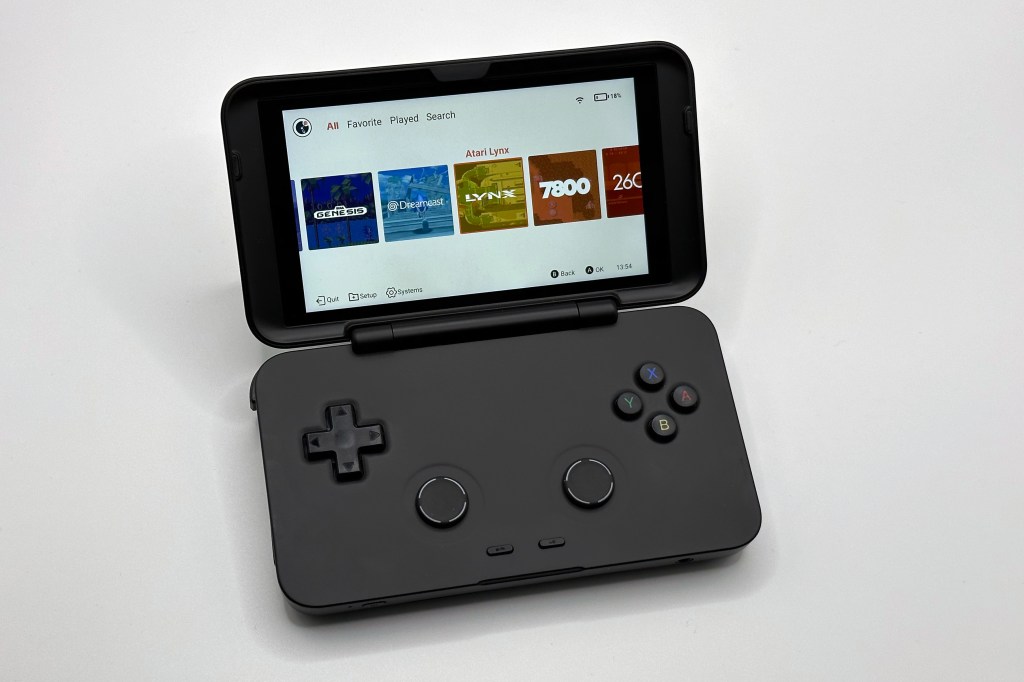 The Retroid Pocket Flip set-up process invites you to install a slew of emulators, and the device bundles the Retroid Launcher. Even so, it's a faff compared to Linux-based retro handhelds. With those, you drop your games into pre-populated folders, have the OS scan them, and you're sorted. With Android, you must decide on apps to use, link platforms to games folders, and deal with the inconsistencies of using varied emulators.
Once you're done with all that, the Retroid Launcher is at least simple to use. But it doesn't provide an obvious way to expand beyond its limited range of systems. You won't be, say, launching Amiga games from it. We quickly gravitated back to Daijishō, which has its quirks, but is a far superior launcher experience.
There are advantages in the Retroid Pocket Flip being based around Android, though. It's endlessly tweakable and flexible. You can spend hours delving into your launcher, apps and preferences. The downside is you kind of have to do this at least once, and the process of installing and configuring emulators, sourcing games and BIOS files, and making everything work can prove challenging to newcomers. We strongly recommend drinking in the excellent guide at Retro Game Corps if you're new to this stuff.
Performance: Pocket power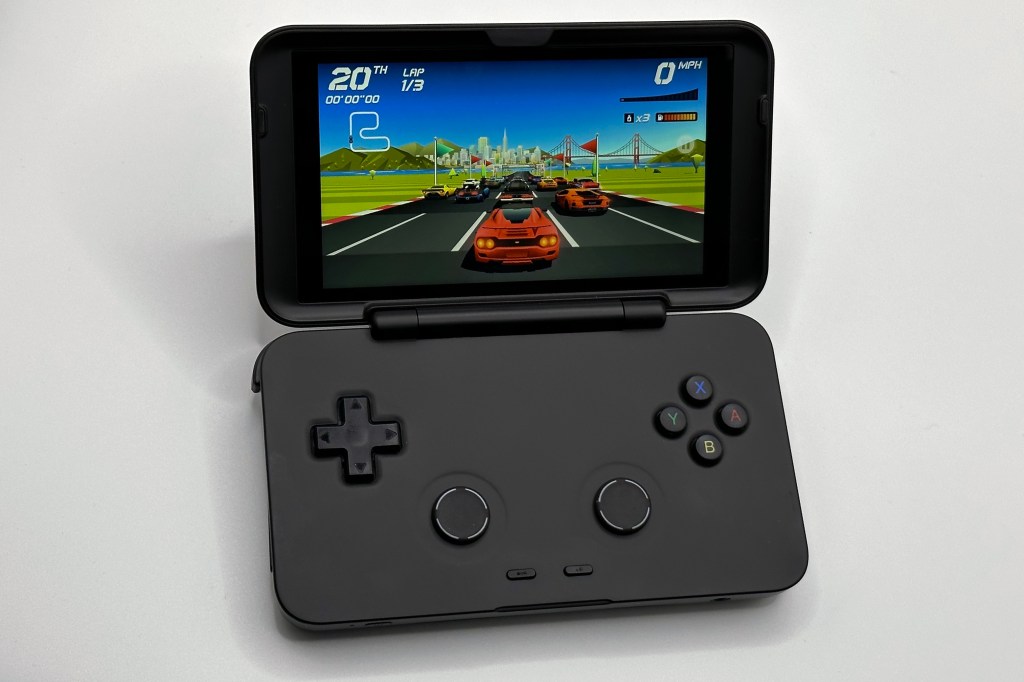 The Retroid Pocket Flip runs Android 11, but game support is hit and miss. Some tax the hardware too much, whereas Google Play claims others are not compatible. For those that do run well and where controller support is built-in, the Flip elevates the experience, as with platformer Mos Speedrun and racer Horizon Chase. Virtual button mapping expands support to touchscreen-only titles like Power Hover too. And still more games are supported by way of the Flip's gyro. Beyond that, you can dig into streaming.
With emulators, you'll have no trouble with systems up to the Dreamcast, barring the Atari Jaguar and Sega Saturn, which are known for being a pain to emulate. With tweaks, you can go further – PSP titles, and some PS2 and GameCube games. But that depends how much you're willing to fiddle and accept a sometimes compromised experience. Note that 720p HDMI out and Bluetooth support enables the Flip to 'replace' ageing retro hardware when you want a bigger-screen experience. Ideal if all your Dreamcasts are dead (yet again), or you fancy playing your favourite handheld titles upscaled on the telly.
When the Flip was announced, we wondered how its 'active cooling system' would impact on performance. The answer: not at all. Testing revealed having the fan on did keep the Flip's temperature down a little, but the fan's annoying whining noise quickly led us to turn it off permanently. Elsewhere, battery life was more impressive, coming in at over six hours of play – although with Android there is some overnight drain to be mindful of.
Retroid Pocket Flip verdict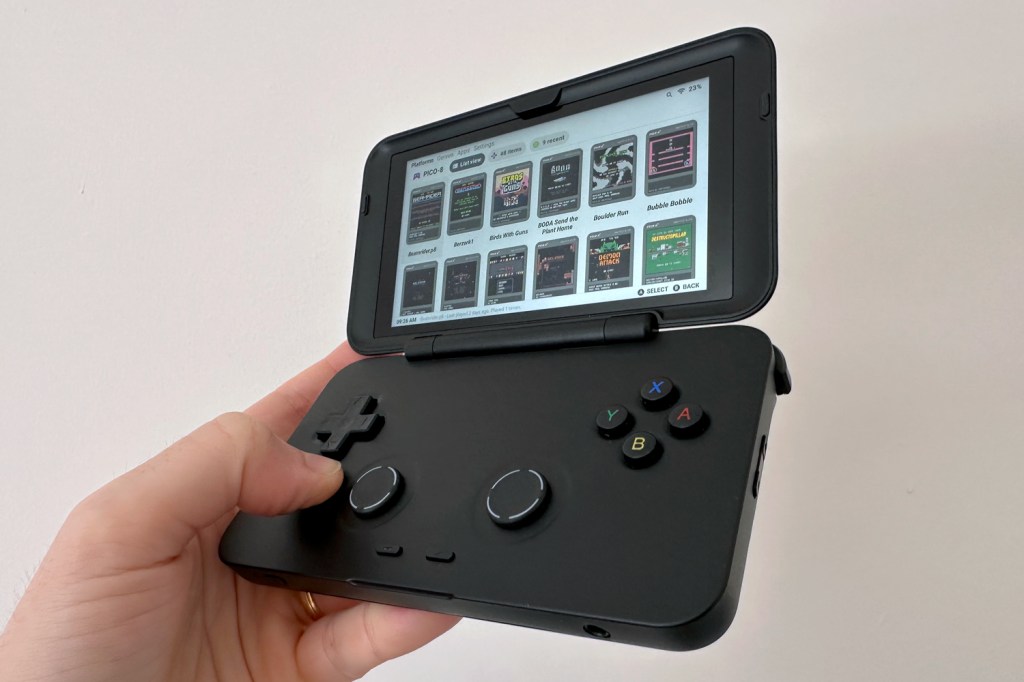 At this price point, the Retroid Pocket Flip offers great value. Moreover, while there were criticisms about repackaging the Retroid Pocket 3+ in a new form, that might have been a genius move. You can bung the Flip in a pocket or a bag and not worry about the display. And it feels more like a games console than most other devices in this space.
There are niggles: setup can be tedious, and the fan is a waste of time. The hinge itself is also a potential point of failure that hingeless devices don't have. And the speakers aren't amazing. There's also the elephant in the room that's Retroid's own Pocket 3+. It's in some ways more versatile, since it can be used in portrait, and if you prefer thumbsticks, it's the better option. 
But if you're a fan of clamshells and fancy carrying around decades of gaming history and a smattering of modern Android titles in your pocket, on a dedicated device, the Retroid Pocket Flip comes highly recommended.
Stuff Says…
We were expecting a gimmick. We instead ended up with a retro handheld that's one of the very best released to date.
Good Stuff
Feels great to use
High-quality display
Versatile and flexible
Bad Stuff
Mediocre speakers
Fan is a waste of time
Set-up can be a faff
Retroid Pocket Flip technical specifications
| | |
| --- | --- |
| Display | 4.7in 1334×750 450nits touchscreen |
| Processor | Unisoc Tiger T618 |
| Memory | 4GB LPDDR4x RAM |
| Storage | 128GB eMMC onboard, plus optional second micro SD |
| Software | Android 11 |
| Battery | 5000mAh (6–8 hours) |
| Connectivity | Wi-Fi, Bluetooth 5.0, Micro HDMI, headphones |
| Dimensions | 139x82x25mm; 270g |