Razer Blackshark V2 Pro (2023) review: talks the talk
Esports-friendly gaming headset promises clear comms and convenient connectivity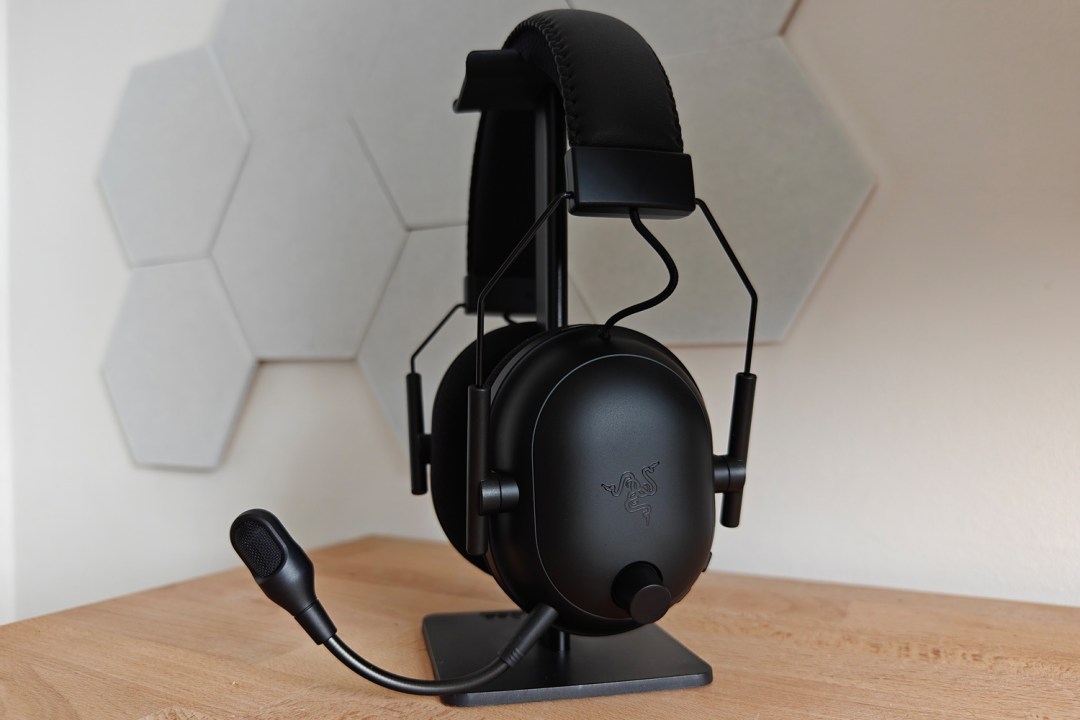 Razer has turned its attention to clear communication for the 2023 edition of the Blackshark V2 Pro. The previous generation of this esports-friendly headset already offered gaming grade wireless for lag-free listening, but now it has been updated with a massively overhauled boom mic. A boost to battery life and added Bluetooth connectivity complete the package.
Seeing how the regular, wired version of the Blackshark V2 already earned the top spot in our best PC gaming headsets list, has Razer wisely stuck to a winning formula? Or do the upgrades (and accompanying price hike) make it too far removed from the firm's hardcore gamer fanbase?
Design & build: back in black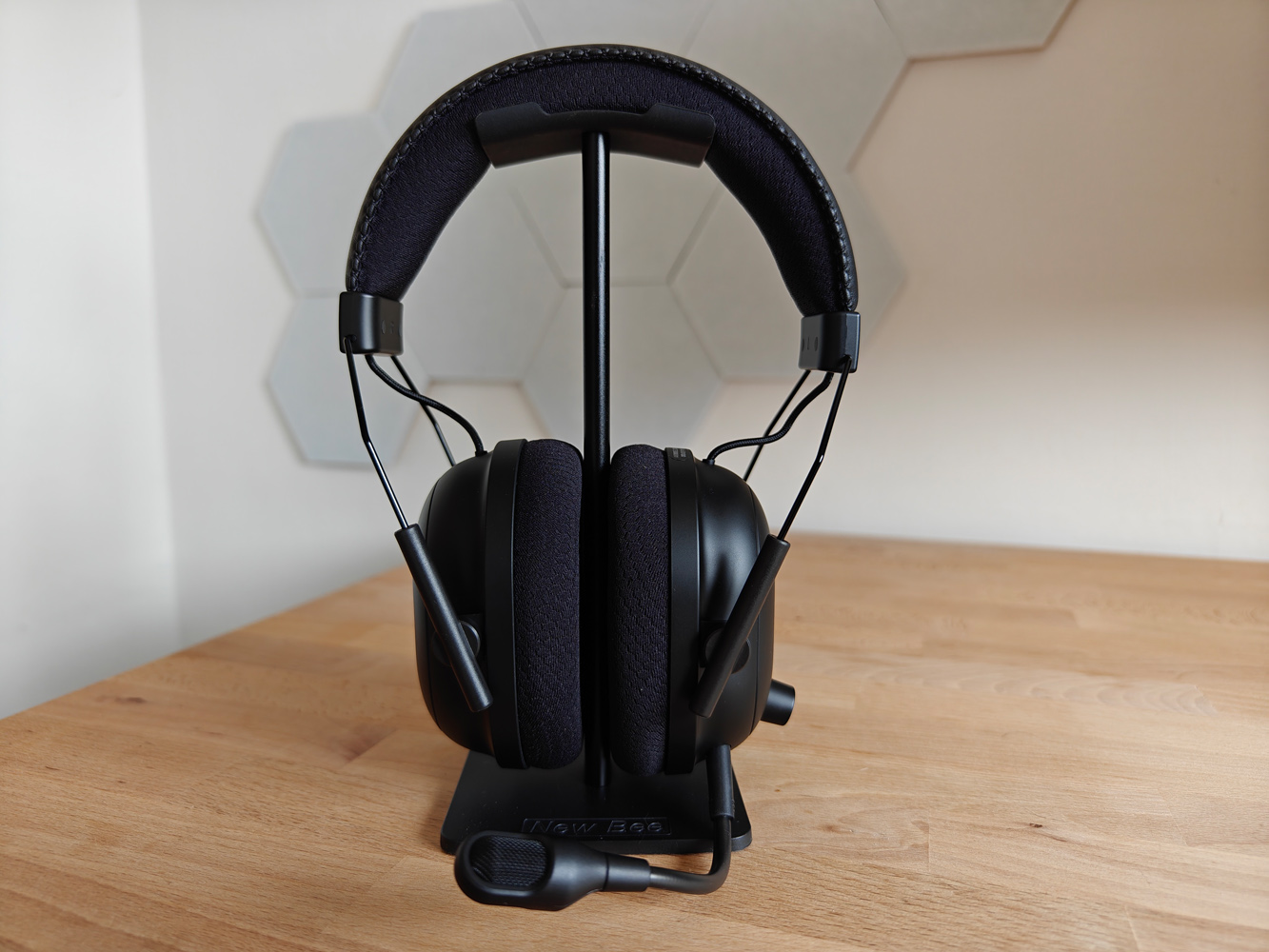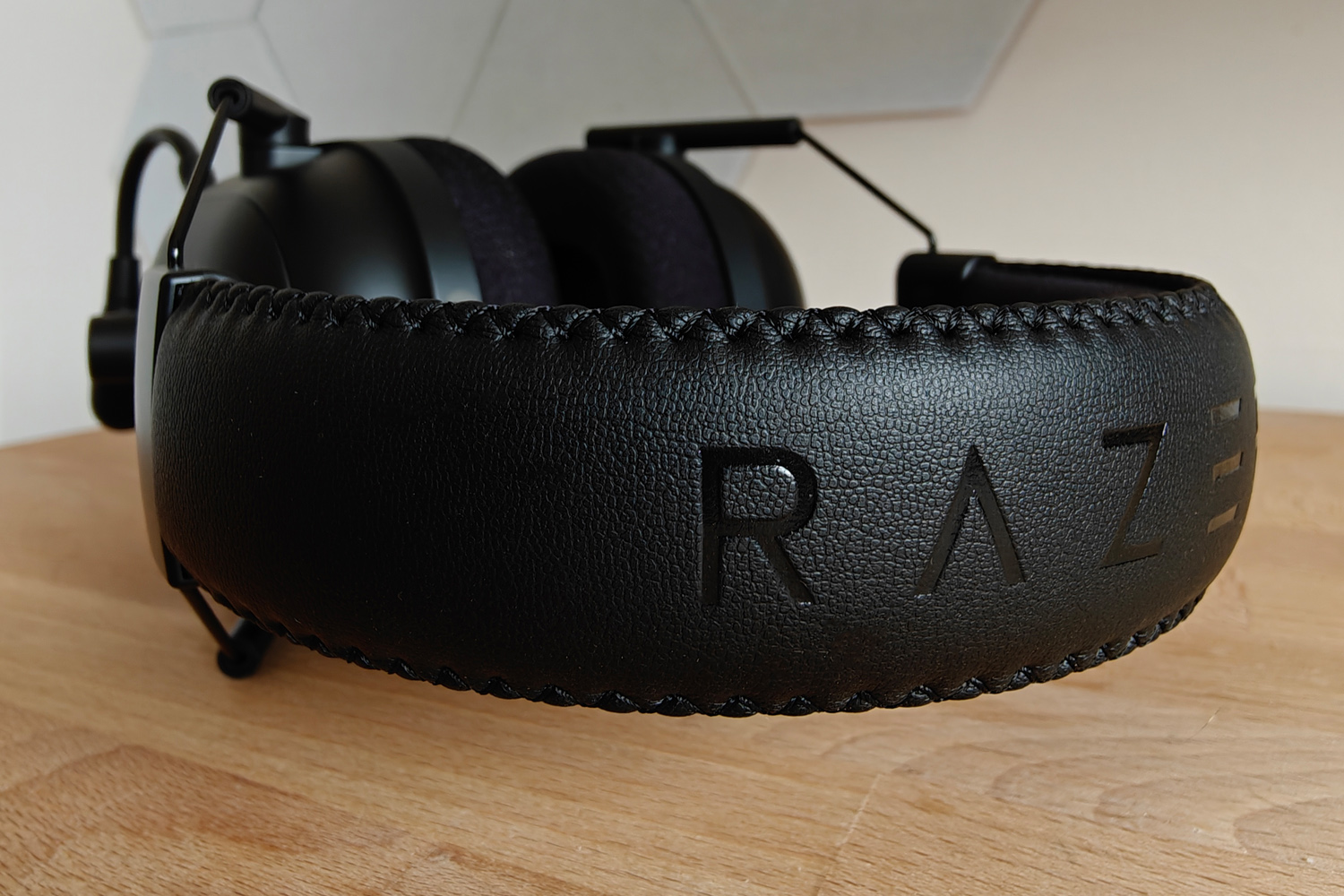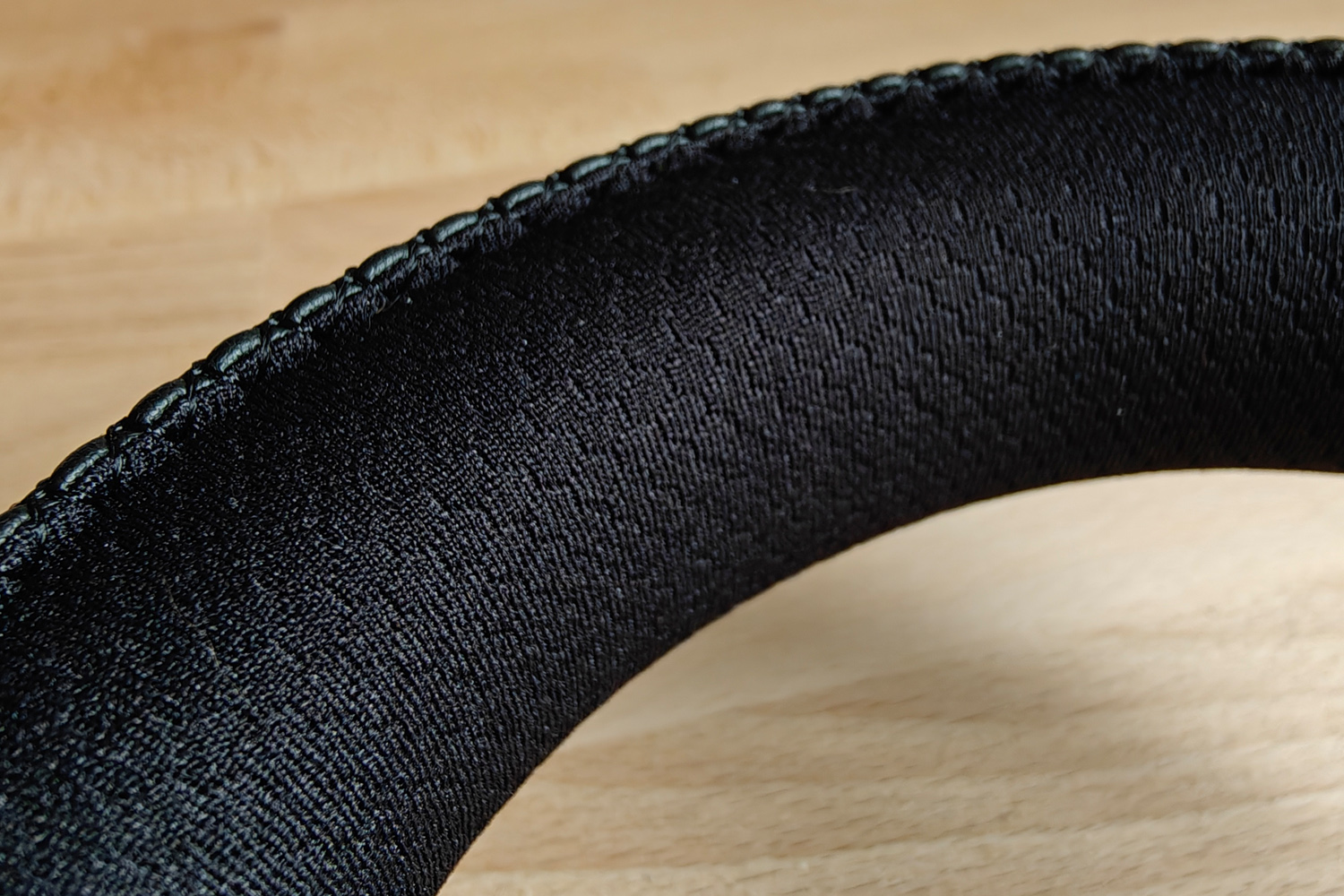 The Blackshark V2 was already a sleek and subtle gaming headset, so Razer has sensibly kept the design largely unchanged. It's still a sonic stealth bomber clad entirely in black, save for Razer's signature green hue around the microphone mute button. Branding is limited to an embossed logo on each ear cup and the Razer name imprinted on the plushly padded headband. There's not a sniff of RGB lighting either, save for a teensy activity LED which only changes colour based on wireless mode.
Memory foam in the headband and ear cups create a snug fit with evenly distributed pressure, and do a great job of isolating exterior sound. The hexagonal weave cloth covering is breathable, so your ears don't get at all sweaty, and Razer has dialled back the clamping force so your head doesn't feel like it's been in a vice after an extended gaming session. We happily wore the Blackshark daily for a week during work hours and had no comfort complaints.
It's too early to tell if the reinforced steel headband sliders will go the distance, or whether reinforcing the boom arm has eliminated microphone drift, but that both have been improved from the outgoing model shows Razer is listening to customer feedback. We had no issues with loose ear cups or a drooping mic during our testing.
The mic pops off quickly when you don't need voice comms, leaving power and mute buttons, a USB-C charging port (a welcome change from the microUSB connection on the old model) and a chunky volume dial on the left earcup. There's also a dedicated profile switch button on its lonesome by the right cup, so you can't accidentally switch the headset off mid-game when trying to change EQ presets.
Features & battery life: put the pro in profile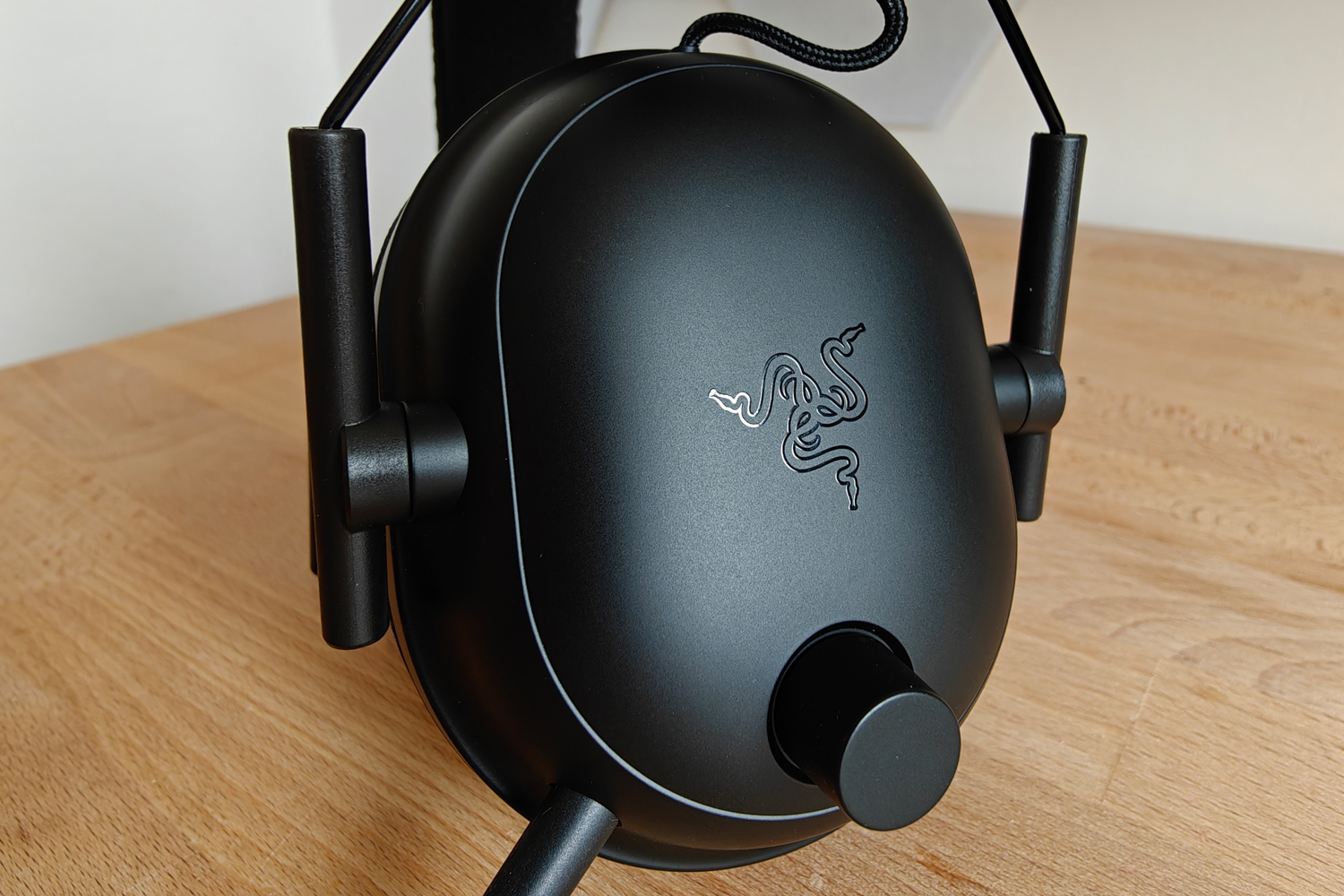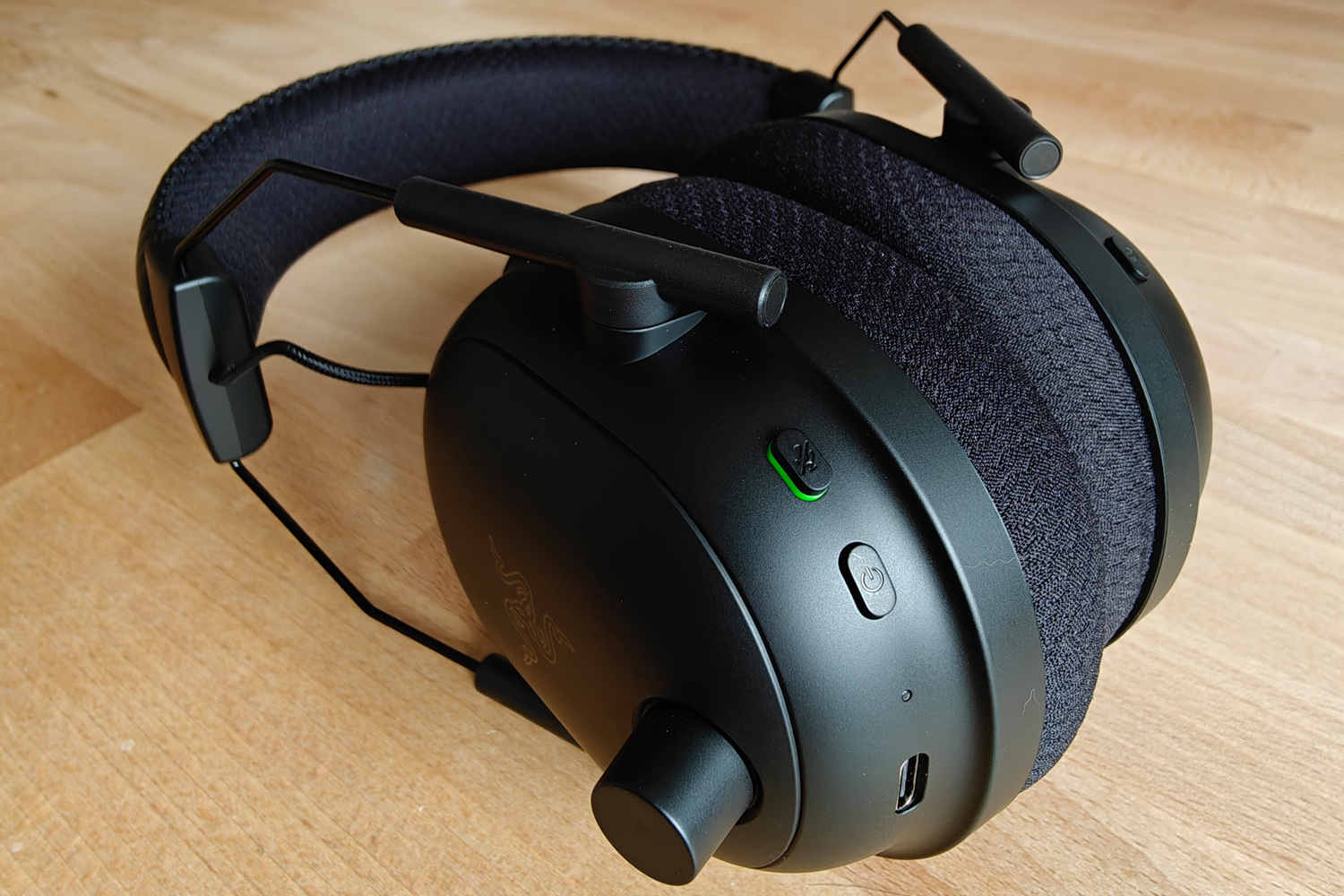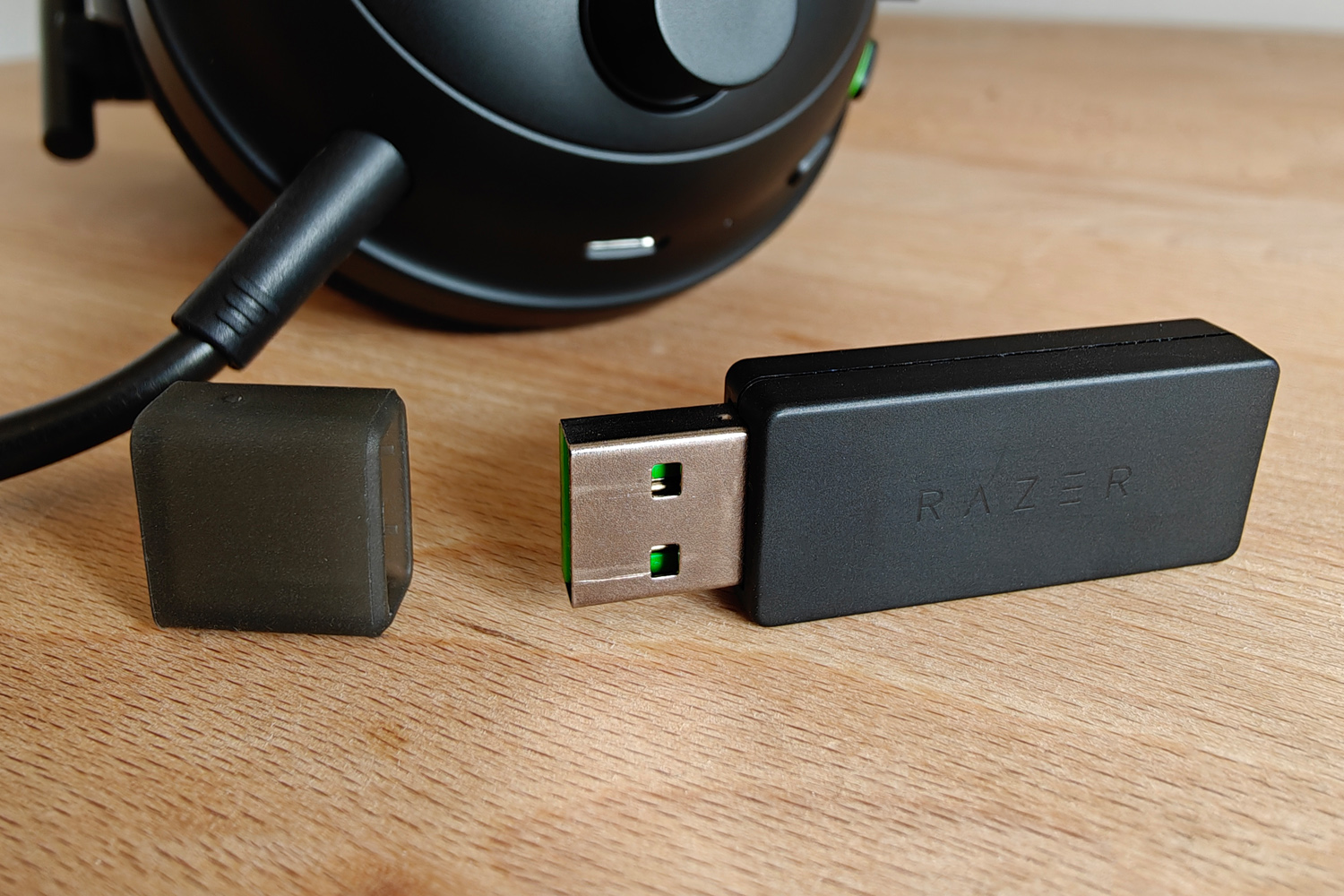 The 2023 Blackshark V2 Pro is an exclusively wireless headset. The 3.5mm headphone port on the old model? Gone. The USB-C port on the left ear cup? Exclusively for charging. You either plug in the Hyperspeed dongle, or pair over Bluetooth. Just a few years ago that would've been almost sacrilegious for any gear aimed at esports, but wireless tech has come a long way.
Razer's proprietary, ultra-low latency 2.4GHz connection checks multiple channels to avoid cross-bleed, so you get a stable signal even when you're surrounded by other wireless kit. An extension cable included in the box then lets you move the dongle further from your other accessories to further avoid interference. We didn't have a local LAN party or esports event to test the theory, but had no issues with a desk full of wireless mice, keyboards and headsets from rival brands. Range is impressive, too, staying connected on the other side of the house, even on a different floor.
The USB dongle is plug-and-play, and the Bluetooth pairing button on the headset doubles as a toggle for swapping between the built-in EQ profiles, so there's no need to install Razer's Synapse software if you don't want to. It's worth downloading, though: you can customise each EQ, enable THX spatial audio surround sound, and tweak microphone recording settings.
There's more than the typical Movie/Music/Game profiles on offer, too. Razer has teamed up with esports pros for game-specific modes covering Counter Strike, Apex Legends, Valorant, Fortnite and Call of Duty. We spent some time with the Counter Strike preset; it made footstep sounds more prominent, and gave gunshots a crisper feel. That didn't transform our K/D ratio, but we did have greater awareness of when enemies were nearby.
Razer claims you're good for up to 70 hours of listening from a single charge over wireless, and based on our testing that might be a little conservative. We went an entire week of daily use, playing music during work hours and then squeezing in some gaming in the evenings, plus a longer session over the weekend, and it still wasn't begging for some alone time with a plug socket. The old headset was rated for 24, so this is a major improvement. Stick to Bluetooth and it'll manage closer to 90.
That said, we'd like a better indicator as to how much juice is left than the single LED on the ear cup that turns red below 30%. It's small enough to miss between powering the headset on and popping it on your bonce. Still, while a full charge should take between two and three hours, a 15 minute splash-and-dash is good for around 4-6 hours of play – or more than enough for a typical evening's gaming.
Bluetooth uses the standard SBC and AAC codecs, and is single-connection only. Razer reckons console players, who are more likely to switch between multiple devices, will be better served by other headsets like the Kaira Pro. Latency will never be as good as the wireless dongle, either.
Sound & mic quality: crystal clear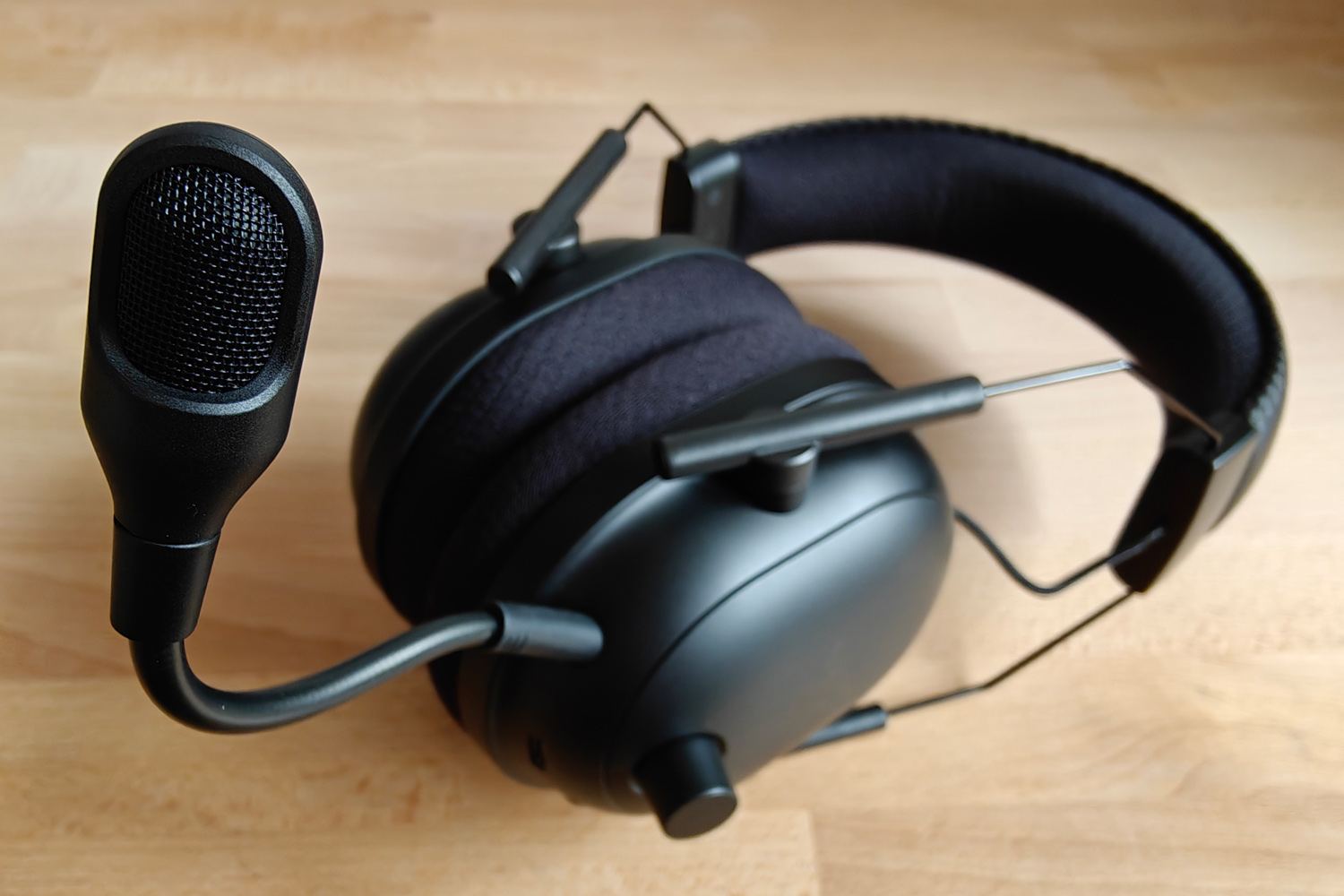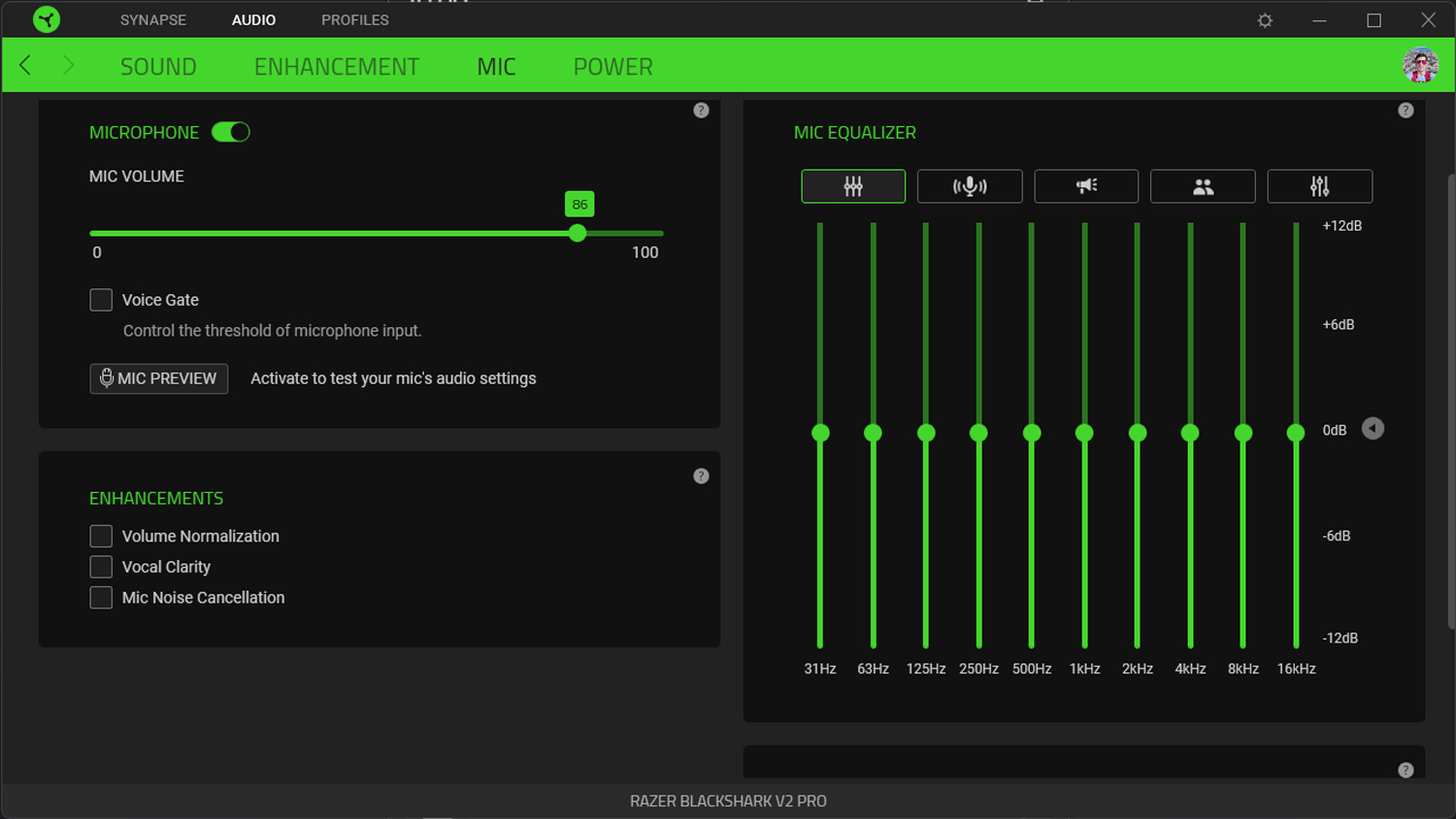 We'll get onto how the Blackshark sounds in a bit, but special attention must first be paid to the new Hyperclear super-wideband microphone. It's able to sample at 32KHz, compared to 16Khz on most rival headset mics, getting a lot closer to what a dedicated desktop microphone can manage.
There was a night and day difference when recording speech through the Razer instead of the Logitech G Pro X Wireless we normally use, with more low-end depth and high-end clarity making everything sound less tinny and convincingly natural. The built-in pop shield does a good job of cutting out plosives and popping, even before you pop on the foam cover.
The low bitrate codecs used by team chat in many multiplayer games might not see a major improvement, but dedicated chat programs like Discord certainly will. You probably won't be recording any podcasts on it, but we were happy to use it to live stream after tweaking the volume gate and mic equaliser in Razer Synapse.
The 50mm audio drivers haven't seen as significant an upgrade, but the 2023 Blackshark V2 Pro does benefit from larger sound chambers to better separate low, mid and high frequencies. Sound is still balanced primarily for gaming, with plenty of bass punch, but an accurate output across the mid-range. Explosions and other bass frequencies never drown out the rest of the mix, and that's before you start experimenting with the EQs.
Each esports profile is drastically different, but the Synapse software gives a helping hand by replacing frequencies on the 10-band equaliser with words like "footsteps", "gunshots" and "item pickup", so you know what to bump up if you're having trouble detecting certain in-game actions. They don't do music or movies any favours, so it's great you can quickly toggle back to the default EQs with a three-second hold on the headset's profile switch button.
THX spatial Audio is the Blackshark's other neat trick. We loved the virtual surround sound effect on the outgoing headset, and it's just as immersive here, if a little boomy on anything other than Game mode. Custom profiles can kick in automatically for supported games, of which there are now over fifty, and do a great job of separating audio coming from above, below and behind you from what's going on in your field of vision.
Razer Blackshark V2 Pro (2023) verdict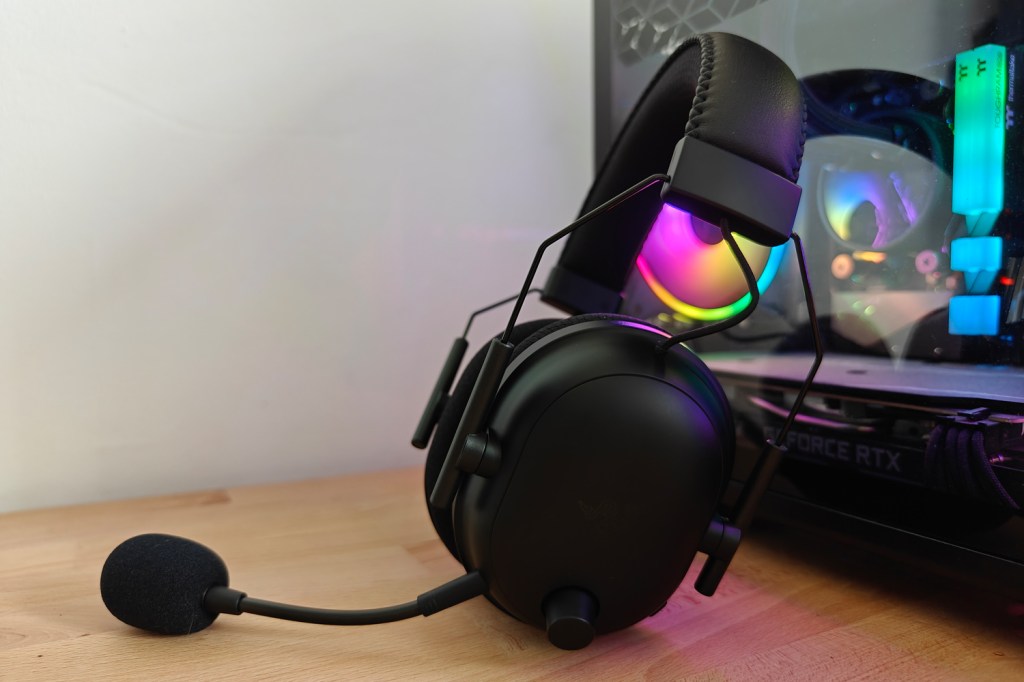 It was a capable wireless headset before, but the new Blackshark V2 Pro brings a significant step up in microphone quality that's sure to appeal to esports addicts. Bluetooth makes them more versatile, and the considerably longer battery life means much less chance of a play session being cut short for charging. It's a decent enough performer for music and movies, but really shines during games, whether using Razer's THX spatial surround and esports profiles, or sticking with simple stereo.
The 2023 Blackshark V2 Pro is a pricey upgrade at £200/$200/€230, sure, and the lack of analogue input limits its cross-device support – but if you play a lot of team-based competitive games on PC, your squadmates will thank you for it.
Stuff Says…
A comfortable, long-lasting wireless headset with engaging audio and a crystal clear microphone. Who needs cables, anyway?
Good Stuff
Punchy, energetic audio that's great for gaming
Fantastic microphone quality over 2.4GHz
Improved ergonomics and build quality
Bad Stuff
Ditching the 3.5mm port means no Xbox gaming
Pricey
Razer Blackshark V2 Pro (2023) technical specifications
| | |
| --- | --- |
| Drivers | 50mm dynamic |
| Active noise cancellation | No |
| Connectivity | 2.4GHz wireless, Bluetooth |
| Bluetooth version | Bluetooth 5.0 |
| Codecs supported | SBC, AAC |
| Battery | Up to 70 hours |
| Weight | 320g |