Best PC gaming headsets 2023: lose yourself to the game
Enjoy some immersive PC gaming with the best PC gaming headsets from SteelSeries, Corsair, and more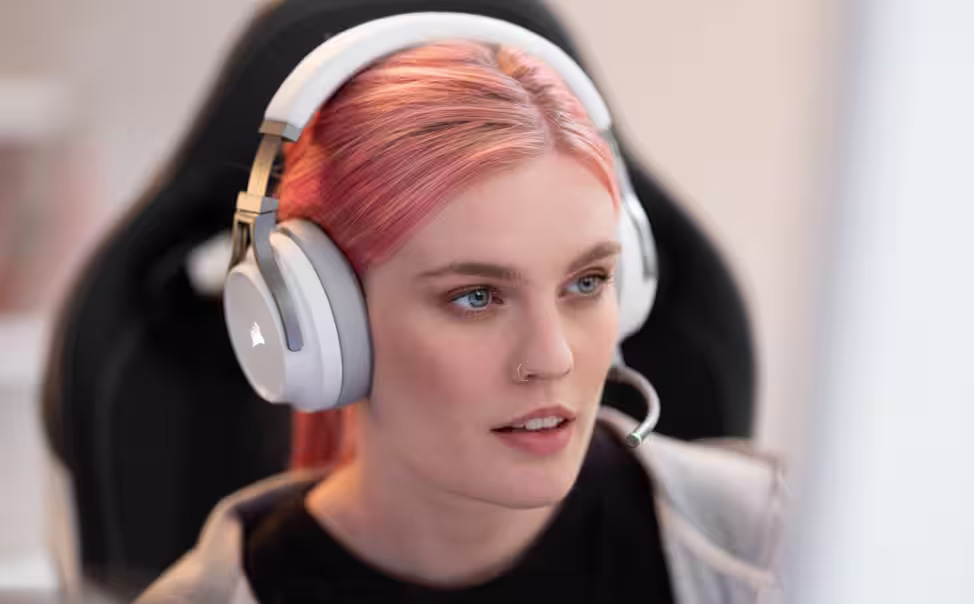 The best PC gaming headsets often overlap with the best gaming headsets for any device. Major companies like SteelSeries, Razer, and Corsair know how to get the best out of audio technology with a keen eye on what gamers need, and that goes for both PC and console players. Still, this roundup focuses on the needs of PC players. Such players tend to be able to tweak more settings via their PC and benefit from extras like USB soundcards and complex equalisers that console players may not have available to them or want to adjust.
As always, we've featured headsets that cover a wide range of budgets along with both wired and wireless options. That way, there's something for everyone here. Whatever you go for, you'll be delighted at how all these cans instantly boost how drawn into each game you feel. They might even help you react a little faster in online games, as you hear your foe coming.
---
What are the best PC gaming headsets?
Best overall gaming headset: Razer BlackShark V2 (check price)
Well priced yet still offering excellent sound quality, a comfy fit, and the choice of either wired or wireless, the Razer BlackShark V2 are ideal for PC gamers. That's further helped by its USB sound card that expands your options for tweaking and getting things just how you like them. If you need the latest tech, these aren't the ones but sometimes, it's worth going slightly older to enjoy THX Spatial Audio and other features for less.
Best sounding gaming headset: Corsair Virtuoso RGB Wireless XT (check price)
Battery life could be a little better but the Corsair Virtuoso RGB Wireless XT sound truly stunning. While we'd usually recommend keeping gaming and music listening separate, the Corsair Virtuoso RGB Wireless XT are just as strong for music and movies as they are for gaming. That's thanks in part to Dolby Atmos along with a wide sound frequency that works for any scenario. They're comfy too and also provide connectivity options including 3.5mm, dongle, or Bluetooth.
Best for battery life: HyperX Cloud Alpha Wireless (check price)
We all wish we remembered to charge our devices more often and we all inevitably forget from time to time. That's why a 300 hour battery life on these wireless cans is so appealing. None of that would matter if the HyperX Cloud Alpha Wireless sounded and but it's consistently crisp and powerful. DTS Headphone: X Spatial Audio support further enriches why all PC gamers could do with it, while the noise-cancelling mic works admirably well for those noisy sessions.

The best PC gaming headsets you can buy today: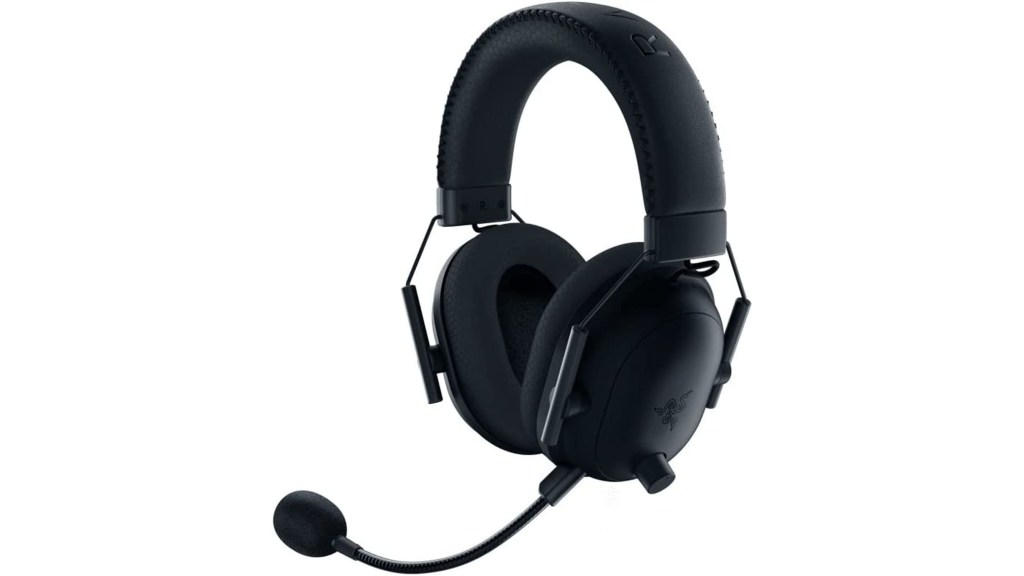 1. Razer BlackShark V2
Stuff Says…
Packed with excellent PC-based features, the Razer BlackShark V2 remains the most immersive experience.
Tech spec:
Driver size: 50mm Weight: 262g Battery: Up to 18 hours
Available in either a standard or Pro model that adds on wireless support, the Razer BlackShark V2 is ideal if you feel like being scared by every bump in the night in-game, every shot being fired in the distance or – of course – want to sneak up on some pesky enemies.
It uses Razer's TriForce Titanium 50mm drivers to do all the hard work with audio split into three distinct parts so there's no risk of muddiness at any time. PC players will appreciate the effects of THX Spatial Audio which expands the soundstage well, so you can hear what's going on around you.
While it isn't guaranteed to improve your Fortnite performance, at least you'll hear where the shots are coming from clearly. A choice of either immersive mode or competitive does make a difference with dedicated profiles available depending on the game you're playing. A USB sound card is bundled in with the wired variety too, adding to the value.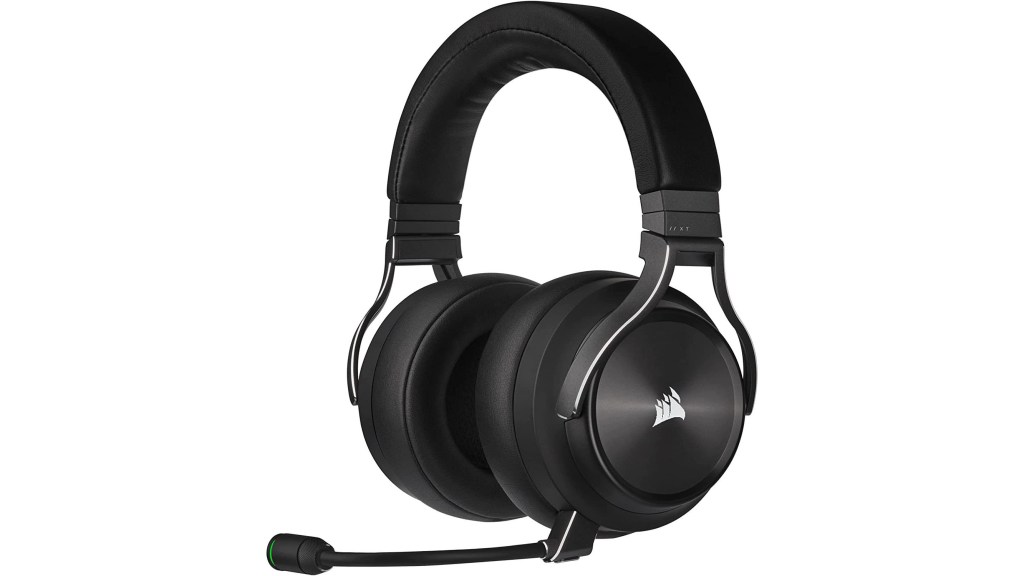 2. Corsair Virtuoso RGB Wireless XT
Stuff Says…
Offering sound quality that works as well for music and movies as it does gaming, the Corsair Virtuoso RGB Wireless XT are a delight to listen to.
Tech spec:
Driver size: 50mm Weight: 382g Battery: Up to 15 hours
In an ideal world, you'd own headphones for listening to music and headphones for gaming. In reality, you probably need a nice all-in-one solution. That's where the Corsair Virtuoso RGB Wireless XT excels without making you feel like you're making too many compromises.
The cans sound great. Their 50mm neodymium speaker drivers offer a wide sound frequency range which means they can cope with any of your plans. Besides providing you with the excellent sounds of enemies sneaking up on you, gunfire in the distance to chase after, or a villainous monster out to get you, these cans also offer some powerful bass that's ideal for music. Install Corsair's iCue app and you have plenty of control with Dolby Atmos also an option.
Battery life is a little average at about 15 hours at most but it's unlikely you'll actually need that full length. It's a small concession for otherwise powerful headphones.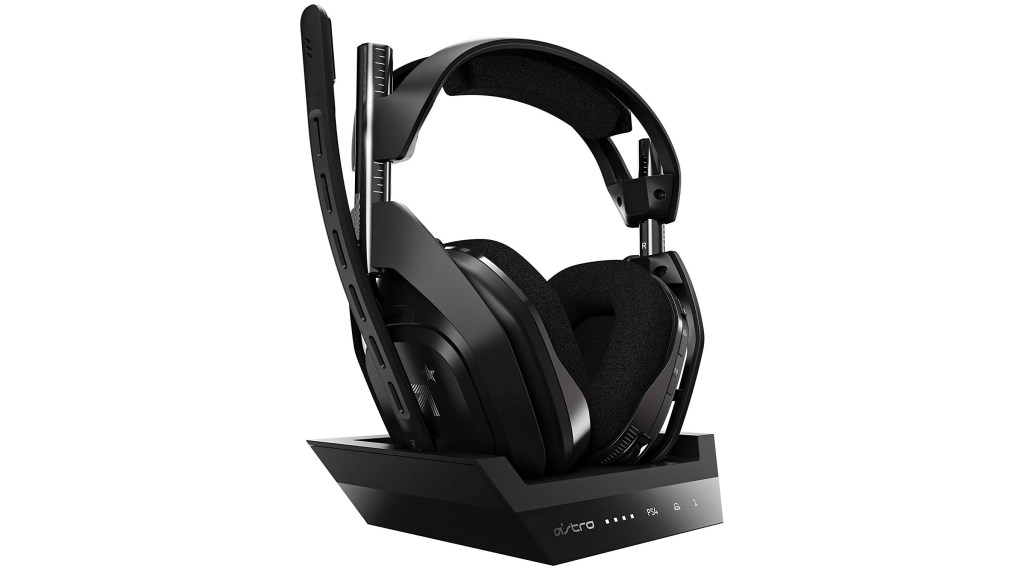 3. Astro A50
Stuff Says…
The Astro A50 offer excellent crisp sound with Dolby 7.1 surround sound support and more. It's only really mediocre battery life that lets it down.
Tech spec:
Driver size: 40mm Weight: 380g Battery: Up to 15 hours
The Astro A50 are an awkward purchase for consoles as you need to buy the right one for the right setup. For PC though, it's a straightforward consideration.
The headphones sound crisp with no sign of bass distortion. Crucially, there's Dolby 7.1 surround sound support along with spatial placement for PC so you feel drawn into what you're playing. Besides being ideal to crank up loud, it also has an efficient flip-to-mute mic that also sounds good for your teammates. Unusually, there's support for mod kit customisation too if you feel like making these headphones more personal.
The downside? There's only a battery life of about 15 hours which isn't amazing, but the headphones do come with a base station that mean it's a bit more stylish to charge than the usual easily misplaced cable method. It's a handy accessory to add next to your monitor.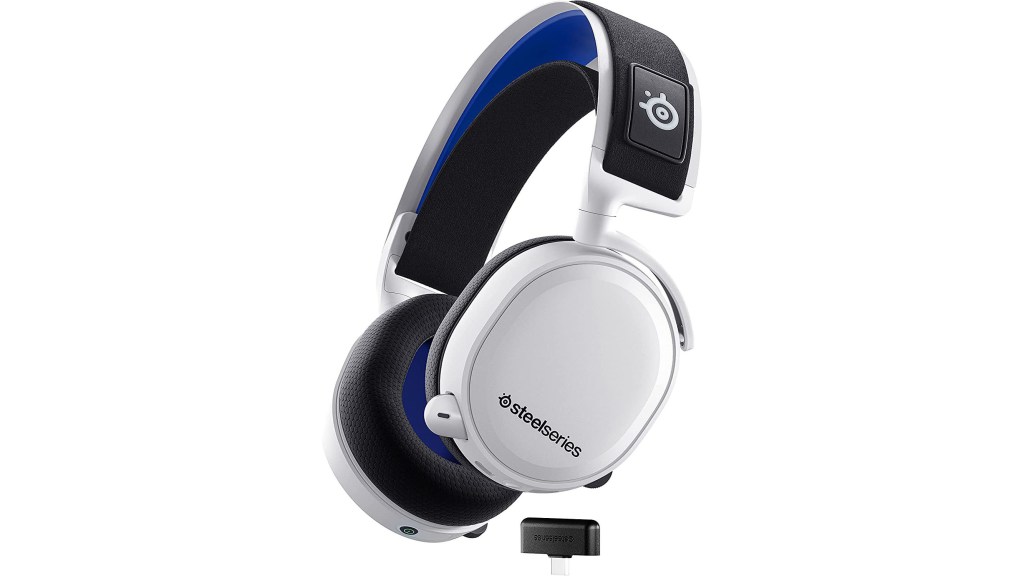 4. SteelSeries Arctis 7P+
Stuff Says…
A reliable all-rounder with excellent battery life and some advantages if you have a PS5 alongside your PC.
Tech spec:
Driver size: 40mm Weight: 453g Battery: Up to 30 hours
For the most part, you can't go wrong with one of the best PC gaming headsets made by SteelSeries. The Arctis 7P+ are a particular delight because they're wireless with a steady battery life of over 30 hours.
They also sound great. 40mm drivers may sound weaker than some others here but SteelSeries knows how to get the most from them. A USB-C charging port is a nice surprise in a world that still hasn't necessarily switched over, meaning you get three hours of power from a quick 15 minute charge.
Much is touted about how they're designed with the PS5 in mind, but these cans sound just as strong on the PC. We're also big fans of the Discord-certified ClearCast microphone that cancels out environmental noises and ensures your buddies can hear you clearly. No more excuse if your command or suggestion is ignored.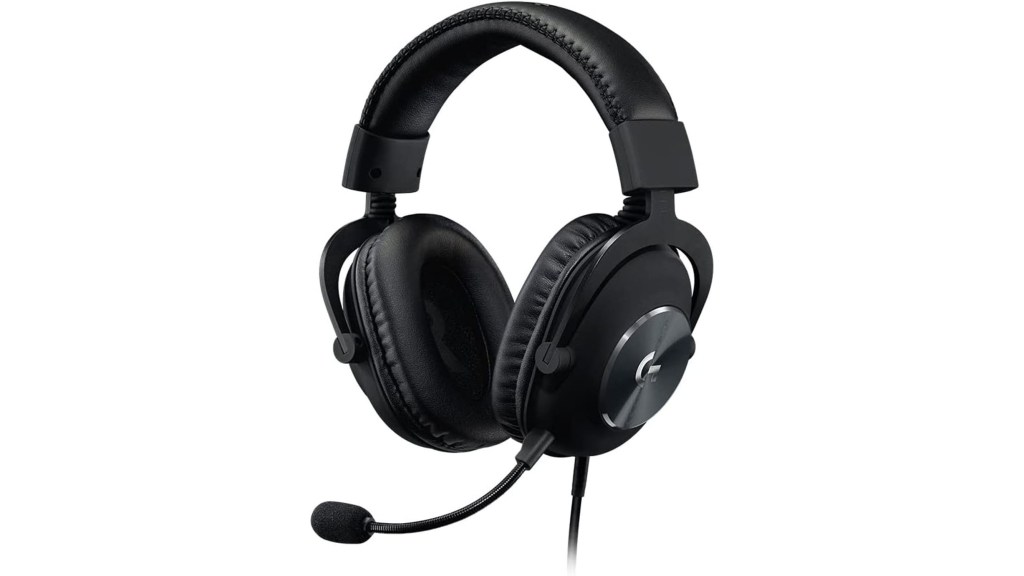 5. Logitech G Pro X
Stuff Says…
A good price while still offering all the key features, the Logitech G Pro X aren't the greatest but they're still good.
Tech spec:
Driver size: 50mm Weight: 320g Battery: Up to 20 hours
The Logitech G Pro X are available either wired or wireless but we're leaning towards the fairly inexpensive wired variety here. For the price, you get good 50mm drivers that provide fairly precise sound and strong bass.
There are equaliser profiles to choose from or you can create your own. There's also a USB sound card included which is why this is a well-suited device for the PC. Other headsets may offer superior sound or a little more comfort, but you'll be paying for the privilege. Here, you get a solid mix of all you could need including 7.1 surround sound to wrap you up in the game and memory foam earcups to keep you content.
It has a durable aluminium and steel frame too so this headset is made to last despite being cheaper than you might anticipate.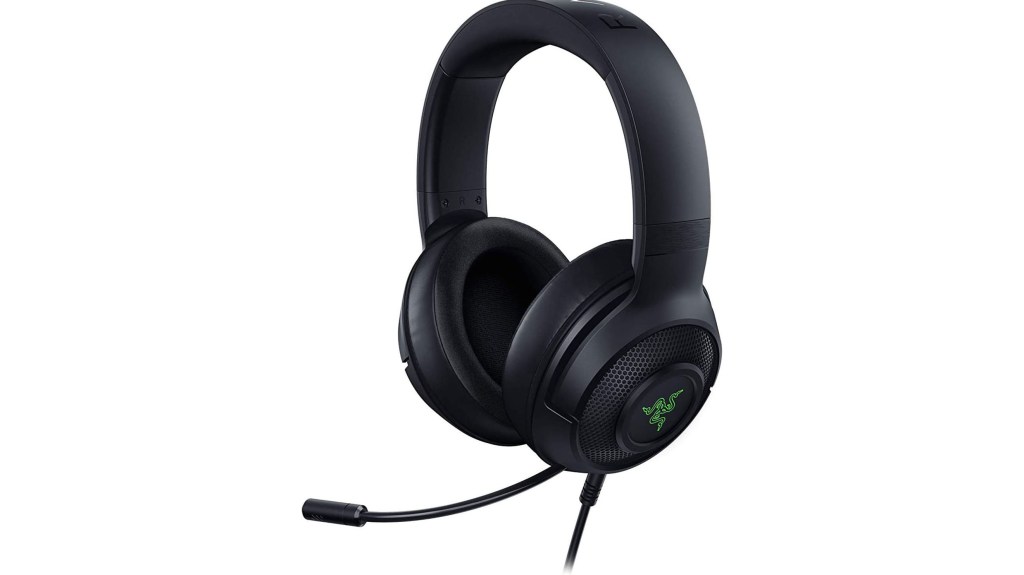 6. Razer Kraken V3 X
Stuff Says…
Lightweight and pretty cheap, the Razer Kraken V3 X are perfect if you don't want to spend too much while still benefiting from key features.
Tech spec:
Driver size: 40mm Weight: 285g Battery: Up to 44 hours
It's easy to assume you have to spend over £100 for a decent headset for the PC but the Razer Kraken V3 X reminds us all that there are bargains out there. The headphones offer 40mm drivers that pump out some impressively bass-heavy sound for the price.
There's no distortion either with the atmospheric Dead Space unsettling you while still being able to hear gunshots clearly when playing some Call of Duty: Warzone. 7.1 spatial surround sound certainly helps here but these are simply good cans. Backing them up is a clear microphone that's physically flexible while also helping your voice sound clear as you speak.
Razer's Synapse software lets you configure the RGB lighting effects which is a nice novelty but the standout is the surround sound app ensuring everything sounds rich. The only shortcoming is the plastic design but it's lightweight and feels quite robust.
7. SteelSeries Arctis Nova Pro Wireless
Stuff Says…
Expensive but high quality, the SteelSeries Arctis Nova Pro Wireless are there for those that like the finer things in life.
Tech spec:
Driver size: 40mm Weight: 337g Battery: Up to 44 hours
Pricey to say the least, the SteelSeries Arctis Nova Pro Wireless are worth the investment if you can afford them. Everything about them oozes class.
They're comfier than most with very comfy ear cushions and a floating headband that always feels better than anything cramping your head. On a practical level, they come with two batteries so you can swap them out and always have one on charge. Up to 22 hours of battery life per battery means you're always ready to go but if you somehow completely mess up — a 15 minute charge gives back three hours. Most importantly, there's truly hi-res audio here with perfectly balanced trebles, mids, and deep bass. Spatial audio helps wrap you up in the magic of what you're playing while multiplayer games benefit from your crisp mic.
The only weak point is ANC that could be a little better but that's not quite as essential in gaming as if you were wearing these headphones on a walk or gym trip.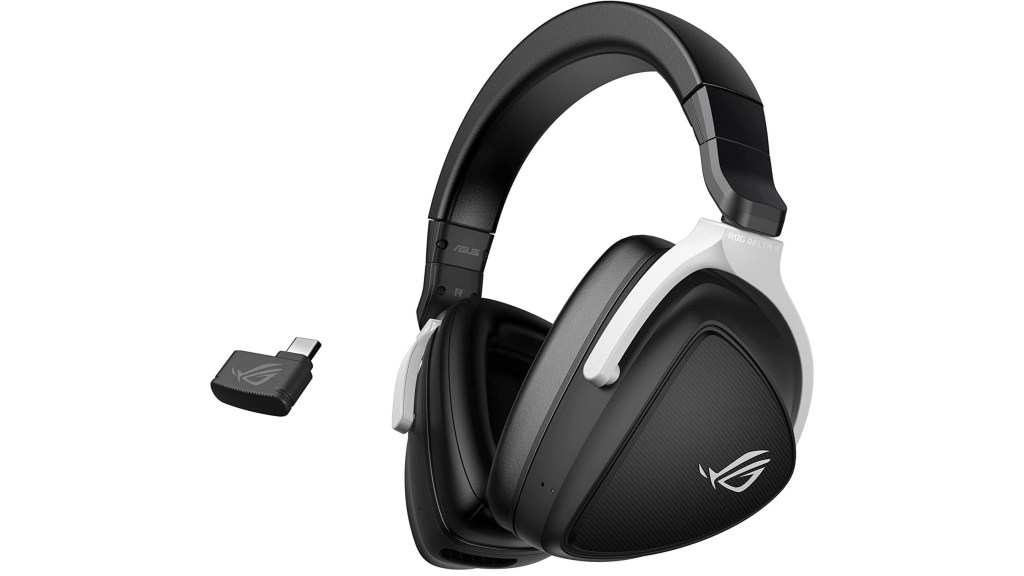 8. Asus ROG Delta S
Stuff Says…
Great sound quality, fun lighting effects, and a strong build. What more could you want from the Asus ROG Delta S?
Tech spec:
Driver size: 50mm Weight: 285g Battery: Up to 25 hours
Refreshingly, the Asus ROG Delta S appreciate we all have different levels of comfort by giving you two different pairs of ear cups in the box. It's a lovely start to a pair of headphones with great attention to detail.
They're fairly lightweight yet still quite robust, with the option of either the wired or wireless model. Sound quality is pretty good with virtual surround sound enabled via Asus's software boosting its efforts. The Armoury Crate software also means you can tweak the equaliser or opt to add reverb to an audio.
The mic lets the side down a little as it sits inside the mic, making sure it doesn't steal focus yet not working as well as others, but it does the job. It adds to that unique look of the Asus ROG Delta S that stands out from what can be a dull looking crowd, all without being too out there.
9. HyperX Cloud Alpha Wireless
Stuff Says…
Sounding great and lasting on one charge for a ridiculous length of time, there's a lot to love here.
Tech spec:
Driver size: 50mm Weight: 317g Battery: Up to 300 hours
The killer feature behind the HyperX Cloud Alpha Wireless is the frankly ridiculous battery life. While some headsets sound appealing because they offer 30-40 hours, HyperX went overboard and offered up 300 hours. Somehow, it's not marketing spin because these cans do last that long. We're expecting to lose our charging cable in that time so it's lucky it's a standard one.
There's DTS Headphone: X Spatial Audio sound too via HyperX's Ngenuity software plus you can tweak the equaliser presets or create your own. There's a dedicated USB dongle rather than Bluetooth support which is a little annoying but we'll live with it when we have to charge so infrequently.
And, of course, sound quality is incredible otherwise we wouldn't be mentioning it here. The frequency response is incredibly wide so you simply can't go wrong here. It's pretty comfortable to wear too so we guess you could challenge yourself to wear them for 300 hours. Clearly one of the best PC gaming headsets around.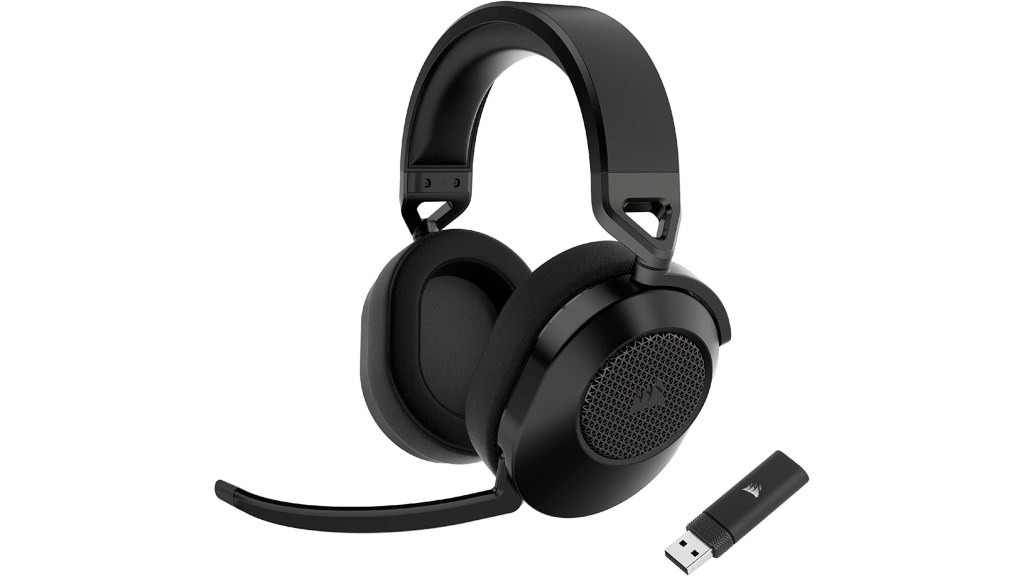 10. Corsair HS65
Stuff Says…
For surround sound, nothing can quite rival the Corsair HS65 as long as you don't mind sticking with a USB connection.
Tech spec:
Driver size: 50mm Weight: 282g Battery: N/A
The Corsair HS65 sound fantastic straight out of the box. Corsair has mastered being able to deliver 7.1 surround sound that truly brings to life whatever you're playing.
You'll need to use Corsair's iCue software to do so but it takes hardly any time to set up. From there, you can also choose from equaliser presets or create your own customised experience. The latter is rarely needed as there are presets designed for most things you'll want to do such as competitive FPS gaming or even Clear Chat for meetings. This is a subtle-looking headset and very comfy so it works well for extended non-gaming situations.
Besides sounding great, you also get a crisp mic experience too. If you're worried about non 7.1 surround sound-based games, don't be as the games still sound pretty good here whether you tweak the settings or just stick with what's there.
That's your audio sorted out, now recline in the most comfortable and stylish seats with the best gaming chairs.