Philips OLED+ 984 review
Big on design, big on picture performance and big on sound quality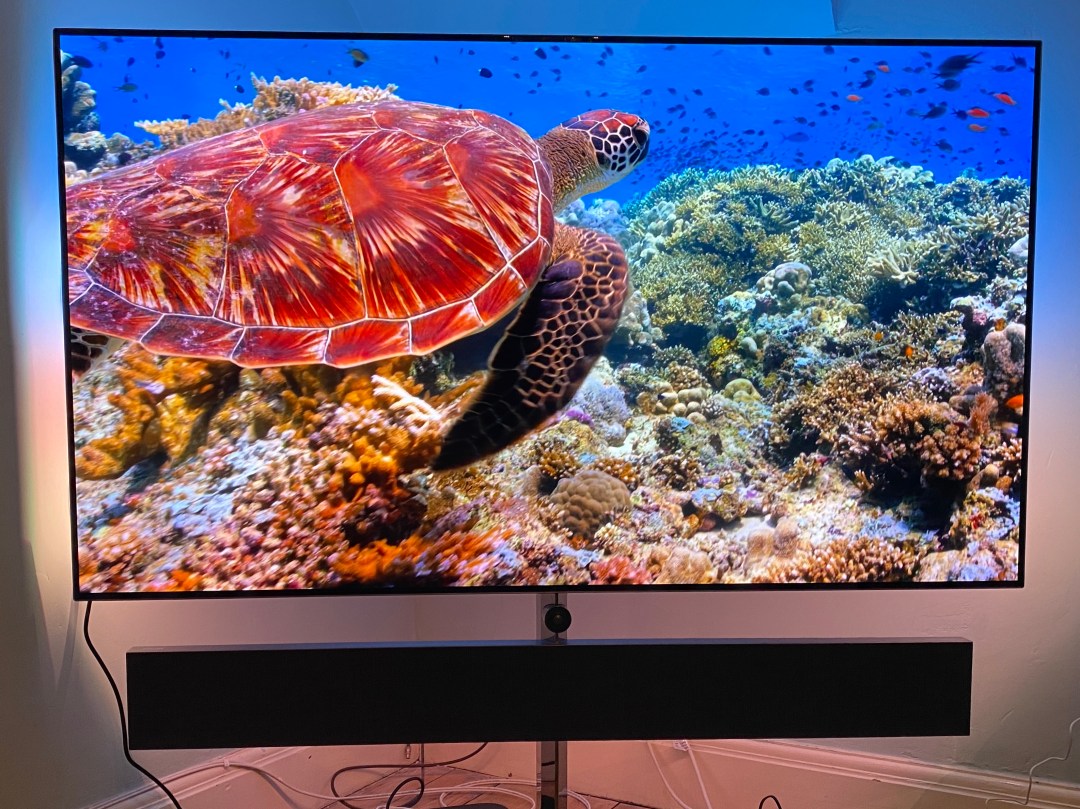 The new Philips OLED+ 984 flagship certainly shows what it thinks to the growing idea that a TV should blend in with a living room rather than stand out.
Sitting on its own chrome stand with a custom-made sound system from Bowers & Wilkins, its statement design is unashamedly attention-seeking.
But while its looks might grab you, it's the performance that keeps you plonked on your sofa, with a picture wholly worthy of its flagship status, not to mention the best sound we've ever heard on a TV.
It's not cheap, of course, but then TVs of this calibre rarely are.
Design: Show off
There's nothing subtle about the 984's design. The 65-inch screen is the only size that it comes in, and it sits on top of a chrome pillar stand that also holds the impressive B&W sound system.
That sound system consists of a long speaker bar, positioned a few inches below the screen, that is almost the same width at the TV. Just above it is B&W's signature "tweeter-on-top" – a tweeter housed separately to the main speaker cabinet like you'll see on some of the company's high-end hi-fi speakers.
While the speaker might look like a large soundbar, it isn't, due to its amplification being built into the TV itself, giving B&W more space to play with inside the speaker cabinet to make it sound good – but more on that in a bit.
Philips Ambilight system is at play here, in its lesser spotted four-sided variation. That means you get a customisable glow radiating from the back of the TV onto your wall from all four sides of the set.
You can choose to have Ambilight's colours follow and match the picture on screen, you can keep it on a static colour or even have it move to music. I preferred to keep it on the former for the most part, and kept the saturation low so its effect was soft.
Of course, you can boost this up if you want it to look more impactful or turn it off entirely, but I find Ambilight really helps to reduce eye strain when watching TV, not to mention that it just looks pretty lovely too.
In fact, as imposing as its design is, there's no denying that the OLED+ 984 is gorgeous to look at. It might require you to move some furniture around to make way for it – and get a mate to help you, this set is heavy – but start watching it and you'll soon realise it's absolutely worth giving up a corner of your living room for.
Picture quality: Universally beautiful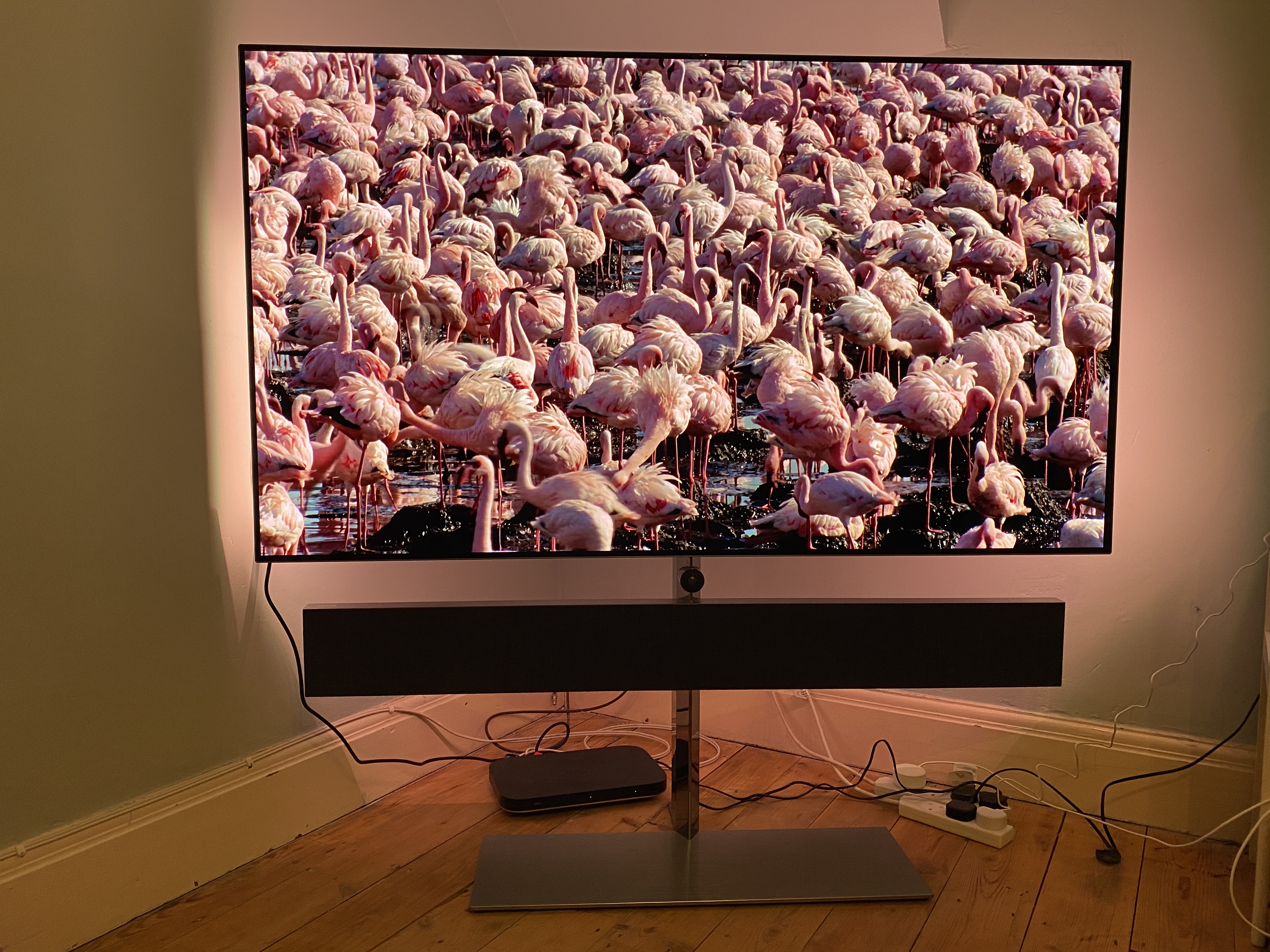 As its name would suggest, the Philips OLED+ 984 uses an OLED panel, which, as we know by now, means inky blacks, vivid colours and punchy highlights are pretty much par for the course.
However, we also know that there's more to a good TV than just the panel – the video processing on board has a big sway as to how good the picture performance actually ends up being.
Philips has used its third-generation P5 dual-chip processor in the 984, which promises a 30% increase in picture performance on last year's already excellent OLED+ 903.
While we prefer to turn the majority of extra picture processing off, the beefed up P5 still has an effect on things like upscaling, improved motion control and better HDR handling, including support for Dolby Vision this year as well as HDR10+, HDR10 and HLG – one of only a few sets to offer universal HDR support.
And what an addition it is. While the SDR picture performance is a cracking one, watching Stranger Things on Netflix in 4K Dolby Vision is a whole different level of brilliant. Shadow detail is improved to such an extent you can make better sense of the many dark night scenes on offer, but perhaps even more striking is the added depth you'll notice in highlights and brighter areas.
For example, the lights on the boys' bikes as they ride away from Will's house in episode 1 pierce through the darkness with more intensity than you'll have noticed before. There's also more insight here too, drawing your eyes to subtleties and nuances within the brightness.
It really helps to lift scenes that are a mixture of both dark and bright elements to ensure there's no compromise on detail across the board. The result is a crisp, ultra-realistic image, with pinsharp outlines helping to give an almost 3D depth to pictures.
Colour accuracy is also fantastic, with plenty of punch when it's needed and equal amounts of natural nuance – particularly in skin tones, which look just as they would in real life.
We flit between the Movie and special ISF Day/Night presets and find these to be the best starting points for a good out-of-the-box picture, offering a good basis from which you can start to tweak the picture to your tastes.
Be aware that your settings will change depending on what source you're using though, so you'll need to go in and set them one by one. HDR content will also automatically serve up the 984's pre-programmed HDR settings (and switch off when it's finished), but we found leaving these as they were to be absolutely fine.
While 4K footage is without a doubt the way to bring the best out of this TV, standard HD footage looks fantastic too, with the 984 doing a grand job of upscaling while keeping noise to a minimum.
Motion throws up no issues of note – we opt for using the Personal setting and switch it to minimum, which does enough to smooth over any judder without introducing any negative picture issues in exchange. Schools of fish darting in every direction in an episode of Our Planet can't even shake it.
In fact, it seems that whatever you throw at this TV, it does its very best with, offering an outstanding picture across the board. Even SD TV looks entirely watchable, though there is some understandable drop in detail and an increase in noise (if only to remind you to watch in HD, you heathen).
Sound quality: Best bar none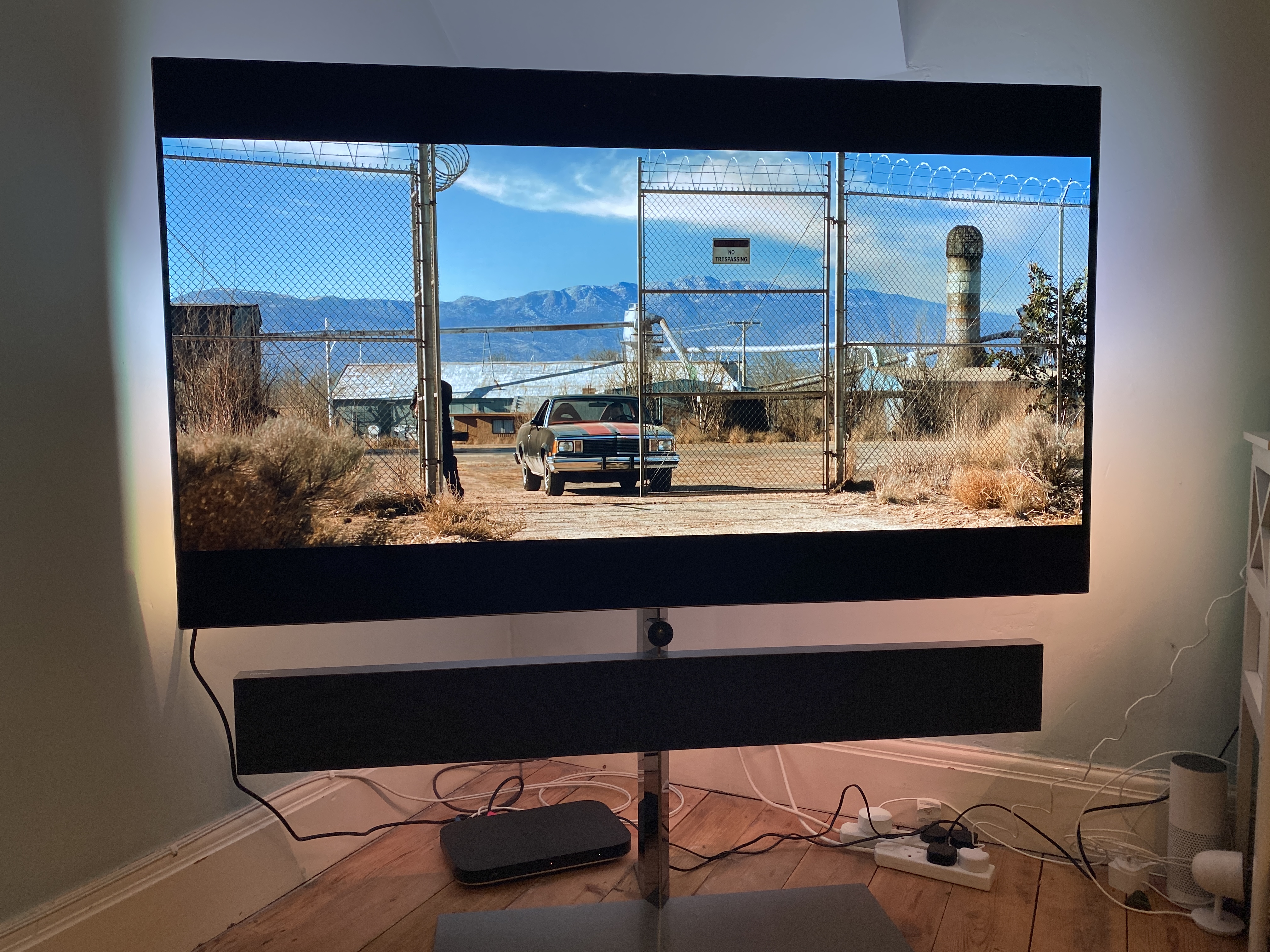 Unlike last year, where B&W only got chance to chip in on the 903's sound once the design was started, this year, they have have been involved in the 984's audio from the get go.
The result is the soundbar-esque speaker that sits proudly below the screen, packing a three-channel design and 60W of power.
To ensure a strong performance with minimal cabinet wobble, each channel is given a ported, internally braced enclosure within the speaker, and is made up of a 10cm mid/bass driver, borrowed from the company's M1 loudspeaker, and a 19mm tweeter.
While the left and right tweeters are at either end of the bar and focused on adding width to the sound, the centre channel uses the separate tweeter-on-top to give extra clarity to dialogue, as well as get it as close as possible to the middle of the screen – always the main aim of a centre channel in an AV setup.
The results are outstanding. While we spend a lot of time recommending upgrading TV sound, Philips and B&W have created an audio performance that is unlikely to leave the majority of people wanting.
There's plenty of authority here – you can add a sub if you want extra wallop, but it's far from lightweight, giving a decent amount of low-end rumble that give action scenes a backbone.
That said, AV fans may find it lacking a level of power and punch that a sub would get behind, so at least it's an option to add one if you want.
Dialogue is expressive and direct, even during busier scenes, while sound effects have the texture and bite you'd want to make them stand out too, without ever sounding sharp.
It's a very wide sound, bathing the listening position in sound from left to right. Effect placement is about as good as you'd expect from a bar design, but there are no upward-firing Atmos drivers here – perhaps something we might have hoped for at the price.
Instead there is a virtual DSP to help give necessary scenes some height when the audio is in Movie Mode (there's an AI mode that will switch based on the content you're watching, to save you delving into the menus every five minutes). From our experience, it's not going to give you much sense of height above the edge of the screen though.
Still, there's plenty of headroom to allow dynamics room for manoeuvre, and the volume can be cranked up high without worry of distortion too.
Playing music is always a surefire way to show up any downfalls in any TV speaker performance, but there's no such trip-up here. We play our test playlist through the Tidal app (there's Spotify too) in the 984's Android smart TV system and it easily fills our testing room with detailed, punchy and spacious sound, happily doubling as a very talented sound system.
Smart TV: Another slice of Pie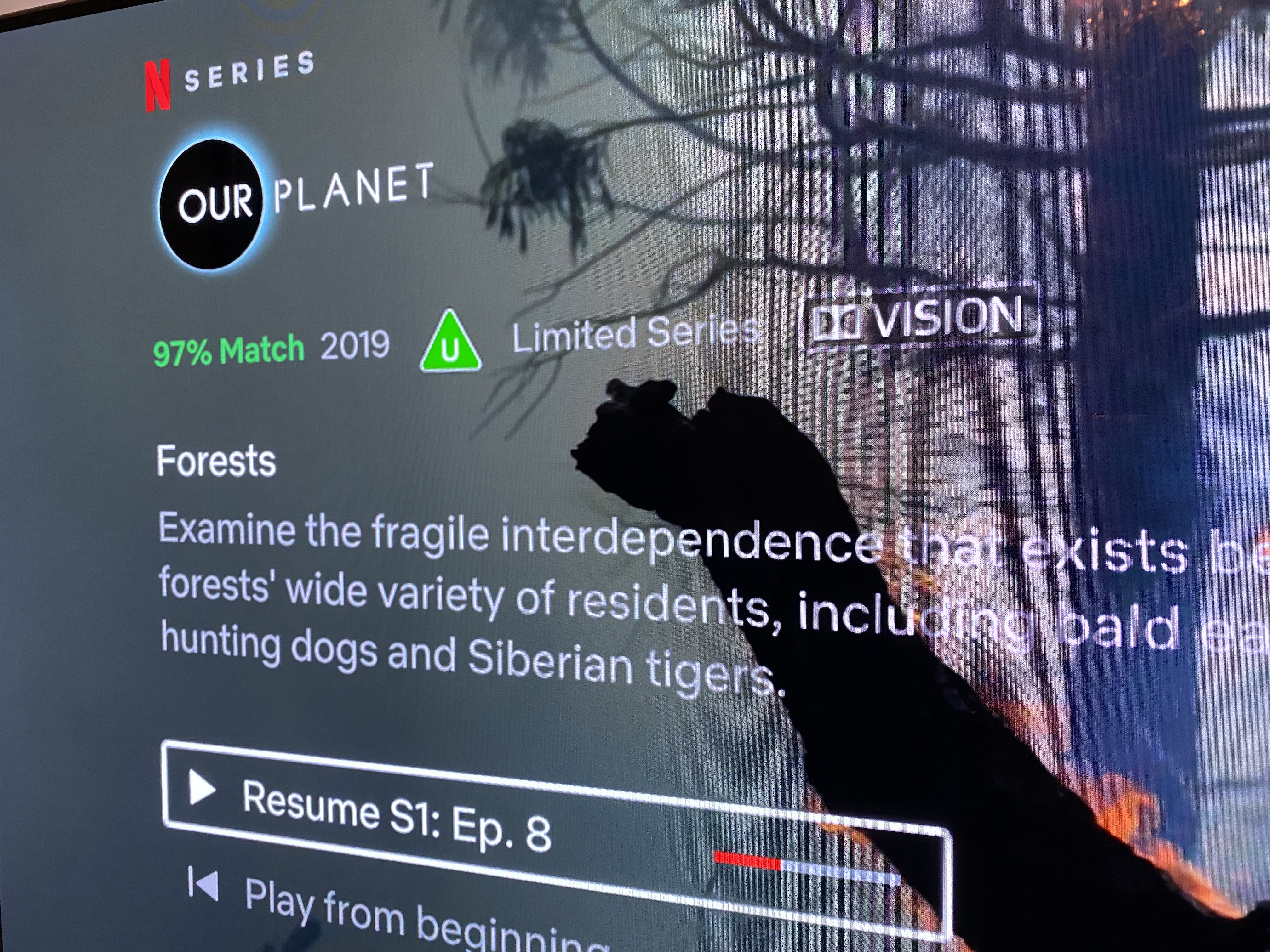 The OLED+ 984 once again turns to Android TV to form the basis of its smart TV platform, the latest iteration of which is built around Android Pie.
It's much better laid out than previous versions, offering a row of quick access favourite apps followed by rows of content suggestions from popular apps like Netflix and YouTube.
However it is lacking on the app front compared with the competition. Thankfully you can expect the biggies like Amazon Prime Video, Netflix and BBC iPlayer, but the latter is the only UK catch up service available, with no sign of Now TV either.
Philips OLED+ 984 verdict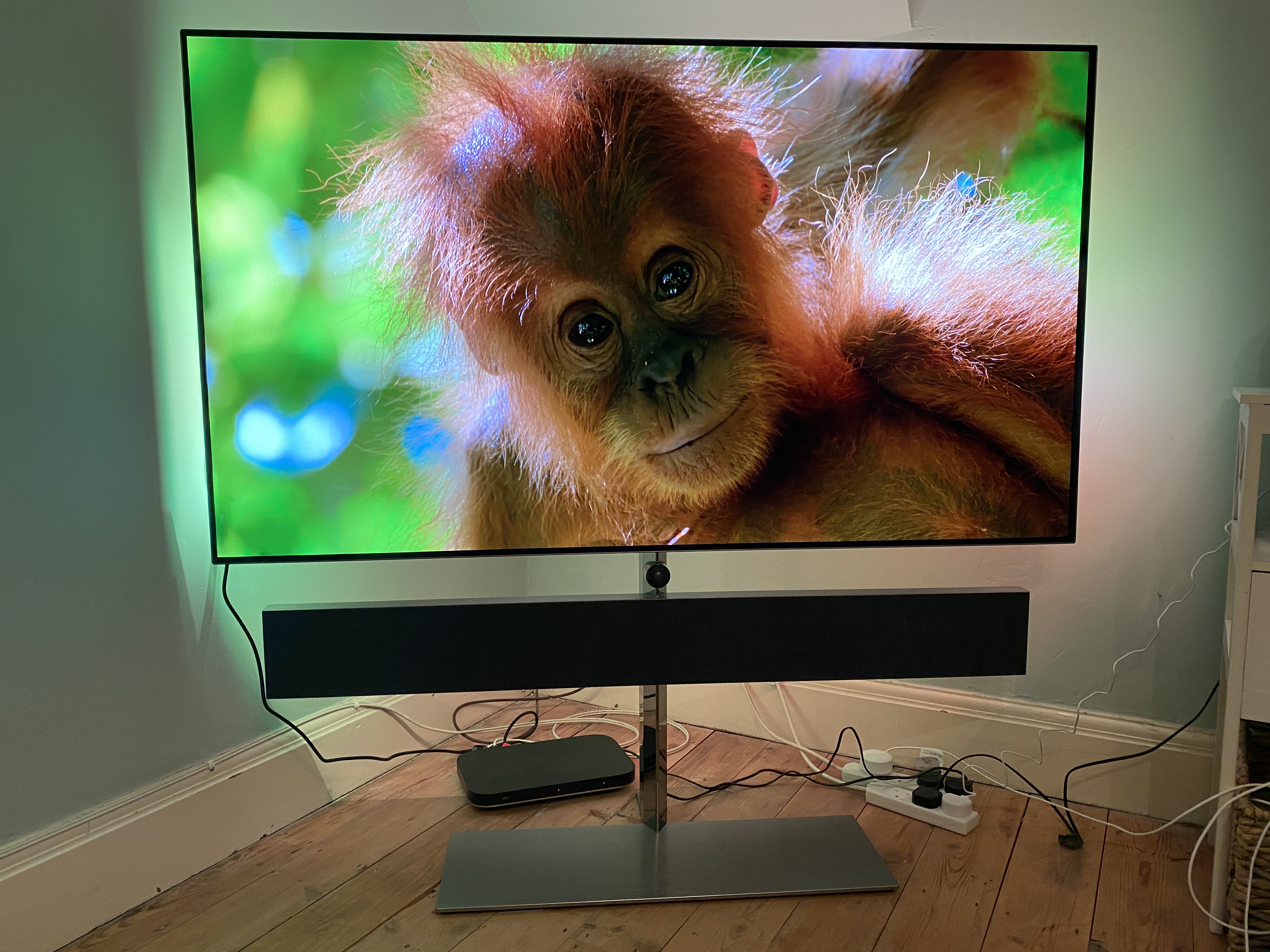 The OLED+ 984 is a statement TV that goes above and beyond what we expect from TV sound and teams it with an outstanding picture performance that offers universal HDR support.
Its design is a little imposing but gorgeous with it, particularly with that four-sided Ambilight in full effect.
It's the best picture we've seen from a Philips TV yet, and the best sound we've heard from a TV period, making this a real showstopper.
Atmos would've been nice at this price, which means AV buffs may decide to swerve it in preference of a set with greater flexibility. But anyone else is likely to be thoroughly impressed at the package that this TV has to offer.
That £4,500 price tag is always going to be the big "but" in any praise we heap on this TV, but among similarly priced flagship company, the Philips OLED+ 984 easily holds its own.
Tech specs
| | |
| --- | --- |
| Screen | 65in 3840×2160 HDR OLED with four-sided Ambilight |
| OS | Android TV 9 |
| Connectivity | HDMI x 4, USB x 2, Wifi, Bluetooth, Ethernet, optical |
| Dimensions | 1449x1057x142mm, 38kg / 1449x1338x328mm 47kg (with stand) |
Stuff Says…
Philips' new flagship OLED goes big on design, big on picture performance and big on sound quality to become the best TV the company has released to date
Good Stuff
Outstanding picture quality
Best TV audio we've heard
Ambilight is gorgeous
Support for HDR10+ and Dolby Vision
Bad Stuff
No Atmos
Smart TV apps are limited
Expensive. Very.