Panasonic DMR-EZ27 review
The EZ27 may lack a hard-drive, but with 1080p upscaling, a Freeview tuner and excellent picture quality, it's bargain recording at its best.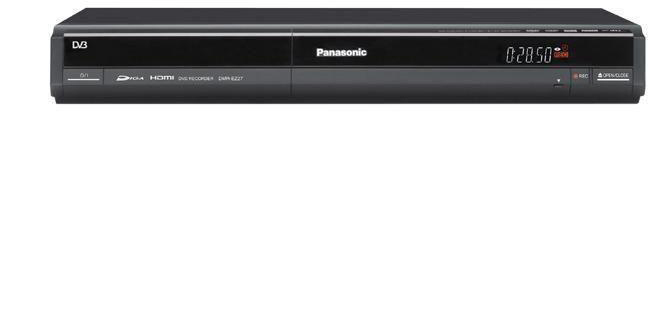 Looks don't always pass down the generations. You just have to call up a mental picture of spud-alike Harry Redknapp standing next to his 'Spice Boy' son, Jamie, to know how true that is.
Thankfully, Panasonic's latest DVD recorder follows the Redknapp tradition and is a distinct aesthetic improvement over its forebears. The affordable DMR-EZ27 is by no means pretty, but the moody black styling telegraphs this player's serious credentials.
Simple but cleverUnlike its more ambitious siblings, the EZ27 doesn't have a hard-drive, deciding instead to record to DVD. It does, though, sport a Freeview tuner, and boasts a number of improvements over previous generations of Panasonic players.
It's a very well built and the remote's improved too, with the logical button arrangement helping you to whiz through Panasonic's simple menu system. This means quick, one-press access to important features like the Electronic Programme Guide. 
Things get even simpler if you're lucky enough to own one of Panasonic's many fine sets. Viera Link allows you to link TV and recording functions and access everything you need through one remote.
Feature richAnd if all that wasn't impressive enough for a list price of £200, upscaling all the way up to the heady heights of 1080p, HDMI connectivity and an inbuilt Freeview tuner is almost more than we deserve.
There's been no skimping on that tuner either, thankfully.  It produces an excellent, stable picture with vivid, vibrant colours.
Even better, top quality tuner means top quality recording. Whether you're recording to DVD-R, -RW, +RW or any other of the supported formats the recording's always faithful to the original, particularly in highest-quality mode.
Faithful recordingAnother clever little feature allows you to specify the length of the recording you want to make, which the DMR-EZ27 then uses to calculate the optimum bit-rate.
For those who think a DVD player and recorder is one too many boxes under your TV, you'll be pleased to know that this Panasonic is good enough when it comes to playback that you'll be happy to let it stand-alone.
Related reviews