Oppo Enco X2 review: ANC all-rounder
Sounds like a winning combination
For a pair of sensibly-priced true wireless earbuds, the Oppo Enco X2 isn't short on high-end features. Active noise cancellation, LDAC support for high-res Bluetooth, and sound tuning courtesy of an industry expert would all be par for the course at £200 and beyond, but these in-ears can be snapped up for a whole lot less than that.
Instead the firm has taken a leaf or two from that handbook of smartphone sub-brand OnePlus, undercutting big-name rivals while matching them beat-for-beat on the spec sheet. And even with a helping hand from Dynaudio, let's not forget Oppo has a history when it comes to home cinema, which bodes well on the performance front.
ANC is becoming ever more affordable, though – and the Apple-inspired bud design isn't going to please everyone. Is there enough here to justify parting with your cash?
Design & build: Enco encore
The second-gen Enco doesn't shake things up massively from the Enco X earbuds released back in 2021, at least on the styling front – and both do a convincing impression of a pair of Apple AirPods Pro. The flip-top case is a little more pebble-shaped here, but it's otherwise a familiar story: bulbous buds with elongated stems and an in-ear design, plus a selection of silicone tips to help get a comfortable seal (and partly mute the outside world). These have an antibacterial finish that should cut down on yucky earwax buildup – we certainly didn't see a lot during our testing.
While the white model's resemblance to Apple's offering is a bit too uncanny for our taste, the black version feels that little bit more distinctive. Subtle L and R branding, so you don't try to wedge a bud in the wrong ear, and silver trim at the bottom of the stems help them stand out too. The buds are IP54 splash resistant, so won't suffer if you take them to the gym, or get caught in a rain shower.
They're as light as you'd expect, and feel surprisingly premium, even if the glossy finish is a proper fingerprint magnet. That's true of the case, too, but we like how firmly the lid snaps shut – the buds aren't going to go flying even if you drop it.
Aside from the Oppo logo on the lid and nod to Dynaudio's involvement, the case is wonderfully minimal. There's just a tiny charging LED next to the USB-C port.
Features & battery life: talkin' bout a resolution
Any Bluetooth 'buds worth a spot in your lugholes should have some sort of hi-res codec, and the Enco X2 delivers with LHDC and LDAC. Both are now baked into Android phones, although some manufacturers strip it out, so it's worth checking your handset can handle the maximum 24bit/900kbps. It also defaults to the lower bitrate AAC until you swap codecs using the firm's HeyMelody companion app.
Pair them to an Oppo phone and you can forego the app, which has all the functions you'd expect: adjusting the strength of the noise cancellation, switching EQ profiles, customising the touch controls, and enabling dual device connectivity. There's also a Golden Sound hearing test, which tweaks individual frequencies for personalised listening.
You can pause playback with a quick squeeze of either bud's stem, and skip tracks with a double-tap. A squeeze and hold swaps between the three noise cancelling modes (on, off, and transparency), while sliding up and down the stem adjusts volume. Sensitivity was mostly on the money, with quick fit adjustments only pausing playback once or twice. The buds are pretty secure once you've popped 'em in place, so shouldn't fall out while walking or even jogging.
Google Fast Pair makes it a breeze to get connected on an Android phone or tablet, while the pairing button built into the case makes it straightforward enough to pair with your other gadgets.
Oppo's estimates of five and a half hours of listening with ANC enabled seemed mostly on the money, with listening at higher volumes draining a little quicker. The case can supply about three full top-ups before it'll need plugging in itself, so you should be good for almost 20 hours of listening between trips to a plug socket. Wireless charging support means you can rely on your phone to refuel (assuming it has reverse charging) instead.
Sound quality: on the money
Oppo has gone for a dual-driver setup with the Enco X2, something of a rarity at this end of the price spectrum. Rather than rely on a single speaker to do all the heavy lifting, sound duties are split between an 11mm dynamic driver and a 6mm planar diaphragm in a coaxial (one in front of the other) arrangement.
It's a combo that worked wonders on High Contrast's "Can't give you up", balancing the vocal harmonies with clean hi-hats and pulsing sub-bass. The far more delicate "Everything I wanted" was suitably restrained, with Billie Eilish's whispered lyrics given space alongside the bassline.
Overall presentation is very balanced, with a carefully judged low-end that doesn't overpower the other frequencies. The soundstage is decently wide, too. They're still far from neutral, which might dissuade any audiophiles on a budget, but Dynaudio has certainly delivered on the tuning front. We did find volume a little lacking, though: songs we could listen to at 50% on rival 'buds needed cranking to 60 or 70% here.
We had no complaints with the noise cancelling, given the price, although you can't call it class-leading. The smart setting, which dials the strength up or down based on ambient noise, is fairly quick to react and only slightly colours the audio of any playing track, so you don't have to switch it off to enjoy music in quieter environments.
Oppo Enco X2 verdict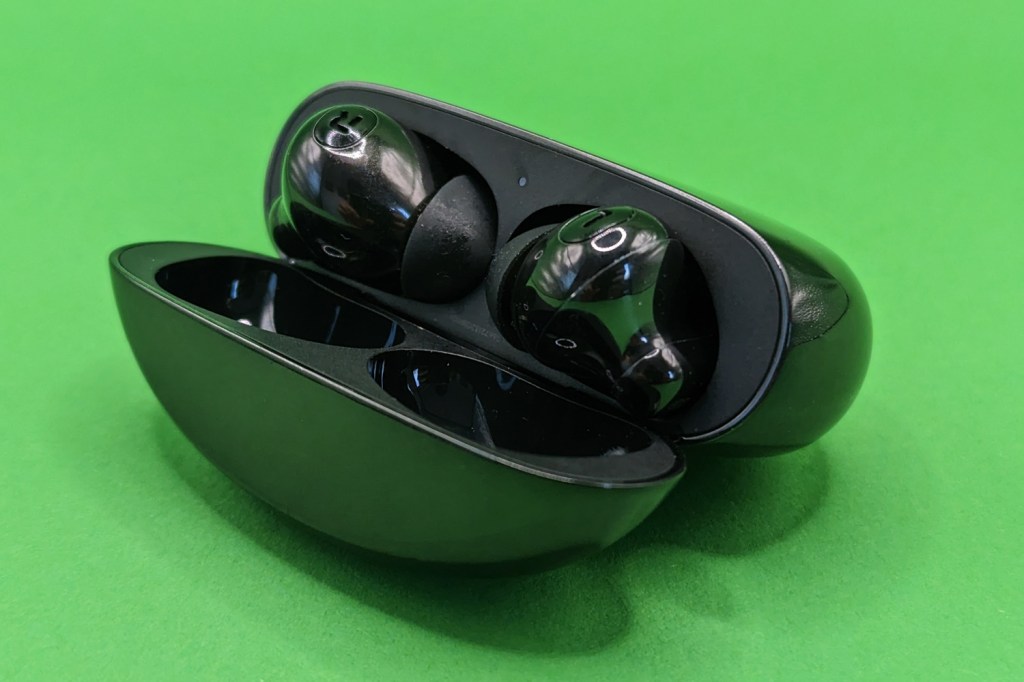 Given the asking price, there's plenty to like about the Enco X2. Oppo has significantly undercut both the Apple AirPods Pro and Sony WF-1000XM4s, and while neither sound quality or noise cancellation is quite on par with those rivals, it comes surprisingly close.
The controls aren't flawless, and battery life could be a little better. We can also appreciate some people will feel stem-style 'buds have been done to death at this point. Sony's LinkBuds S are a worthy in-ear alternative, which might miss out on wireless charging, but are properly comfortable and sound great too.
For those looking to spend less than £150, though, the Enco X2 ticks plenty of boxes.
Stuff Says…
Sensibly-priced true wireless earbuds deliver great sound and has ANC that confidently silences the outside world. Competition is fierce for this kind of cash, but there's plenty to like here.
Good Stuff
Impressive sound quality
Largely effective ANC
Consistent battery life
Bad Stuff
AirPods-style stem design not for everyone
No shortage of rivals around this price
Pressure-sensitive controls are squeeze-and-miss
Oppo Enco X2 technical specifications
Drivers
11mm dynamic + 6mm planar diaphragm
ANC
Yes
Bluetooth version
Bluetooth 5.2
Codec support
AAC, SBC, LHDC
Durability
IP54
Battery
5/20 hours (buds/case, LHDC codec, ANC enabled)
9.5/40 hours (buds/case, AAC codec, ANC disabled)
Dimensions
4.7g (buds, each)
66x49x23mm, 47g (case)